There was a time a while back when sites like Craigslist personals and BackPage were the perfect classified sites for those looking for casual sex, a one-night stand, or a sexting partner.
But online personals have changed.
Free classified ads on these two personals sites are no longer allowed.
That's because they had become somewhat seedy and often with criminal undertones.
OFL Top Recommendations based on 100,000+ Survey

"Serious Relationships"
"Discreet Hookups"
"Best Course for Men"
"Quick Flings"
"Normal Hookups"
"Our Quiz"
It's not the fact that you could find sex workers advertising their services amongst regular users but that criminal syndicates started using these ads to catch people unaware and force them into sex trafficking.
They were even used in human trafficking as well and it's easy to see why authorities moved to shut them down.
Here you will find out:
Here you can meet people for casual hookups including those into BDSM and other fetishes, swingers, or those who are looking for casual dating options.
So let's get the show on the road as we find the best Craigslist personals replacement and top-notch personal ad sites for you to consider.
Best Personal Ad Dating Sites in Video Form
Audio (podcast) form for those of you on the go

Signing up – 4.5/5
Making contact – 4.5/5
Profile quality – 3/5
Overall quality – 4/5
Personal ads are localized depending on your local area
Locanto is free to use
Some spam ads, as well as some scams, can be found here
With classified ad sites that have a personals section, it's almost impossible to work out just how many people are going to be using these services.
Unlike research into dating sites, there aren't any numbers that cover gender or user age ranges either, which is to be expected.
But Locanto does claim that over 1 million people make use of their services.
Many of them post ads in the personals section looking for casual encounters.
OFL Top Recommendations based on 100,000+ Survey

"Serious Relationships"
"Discreet Hookups"
"Best Course for Men"
"Quick Flings"
"Normal Hookups"
"Our Quiz"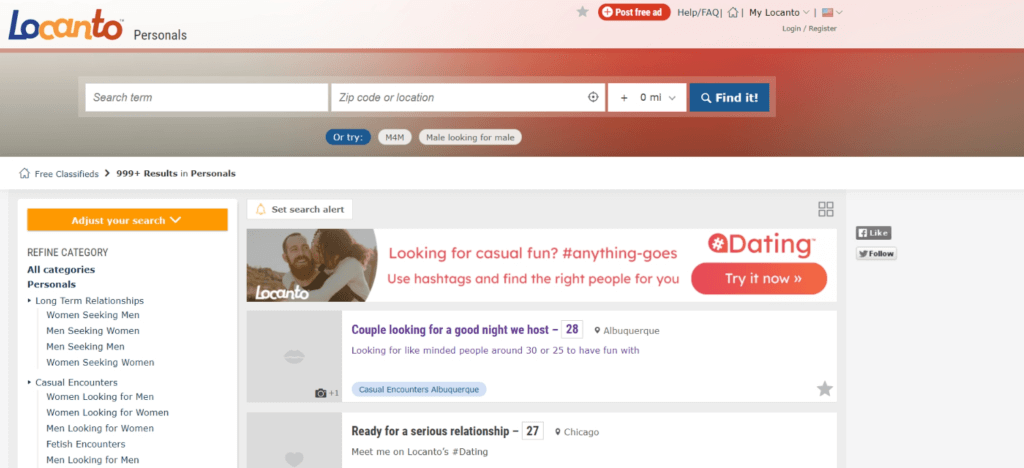 Ease of Use "mobile and website"
Locanto asks everyone who wants to post a personal ad to register first as a user on the site.
That might be a deterrent to some who want to run scams, but not all.
The registration process itself requires a username and an email address and certainly isn't as involved as some of the dating services we will look into a little later.
You can make it even easier if you use a social media account, in this case Google, to signup.
To be honest, however, I would prefer if they added a phone number too as an extra level of security.
If you'd like to place an advert, registration will need your full name as well.
Locanto offers all users a profile from which they can post their personal ads.
There is quite a lot going on here as well and while it's not like a profile you will find on dating apps, you can still:
See which other users you have favorited
See who is following your profile
See users that you have followed
Change your profile picture
Read messages you receive
There is even an about yourself section.
In terms of ease of use, Locanto really is a breeze to get around and has a beautiful, modern design.
While you can post all manner of ads, like more traditional personals sites such as ClassifiedAds.com, for this review, we are going to evaluate Locanto with regards to personal ads.
Here you can see all manner of these personal adverts.
In fact, you can even browse them by category from the left-hand side of the screen.
The two main categories are hookups (like BeNaughty or Ashley Madison) and long-term relationships (like eHarmony or Tinder).
I can confirm that each of these has submenus too.
For example, the hookup section includes ads for:
Swingers
Couples
Transgenders
People looking for a virtual hookup
Various fetish options
Depending on where you live, there could be thousands of adverts to look through across the various categories.
Believe it or not, Locanto even offers a useful search engine where you can search for keywords, the age range you prefer and if ads should have photos.
It really is very much like a hookup app.
Posting your ad is very simple to do and best of all, it is free.
Yes, you are free to use Locanto as a Craigslist personals alternative but it does offer membership too.
For just $2.95 per month, you can become a Locanto member.
That means:
No advertising on the site
You can see users who are following you
You can see users' online status
You get a premium member badge
You will receive online notifications regarding activities on your account, like when someone follows you
It's up to you if these will prove useful or not.
I think for the price, membership is certainly worth considering.
If you are looking for new Craigslist personal type sites then Locanto is right up there, that's for sure.
Superfast registration, profiles, simple to use message system and it's free.
What more could you want?
Locanto gets an excellent rating of 4 out of 5.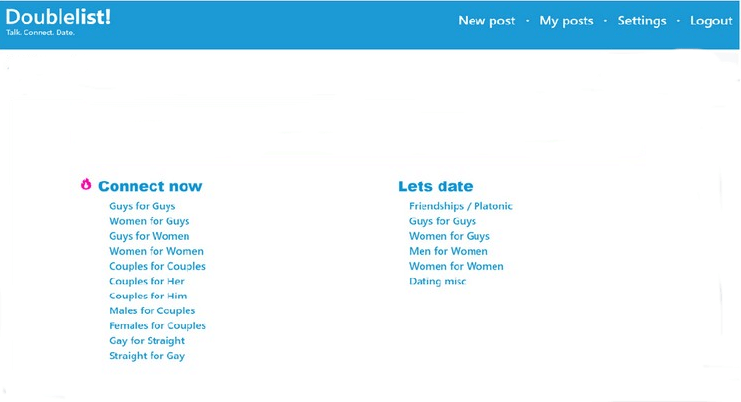 Signing up – 4.5/5
Making contact – 4/5
Profile quality – 3/5
Overall quality – 3.5/5
DoubleList is free to use
Lots of members of the LGBTQ community use it
It's only effective in larger metropolitan cities
It's impossible to say just how many people make use of DoubleList.
What I can tell you is that it's a far better option for people living in larger metropolitan cities than in smaller towns.
There's no harm trying it out no matter where you live, especially as you won't pay a cent to use it.
Ease of Use "mobile and website"
With many of the new laws that have been passed regarding personal ads on both new sites and older, more established ones, to properly make use of DoubleList, you will need to register for a profile.
It's simple enough to do so but you will need to associate your profile with a phone number as part of the identification process.
At this point, DoubleList doesn't have a recognized Android or IOS app but I did see a download link for an APK file.
I would rather steer clear of that, however.
The site itself isn't that difficult to use either and it's super simple to browse the personal ads you will find here.
The great news is that those ads are all you will find here.
Yes, no selling of second-hand equipment, real estate or all the other categories you will find on other sites, just personals.
DoubleList allows users several features that you can put to good use in looking for someone to hookup with.
This includes:
Personal ads based on your location
Tags and keywords which help when searching for something specific
A messaging system between users
All kinds of dating opportunities for heterosexuals and the LGBTQ community
Posting your own ad or messaging someone who has posted something that interests you is so easy.
If you've used a personal ad site before, you won't have any problems at all.
While you will find spammers here and fake ads, that's just the nature of these sites.
As always, you should be very careful when dealing with people that post ads as you would on a dating site.
Never just run out to meet someone in the first ad you come across.
DoubleList won't cost anything to use.
This is a totally free website but as we mentioned, if you want to register for a profile, by law you must provide your telephone number.
But you are free to post your own ads or reply to those that you see on the site.
Because it's for personal ads only, if you live in a large metropolitan area in the United States, you should give DoubleList a try.
However, because it's still relatively new, if you live in a smaller town, you might have to travel to find a hookup.
The real advantage of this personal ad site is the fact that it has tons of people looking for all kinds of relationships.
But be careful there are scammers too.
Try it out tough, especially as it's free.
DoubleList scores an overall rating of 3.75 out of 5.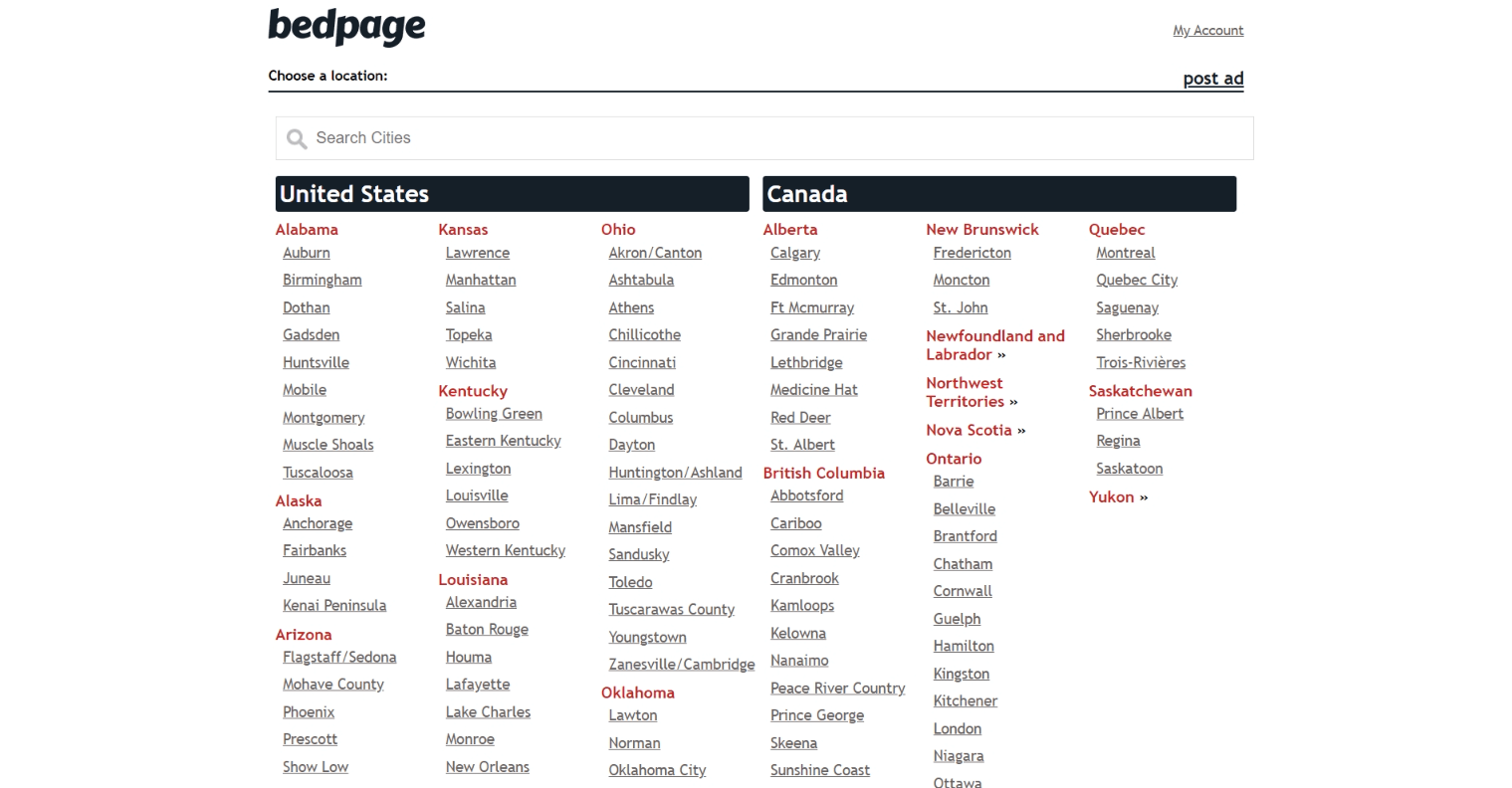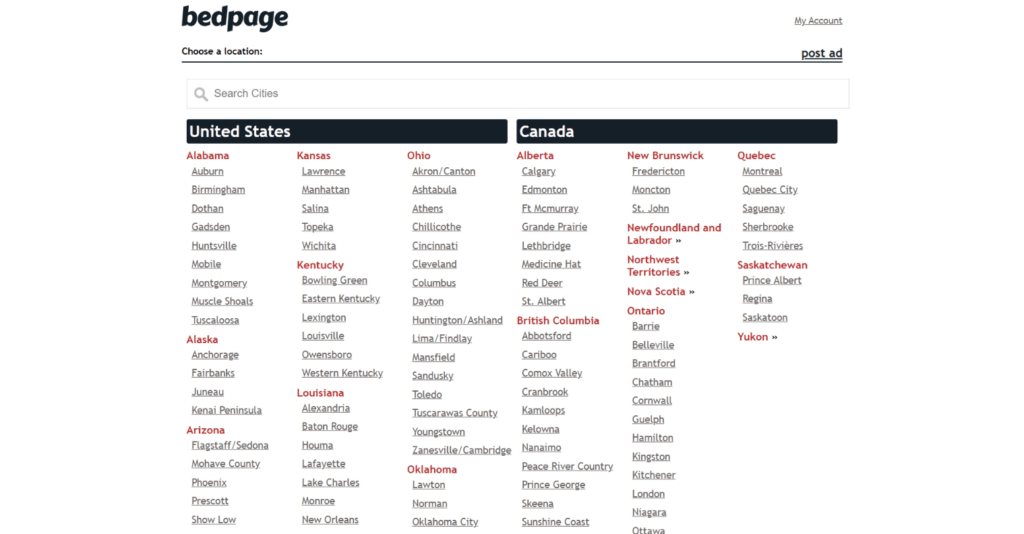 Signing up – 3/5
Making contact –3/5
Profile quality – 3/5
Overall quality – 3/5
If you are looking for a site similar to the now-defunct Backpage, this is it.
You can view posts without registering as a user
While Bedpage promises less spam and all users need a Google account to start using the site, there is still spam to be found, particularly in the personal ads section.
BedPage is pretty new but it seems to have become quite popular very quickly.
Guessing at the number of users that specifically are posting personal ads is exactly that, a guess.
You will notice, however, that BedPage has listing for numerous urban areas throughout the United States.
But it stretches beyond that into Canada, Europe and other parts of the globe as well.
I guess at the end of the day, demographics on a personal ads site doesn't matter as much, just as long as you can find people near your location.
Ease of Use "mobile and website"
Unlike DoubleList, BedPage isn't strictly a personal ad site.
You'll find job listings, rental, services, jobs, buying/selling and more.
It seems like personal ads are the most critical aspect of the site as you will find them listed first before any other categories.
To help protect against scammers, there is only one way that you can register for a BedPage profile and you will need a social media account to do so.
I can clarify that the only social media account that you can use is a Google account.
While that will help scammers second guess if they want to make an account here, I can say that more options, like a Facebook account, for example, wouldn't go amiss in my opinion.
Once you've set up your account, you can browse personals immediately.
Just find your state to see if it has your city listed.
Click on it and you will immediately find the personal ads at the top left of the screen.
Once you access that, you will see that these ads are split into nine categories.
These are:
Adult jobs
Bodyrub
Dom and fetish
Escorts
Male escorts
TS
Phone and websites
Stripclubs
Hookup
To view the listings, simply click on the category you prefer and go from there.
If you'd prefer posting your own listing is simple enough too but that will cost you.
While BedPage has listings from all over the United States, it is apparent that even though you need a Google account to sign up, there's still plenty of spam here.
But that's just the nature of these sites.
It happened on Craigslist personal ads and Backpage too, so you are going to find it here as well.
Just steer clear of the spam and look for legitimate users.
Because, no doubt, you can find them on BedPage too.
While it is free to browse ads on BedPage, if you want to post your own, you will have to pay a fee.
The basic fee to post an ad is $2.
To boost that post to the top of the category it is posted in for a 24-hour period, you can pay another $1.
If you want your advert to stand out more, you can opt for a premium ad.
This will cost $15 for the city you live in and $7.50 for any additional cities or towns you choose (per city/town).
This ensures your ad will sit above all others in the premium section of the category you have chosen.
Overall, it's not that costly to use the site but I am guessing that for the most part, people would first see what's on offer on the site before they start to post adverts of their own.
For me, BedPage is a little touch and go
If you loved BackPage and would like something similar, then you should definitely try it out.
At the moment, you might not find listings in smaller towns but certainly in larger cities around the United States.
Beware, however, just like BackPage, there's plenty of spam on the site, even with security features in place to stop that.
For the time being, while this isn't the greatest personal ad site, it is worth keeping an eye on as it grows.
For today, it scores 3 out of 5.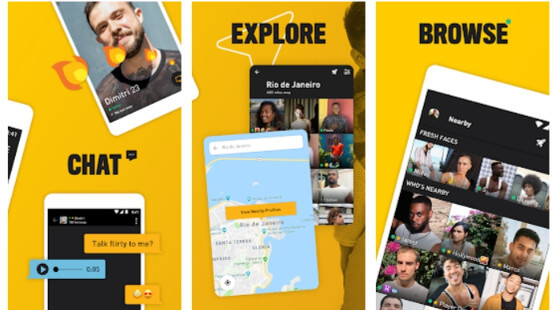 Signing Up – 4.5/5
Making Contact – 4/5
Profile Quality – 3.5/5
Overall Quality – 4/5
The perfect place to find gay men for hookups
A large user base of like-minded individuals who are very engaged
Messaging is free
Some fake profiles
Not strictly a personals site
Why Grindr?
Well, why not include a great hookup app for the LGBTQ community.
While it's true that most of the users you will find here are gay men, you can also find trans women and others too.
Grindr is extremely popular with around 30 million users.
What's great about this dating app is the fact that it's super busy – users are extremely active here.
Grindr has around 3 million users in the United States as well with around 55% of all users aged from 18 to 35 years old.
Lastly, Grindr's popularity is worldwide with users found in around 190 countries.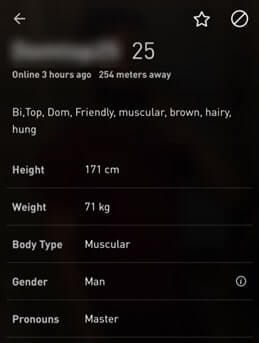 Ease of Use "mobile and website"
While users on Grindr are looking for a range of different relationships, many of them just want to hookup for some casual sex or a one-night stand.
Finding those hookups is made easier to thanks to the fact that Grindr is app-based as well.
Yes, no matter if you have an Android or IOS device, Grindr has an app that you can download.
In truth, this app has so much going for it.
And it's free to use, just like so many personal ad sites.
Yes, you can easily send messages to people that you've identified as potential matchups.
But how do you find those matchups?
Well, Grindr works based on your location just like a personal ad site would.
For a hookup, you have to find people that are near your location first and foremost.
As a free user of Grindr, even if there are 1000s of potential matchups that meet your search parameters, you will only ever see 100 of them.
If you want to see more, you will need to consider a membership.
Now you will get 600 matchups to browse through instead along with the option to join with more Grindr tribes and other features.
Grindr has a few fakes profiles because just like on personal sites, fake profiles are always found on dating sites, except those with super effective registration processes and added security.
Speaking of registration, well it couldn't be easier.
No matter if you want to try the app or the website, Grindr will have your profile up and running in a matter of a few minutes.
Here's a breakdown of the two membership options that Grindr offers.
All the features it has to offer can be found in the Unlimited membership package.
Grindr Xtra
1 month – $13.00
3 months = $28.20
12 months = $62.40
Grindr Unlimited
1 month – $41.40
3 months – $61.17
12 months – $176.46
The one thing that's an obvious difference between a dating hookup site and a personal ads site – the price.
But then again, hookup sites offer far more than a personal ad site, so the pricing is justified in my opinion.
And if you don't want to use Grindr unlimited, you can easily use Xtra for a few added member features.
That's just $13 per month.
Grindr is popular worldwide and an excellent app for gay men who are looking for a hookup.
And yes, it functions much in the same way that a personal ad website would but I would say it's a little more efficient
For that efficiency, you are going to have to be prepared to pay a little extra for membership features although you can easily use the app without paying a cent as well.
Yes, messaging is free, so the ball is in your court whether you want those extras or not.
But if you are a gay man looking for a hookup, Grindr should be on your radar.
It scores a rating of 4 out of 5.
There are several other sites that you could consider for hookups, both personal ads and dating sites.
These include Oodle, Tinder, Adult Friend Finder (AFF) and Ashley Madison, amongst others.
While some prefer to stick with personals, there is no denying that hookup dating sites can do the job just as well too.
Onlineforlove's review team looked for the best personal ad sites and dating sites that operate like them.
Those listed above were tested and reviewed over an extended period of time of over a month.
That review and evaluation process was based on various critical factors to help score each site with an overall rating.
That rating was based on the following factors: the registration process, making contact with others, how successful each site was in matchmaking, ease of use, key features and more.