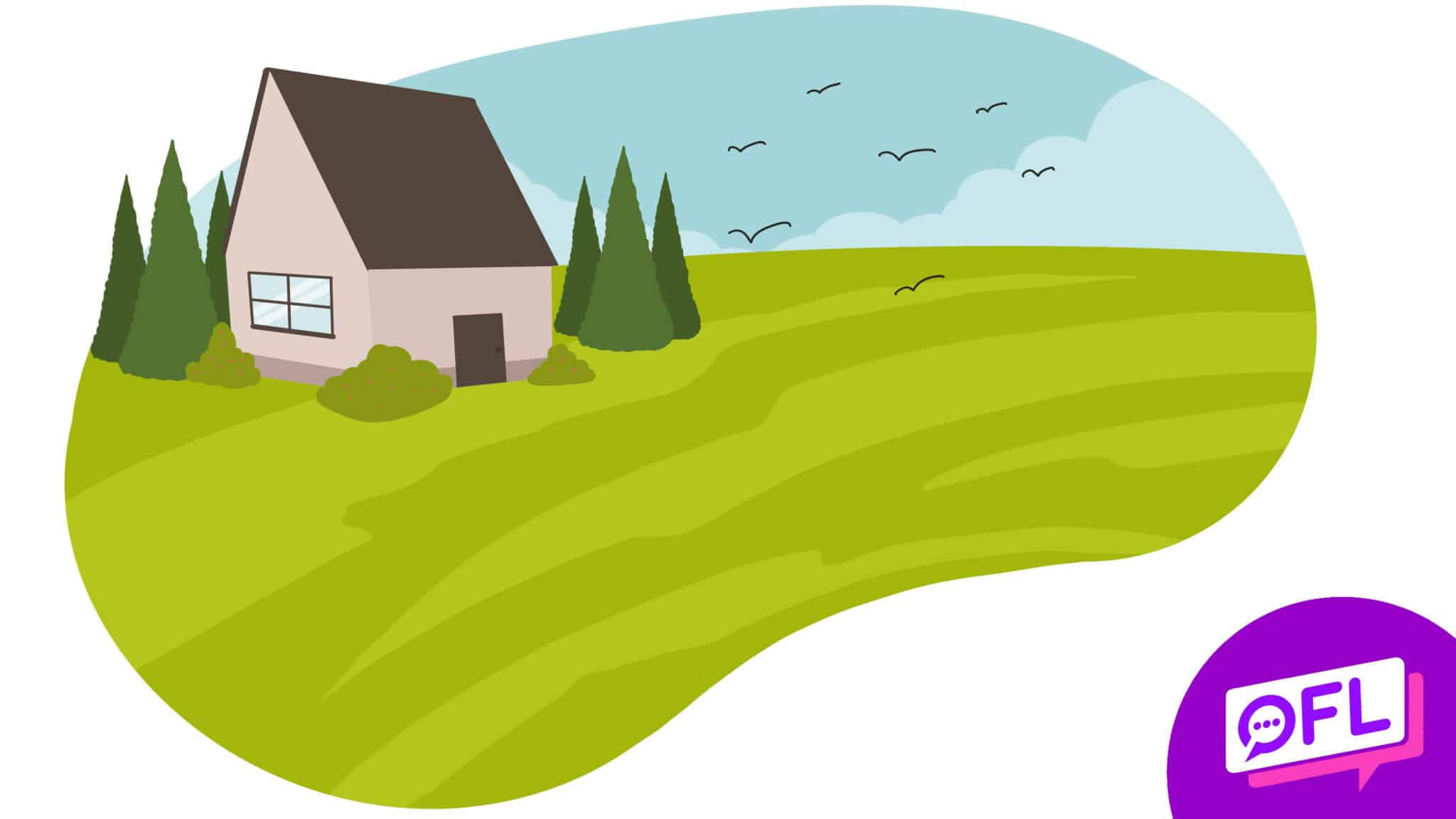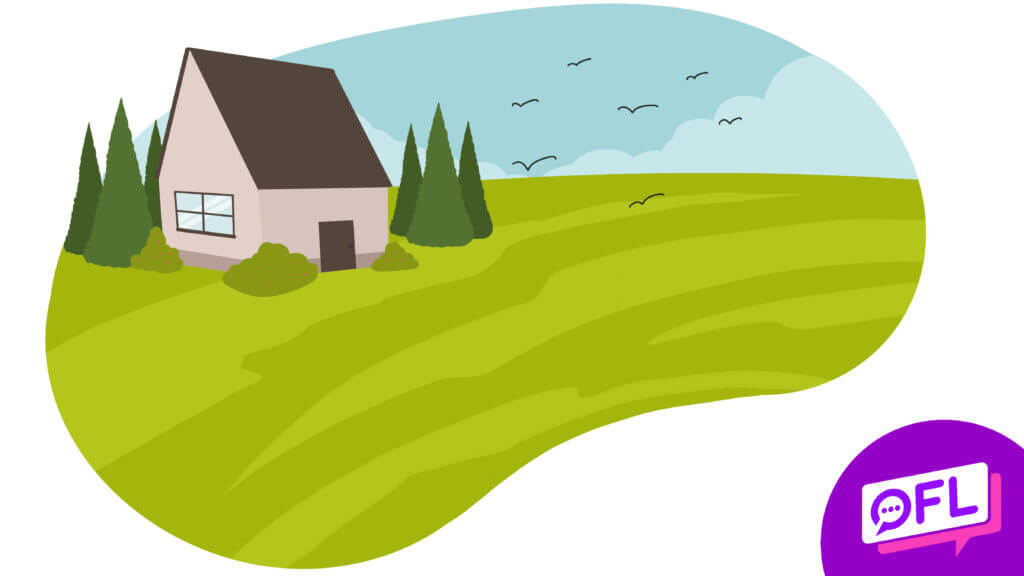 The sound of a rooster's call in the early morning, seeing your breath at the cold break of dawn, muddy boots on the porch and the unmistakable smell of the countryside.
There's just something awesome about rural living, isn't there?
Granted, it's not for all of us and city slickers probably only prefer short visits, but for many, living rurally is a way of life.
And these people would like to meet up with others that love rural life just as much as they do.
OFL Top Recommendations based on 100,000+ Survey

"Serious Relationships"
"Discreet Hookups"
"Best Course for Men"
"Quick Flings"
"Normal Hookups"
"Our Quiz"
That's what we are looking at in today's article – dating sites for those of us who love the countryside from the following point of view:
Having looked at these sites in great detail, you should be the judge as to which of them is going to be perfect for you to find your rural-loving partner.
So let's hop straight in then.
Is your dating app giving you the best chance for success?
Make sure to take our online dating site/app quiz to find out.
It's a fact that people who follow our dating site suggestions have on average 2 extra dates per month.
Best Rural Sites in Video Form
Audio (podcast) form for those of you on the go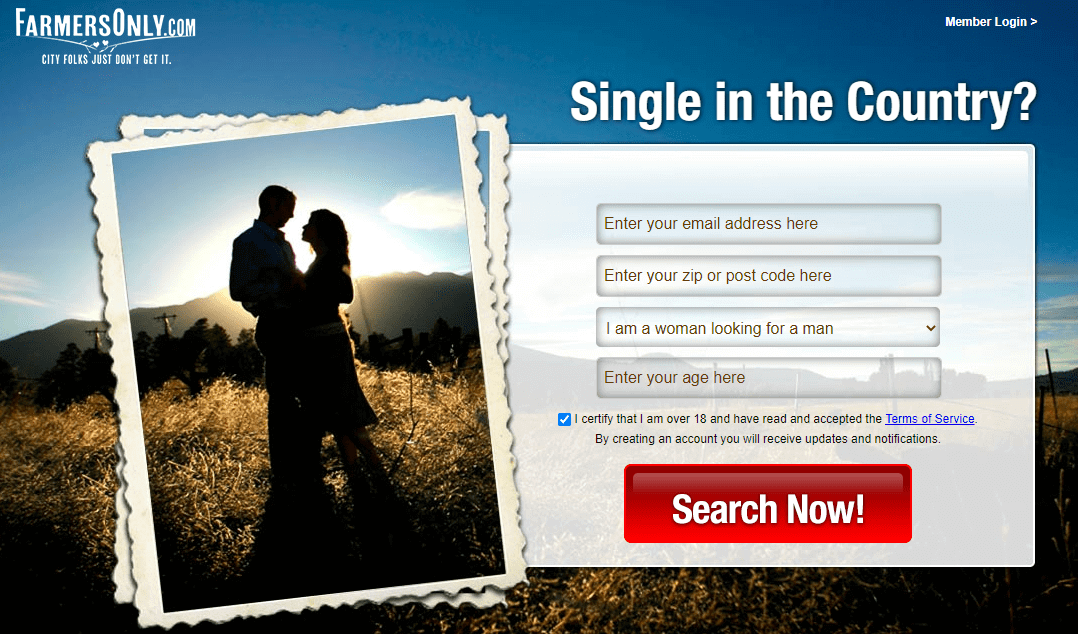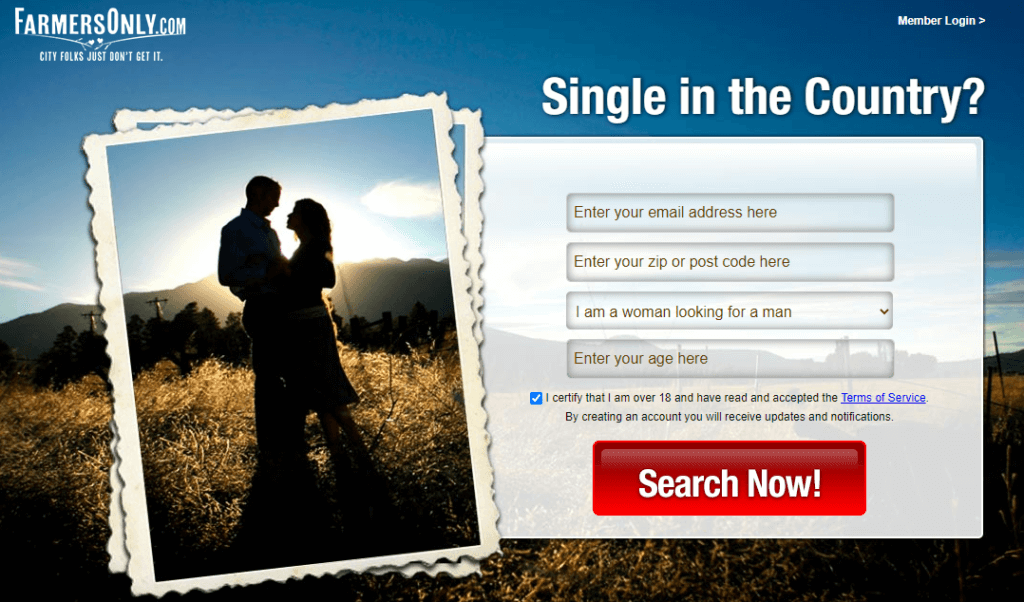 Signing Up – 4.5/5
Making Contact – 3/5
Profile Quality – 3/5
Overall Quality – 3.5/5
OFL Top Recommendations based on 100,000+ Survey

"Serious Relationships"
"Discreet Hookups"
"Best Course for Men"
"Quick Flings"
"Normal Hookups"
"Our Quiz"
Includes a chat room for members
A small but active database of like-minded users
Advanced searches can be performed by regular users
US-based only
If you'd like to message someone, you need a membership
Country means farms, right?
And yes, reviewing a bunch of dating sites related to rural life wouldn't be right without including a site that caters to farmers and those who want to date them.
That's exactly what Farmers Only is.
And because rural folks are a little different, Farmers Only does things a little differently too.
But that's something we will come to later in the review.
While the website boldly gives you a number for members online now – and for me, it was over 20 000 – I am not sure that's not just marketing bluster.
That said, for my specific search parameters, over 2 000 profiles were returned, so there is a strong user base here, that's for sure.
But it's never going to be a six-figure number.
If you live in a rural area in the United States, however, you stand a pretty good chance of getting excellent search returns.
Also, it does seem that there are more male profiles on-site than female but it's almost impossible to guess the ratio.
As for age ranges, well in my test searching, I found potential matchups of all ages.
And in today's world, is age really that important anymore?
But enough about the demographics of the site, let's see how it operates.


Ease of Use "mobile and desktop version"
Ok, so this is a dating site for farmers, right.
And it really does do things its own way, something I noticed straight from the start.
First of all, if you love rural life, you probably don't have a mobile phone in your hand all the time.
That's a good thing because Farmers Only isn't mobile-friendly.
So you going to have to fire up that old computer to find the love of your life.
Registration couldn't be easier but this is where things are different from other dating sites.
Provide four simple pieces of information and you are basically good to go straight away.
These are:
Your email address
Your zip code
Your gender and the gender you are looking for (with gay and lesbian options)
Your age
That's it.
Once you've done that, you are taken straight to the website where you can upload a photo and then start looking around.
You will notice that you don't even have a username.
You are just Cowboy or FarmGirl with a bunch of numbers afterward.
See, I told you it was different.
Because the registration process is so quick, none of your profile is filled in at all.
So that's the best place for you to start.
And it's going to take you the best part of 10 minutes because Farmers Only profiles are packed with information.
Here's an idea of what you will need to provide:
A profile headline
An about yourself section
Your habits and lifestyle (including the type of relationship you want, your marital status and more)
Information regarding your ideal match
And more photos
As for the site design, well it's not that modern to be fair.
I think the best term to describe it is practical which is probably a word that best describes farmers too.
If you click on the home page, you can navigate the site from the links that appear there.
For example, you can access your profile, the site search engine and more from here.
But you can also use another menus system on the left-hand side of the screen to see the following:
See who is online
See who has visited your profile
See who likes you
Play the Discover match-up game
Change settings
Launch searches
And more
Trying to find the right matchup is simple enough.
You could start with "Discover" which is a roulette-style matchup game.
I like the fact that you can see more about each person by clicking on the information button before you decided to move on or like them.
If you'd prefer to search for matchups yourself, just hit the search menu.
Straight away you are taken to a search engine with plenty of parameters.
You can select as many as you want by simply clicking on the check box.
It's totally up to you.
While you can flirt with someone to show them that you would like to get to know them a little better, you cannot message anyone unless you have a membership to Farmers Only.
The benefits of membership on Farmers Only are:
Unlimited messaging
The ability to use your mobile to reply to emails (link to your email address)
Reply to messages you received
See the status of other members
See when last they were logged into the site
Post as many pictures as you like
Two chat rooms to meet others
I don't think stellar is a word that we will associate with the features on offer.
They not too bad, however but then again, that depends on the pricing of the membership packages that Farmers Only has.
There are three options:
1-month membership: $27.95
3-month membership: $49.95 ($16.65 per month)
6-month membership: $83.94 ($13.99 per month)
Pricing options are obviously better if you can afford the longer membership packages.
For me, a three-month membership makes the most sense.
The lump-sum amount you have to pay is only around $22 more than a monthly membership.
Speaking of the monthly membership, I feel it could be at least $5 cheaper when you see the features on offer.
It's a match-up game.
Yes, even a dating site for farmers has one.
You can either skip or like profiles.
Should they also like you, then you have yourself a mutual matchup.
2. How do I contact the admin team at Farmers Only?
If you cannot find an answer to a question you have, it's best to contact them through the website's contact page.
You can find that under the "Contact Support" option and by selecting "Can't find an answer to your question?"
3. My username is Cowboy980981. Can I change that?
No, you can't.
Don't worry, you either a Cowboy or a Famergirl on this site.
Today, Farmers Only gets a more than solid 3.5 out of 5.
If you love the rural life and are based in the United States, this is a site that's something to consider, that's for sure.
No, it's not the most modern and the one-month membership option for me could be a little cheaper but it's an active community.
Spend some time in the chat rooms, get to know a few of the other users, search and find the love of your life.
You just never know, right?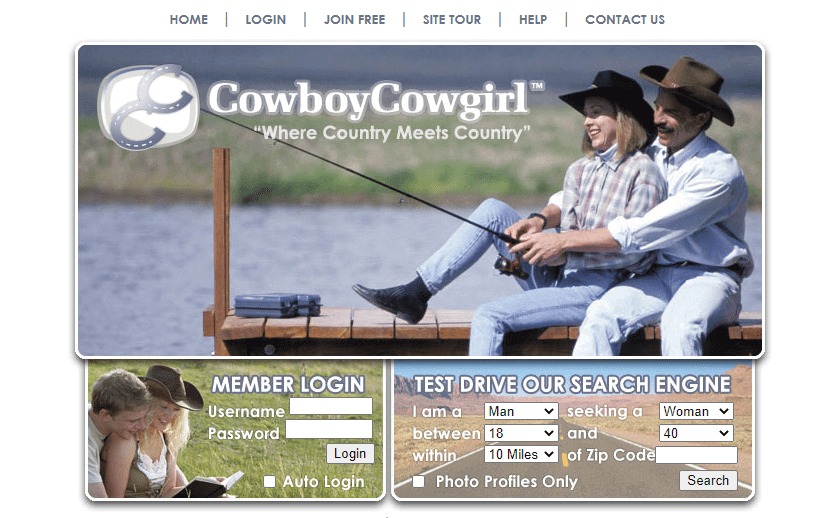 Signing Up – 4/5
Making Contact – 3/5
Profile Quality – 4/5
Overall Quality – 4/5
Includes matchup provided by the site
If you complete your profile in full, you can see a matchup percentage with each user
The advanced search engine is for all users
It's only for residents of the United States and Canada
Messaging is for members only
Yee-haw!
When you think about rural life, don't cowboy's immediately come to mind?
Of course they do.
On any farm or ranch, horses are going to play an integral part in daily life, that's for sure.
And if you love horses, then chances are you've dreamt about being a cowgirl or cowboy, or perhaps even dating them?
Now you can, thanks to Cowboy Cowgirl, a niche rural dating site.
Just like all the sites we review in this article, Cowboy Cowgirl has a small and dedicated user base.
But they people just like you and certainly worth meeting.

Ease of Use "mobile and desktop version"
The registration process for Cowboy Cowgirl isn't super simple like Farmers Only.
You going to have to put aside about five to 10 minutes to complete it.
The first thing you will notice is that the site is only available to people from the United States and Canada.
And I suppose, with a niche site like this and the target market it's aimed at, that's to be expected.
So what information do you need to provide?
Well, there is a bit of some profile information as well as the regular information that all sites need.
I'm talking about username, password and email address.
Then it's a case of waiting for your registration email and clicking on the link provided.
That gives you access to the site.
First up, complete your profile.
You have filled in some parts of it during the registration process but there is still more to do.
It won't take too long either but you've got plenty of cowboys or cowgirls to compete with, so do it right!
And don't forget to upload a profile picture either.
The site is fairly modern-looking and super simple to navigate.
Every menu does exactly what you would expect it to, so I am not going to focus on that too much.
I want to talk about searching for matchups of your own, however.
Regular users can make use of both a simple and advanced search engine.
The simple search engine includes gender (and yes, this is a gay and lesbian-friendly dating site), age ranges and location.
The advanced search engine factors in a bunch of extra parameters.
Only want to meet red-head cowgirls?
Well, then select their hair color as red and search away.
Of course, on a niche dating site that has a smaller user base, putting in too many parameters often cuts down on your options, so be wary of that.
You could also fill out your ideal match profile (which you should have done when filling in your profile) and Cowboy Cowgirl will provide you with matches as well.
So there's plenty of ways to find the right kind of matchups.
A matchup percentage also helps to tell you just how much of a match someone is, which a pretty cool extra.
While you can show your interest to someone with a "hat tip" you'd have to be a member of the site if you want to send a message.
All users can read and reply to messages, however.
Messages themselves take the form of site emails.
As a member of Cowboy Cowgirl, you don't get anything more than the ability to message other users.
And for that reason, membership is priced accordingly.
There are two memberships to choose from:
1-month membership: $9.95
3-month membership: $19.95
I told you it was priced right, didn't I?
There are no other added extras other than member messaging.
1. What are the colored dots I see on other members' profiles?
This is an indication of just how much you match certain of their attributes.
Green is a good match, red isn't.
It's just a way for all users to show someone else that they are interested in them.
On other dating sites, this will be called a flirt.
If you've ever wanted to date a cowboy or cowgirl, then this is the dating site to do it.
And yes, that means plenty of time spent in rural areas on farms and ranches right.
What more could you want?
This is such a solid niche dating site, well-designed and a pleasure to use.
It gets 3.75 out of 5 as an overall rating.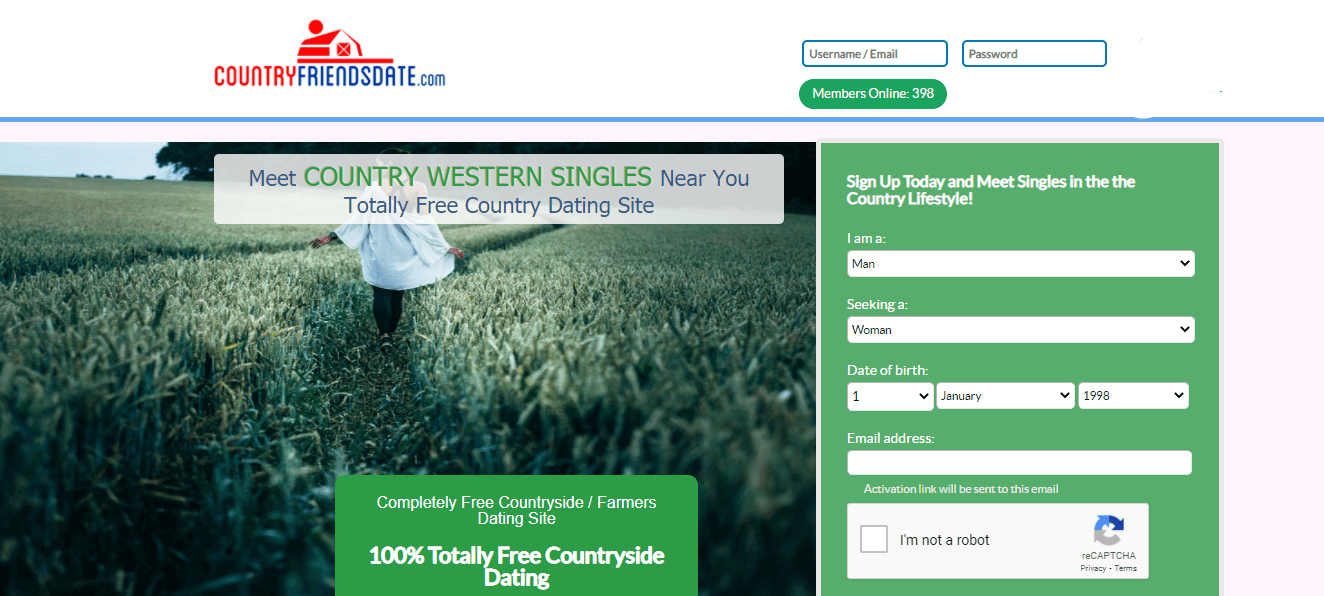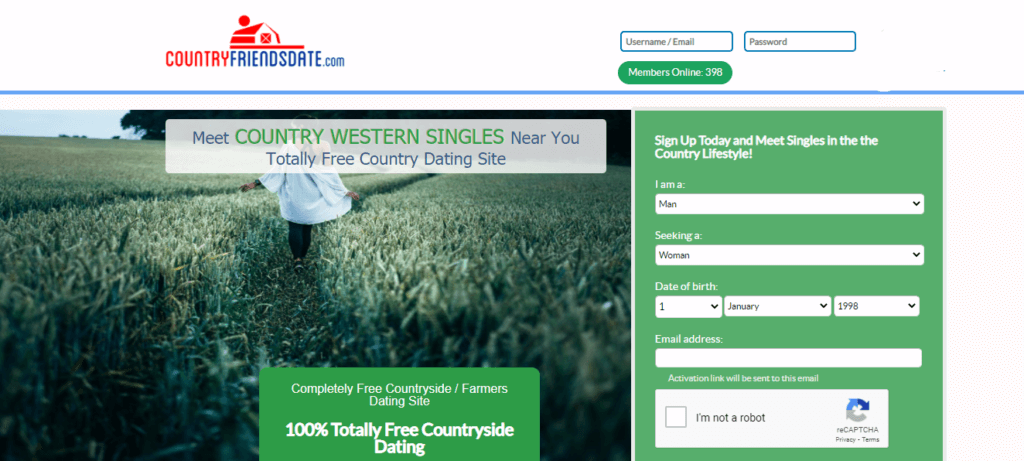 Signing Up – 3/5
Making Contact – 5/5
Profile Quality – 3/5
Overall Quality – 3/5
You don't have to pay a cent to use the site
You can be online in about 5 minutes
Mobile friendly
The overall design is a bit clunky
No app
It's important to include a dating site that's free because not everyone has extra money to be able to afford them.
And that's what Country Friends Date brings to the party.
Yes, you won't have to pay a cent to use it.
It's part of a host of niche sites and many of the users are from those other sites, so it can be a bit of a hit and miss in trying to find the best matchups.
But the fact that it's free more than makes up for that in my book.
There's a strong user base here as well which is another reason why you might want to try the site out.
Full numbers weren't available, however.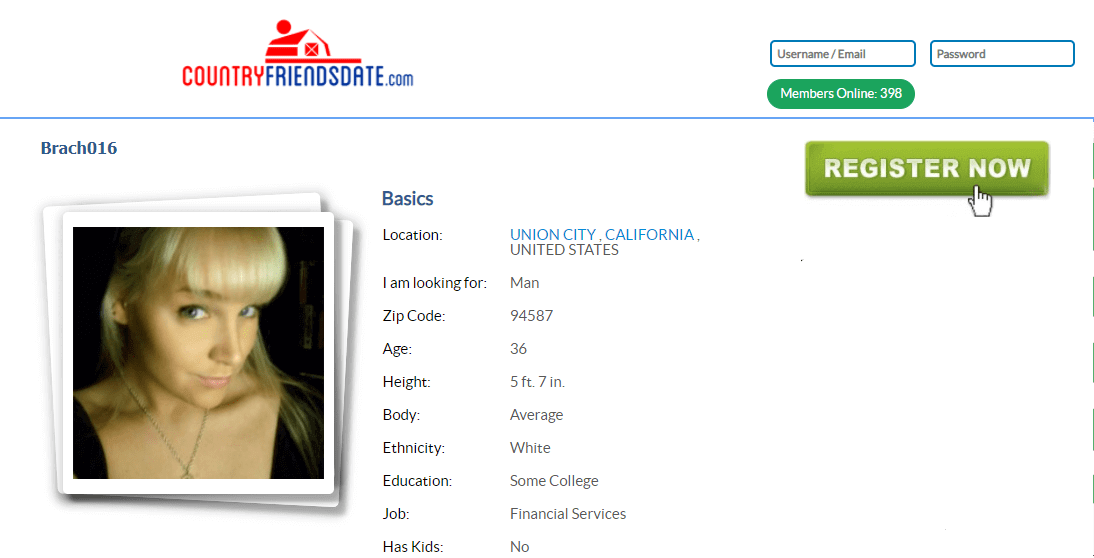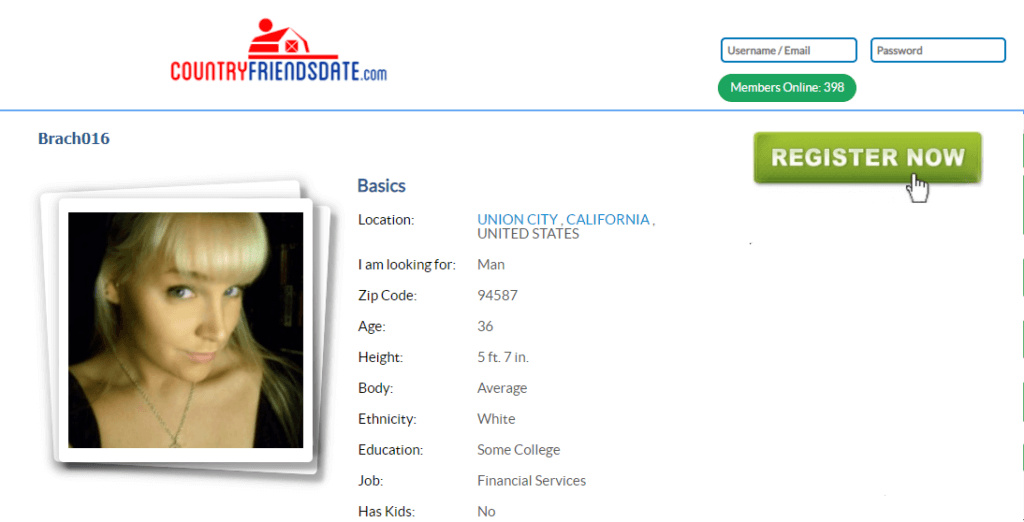 Ease of Use "mobile and desktop version"
While you won't find an app for this rural dating site, the website is compatible with smartphones, so if you'd prefer to use one, you can.
The registration process is simple enough and you will also fill in sections of your profile, but not all of it, so don't forget to do that once you log in for the first time.
There is no email verification process either, so from the moment you start the sign-up process for the first time to actually logging in to the site will take three to five minutes.
From the outset, you can start browsing potential matchups as Country Friends Date will provide some matchups based on your gender choices as well as your age ranges.
That's always a good place to start with a dating site and even more so here because you are able to fire off messages for free, so there's no harm in finding a few people that you'd like to know more about and doing that.
Of course, more refined searches can also be performed.
Click on the "Find People" tab to search for them.
As this is a free site, you only get a very basic search engine with a few parameters that you can fill in.
But you can change the location of your search if you want to look further afield.
Profiles are filled with information about potential matchups and you can learn lots about them before you fire off that first message.
And yes, remember it's free to do so.
If you not so sure before contacting someone, gauge if they'd like to chat with you by clicking on the "Meet Me" button you will find on their profiles.
See this as a testing of the waters so to speak.
If they indicate they would then message away.
Lastly, in terms of site design, Country Friends Date probably has a few too many menus that clutter things up.
But they all do serve their purpose and you can easily find out what each one of them does.
It's not a badly designed site at all and I enjoyed using it.
Country Friends Date Cost
Absolutely nothing.
Country Friends Date is free to use.
1. Can I see when last a user has logged on? I think that's a critical part of online dating sites.
Yes.
Go to their profile and you can see it just above the "Meet Me" and "Wink" options.
2. How do I delete my profile?
Click on the "Settings" menu.
Scroll down until you see "Delete My Profile".
It's hard to miss as it is highlighted in red.
3. Is Country Friends Date really free?
Yes, it really is free.
You can register for a profile and find people that love rural life just like you do without having to pay a cent.
The best part of this online dating site that focuses on country and rural living is that it is free.
Of course, there are shared users here but you can find those who love the outdoors just like you do.
It really is worth a try on your part and gets an overall rating of 3.5 out of 5.
Signing Up – 4.5/5
Making Contact – 3/5
Profile Quality – 4.5/5
Overall Quality – 4.5/5
The excellent user base of like-minded individuals
A beautifully designed website
You can save your searches
The advanced search engine is free to us
Extensive profiles
Muddy Matches is a dating website for people who love country life.
And I love the name!
It's clever for a rural dating site, isn't it?
In terms of demographics, user numbers, gender ratios or the most prevalent age ranges on the site weren't forthcoming but the site was very active during the time I made use of it.
Ease of Use "mobile and desktop version"
The registration process for Muddy Matches was a little different and a lot of fun.
The site is open to singles and couples and caters to the LBGT community.
The start of the registration is just like any other dating site you've seen.
But once that's over, there's an involved process where you flesh out large parts of your profile.
This includes sections on your background, your appearance, a photo and your introduction.
I loved the background part.
It includes a slider where you rate on a scale how much of a townie you are or if you tend towards "mostly muddy".
It makes what can often be the boring part of online registration a bit more fun.
While you will be asked to sign up for a membership, it is something you can skip if you'd prefer to check the site out.
And while you can browse the site and use it after you've completed everything, your application must first be approved before your profile will show in search returns.
Note that although you did fill in parts of your profile, there is more to do, so focus on that while you wait for it to be approved.
So let's talk a little about the overall design of the site.
It's really awesome actually.
Uncluttered and functional, you will immediately notice some matches the site has returned for you based on the registration information you provided.
Eight menus across the top of the screen help to guide you around the site.
These are:
Search: The site search engine can be found here
Messages: All your messages, both received and sent are found here
Favorites: If you favorite a profile it can be found here again
Winks: See who you have winked and who has winked at you here
Connect: Muddy Matches' roulette-matchup game
Subscribe: Click here to become a subscriber
Your profile and site settings: Edit your profile as well as site settings here
Other than using the matches presented by the site, or trying out the Connect match-up game, you mostly will be using searches of your own to help you find your rural partner, right?
Before I get a little more into that, you can save your different types of searches and easily launch them from the home screen in the future, which is a nice extra feature.
Click the search menu button and you are taken straight to the advanced search engine.
Here you can set various parameters under eight different areas.
These are:
Basic options
Muddy-Townie ratio
Keywords
Relationship
Appearance
Lifestyle
Background
Sports and Activities
This really allows you to make the exact kind of search you want.
And don't forget, you can save them afterward as well.
Profiles of users are filled with information that helps you determine who are the best candidates to get to know better.
If you'd like to message someone, you have to subscribe to a membership on the site.
You can send them a wink or add them to your favorites as a non-paying user.
There are no real extras for a member of Muddy Matches over a regular user other than the ability to send and receive messages from others.
Here's a breakdown of what the membership packages will cost you.
1-month: £26 per month
3-months: £48 ($16 per month)
6-months: £84 ($12 per month)
12-months: £218 ($7.83 per month)
The one-month option is a little expensive I feel.
Clearly those behind the site want you to sign up for extended membership.
It is tempting too as well.
For example, on the six-month membership, you can save up to 54%.
Ultimately, if you want membership to the site, you are going to have to decide which option you can afford the easiest.
There is something more, however.
With a Premium Upgrade at £5.99 per month, you can ensure that anyone you message, yes even those without a membership can message your back.
1. What is the extra Premium Membership?
For an extra £5.99 on any package you choose, you will ensure that even non-members of the site can message you back.
That really opens the playing fields, so to speak.
2. How can I contact the team at Muddy Matches?
Muddy Matches has an extensive FAQ but if you cannot find the answer to a question you might have, you can send your question through their contact form.
Click here to access it.
This is a fantastic website filled with possibilities.
Well designed and simple to use, Muddy Matches is the rural dating website that really stands out.
It scores a superb 4.1 out of 5 for an overall rating.