If you are a lesbian looking for love, then this review is going to provide you with all the information that you need about one of the world's most popular lesbian dating sites, PinkCupid.
PinkCupid is no stranger to the dating scene and certainly not a fly-by-night.
A niche site that caters to lesbians, this across-the-board review will provide you with all the information you need to make an informed decision as to whether PinkCupid is worth your time in your search for love.
By reading through it, you will discover:
OFL Top Recommendations based on 100,000+ Survey

"Serious Relationships"
"Discreet Hookups"
"Best Course for Men"
"Quick Flings"
"Normal Hookups"
"Our Quiz"
So let's get started.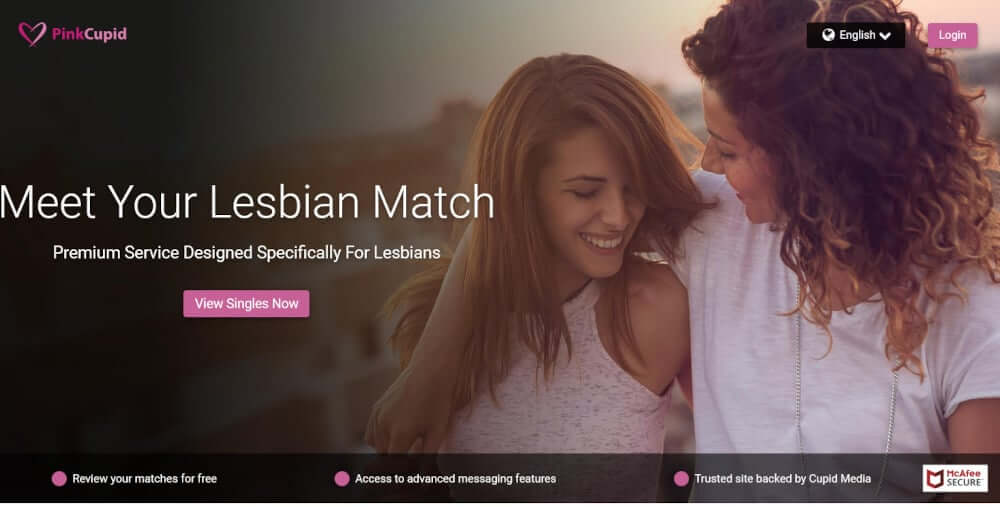 Is your dating app giving you the best chance for success?
Make sure to take our online dating site/app quiz to find out.
People who follow our dating site suggestions have on average 2 more dates per month.
Pink Cupid Review In Video Form
Audio (podcast) form for those of you on the go
Ease of Use – 5/5
Effectiveness – 3/5
Key Features – 4/5
Pricing – 4/5
OFL Top Recommendations based on 100,000+ Survey

"Serious Relationships"
"Discreet Hookups"
"Best Course for Men"
"Quick Flings"
"Normal Hookups"
"Our Quiz"
A simple sign up has you online in next to no time at all
Strong user base
Excellent search options
Loads of key features for members
You are going to need to take out a membership to communicate effectively
Although there is a PinkCupid app, it's not yet available for Apple phones, only Android ones

Who Is It For/Demographics?
PinkCupid is a dating site that started back in 2006.
Run by Cupid Media – who owns around 35 other dating sites – PinkCupid is a niche site aimed specifically at lesbians looking for love.
This isn't a hook up site (like BeNaughty or Ashley Madison) but one where people join to find someone that they can hopefully share their life with (just like eHarmony).
Of course, some users might be out just to date for fun or perhaps to hook up but, for the most part, it's about looking for long-term love.
Before we get into how PinkCupid operates, let's look at some of the figures that CupidMedia claim about the site in terms of user numbers and other fascinating figures.
Over 1 million people have signed up for profiles on PinkCupid since 2006
Around 315 000 of those users are from the United States
350 000 users currently visit the site each month
At present, around 28 000 new users sign up for PinkCupid each month.
That's over 300 000 new users each year
Now what those figures suggest to me is that PinkCupid is a thriving lesbian community with a ton of users, many of them who are extremely active on the site.
Not only that, but the site is growing and continues to attract new users each month.
While it certainly is very promising in terms of a user base, what about the age ranges of the people that use PinkCupid.
Well, the breakdown for that is:
25-34 years old
18-24 years old
35-44 years old
45-54 years old
55+
From these age ranges, it's easy to see that many of the users on PinkCupid are aged between 18 to 34.
In fact, it's around 50% of all users on the site who are in that age bracket.
That doesn't mean that should you be looking for more mature matchups that you won't find them here.
That's because PinkCupid has profiles across all the age ranges, they might just not be as abundant as the 18-34-year-old group.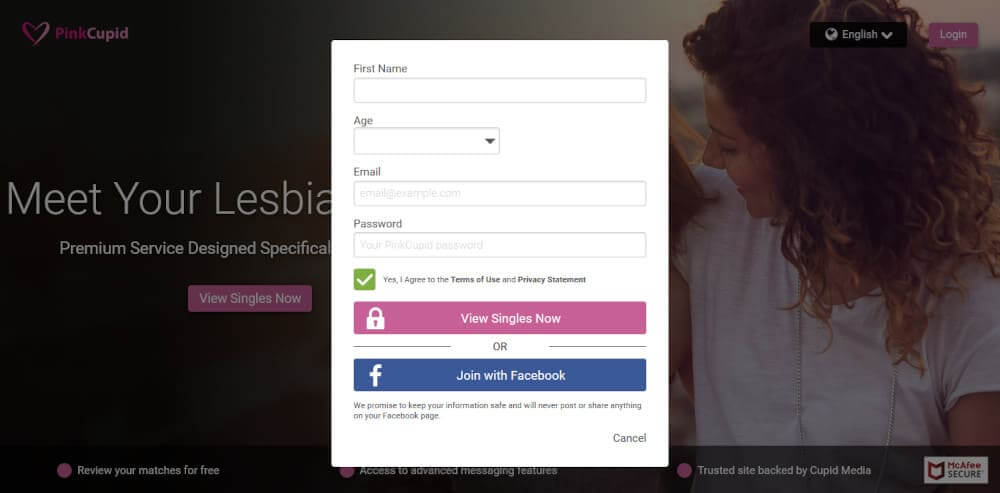 If you've ever used one of the 35 sites that fall under the banner of Cupid Media, you'd know that not only are they extremely well-designed and atheistically please, but it couldn't be simpler to start a profile and navigate the site.
And that's true for PinkCupid too.
Getting up and running on PinkCupid really couldn't be any easier.
There are two ways you can sign up for the site:
If you have an android phone, download the official PinkCupid app in the Google Play Store and sign up using that.
Or you can follow the more traditional way and head on to the PinkCupid website to start your profile.
On the website, you can speed up the process even more by using your Facebook account to set up your PinkCupid login.
When doing it the regular way, you will have to provide the following:
Your name
Your email address
A password
The age range you'd like your matchups to be
Once you've provided that, you are taken to the website where you can now upload your picture, which is highly recommended to get yourself noticed, as well as fill in the rest of your profile.
Or if you'd like, you can start browsing through a host of profiles that PinkCupid hit you with first up.
These are people near your location and in the age range you specified for matches.
While it's nice to get browsing, I believe getting your profile done is necessary because a potential matchup might be put off the fact that you have very little information about yourself when you try to contact them.
And completing your profile will take about 10 minutes of your time maximum.
It's no different from other dating sites you might have used before so expect to answer a range of questions related to:
Your appearance
Your ethnicity
Your lifestyle
Your marital status
Those are the main categories you will need to fill in.

Finding your way around PinkCupid
Without a doubt, this is a well-designed dating site where you will find everything you need exactly where you'd expect it to be.
The best way to navigate the site is through the menus presented at the top of the screen.
These are:
Matches: Here you have a list of matches that PinkCupid has put together for you
Search: This is where you can launch a new search from
Messages: All the messages you've sent and received will appear here
Activity: This menu has a ton of information that's useful, particularly who has viewed your profile, liked your profile or added you as a favorite. It also keeps track of who you have favorited, liked and viewed as well as who you have blocked.
You will also notice a number on the left-hand side of the "matches" menu bar.
This is the number of users online at that moment.
Click on it and you will see all their profiles as well.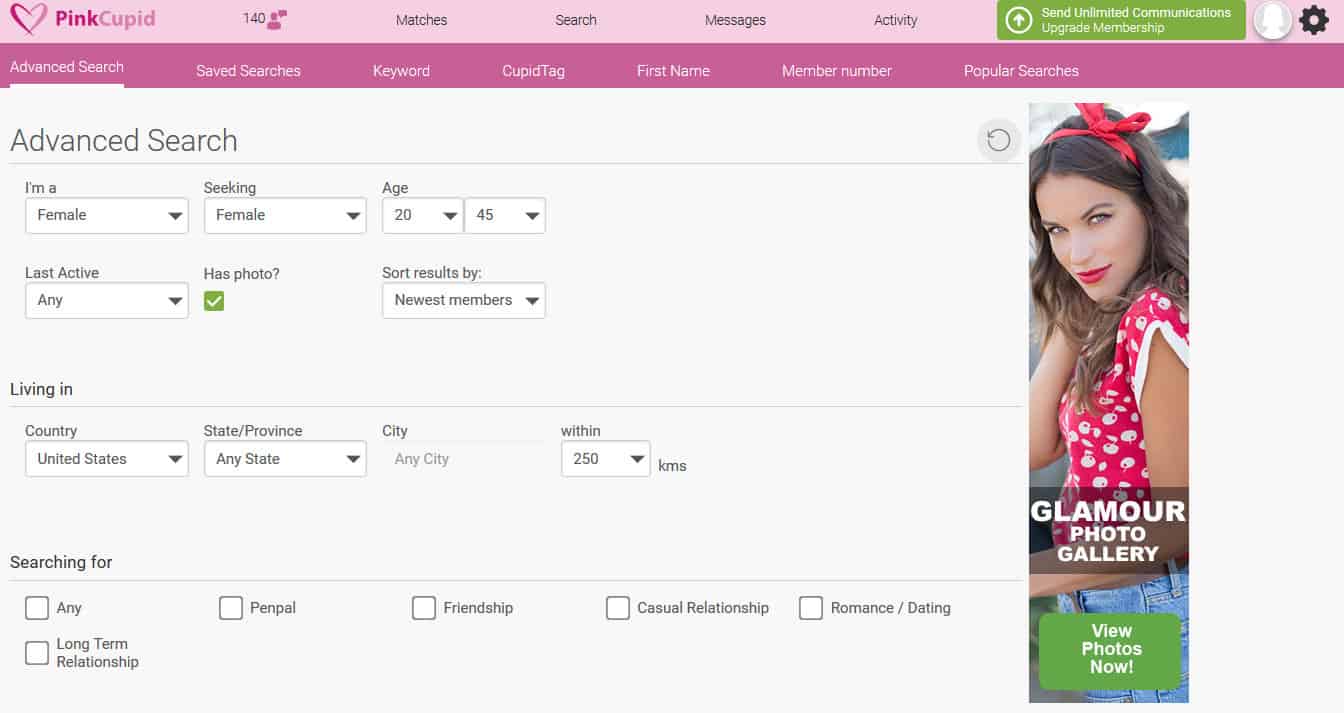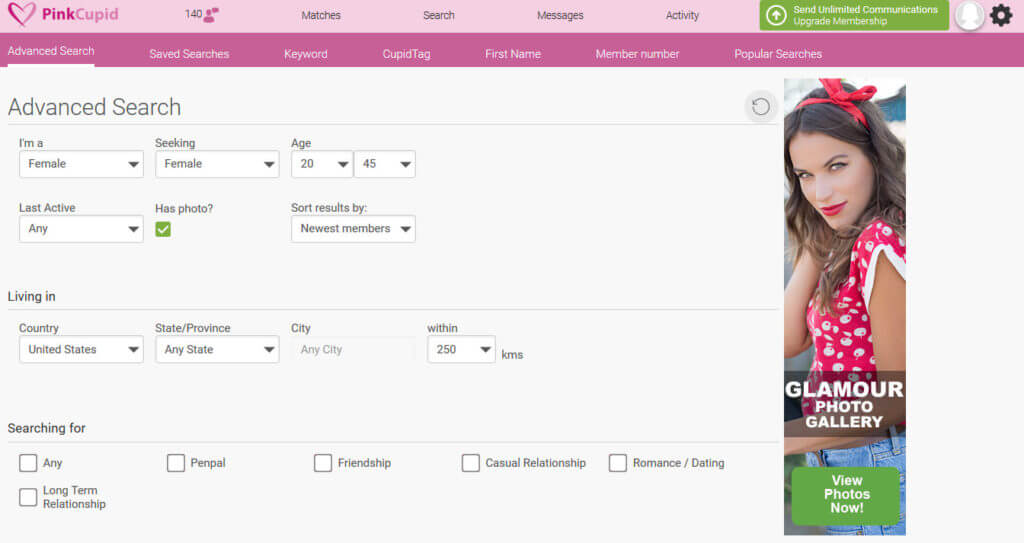 So far, we've established that PinkCupid has everything you need to help you in your quest to find that perfect matchup for whatever your specific needs might be.
But how do you go about finding them?
To find that perfect matchup, you are going to have to conduct some searches.
And there are many ways that you can do that on PinkCupid.
In fact, there are six ways to search.
Advanced searches
Keyword searches
Cupid Tag searches
First name searches
Member number searches
Popular searches
Most of those are pretty self-explanatory but in this review, I want to highlight two in particular and that's advanced searches and Cupid Tag searches.
The advanced search is packed with parameters that you can set to help you in your search for that someone special, or perhaps someone just to go on a casual date with.
You are free to set as many of these parameters as you want, or you could simply leave them alone and look for someone in your preferred age range and location.
The choice is all up to you.
So what extra parameters are there for you to include in your searches if you'd like to conduct a more refined search?
Well, you can add:
When last they were online in an effort to only show active members
If they have a profile pic or not
Their location
Appearance parameters (hair and eye color, height, body type and more)
Lifestyle parameters (Do they smoke or drink, will they relocate if need be, marital status and if they have children)
Cultural values
You can also save various searches that you come up with which I think is a useful feature.
That's the main way to search and the one you would use most often.
But don't rule out Cupid Tags as an alternative.
Cupid Tags are found on every Cupid Media site and are a way to conduct a search on tags that people associate with themselves.
For example, they might include "kindness" as a Cupid Tag or perhaps "passionate".
There are so many different Cupid Tags to choose from and you could even use them to describe yourself on your profile.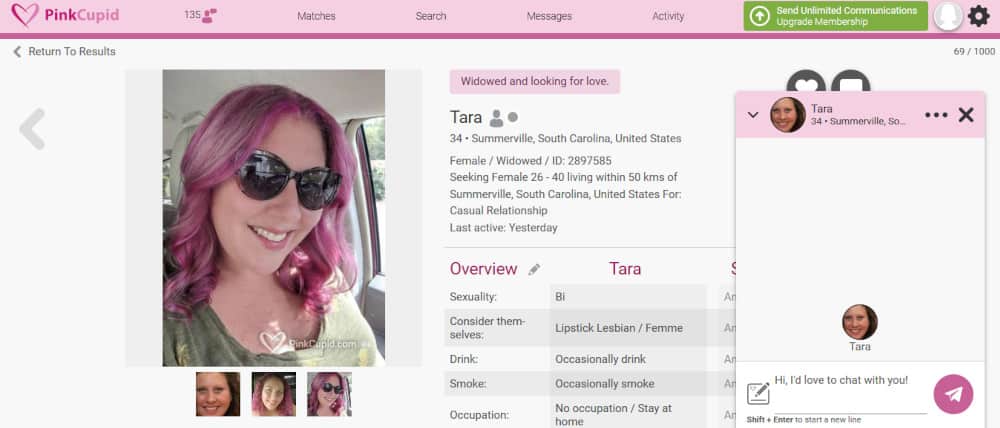 So once you've launched a few searches and found profiles of people you'd like to contact, it's time to send off a message.
And here's where you are going to hit a snag.
That's because if they are a normal user like you, you cannot message them.
The only people you can message are those users that have taken out membership on PinkCupid.
And that makes communication with most users slightly difficult.
When you do find a regular user, instead of messaging them, you can "like" their profile.
They will be notified that you did and although it's not really that effective, at least it does show some interest from your side.
If they then like you back, well then you could consider taking out a membership to communicate with them.
Membership on a site like PinkCupid also has many other advantages.
Let's look into those now.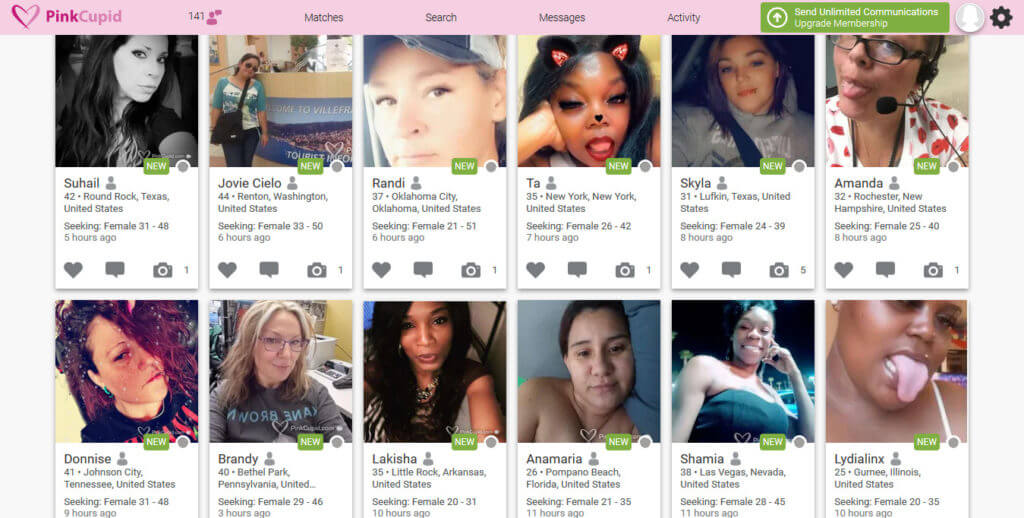 Before we take a look at all the benefits membership can bring you, let's recap on what you can expect from PinkCupid as a regular user.
You can send messages to members only
You have the option to "like" other profiles which is a useful way to show that you want to get into contact with them
You can add any profile to your "favorite" list
You can use extensive search parameters to fine-tune the matches you receive
You can see who has viewed, favorited or liked your profile
Many other sites include some of these features behind a paywall, so it's nice to use them for free on PinkCupid.
But there are other features on-site that need membership.
And here are the ones that I think are worthwhile.
Perhaps the best perk when it comes to membership is the ability to send messages to anyone, not just members.
There are no restrictions here at all.
You can fire off as many messages as you'd like to as many people as you'd like.
But that's not the only way to message a potential matchup.
Membership allows you to send instant messages to other users.
This is available to both Gold and Platinum members.
If you opt for Platinum membership on PinkCupid, your profile is immediately upgraded to VIP status.
That means that should you meet the requirements of other users' search in terms of specific parameters, yours is the first profile they will see in their matchups.
It's the best way to put you at the forefront of other user searches and give you the best chance of them actually contacting you.
When it comes to profiles, both Platinum and Gold members also have increased profile space that they can use to help them stand out even more.
Both Gold and Platinum members have the option of taking their profile offline so it wouldn't appear in other searches.
Also, this allows you to browse other users without leaving a trace that you have done so.
In other words, they can't see that you've looked at their profile under the "activity" menu.
Other than the ability to send messages, this for me is the biggest perk when it comes to membership, although you have to be a Platinum member to unlock it.
PinkCupid offers two extra matchup types.
These are mutual matches and reverse matches and can be found under the "matches" menu.
So what are they?
Firstly, a mutual match is someone that matches your criteria as well as you matching their criteria.
These matches should be well-worth exploring for that reason alone.
Secondly, a reverse match sees you given user profiles where you match what the user is looking for but they won't necessarily meet your requirements.
Again, these are well worth looking at because they might just turn up a gem or two that's worth exploring a little more.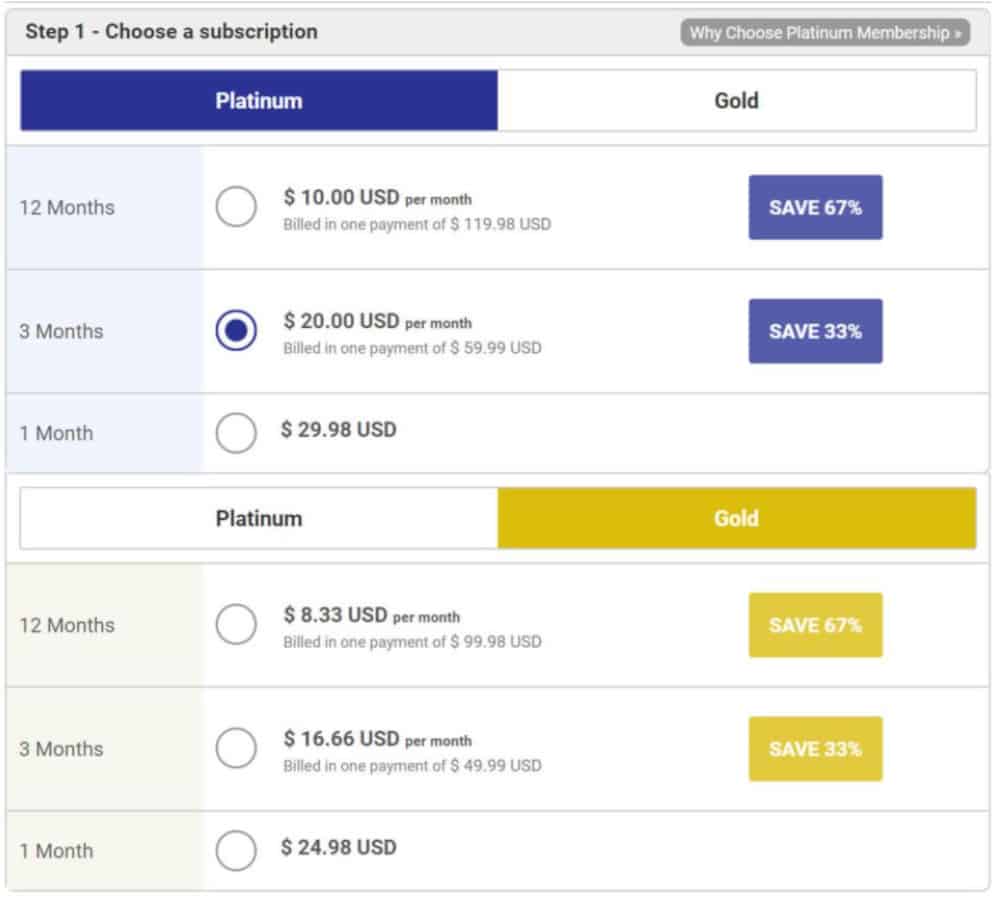 So what's membership at PinkCupid going to cost you?
Well, we've already seen that there are two membership options on the site:
Gold membership
Platinum membership (which provides access to all key features)
Each of these options has three different packages: one-month, three months and twelve-month membership.
Here's a breakdown of what Gold membership is going to cost.
1-month membership – $24.99
3-month membership – $49.99 ($16.66 per month)
12-month membership – $99.99 ($8.33 per month)
And here's the cost of Platinum membership.
1-month membership – $29.98
3-month membership – $59.99 ($20.00 per month)
12-month membership – $119.99 ($10.00 per month)
Overall, these prices are a lot cheaper than many other niche sites you will find online.
In fact, they are cheaper than some of the other sites run by Cupid Media.
And for what's on offer in terms of the key features you will get as a paying member, I think they are very cost-effective.
That's especially true if you are going to use the site for an extended period of time and buy into one of the longer membership options that offer up to 50% off and more.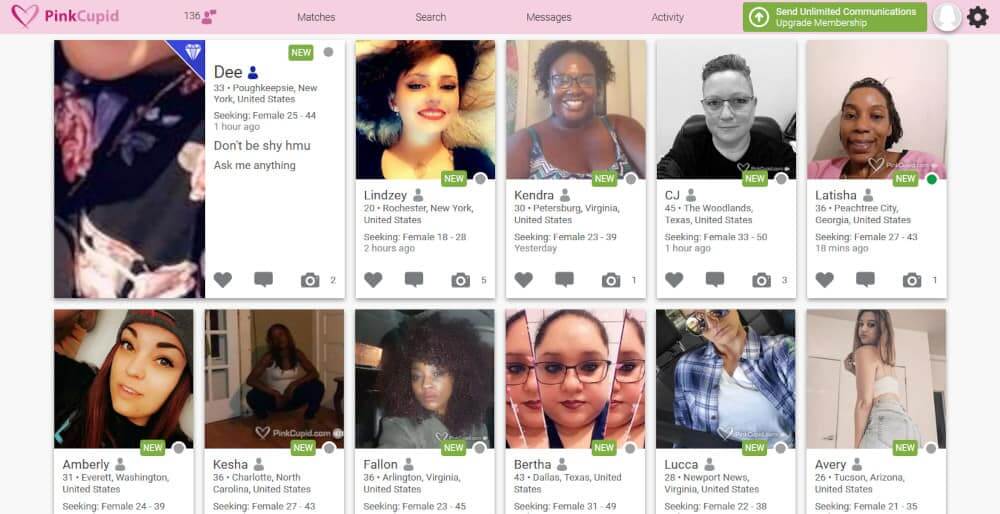 Conclusion and Overall Rating
On the whole, PinkCupid is a must-visit dating site for the lesbian community.
Not only does it have a strong user base to find what you are looking for, be it a casual date or long-term love, but it's well-designed and so easy to use.
Plus it continues to grow at an impressive rate.
There is no doubt that this is a popular dating site for lesbians around the world.
On the whole, you are going to need to buy into a membership to use it effectively but that's no different than 99% of the dating sites on the web.
Those membership packages, however, are well priced especially in terms of the key features that PinkCupid offers, particularly reverse and mutual matches.
These are a great way to find potential matches over and above the traditional search methods.
As to an overall rating, I will give PinkCupid 4 out of 5.
Have you used PinkCupid before?
Would you consider it after reading this review?
Let us know in the comments below.
Frequently Asked Questions