Welcome to our review of AsianDating.com.
This is a dating website and app where you can meet Asian women from all over the Far East including China, Japan, the Philippines, Thailand, Vietnam, Indonesia, and other Asian countries.
Niche online dating sites like this are not new.
There are many of them out there in cyberspace providing a platform for men from the USA and other western countries to meet women from the Far East.
OFL Top Recommendations based on 100,000+ Survey

"Serious Relationships"
"Discreet Hookups"
"Best Course for Men"
"Quick Flings"
"Normal Hookups"
"Our Quiz"
The problem is some of these Asian dating websites have a bad name and are home to fake profiles and scams.
Is that what you can expect from AsianDating too?
Well, that's what we want to explore in this review, along with:
And that's just the tip of the iceberg, as we reveal all you need to know about this Asian dating site.
Is your dating app giving you the best chance for success?
Make sure to take our online dating site/app quiz to find out.
It's a fact that people who follow our dating site suggestions have on average 2 extra dates per month.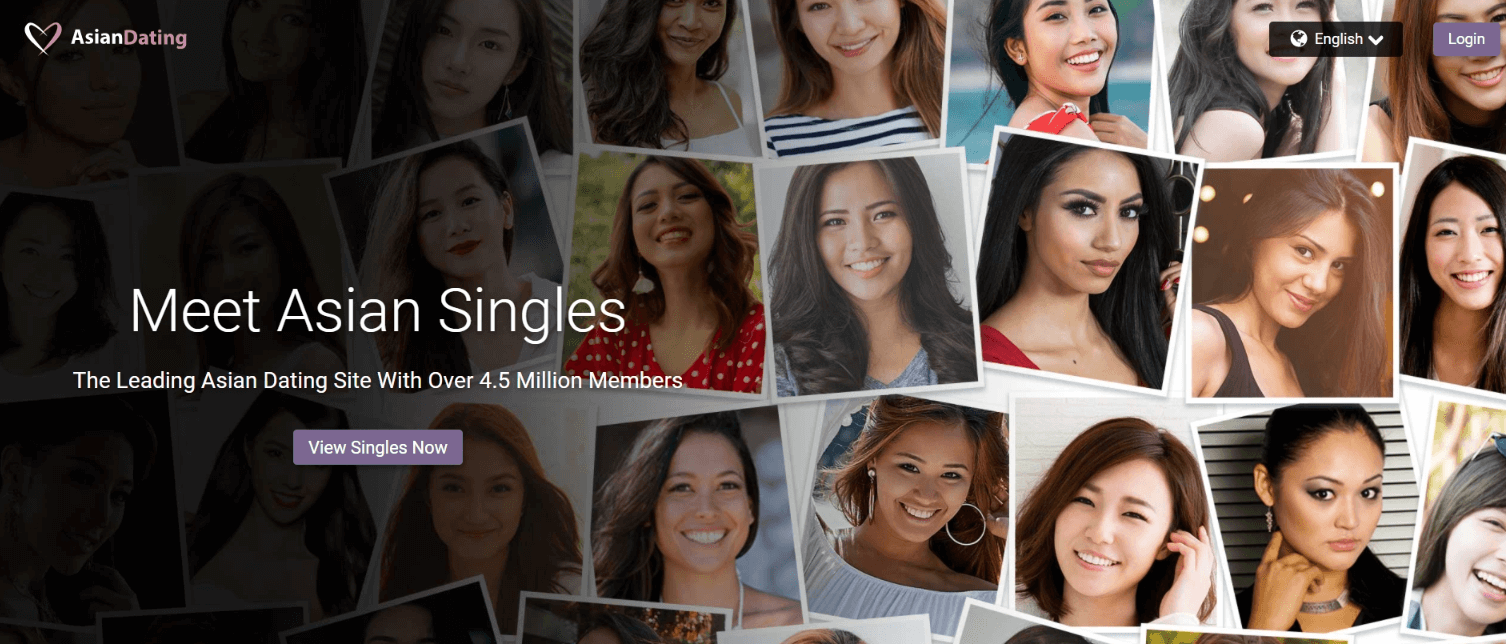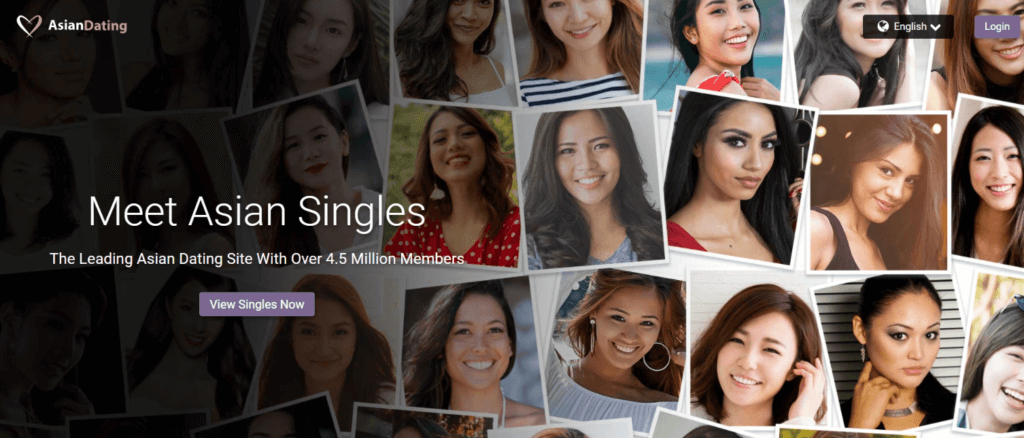 Effectiveness – 4/5
Ease of Use – 4/5
Features – 4/5
Pricing – 4/5
A user base of 4.5 million
Standout search options
Free features are plentiful
A fun site to use
Many of the female users won't have a membership, so you will need it to communicate with them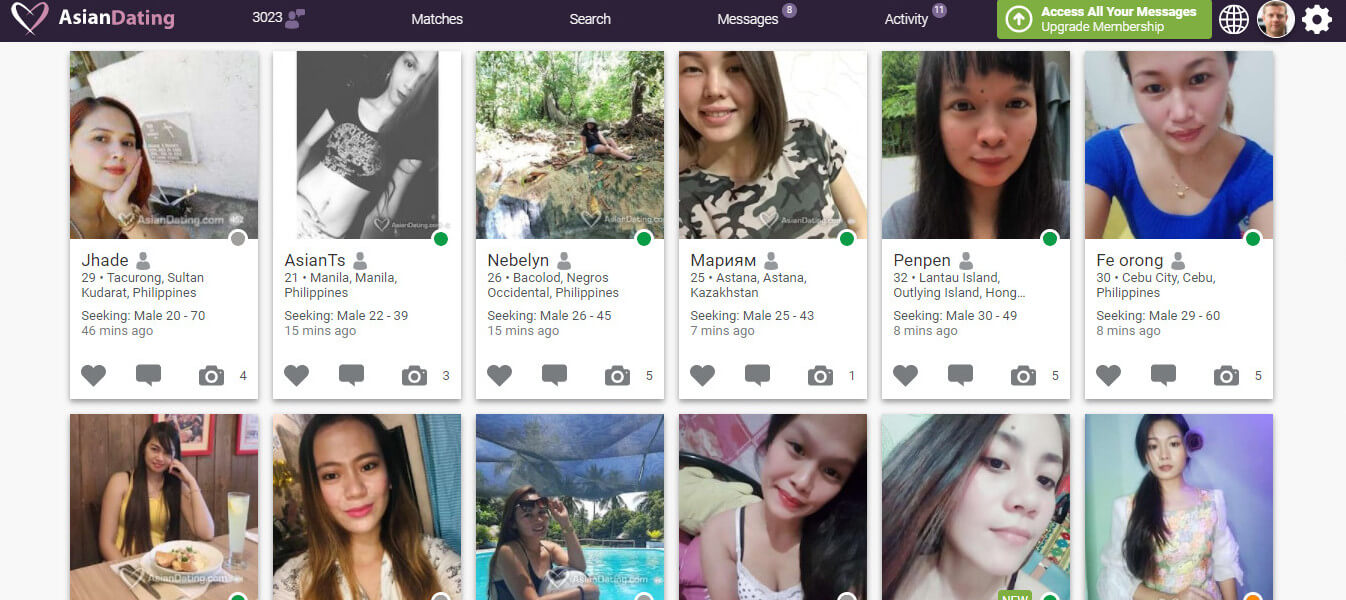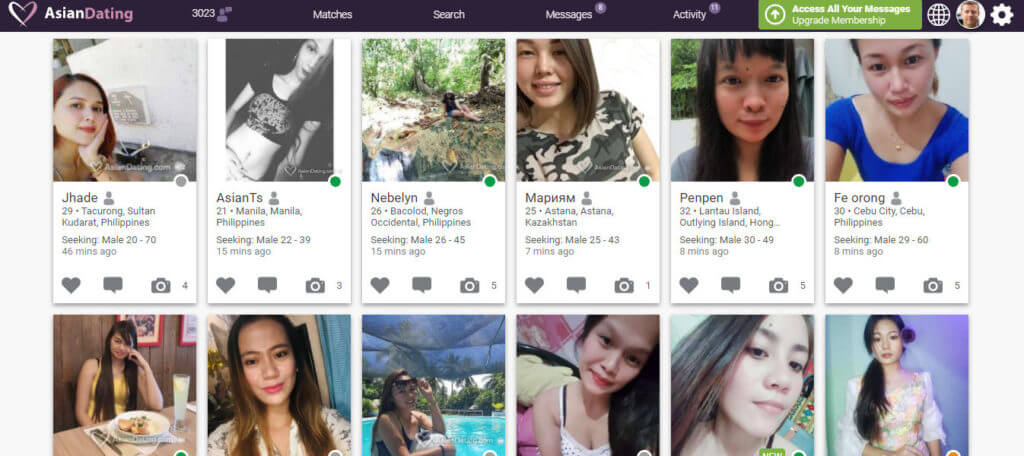 Yes, this is an Asian dating app and website for men from the West to find potential matches from all over Asia, as we've already mentioned.
But there's another dynamic at play here as we analyze the site closely because it's also a site for Asian singles to find each other.
With AsianDating having been around for almost two decades and because it services a densely populated region, that would indicate the potential for a massive user base on this dating service.
And I can clarify that's certainly true which helps those looking for their perfect match.
In fact, over 4.5 million users have registered for profiles on the site.
When you compare that with many of the rival sites of AsianDating, it's right up there with the busiest of them.
Here's a few more interesting facts as well as figures about the site you might find interesting:
Around 300000 users are from the United States
The Asian dating app has been download from Google Play over 500000
Over 10000 users login to the site each week
That's 1600 per day and over 40000 per month
Gender ratio and user

age ranges
When assessing sites like this, sometimes you will find those with more male than female profiles and others sites that swap that dynamic around.
On AsianDating, my research highlights more female users than male users when it comes to the gender ratio breakdown.
But they aren't too far removed:
60% of the profiles on the site are female
40% of the profiles on the site are male
As for age ranges, well they are spread across all the age ranges.
But of course, some of them provide far more users than others.
Here's a full breakdown from most popular to least popular including the gender ratio split for each group:
35-44-year-olds: 38% of all users of which 23% are female and 15% male
25-34-year-olds: 34% of all users of which 24% are female and 10% male
45-54-year-olds: 24% of all users of which 5% are female and 19% male
55 and older: 7% of all users of which 3% are female and 4% male
18-24-year-olds: 6% of all users of which 5% are female and 1% male
If you evaluate them, it shows a classic tendency for websites like this.
While women are the most prevalent users on the site, there are still two age ranges where men are in the ascendency.
That's the 55 and older and the 45-54-year-old group.
As for women, they dominate the 25-44-year-old age ranges (across two groups).
For me, that shows that this site is predominantly used by older males from the West looking to hook up with younger women (like BeNaughty or Ashley Madison), and they are not interested in serious relationships that much (like eHarmony or Tinder).
And the figures above certainly back that up.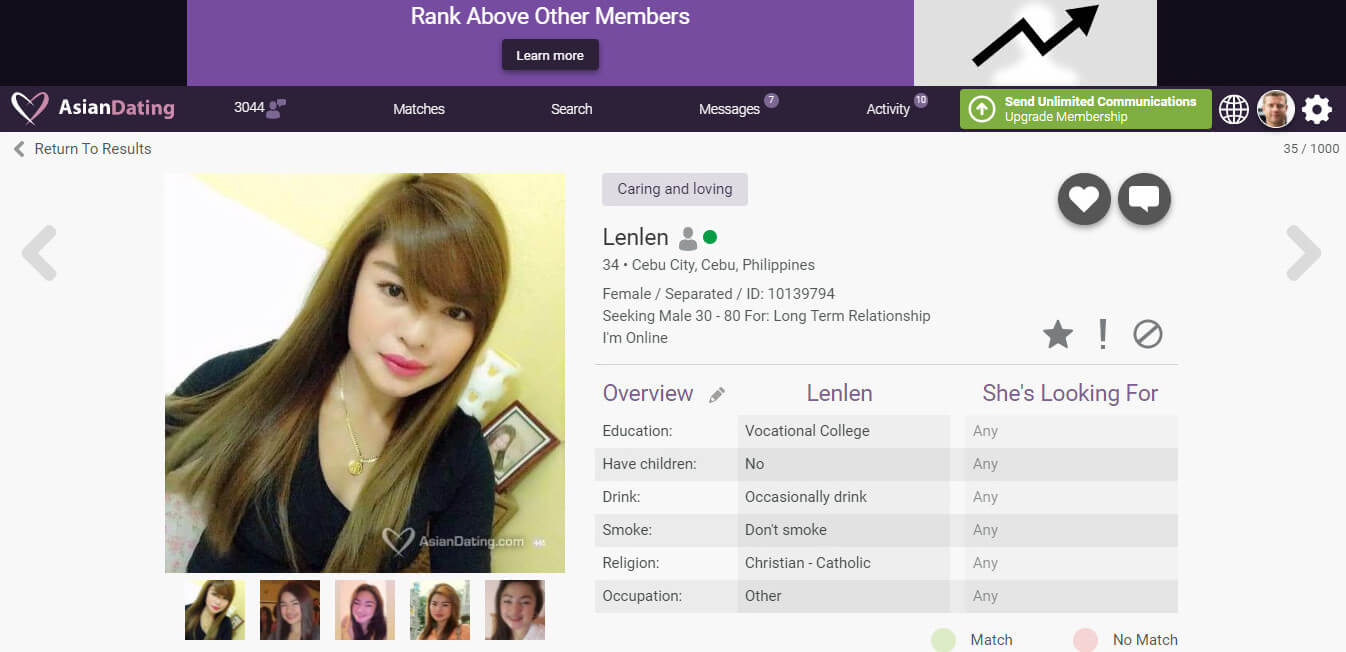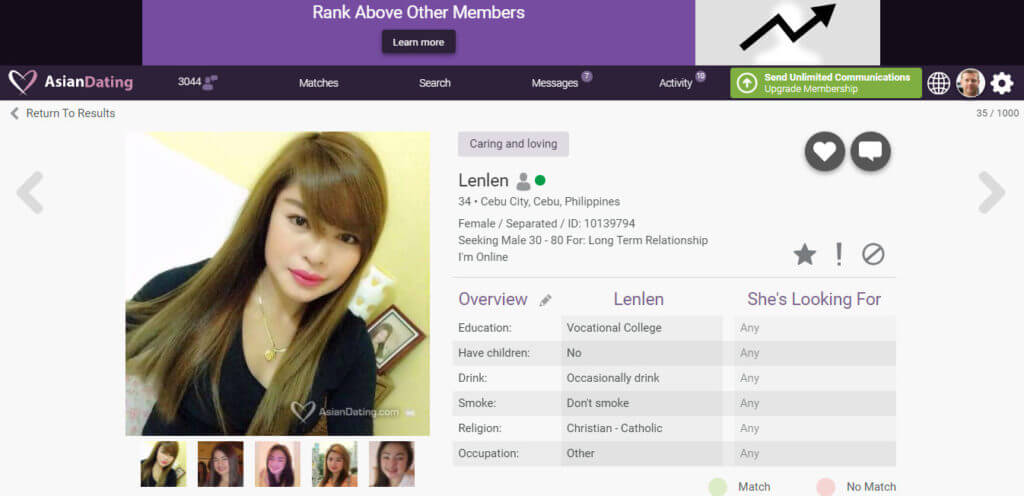 Cupid Media, the team behind AsianDating runs a tight ship on all their dating websites.
And it's no different here.
If you've ever one of their sites before, you will know that the registration process couldn't be simpler.
Before you get to the site, you have to register as a user first.
AsianDating does have an app if you'd prefer to start that way, but it's only for Android devices.
If you go the website route, you can use your Facebook account to speed up the process a little.
But I think that many people don't like to give their social media details to dating sites (I certainly don't) and therefore register in the old tried and trusted manner.
That process starts with the mandatory username, email address and password.
That's followed by some questions that help the site provide you with potential matchups right from the start.
For instance, they will want to know:
Your gender
The gender you want to match up with
Your age
After that, you will be taken straight to the AsianDating site where you will need to upload your best profile picture and start filling in your profile.
While you are free to look around the site and to see the matchups presented to you, your profile is only 8% complete at this point.
For me, this is the first place you should start before trying to do any searches at all.
To edit your profile, either click on your profile picture on the right-hand side of the page or click on the dial with the 8% completion rating.
Profiles on AsianDating are packed with information and you will have to provide various details like:
Your appearance
Your height
Your weight
Your body type
Your ethnicity
Your lifestyle
Marital status
If you have children or want children
If you have pets
Your occupation
Income
Your living situation
If you are willing to relocate
Your background and cultural values
Languages
Religion
Star sign
You will also have to give a profile header, fill in the About Yourself section and say what you are looking for in a partner.
I did say it was comprehensive, right?
But you are not done yet.
You can edit your match criteria where you can change the age range of matches, what countries they should be from and even appearance, lifestyle and cultural parameters.
There is also a hobbies and interests section to fill out as well as a personality section where you can list your favorite foods, music and more.
You will also notice Cupid Tags which is something I will talk about a little later.
Once your profile is complete, which will take between 20 and 30 minutes, you can then start looking around the site.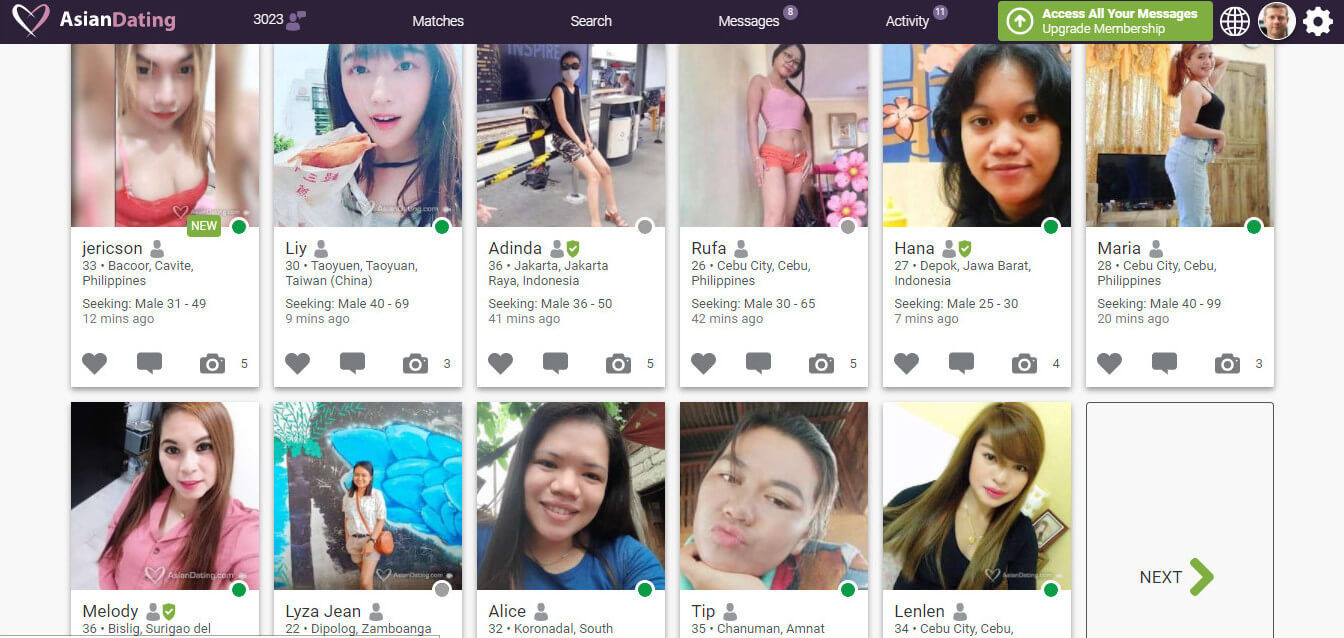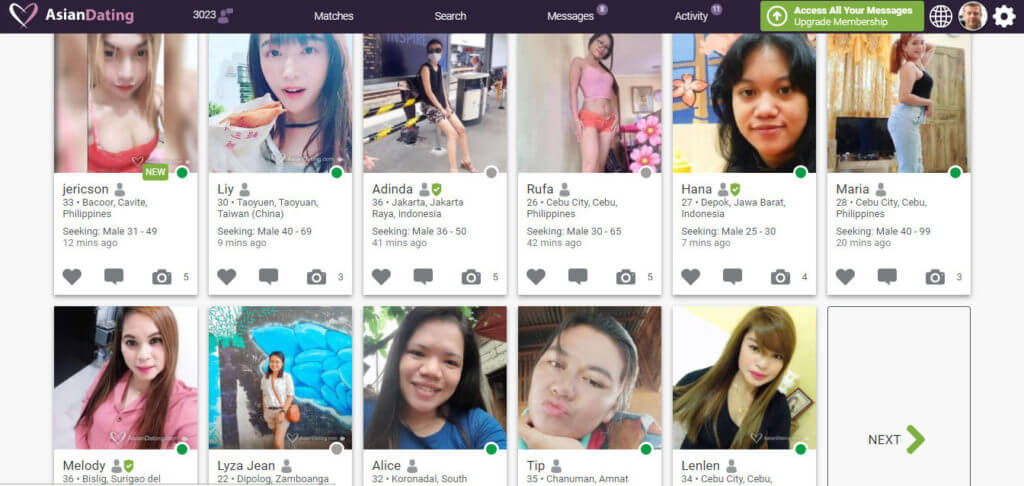 Once you've completed your profile, no doubt you are going to want to get to know the site a little better.
AsianDating uses the tried and trusted Cupid Media design template.
There really is no reason to change because it just works so well.
The main way to move around between the different areas of the site is via the menu system that you will see at the top of the page.
These menus are:
Matches
Search
Messages
Activity
Let me demonstrate what these menus do.
If you click on the Matches option, you will be able to see those profiles the AsianDating matching algorithm has picked for you.
These are based on gender and age range but can be refined significantly thanks to the matchmaking parameters that we talked about in your profile.
The Search menu lets you launch searches of your own.
We will look into this in a little more detail later but you can set the specific parameters your want to search for by using this menu.
If you click on the Message menu, you will find all the messages you've received from others as well as those that you've sent out yourself.
Lastly, the Activity menu will include information such as the profiles you have liked or favorited, profiles you've looked through as well as who has liked your profile.
Just a few more things to note.
AsianDating has a handy counter to see how many people are online.
This will help to determine the best time to use the site, especially if you are in a different time zone to most of the users.
You can also easily access your profile and the site settings from the Settings menu (which looks like a cog) on the top-right-hand side of the page.


So let's talk about using AsianDating to find you that perfect matchup.
There are a few ways to go about it.
Make sure that you've filled in the matchup section on your profile and you can rest assured that the user profiles you see when you click the Matches menu will be as close to perfect as to what you are looking for.
From that menu and if you are a Platinum member, you can see mutual matches and reverse matches as well.
Let me quickly explain what those are.
A mutual match is when you are what the other user is looking for and vice versa.
If you receive any of those, sure make are you reach out to that person as you really should hit it off (if you both were honest on your profile).
A reverse match is when you are what the other user is looking for but they might not be what you are looking for.
That's still worth looking into, however.
Searching for love on AsianDate
If you'd prefer to look for your own matches, you can launch a quick search from the home page.
Here you can adjust:
The gender you are looking for
Age range
Country
City
State
But if you want to add even more parameters, click the Search menu.
Now you can use all those profile parameters to search by, which can really help fine-tune your search effectively.
The site also allows you to save searches as well.
But that's not the only way you can search:
You can search via keywords
You can search via member number
You can see what other popular searches members are using
You can search via Cupid Tags.
Now I said earlier I would explain what Cupid Tags are.
They are only found on Cupid Media sites and basically are words you can associate with yourself.
Examples of Cupid Tags are beautiful, shy, understanding, or loyal.
It's a different way to find a potential match and certainly fun to use.
Some messaging is possible on this site but to use it effectively, you are going to have to consider membership.
That will allow you to send messages to anyone as a paid member and have them respond to you.
Let's see what other key features you can then expect as a member of AsianDating.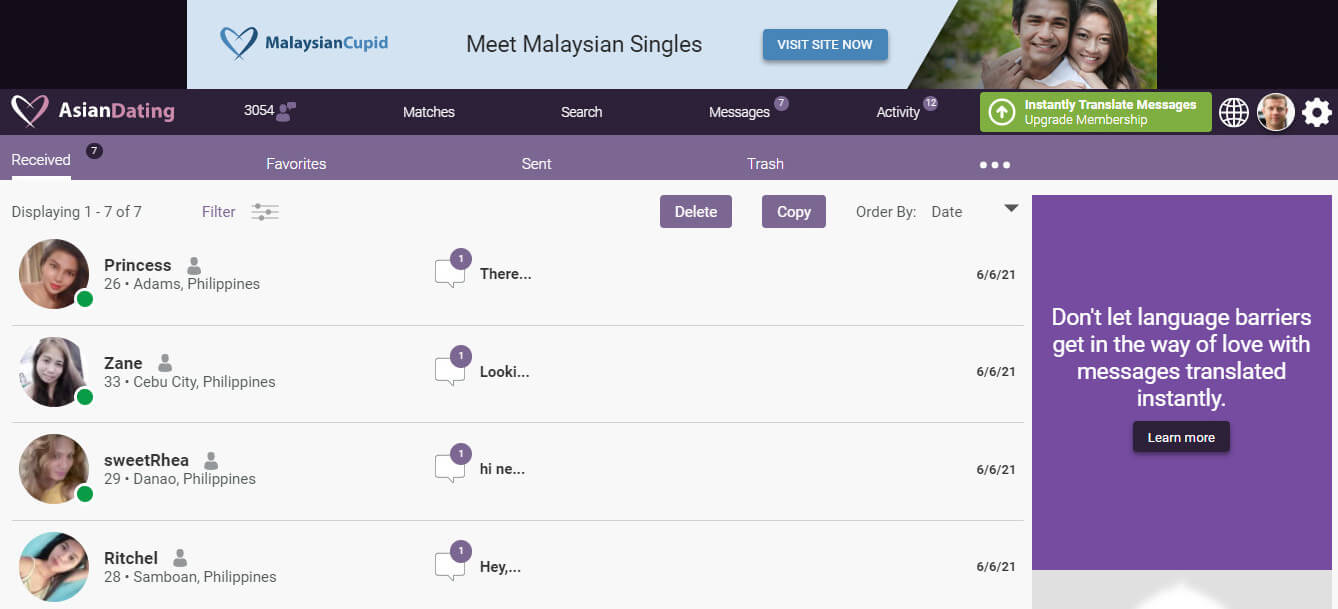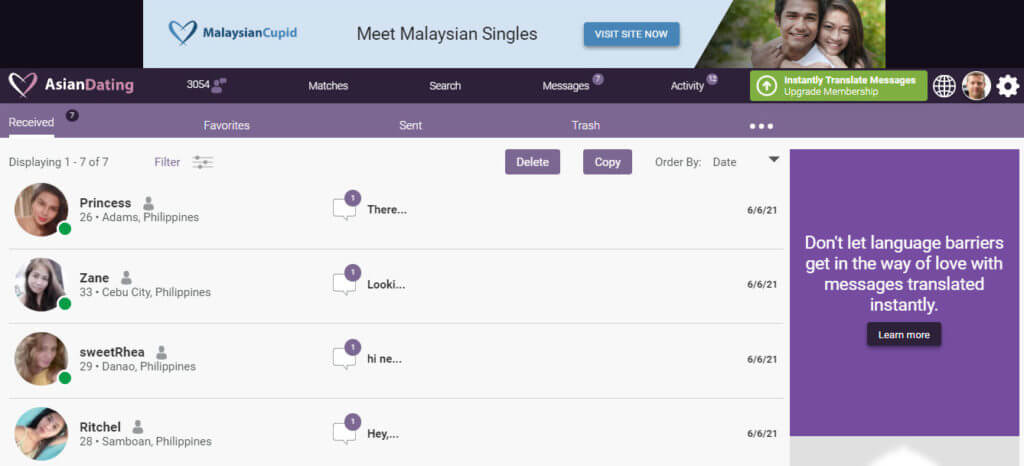 Cupid Media sites allow free members to use many features that other sites invariably make members pay for.
I'm talking about the ability to reply to messages that you receive as well as getting to use the advanced search engine.
But for those thinking of signing up as a member on the site, here are the key features that you can expect as extras for your monthly fee.
As I have mentioned before, you could wait for someone to send you a message on the site and then you can reply to them.
You have to remember though that most of the female users here will be employing that technique and waiting for male members to send them a message so they can reply.
So yes, the first critical key feature that membership brings is messaging.
And it opens all the doors to AsianDating.
As I said, if you send a message as a paying member on the site to any number of women you see as a potential match, they can reply to you.
I am sure you can see the potential in that, right?
If you opt for Platinum membership on the site, your profile will include a verified badge.
While it's nothing that special, I guess it affords some bragging rights.
Along with the verified badge that Platinum membership brings, your profile will be boosted as well.
But what does that mean?
Well, it will now appear at the top of other user returns.
So that puts you (and other platinum members) first and foremost in other users' searches or at the front, so to speak.
Platinum members have the option of reverse and mutual matches which are worth checking out.
Remember, a reverse match is when you match the criteria that another user wants in a matchup.
A mutual match is when you both match what each other is looking for.
On dating sites, you always leave a trail behind.
And by that I mean, depending on how the site works, other users (or in some case, only members) will be able to see that you have visited their profile and viewed them.
AsianDating membership gives you the option to not leave any traces behind.
Yes, you can browse totally incognito, if you like.
I am not sure this is really necessary.
Why wouldn't you want someone to know that you've checked them out?
They obviously interested you in some way for you to click on their profile, right?
You can also choose that your profile doesn't come up in other users' searches, even if you match the parameters they are looking for.
I believe that this is a little counterproductive, especially on a dating site, right?
You want your profile to be out there!
Why wouldn't you?
If you'd like, you can leave comments on others users' photos.
You might want to use this as a kind of an icebreaker when you find someone that you'd like to get to know better.
Instead of sending them a message, perhaps comment on their photos first, and later, send that initial message.
Because there are users from many different countries that have profiles on AsianDating, the site includes translation services to help people understand each other better.
This happens automatically and will help to ensure your message gets across to someone you are chatting to and vice versa.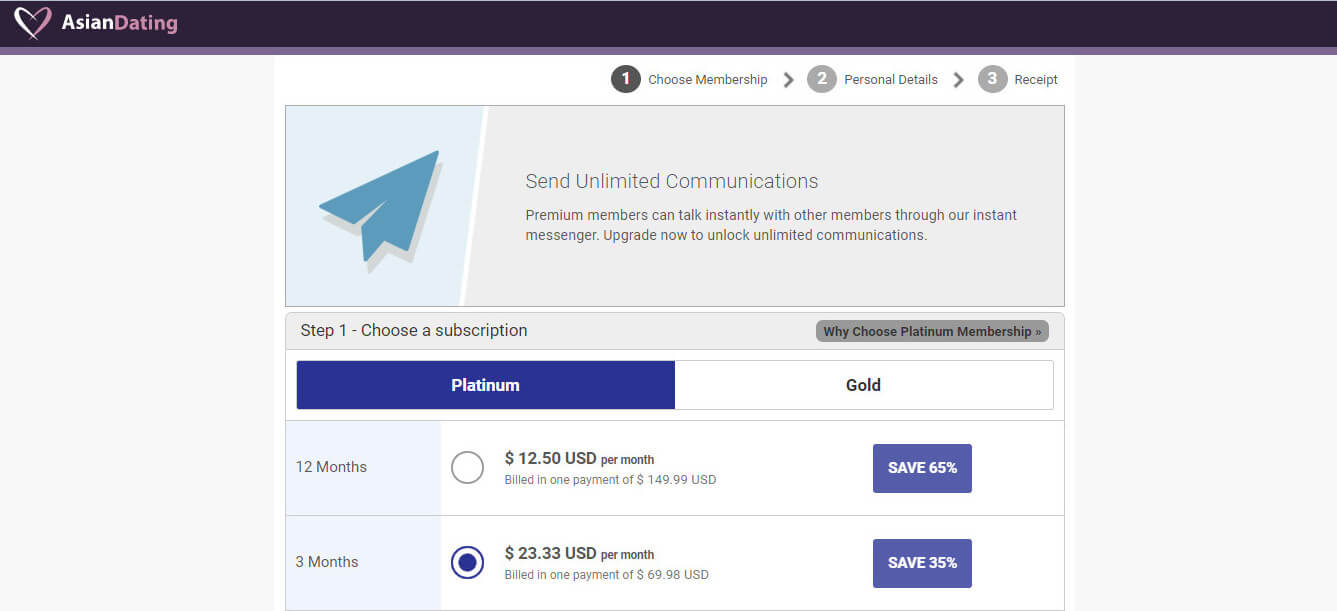 We've already established that AsianDating has two membership options: Gold and Platinum membership.
While Gold membership is the cheapest, we've seen that Platinum offers a few extras like:
Extra matching options
Profile boosting
A VIP badge
And the pricing of each package?
Well, you have these options to choose from for both Gold and Platinum membership.
Both have one-month, three-month and 12-month packages
I can confirm that these are the current prices for these packages:
Gold membership
1-month membership: $29.99 per month
3-month membership: $59.99 ($20.00 per month)
12-month membership: 119.99 ($10.00 per month)
Platinum membership
1-month membership: $34.99 per month
3-month membership: $69.99 ($23.33 per month)
12-month membership: 149.99 ($12.50 per month)
This pricing is on par with most other Cupid Media.
And if you recap on the key features you get, I think it's more than worth it.
Cupid Media could have easily taken the advanced searches and put it under membership features too as well as taken away the ability to reply to free messages.
So for me, with the site having a user base of 4.5 million and the extras that members get, paying $29.99 per month is a no-brainer.
Of course, you could just add $5 more to that to get the advantages that Platinum membership brings.
Or, if you can afford it, there are savings to be made if you would rather go for a three-month or even better, 12-month membership.
But then you have to be able to justify that you would use the site for that long, I guess.
If you do take out membership, you can pay using your credit card or even PayPal.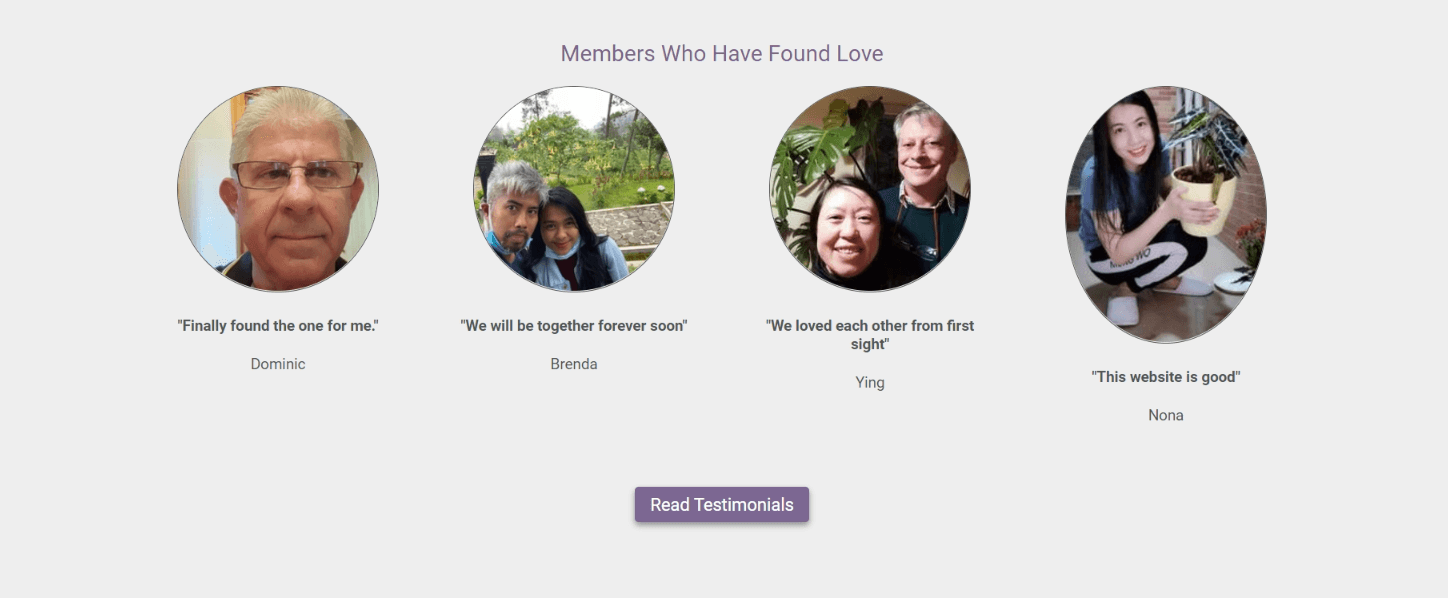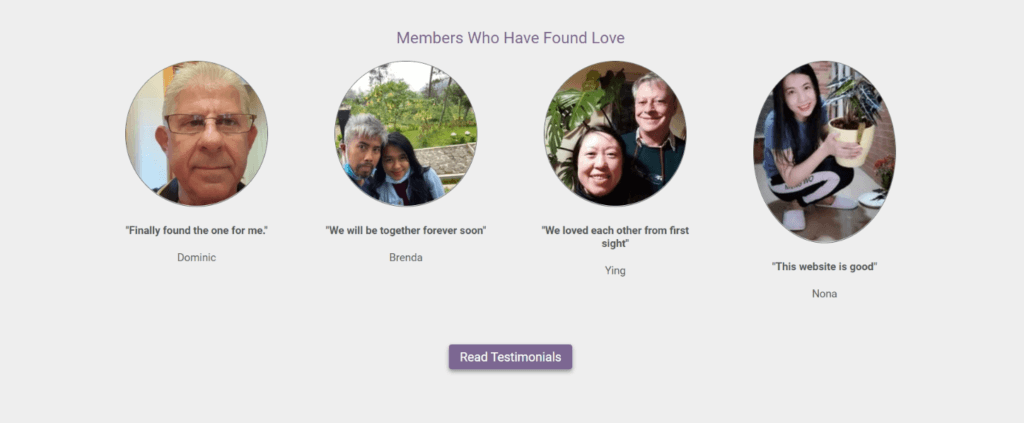 Conclusion and Overall Rating
Thanks for taking the time to read through our AsianDating review.
To summarize this dating platform is simple.
If you want to meet women from Asia, then this is one of the best dating platforms to do it on.
For a start, it has around 4.5 million members and over 60% of those are women.
That's a far better ratio than what you will find on many other rival dating sites.
The thing for me that really stands out, as it does with all Cupid Media sites is that it's just so slick, well-run and easy to operate.
Membership is extremely well-priced and the extras you get for your monthly fee are better than most other dating sites I feel.
Will your find scammers here and people running fake profiles?
Yes, there are a few, but that can be said with all dating sites unless they run a strict photo verification process.
As for a rating, AsianDating receives an excellent 4 out of 5 overall.
It's a place where anyone looking to meet women from Asia should have a profile.
AsianDating is a site for Asian singles as well males from the West who want to meet Asian women and vice versa.
It was tested and reviewed by the Onlineforlove team for an extended period.
Our evaluation of AsianDating was based on many factors, the most important of which are listed below.
How much membership costs
Ease of use
Features for paying members
The size of the user base
How well the matching algorithm works