If you are serving in a branch of the armed forces, having someone waiting back home for you helps you get through your deployment.
But what happens if you don't have someone special in your life?
Can you use a regular dating site like eHarmony or Tinder to find that someone special?
Or are there online dating sites that are specifically for military personnel?
OFL Top Recommendations based on 100,000+ Survey

"Serious Relationships"
"Discreet Hookups"
"Best Course for Men"
"Quick Flings"
"Normal Hookups"
"Our Quiz"
Well, yes there are and they are used by service members around the world.
In today's best military dating sites review we are going to look at four military dating websites in particular.
Most of the users on these sites are looking for someone long-term and not just for hookups (like BeNaughty or Ashley Madison).
You better believe that these are the best military dating sites online, which will be rated and evaluated based on:
So iff you are looking for a dating service that offers functionality and isn't filled with scammers, then this is where you should start.
Is your dating app giving you the best chance for success?
Make sure to take our online dating site/app quiz to find out.
It's a fact that people who follow our dating site suggestions have on average 2 extra dates per month.


Signing Up – 4/5
Making Contact – 3.5/5
Profile Quality – 4/5
Overall Quality – 4/5
A large member base
Many search options to utilize
No scams
Members often looking for serious relationships and the perfect match
Includes a dating app for Android phones
Effective messaging is only really possible with membership
When it comes to military online dating, Miltary Cupid should rank near the top of your list.
It has produced hundreds of success stories in bringing servicemen together with those members of the public who want to date them.
But it's also a great site for military members to find love while in service.
Like all of the sites we will look at, it doesn't offer free dating but there simply aren't many completely free military dating sites out there.
OFL Top Recommendations based on 100,000+ Survey

"Serious Relationships"
"Discreet Hookups"
"Best Course for Men"
"Quick Flings"
"Normal Hookups"
"Our Quiz"
The great thing about this site is that it's filled with military men and women.
In fact, Military Cupid has over 600 000 military friends just wanting to meet you.
And who knows what can come from that?
In terms of user ratio, the breakdown is as follows:
70% of users are military guys
30% of users are military gals
Well, in truth, those who frequent the site aren't all in the military.
Some users want to find and date single men and women who are, however.
But the majority of users are in uniform.
In terms of age ranges, 71% of users are from 25 to 44 years old.
Ease of Use "mobile and desktop version"
So we've seen that Miltary Cupid has an excellent user base and it is growing all the time.
But there are other plus points as well.
For example, when it comes to ease of use, you will be hard-pressed to find a better website.
But there are so many other reasons that I will highlight as we go through this mini-review of the site.
Let's talk about registering a profile.
If you have an Android handset, you can do so by downloading the Military Cupid app.
Or simply register online and then use your credentials to log in later on the app.
Registration only takes a couple of minutes but will require that you provide a valid email address.
This is one of the security features in place to deter scammers from making profiles on the site.
Once you've followed the registration process, you can start your search for love straight away.
Military Cupid follows the design of all its sister sites in the Cupid Media network.
And you will find your way around in next to no time.
Mostly, you will make use of the menu system found at the top of the page.
These are Matches, Search, Messages, Activity.
They are pretty self-explanatory, right?
The only one you might be wondering about is Activity.
This is basically a rundown of the profiles you have looked at and favorited as well as who has looked at your profile.
From the start, you will be presented with matchups based on the gender and age range you stipulated during registration.
Searching for your own, however, is where Military Cupid really stands out.
That's because you have so many ways to do so.
There is a basic search and an advanced search to start with.
The advanced search allows you to search by various parameters, for example, certain appearance factors like black hair or a specific height.
That's where most military dating sites stop their search options.
But Military Cupid offers more.
If you'd like, you can search via:
Cupid Tags
Member number
Popular searches made by other users
First name searches
Keyword searches
Of all of those, you are probably wondering what Cupid Tags are.
Well, there are specific tags that users associate with themselves.
For example, romantic or humorous is a perfect example of Cupid Tags.
So if you are looking for someone with certain characteristics, using a Cupid Tag search might be a great option.
For members, Military Cupid also offers reverse and mutual matches.
A mutual match is when both parties matchup to what each is looking for in a potential date while a reverse match means you match up with someone else.
They might not be a perfect match for you, however.
And communication, I hear you ask.
Well, it's limited for regular users.
If a member of the site messages, you can reply.
You cannot send messages, however.
For a full messaging experience, you are going to need to become a member of Military Cupid.
Military Cupid offers much to those who choose to sign up.
From unlimited messaging to extra search features and incognito browsing, that's just the tip of the iceberg when it comes to key features for members.
But as we said, this site doesn't fall under free military dating websites so what are you going to have to pay for membership?
Well, it's reasonably priced and well within the range of those serving in the military.
Here's a breakdown of the Gold and Platinum memberships available:
Gold
1-month membership – $29.99
3-month membership – $59.99 (once-off payment every three-months)
12-month membership – $119.99 (once-off payment every year)
Platinum
1-month membership – $34.99
3-month membership – $69.99 (once-off payment every three-months)
12-month membership – $149.99 (once-off payment every year)
If this is a site that you see yourself using for a period of time, my suggestion is to go for the three-month option on the Platinum package.
1. Is this a free military dating app?
No, it's not.
You will have to pay membership to use the app effectively.
But with so many extra features provided to members, along with unlimited messaging, it's well worth using.
2. Can minors join Military Cupid?
No.
You must be 18 years and older before you join the site.
That's a rule with every registered dating site you find online, not just this one.
3. Is Military Cupid a good site?
For sure it is.
It's filled with military personnel looking for love.
It's also reasonably priced and just so simple to use.
Without a doubt, Military Cupid should be at the top of your list when it comes to military dating sites, that's for sure.
It has so much to offer and it's simple and fun to use.
I love the fact that the user base is pretty large for a niche site like this.
And it's growing all the time.
The best aspect of the site is just how many extra features you get if you sign up for membership.
Many sites only offer advanced searches and messaging but Miltary Cupid just brings so much more to the table.
So let's give it a rating then.
It gets a very solid 3.8 out of 5.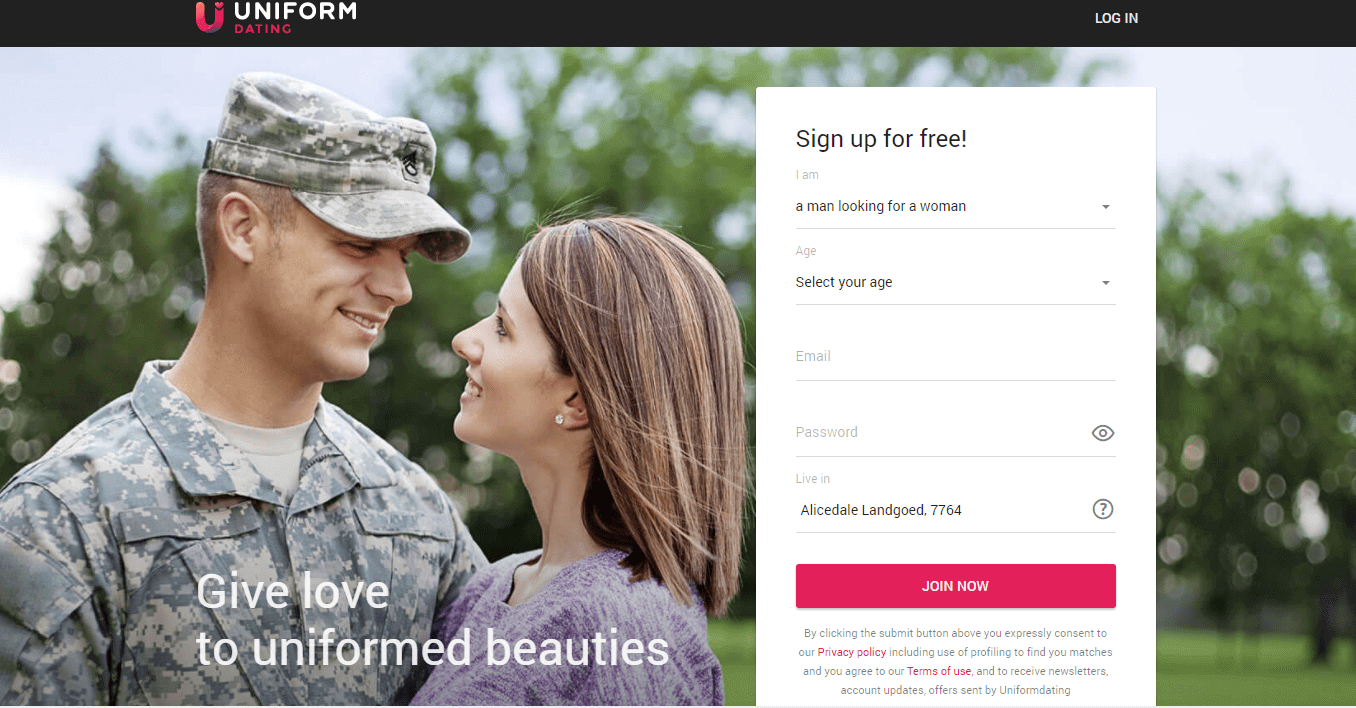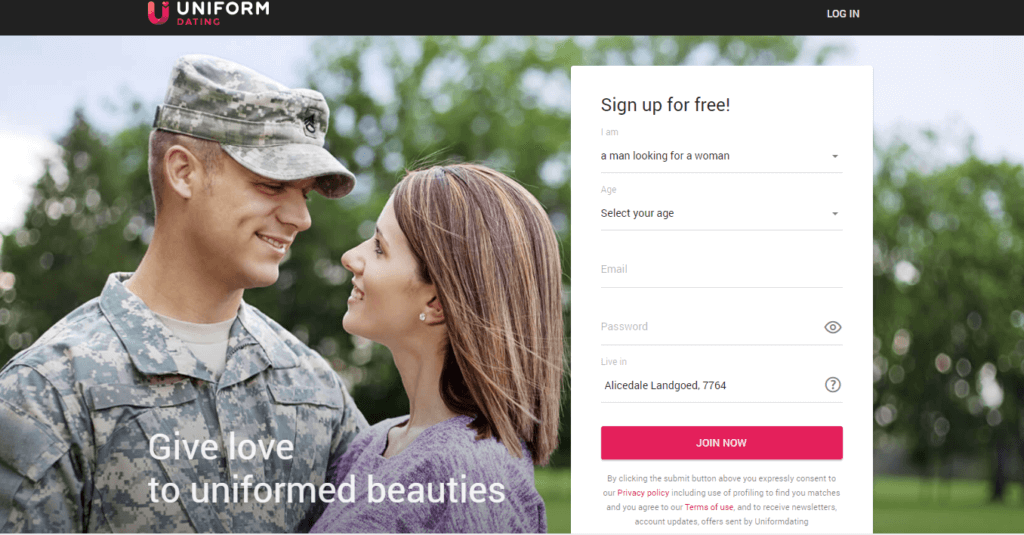 Signing Up – 4/5
Making Contact – 3.5/5
Profile Quality – 3.5/5
Overall Quality – 3.5/5
Over two million members
5 free messages for regular users
Members can search by location
Effective use means you need to be a member
Uniform dating isn't strictly an online dating site that's for the military.
It's for other users as well, for example, those in law enforcement or even health and rescue services.
It has a larger user base than Military Cupid, however, with around two million people having registered as users.
That includes around half a million in the United States.
Around 100 000 users are active on the site each month which sees a male to female ratio of 55% to 45% which is a nice balance.
In terms of age ranges, most users are found between 25 and 44 years-old, much like Military Cupid.
They make up just over half of all users.
Having said that, all age ranges are well represented.
Ease of Use "mobile and desktop version"
For those who prefer using their phones for their dating, which makes sense in the military, Uniform Dating does offer both an IOS and Android app.
You can also register using the website, however.
It takes less than a minute to get you online as well.
All you need to do is fill in some basic information, validate your email address and that's it. You are free to start using the site.
Begin with your profile as nothing is filled in yet.
The site will prompt you to upload a profile picture and then fill in all the regular details.
This includes:
A screenname
Your profile status
Various appearance parameters
That's all for now, but you will need to add even more information, so click on your profile picture to do so before starting your quest for love.
User profiles are front and center when it comes to the design of the site.
Matchups based on your gender preferences, preferred age ranges and your location are presented to you immediately.
You can also see who is online with you or new members if you wish.
Matchup returns can be sorted by:
Popularity
Last activity
Distance
Age
The last activity filter is useful in helping to find active members.
Nothing is worse than messaging someone but they haven't been online in years.
You are just wasting your time.
Launching your own searches can be done through the quick-search bar you will find at the top of the page.
While it starts with only three filters, you are free to add more, even as a regular user.
These extra filters are profile-based and include appearance parameters, orientation, ethnicity, profession, etc.
There are tons of ways for you to find your perfect military matchup.
You can message them too.
Well, sort of.
Uniform Dating allows you to send five free messages.
But for continued messaging, you will need to buy into a membership option.
Sure messaging is an important part of a military dating website but what else can membership provide?
Well, it has location-based searching.
That means you can search various locations that you might be deployed to, which is critical I feel.
Also, you can access a chatroom and even have your profile appear as a VIP profile in other member searches.
The cost of membership is as follows:
1-month membership: $34.99
3-month membership: $59.97 ($19.99 per month)
6-month membership: $95.94 ($15.99 per month)
Prices are very similar to Military Cupid.
1. Is Uniform Dating only for members of the military?
No, it isn't.
It's for law enforcement personnel, firefighters, ambulance men and women and others.
2. What is the Like Gallery?
This is Uniform Dating's version of matchup roulette.
It's a perfect way to find potential matchups near your location.
3. How can I find a military boyfriend?
Well, Uniform Dating is a great place to start.
It has well over two million users.
4. Is this military dating site legit?
Yes, it is.
Uniform Dating is a well-established dating site and is registered.
Another excellent dating site for US military singles, Uniform Dating's major plus point is that it has over two million users.
You can also try it out (remember you have five free messages) and see just how it works before you decided to sign up.
I would give it a go, that's for sure.
It gets 3.6 out of 5 as an overall rating.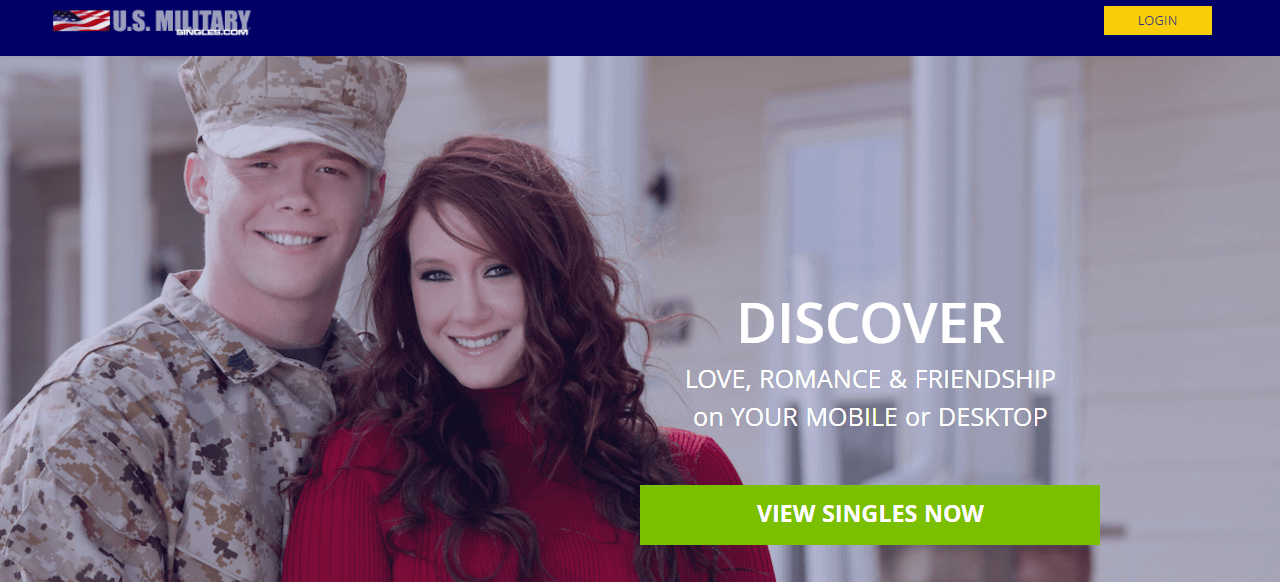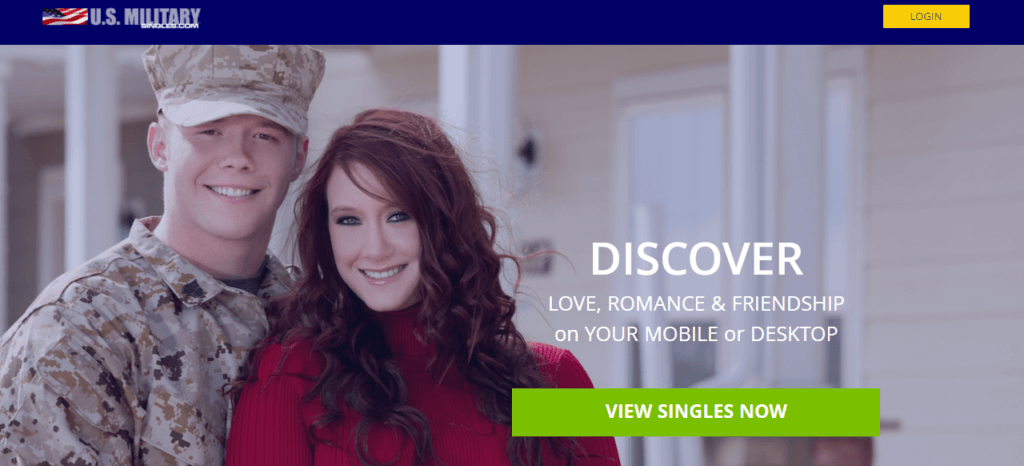 Signing Up – 3.5/5
Making Contact – 3.5/5
Profile Quality – 3.5/5
Overall Quality – 3.5/5
An established dating since in operation since 2001
Cheap membership options
Only members can send messages
US Military Singles claim to be the top dating site for servicemen and woman in the United State.
That might well be the case as the site has been around since 2001.
But finding user numbers to back this up wasn't possible.
I did find out that each month around 30 000 unique users visit the site, so that's around 1 000 a day and 7 000 per week
Remember this is unique visitors, so that indicates that the site is active.
Also, when you register, the site declares that you are one of 1 200 new users signing up each day which if true is impressive to say the least.
Ease of Use "mobile and desktop version"
While it doesn't have an app, the US Military Singles website is optimized for mobile viewing.
The registration process includes some questions that you need to answer such as:
Your gender and that which you are looking for (and yes, gay and lesbian options are possible)
Email address
Username
Password
Location
Age
You won't need to validate your email address and following the above, you are taken straight to the site.
But your work isn't done as you have to fill in your profile next as it's at 0% completion.
I am not going to go through the whole process because there is nothing here that will trip you up.
The home page includes users currently online but you can also check out the new users on the site.
Of course, your profile will appear here for others to view as well.
To navigate the site, you will be using the menus found on top of the screen.
This gives you access to the site search engine, the messages inbox, and outbox, and your profile.
There are menus on the left-hand side of the screen as well.
Some are duplicated from the main menu system but you can also see if your profile has been viewed if you have received winks, who your favorites are, and more.
For searching, regular users only get a few parameters to search with.
These are gender, age, and location.
If you pay for a membership, you will get far more options based on profile entries.
Membership also allows messaging, instant messenger options, highlighting your profile in searches, and more.
The site has a few membership options but the Standard plan is the one I want to highlight here.
It gives you advanced search tools and the ability to message other users and read any incoming messages.
The breakdown for this package is as follows:
1-month membership: $24.95
3-month membership: $59.85 ($17.95 per month)
6-month membership: $83.70 ($13.95 per month)
So far, US Miltary Singles is the cheapest website we've covered.
And that may play a critical part in military personal considering it as an option for a dating site.
1. Is Military Singles a free dating site?
No.
To message other users or make advance parameter searches you will need to be a member of the site.
2. Can I comment on other user profiles?
Yes, it's an excellent feature for members.
You can comment on someone's interests or the activities they like.
Commenting can be the perfect icebreaker.
Another solid addition to our military dating sites, what I like about US Military Singles is the fact that its membership is so well priced.
But it's very similar when compared with all the other sites we've covered in this article.
You will need a membership for it to be effective, however.
Today, it gets a rating of 3.5 out of 5.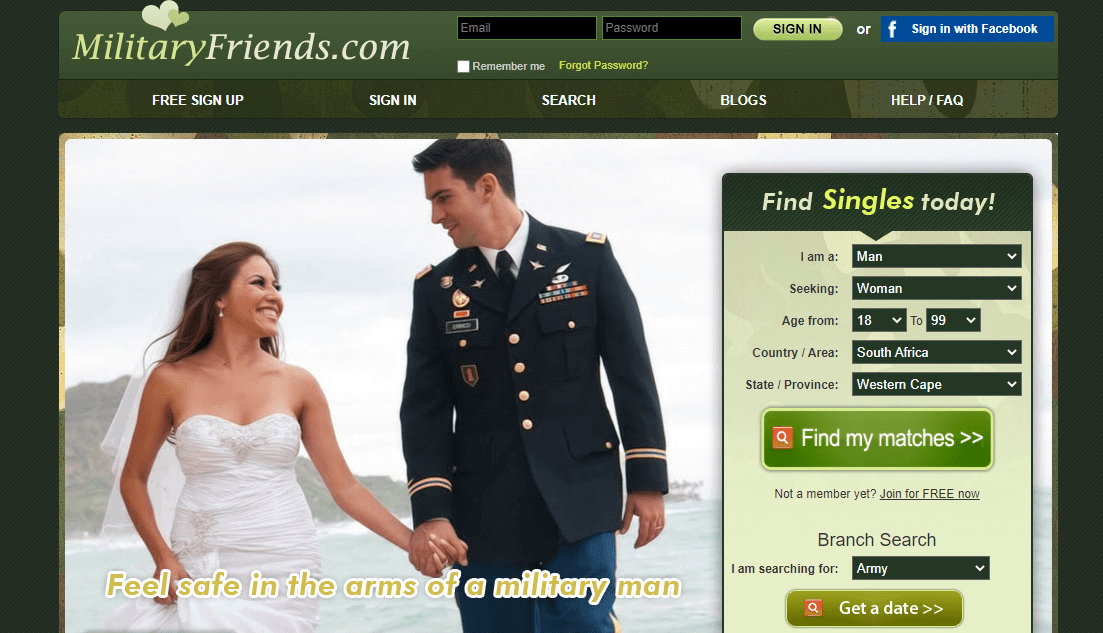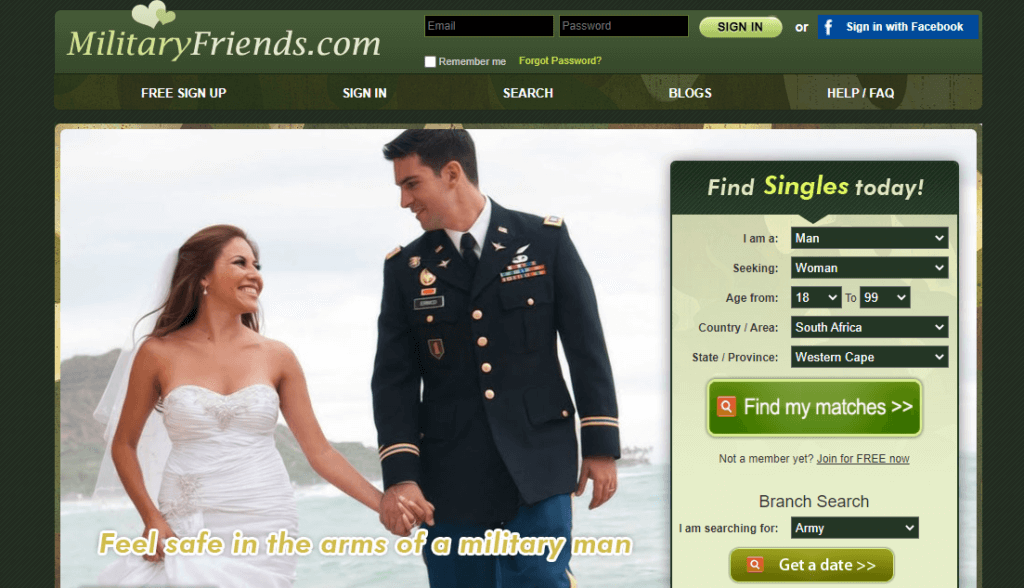 Signing Up – 3/5
Making Contact – 3/5
Profile Quality – 3.5/5
Overall Quality – 3.5/5
Easy registration process
Users spread across all age ranges
Branch specific searches
It has a smaller user base than the other sites mentioned in this review
Only limited options to contact other users if you don't pay for membership
In the time I used Miltary Friends, I found a good spread of users across all age ranges.
Exact numbers pertaining to users on the site as well as the most popular age ranges and a gender ratio breakdown were not available.
Ease of Use "mobile and desktop version"
As someone in the military, you may not want to date someone that is in service.
That's were Military Friends comes in.
Many of the users that I came across on the site are not in the Miltary but looking to date them.
Yes, the other dating sites that I have mentioned also has users like this, but to me, it seemed more prevalent on this online dating platform.
The site itself isn't spectacular to look at once you've registered.
While you do provide some profile information during that process, you are going to need to finish off your profile when you hit the site for the first time.
The overall layout of the site, while a little busy, offers super functionality.
​You will find all the main navigation menus at the top of the screen and secondary menus on the left-hand of the page.
If you'd like, you can scan through new members or those that the site thinks you might like on the left-hand side of the homepage.
You can also launch a quick search right from there as well.
Then below that is a social media style feed where you can see what other users are doing, for example, when they upload new pictures.
To launch more in-depth searches, click the "Discover" menu.
Now you can adjust the following for a basic search:
If you are a paying user, you can add even more parameters which include:
Appearance details
If they have a photo on their profile
Their relationship status
Keywords
The branch of the military they are in
Reaching out is difficult if you are a regular user.
You can send them a wink or add them to your favorites.
Some users have matchup questions on their profiles that you can answer too.
But messaging is only going to be possible through membership.
While it's not the cheapest dating site out of the four we've looked at, it's not expensive either.
And you can get substantial savings on Military Friends' longer-term membership options, up to 50% when compared on a month-on-month basis to their short membership package.
Here's a full breakdown:
1-month membership: $29.95 per month
3-month membership: $59.95 ($19.99 per month)
6-month membership: $95.95 ($15.95 per month)
If this is a site that you will use for an extended period and you can afford the larger outlay, then, by all means, go for the longer-membership options.
The one-month membership is on par with the other sites in this article.
Membership brings the ability to message others as well as the advanced search options I have already highlighted.
You can also see when other users have last been online and browse anonymously if you want.
1. Can I get my profile verified?
Yes, profiles and pictures can be verified.
If you are worried about scammers, deal only with users who have had their profiles okayed by site admins.
​2. Does the site include a roulette-style matchup game?
Yes, it is called Spark and you can find it under the Community menu.
Anyone can play, but only members will be able to see if someone likes them or not in return.
3. I want to meet someone serving in the Air Force. Can I launch branch-specific searches?
Yes.
It's a member-only feature but if you want to search for a potential matchup in a certain military service branch you can.
There's a lot of excellent features on this site that the others we've looked at don't have.
For example, it includes first date ideas which can be a real conversation starter and it also allows you to make branch-specific searches.
For some, that might be the deal clincher when trying to decide on a military dating site.
Of course, membership is going to bring you all these added extras but price-wise, Military Friends has some excellent membership packages.
For a rating today, it gets a score of 3.25 out of 5.