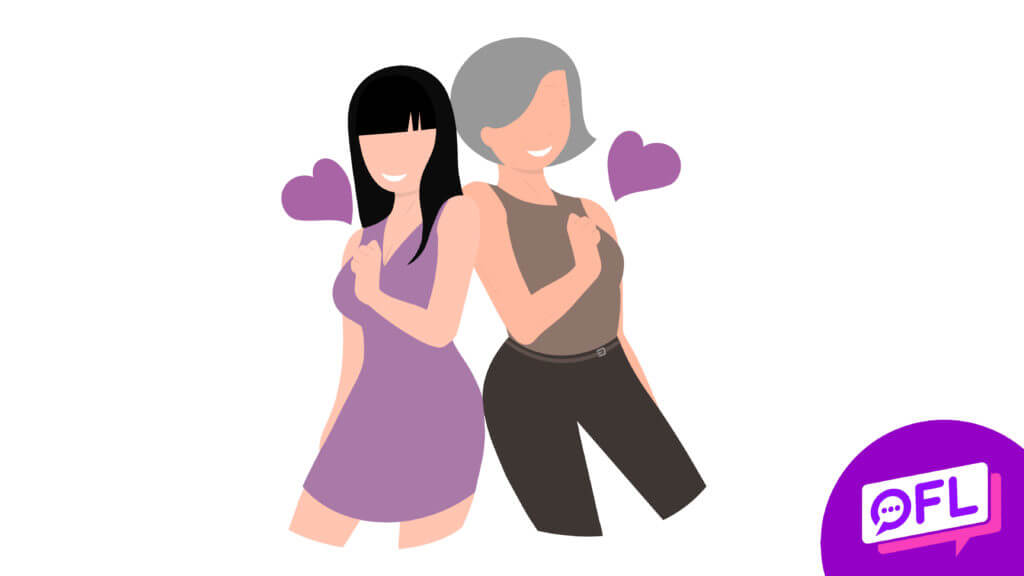 Cougar dating sites are not something new.
And yes, they even exist to help lesbian cougars to find younger partners and sometimes, the other way round.
In this article, we are going to look at some dedicated lesbian cougar dating sites as well as more commercial sites that can be used by lesbian cougars, or younger lesbians who want to date cougars.
Exclusive Cougar Deals - Check all of them

"Best Overall"
"Great Choice"
"Best Arrangement"
"To the point"
"A Classic"
"Our Quiz"
We'll do a break down of the following:
And at the end of it all, you will have a far better idea of which site is going to suit your unique needs because we all a little different, right?
Is your dating app giving you the best chance for success?
Make sure to take our online dating site/app quiz to find out.
People who follow our dating site suggestions have on average 2 more dates per month.
Post 14 of 15 in the Cougar Dating Sites Series
Best Lesbian Cougar Dating Sites in Video Form
Audio (podcast) form for those of you on the go
Best Lesbian Cougar Dating Sites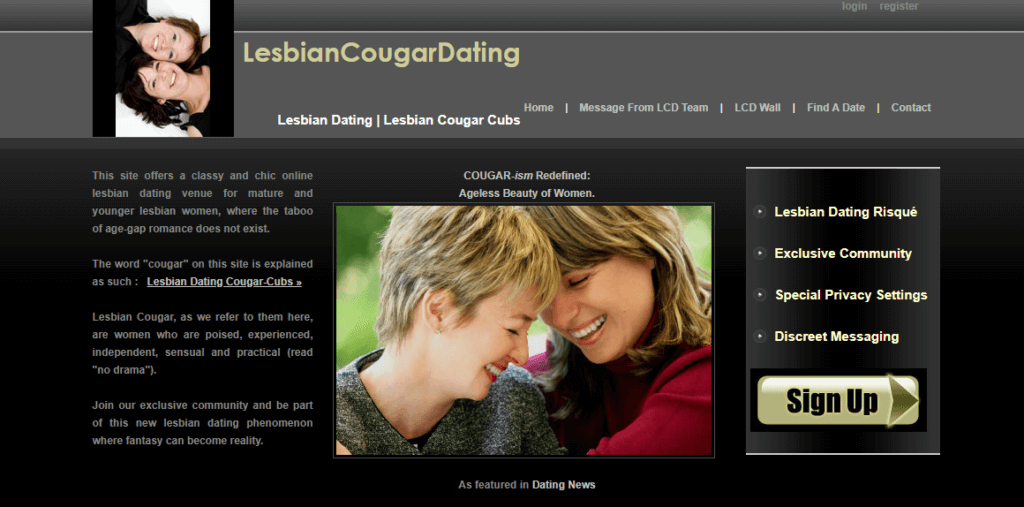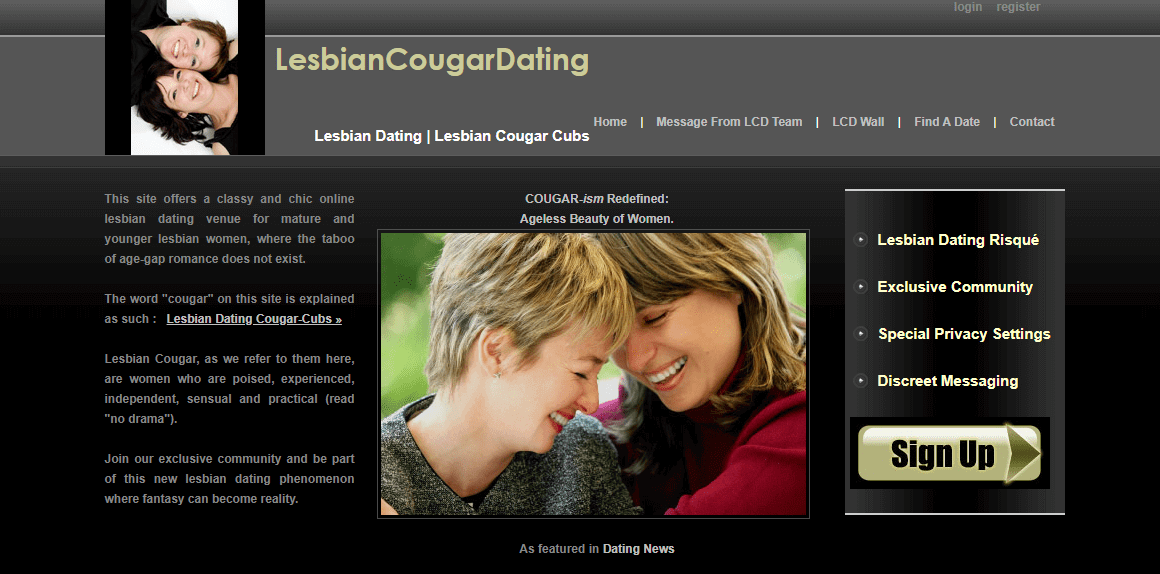 Signing Up – 3.5/5
Making Contact – 3/5
Profile Quality – 4/5
Overall Quality – 3.5/5
Comprehensive registration process
A community wall where you can chat with others
Communication is limited for normal users
So there's no hiding who this online dating community is for.
While you have regular lesbian dating sites, where I am sure people of different ages do meet up, Lesbian Cougar Dating is filled with profiles of young and old lesbian women who specifically want to date each other.
For older women, it's all about the thrill of dating someone young, beautiful and energetic.
And for the younger women, it's the thrill of wanting someone experienced and without all the drama.
While tracking down user numbers for Lesbian Cougar Dating proved impossible, during my time on the site, it was very active, that's for sure.
And yes, no matter if you are young or old, there's your preferred partner waiting online for you to meet them.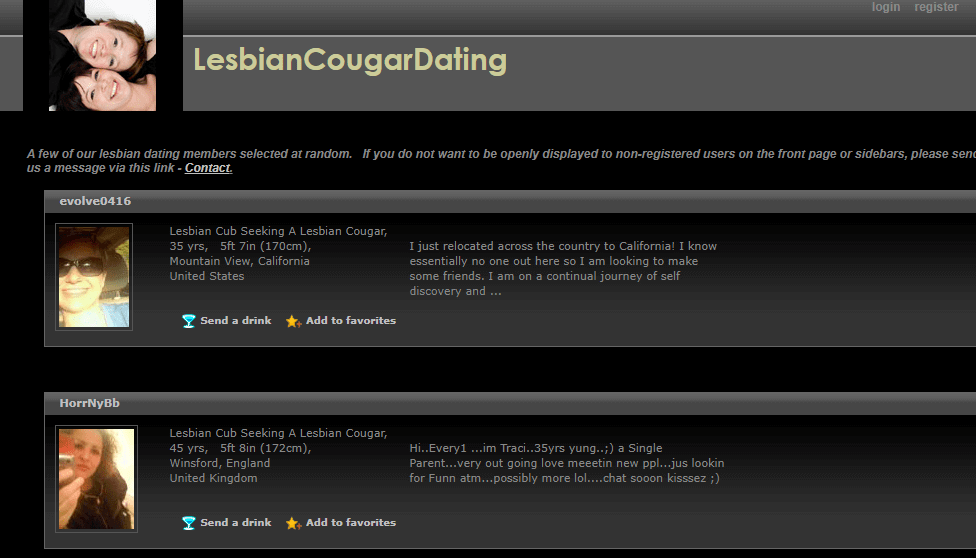 Ease of Use "mobile and desktop version"
It's going to be easiest to register for your profile on Lesbian Cougar Dating from a desktop.
The site is not configured for use with mobile phones and doesn't have an app.
Once you've pointed your browser to the landing page, you will notice that the registration process is pretty complex.
That's because there is plenty of information to fill in here.
Also, the overall design of the landing page looks a little dated, so navigating through the section you need to fill in isn't the easiest.
You will need to provide your username and password first up.
Following that you need to:
Provide your gender and what you are seeking (for example, a cougar seeking a cub)
Fill in appearance and lifestyle parameters
Provide your location
Provide the reason you want to use the site (online relationships, intimate relationships, dating, etc.)
Select the type of lesbian you are (butch, femme or seven other categories)
Select the type of lesbian you are attracted to
Select the body type you are attracted to
Provide your interests and hobbies
Provide your favorite TV show, music and movies
Fill in an "about me" section
Perhaps the most interesting thing here is that the site asks you to sign up for membership for a week initially at a cost of $7.99.
This is to deter people from starting fake profiles.
It's an interesting idea but clearly, one that works for the site.
Plus you get to try the site out and see exactly what membership offers straight up.
If you don't agree that the week is worth the rate, you can ask for a refund and close your profile which I believe is more than fair.
The site itself is dominated by the color black with a little grey thrown in for good measure.
Again, much like the registration page, it has a dated feel to it.
But it operates just like a dating site should.
Everything you need is here to help you find potential matchups and then get into contact with them should you wish to.
And that extensive profile that you filled during the registration process comes in handy as many of the details there form part of the advanced search engine that's available for all users.
When you've found someone that you'd like to chat with you can send them a "drink" from their profile.
This helps to make initial contact.
As a regular user, you can also write on the Lesbian Cougar Dating wall which many do use to communicate.
For unlimited messaging, you'd have to become a member of Lesbian Cougar Dating.
Lesbian Cougar Dating Cost
As a member of Lesbian Cougar Dating, you can send and receive messages, get your profile a priority listing in other members' searches, share private photos and view those of other members,
Membership to the site is priced as follows:
1-week membership: $9.99
1-month membership: $19.99
3-month membership: $39.99
Seeing that you get to use the site for the first week having paid $7.99 to ensure you are who you say you are, you would already have a good feel of what membership brings.
So for me, the one-week option is not something I would choose.
The month-to-month membership fee is well-priced but the best option is the three-month membership.
There's a big saving to be had there.
1. What's the best way to contact the team at Lesbian Cougar Dating?
If you have any queries that you'd like to ask, then fill in this contact form.
2. I see I can send someone a "drink". What is that?
You may have seen on some dating sites that you can "like" or "flirt" with others.
It's just a fun way of establishing contact with someone on Lesbian Cougar Dating.
This is something similar.
3. Do I really have to pay $7.99 to join the site initially?
Yes, you do.
This is Lesbian Cougar Dating's way of stopping fake profiles.
You will get full member status so you can try out all the site has to offer.
If you don't like what you see, you can ask for a refund.
While it looks a little dated, Lesbian Cougar Dating is home to many users encompassing both cougars and cubs looking for all kinds of relationships.
It can be a serious relationship (like Tinder) or for a regular hookup (like BeNaughty or Ashley Madison).
It's a site that provides you with an advanced search engine for all users, so you can really look to tweak your searches to find exactly what you are looking for.
And while there aren't that many member features, Lesbian Cougar Dating is priced perfectly for what is offered.
For an overall rating, it scores 3.5 out of 5.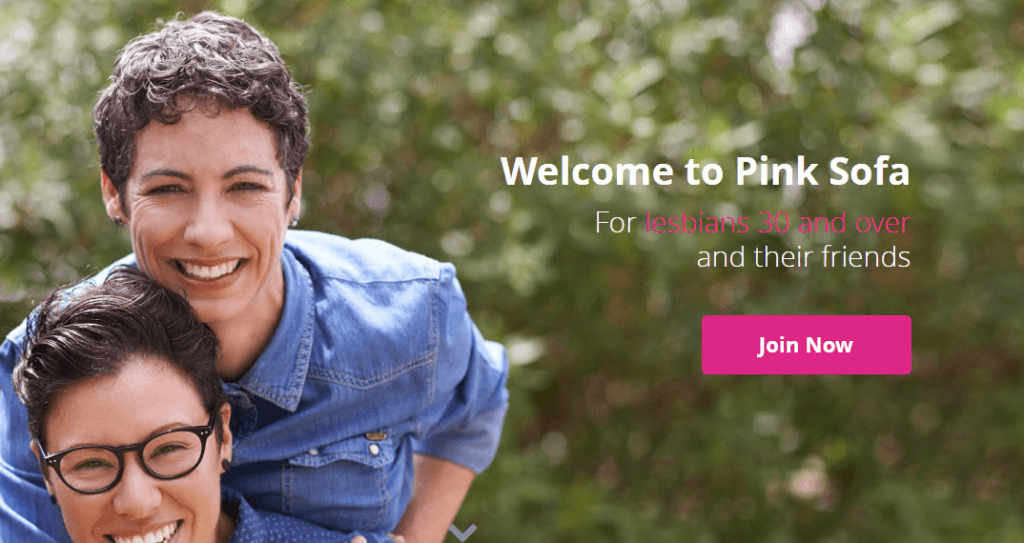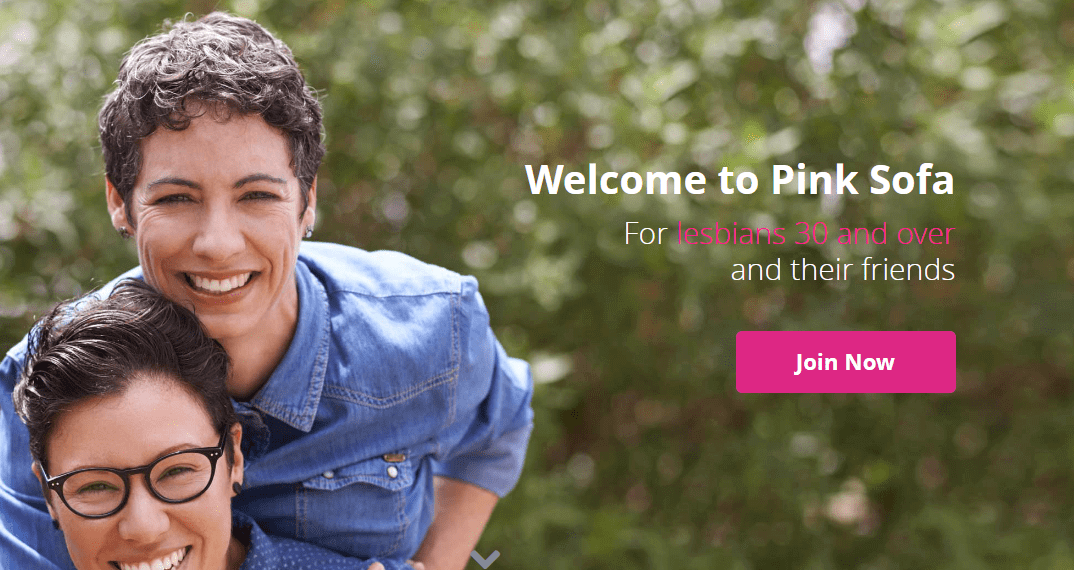 Signing Up – 5/5
Making Contact – 3/5
Profile Quality – 4/5
Overall Quality – 4/5
Users are mostly looking for long-term relationships
Pink Sofa's users come from all over the globe
No fake profiles due to an approval system
Pink Sofa doesn't have the largest user base
Pink Sofa is not a new lesbian dating site.
In fact, it's been around for over two decades now.
And while it's not strictly a lesbian cougar dating site, there are lesbians of all ages that frequent it.
Here are some facts and figures behind it:
Pink Sofa has around 600 000 users from all over the world
Around 100 000 of them are from the United States
4 500 new members join the site each month
18 500 members are active on the site each month
The site is also popular in the United Kingdom
While it's not strictly a cougar and cubs site, that doesn't mean you cannot find a cougar or a cub on it.
For example, 35% of the user base is aged between 45 to 55 and older.
That's a third of the users.
But what about on the other end of the scale.
Well, the 18-24-year olds make up about 8% of users.
But the next group, from 25-34-years old is around 34% of the users.
So yes, this site can certainly work as a cougar/cub dating site.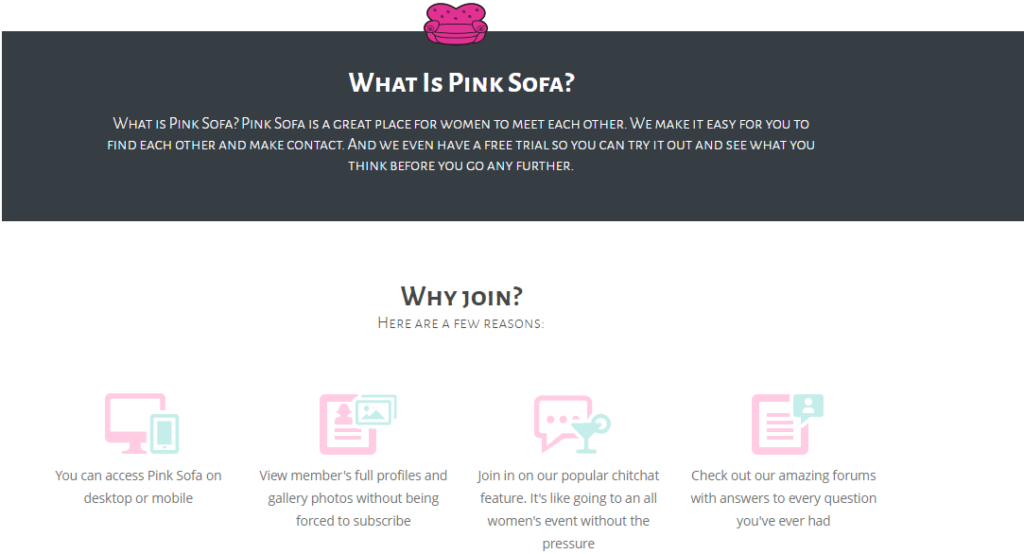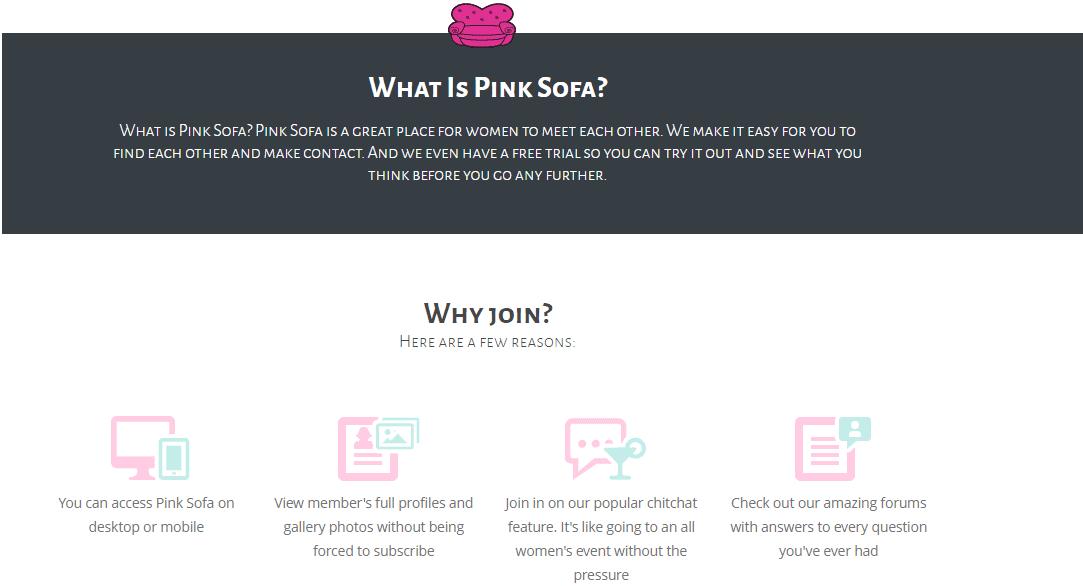 Ease of Use "mobile and desktop version"
While Pink Sofa doesn't have an app as of yet, the website is configured to be mobile-friendly.
That means that if you'd prefer to register and use it via your smartphone, you can.
The registration process itself is pretty involved.
It starts off with requiring a few details from you but also includes filling in large parts of your profile, which is a good thing.
Too often dating site users don't complete their profiles.
Lastly, you will have to wait to have your profile approved.
This a step that Pink Sofa has taken to help cut out fake profiles on the site.
If you use your Facebook account as part of the sign-up process, your chances of approval are far better as you can be verified more easily.
Don't worry, you will have access to the site while you wait for approval, you just won't be able to communicate with anyone.
The overall site design is pleasing to the eye with pink a predominant color.
Well, it is the Pink Sofa after all, right?
Finding potential cougars and cubs is simple enough using the search engine.
There is a basic search as well as an advanced search that allows you to include the parameters you want to search for.
Of course, you can search by age range, which will help in your quest to find a cub or cougar.
Contacting them, however, is limited to sending a smile for regular users.
Only members can send messages on the site.
Here's the cost of membership at Pink Sofa.
1-month: $35.00
3-months: $65.00 ($21.67 per month)
1-year: $125.00 ($10.42 per month)
Clearly, Pink Sofa wants you to sign up for the year contract and they've offered a significant discount with it as it's more than two-thirds cheaper than the month-to-month offering.
Of course, you've got to be able to come up with the large one-off payment as well as be committed to using the site for a year.
The three-month contract also offers an excellent discount.
And what can members expect in terms of added features?
Well, there is the messaging, of course, but you can also join forums, use the chit chat feature and get your profile higher up in other user search returns.
Yes, this is a safe dating site.
All users are thoroughly checked out before their profiles are approved.
This is a member-only feature where you are allowed to start threads about various topics in the forums.
It's a great way to drive the community at Pink Sofa.
3. I am interested in membership but would like to know how renewals work, can you explain them to me?
Renewals for your membership are automatic on Pink Sofa.
You can stop this however by clicking on "My Subscription" and then canceling the auto-renewal option.
Yes, it's not truly a lesbian cougar site but you can use it as one, that's for sure.
As we saw, there are more than enough users in the age ranges of cubs and cougars for it to be effective.
And what I do like about the site is that all profiles are thoroughly checked before you can start to message someone.
This helps ensure that the user base is genuine and there are no fake profiles.
When it comes to an overall rating, Pink Sofa gets a well-deserved 4 out of 5.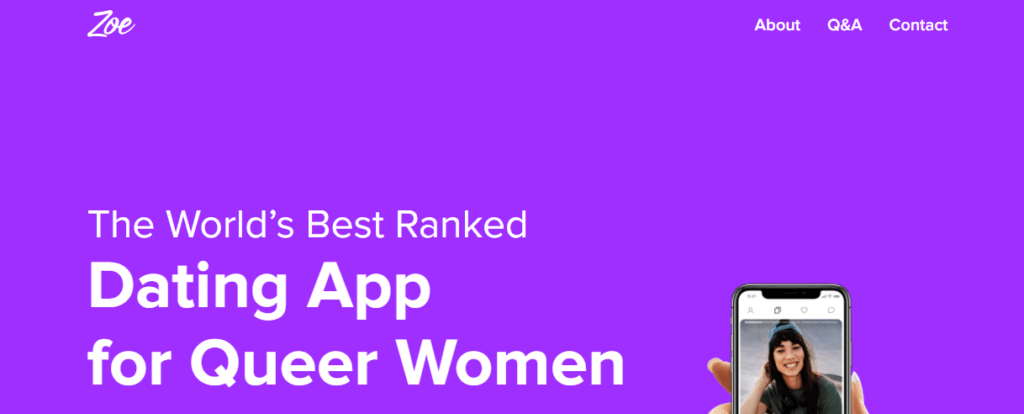 Signing up – 4/5
Making contact – 3.5/5
Profile quality – 4.5/5
Overall quality – 4/5
Includes a personality test for better matchups
Fast registration process
Free
Lots of members
Let's talk a little about Zoe, a dating app for lesbians.
Again, like Pink Sofa, this isn't strictly a lesbian cougar app, but in reality, there aren't that many websites that cater only for that dynamic.
So the next best thing is to look at popular lesbian apps and see if they can work in the cougar/cub situation.
And Zoe does, that's for sure.
The first thing in your favor here is the massive user base.
To date, close to four million people have signed up to use Zoe.
While user numbers can be deceiving from time to time, Zoe is not only filled with potential matchups but is also extremely busy with 16 million messages sent every month.
The most active age range on the site is between 18-34 years old but as you can guess, with 4 million users, you'd find potential matchups of all ages here.

Zoe is an app-only online dating community and you can download it from the Google Play or Apple store.
Registering for Zoe is simple enough and if you'd like you can even use one of your social media accounts to speed up the process.
In this case, those social media accounts are from Facebook or Instagram.
If you prefer not to use them, you can register by providing a valid email address.
As per some of the information you've provided during registration, Zoe will provide you with matchups instantly.
You would then decide if you like them or not.
Swipe left if you don't and swipe right if you do.
If someone that you have swiped right on does the same to you, well that's a match.
And when a match occurs, you are both allowed to send messages to each other.
If you want to find out more about someone before you swipe right or left, then simply click on the small letter (i) at the bottom right of their picture.
That brings up their profile.
Of course, there is more to the app than that.
You will notice menus at the top of the screen.
Silhouette of a person: Takes you to your profile (remember to complete it after you've signed up)
Heart: Want to know if someone has liked your profile, click here
Two rectangles: Takes you back to the matchup screen
Bell: All notifications are displayed here
Speech bubble: Communication with other users can be found here
If you are searching for cougars or cubs specifically, you can change the age of your matchups in the filter settings.
This can be found on the bottom-right of the match screen.
It's possible to use Zoe without becoming a member.
That said, membership does add a few nifty extras that can be useful.
Zoe membership allows for one-month, three-month and one-year membership.
Here's a breakdown of what that will cost you.
1-month: $15.99
3-month: $38.99
1-year membership: $119.99
Taking out membership allows you to:
Rewind swipes
See who likes you
Change your browse history
Send 5 messages a day without the need to match first
Make your profile private
Use chat stickers
Create photo albums
1. Is Zoe a dating app that's good for someone looking for a cougar or a cub?
There are all kinds of users on Zoe and across all age-ranges.
The fact that you can filter your searches for a certain age means that you can search for cougars or cubs, whatever your preference is.
Plus Zoe has 4 million members, so that is a big plus.
You don't have to pay a cent to use Zoe.
Of course, communication only happens when you like someone's profile and they like you back.
Membership allows you to send up to five messages a day to any users.
3. What age groups are most represented on Zoe?
The most active group of users on Zoe are between 18-34 years old.
So if you are a cougar looking for your lesbian cub, Zoe might just be the app you've been waiting for.
Zoe is a fantastic platform for lesbians and deserves a 4 out of 5 rating, that's for sure.
While it hasn't been around that long, in a short time it's built up an impressive user base, that's for sure.
And that's only going to ever expand.
Certainly, if you are a cougar or cub looking for perfect matchups, Zoe can provide that for you.
Plus, you can use the app for free to see just how effective it will be.
It's well worth checking out.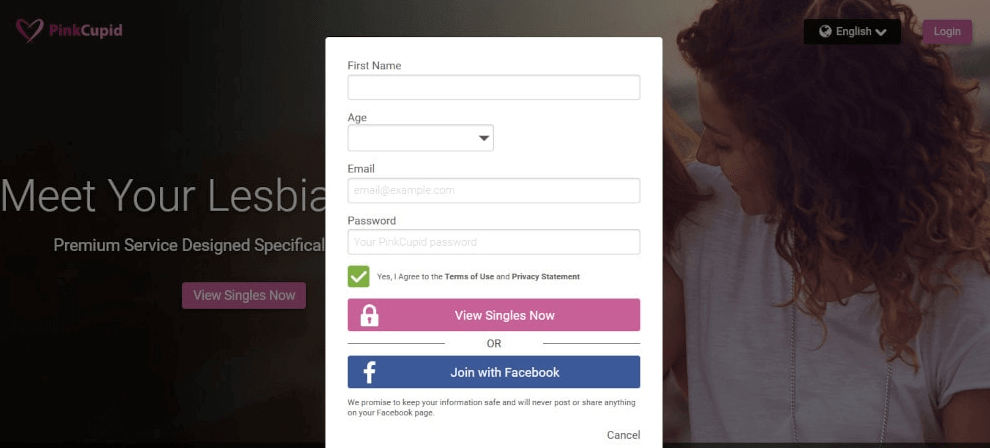 Signing up – 4.5/5
Making contact – 3/5
Profile quality – 4.5/5
Overall quality – 4/5
A range of search options
Members have lots of key features on offer
Messaging is only for members
Pink Cupid is aimed site primarily aimed at lesbians.
But there are a fair share of users that are bisexual as well as those who are bicurious.
The nature of the users on this site also makes it the perfect place for lesbian cougars and cubs to find each other.
That's thanks to the brilliant search engine Pink Cupid uses, but more on that a little later.
Let's look at some facts and figures behind the site:
Around 1 million users have registered for Pink Cupid
The United States contributes 315 000 users
Around 11 000 people visit the site each day
That's 350 000 a month
Each month close to 30 000 people sign up for an account on the site
From a cougar cup point of view, most of the users on the site are between 18 to 34 years old.
A large percentage of them are between 45 and 55 and older too, so yes, Pink Cupid is perfect for cougar and cubs.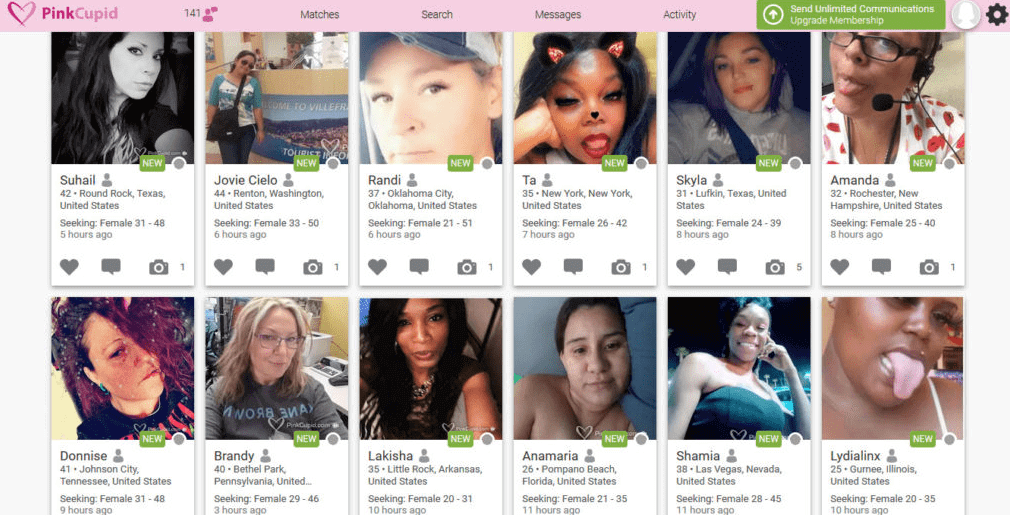 Ease of Use "mobile and desktop version"
Pink Cupid offers two ways of registering for a profile.
First, you can use the app, but that's only if you have an Android handset.
Secondly, you can sign in through the Pink Cupid registration page.
That process doesn't take too much time either and it's even quicker if you use your Facebook account.
You will need to provide information such as a valid email address, your name, a password and also the age range of the users you are looking for.
So from the get-go, if you are a cub or a cougar, you can ensure you are getting the kind of matchup returns that you want.
Finally, upload a profile picture and complete your profile and then you are free to start your quest for the perfect cougar or cub.
And that's where Pink Cupid excels.
From the start, you will be presented with a range of matchups that you can browse through.
These are mostly based on your location and the age range you specified.
You can jump straight in and start looking through these but of course, at some point, you probably are going to want to make some searches of your own, right?
And that's where Pink Cupid excels.
There are just so many ways that you can conduct a search on the site.
But I am going to speak specifically about the search engine and its advanced features.
The best thing about them is that they are free for all users.
So you can really search for pretty exact parameters to help you find the kind so matchups you are looking for.
And yes, age is one of those parameters.
Here are some of the others:
The date and time the user was last online
If they should have a profile picture or not
The city in which they live
Various parameters related to their appearance
Various parameters related to their lifestyle
Once you have found someone that you'd like to get to know a bit better, you are free to view their profile in full.
So you can learn a lot about them from it.
Should you wish to contact them, however, you cannot message them.
While members can message you and you are allowed to reply, using the site in that manner becomes a waiting game.
Instead, to message someone and to take charge, you are going to have to take out membership on the site.
There are two membership options on Pink Cupid: Gold and Silver.
These are available over one-month, three-months or a year.
Gold membership:
1-month membership – $24.99
3-month membership – $49.99 ($16.66 per month)
12-month membership – $99.99 ($8.33 per month)
Platinum membership:
1-month membership – $29.98
3-month membership – $59.99 ($20.00 per month)
12-month membership – $119.99 ($10.00 per month)
As a member, you can expect the following extras:
Send as many messages as you want
Browse incognito
See who has viewed or liked your profile
Rank at the top of other user searches
Reverse and mutual matches
1. I'd like to verify my account, is that possible?
Yes, it is.
You will need to send the team at Pink Cupid an email with your identity document to do so.
It can be sent to [email protected]
2. What's a "reverse match"?
A reverse match is someone that's looking for someone just like you.
It's a matchup that's available to members of Pink Cupid.
They might not, however, match exactly what you are looking for in a match-up.
3. What's a mutual match?
Mutual matches are when you and another user basically are perfect for each other.
This is a member-only feature.
For an overall rating, Pink Cupid gets a more than deserved 4 out of 5.
And it's well deserved.
This is one slick dating site and although it's not specifically aimed at lesbian cubs and cougars, it's can be super effective in helping you find your perfect match.