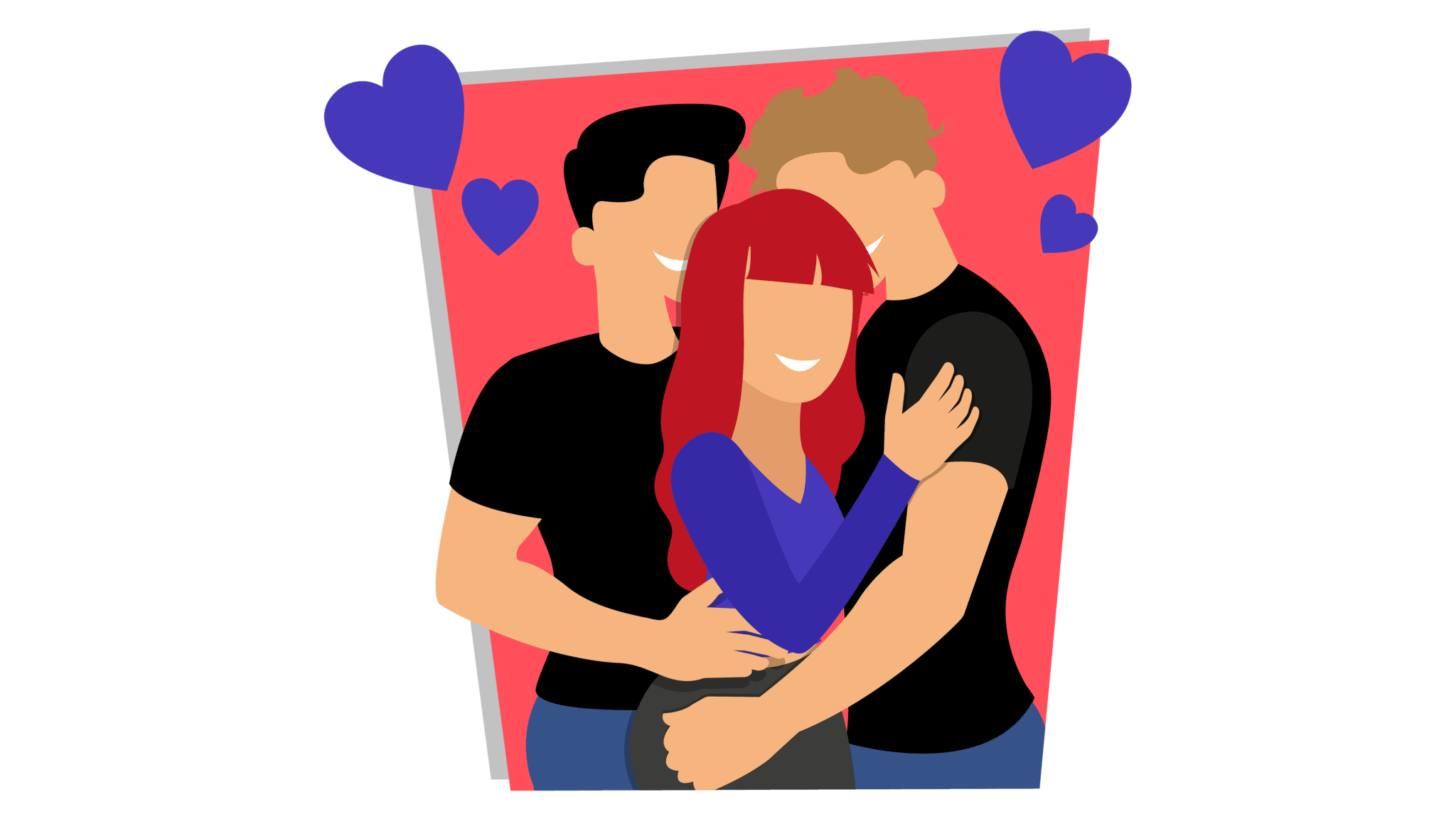 In today's article, we are taking an in-depth look into dating sites for people who are polyamorous.
Definitely not your every day dating sites (like Tinder or eHarmony) or hookup sites (like Ashley Madison or BeNaughty).
You know, those of us who prefer to have more than one partner.
And no, it's not about having an affair behind someone's back.
OFL Top Recommendations based on 100,000+ Survey

"Serious Relationships"
"Discreet Hookups"
"Best Course for Men"
"Quick Flings"
"Normal Hookups"
"Our Quiz"
In polyamorous relationships, all the partners know about each other and all are ok with it.
You've seen that show on TV "Sister Wives", right?
Those are polyamorous relationships and they are becoming a popular dating niche.
Each of the sites we cover today will be reviewed based on:
Let's get started!
Best Polyamorous Dating Sites in Video Form
Audio (podcast) form for those of you on the go
Best Polyamorous Dating Sites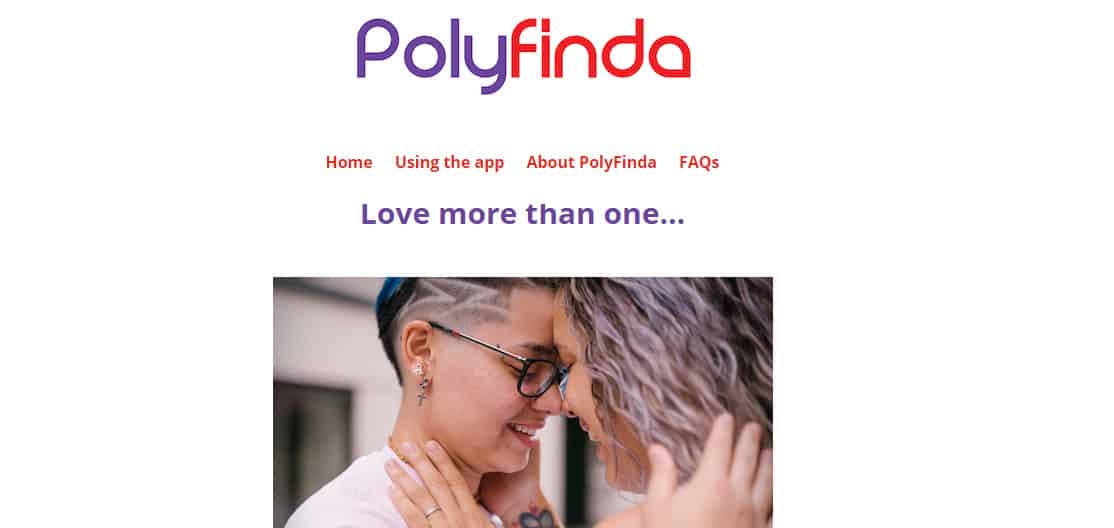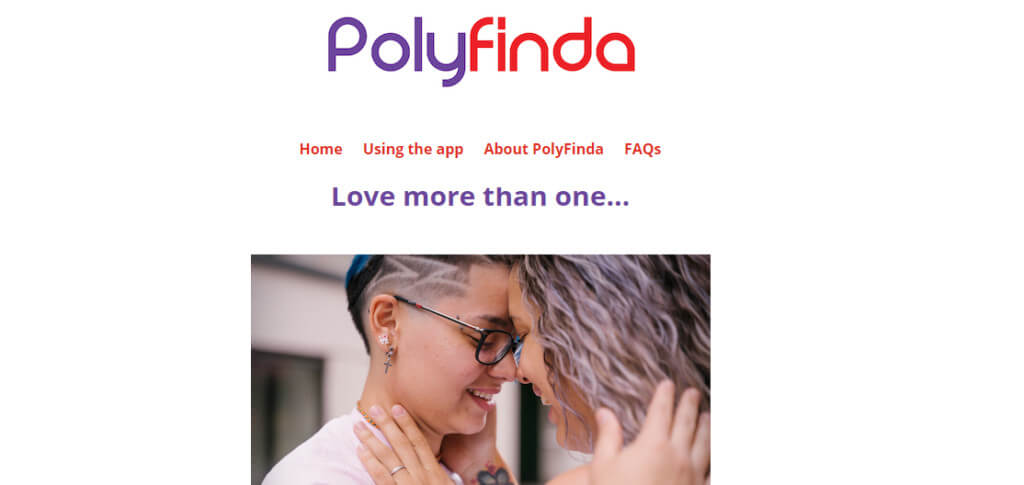 Signing up – 3.5/5
Making contact – 4/5
Profile quality – 3/5
Overall quality – 4/5
An easy app to use
Lots of like-minded people
You get 200 credits for free
Well-priced membership
A small, but growing user base
PolyFinda is a dedicated dating app for those who want to find polyamorous people just like them.
Or perhaps you are just poly-curious and wanting to feel your way into the whole scene.
Either way, PolyFinda can help.
In terms of a user base, well it is still small but growing.
I wasn't able to find out a gender split of users or the age ranges but in my time using the app and researching further, it seems that for the most part, age ranges are pretty evenly spread.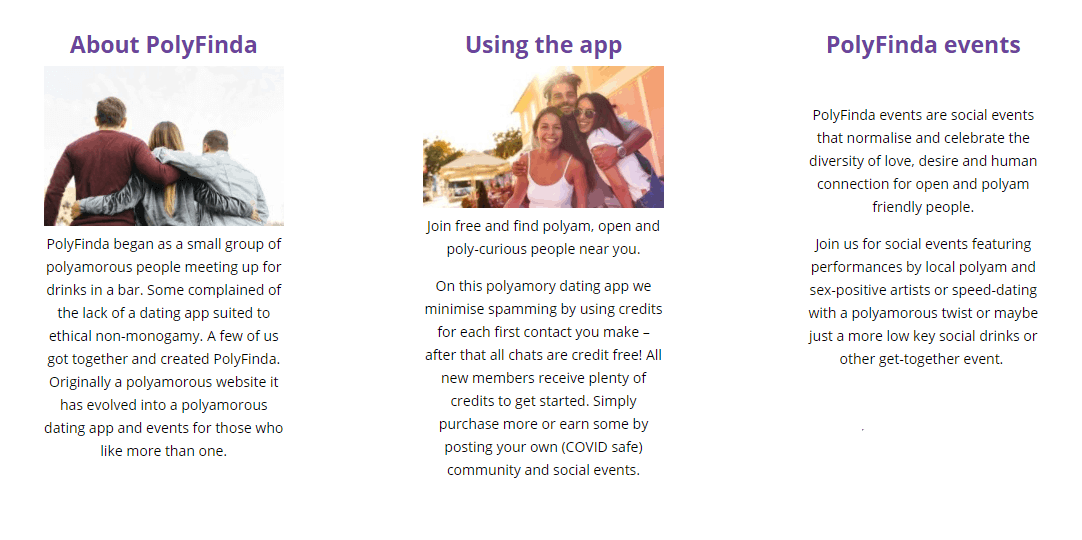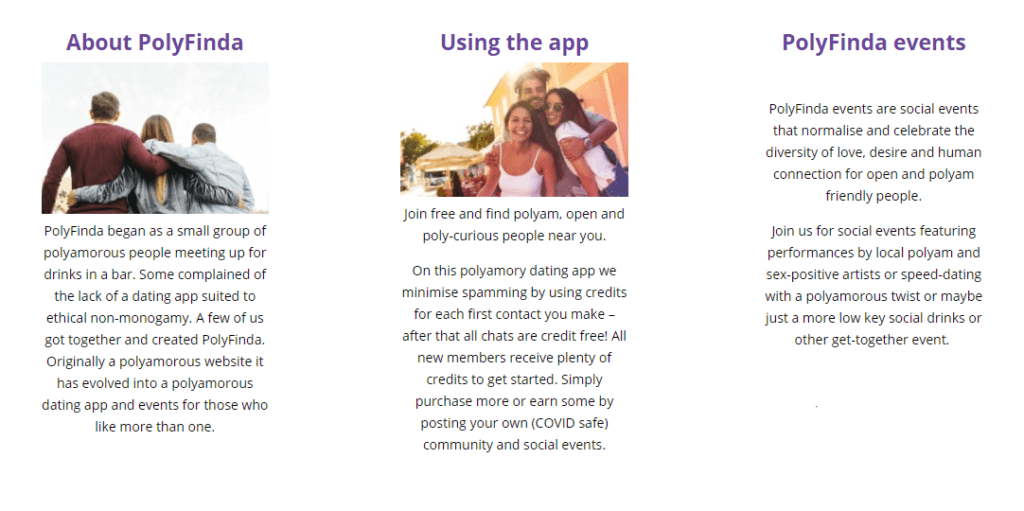 Ease of Use "mobile and desktop version"
While PolyFinda did start out as a dating website, it is now well and truly app-only.
So if you want to start your profile, you are going to need to first download the app for either your Google or Apple handset from the Google Play Store or the Apple Store.
Don't worry, it's a free download and simple to install.
Once you've done that, you need to start the registration process.
There is no social media sign up here, so you will need to provide the following:
Username
Password
Email address
Gender (PolyFinda is fully LGBTTQ+)
A profile picture
Once this is complete you need to fill in a number of questions, including:
Why you are joining PolyFinda
How you found PolyFinda
An about me section
What you are looking for
Then you fill in various profile sections as per any other dating site.
And once you've completed that – it will take about 10 mins – you will receive a verification code that you need to input in the app.
This is sent to the email address that you supplied.
The app itself is pretty basic.
You are immediately given potential matchups near your location and you can easily click on their profile picture to see a little more about them.
All the information that you provide in your profile is found in theirs as well.
If you'd like to change any of the details in your searches, then click on the search filter option.
Now you can adjust the following:
What you are looking for
If they are currently online
If they have a photo
Their age range
Their location (here you can change the distance from you up to 300 miles or put in a new location if you'd prefer to).
There are not that many parameters but there doesn't really need to be.
Just one thing to note, in the who you are looking for section, you can click checkboxes, so if you want, you can search for more than the standard male or female.
The two other main menus that you will use while on the app are the home menu and the inbox menus.
Clicking on the home menu allows you to see:
Who likes your profile
Events planned by PolyFinda
Support groups you could join
A place to purchase credits (but more on those later)
Match and chat (takes you back to the profiles of those users within 300 miles of you)
Now let's talk about messaging.
It's behind a paywall, so any user that you want to chat to means that you will need to consider paying for credits to message others.
Luckily, when you join you are given 200 credits for free and so initially, you can message other users.
Once they are done, however, you will need to purchase more.
Each message you send takes off one credit
As we have already seen, to message someone on PolyFinda, you will need to buy credits.
This is easily done from the home screen using your credit card.
Compared to other sites, credits are pretty cheap.
In fact, 250 of them are going to cost $5.99.
But if you want to become a paying member of the site, you can do that too.
That means paying $9.99 per month to allow you to:
Message others
Search and view all profiles
Add members to your hotlist
And more
Either one of these can help you with the most important task you have on any dating site.
And that's getting into contact with another user.
1. Is PolyFinda a free app?
No, it's not.
While you get 200 credits to use, to begin with, you will need to either take out a membership or buy more to carry on contacting other users.
2. Someone is bothering me on the app, how do I block them?
It's easy.
Click on the message icon on the top-right of the screen the click a message they have sent to you.
You will see three dots, click on that and select block user.
They now cannot contact you anymore.
For a start, let me point out that there are no bells and whistles here.
PolyFinda is a simple app that does what it promises.
While the user base is small but growing, I was still able to find a host of people using the app near me, plus if you want to search further afield, you can.
I like the fact that membership to the app is cheap and that they give you 200 credits upfront to use to message others.
That's 200 messages.
As for a rating, today PolyFinda gets a solid 3.6 out of 5.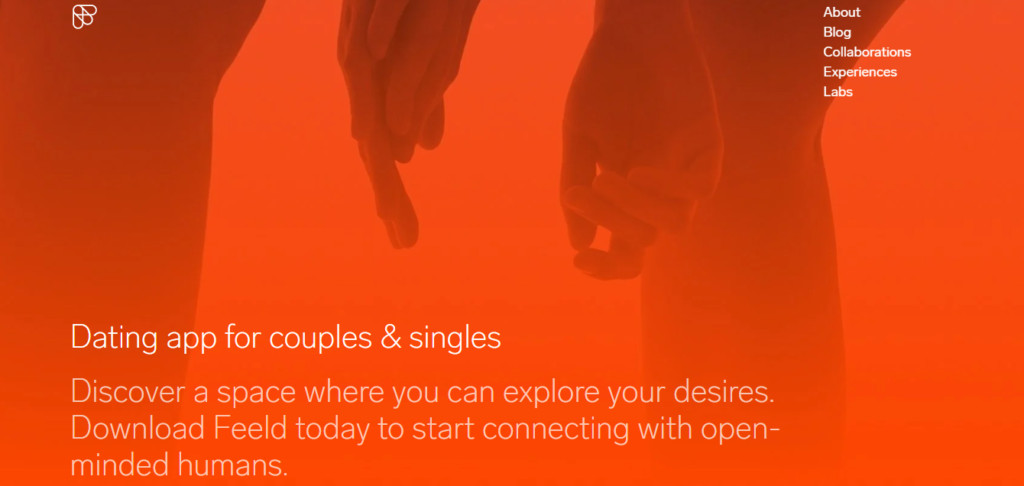 Signing up – 4/5
Making contact – 4/5
Profile quality – 4/5
Overall quality – 4/5
Over 2 million users
You can choose to search just for polyamorous users
The design takes a little getting used to
Feeld is a dating site that's also an option for people who are polyamorous or interested in polyamory.
The thing that makes Feeld is the sheer amount of options it has for people wanting to sign up as well as when you search for potential polyamorous partners.
It's an inclusive app that includes all types of genders and more.
Feeld also offers a massive user base with over 2 million people using the app across the globe.
Of that, around 500 000 are active each and every week.
As far as the gender split goes, Feeld has around 30% female users and 70% male users.
The most popular age group on the app are those between 25 and 34 who make up 40% of Feeld's users while the 18-24 age group makes up another 30%.
That said, there are users in every age group, right up to 55.
Ease of Use "mobile and desktop version"
Ok, so let's talk about the Feeld app and how to use it.
First up, you can register as a single user or as a couple.
To do so, either register for a profile using your Facebook or Google account or simply provide an email address.
You will also need to provide your mobile number as well to get a confirmation code.
Then it's providing more information about yourself including:
Username
Gender (21 options available including all the LGBTTQ+ options you can ever want)
Sexuality (20 options)
What you are looking for
Profile picture
Lastly, you can pair accounts with a partner if you'd like to.
Once you've signed in for the first time, you will immediately notice that you are presented with matches.
The one thing that I like about Feeld is that you can simply pass on these matches but that doesn't mean they won't be shown again.
So there's no pressure in thinking that you might be missing out on someone if you swipe past them.
Of course, if you don't want to see them in future searches, you can click the minus button (near the like button) to remove them.
The app works just like dating apps.
"Like" someone's profile and if they like you back, then you can message them.
Let me also just talk about the overall layout of the app.
To navigate it, you will use the menus found at the bottom of the screen.
These are:
Rectangle icon (Matches): This brings up the list of matchups near you
Chatbox icon (Connections: If you like someone and they like you back, they will appear here
Heart icon (Likes): If anyone likes your profile, they will appear here
Profile: Make changes to your profile here
And really, that's it.
It's a basic app that gets the job done.
What I like about it from a polyamorous point of view is that you can select that as one of your search criteria.
So if that's the only type of returns you want, well that's possible.
If you match with someone, you can contact them for free.
So what does Feeld membership bring then?
Well, there are a few added extras.
For example, you can know immediately when someone wants to connect with you and also, you can last see when someone was online.
These aren't massive features but they are useful.
And because there aren't that many extra features on Feeld, the membership pricing reflects that.
Here's a breakdown:
1-month membership: $15.99
3-month member: $31.99 ($10.66 per month)
1. If I swipe past someone on Feeld, will they appear in my matches again?
Yes, they will.
If you don't want someone to appear in your matches, you can click on the "minus" sign next to the favorite button to remove them from your searches.
A ping lets fellow users know that you like them and they will receive an alert to their phone.
You are limited to the number of pings you can send.
With its wide array of choices in terms of gender and sexuality, Feeld is the perfect website for you to use in your search for polyamorous relationships.
In fact, that's one of the selections you can make to see similar-minded individuals or couples.
It's simple enough to set up your profile and be online in a matter of minutes and matchups are plentiful because the site has over 2 million users.
As for a rating, Feeld gets an impressive 4 out of 5.

Signing up – 5/5
Making contact – 3/5
Profile quality – 5/5
Overall quality – 4/5
50 million users
Uses a brilliant matchmaking algorithm to matchup users
You can message other users for free, but you have to "like" them and they have to "like" you back first
A commercial website for polyamorous dating?
Yes, OkCupid is a good choice.
In fact, back in 2016, they realized the need to include non-monogamous dating options in their dating website which opened the door for polyamorous people to start profiles on the site.
But before we get into how it all works, let's look a little more at the numbers behind OkCupid..
Since 2004, over 50 million people have signed up as users on the site.
Now if just 1% of those users were polyamorous that, around over 500 000 people.
But what about gender ratios?
OkCupid has more male users by a ratio of 2:1 than female users.
In terms of age ranges it's 25-34-year-olds that dominate the site.
They make up 40% of all profiles..

Ease of Use "mobile and desktop version"
When interested in registering on OkCupid as a polyamorous person or couple, there are a few things for you to consider.
First up, while other dating sites that are specifically for polyamorous people allow shared couple profiles, OkCupid does not.
If you make one, there is a chance the profile will be banned.
So how do you go about it then?
Well, if you are a couple, each person should make their own profile first up.
When you are selecting your relationship status, it should be set to non-monogamous.
And then you can link the two profiles together by going to the "Details" section of the settings page.
Once profiles are linked, when someone visits your page or that of your partner, they will see that link.
If you've never used OkCupid before, let's talk a little more about registering your profile.
One of the best things about OkCupid is its matching algorithm.
This is driven by a very in-depth questionnaire that you have to fill in as part of the registration process.
And while it takes a lot of time, it's useful in helping you to match up with the right people.
Also, it's something you can return to once you have your profile setup.
That's because there are 4 500 questions in total for you to fill in (if you want to).
There are just a few first up to complete during registration.
Thinks like what you are looking for in another partner, what you like and dislike, habits, hobbies and more.
Of course, during this registration process, you are also going to set your profile to non-monogamous.
That means you will get search returns of only non-monogamous users as well which makes your life far easier in trying to find the right kind of matchup.
The other excellent thing about OkCupid is that it allows for all types of users, from their sexuality to their gender (including LGBTQ+ options).
As for messaging people, well, you have to like them first, then they have to like you back and then you are free to message.
And yes, it doesn't cost a cent.
If you'd prefer to use the OkCupid app, it's available on the Google Play Store and the Apple Store.
While sending messages is free on OkCupid (if you match) the site still has various member options like:
A-list basic subscription
1-month – $7.95
3-month – $19.05 ($6.35 per month)
6-month – $23.70 ($3.95 per month)
A-list premium subscription
1-month – $24.90
3-month – $68.70 ($22.90 per month)
6-month – $119.40 ($19.90 per month)
A-list premium membership gives you access to all the features that OkCupid has to offer.
For example, you see when someone has read your message, you get a notification when they like you, you can use advance search filters, you get a daily auto "boost" and advertising is removed from the site
"Boost" is a way for you to get your profile noticed by others.
If you boost your profile, it appears at the top of other users' searches.
2. Can I set my profile as non-monogamous on OkCupid?
Yes you can.
Also by doing so, you will only see others with similar profiles in your search returns.
Without a doubt, OkCupid is one of the top big dating sites in the world.
And the fact that it's got over 50 million users attests to that fact, that's for sure.
For those who are polyamorous and non-monogamous, it's a site that can be fine tuned to your particular tastes as well.
And you don't need a membership to communicate either.
Today, OkCupid gets a rating of 4.1 out of 5 stars.