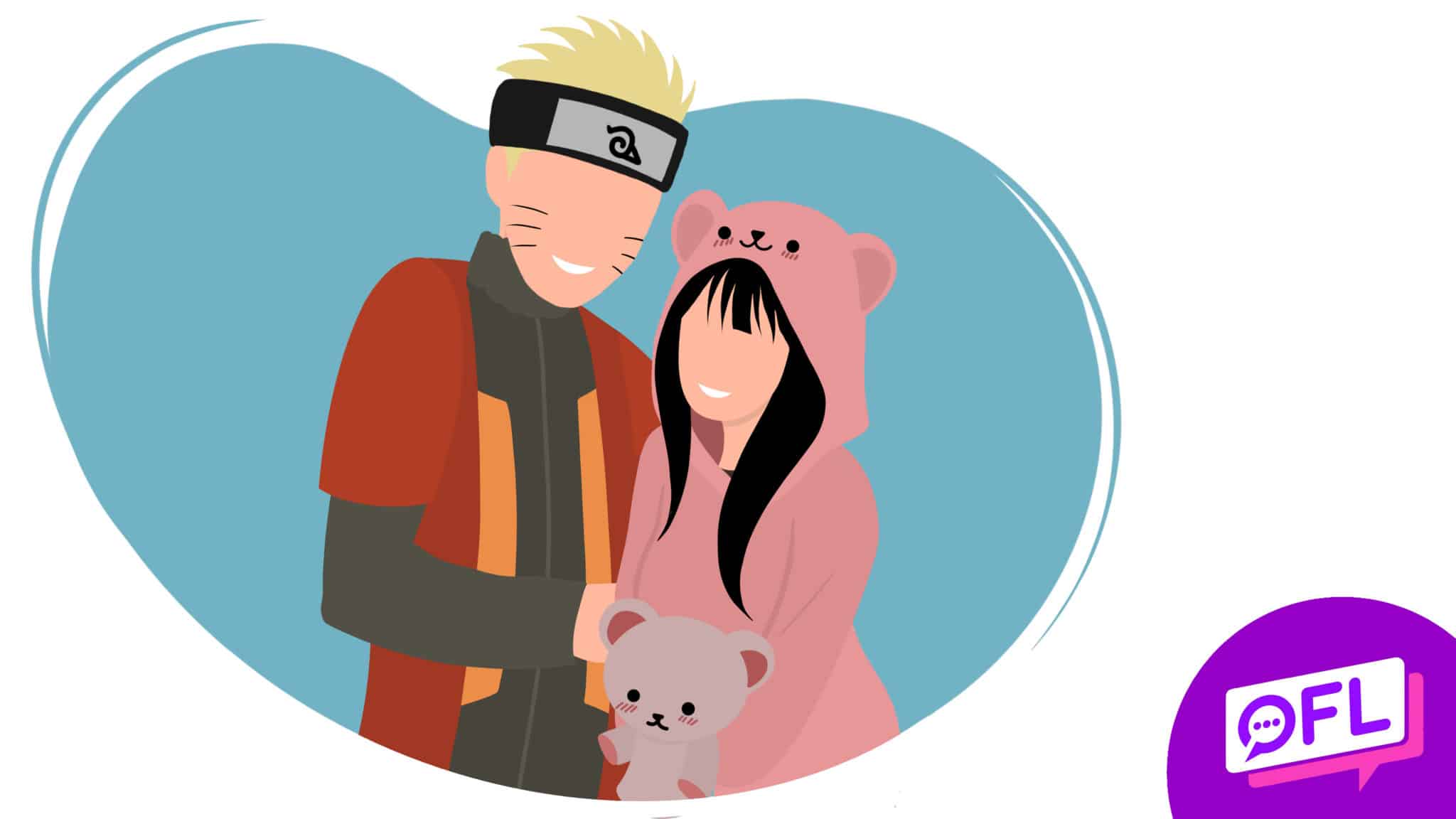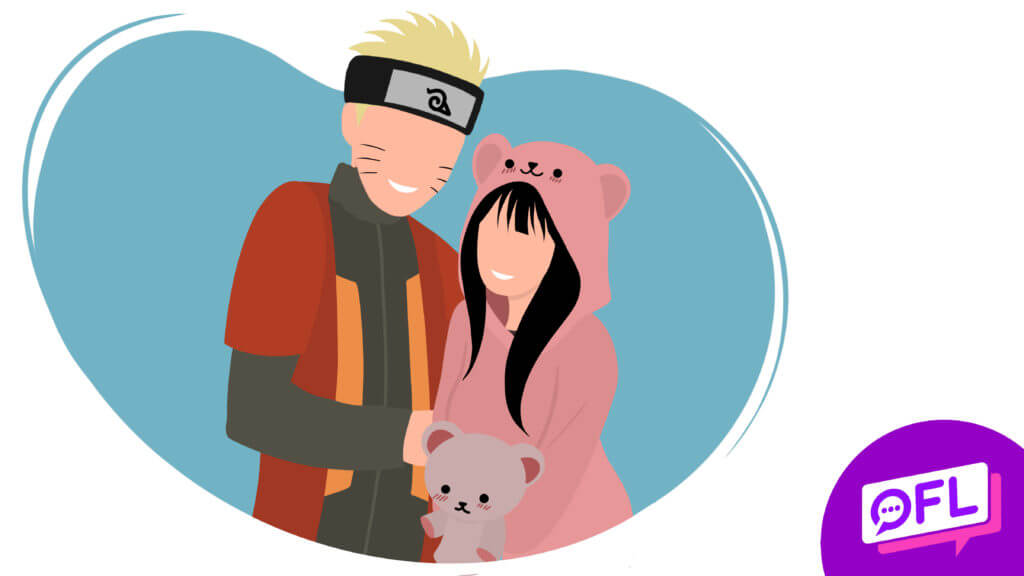 For lovers of anime and manga, there is a range of dating sites available on the internet that cater to that niche.
There have always been dating sites (like BeNaughty or Ashley Madison) that are strictly for hookups and others that cater to people seeking serious relationships.
But in this article, we're going to look at some of the sites that you should consider if you love anime and are looking for someone in your life.
Each site gets a rundown in numerous areas which will help you make the decision as to which you should try in your dating journey, if not all!
OFL Top Recommendations based on 100,000+ Survey

"Serious Relationships"
"Discreet Hookups"
"Best Course for Men"
"Quick Flings"
"Normal Hookups"
"Our Quiz"
The areas we'll focus most on are:
Let's go!
4 Best Anime Dating Sites in Video Form
Audio (podcast) form for those of you on the go
Best Dating Sites for Anime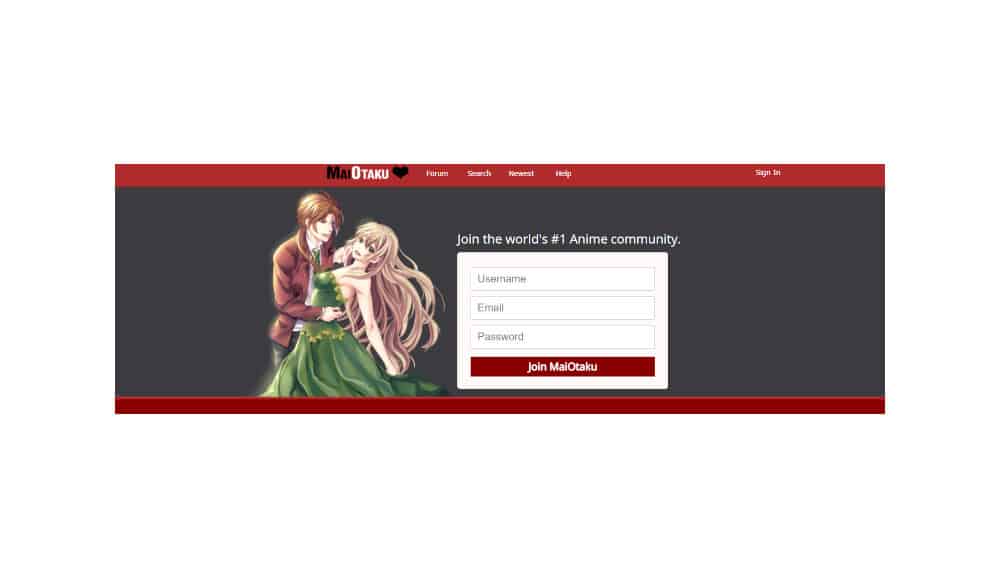 Signing up – 4/5
Making contact – 3/5
Profile quality – 3/5
Overall quality – 3/5
MaiOtaku is free
Membership is available for some extra features
Filled with all kinds of anime lovers
Poor design
Some fake profiles
Lots of advertising
There are plenty of anime dating sites on the net and MaiOtaku is one of the most well known.
MaiOtaku has been around since 2009 but trying to find user numbers, the most popular ages of users on the site or even a breakdown of users in terms of their gender, proved fruitless.
The thing is, with a site like this that caters to a certain kind of person who has a particular interest, ultimately, user numbers aren't that important.
It has been around for over a decade, so in that time, it has built up a decent user base.
OFL Top Recommendations based on 100,000+ Survey

"Serious Relationships"
"Discreet Hookups"
"Best Course for Men"
"Quick Flings"
"Normal Hookups"
"Our Quiz"
And if you are a lover of anime, it's a site that's worth checking out, because you've got nothing to lose, right?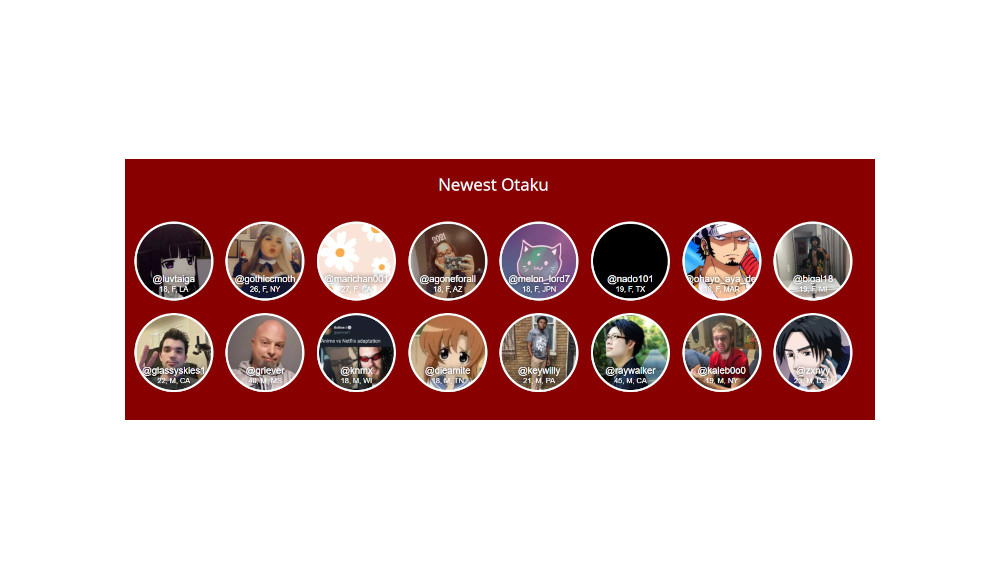 Ease of Use "mobile and desktop version"
MaiOtaku certainly looks a little different from other dating sites but that's because of its anime-influenced overall style.
And while it looks a little different, it operates in much the same way as regular dating sites do.
Registering for a profile requires just the same type of information as with other dating sites such as a username, email and password.
Provide those and you get access to the site but from there you will need to complete your profile.
The first real difference you will notice is in the fact that you have to draw up an anime list.
This isn't anything special but merely a way that to indicate your favorite anime shows in what is a very diverse genre.
One thing you will notice immediately about MaiOtaku is that it includes things like a chat room.
And you can chat with users on the site for free.
That's not often something you will see on dating sites.
It's cool too because these are all people who love anime and you can be sure they want to chat about it.
Expect lots of heated debates too!
There's also a list of anime conventions coming up that users make use of to plan their visits.
Or visit one of the 13 forums on-site, with various focus points, not just anime.
But MaiOtaku has other things too that are just the same as more mainstream dating sites, likes searching for members, matches the site has provided based on your dynamics and more.
What I do like about the matches aspect of the site is that MaiOtaku gives you a percentage matchup with each person you browse.
Of course, that percentage is far more accurate if you fill out your profile properly.
And the more you grow your profile in terms of conventions that you've attended and the anime you like, MaiOtaku provides even more matches.
Over time and as you fill in more of your profile and what conventions and anime you like, the matches that the site generates for you will expand.
Just one last thing, contacting other users on MaiOtaku is totally free but there is one catch.
You need to be friends with them.
That involves sending a friend request to which they respond.
If they accept your friend request, then you can message them.
This gives all users control over who can and who can't contact them.
Lastly, MaiOtaku has an app but at this point, it's only available on the Google Play store and to be honest, it hasn't received many good reviews.
I prefer the website.
While it's possible to use MaiOtaku for free, it also offers a membership subscription.
This provides you access to a number of extra features, many of which are quite useful actually.
For example, you can become a featured member which exposes your profile to more users, you can share photos with others (particularly your anime collections), you see why MaiOtaku matched you with other users (there are normally five reasons) and you can view the site with no advertising.
There a few different things here not found on other, more commercial dating sites.
But what does membership cost if you are interested in trying them out?
Well, it's only $3.99 per month.
What a bargain, right?
This social networking and dating site isn't new.
In fact, it was first established way back in 2009.
If it wasn't a safe site, then surely it wouldn't have lasted this long, right?
That said, just like all other dating sites, you will find fake profiles so make sure you report them.
2. I've heard that MaiOtaku only takes users of 18 years or older. Is that true?
Yes, it is true.
This is a site that's for people that are 18 or older because effectively, it includes private information that users provide.
Minors are unable to provide this as it is against the law.
If you are a lover of anime and you want to meet people similar to you, then MaiOtaku has got what you need.
It's not always presented in the most refined way possible, however.
But I suppose that's ok because, in reality, this isn't a true dating site.
There's a major social networking aspect at play here as well.
Overall, MaiOtaku has proved its worth due to the fact that it is still going strong a decade after it was first launched.
As for a rating, I am giving MaiOtaku 3.25 out of 5.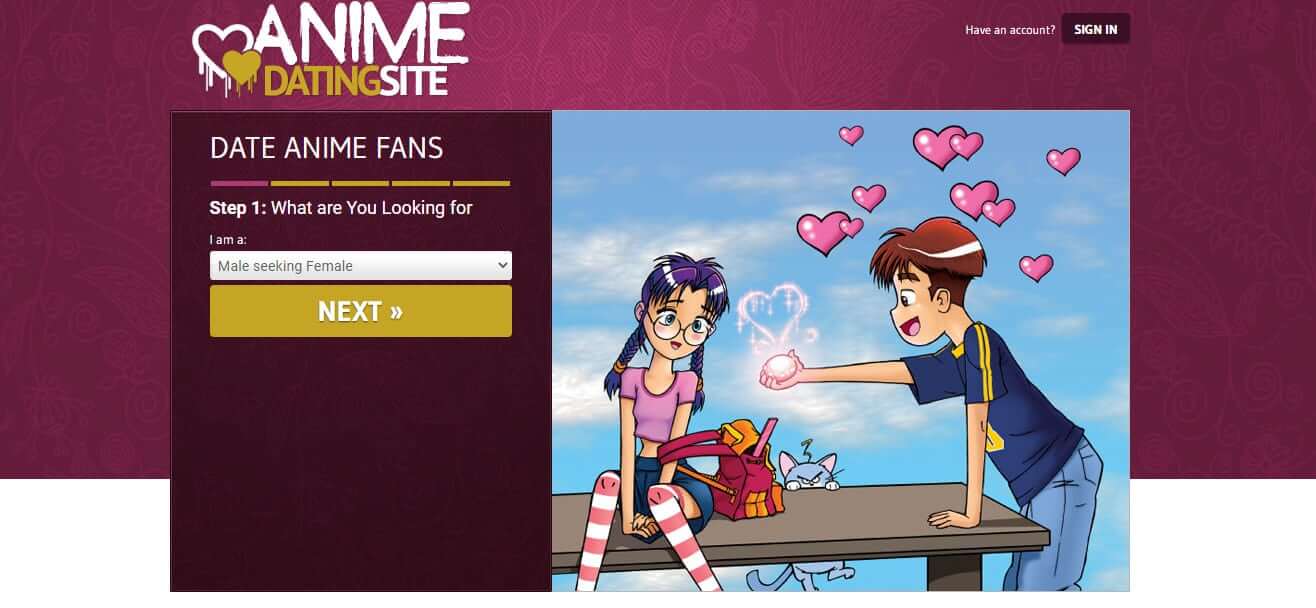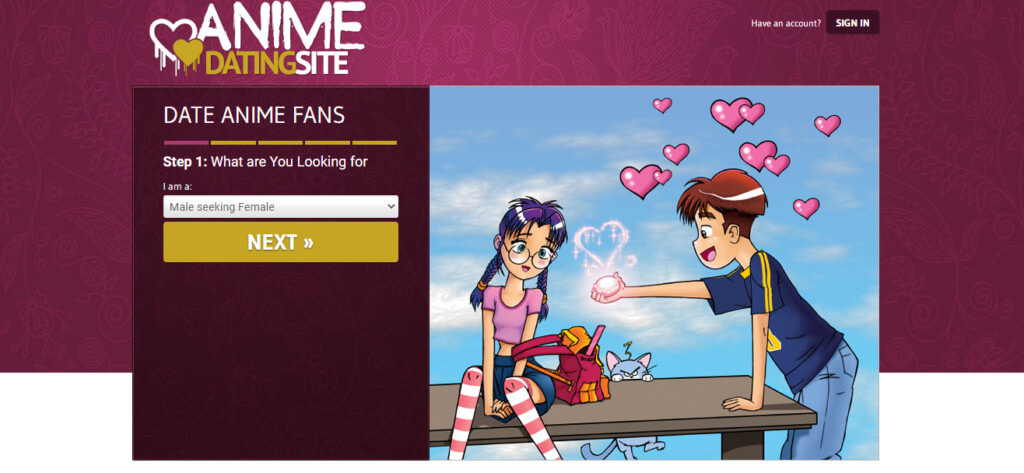 Signing up – 4/5
Making contact – 3/5
Profile quality – 3/5
Overall quality – 4/5
Takes the dating site of things very seriously
Lots of excellent tools to help you find the perfect matchup
Some fake profiles
You cannot send messages without a membership
Anime Dating is a brilliant site for lovers of anime to meet up, chat about their favorite shows and possibly even find love.
This is not a site for people that have a fleeting knowledge of the subject, that's for sure.
Here you will find hardcore fans of not only anime but manga as well.
Cosplay is also a favorite with many of the members on the site with dressing up as one's most-loved anime character and attending anime conventions a popular activity with many of them.
Finding out user numbers as well as other demographics such as the age ranges of most users or a gender ratio breakdown proved impossible.
That said, this niche site is popular and filled with people who love anime.
If you do too, it's a site worth checking out.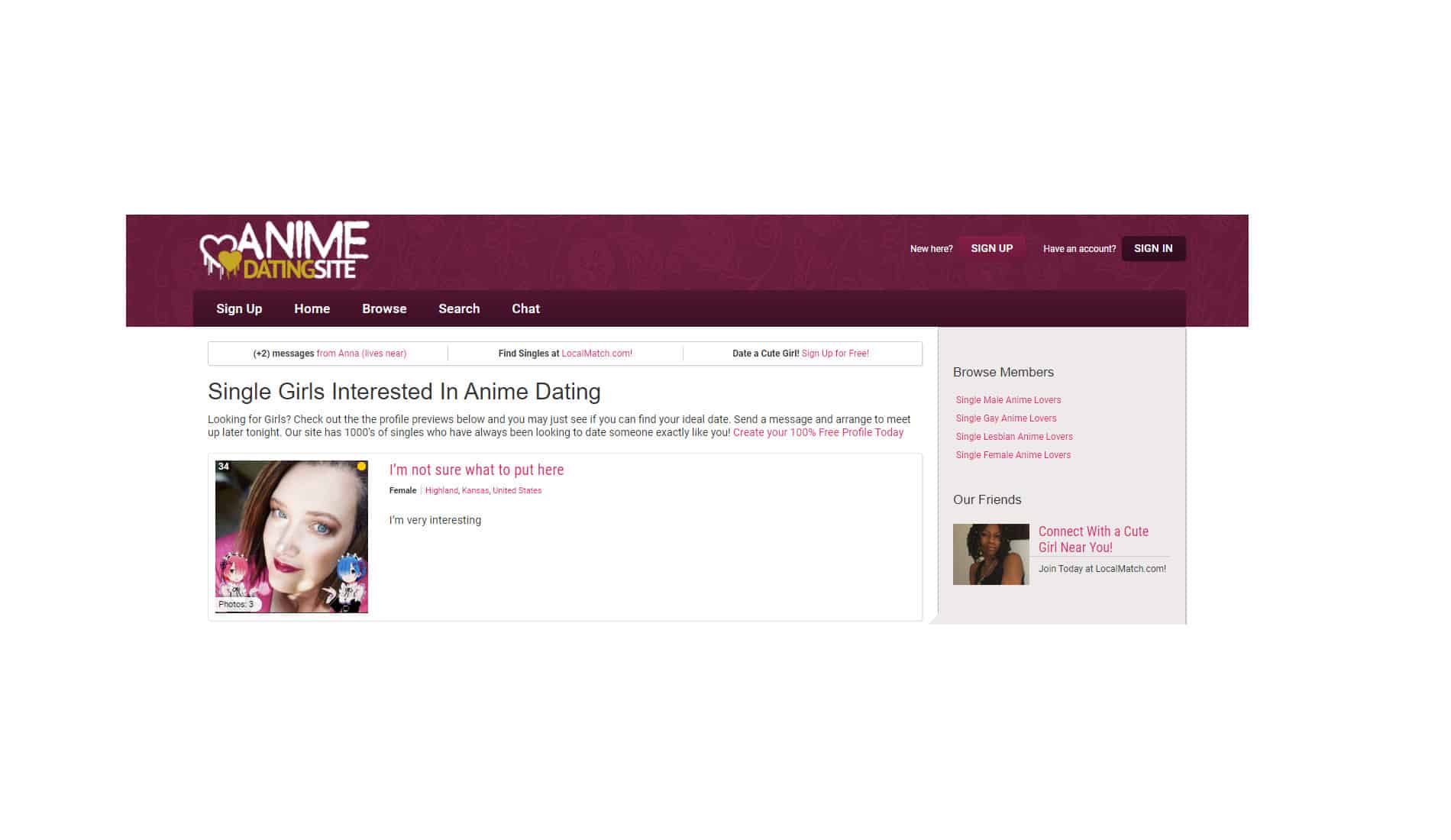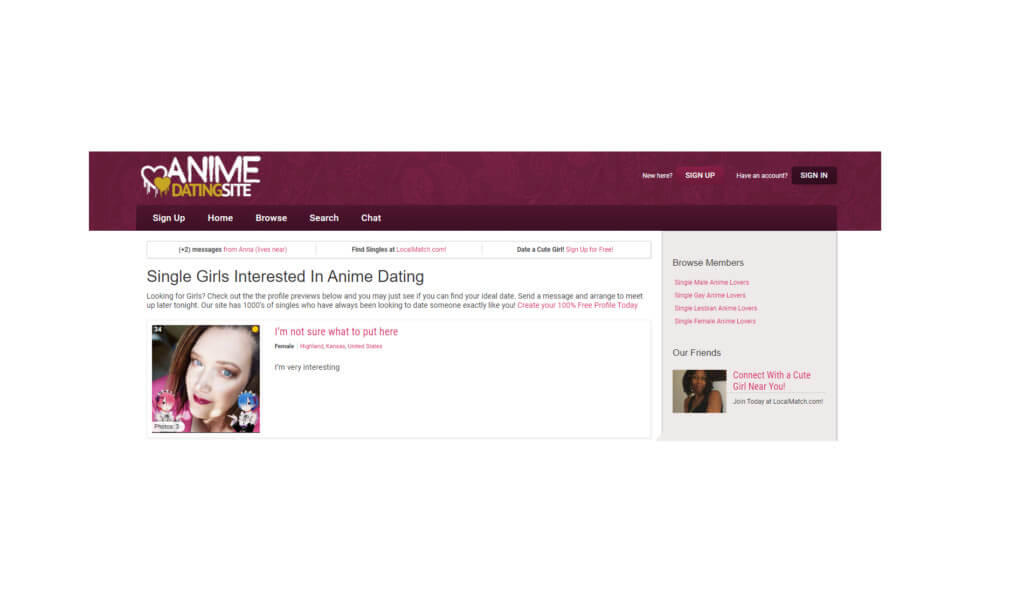 Ease of Use "mobile and desktop version"
Now let's talk about registering and starting your profile before we get into how the website works overall.
Anime Dating site has a five-step registration process including a bonus offer to join Anime Partners.
Providing your name, email address, age, password and user name results in a confirmation mail from the site that you need to reply to as confirmation of your email address to activate your account.
That begins the process of finalizing your profile.
Other than your name, height, build, ethnicity, profile headline, description of yourself and a photo you will also have to provide your favorite anime genre as well as movies and shows.
Once you are taken to the site itself, you will notice the clean design that makes it super easy to find your way around.
And all you need to navigate the site is found in seven menus at the top of the screen which includes your messages, a search engine and a browse user tool.
Each of these menus, in turn, has sub-menus, for example, the browser user tool includes users near you, users by recent activities, new users, users with videos or all users.
The site also includes a quick search option on the right-hand side of the home page for you to launch your own searches with the click of a button.
These searches, however, are only done with three parameters: gender, age-range and whether the returns should have a profile picture or not.
If you prefer a search with more parameters, the advanced search where you can add loads of search options is for all users to make use of.
Here you can launch specific searches based on anime preferences including favorite anime, anime watched favorite anime genre and even what manga they read.
I like the fact that a site that's all about anime makes it the forefront of their search engine.
Anime Dating also includes an introduction service, a new feature on the site that will introduce your profile to over 100 other users who are near where you stay.
Established users have to pay $10 to do this but sometimes, for new users, the service is offered for free once only.
Once you've found someone that you'd like to get to know better, as a free user, you can only flirt with them.
All that does is alert them to the fact that you are interested in them.
You can also "like" them or try to add them as a friend.
Should you want to message them, you will need to become a member of the site.
At present Anime Dating has no app but it is viewable on mobile devices.
So to use the site properly, especially if you are looking to meet people, you will need a membership.
That's because, without it, it's impossible to message anyone effectively.
If you'd like to try the site out, it does offer a five-day trial membership.
But there is a range of membership payment plans.
Trial membership – $1.00 per day – $5
1-month membership – $28.00
3-month membership – $36.00 ($12 per month)
If you do take the trial membership and don't want to use the site afterward as a member, remember to cancel it as it automatically bills at around $30 per month if you don't.
1. Some dating sites don't let you permanently delete your account. Can I do so on Anime Dating?
Yes, you can permanently delete your account on Anime Dating.
To do some, navigate to the Data Management Panel and find the option there.
2. Is it possible to block users on the site?
Yes, it is.
And it's simple to do.
Go to their profile and find the "block user" button which is found near their profile picture.
This is a well-polished dating site for lovers of anime.
Unlike some other anime dating sites, Anime Dating has all the tools you need to find suitable matchups and get to know them better.
In other words, it takes the dating side of things just as seriously as the anime side of things.
I did notice some fake profiles, however.
It wasn't hard either because as soon as I joined the site, I received messages from them.
And how do I know they were fake?
Well, they used local terms from my country but not in ways that they should be used.
That said, this is an excellent dating site for lovers of anime, just always be careful with who you chat to.
As for an overall rating, I am going to give Anime Dating a strong 3.5 out of 5.
Signing up – 4/5
Making contact – 4/5
Profile quality – 4/5
Overall quality – 4/5
A quirky looking website that's fun to explore
It's free to message others
Extensive profiles
Lots of search parameters
While Soul Geek isn't strictly an anime site, it's popular with people who love sci-fi, fantasy, horror, comics, animation and of course anime.
If you are a lover of anime as well as all of the above, it's certainly worth your time taking a look at Soul Geek and giving it a tryout.
And while Soul Geek doesn't have gender options other than male or female, or as they call it, fan-girl and fan-guy, it does cater towards the gay and lesbian community, so you can search for like-minded people.
Perhaps the best thing about Soul Geek is that it's 100% free!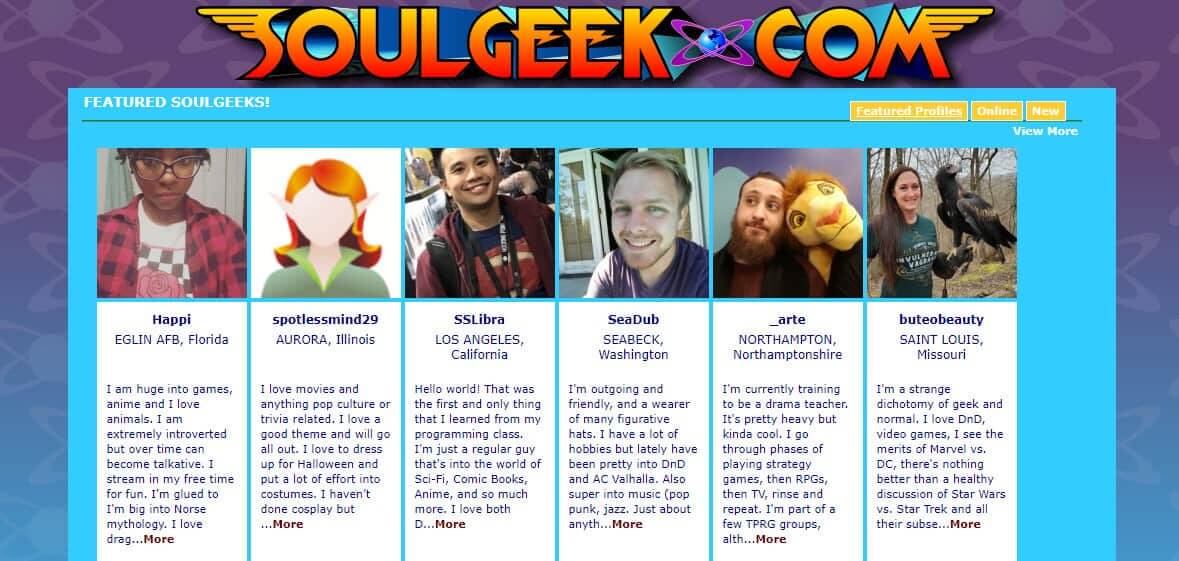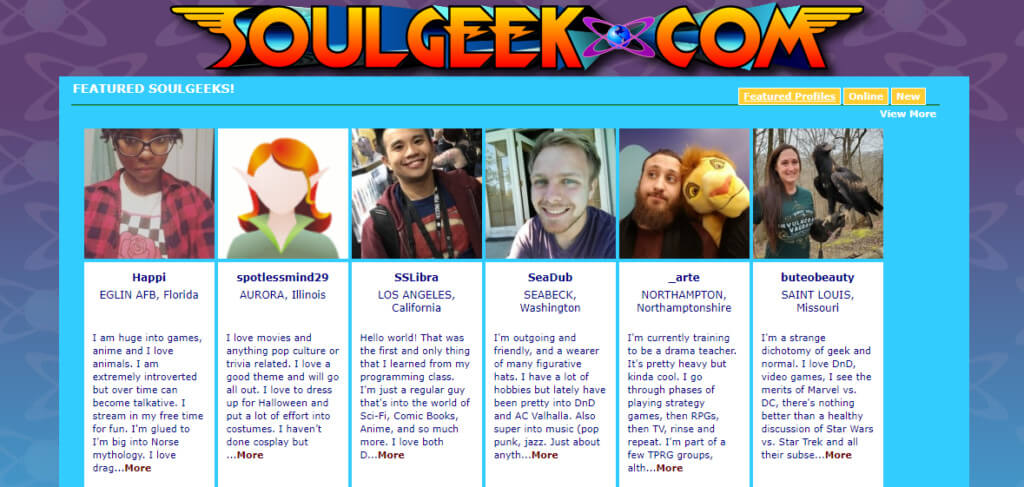 Ease of Use "mobile and desktop version"
Soul Geeks sign-up is pretty extensive and you need to provide quite a bit of information during the process.
Other than the usual username, password, email, gender and what you are looking for, you will also have to say why you want to use the site.
And there are quite a few options including dating, friendship or just meeting similar people to you.
Other information you need to provide during the registration process includes your current relationship status, your real name, where you live, your birthdate, appearance parameters, lifestyle parameters and more.
That includes an indication that you love anime.
Effectively, Soul Geek is having you fill out your profile during the registration and it's very comprehensive.
All-in-all, registration takes around 10 minutes to complete.
Once you are taken to the Soul Geek website, you will have to still provide a little more information like a tagline for your profile, as well as a description of yourself and what you are looking for in someone and a profile pic.
When it comes to the Soul Geek website, just like me, I am sure you will love the design.
It's got a fun, playful feel about it and while it doesn't take itself too seriously, the tools you need to meet up with other people are all here.
So it's got everything you need to have the friendship and dating side of things covered.
Other than the tools you will need for finding matchups, you can post your favorite music for others to listen to, videos for other to watch, read blogs, browse forums and frequent chat rooms.
The search engine has extensive parameter options, all taken from user profiles.
Of course, you can search for people that love anime here as well, because that's one of the search options you have.
Once you've found someone that you'd like to chat to, there are a number of ways to get into contact with them.
You can comment on their profile, or you can send them a friend request.
But you can also just send them a straight-up message and that's free.
You can also send them a virtual gift, or if you prefer follow them.
As you can see there are lots of options for you to choose from to get into contact with someone, that's for sure.
What costs?
There are none.
You are free to use everything that Soul Geek offers without paying a dime.
You are welcome to contribute towards Soul Geek if you can, however.
If you'd like to do so, just find the "Support Us" menu and follow the instructions from there.
1. Is Soul Geek really free?
Yes, Soul Geek is really free.
It's not often that you find niche dating and social networking sites like this that are free but luckily, Soul Geek doesn't charge a thing.
Yes, Soul Geek is safe.
Of course, you have to make sure that you keep yourself safe too when dating others.
Soul Geek provides dating tips that you should follow when using the site and meeting others.
While it's not strictly an anime site, Soul Geek members do love Japanese cartoons, that's for sure.
You can use the site to discover people like that thanks to Soul Geek's brilliant search engine.
And the best thing about Soul Geek is that it's free.
Of course, you will find fake profiles here but that's true of just about every dating site out there.
Soul Geek is really worth checking out.
I give it a rating of 4 out of 5.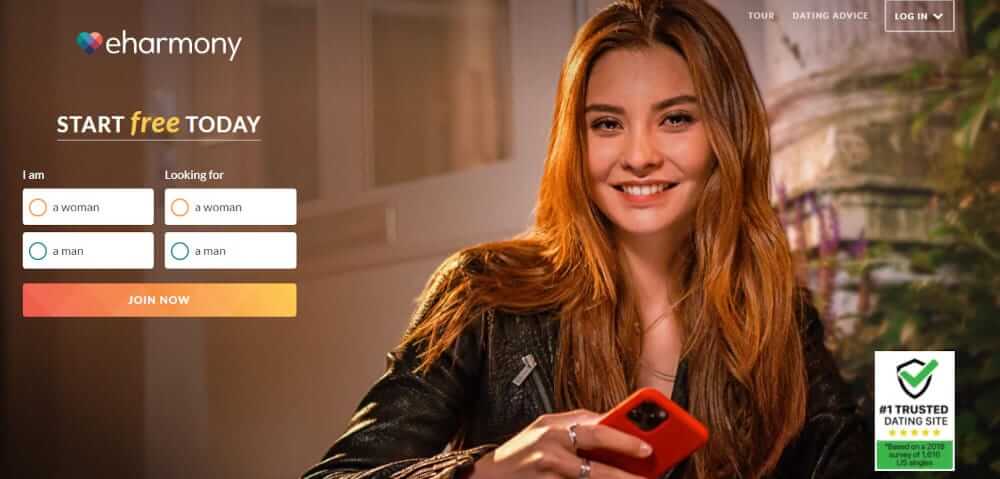 Signing up – 4/5
Making contact – 3/5
Profile quality – 4/5
Overall quality – 3.7/5
While it's not strictly an anime dating site, eHarmony has a massive user database
Excellent matching algorithm
Users must fully complete their profiles
eHarmony has a lengthy signup process
With over 60 million members worldwide, eHarmony is a massive dating site.
And the chances of many of those users being fans of anime are good.
Even if it's just 0.1% that's over 600 000 people.
So if you don't think a conventional dating site can be used to find a specific niche, think again, especially a site with millions and millions of users.
Another reason why you should consider using eHarmony is the fact that most users are looking for long-term love.
In terms of further demographic information, eHarmony also offers a very good gender ratio split.
Around 57% of users are male and 43% are female while the largest group of users are between the ages of 25-34 years old.
They make up close to a third of all users.

Ease of Use "mobile and desktop version"
The eHarmony sign up process takes a long time.
That's because you will have to complete your full profile and that's a good thing.
My suggestion is to make sure that you include your love of anime in your profile.
You can do that when you describe yourself or even in your username, for example.
If you'd prefer to set this all up on your phone, you can thanks to the fact that eHarmony has a free app for both Android and Apple handsets and devices.
eHarmony includes a matchmaking system that will provide you with matches based on your profile parameters and what you are searching for.
Of course, this isn't a niche anime dating site but there's nothing wrong with communicating with those returns and seeing who loves anime and then moving from there.
The thing is, if you want to send a message to someone, you will need to take out membership on the site.
It's probably worthwhile too as eHarmony provides you with new matchups every day.
Because eHarmony is so successful at what it does, it's not a cheap dating website.
Here's what a Premium subscriber membership costs.
1-month – $59.99
3-months – $35.90 per month
6-months. – $25.90 per month
Luckily, you can test the site with a three-day membership trial and see just how many other lovers of anime you can find.
1. Does eHarmony offer a search engine?
No, eHarmony works a little differently from other dating sites in the fact that it will provide you with matchups.
2. What can I do on eHarmony before I have to pay for membership?
You can register and sign-up as a user on the site, fill in a complete profile and look at the matchup the site suggests for you.
When it comes to reaching out to them, however, you will need membership as there is no way to message someone you'd like to know more about as a regular user.
Due to the fact that it has so many users, you shouldn't discount eHarmony or other larger datings sites as a place to search for more niche matchups.
Plan your profile properly, making sure that you show your love of anime and you might just be surprised at the types of people that reach out to you.
It's certainly worth a try.
In terms of a rating, I give eHarmony 3.7 out of 5.