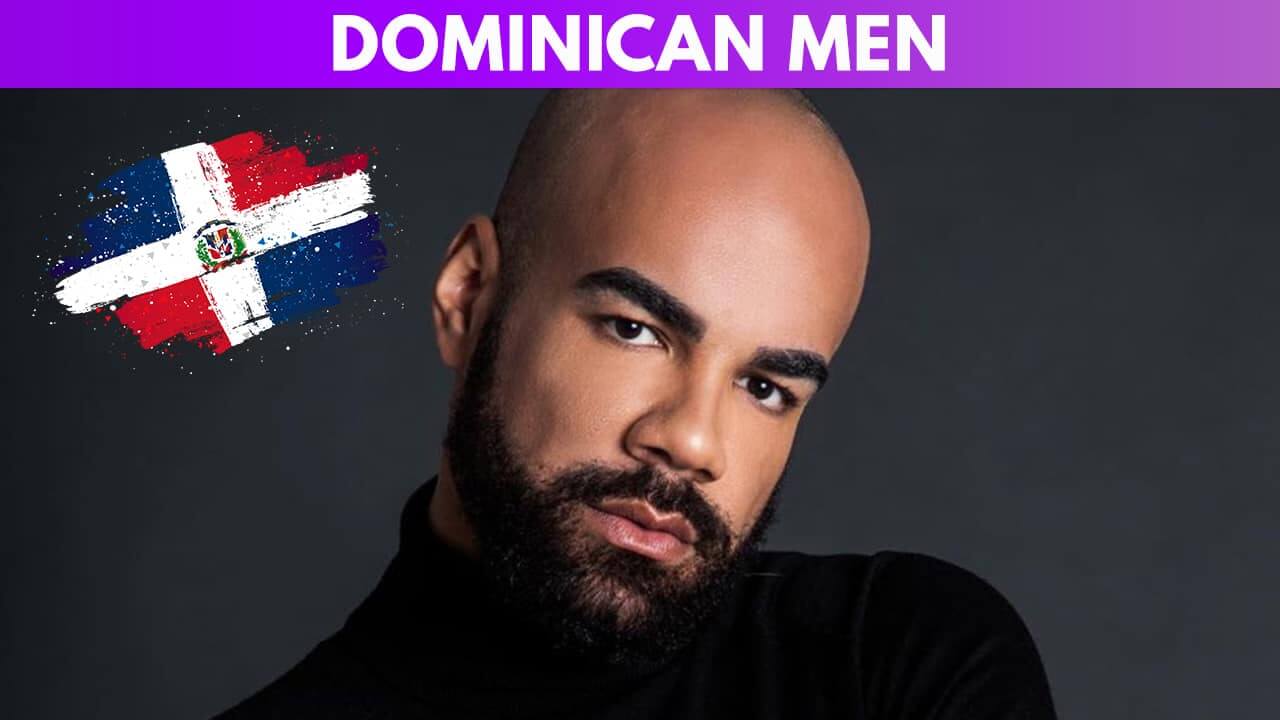 Hello again ladies!
Your favourite international dating specialist, me, is back once again to tell you all you need to know about Dominican men.
If you are new here, make sure to check out all the men's country guides to see how Dominican Republic men compare in all categories.
Trust me, I was lucky enough to encounter some handsome Dominican men and get to know them well enough to crush Dominican men stereotypes.
Now it's time I share all I know.
Allow me to teach you what are Dominican guys like in a relationship and how to make sure hot Dominican guys go crazy for you.
Let's go!
Is your dating app giving you the best chance for success?
Make sure to take our online dating site/app quiz to find out.
People who follow our dating site suggestions have on average 2 more dates per month.
What are Dominican Men Like?
International dating will be something you'll love if you're anything like me and want to experience every corner of this planet.
Meeting Dominican males should also be on your list if you ask me.
Of course, you can't meet all of them, and each one is definitely unique in their own way.
But, no worries! Thanks to all my experience I gained through international dating, I will try my best to teach you all there is about typical Dominican men.
In case you're now in my shoes, like many American women looking for Dominican men, keep reading to find out all there is to know about them.
Physical Appearance
Let's be honest, the first association we all have when we think about handsome Dominican guys is dark-skinned, tropical island Latinos.
And if you asked me, when it comes to physical appearance, there's nothing more I could ask for!
Of course, generalizations are never the way to go, and when I did get the chance to meet a number of Dominican guys, it became clear that each of them has specific features.
This should come as no surprise when speaking about Dominicans. After all, their rich history is to blame for the fact that they are a beautiful combination of many different nationalities.
Most people from the Dominican Republic are actually of mixed race and have been influenced by African and European countries, such as Spain, France and Portugal, and many others.
What this means is that there isn't really a typical Dominican appearance, but a number of different ones that have various influences more dominant than the others.
This variety is exactly what makes Dominican men so beautiful! Thanks to their mixed-race, they look exotic and have unusual beauty that can't be ignored.
Even though you can't fit them all into one mold, there are some traits that can be found in the majority of Dominican guys, so let me present them to you.
Depending on whether African influences play a bigger or a smaller role in their heritage, the skin of Dominican men can be lighter or darker, but they are generally more dark-skinned than Colombian men.
Like the most Latinos, you can expect Dominican men to have voluminous, dark hair, mostly dark brown or black.
In addition to hair, their facial hair is often rich as well, but always well-groomed and put together.
But, not all their features are Hispanic. It also happens they have beautiful green eyes or lighter hair, which are all European features.
When it comes to their build, let me tell you, you will hardly find a Dominican guy that doesn't have an amazing body.
First of all, Dominican men are pretty tall, with the average height being around 173sm or 5ft 8in.
Secondly, their bodies are incredible. Sexy Dominican guys really care about staying in shape, so they tend to be very active and participate in various sports, which results in muscular, fit bodies any girl would fall for.
All things considered, Dominican men are very attractive and you will surely find the one that fits your taste when it comes to physical appearance.
But let's be real for a moment – looks don't make the relationship.
Of course, your boyfriend being easy on the eyes is a plus, but if you don't fall for his character, are good looks really enough?
That's why you should be also thinking about the personality traits of a Dominican man you'll be dating, and that's where I come in to help.
Keep reading to find out all you should know when it comes to the character of Dominicans, in order to be fully prepared for the Dominican romance you want to experience.


Dominican Men Style
I must admit I was surprised when I saw just how much Dominican men care about fashion!
I was expecting their style to be laid-back and comfortable since the Dominican Republic is an island country with a tropical climate, but hot Dominican men definitely wear more than beachwear.
The reality is that Dominican guys invest a lot of time into making sure they look their best, no matter how hot it is outside.
That is why you will see them in pants or jeans much more often than in beach shorts. They love to look classy and put-together!
Other must-have pieces of their wardrobe include well-tailored shirts, blazers and shiny shoes.
On the other hand, even if they do dress more formal, the colours they choose can be very versatile, but always paired carefully and with attention to detail.
A good sense of style is important, but it's not crucial for a successful relationship, so let me tell you more about the character of Dominican guys.


Additional Rating – The Tinder 1000 Swipe Rating
On top of the physical trait ratings for Dominican Republic men, we have also created our own additional rating from the Dominican Republic men we see on Tinder. We call it the 1,000 Tinder swipe rating. It is extremely accurate and gives a very good overall picture of the men and how attractive they are.
This is how it works.
We swiped through 1000 different profiles in all of the major cities of Dominica and took note of how many handsome men there are. We jotted down how many 8's, 9's and 10's there are based on their profile pictures. Here is a quick breakdown.
0-100 is poor
100-200 is OK
200-300 is Good
300 – 400 Is Incredible
400 + is Mind-blowing (There are only a few of these)
With a Tinder Plus subscription, you can teleport to anywhere in the world and swipe for yourself. Find out more below In the section about how to meet Dominican men. Also, make sure to check out my other country guides to see how their Tinder scores compare.

Character Traits that Make Dominican Men Stand Out
1. Gentlemen rating
No doubt you will have a real gentleman by your side if you choose to date a Dominican man.
There's no need to assure you that they're passionate, but not only that, but they are really caring and actively work on giving you the impression of being the only girl in the world.
If there's one thing Dominican men are not, unlike Chinese, is shy, so they won't think twice about giving you compliments and making up sweet nicknames just for you.
You'll see this for yourself just by walking around the Dominican Republic since single Dominican men have no problem shouting out these compliments to any pretty woman that walks by, which may not be a trait of a true gentleman, but is definitely flattering.
These sweet words only continue when you're in a relationship, and not only that, but you will also be showered with gifts and attention by your Dominican gentleman.
And have I mentioned you won't be paying for anything, no matter how hard you try? Your Dominican boyfriend simply won't let you and will provide anything for you.


2. Integrity
Dominican men definitely have a firm set of values installed to them from a very young age.
These values are mostly connected to the relationship a man should have with his family, how he should treat those who are the closest to him, what should his life aspirations be and how he should handle everyday obstacles life throws at him.
It's safe to say that they tend to stay true to these values as much as they can, so you can expect from a Dominican man to act according to these principles that he learned from his family and his surroundings.
All in all, Dominican men take their role in the family very seriously, and try as best as they can to stay the head of the household, manage their businesses and make sure everyone around is taken care of, including you.


3. Loyalty
I have to be honest for you and confess – it's rare to find a Dominican man that doesn't have flirting in his genes. They are sweet talkers by nature and love the chase and seduction, so I have to warn you that your Dominican boyfriend probably won't have the eyes for you only.
Make sure you don't mistake all the sweet talk and compliments for a Dominican guy being in love with you – it simply can't happen that fast and is something that takes a lot of time and effort.
Don't give up on dating Dominican guys just yet! This could be a great thing in case you're also flirtatious and looking for a casual hookup instead of a long-term serious relationship.
And after all, not all Dominican guys are the same, so it could happen that you find the most loyal guy that wants to be with you and no one else – you simply never know.


4. Honesty
Hand in hand with loyalty goes honesty, and that is why I gave these two traits the same score. But, don't let this scare you or turn you away from Dominican guys for good before I explain the whole deal.
This is simply one of the Dominican guy stereotypes that could be interpreted way worse than it is.
It's not like they tend to lie as soon as they open your mouth, or want to deceive you, it's just that they speak before they think, which can be problematic at times.
Also, confusion can happen because of language and cultural barriers. For example, the Dominican guys have a word, "ahorita", which technically means later, but can mean anywhere from ten minutes to five hours.
My advice for you is to learn Dominican slang and the real meaning behind the words, just so you don't have false expectations and end up being disappointed.


5. How protective they are?
Let me tell you, I felt completely safe during my time in the Dominican Republic.
Of course, having a boyfriend in any country makes you feel a little bit safer, but having my protective Dominican boyfriend by my side wasn't the only reason for me feeling the way that I did.
One thing that contributed to my enjoyable stay are the other people as well.
The hospitality of Dominicans is a really beautiful thing. They show so much respect and affection towards foreigners that you'll feel like you're welcome anywhere, the minute you land in the Dominican Republic.
Apart from that, Dominican men are taught since their childhood that weaker than them should be protected at all costs, so you'll notice that in the way your Dominican guy treats you.
It is embedded in their brains that men are the strong ones that should protect the weaker sex, women, from ever being hurt or having to go through any challenging times.
All in all, dating a Dominican guy will make you feel protected from anything bad that could possibly happen, thanks to his hospitality and the need to protect anyone in his surroundings.


6. Are they resourceful?
Dominican men are what you think of when you imagine hardworking men.
They care deeply about creating their own businesses, being great at what they do, and making enough resources to take care of themselves and their families.
It isn't uncommon for Dominican men to have multiple jobs, just because they want to ensure a stable future for themselves.
When it comes to dating, you'll notice your Dominican boyfriend will pay for every date you ever go on.
And even if he's lacking money at the moment, he won't let you pay either way. Instead, he will come up with a low-budget date idea or even better, a free activity you can do together.
The alternative of you paying for costs of the date is simply unacceptable for Dominican guys, it's just a cultural thing.


7. Maturity
Let me tell you, Dominican boys show maturity from a young age and can't wait to become grown men, so there is no way you will ever have to deal with immature behavior in the relationship.
Dominican men are responsible and have formed values from a young age, so they won't be staying at their mom's house for their whole lives, but will instead chase career and family goals of their own.
Nothing more attractive than a mature guy that knows what he wants, if you ask me! That's why Dominican men will sweep you off your feet.
You can expect only grown-men actions from your Dominican boyfriend, and he's very unlikely to act childish and irresponsible, which will give you a stable relationship with a person you can count on.


8. Self-confidence
Let me tell you, I could hardly walk in the street from one place to another without at least a few Dominican guys telling me I'm pretty or beautiful, or calling me by a sweet nickname they created right on the spot. This is nothing weird or uncommon, it's simply the way Dominican dating culture is.
If their openness and the ability to approach any woman on the street without hesitation doesn't tell you enough about what are Dominican men like when it comes to confidence, I don't know what will.
They have a great opinion about themselves and are confident no matter what they do, which should also give you an idea about what to expect from Dominican men in bed if you get where I'm coming from.


9. Are they friendly or reserved?
Similar to Greek men, Dominican men and their families and friends will greet you like you're one of them even though they're meeting you for the first time!
Trust me, you will be welcomed in the family or in the group of friends with open arms and a lot of smiles, and you will feel just like you're home.
No matter if your Dominican man takes you to his house, where you'll be treated with kindness and offered some great Dominican food, or you go out partying with his friends, you will definitely experience a friendly environment all around!


Dominican men are sexy, and like keeping to shape, they are very attractive when it comes to physical appearance. They always look their best at all times, this speaks of their good sense of style.
They are men of great personality and integrity. An average Dominican man takes family and relationships very seriously. So be rest assured that your decision to date a Dominican man won't be regretted, as they are honest and can be trusted. Read on the pros and cons to discover other features of Dominican men that will spur you into traveling to the Republic of Dominican to get a guy for yourself.

Pros and Cons of Dating a Dominican man
I bet you're a bit overwhelmed with these descriptions of what typical Dominican guys are like.
But, don't worry, I will lay down the best and worst you can expect from dating an Dominican man, so you'll have an easier time understanding Dominican guys.
Pros
1. You will be spoiled
Considering how romantic they are, dating Dominican men will look like something from a fairy-tale or a romantic movie. You will be spoiled not only by gestures such as carefully planned dates and creative gifts, but also with words and sweet nicknames, and love and affection, of course.
Doing anything to make the girl they like feel like a princess – that's the answer to the question of what are Dominican men like in relationships. It could take you some time to get used to all of the attention you'll be getting, or if you're also the romantic type, you'll feel like all your wildest dreams came true.
2. You will be taken care of
Let me tell you, Dominicans take their roles of boyfriends very seriously. Not only will you never be allowed to pay for anything by yourself, but you will also be taken care of in every other way.
You will never feel left out or disrespected because your Dominican guy will shower you with affection on a daily basis, and always make sure you have got anything your heart desires. They simply believe a woman should be protected from anything bad that could happen, and that they should be treated like queens.
3. You will never be bored
Similar to Brazilians and Mexicans, Dominicans also have the Latin America charm that brings passion and fun into every relationship.
Believe me, Dominican guys possess a charm that no woman can resist, and that together with their adventurous and rebellious spirit will give you a time of your life, and no minute will be boring.
So if you're wondering what are Dominican guys like when it comes to character, they are definitely the hot Latinos fun to be around that you will always have a good time with. And this should also provide a hint about how is it with Dominican guys in bed.
Cons
1. They have no perception of time
Similar to Colombian men, Dominicans also don't know what it is to arrive anywhere on time and respect previously arranged deadlines.
What this means is that you're likely to wait on your Dominican date for a while because he will be late. And by that, I mean much more than five or ten extra minutes of waiting.
If you're the type of person that values the punctuality very much, my advice is to not take it too personally, because that's simply how "island time" works.
No one is in a rush, so you shouldn't be, either! Use the extra time this gives you to explore the city while you wait, or bring a book that will keep you occupied. And above all, be patient is one of my ultimate tips for dating an Dominican man!
2. They are unpredictable
These fiery Latinos can't sit still and always look for the next trouble to get into. Dominican men are free spirits that love to always be on the go, whether that means seeing friends, working out or focusing on their job. They simply can't stay calm.
With that being said, don't be surprised if your Dominican boyfriend changes plans quickly, or storms off in a second – that's simply the character trait of all Dominicans. Don't expect you'll ever be able to plan your common activities to a minute, it simply won't happen!
3. They are flirtatious
Chasing after women is simply in the DNA for Dominican men, so this could be a challenge in case you're looking for a serious relationship. They simply love the chase that flirting and seducing women brings, so it wouldn't be that surprising if they have eyes for other women while they're dating you.
On the other hand, if you feel flirtatious as well, this could be a good thing because it gives you a chance to experience a larger number of shorter hook-ups and meet as many different Dominican men as possible, without ever engaging in anything serious. It could be a win-win situation!
Where to Meet Dominican Men
Okay, after you have read all of this, I couldn't possibly imagine you not being interested to meet Dominican guys!
But you'll definitely be wondering, how do you do it? How to meet Dominican men?
Allow me to be self-centred and say that the way I, your favourite international dating guru, met them, is the absolute best way to do it.
I know, travelling to the Dominican Republic sounds fun and exciting, but what if you don't have the time and money at the moment? Where to meet Dominican guys in that case?
Luckily for you, I have been curious and spent some time trying to answer that question for you.
I have found that the best alternative where to meet Dominican men to meeting them in person is, you guessed it, the internet.
I took a look on a couple of dating websites out there that Dominicans use most frequently, and I came to the conclusion that DominicanCupid.com is the answer to all your prayers and the very best one!
This particular dating website is number one for Dominicans that are looking for that special someone, but also for foreigners that would like to meet Dominican people, and it will give you highest success odds.
A convenient thing is that there is a free mobile app available, so all you have to do after getting it is choosing the best photos you want to showcase on your profile, write something about you to let others know what you're about, and you're good to go!
This can either be good preparation for your trip to the Dominican Republic, just so you can check out the guys you can expect to meet or, if you won't be travelling, to find the one for you without ever leaving your home.
Either way, this dating platform answers the question on how to meet an Dominican guy, so have fun using it and getting to know the Dominican guys that are also on Dominican Cupid!
How to Conquer a Dominican Man's Heart
No matter where you happen to meet Dominican men, there are a few tips that should help you out with conquering their hearts.
Here's what worked best for me in my quest of winning over and dating an Dominican guy, and I hope these Dominican men dating tips will help you as well.
1. Be patient and full of understanding
When it comes to Dominican guy dating tips, this one is the one I would mark as the most important one. Dominican men have very little sense of time which, combined with their adventurous spirit, makes one deadly combination.
Your Dominican guy can say he'll be back from hanging out with his friends soon, but that could actually mean hours later! Don't be too strict about it and show him trust and respect.
2. Take care of yourself
You will notice that sexy Dominican men always, and I mean that literally always, smell and look their best.
They never let themselves go and you will never see them looking anything but their best.
Therefore, they expect the same from their woman!
If you want to win over single Dominican guys, make sure you always take good care of yourself.
3. Show your adventurous side
Considering how temperamental and adventurous Dominican men are, they will most definitely like to meet women who are the same!
Don't hide away from trying out different activities and experiencing all that culture of the Dominican Republic has to offer.
Not only will you win over a Dominican guy like that, but you will have an even better international dating story!
4. Learn to dance
Merengue, bachata, salsa, you choose!
All these types of dances are a big part of the culture in the Dominican Republic, and they also serve as great ways of showing love and affection.
Learn the basics of one of these dances and I guarantee that you will win over any Dominican man you run across.
5. Let him conquer your heart
Even though I should be giving advice on how you can win over a Dominican guy, trust me on this one.
The Dominicans love to play the game of chasing women and trying to seduce them and make them fall in love, so you can't go wrong with letting the guy be dominant in flirting and getting you to be his girlfriend.
A Dominican guy will be more attracted to a girl he has to win over, trust me!
Top 3 Hottest Dominican Men
1. Alex Rodriguez
Alex Rodriguez, or "A-Rod" is a famous baseball star, a son of Dominican immigrants that became a professional athlete with a long-running, very successful career.
During the 22 seasons he played in Major League Baseball, he has been awarded with countless awards and has set many records which makes him one of the most successful baseball players of all time.
A-Rod has two kids from his first marriage, and today he is engaged to the one and only Jennifer Lopez, sorry to disappoint you, ladies!
2. Prince Royce
Geoffrey Royce Rojas, more commonly known by his alias Prince Royce, is a singer and musician of Dominican descend that became a Latin music star in 2010.
He started making music when his was only 15 years old and has released five studio albums since then, which earned him the number one spot on the Latin albums Billboard chart, as well as over 150 nominations and 67 awards in total.
Besides his passion for music, he is also an actor and has starred in a couple of TV shows and music competitions.
When it comes to his personal life, he is happily married to actress Emeraude Toubia.
3. Victor Rasuk
Victor is a New York City-born actor of Dominican origin.
He is most well-known for his role in the movie "Raising Victor Vargas", and has starred in numerous other movies and TV shows during his 20-year long acting career.
Some of his most noteworthy roles include those in TV series such as "ER", "Law and Order" and "How to Make It in America", as well as movie roles in "Fifty Shades of Gray", "Godzilla" and "Lords of Dogtown".
Final Word
And this was all that you had to know about Dominican men.
You are all set and ready to meet some hot Dominican guys, you know what to expect from them and where to meet them.
All you have to do now is put on a smile and start your international dating adventure.
Good luck!
Ensure to learn more tips from the Ultimate Guide to dating men here and make sure you take a trip to Dominican to have a taste of their men.