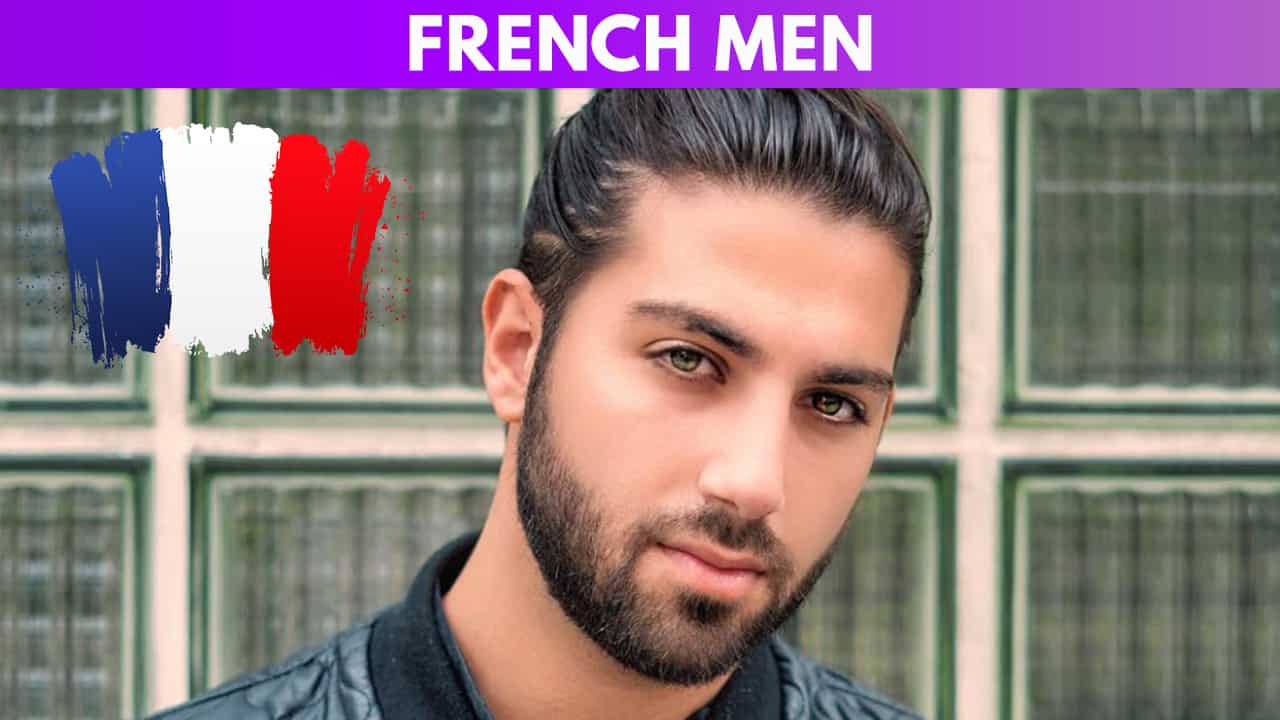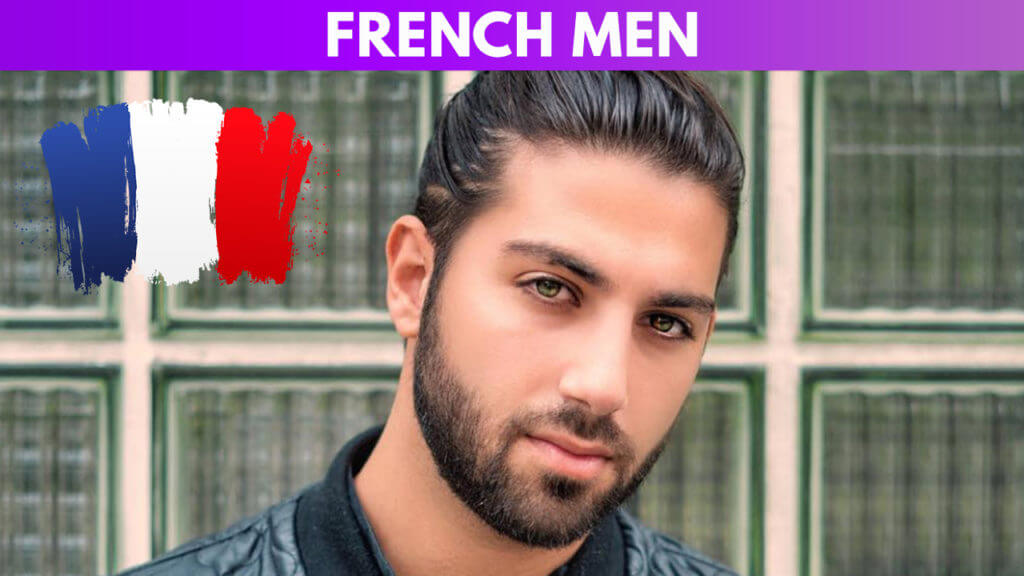 Hey ladies!
Here I am with the brand-new guide on international dating created exclusively for you. If you are new here, make sure to check out all the men's country guides to see how French men compare in all categories.
While being in France for some time, I learned so much about this beautiful country and its history and culture, but I also learned a lot about what are French men like in relationships, so let me share some extra useful French guy dating tips with you.
So let us break some of the most common French men stereotypes together and learn what the most successful way of getting yourself some charming French boyfriend is.
Make sure to take our online dating site/app quiz to find out.
People who follow our dating site suggestions have on average 2 more dates per month.
What are French Men like?
If you were to describe how typical French men look like, you'd probably instantly shout something like "HOT!", which is, to be honest, true.
But unlike Greek men or Spanish guys, handsome French guys have some other type of beauty. Here's what I mean:
Physical Appearance
I've heard some people saying that the best way to tell whether someone is French is by the shape of the lips.
Those who took this as a marker to tell which ones are typical French guys claim that there's something in the movement of their lips that makes you want to look closer while someone is speaking.
Come to think of it, it looks like a helluva fantastic strategy to grab yourself some hot French guys, by saying something like:" Hey, let me SEE your lips, they look so charming while you speak!"
Describing what are French guys like and trying to find some pattern and a typical example is almost impossible, similar to trying to define Mexican guys' appearance or Thai men look.
You have those who are black, so their lips are fuller, and noses slightly bigger.
Their skin color varies, so you have those who have some darker shade of black and those whose skin has a color similar to chocolate.
On the other hand, white may either be with blue eyes, blond hair, and fairer skin or with brown eyes, darker hair and tanned skin.
I have frequently seen those with darker features, olive tinted skin, and brown eyes.
They are of average height and weight, and of all the single French men I've met, I must notice that I haven't encountered a chubby one.
French Men Style
Being a nation famous for its long fashion tradition, it's quite expected that French hotties will look enchanting.
Mixing modern clothes with some classics is their trademark. Speaking of, wearing a scarf is actually their most prominent trademark.
So, they will wear jeans or trousers and a black leather jacket, but will roll-necks and well-cut blazers.
The color spectrum is rather monochromatic, but what makes them look chic is refined fabric and various accessories.
But as soon as you meet French guys have the chance to compare them with each other, you will see that making some generalizations is impossible, as they are, like any other nation in the world, mixed.
As a result, you will see so many different traits and features.
Additional Rating – The Tinder 1000 Swipe Rating
On top of the important physical trait ratings for French men, we have also created our own additional rating from the French men we see on Tinder. We call it the 1,000 Tinder swipe rating. It is extremely accurate and gives a very good overall picture of the single men and how attractive they are.
This is how it works.
We swiped through 1000 different profiles in all of the major cities of France and took note of how many handsome men there are. We jotted down how many 8's, 9's and 10's there are based on their profile pictures. Here is a quick breakdown.
0-100 is poor
100-200 is OK
200-300 is Good
300 – 400 Is Incredible
400 + is Mindblowing (There are only a few of these)
With a Tinder Plus subscription, you can teleport to anywhere in the world and swipe for yourself. Find out more below In the section about how to meet French men. Also, make sure to check out my other country guides to see how their Tinder scores compare.
Personality Traits
1. Gentlemen Rating
Someone also noticed that, when you meet French men, the best way to tell whether they are genuine is not by their physical appearance but by their manners.
While dating French guys I can witness that they will do anything to make you feel special and well-treated.
They will help you get out of the car, they will assist you to put on your coat, they will surprise you with flowers and candies because that's what true gentlemen do.
2. Integrity
Throughout the long and rich history, they have been a nation of fighters, revolution-makers, and that is partially reflected in the way they act in relationships.
When dating a French guy, you will notice that he will stick to some principles, but not in the same way as Russians do.
Perhaps that's best seen in slight those of arrogance French hotties have, but if it's within the limits of acceptable, you'll learn to live with it and tolerate it as well.
That's the part of their character.
3. Honesty
While they will expect you to be honest with them on absolutely everything, they may not be 100% honest with you.
For example, while taking a walk here and there, you encounter a gorgeous lady, he won't resist paying attention openly, but if you ask him if he's seen her, he'll be all lost and pretending, saying something like:
"What? Oh, Indeed? No, I haven't!"
Flirting and romance are part of their DNA, it's stronger than them.
4. Loyalty
One must always be precautious, isn't that so?
Single French guys are more than aware of their charm, and will always try to get the most of it. Those who are already in relationships are very loyal to their women, but won't reject the opportunity to flirt a bit if finding themselves close to a gorgeous lady.
But, their freedom sometimes goes to quite a great extent, where they will engage in some extracurricular activities, to call them so, even if they are happily married.
Quite ironically, with the wife absolutely agreeing on this.


5. How Protective are they?
What comes hand in hand with being a sophisticated gentleman is the strong desire to protect your dear one.
If I were to define what are French guys like in relationships, I can confirm they are extremely protective.
When with a French guy, a girl can feel safe and sound, as the brave prince will make sure all the troubles are gone.
6. Are they Resourceful?
Absolutely! You name a thing, and they will do their best to make that happen for you.
As a matter of fact, this characteristic is so important for them, that they find it a slight turn off if a lady isn't resourceful herself.
7. Maturity
As far as the stats show, the age limit when French men decide to get married and settle down is around 38.
Call it a lack of maturity or missing courage to make such a definite decision, but they definitely prefer enjoying all the perks of being irresistible to the maximal possible extent.
Nevertheless, you can be the one to steal his heart and make him stay by your side forever much earlier than the stats show.
8. Self-confidence
Their high level of self-confidence goes to the extent where someone may perceive it as selfishness and arrogance.
But, the thing is that they actually highly appreciate the unique personality and individuality.
They are quite experts in telling whether a lady takes care of herself and whether she is satisfied with herself.
It doesn't have to do with appearance a lot at all.
I mean, you remember Amelie Poulaine, don't you? You'd never describe her like a hot and sexy lady, but I bet all French men would be very attracted by her because she has that very special something inside her and knows how to embrace it.
So American women looking for French men or women from any part of the world should have that in mind when trying to get the most of French cuties.
That's how French men work, and with that in your mind, you can only guess what are French guys in bed like.
9. Are they Friendly or Reserved?
This is another category where they excel as they are extremely friendly.
If you are worried and cannot determine which is the best strategy on how to meet a French guy, worry not.
Embrace the moment, relax and let him do "breaking the ice" part.
His charm and great communicational (and flirting skills) are his secret weapon in stealing a lady's heart and do the magic in creating a relaxed and pleasant atmosphere.
If you are looking for some cool place where to meet French guys and see for yourself how friendly they are, pick even the smallest café, sit and wait.
It won't take much until one spot and joins you.


Beyond wine, soccer, and their beautiful Eiffel Tower, the French are known to be very beautiful facially – both men and women.
These smashing hot dudes are wonderful hosts and friends who accommodate strangers and give them a great time in their lovely cities.
Scroll down to see the pros and cons of dating a French man as well as tons of amazing pictures that will surely blow your mind.

Dating a French Man: Pros and Cons
Nothing in the world is perfect so even dating French men can have some ups and downs, yesses and nos, and that's why I'm sharing these French men dating tips with you.
Pros
1. They like being surrounded by beautiful things
If you are his partner, this may be a great compliment for you, you know?
While some people tend to keep some things for "special occasions", French men will create those moments all the time.
They most certainly know how to enjoy the moment and you will benefit from that as well.
2. They are all about action and sweet words
Don't be surprised if he kisses you after you have exchanged two sentences only, he's just trying to show you that he likes you, and he won't lose a moment to take some action.
They will also tell you lots of romantic stuff all the time, making you feel like a goddess.
This means that some naughty activities can occur faster than you thought so you better be prepared because dating French hotties is all about passion.
Cons
1. They are slightly selfish
Don't get me wrong, you will get plenty of flowers, candies, kisses, and hugs, but when it comes to the subject of a lifetime commitment, things become less charming.
During my international dating, I noticed that they have the highest level of "my ambitions are the most important in the world."
Marriage and kids are the last to come to their minds because career matters a lot to them.
It certainly doesn't mean that they be in casual relationships till the rest of their lives, but if you are interested in making him stay by your side forever, be careful with bringing this topic into reality.
2. They simply cannot stop flirting with other women
Like I told you, you either learn to live with it or don't even try dating a French cutie.
Even though you may be in heaven all the time while you are the subject of his attention and flattering, you will most certainly freak out if he starts flirting with some random girl even if you are by his side.
Once again, it doesn't mean he doesn't like you anymore, but simply wants to exercise his self-confidence and power of charm.
Just to keep them in a good shape.
3. They may express a solid dose of jealously
While they will see nothing wrong in flirting with other chicks, they will be shocked if you do the same with other guys.
Even if you don't mean anything serious and you are also doing it just for fun, don't push the luck, or they may get angry a lot.
Where to Meet French Men
Unless you already live in this beautiful country, the best way to immerse yourself into your international dating adventure is to give chance to French dating sites.
The choice is always so wide, as looking for a partner over the internet has become very popular, but there are always sites which stand among the crowd.
The one which caught my attention is Meetic.fr, as one of the most interesting platforms which can show you how to meet French men.
Belonging to one of the most widely respected names for dating and matching people, Match Group, this site ensures a high success rate.
It works similar to Match.com, for example. You can become the member at no cost and browse through the rich base of the local French guys at no cost, but if you want to get in touch with them, a paid subscription is needed.
A thing worth mentioning is that the site is in French, so you'll need a few lessons or some help from Google translate.
That's only until you transfer to body language and break all the communicational barriers.
Paid membership usually unlocks plenty of helpful features and options, so if you opt for this site check out the pricing and see which model suits you the best.
The fees are fairly reasonable, particularly when you have in mind that you are actually getting yourself a super cute French guy.
How to Conquer the French Man's Heart
French kiss, French lovers, French this, French that- somehow all things French are closely connected with love, passion, and seduction.
This means that conquering his heart is helluva challenging task put before you, my ladies, but, hey-don't despair!
That's why you have me to help you and give you some cool and provenly successful tips for dating a French man.
1. Be knowledgeable on cheeses and wines
Belonging to the culture which appreciates the sophisticated culture of wine and cheese consumed together, but with style, this is one of the shortcuts to his heart.
While solid knowledge on pasta and pizzas may impress an Italian, using chopsticks while eating will secure your place in Chinese man's heart, fine knowledge on these two will speed up your journey to handsome French men's hearts.
2. Appreciate their rich literature
This country has given a significant contribution to world literature and philosophy, so the least to expect is some basic knowledge about it.
Some of the evergreen classics originate from this beautiful country.
If you could manage to make some comparisons between some French books and those which are the most influential in your country, I can guarantee you'll hit the jackpot.
3. Be a lady, but don't look too uptight
When he wants to help you put on your coat, or walk you to your place, allow him.
Hot French men like being gentlemen, and they deeply enjoy being there to guard and protect a lady.
On the other hand, try to be moderate with all the sophisticated and well-behaved attitude or he may think you are too cold and reserved, or perhaps too conventional.
Finding the balance between these two works the best.
4. Ask him to take you for a walk around Paris
It's not just a walk itself, but a huge lesson about life, beauty, and history.
One of the most beautiful cities in the world is full of memorable places, and allowing him to be the one to guide you through it will make him feel special.
The city is like a treasure box full of hidden gems, and he's the one to show them to you.
5. Be wild in the bedroom
I know that you somehow expected this one! (wink wink)
You will probably hear that sex is some sort of national sport for these hotties, and that's true to every single word.
Expect plenty of sweet nothings whispered in your ear, all with the idea to enchant you and get you into the bedroom ASAP.
It certainly doesn't mean they are only interested in this, but seducing ladies is something they simply cannot resist doing. (and which man can?)
So, you better find that sexy lingerie and prepare to wow him, and be his alluring goddess and find out what are French men in bed like!
Language Barrier
You know, an important part of the French dating culture is also deeply rooted in their language as well.
Somehow everything they pronounce sounds so charming, even if you don't understand a single word.
Jokes aside, but there's some special magic in the way they pronounce words and it kinda gives some special dose of classiness to the conversation.
You will often hear one of the most common French guy stereotypes, how they are so proud of their own language that they bear no interest in speaking English or any other, but expect all the world to speak French.
The same is believed for German guys, but neither of the two is the truth.
Having full and deep knowledge of this language may be reserved for talented language geeks, but I believe that anyone is capable of learning several simple sentences.
Pronunciation is indeed twisted, reading what's written may seem impossible, but it's worth the shot, as it can give you some extra special points in his eyes.
You can at least try with some basic phrases and ask him to help you pronounce them the right way.
Language doesn't have to be your barrier, it can be a bridge to connect you.
Top 3 Hottest French Men
While creating the list for hot Greeks was quite challenging, this one was a bit simpler, as not all the French males look enchanting and hot.
What I could list as a thing in common for all of them is that they do have some aura of sophisticated gentlemen.
Here's my choice:
1. Jean Dujardin
Born in 1972, this one also belongs to sexy French men and pictures the best how a true gentleman should look like.
Having more than fulfilled carrier of an actor, comedian, humourist and TV director, he gained immense popularity and globe-wide acknowledgment by playing George Valentin in the multi-awarded silent movie The Artist in 2011.
Before becoming a star if TV comedies and films, he was a stand-up comedian.
Dujardin scored numerous renowned awards.
A huge charmer has been married three times and is the father of 3. The newest partner is Nathalie Pechalat, a French ice dancer.
The most interesting curiosity regarding his personal life is that his second wife Alexandra Lemy was actually his on-screen partner.
Two of them met during the audition for Un gars, une fille and fell in love during filming the comedy series.
2. Olivier Giroud
This super-hot French guy was born in 1986 and he's a pro football player.
He plays forward for Premier League Clun Chelsea and the National Team of France as well.
The second season at Tours brought him a proud title of top scorer, with no less than 21 balls sent over the goal-line in total.
The history repeated as he was honored the same title with the exact same number of goals during the 2011-12 season.
Three particularly successful years while in Arsenal were 2014, 2015 and 2017, during which in 253 matches he totalled 105 goals.
The transfer to Chelsea took place in 2018, where he scored more than ten goals during a single campaign in Europe.
The glorious debut for the country was in 2011, and since then this hottie became the third-highest scorer, totalling 38 goals in 95 caps.
3. Camille Lacourt
Born in 1985, this cuttie is often found on lists of sexy French guys. He is a widely famous backstroke swimmer.
This stroke is his specialty, which was confirmed three times in a row, on the world championship in 2013, 2015 and 2017.
He also participated in Olympics in 2012 and 2016, where he scored fourth and fifth place respectively in the 100-meter backstroke.
Valerie Begue, his ex-wife, was Miss France in 2008. Two of them have a daughter Jazz born in 2012.
Sexy French men that will blow your mind
Last Words
Men do not come better and finer than what the French men have to offer.
These guys around the Sienne River are not just gorgeous and well-built, they are also courteous and will treat their women like real gentlemen do.
So, travel around the country, eat wonderful food, get drenched in French Champagne and other tasty wines, and enjoy yourself thoroughly.
I hope you like the pictures and will find this review helpful as you travel around France and hope to meet a great guy looking smashing hot!
Don't forget to check out our Ultimate Guide to dating men. You'll find it very helpful as you hunt about France for the perfect man.