Welcome to our GayGoDating review.
As you can tell from the name, GaysGoDating is one of any number of gay dating sites that you can find online today.
Because there are so many of them, taking the time to research and analyze what they offer can go a long way to helping you find the one that's right for you.
And that's exactly what we are aiming for here.
OFL Top Recommendations based on 100,000+ Survey

"Serious Relationships"
"Discreet Hookups"
"Best Course for Men"
"Quick Flings"
"Normal Hookups"
"Our Quiz"
We do that by collecting information and evaluating the site in great detail by and exploring the following:
Once you have all the information you need about GaysGoDating, you can then compare it with other popular dating services for the gay community.
Of course, at Onlineforlove, we have all of those covered too.
Is your dating app giving you the best chance for success?
Make sure to take our online dating site/app quiz to find out.
It's a fact that people who follow our dating site suggestions have on average 2 extra dates per month.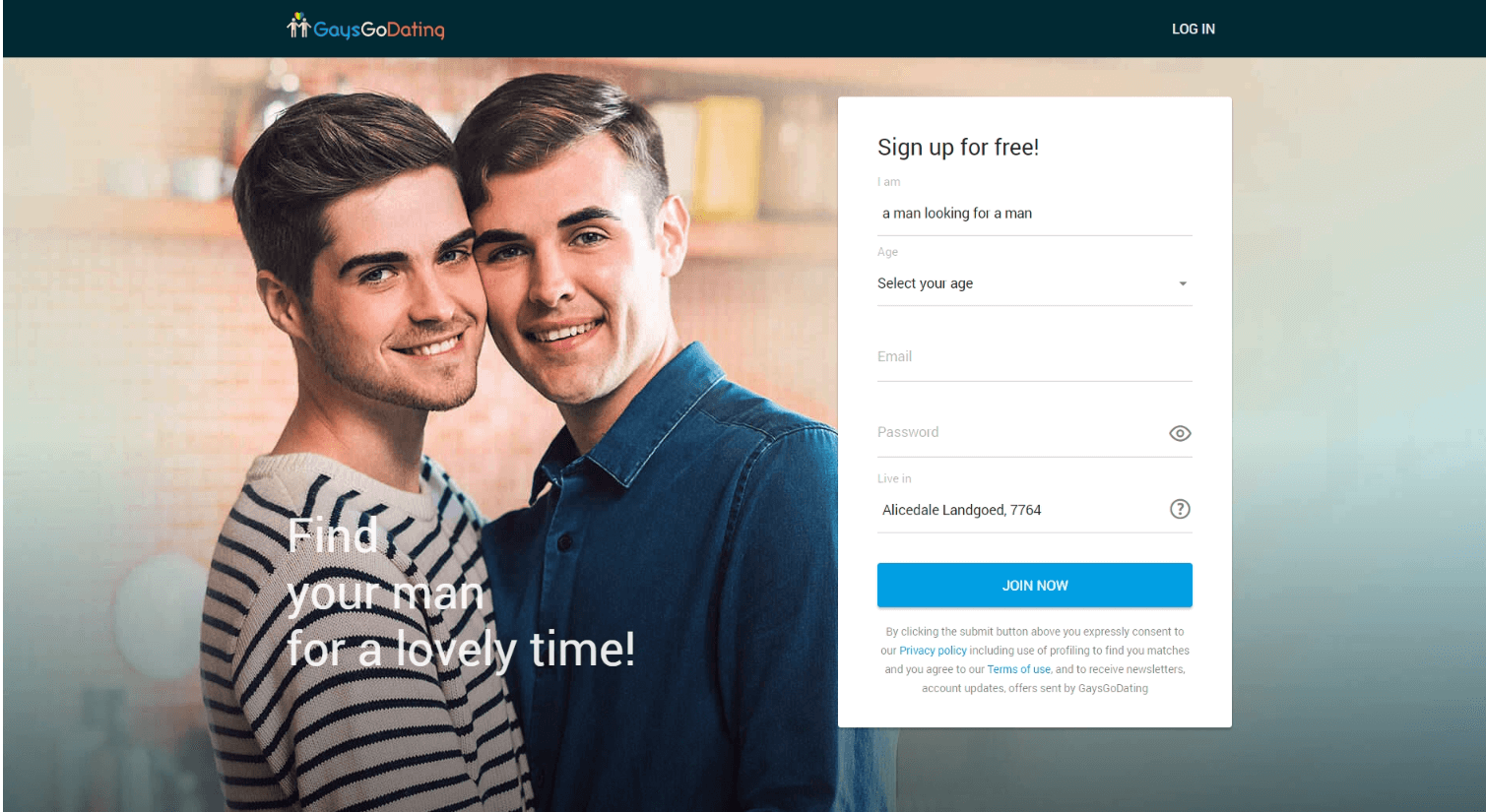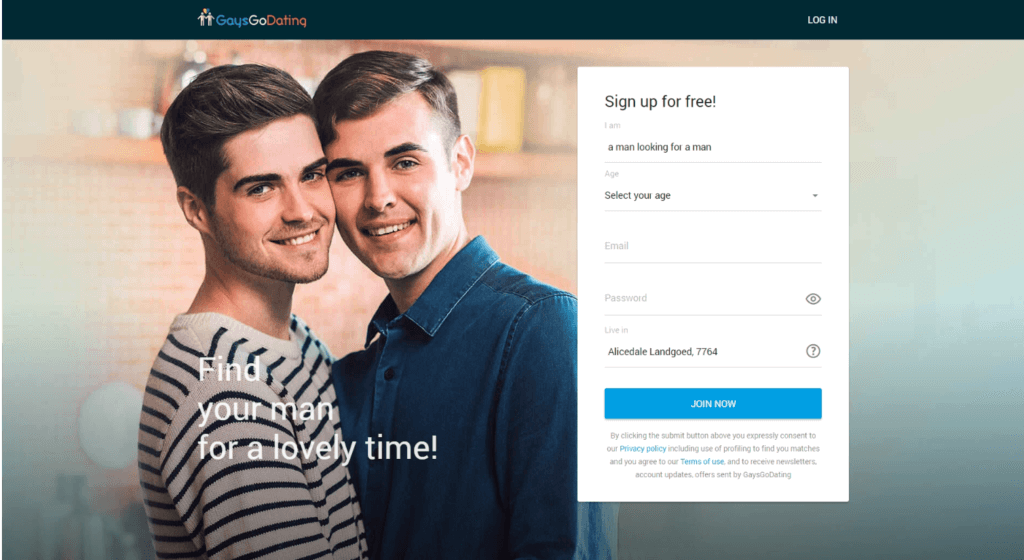 Ease of Use- 4/5
Effectiveness – 3/5
Key Features – 3/5
Pricing – 3/5
Superfast registration process
Comprehensive profiles, but they don't take long to complete
Excellent matching algorithm and search tools
Bot messages
Only 5 free messages for new users


Who Is It For/Demographics?
GaysGoDating.com is a website for gay men who are looking for hookups (like BeNaughty or Ashley Madison) and other relationship types (like eHarmony or Tinder).
GaysGoDating offers free registration of your user profile, the tools to help you find potential matchups and ways to communicate with them.
It's run by TimeSpace Services Limited who have other dating sites under their watch including BuddyGays.
But just how big is the site?
OFL Top Recommendations based on 100,000+ Survey

"Serious Relationships"
"Discreet Hookups"
"Best Course for Men"
"Quick Flings"
"Normal Hookups"
"Our Quiz"
It was difficult to find an amount for registered users but I would guess that it's around half a million.
And these users are from all over the world.
Here are some facts and figures that I could find:
Around 270000 users are from the United States
Around 50000 users are active on the site each week
That's around 7000 per day and 200000 per month
The biggest group of users in terms of age range are from 25-34 years old (30% of all users)
The second biggest group of users in terms of age range are 45-54 years old (25% of all users)
The smaller group of users in terms of age range are 55% and older (10% of all users)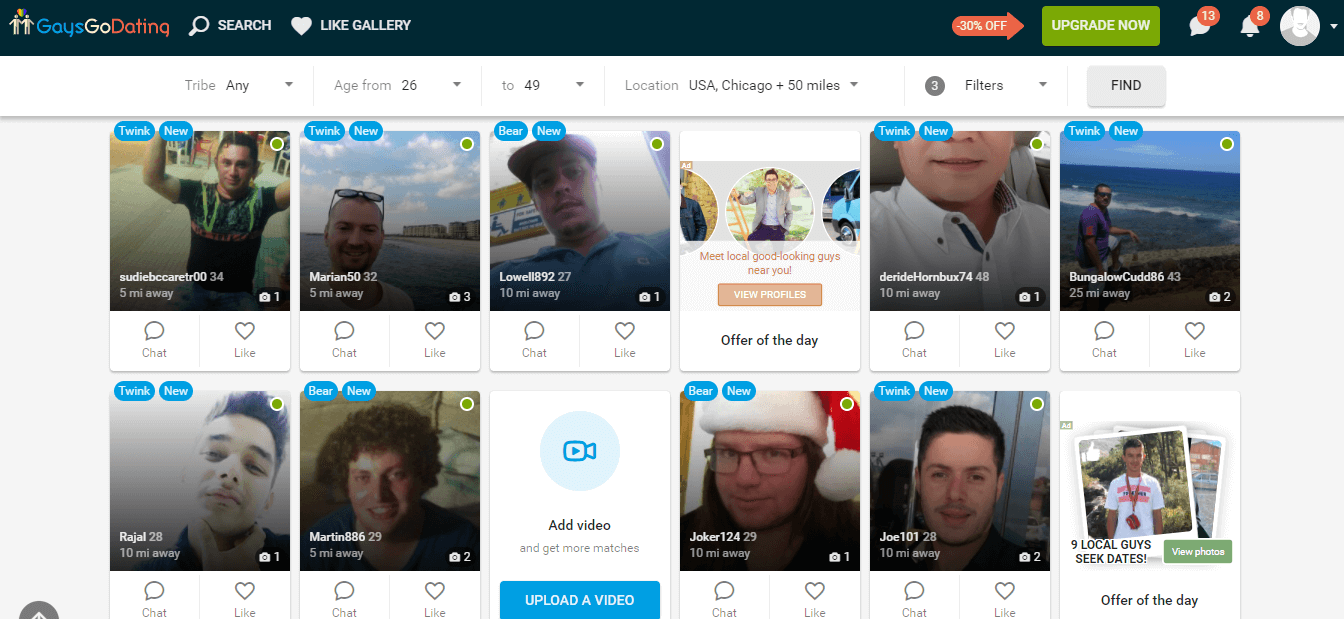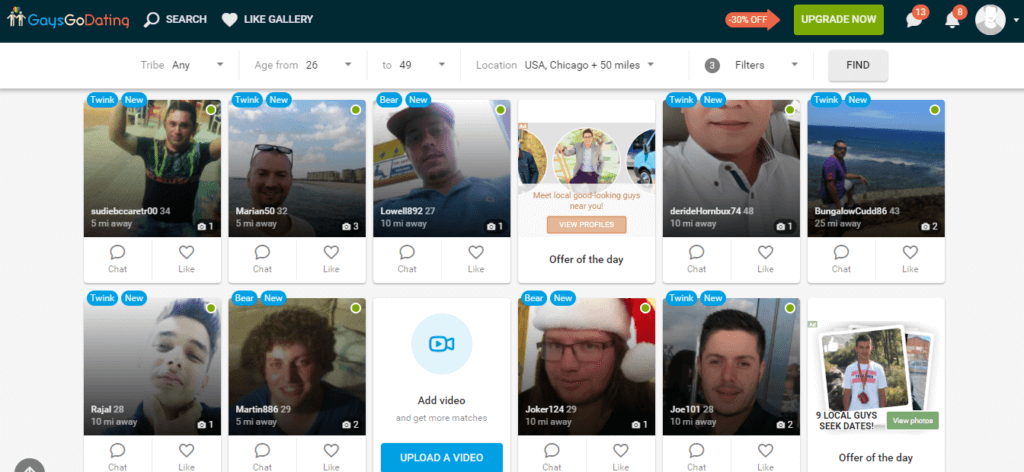 To register for a free membership and start a profile on GaysGoDating, you will need to go to the homepage.
I can confirm that the site does have a mobile version, so if you prefer to use your cell phone to sign up, you can.
A highlight for me of the registration process was how quick and user-friendly it was.
Of course, there are a few steps to complete to register as a free member and that starts with:
Your age
Your valid email address
Your password
Your location
There's obviously no need to put in your sexual orientation like on other dating sites as this is just for the gay community.
Following that, you are taken straight to the site but you will have to check for an activation code which is sent to your email address.
Now upload a profile picture and fill out your profile and you are good to go.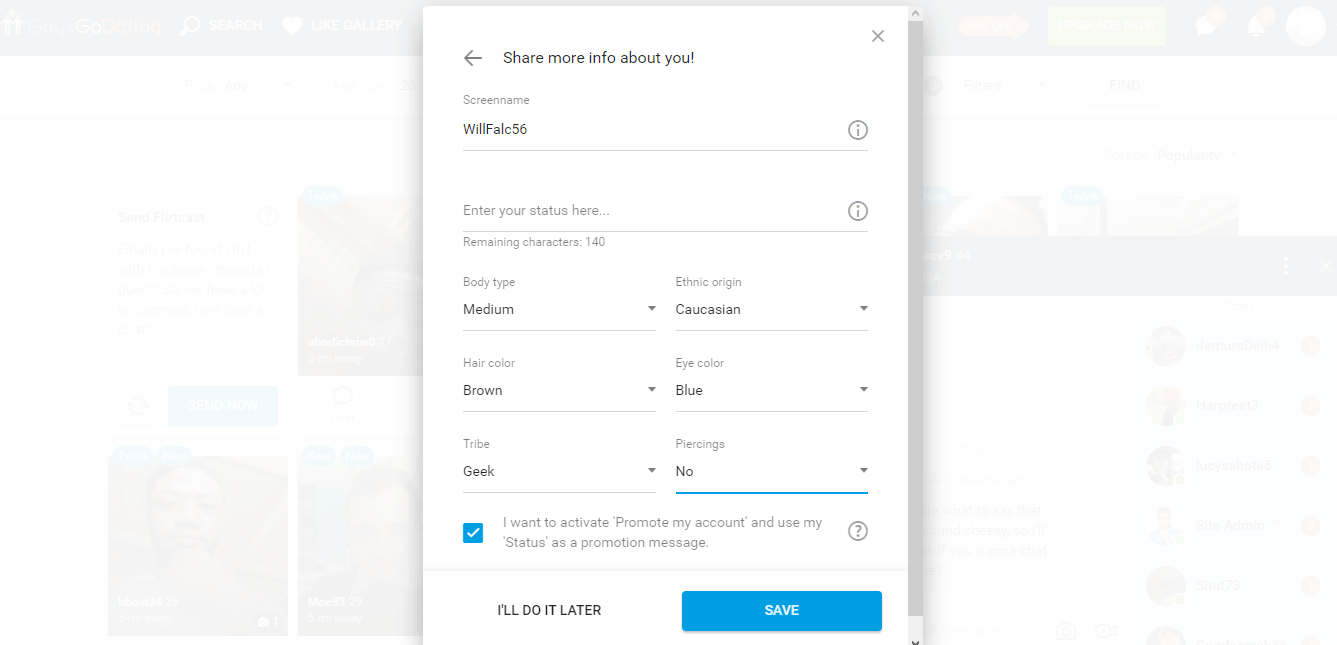 Your

GaysGoDating

profile
So there are a few things that will need to add to your profile to flesh it for others users who might be interested in reading through it.
This includes:
Screenname: You are already assigned one based on your email address but you can change it if you'd like
Your status: This is your profile heading and one of the first things people will see along with your picture.
Your body type
Your ethnicity
Your hair color
Your eye color
The gay tribe you associate yourself with: Here you can select Geek, Bear, Twink, Daddy, Jock, BDSM
While you are free to look around the site now, your profile can still be fleshed out even more.
To access it, click on your profile picture on the top-right-hand side of the page and then select My Profile.
But what you can still add?
Well, you can upload more photos and even videos if you'd like.
You can also change what you are looking for, for example, the age ranges of matchups the site provides for you.
But it's the Additional Info section I think is most crucial as it provides even more information about you.
So here you can fill in:
If you have tattoos or piercings
If you drink or smoke
Your income range
Your education
Your weight
Your height
If you have children
Your currently living arrangements
Your religion
Again, this will take less than five minutes to complete this section.
Simply click on the relevant pulldown menu you want to change and do so.
Let me also just clarify why you should fill this in.
Because if you don't this information won't be displayed in the profiles of others you view, even if they have completed it.
Speaking of profile completion, when it comes to other users, it's a bit of a hit-and-miss affair.
Some have taken the time to fill in all their information, others have done so partially, while many have not bothered at all.
I suppose that's nothing new and it's a problem you observe on all dating sites.
Finding your way around the site
GaysGoDating uses a dating site template that you may have seen before.
It's popular because it's so easy to use and navigate.
But let's talk about what you will see when you go back to the home page.
Well, first up, GaysGoDating will provide you with the profiles of users in your area and near to it.
You are free to look through these profiles and see if you fancy anyone.
You can also adjust what appears here by clicking on the relevant menu.
These are:
All members: This shows all users that meet your requirements
Online now: This shows users that are currently online
New members: This shows new users who have joined the site
But you have even more options because you can sort the returns according to their popularity, their last activity, distance from your location and age.
These tools are handy that's for sure.
For example, you could set it to Online Now knowing that if you send a message to someone, they will in all probability see it straight away.
Using the Last Activity option will also help you weed out profiles of people who haven't been online for ages.
You will also notice the main menu system at the top of the screen.
This is the way you are going to navigate your way around the site.
These menus are:
Search: If you want to launch searches of your own, you can do it from here. Also, you can adjust various parameters, adding them or taking them away to fine-tune your search exactly as you want it.
Like Gallery: Use the Like Gallery to see profiles one at a time in a roulette-style matchup game. Then you can pass if you don't like what you see or like those you are attracted to.
Messages: Messages that are both sent by you and received from others are kept here.
Notifications: If there is an important notification that the site wants you to know about, it will appear here.
Profile: Click here to change your profile as well as access various site settings.
Lastly, you will also find a quick search bar just under the main menu system.
If you'd like to launch searches of your own, you can do it from there.
There isn't one for those of you who prefer dating from your cell phone.
The site is mobile-friendly and while it's not the same I guess, at least you can still look for potential matchups from your handset right?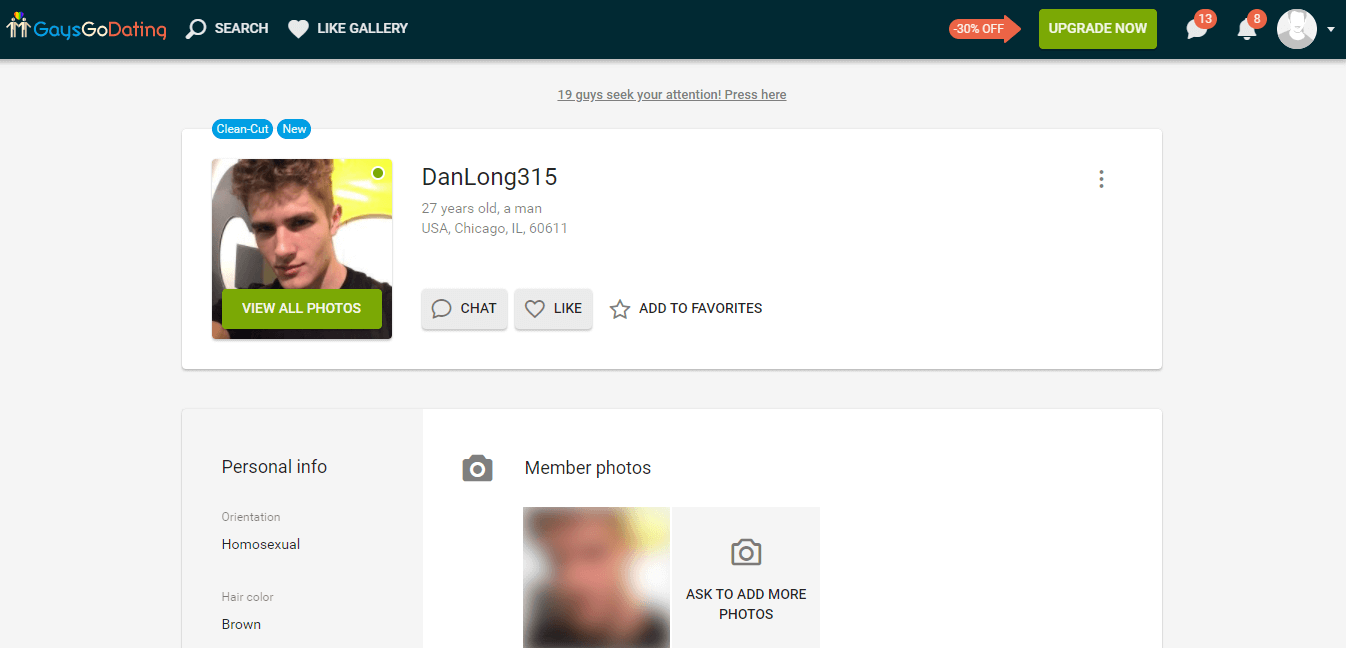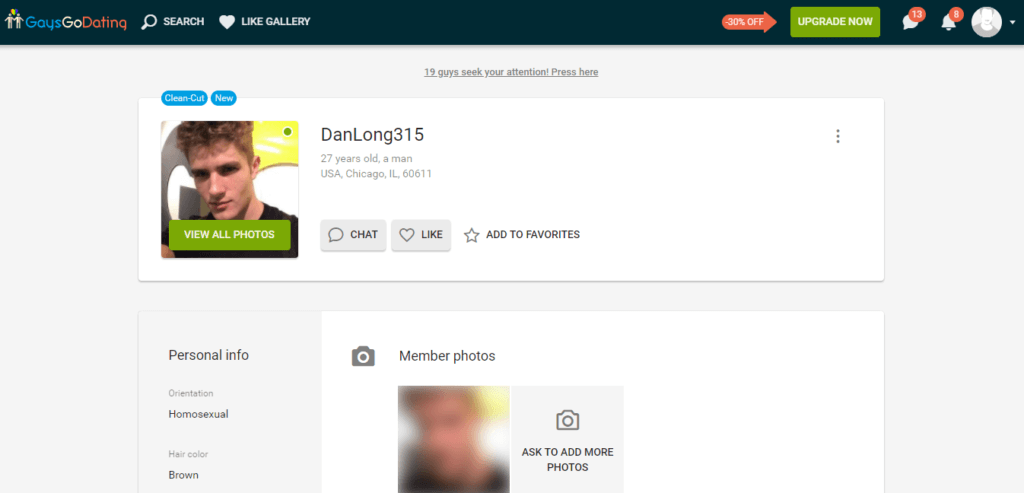 Well, I tell you, from the minute I logged into the site, I was getting message after message from other users.
And if you browse someone's profile, literally a second later, they have viewed you.
Is that really possible?
I guess it could be but with many gay dating scams out there, I would be super cautious using GaysGoDating, just in case.
I say this because I received similar messages from various people.
The common theme was that they were in a rush to do something else, but that I must get back to them.
Of course, if you try to reply, you are taken straight to the membership payment page.
It's just a little too convenient in my book and I suspect that while these users may be legit, these are automated messages sent from their accounts.
So that's just something that you should take note of while using the site.
But now, let me demonstrate how you would use the tools the site provides to help you find someone to reach out to.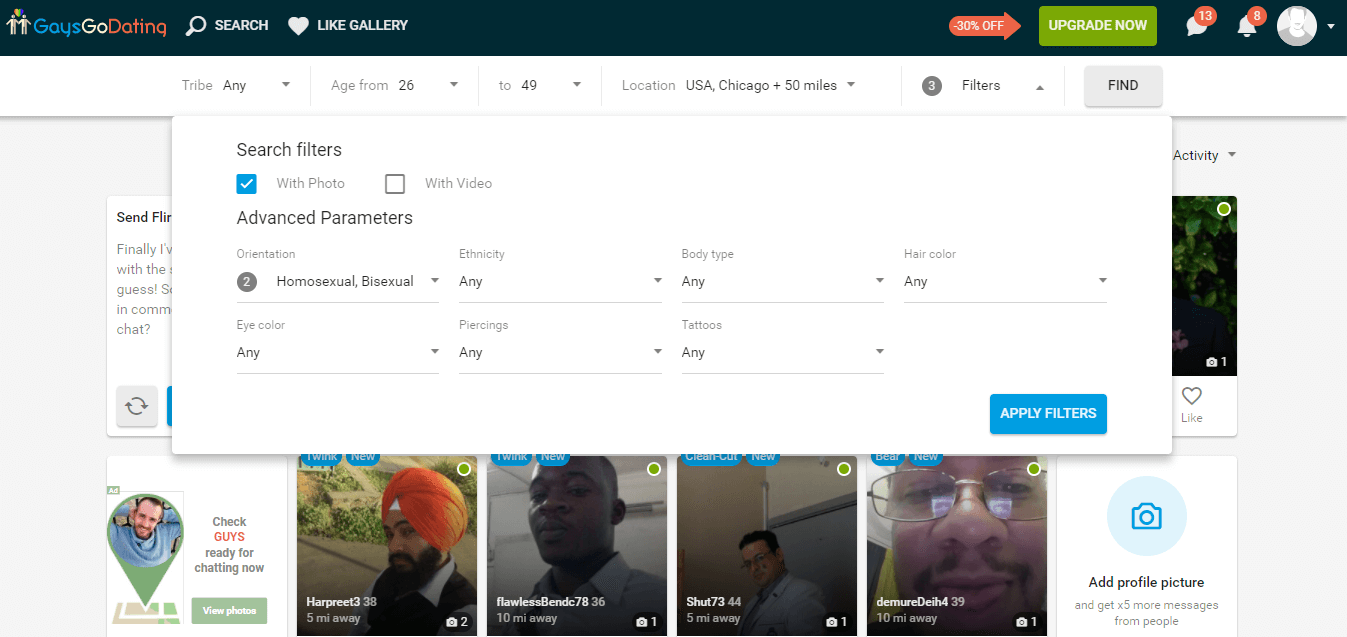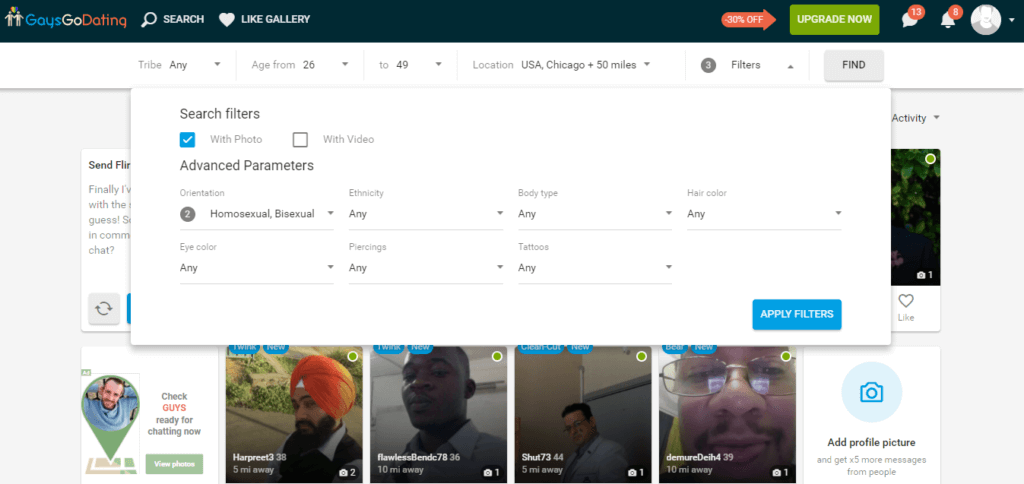 Searching for potential matchups
I've mentioned it earlier in the review but the obvious place to start with is the matchups the site provides for you.
While they are in the age range as well as near your location (if there are users near your location), that's the only two parameters that will match what you are looking for.
And while I would start by clicking through a few of these profiles to see how the site works, you may want to just refine things a little when you search on your own terms.
That's super simple to do as well.
You can do it from the quick search bar just under the main menu system.
Here you can adjust the following:
Tribe: So if you are specifically only wanting to meet Twinks, you can set the preferred tribe here
Age ranges
Location: You can search further afield if you'd like to, even other countries
That's the basic search engine.
But you will notice the Filters menu.
Here you can add even more search parameters to hone your search just how you like it.
So this includes:
If the user must have a profile picture or not
If the user must have a profile video or not
Their ethnicity
Their body type
Their hair and eye color
If they have piercings or tattoos
Even regular users get access to these extra parameters, which is awesome.
Just a word of warning, while extra parameters are useful, don't ever add too many.
Rather get more hits on a search and then go through each user to find those that appeal to you than launching a search with six parameters that turns up nothing.
You also have to remember, as we've already discussed, some users don't even fill in those sections of their profiles, which will affect parameter-based searching.
But it's something for each individual to fine-tune as they look for the perfect matchup.
Don't forget to use the Like Gallery either.
This isn't a favorite of mine, but others might find it useful.
It's a roulette-style matchup game in which you are presented with profiles matching your basic parameters of location and age range.
These are presented one at a time and you have the option of either passing on them by clicking on the X or by liking them by clicking on the heart.
If you do click on the heart, you have liked that user's profile and they will receive a notification.
You will also see a tab on the Like Gallery page that you can click to see who has seen your profile and liked it, either while looking through their own Like Gallery or when browsing through potential matchups.
This can be very useful because you might have potentially missed a matchup that could be worth exploring and instead, they have liked your profile.
So make sure that from time to time, you revisit who has liked your profile and see if there is anyone that you can contact if they haven't done so already.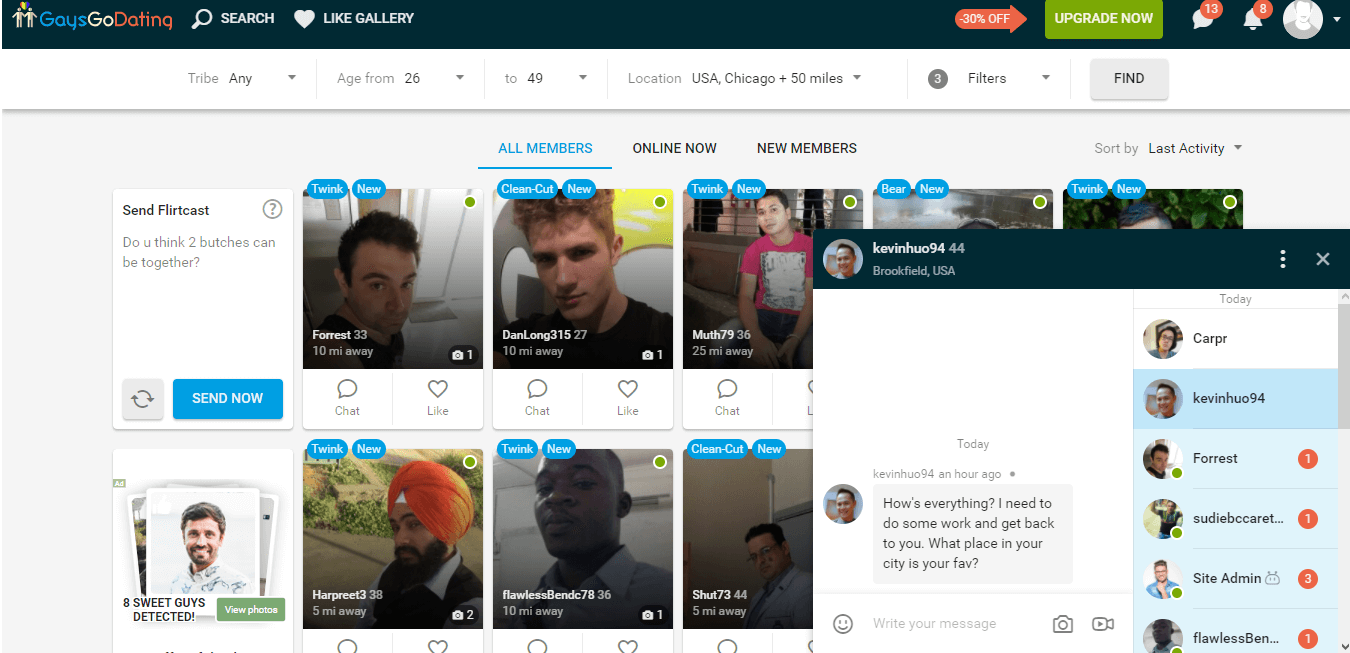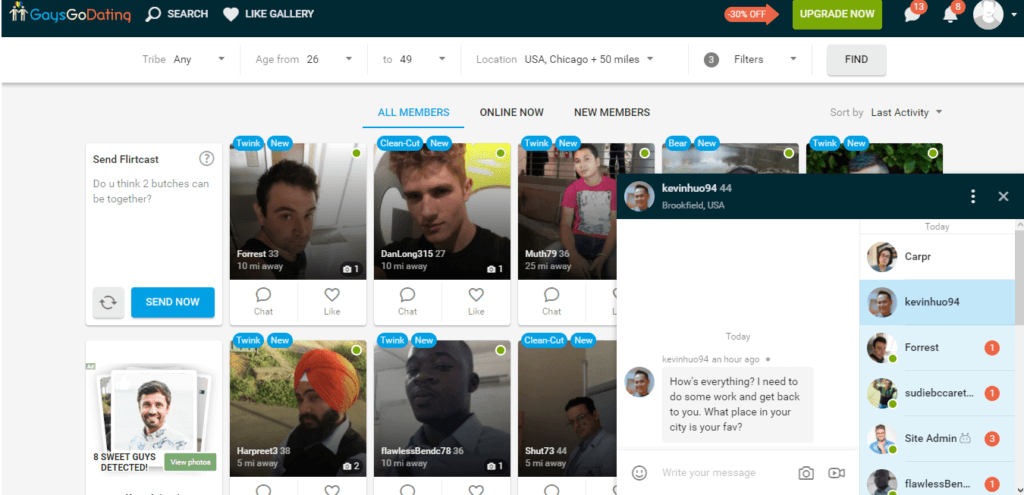 For free users on GaysGoDating, messaging is possible.
You will get five messages that you can send to the others before you will have to consider buying a membership.
You cannot reply to messages you receive, however, so if someone reaches out to you, you won't be able to answer them back.
In other words, to use this site effectively, you will have to think seriously about becoming a member.
You do, however, have a way of announcing yourself to others near your location.
This is via Flirtcast, a broadcast message that gets sent to those users that meet your parameters and are near you.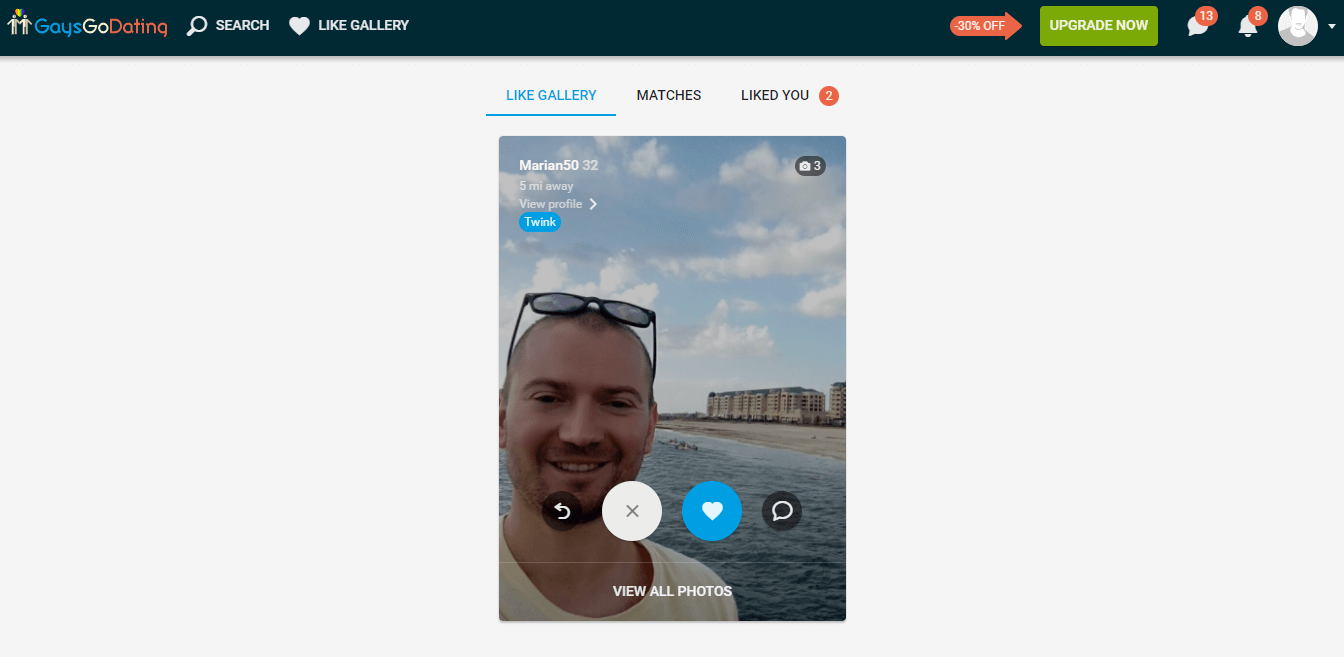 If you are to consider membership to GaysGoDating, you are clearly want to know all the key features that come with it.
So let's demonstrate what those are.
On any dating site, if you cannot effectively message someone or reply to those that you receive, how are you going to get anywhere?
With membership on GaysForDating, you can send as many messages as you want and reply to any messages that you receive from others.
You'll quickly notice when using the site that profile pictures of the users that you click on are very small.
As a member, you can now not only access all the pictures someone has uploaded to the site but you can also see them full-sized.
3. More search parameters
While regular users have extra profile-based search parameters available to them, as a member, you get even more.
This includes added profile parameters that are not part of the regular search such as height and weight.
4. Know what each user is looking for in a relationship
As a member, you can see on another users' profile what type of relationship they are looking for.
For example, you might want a casual hookup but someone you fancy reaching out to only wants long-term relationships.
It's good to know critical information like that beforehand, right?
5. Sharing videos and pictures in chat
As a member, you can send both photos and videos to another user while messaging them.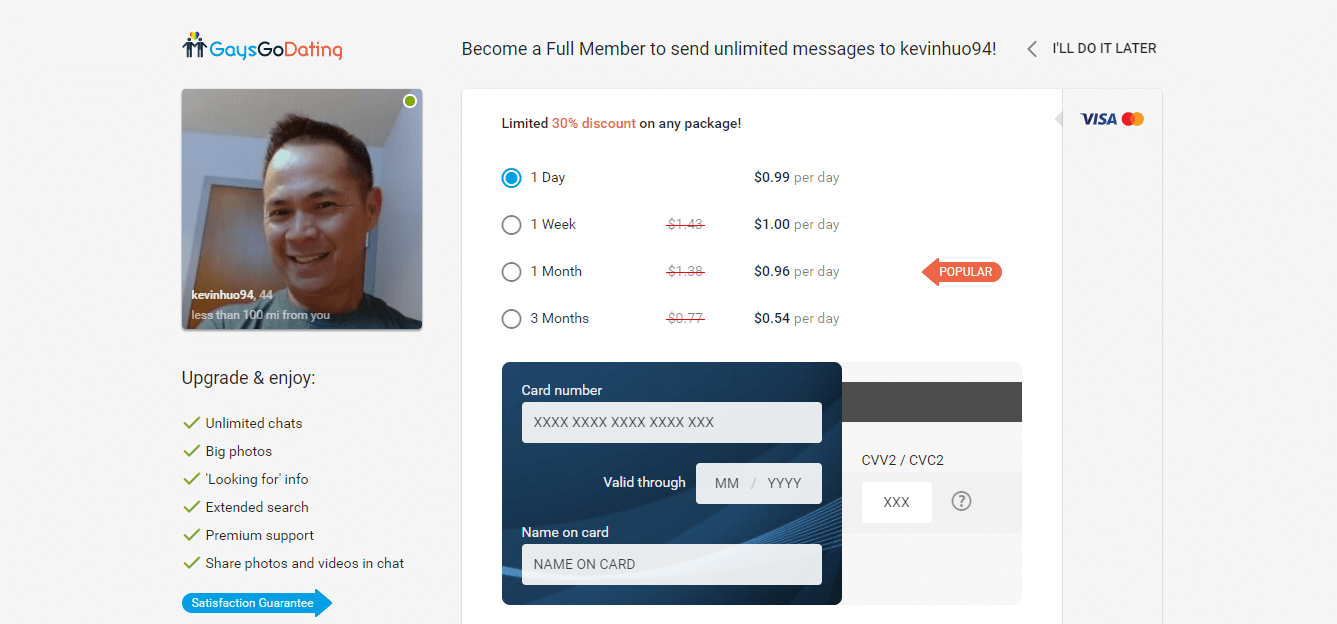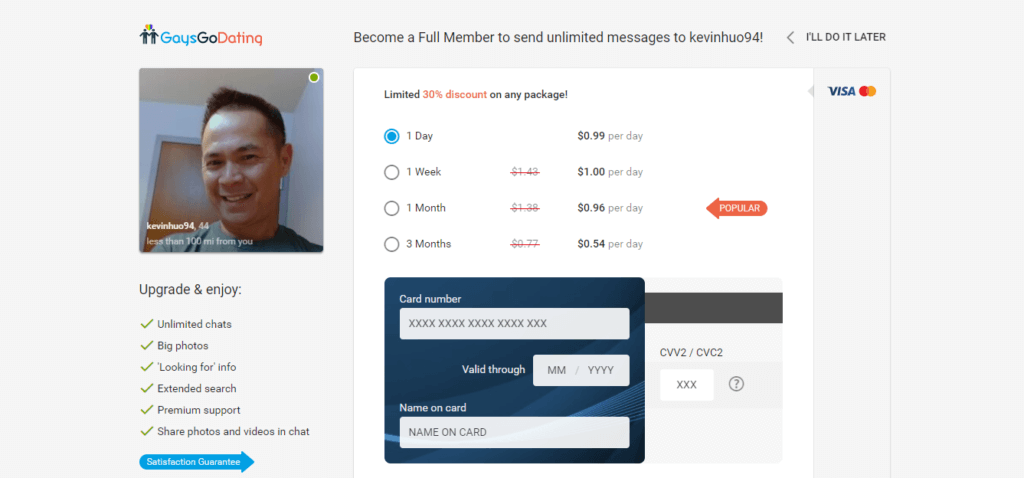 Features afforded to those with premium membership are more than useful, I feel.
But how much is membership going to cost?
Well, the site does have a day trial as well as a week trial.
And for me, that's what I would jump at before committing to something longer.
While a day might not be enough time, if you choose the week option, by the time it is finished you will have a clearer idea as to if the site can help you find matchups.
Here's a full breakdown:
1-day membership: $0.99
1-week membership: $7.00
1-month membership: $28.99
3-month membership: $48.99
Please note, prices fluctuate as GaysGoDating often runs specials.
On the whole, the pricing is on par if not lower when compared with some other gay dating sites.
Should you wish to sign up, payment is via credit card.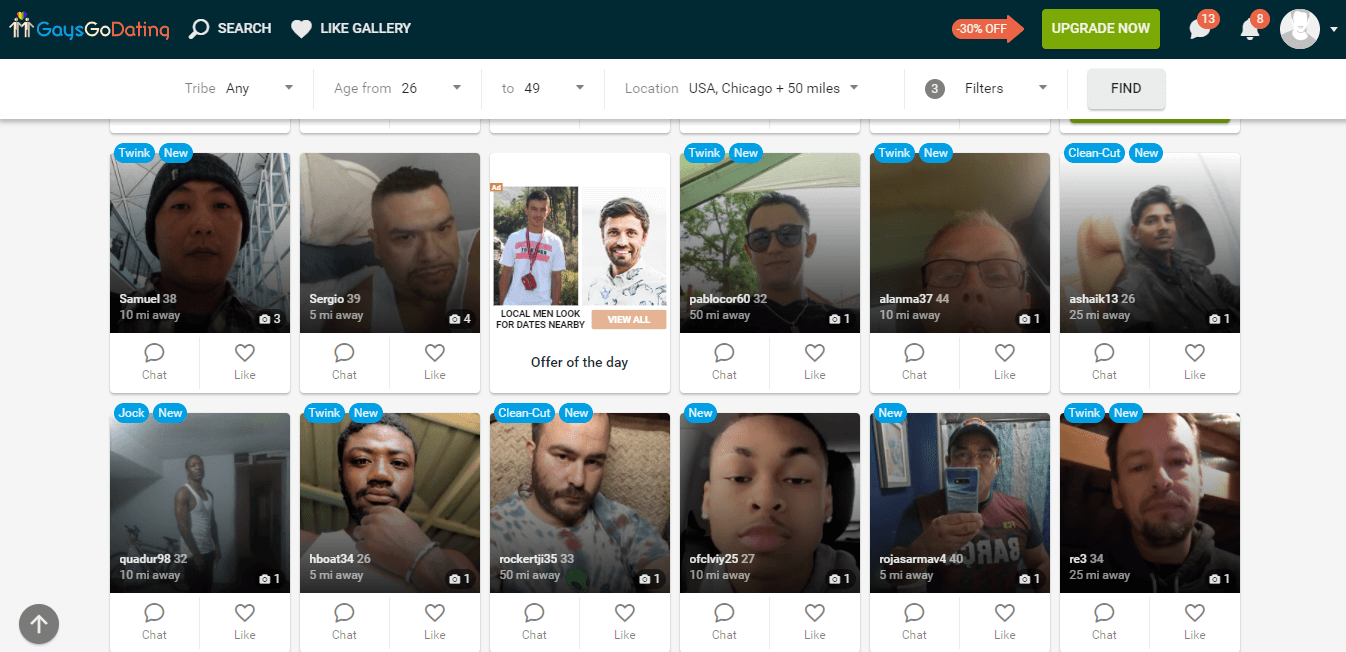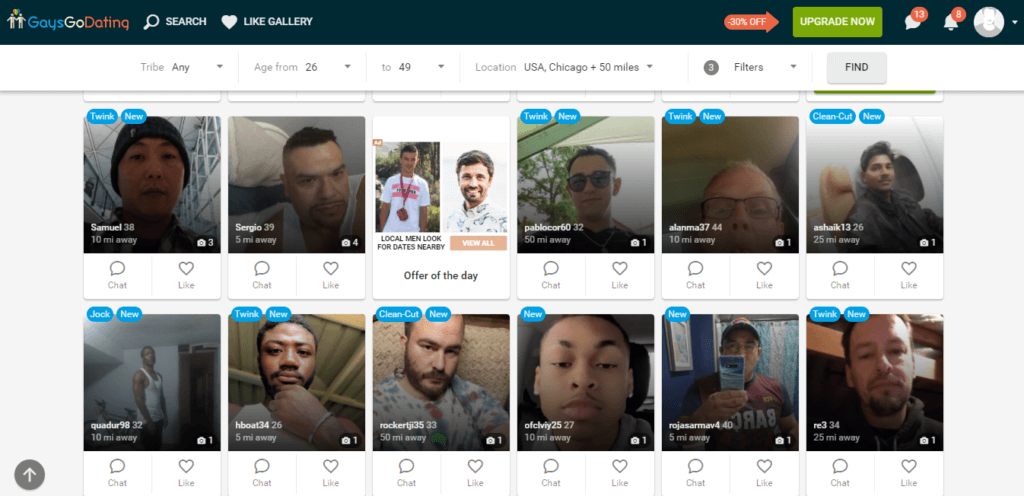 Conclusion and Overall Rating
Thanks for taking the time to read this GaysGoDating review.
To summarize, this is a dating site for the gay community that has much to offer but it's not without its flaws.
It has a solid user base, especially in the United States but as with most other dating sites, you will find scammers and fake profiles here.
My main concern was the messages I immediately received when accessing the site for the first time.
These actively encouraged me to message back which of course means signing up for membership.
To me, these are bot messages.
But there are other users just like you and me on the site that are worth taking the time to find.
And GaysGoDating has all the tools to help you including a powerful search engine.
You will need membership once your five free messages are done, however.
For a rating, the site gets 3.25 out of 5.
At Onlineforlove our team of dating experts studied and tested GaysForDating for a period of time.
We gave the site an overall star rating based on various critical criteria that we apply to all our reviews.
The final evaluation of GaysForDating is based on criteria like:
The cost of membership
Overall ease of use
The key features it offers members
How effective it is in helping users find matchups
The size of the user base