The beautiful thing about dating sites on the internet is that that they cover just about everything.
No matter what niche you can think of, there's probably a dating site for it.
Sure, you get the big commercial sites and popular niche sites for things like hookups, BDSM, and more.
But what about a dating site for vegans? Yes, there are plenty.
OFL Top Recommendations based on 100,000+ Survey

"Serious Relationships"
"Discreet Hookups"
"Best Course for Men"
"Quick Flings"
"Normal Hookups"
"Our Quiz"
Or one for lovers of the outdoors? Check.
Dating sites for animal lovers? You betcha.
You get the idea, right?
There are many niche sites on the web, and no matter if you are looking for a serious relationship (like eHarmony or Tinder) or hookup (like BeNaughty or Ashley Madison), you can always find what you are looking for.
In this article, we are going to rate 4 best niche dating sites according to:
Who knows, you might just find the perfect dating site amongst them.
Is your dating app giving you the best chance for success?
Make sure to take our online dating site/app quiz to find out.
It's a fact that people who follow our dating site suggestions have on average 2 extra dates per month.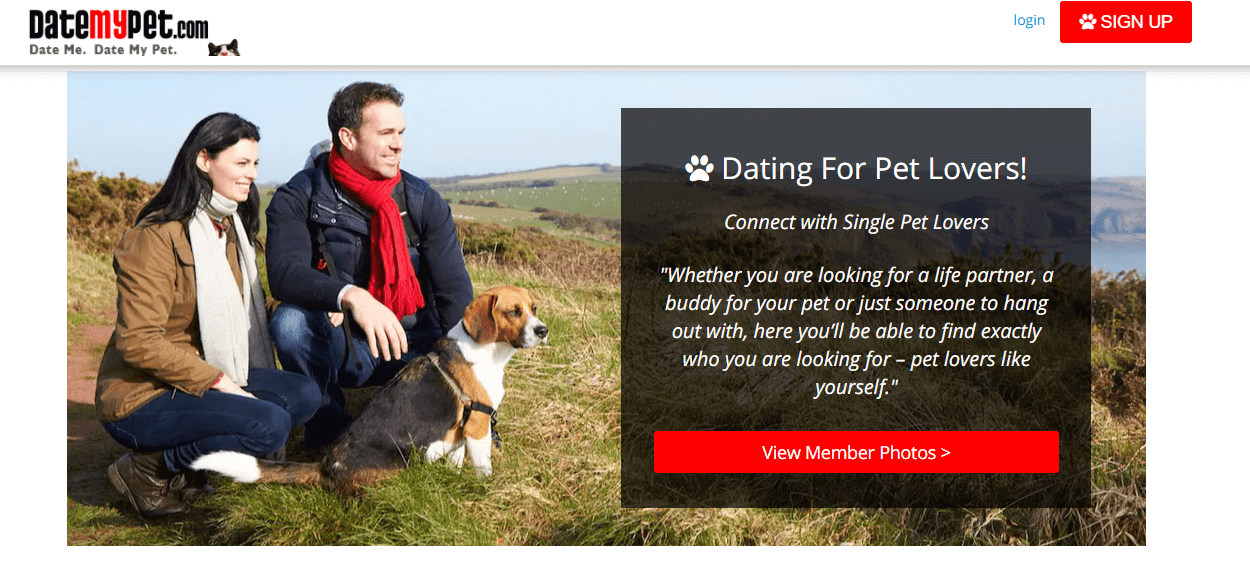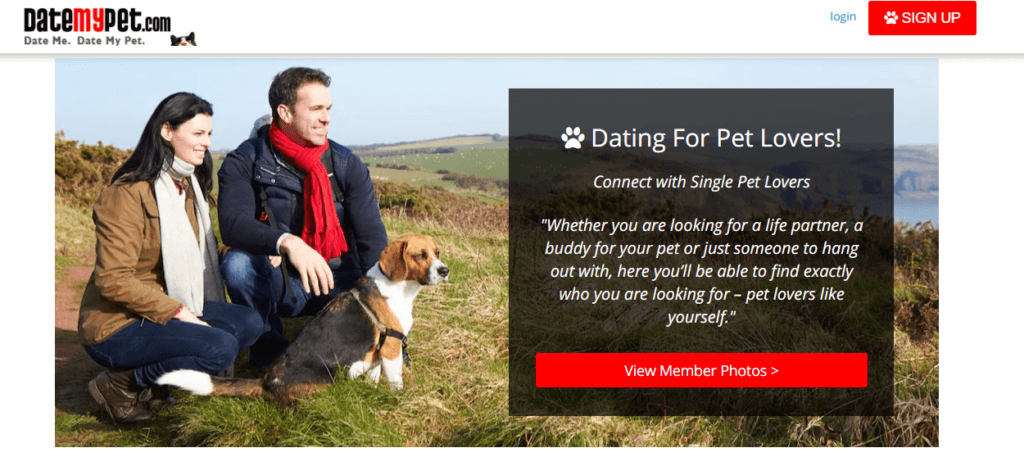 Signing Up – 4/5
Making Contact – 4/5
Profile Quality – 4/5
Overall Quality – 4/5
OFL Top Recommendations based on 100,000+ Survey

"Serious Relationships"
"Discreet Hookups"
"Best Course for Men"
"Quick Flings"
"Normal Hookups"
"Our Quiz"
Free messaging
Well-designed and easy to use
Extensive profile information
Very low user numbers, but growing all the time
If you love your pet as much as the humans in your life, then this is the dating site you've been looking for.
It's a place where single pet lovers can connect, meet up and obviously talk about their love for animals.
Listen, it doesn't get much more niche than this, right?
But people love animals and this is a brilliant place to find individuals just like yourself.
Ones who treat their pets like family members!
The site has even appeared on television in the United States, ABC's Good Morning America to be exact.
Of course, it's not only you who is the star of the show here.
Your pet features too!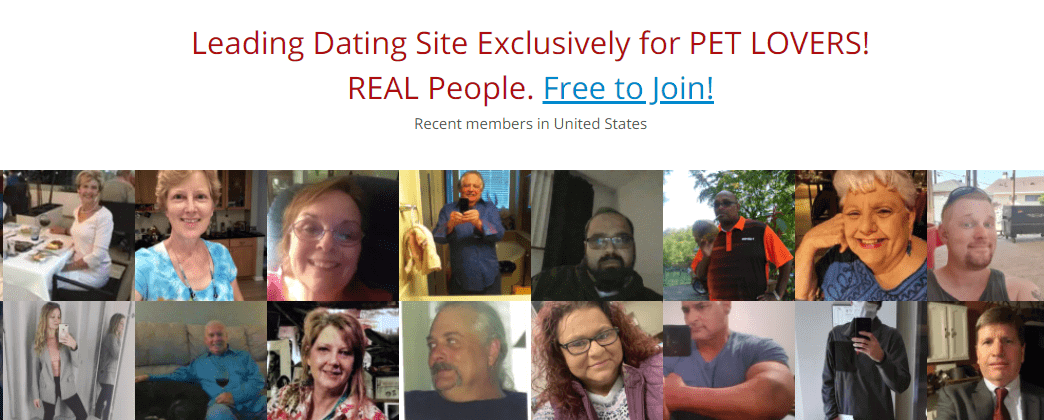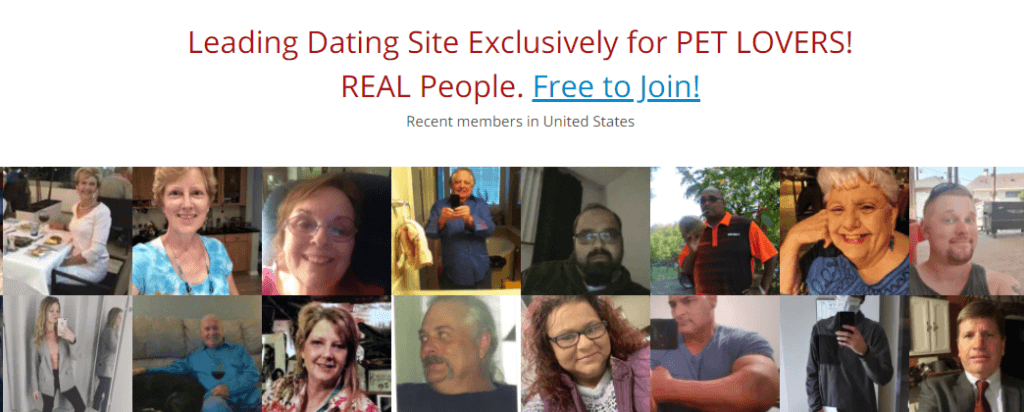 Ease of Use "mobile and desktop version"
As of this moment, Date My Pet doesn't have a mobile app.
So you will need to sign up for the site from the website.
It's a simple process that requires the following information:
Your gender
Your date of birth
Your name
A password
The gender you are looking for (the site only supports heterosexual relationships)
Once you've agreed to the terms and conditions you will receive your membership number.
Remember to keep this handy as you will need to input it from time to time.
Now give your location, upload a photo and finally verify your email address.
It takes a bit of time to get this all done but you can understand that they don't want people making fake profiles on it.
After that, it's time to use the site to find a friend for yourself and your pet.
The site itself is extremely well-designed and has all the tools you need to help you find that perfect matchup.
On the home page, you will immediately be presented with profiles under a heading called "Encounters".
It's a matchup system that allows you to click on yes, no or maybe.
If you'd like to know more about someone, you can click on their profile.
You will also find a search bar under that with basic parameters as well as the members who are currently online.
The menu system to navigate the site is found across the top of the screen.
Here you can launch searches, edit your profile, see who has viewed you and much more.
Your profile isn't complete yet, so make sure that you take the time to do so.
If you'd like to conduct an advanced search, simply click on the search menu to do so.
Now you can add a ton of parameters to your search.
Don't add too many because this site hasn't got that many users and you might just be narrowing the field too much.
As for messaging, well, recently Date My Pet added free messaging, so simply click on someone's profile and send them a message if you'd like to.
There is still membership, however that adds even more extras.
You can use the site effectively enough as a regular user but if you want more features, there is a membership option.
1-month membership: $19.95
3-months membership: $39.95
6-months membership: $59.95
12-months membership: $99.95
1. What are "diaries" on Date My Pet.
Think of "diaries" as a blog of your own.
Here you can write anything you want, even pet-related content.
Of course, you can read what others have written as well in theirs.
2. Is the site really free?
Yes, it is.
Date My Pet does include membership options as well that provide even more features.
But you can message others for free.
This site is one of the "top dogs" when it comes to wanting to meet pet lovers just like yourself.
Although it has a small user base, you know that the people you meet love animals.
Plus, it can be used for free.
What more could you want.
Date My Pet gets a 4 out of 5 as an overall rating!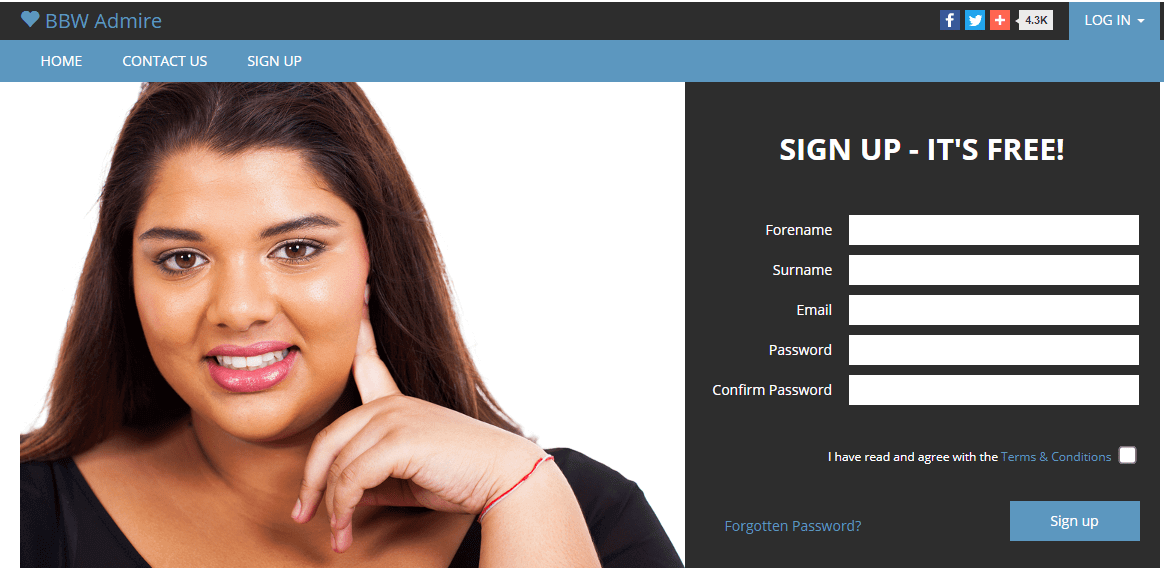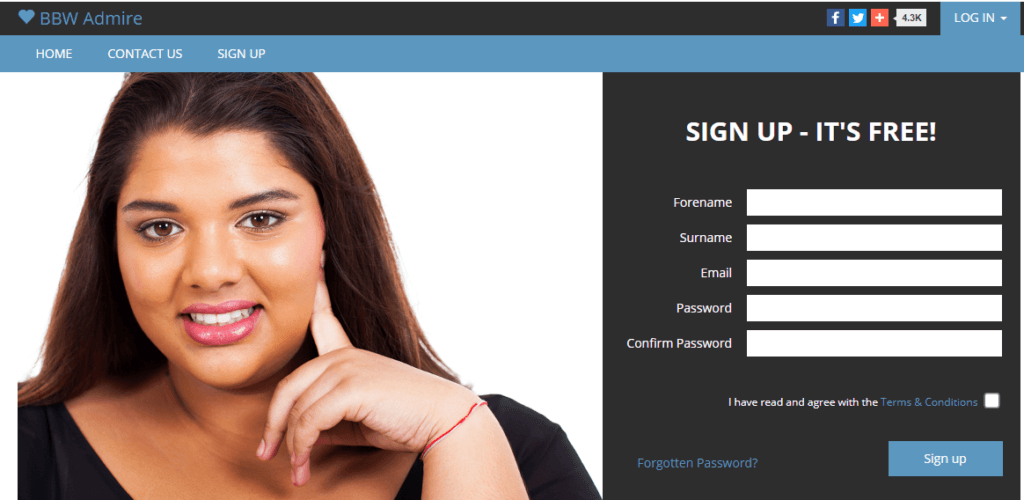 Signing Up – 4/5
Making Contact – 5/5
Profile Quality – 4/5
Overall Quality – 4/5
It's a global dating platform for BBW and those who admire them
It's free
Well-designed interface and easy to use
Simple registration procedure
Nice website with a small, but growing user base
If you are BBW or looking to date people who are, then this site is for you.
BBW or "Big, Beautiful Women" is a dating niche that becomes more popular over the years.
That's because not all of us can look like supermodels, right?
And as men, some of us are more attracted to girls with curves than those with the waif-look.
That's why sites like BBW Admire exist.
Sadly, I wasn't able to find user numbers, the ratio between male and female profile or which are the most popular age ranges on the site.
This is a site with a user base that's always going to be smaller than more commercial sites but it continues to grow all the time.
Ease of Use "mobile and desktop version"
To register for a profile on BBW Admire is straight-forward.
If you've used a dating site before, you won't find anything you haven't come across before here at all.
If you haven't, you will need to provide certain pieces of information before you get access to the site.
Things like your username, a password and your valid email address get the process started.
And then you need to provide even more information as you edit parts of your profile.
This includes:
Your gender
Your sexuality
Your D.O.B.
Where you live
An about me section
You will also need to select a few privacy options, for example, if people can comment on your photos.
That's it.
You can now get onto the site and upload your profile picture.
The home page includes a link to your profile and you can also instantly see who has viewed it.
You can also start browsing members near you that are currently online.
The site uses very similar colors to Facebook, it's not the first and won't be the last.
That gives it a very familiar feel.
It excellently designed too, with everything you need accessible from a simple menu system you will find at the top of the screen.
This includes:
Home
Inbox
My Profile
Find People
Help
If you'd like to search yourself, use the Find People tab.
There aren't any extended search parameters here but if you'd like to search further afield than your current location, you can.
Profiles themselves don't have that much information either, literally just a profile picture and an "about me" section, that's it.
Should you wish to message someone, you can do so for free.
That's right, fire off as many messages as you like.
This is is totally free to use.
You can search for matchups and send messages – as many as you want – and you won't have to pay one cent.
That's pretty awesome, right?
1. People are commenting on my photos and I don't want them to. How can I stop that?
It was a setting that you must have missed while registering for a profile.
Don't worry, you can change it.
Simply go to "Profile" and "Edit Profile" and change "allow comments" to no.
2. Does BBW Admire include advanced search filters so I can fine-tune my searches?
No, it only features a basic search engine.
You can search all over the world, however.
It means Big, Beautiful Women.
This is a site for curvy women and those who love to date them.
If you are a BBW or want to date them, it makes complete sense to give BBW Admire a tryout.
Not only is it free but it's filled with quality profiles from women all over the world.
The vast majority of them, however are based in the United States.
For a free profile, it's beautifully designed but doesn't have in-your-face advertising at all.
Give it a shot, why don't you.
It gets an overall rating of 4.25 out of 5.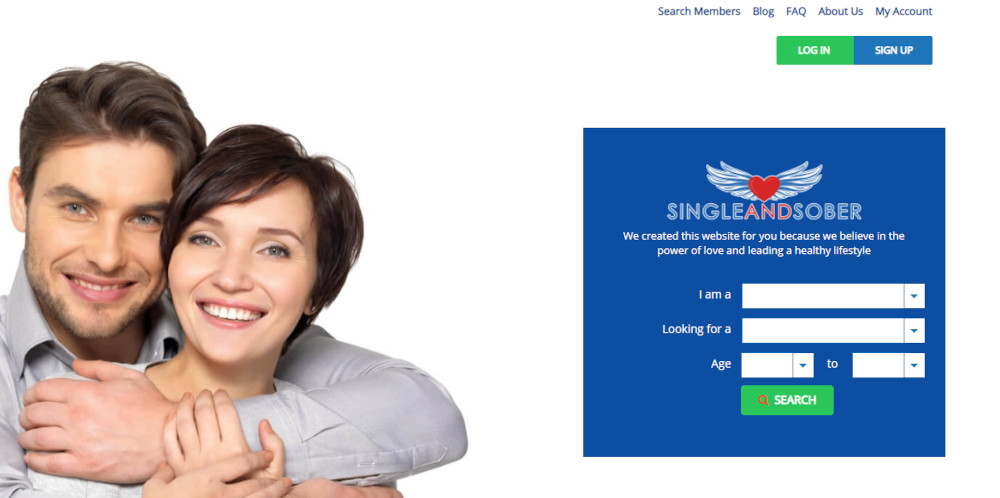 Signing up – 4.5/5
Making contact – 3/5
Profile quality – 3.5/5
Overall quality – 4/5
A dedicated dating site for people on the road to sobriety or who have already reached their destination
An easy registration process
Excellent membership price points
A small user database
No app if you prefer to navigate on your phone
A site aimed at people who are in recovery and those who want to meet people who don't drink, Single and Sober has become an excellent niche dating portal.
The thing is if you are a recovering alcoholic, the last thing you need in your search for love is meeting up with someone who drinks.
That's no good for you.
So this is a site where you can rest assured that there are other people in recovery just like you or those that have been sober for a period of time.
And it's a noble cause because there is no doubt that finding someone that's traveling the same journey as your or has succeeded and can help you can make a huge difference in your life.
Of course, this isn't a dating site that's going to have a huge amount of users across the globe, but no matter where you live, it worth taking the time to register a profile in your quest for love.
Even a long-distance friendship can go a long way to helping you make the right decisions at all times.
Ease of Use "mobile and desktop version"
So to start your profile on Single and Sober, you are going to have to head off to their registration page.
That's because this site doesn't have an app and because it's so niche, isn't likely to ever get one.
It is mobile-friendly however, but I advise signing up using a computer.
Once your profile is up and running, then you can use your phone if you'd like to.
Registration on the site takes a few minutes and means you will need to provide all the information that dating sites require from you.
That includes your username, a password (and make sure it's a secure one), your valid email address.
Following that, it's time to provide some profile information.
Far too many don't take this seriously enough.
Make yourself stand out, speak from the heart and you will get noticed.
It really only takes a few minutes of your time to do it right.
Once you've done that, you will receive your validation email from Single and Sober.
It includes a link that you must click on to validate your email address and gain access to the site for the first time.
As for the overall look, well it's pretty pleasing on the eye with blue a color that you will find throughout the site.
I suggest that you upload a profile picture and check that you are happy with your profile because the site is now there for you to make use of.
You will immediately notice a bunch of menus across the top of the screen.
I am not going to go through them in great detail but the most important one for me would be the search menu.
That's the one you will use to find someone hopefully.
Another menu system can be found below your profile information.
The most important menu here is the one that links back to your messages, both those you send to others and hopefully ones you receive too.
Talking about searching, well Single and Sober has limited capabilities in terms of search parameters.
You can only search according to the location of users, your preferred age range you'd like, and of course their gender (the site is LBGT friendly).
So once you've found someone that you'd think might be cool to meet, you'd need to contact them, right?
That's only possible by sending a message through their profile.
Only members can do that.
So yes, if you are serious about using this website to find love, you are going to have to think about becoming a member.
Luckily, membership prices are not pricey at all.
This is a breakdown of the three packages that you can consider:
Single and Sober – 1-month membership: $9.99
Single and Sober Silver – 3-months membership: $19.99
Single and Sober Gold – 6-months membership: $29.99
Single and Sober Platinum – Lifetime membership: $49.99
These prices are nothing short of perfect.
1. Do I have to use a valid email address when signing up for Single and Sober?
Yes, you do.
It's one of the easiest ways for a dating site to ensure that they cut down on fake profiles.
Single and Sober will send you an email after you sign up for the site.
In it is a link that's the final step of registration.
2. Does Single and Sober have a refund policy?
No, they do not.
But, in all honesty, their membership prices are so low that even if you don't enjoy the site, it's not going to cost you that much.
Plus, you probably will enjoy what Single and Sober have to offer.
3. I've found someone on Single and Sober so I want to cancel my account. How do I do that?
Click on "My Account" first up.
Then find "Cancel Membership".
Click on that and your account will be closed.
If you are looking for someone to aid you on your path to sobriety, or you've reached it and would like to find similar people to have a relationship with, then this is a dating site you could consider.
Single and Sober isn't the biggest online dating platform but it has the exact target market that people on the road to sobriety should be looking for.
Those that understand their path and who can aid them on their journey.
It scores a very solid 3.75 out of 5.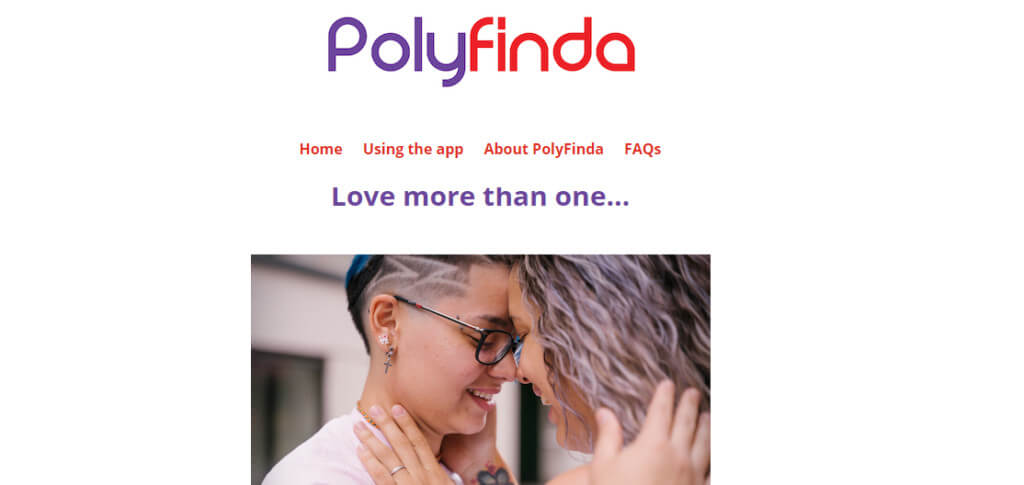 Signing up – 4/5
Making contact – 3/5
Profile quality – 3/5
Overall quality – 4/5
A community of polyamorous users
Although it's behind a paywall, messaging is cheap
Either use "credits" on the site or pay for a monthly membership
App-only, there is no website version
Some people want to not only have a relationship with one person but perhaps two or three.
This is known polyamorous relationship and yes, dating websites like PolyFinda cater towards this very niche target audience.
Of course, it's not only for that group but for people who might be interested in what polyamorous dating has to offer.
That said, no matter the target audience, it's not a commercial dating site.
User numbers are small and whether you can find people to match up with might totally depend on where you find yourself in the world.
Polyfinda has users across all age ranges, however, but it does seem that more males use the app than females.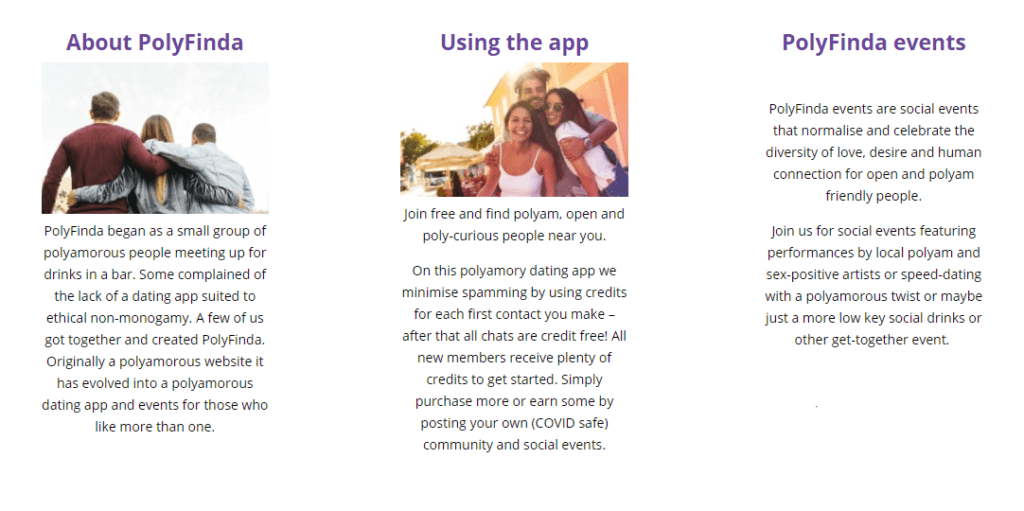 Ease of Use "mobile and desktop version"
There is no registration website for Polyfinda.
This is an app-only niche dating platform.
Luckily, it doesn't exclude any of the major operating systems found on the majority of cell phones nowadays.
Yes, you can download the Polyfinda app off either the Google Play Store or the Apple Store.
It's not a bandwidth hog either and will come down in under a minute if you have a relatively quick internet connection.
Once you've installed the app, you need to register for a profile.
While most apps let you use your Facebook account, with Polyfinda you will have to go the regular route.
That means giving the following details: your email address, a username, a secure password, your gender and lastly, a profile picture.
Let's just talk about gender for a bit.
Polyfinda is an all-inclusive dating app so you are going to find a full range of genders here which makes the app LGBTTQ+ friendly.
You will also have to answer a few questions before you finally get to use the app, for example, why you are joining and how you found out about PolyFinda.
Lastly, some aspects of your profile are completed during registration as well like what you are looking for in a relationship as well as filling in a section about yourself.
Registration takes some time but when you are done, PolyFinda will send you a verification code to input into the app.
And that's it, you read to go.
Don't expect anything amazing from the app at all.
It's functional and provides you with the tools you need to find a polyamorous relationship.
That means over and above searching for matchups, PolyFinda will show you other users near your location.
If you want to find out more about them then click on their profile picture.
To adjust these returns, you can change options in the search filter.
For example, you can search for people who are currently online, in a certain age range, by what type of relationship they are looking for and more.
Other than that, the app has two other menus, home and inbox.
All message you receive will be found in the inbox while the home menu has plenty of other critical information such as who like your profile, groups you can join and events planned by those behind the app.
You can also purchase "credits" the app currency, here.
So how do you message people you are probably wondering.
Well, you can only do so if you have bought "credits"
You will receive 200 first up when you join the app, so that's useful for trying it out and seeing what it has to offer.
That's 200 messages because every message you send costs one credit which is very cheap when compared to other sites that use a system like this.
Ok, so we've talked about "credits" and needing them to message other people on the app.
But that's not the only way to do it.
Yes, you can also become a member of PolyFinda through their monthly subscription.
That allows you to message, add people to your hotlist, view all profiles and more.
That costs $9.99 per month.
If you prefer to stick to credits, well to purchase 250 of them will cost $5.99.
1. Is PolyFinda for swingers?
No, it is not.
There are other apps that you can download if you are interested in swinging.
Polyfinda is for people who want polyamorous relationships.
2. What is the Polyfinda "hotlist"?
This is essentially a profile boost that will get your profile seen by more users.
It costs 50 credits to have your profile added to the hotlist for 30 days.
3. Can I report someone who is misbehaving?
Yes, you can.
Click on the three dots you find on their profile and flag them for admin to look into the matter.
You cannot block anyone on Polyfinda, however.
Without a doubt, if you are looking for a polyamorous relationship, PolyFinda should be installed on your phone.
Also, it's pretty cheap to operate as well and you have options in the way that you pay to use the features.
It gets an overall rating of 3.5 out of 5.