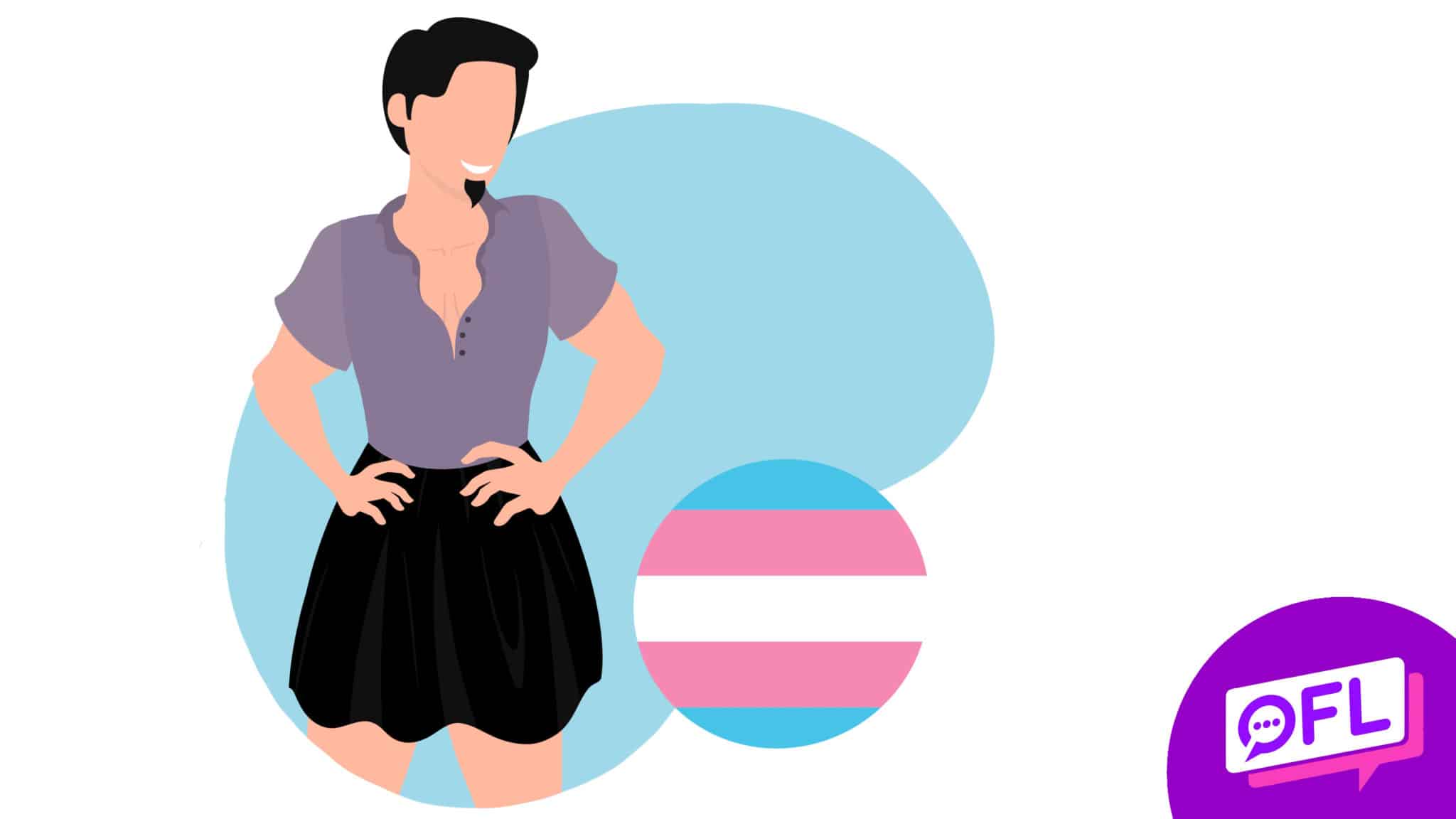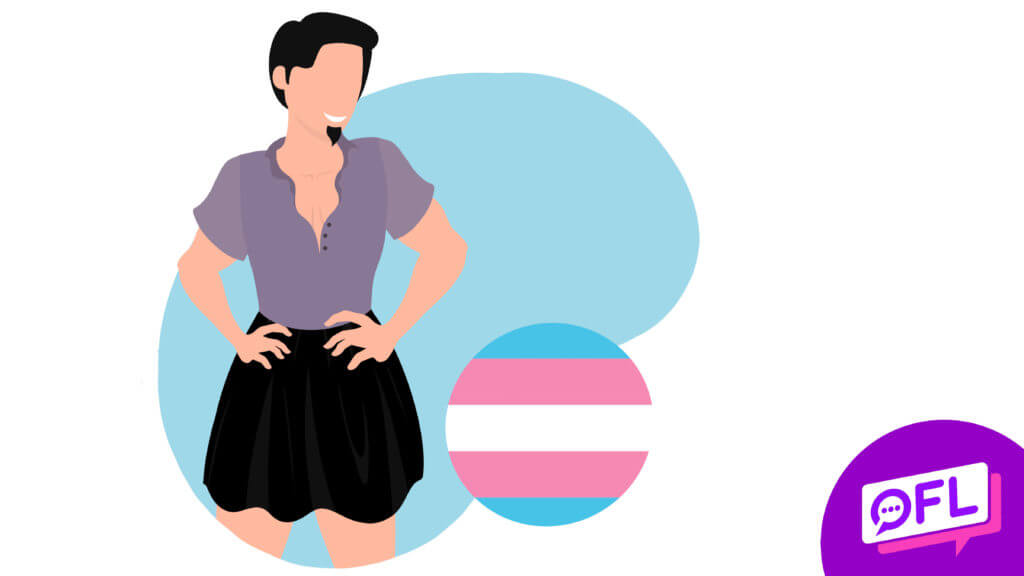 Crossdressing is something that's not new.
In fact, lots of people love to wear clothes that belong to another gender.
Also, people who are crossdressers want to meet, hook up with, and date other crossdressers.
Of course, these hookups and dating sites are far different from the regulars (such as Tinder, eHarmony, BeNaughty, or Ashley Madison).
OFL Top Recommendations based on 100,000+ Survey

"Serious Relationships"
"Discreet Hookups"
"Best Course for Men"
"Quick Flings"
"Normal Hookups"
"Our Quiz"
For that reason, dating sites that cater to this specific niche exist and today, we are going to look at a few of them.
This in-depth article will look at each site from these main angles:
So let's begin, shall we?
Best Crossdressing Datong Sites in Video Form
Audio (podcast) form for those of you on the go
Best Dating Sites for Crossdressers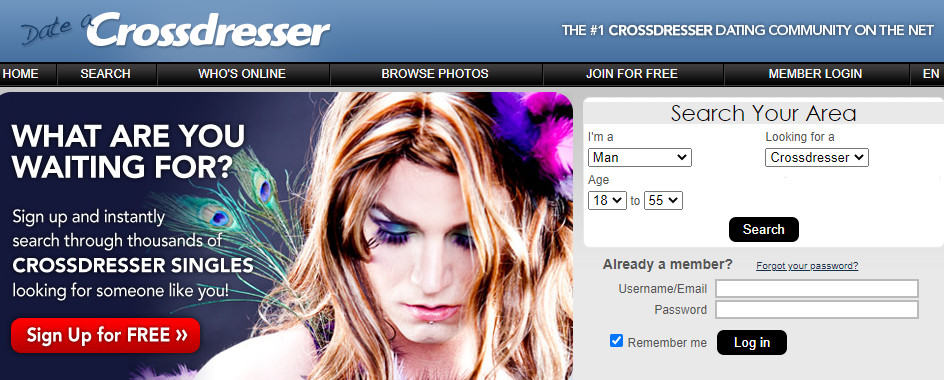 Signing up – 4/5
Making contact – 3/5
Profile quality – 4/5
Overall quality – 4/5
Long term membership options are cheap
Date A Crossdresser has a trial membership
The user base of the site is 200 000 strong
Your profile might appear on the registration page (if you value privacy, that might be a problem)
Let's be honest from the start.
There clearly is a market for crossdressing dating sites otherwise they wouldn't exist.
But, they are going to have extremely small user bases.
OFL Top Recommendations based on 100,000+ Survey

"Serious Relationships"
"Discreet Hookups"
"Best Course for Men"
"Quick Flings"
"Normal Hookups"
"Our Quiz"
As an example, Date A Crossdresser is one of the biggest out there and calls itself the number one cross-dressing dating community online.
And it only has around 200 000 users.
But if you think about it, that's not too bad actually, especially if you live in a large metropolitan area.
If you live in the backwaters somewhere, the chances of finding a potential date on the site will diminish rapidly.
Don't let that put you off, however.
The beauty of the internet and modern technology means you can have a little fun with people further afield anyway if that's what you want.
And on this site, you will find a whole range of people who love to crossdress and who are from all walks of life.
While most are in the United States, this is a global site so if you live in another country, you might be lucky enough to have fellow crossdressers near you as well.
You won't know until you try, right?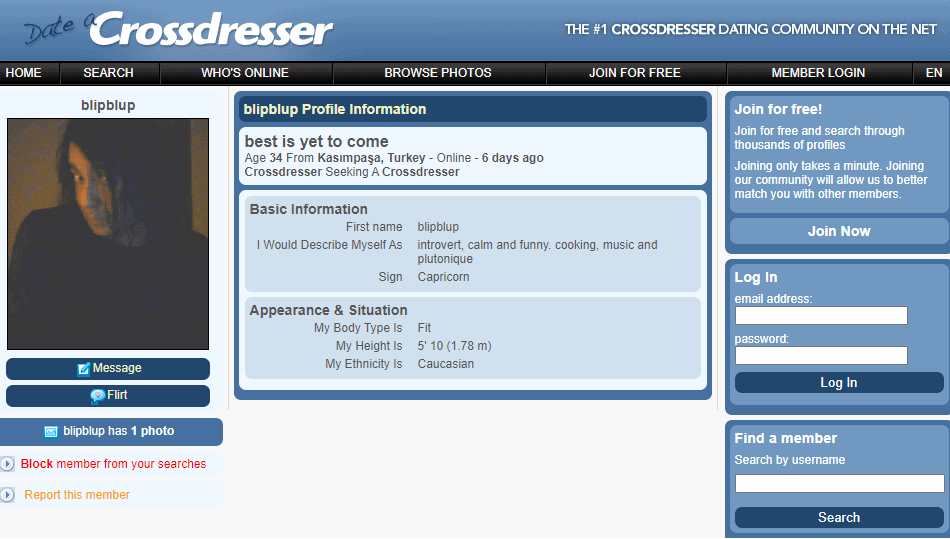 Ease of Use "mobile and desktop version"
If you'd like to download an app for this site and start your registration process that way, well it's simply not possible.
At this point in time, Date A Crossdresser doesn't have an app for Android or Apple devices.
So to start your profile, you are going to have to head on over to the website.
Only around five minutes are needed to get yourself online.
That's because the registration process asks a few simple questions without the need for you to fill out your profile.
That's something you are going to have to complete when you log into the site for the first time.
So what information is needed then?
Well, to complete the registration, you must provide the following:
Your email
A username that you will use on the site
Password
Birthdate
Your gender and that which you'd prefer to search for (and yes, the site is gay and lesbian-friendly)
Where you are situated geographically
Once you've done that, you will need to provide:
Your name
A profile pic
Some appearance parameters (height and body type)
Your ethnic group
A headline for your profile
A short description of yourself
That's it.
And with that, you are given access to Date A Crossdresser.
The first thing I would do if I was you would be to complete my profile.
It's pretty comprehensive and if you'd like others to know more about you and approach you, then it's a no-brainer, that's for sure.
Because while you might want to search for a potential matchup, you stand more of a chance if they are on the lookout for the likes of you as well.
Before we investigate the site a little more, you will notice that it's particularly busy.
There's lots of information to process here.
Some of it's useful and others less so.
What I suggest is that you take your time to look around the site, click on links, see where they take you and learn from there.
Ever present, however, are the menus you will find at the top of the screen.
These are your main ways of getting around the site.
These are:
Home: This takes you to the main home page of the site
Search: Searching for matchups? Do it from here
Browse photos: Browse photos uploaded by other users
My profile: This is where you complete your profile and also make changes to it
Settings: All site related settings can be found here
Mailbox: Sent messages and those you have received are found here
So what else is there to point out about the overall design of the site.
Well, you will notice that it's split into three main parts on the homepage.
The left-hand side is a summary section with lots of data regarding profiles you have favorited, who has favorited you, the number of times your profile has been viewed and more.
You can also access your profile and your inbox here.
The middle section includes a roulette-style matchup game.
If you've made a profile on other dating sites, you've probably seen this before.
You are presented with a picture of a fellow user and you can either like them or skip them.
Should they like you back, well that's a match then.
If you'd like to launch a quick search, you'd find the option to do that on the right-hand side of the page.
There are advanced parameter searches that you can conduct as well.
To do that, simply use the main search menu.
As for messaging once you've found the perfect person?
Well, for that you will need a membership.
That also allows you to frequent chat rooms, use site forums and play the matchup game as many times as you'd like.
Also, you can view all member photos and get access to various bits of information that can help you in your search for a crossdressing date.
Here's what membership to Date A Crossdresser is going to set you back.
I do love the fact that the site offers a trial as well.
3-day trial membership – $7.95
1-month membership: $29.95
3-months membership: $39.99 ($13.33 per month)
Trial memberships allow you to try the site before you commit.
All dating sites should offer them!
From a pricing standpoint, the site is competitive, particularly on the extended three-month membership option.
1. I notice profiles that you could view even before you sign up as a user. Will mine appear there?
Yes, there is a chance.
Profiles of users of the site seem to be rotated here.
A flirt is a way for a non-paying user to show their interest in someone else.
If you flirt with them, they will receive a notification.
As a non-paying user, you only get 30 flirts on the site.
While Date A Crossdresser can be a little intimidating due to its business when you first log in, it doesn't take long to get used to the site.
This site has a lot of users for a very niche dating site with a small target market and that sets it apart from other similar dating sites.
On the whole, it's easy to use, has competitively priced membership option and has a trial membership so you can get a feel for the full site with membership options before you commit.
It gets a solid 3.75 out of 5.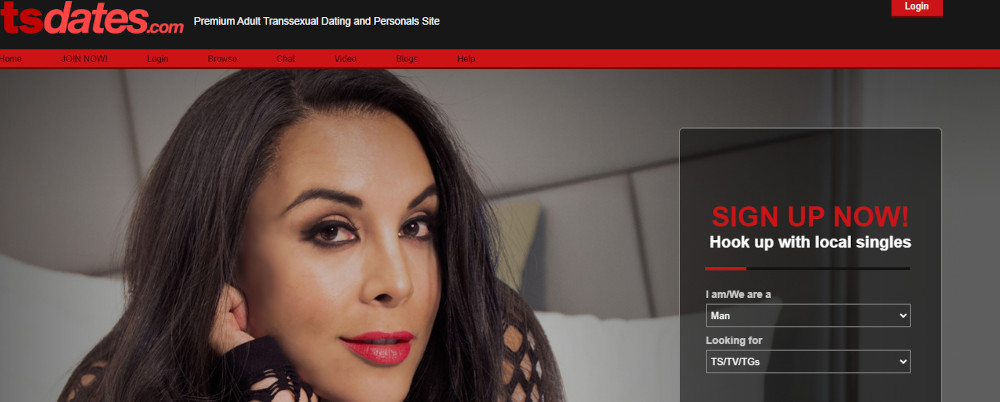 Signing up – 4/5
Making contact – 3/5
Profile quality – 3.5/5
Overall quality – 3.5/5
A ton of users have registered for the site
Plenty of search options, even if you aren't a member
Lots of advertising on the site
While TS Date is not strictly a site for crossdressers, it cannot be ignored.
This is one of the biggest dating sites on the net for the LGBTQ+ and those who want to hook up with them.
And yes, it includes people who crossdress.
But the main reason it cannot be ignored is the fact that its userbase comes in at over 88 million, or so says those behind TS Dates.
That's staggering.
And now can you see while starting a profile here might be worth it?
But here are some more stats to convince you.
Close to 10 million users log in daily of which 4 million are from the America
24 million users are from the United States
3 million new users either join or check out the site each month.
Just with those figures alone, starting a profile on TS Date is more than worth it in my eyes.
But what about the most popular age ranges?
Here's a full breakdown from the most users to least users per age group:
35-44 years old
25-34 years old
45-54 years old
55 +
18-24 years old
Ease of Use "mobile and desktop version"
With both a mobile app for Android and Apple phones, TS Date proves to be ahead of the pack when it comes to crossdressing dating sites that encourage users to sign up using their phones.
When I sign up for sites, however, sometimes I like to do that part through the relevant website and then view the site on my phone using the app.
Of course, when I am near my laptop, then it's just easier to navigate using the website over the app.
The good thing is that while everyone is different in what they prefer, TS Date has all bases covered.
What I love about TS Date is that it really covers the full spectrum of the LGBTQ+ field.
And the site allows you to register as one the following:
Male
Female
Couple (2 males)
Couple (2 females)
Couple (male and female)
Group
TV,TG,TS
The rest of the registration process is pretty straight forward.
There are no curveballs here and if you've used a dating site before, you will provide information that's relevant to dating sites.
When you gain access to the site, you are going to notice a clean design that's pleasing to the eye but more importantly, so simple to navigate.
A warning, however.
Adverts are plentiful and often filled with pornography.
You can however, tone this down using a content filter which is found under the settings for the site.
The site is best navigated using the menus found at the top of the screen.
These are:
Home: Access the main homepage by clicking here
Mailbox: This is where your sent and received mail is found
Instant message: If you send an instant message you will find it here
Notifications: All important notifications on TS Date will reflect here
My Stuff: Here you can edit your profile, find your favorites, view profiles of others and see your favorite photos and videos.
Search: Search for matchups here
Live-action: This contains links to live-action webcams
Community: Groups, blogs, erotic stories are all to be found here
As for searching, TS Date provides excellent options to return the right kinds of matchups for you to follow up on.
As a regular user, you can also use advanced searches where you can fine-tune specific parameters taken from user profile entries.
Not all profiles that are returned can be viewed, however.
If someone is a Gold member, you cannot see their profile unless you are one as well.
As for messaging, well, that's a membership-only option.
If you choose to become a member of TS Date, it's not only messaging that's a key feature you will receive.
You can also:
See all user photos
Message other member and view their profiles
Comment on photos and videos
Send flirts and virtual gifts
View full-sized photos of other users
And more
But what's membership going to set you back?
Well, here is a breakdown of the Gold membership option:
1-month membership – $39.95
3-months membership – $80.85 ($26.95 per month)
12-months membership – $239.40 ($19.95 per month)
It's certainly not cheap, especially if you opt for the month-to-month option.
Luckily, you get tons of key features with that as well, not only the option to message other users.
For sure it is.
This is one of the prime dating sites for members of the LGBTQ+ community.
And how can a dating site with close to 100 million users not be legit?
2. Can I delete my TS Date account easily if I am done with the site?
Yes, you can.
You only need to click on "Account Settings" and then "Close Account" to do so.
While TS Date is not strictly a site for crossdressers, there are many among the millions of users who frequent the site, that's for sure.
That's why you ignore TS Date at your peril.
It's a website that not only has an impressive user base but is simple to use.
If I have one minor complaint it's that the month-to-month membership is a little expensive.
TS Date receives a 3.5 out of 5.

Signing up – 4/5
Making contact – 3/5
Profile quality – 4/5
Overall quality – 4/5
Easy registration
Strong user base for a niche site
Messaging is for members only
With over 220 000 members from all over the world, if you looking for a crossdressing dating site, then Crossdresser Dating Site is worth your consideration.
That's despite its particularly boring name but I guess we can let that slip, right?
While it doesn't have the sheer numbers of TS Date, it is a site exclusively for crossdressers and those who'd like to date them, much like Date A Crossdresser.
And that can be a good thing.
In terms of other demographics such as user age ranges and the like, well, with niche sites like this, it's often very difficult to find any pertinent information.
But for me, the most important demographic is that user number and it certainly indicates a site that's pretty busy.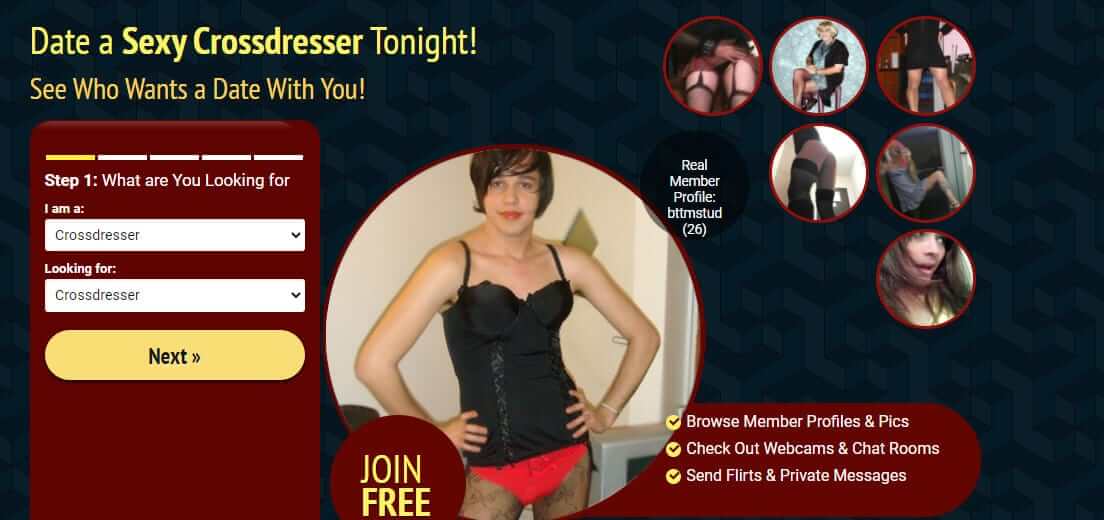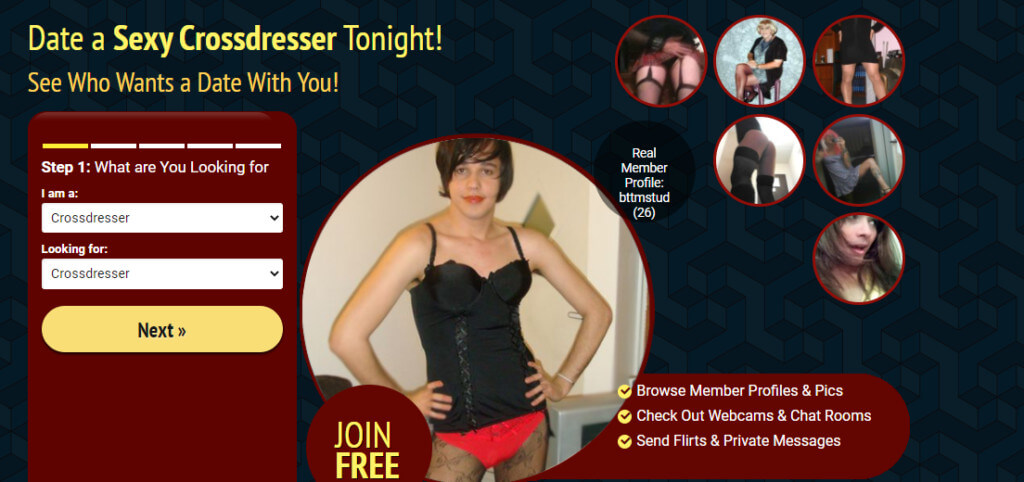 Ease of Use "mobile and desktop version"
There is no doubt what this site is all about.
Not only does the name give you a massive clue but the overall look of the landing page as well.
The registration process couldn't be easier either.
A few simple bits of information are all you need and within a maximum of five minutes, you will be online and searching for crossdressing love.
That said, let's take you through what you can expect when you register for a profile.
The first thing to notice is that you are able to register as:
Crossdresser
A male
Female
Or a couple
Other information required includes your age, your location, email address, username and password.
You will note, that once you've provided that information, you will receive a message that informs you that you have to wait until your profile is approved.
This can take up to 24 hours at times, so patience is required.
The site design is much like any other dating site.
You will find your way around all the important parts by using the menus found at the top of the screen.
For example, these menus include:
Home: This takes you to the main homepage of the site
Who's online: Click here to see online users at that present moment
Search: You can launch various parameter searches here
Chat: Chat with other users here
Live cams: Certain live cams can be accessed here
Profiles on the site are extensive and because you would not have filled in any of yours during the registration process, try to do it before searching for matchups.
Many users on dating sites aren't interested in getting to know someone who doesn't have the decency to complete their profiles, that's for sure.
When you've found someone you'd like to chat with, either through searching for them or perhaps looking through online members, you can initiate contact in a number of ways.
Of course, messaging them is best but that's a member-only option.
Before we get onto membership, it's important to note while you can browse the site on your smartphone as of yet, there isn't a mobile app on either the Google Play or Apple Store for the Crossdresser Dating Site.
Crossdresser Dating Site Cost
Contacting people is the essence of a dating site,.
If you cannot contact a potential matchup, what's the point.
Membership provides that but what does it cost on this site.
Well, there's some good news if you'd like to try the site out for a bit and see what it can offer.
That's because the Crossdresser Dating Site provides a five-day trial.
It also has a one-month membership plan and two extended plans, a three-month and a 12-month.
Here's what you can expect to pay.
5-day trial membership – $7.25
1-month membership – $44.99
3-month membership – $69.99
12-month membership – $144.99
1. Is the Crossdresser Dating Site free?
Yes, it is.
You can register a profile and search for free.
Messaging requires membership to the site, however.
2. Can I delete my account?
Yes, if you'd like to delete your account, you can do so easily enough.
Log into your account, navigate to the "My Account" option and from there you will find an option to take your account offline permanently.
There are lots of positives from this crossdresser dating site, that's for sure.
One negative is that it is pretty expensive but at least with a free trial, you can try the site out for five days before you make a bigger financial commitment.
And in that time, you will be able to determine if this is a crossdresser dating site that will work for you.
Overall, Crossdresser Dating is easy to register a profile on, simple to navigate and has a user base of over 200 000 like-minded crossdressers.
It gets an overall rating of 3.75 out of 5.