If you have read our dating course reviews before, then I am sure you know that we have tried basically every single course you can find online.
Playing With Fire is quite an old dating course, and even though there are plenty of newer courses with maybe a lot better pieces of advice, tips, and tricks, it seems like plenty of people still rely on this one.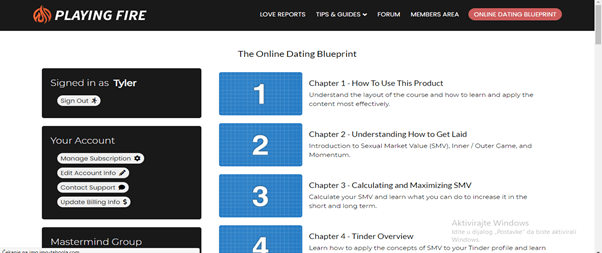 Be sure to read our review, because here you will discover:
Is your dating app giving you the best chance for success?
Make sure to take our online dating site/app quiz to find out.
It's a fact that people who follow our dating site suggestions have on average 2 extra dates per month.
Playing With Fire is a pretty old dating course, and even though you would probably think it is very outdated and that it can't have any sort of valuable information, it is actually a lot more informative than most other courses that are newer.
This amazing course was mainly focused on real-life types of dating and in the beginning, it used to offer pieces of advice that would help you with this, but during the time, it was able to become much bigger, and nowadays it has special tips and tricks you can use on Tinder, Bumble and other dating apps.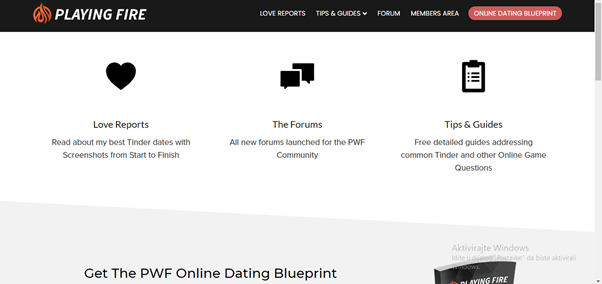 Nowadays, the course is updated quite frequently, and you can always count on getting the latest dating news while using this platform.
In the meantime, they have also created a Youtube channel where they also shared pretty valuable content about dating, relationships, and the right approach for every woman.
Once you sign up for the course, you will get access to the special member's area, where you will be able to use all the videos, guides, and tricks gathered by the creators of the platform.
Unlike most courses, this one isn't really split into modules, but it rather goes with a slow pace and helps you get to know every single type of dating or relationship easily.
Starting from the basics, the course will help you understand why you should be dealing with this type of content and how you can make every course work to your advantage.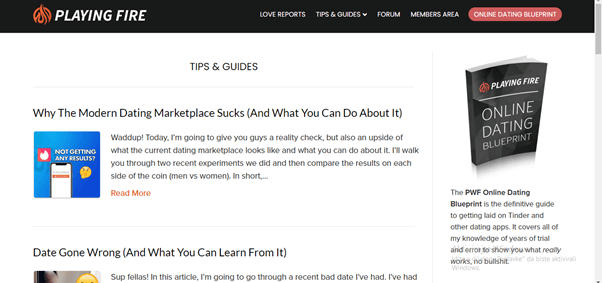 Most people go through several dating courses and are not really able to pick up anything useful from them, which is the problem of their concentration and attention.
In the first video, you will see and hear during this course; the creators will try to explain to you what is the best way to approach it and how you can get the most out of it.
Knowing what the things most users struggle with are, will definitely give you a lot of great advice and help you handle the dating world a lot easier.
However, every chapter and guide on this dating course is very short and precise, which is definitely something we don't come across too often on this sort of course.
Even though many people believe this can be the reason why people perform better after finishing the course, I would definitely say it is a disadvantage because most people are not able to grasp some concepts even if you mention them several times, let alone once.
The creators do move on pretty fast to the point, so the moment you open the second chapter, you will be able to hear the best techniques for getting laid and seducing women without problems.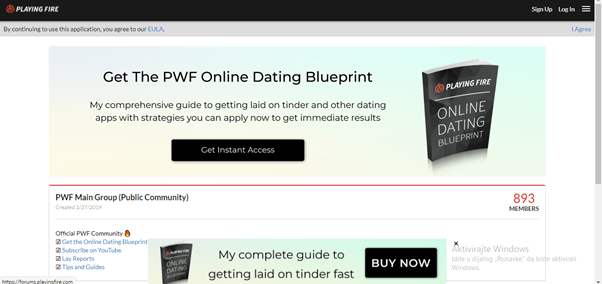 Here, your guide will help you understand the basics of online dating, teach you what the best way to create a dating profile is and what is kind of content you should make sure to upload on the app.
OFL Top Recommendations based on 100,000+ Survey

"Serious Relationships"
"Discreet Hookups"
"Best Course for Men"
"Quick Flings"
"Normal Hookups"
"Our Quiz"
Also, you will receive plenty of useful advice regarding the way you should take your profile photo or selfie you will share with the rest of the world because this is usually the thing that completely changes your performance on the dating app.
The guys sharing these pieces of advice have all tried it out by themselves, so you can be sure all of these tips and tricks will work just fine for you too.
Sometimes the guide may not be 100% clear and brief, but if you have ever used a dating app, I believe you will be able to understand how things work without any problems.
It is always best to learn from other people's mistakes, which is the reason a lot of people recommend the Playing With Fire dating course.
They will also teach you how to create a positive reaction among all women, which is the crucial strategy for getting every single woman you want.
If your profile is visually stunning, you have a high-quality bio and great profile pics; then you will definitely be able to set up a date with an amazing woman quite fast.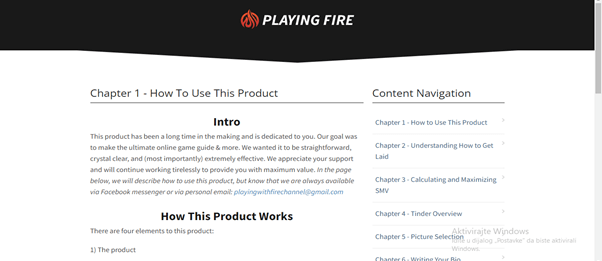 In the third chapter, you will basically be taught how to calculate your chances among women according to your age, race, height, and physical appearance.
However, this is a pretty problematic part of the course because you can't really consider all women to be the same because all of them have different preferences and would date completely opposite guys.
In general, this is the part of the course you may even skip because I believe you won't really be able to learn much about it, and you definitely don't need to manipulate information like this because once you and this woman stay alone in real life, she will see that you are not a tall model who has a six-pack.
It is always best, to be honest when it comes to things like this; otherwise, it can lead to complete disappointment.
I also wouldn't recommend using FaceApp or Photoshop on your pictures because it really isn't manly at all, and it will make you look like a clown because it is easily recognizable, especially when we are talking about women who are complete masters of this game.
In the fourth part of the course, you will be able to find out more about Tinder, and you will start getting more practical advice.
Here, the guide will take you through the whole app, help you understand how Tinder and its algorithm work, and what is the best way to stand out on the app.
They will repeat similar tips you have heard in the second chapter, but you can be sure that you will be able to get a lot of useful information and see what the things you should avoid to your profile are, and what are some details you should avoid at all costs.
You will also be able to see a lot of examples of successful Tinder profiles, which is definitely a plus for everyone who is new to platforms like this.
They also provide you with a brief guide of all types of girls you will come across on Tinder, so you will know how to deal with every single one of them, even the most obnoxious ones that can really be a pain.
After this has been said and done, you will receive a lot of information about chatting and messaging girls on these apps, and you will be able to find out what are some things you should avoid at all costs if you don't want to be left on reading.
Messaging is something that is a lot harder than it may actually sound because women are really not that patient, and in case a man doesn't seem to be a good fit for them after a few messages, they will unmatch him or keep on ignoring him until he gives up.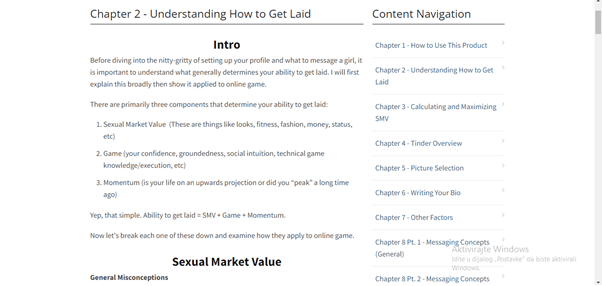 You will also have some recommendations of conversation starters and conversation openers that you can use in the future too, and even though they are really not that original, they are still a lot better than most things guys come up with by themselves.
In general, except for some tips and tricks that are pretty cool and will help you handle the conversation a lot easier, I don't think it can really help you step up your texting game because their recommendations and conversation ideas are quite simple and bland, and I believe most guys will be able to realize what their potential partner wants a lot better.
If you are not really interested in something serious (like eHarmony or Tinder), you can always use these pick up lines, and you will definitely schedule a lot of casual sex (like BeNaughty or Ashley Madison), but you will for sure not be able to seduce high-value women.
One of the last chapters is focused on helping you schedule a real-life date and helping you keep your women entertained, and creating a pleasant atmosphere that could lead to something else.
This dating course is mostly focused on helping you bang women, so if you are a guy looking for a serious long-term relationship, I believe this may not be the best choice for you because most of this advice will actually push those high-value women away from you.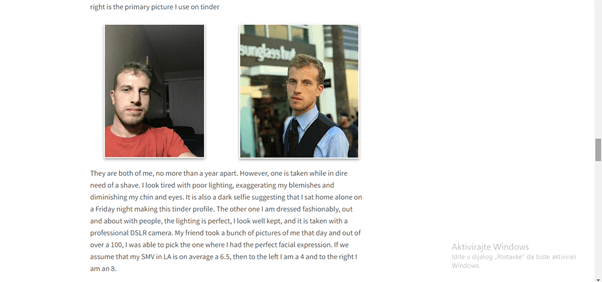 Bonus content also provides you with a lot of information on how to satisfy her in bed, how to realize what are the things she is seeking.
You will also receive a lot of guides for keeping the conversation going, but also materials that can help you create a more interesting conversation like different memes, gifs, and photos.
There are also some reference lists you can use whenever you run out of conversation topics, and this content tends to get updated quite frequently, so you don't really need to worry about being out of ideas at any moment.
When you pay for the course, you will also be able to join the special Facebook group and community where you will be able to share experiences with other users and share how your dating life is going.
You will also get access to plenty of dating books and guides for free, even after you have completed the course, and you will also be able to access all the new things on the platform whenever you want.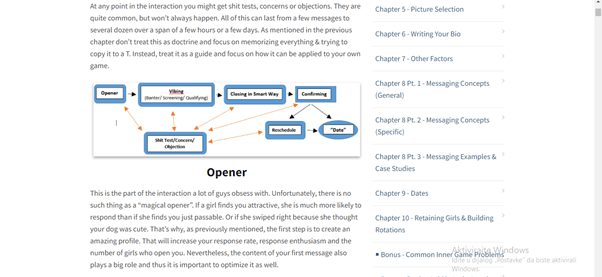 These are pretty great options, especially because you will always be able to go back to the course and relearn some things you may have forgotten throughout time or completely ignored when you were first finishing it.
In general, it may not be extremely informative and you will definitely find plenty of loopholes because the guys who made it are not dating coaches, but actually, men who have a lot of experience in the dating pool, but you will for sure be able to learn something and implement new strategies into your dating life which can make things a lot easier and more enjoyable.
I would say this dating course is mainly aimed at guys who are looking for some casual sex and fun and don't really care too much about someone's personality as long as they are hot and willing to go out on a date with them.
If you are someone who doesn't want to experience a challenge but is rather choosing women who are quite easy and willing to get in bed with you after just a few drinks, then this is definitely the best choice for you.
All the pieces of advice and information they will be sharing are quite superficial, and if you try doing some of those strategies on a serious woman, you will definitely be left to ignore, or even get blocked.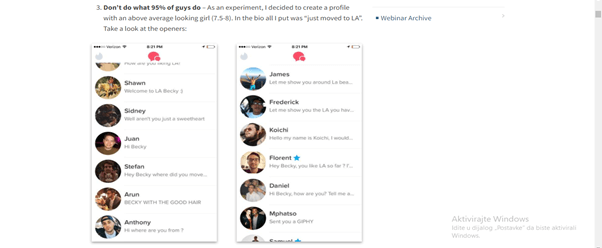 For that reason, all the guys who are looking for a long-term relationship should definitely avoid advice given throughout this course and make sure they have a genuine and honest approach because that is the only way you can find a way to this woman's heart.
It is probably the best option for younger guys who don't want to waste too much time on girls and would rather want to rotate them every single week than find a girl they will dedicate their time to.
Pros And Cons From The Expert
Pros and cons are something that exists for every single course, app, or website, so you will be able to hear both about the good and bad sides of this dating course too.
This type of dating course is something you don't really come across often because not only that it is very simple and written in everyday language, the pieces of advice you will hear there are very simple and everyone can implement them without any problems.
It is also quite short and it gets straight to the point, unlike many courses that you will spend hours listening to and in the end, you may not even be sure what were the things they were talking about.
If you are someone looking for a strict and concise explanation, this is definitely the best course you can choose.
1. Only for casual daters
In case you are looking for a long-term relationship and want to learn is the best way to seduce a woman and keep her interested in yourself, then this is definitely not the dating course for you.
This course is completely focused on helping guys find a casual date or sex and it never really focuses on things you need to make or do in order to keep this woman interested in you long-term.
Everything written there is quite superficial, so if serious things are something you are striving for, then you should do the complete opposite of the things and behavior mentioned here.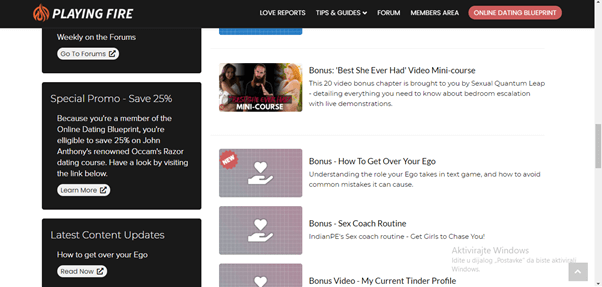 Since everything you will read in this course is pretty basic and simple, and the guys who have created this course are not professional dating coaches, I believe they really charge way too much.
It tends to cost like most amazing dating courses that are founded by experts in this niche, and I believe it is really not worth that much money,
However, it also depends on the type of content you are looking for, so it may work perfectly fine for you and you may get some amazing advice from this one.
If you want to gain success after completing this course, I would always recommend you to follow everything they have done step by step.
Most guys who sign up for this course don't really have the courage to approach these women, so if you want to level up your performance and have more success with them, you should definitely do everything as it was explained.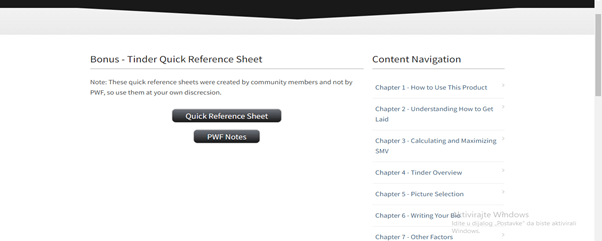 They also have a lot of recommendations about conversation topics and great pickup lines, so make sure you use their guides and even copy-paste these lines if you have no idea what else you could write.
Their lines are quite good and they will definitely help you schedule a date or two with some gorgeous women.
The success rate among people who have finished the Playing with Fire course is generally quite good, and if you are just looking for some casual sex and dates, then you have a 71% of chance of meeting the right women for it shortly after completing the course.
However, if you are seeking a real relationship, then you definitely won't have a lot of success after finishing this one, because just above 35% of its students were able to find a long-term relationship.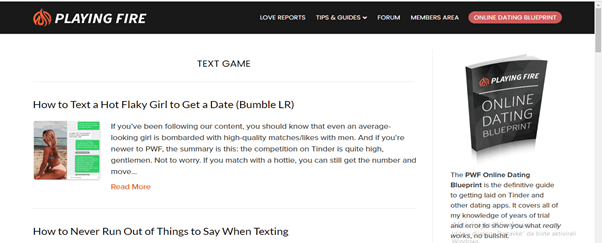 This is something we have also mentioned above because the content and the main goal of this course is not really to make someone fall in love with you, but rather get in bed with you.
In general, the success rate for hookups is still pretty good, so if you follow all of the steps presented throughout this course,e then you will definitely have some success.
As we have already mentioned, the Playing with Fire course is quite expensive in comparison to other courses created by amateurs.
If you want to get access to the basic Playing with Fire course, you will have to invest 170$ dollars, which is a medium price, but definitely a huge price for a course that really isn't that good or valuable.
It is just 20 dollars cheaper than some dating courses that have a 97% success rate and are able to help people get both hookups and serious relationships.
The course can be found at discounts pretty often, but even in those situations, it can still get way too expensive and unless you really have a lot of money you can waste on whatever you want, I wouldn't really recommend investing money into this course.
As you could see from our Playing with Fire review, this is a nice dating course, but definitely not a course that will fit someone and will help you find your soulmate.
There are a lot of problems and disadvantages and it is really very expensive in comparison to most other dating courses that have a large success rate.
In case you are someone who is only looking for a hookup strategy and doesn't want to spend too much time on women, then this will work perfectly fine for you, but it is definitely not suitable for more serious men and types of relationships.