If you were seeking a swingers community for quite some time now but didn't know where to look for like-minded individuals, then you are definitely someone who should join the SDC.com network.
Made for swingers and all different kinksters, this is a great dating site that allows you to meet like-minded individuals and couples who would love to engage in plenty of adventures with you.
Here you will find out:
Is your dating app giving you the best chance for success?
Make sure to take our online dating site/app quiz to find out.
It's a fact that people who follow our dating site suggestions have on average 2 extra dates per month.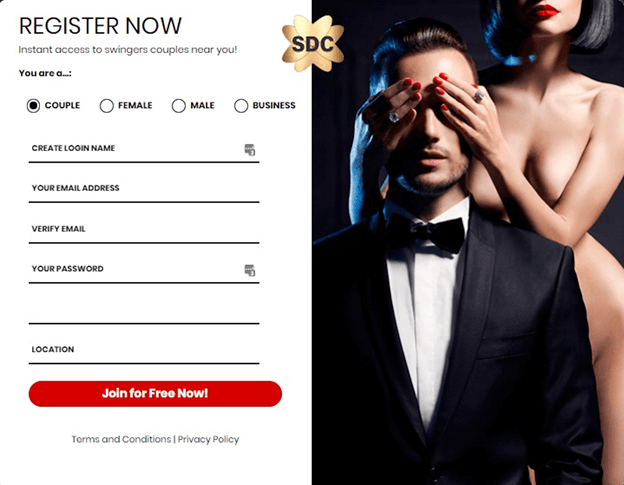 Effectiveness 4/5
Features 4/5
Ease of use 4/5
Pricing 2/5
Great search options
Plenty of security features
Welcomes all sexual orientations
A lot of features available for free users
Great customer support
SDC bracelet programđ
Great mobile app
Tends to have some scams
Outdated design
Pretty expensive membership
Most users are from the USA
Swingers Date Club has more than 3 million active users all around the world and each of the registered individuals has different swing wishes and fetishes.
Even though this dating platform was created in the Netherlands, there are really not too many active users from this country or Europe at all.
Over 90% of active SDC users are from the USA and you will definitely be able to find your swing partner in different parts of the country.
You can also find a good number of users from the Netherlands and Great Britain, but they are usually located in capital cities.
There are a bit more male users than there are females, but many people tend to create profiles as a couple, so this shouldn't worry you too much because it probably won't affect your experience.
You should know that SDC welcomes users of many different sexual preferences and sexualities, so you can find both straight, lesbian or gay people looking for their swing date (like BeNaughty or Ashley Madison). This is not a website where you should search for a serious relationship (like Tinder or eHarmony).
The SDC users are usually adult people, somewhere between 34 and 45 years old, who are looking to spice up their lives or relationships a little bit.
There are also plenty of users that are more than 50 years old, which is completely normal if you have in mind that the swing community in the USA is the most popular among retired people.
OFL Top Recommendations based on 100,000+ Survey

"Serious Relationships"
"Discreet Hookups"
"Best Course for Men"
"Quick Flings"
"Normal Hookups"
"Our Quiz"
In case you are young, you probably won't have too many options on this platform unless you are living in a bigger city, but you can also try meeting someone older than you and see how things work.
SDC.com has a pretty outdated website that hasn't changed in years, but that's probably what makes it so popular among older people.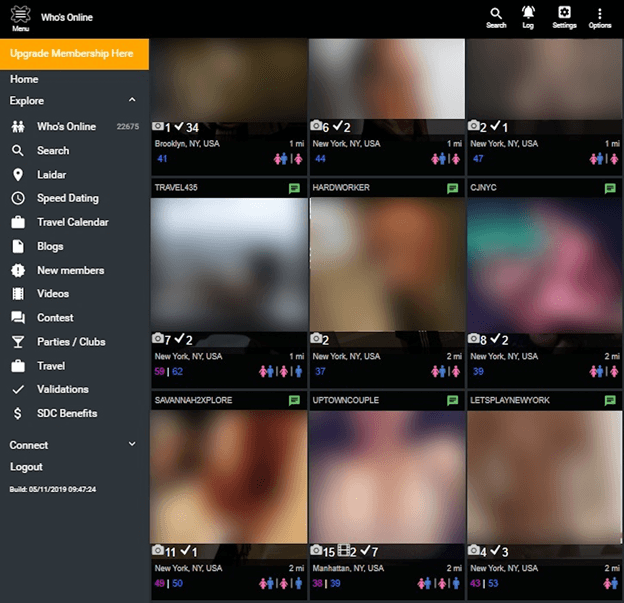 This is one of the rare online dating platforms that doesn't even look like one when you open their homepage because it greets you with a variety of different articles and blog posts about swinger dating and different fetishes.
While its simple black and white design might make it look pretty suspicious, its thorough sign-up process is probably something that will make it obvious it is a real and safe dating site.
It is also very easy to differentiate between active and non-active users because those who are online at the moment will always have a green dot next to their name.
You can also easily find all the special features and you will get a very clear and decent overview of other people's profiles and their profile pictures in your Explorer toolbar.
Unfortunately, if you are a free and new member, the website will tend to show you too many ads which can be quite annoying, but in case you upgrade to a full membership you will be safe from problems like this.
Ease Of Use (Mobile and Desktop version)
Using the SDC.com website and creating your original profile on it is very simple, even a lot easier than on regular dating platforms and apps.
Here we will take you through the SDC website and help you start your swinging lifestyle easily, step by step.
Registering on SDC.com is pretty easy but it can take you some time because you will be required to fill out several questions boxes and define your swing status during it.
Everyone will have to be clear about whether they are joining the platform as an individual or as a couple and what type of swing dates you are looking for.
You will have to leave this information, so the website and its algorithm know who are your potential dates and who it can connect you with.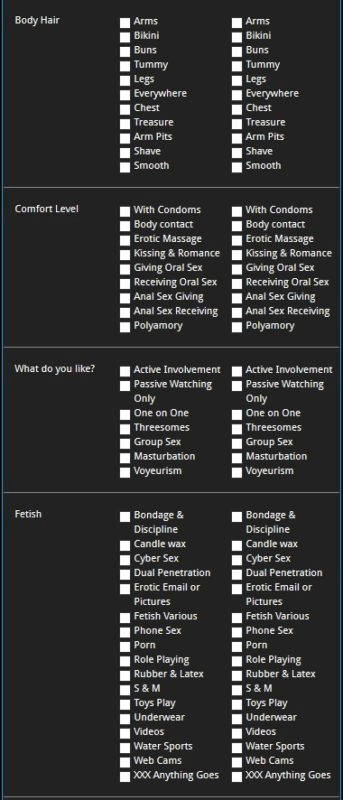 Before starting your dating journey, you will have to verify your profile through the email that has been sent to you.
After you have successfully verified your profile, you will be able to fill out all the other information and upload profile pictures without any problems.
However, all of the information you upload will have to get approved by administrators and customer support of the website.
This is done in order to protect other users from potentially harmful and offensive messages or pictures.
When you create your profile you will also be asked whether you want to invest in a premium membership or stick with the free one, so you should make your decision at that moment.
Connecting with other users
When it comes to meeting other people on SDC.com, you will pretty much have to do it all by yourself, and in case you haven't purchased a premium membership, you will not be allowed to get in touch with anyone on the platform.
On the other hand, you can always try joining different chat rooms and connecting with people there, but you will not be allowed to send them private messages in any way.
This is mostly done for safety because free profiles on most dating platforms tend to be the choice of scammers.
The website won't be offering you any type of personalized matches, but you will be able to look for your perfect match through dozens of different and detailed search filters.
All users can look for other people based on the arrangement they are seeking so you can easily choose the reclusive dating or threesome options and get connected to people who are looking for the exact same thing.
You will see active users on your homepage and you will get the option to scroll until you find someone who seems to be interesting and has the same SDC offer as you do.
First, you will be shown people based on their location, so you can find those who are the closest to you, and then you can use the perks of those search filters.
Some users may hide their profile information so you may be allowed only to see their profile picture and name and nothing else unless they decide to contact you.
There is also a validation option you can use when you start messaging someone and it is used in order to prove to signalize other users that this person is real and has only good things to say or offer.
Once you have paid for your membership, you will be able to choose the type of profile you will use in the future – whether that is a business, singles, or couples version.
The business version is rarely seen on this platform and it is usually a profile created by swing clubs and bars who want to attract new customers through this dating platform.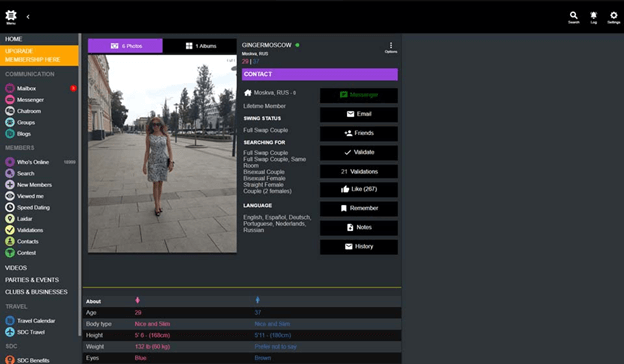 You will be allowed to upload both public and private pictures to your SDC account and even create photo albums other users can see.
Each profile is divided into several sections like your physical appearance, swing status, a little description of yourself, and the things you expect from your swing partner.
Profiles on this dating app are really detailed and you will be able to find out a lot about your potential date from it.
It is also very easy to differentiate fake profiles from real ones because they are usually the ones that have little to no information on their account and use a free version of the platform.
Premium members will also be allowed to change their profile descriptions and pictures all the time, which is something that is not available to free users.
You can be sure that SDC.com provides its users with a variety of different amazing features that make dating through this platform a lot easier and more fun.
Unfortunately, you will have to be a premium member in order to get access to most of these features and these are just some of the best ones.
Speed dating – you will connect with a random individual on the website and get 5 minutes of conversation in which you will decide whether you will "see" each other again or not
Creating a travel calendar – you can create your travel plans and calendars and make them public so other SDC users who are available can join you
Writing blogs – premium members are allowed to create original content that will be uploaded to the website or the mobile app for all users to see
Watching videos of other users – many people upload different videos to their profiles and if you are a verified member, you will be allowed to see it
Validating someone – giving someone validation means that you guarantee this is a real and safe profile which earns him a badge that all other users will be able to see
Getting invites to private SDC parties – the SDC community organizes swing parties on a weekly basis in some parts of the world and as a premium member, you will always get a notification when there is a party near you
Voyeur cam – singles and couples who join the platform often want to provide other users with some type of video chat in which they keep their camera on while engaging in different types of sexual activities
Swingers Date Club also has a mobile application that can easily be downloaded both to Android and iOS devices.
The SDC app is almost the same as the regular website, but it may be a bit easier to use and navigate through because of a much better design.
However, the app tends to load a lot slower and the Helpdesk is trying to solve problems like this all the time.
You can download it from the app store for free even though you will have to pay for a premium membership once you log in or register into your account.
Swingers Date Club is known to be one of the expensive dating sites and you will need to invest quite a bit of money if you want to reap all of its benefits.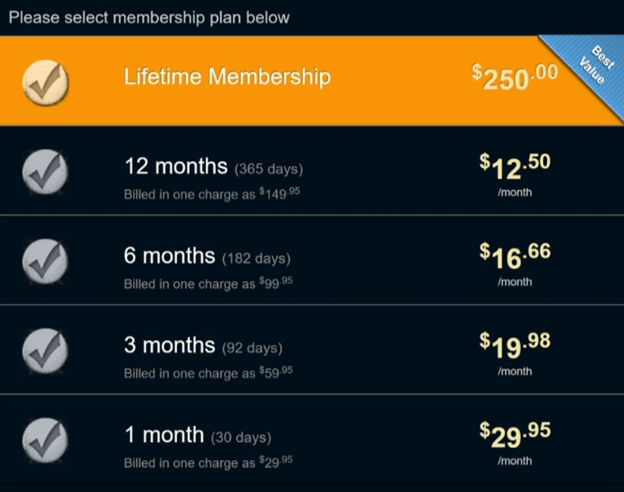 Even though the website offers some free services that you can use the moment you join the platform, most of the useful features are reserved for paid members and you will not get access to them before you purchase a membership.
However, you can always look through their offer and decide whether you will be sticking with the free membership, or decide to invest in one.
Some of the features you will receive as a free member are:
Creating your account
Uploading photos and videos to your profile
Engaging in speed dates
Joining SDC chat rooms and communities on the platform
Using the invitation feature
Including more than one location in your profile
Creating your own Travel calendar and Travel plans
Getting travel offers from other users
Posting party invites to your profile
When it comes to paid members, for 30 dollars per month they will receive a lot more features and they will be able to try out everything this dating platform has to offer.
Some of the additional features they get are:
Able to connect with other users on the platform
See other peoples profiles and pictures
Allowed to update or change their profiles, including the pictures and the username
Participate in webcam chatrooms
Chat via the Instant messenger
Use the voyeur cam
Create their own posts in SDC blogs
Rate other users
Create parties and guest lists for them
Get news about SDC parties in their town
Participate in giveaways and competitions on the website
A one-month paid membership on SDC.com will cost you 30 dollars, but you can save some money if you decide to pay for it a few months upfront.
In case you decide to pay 3 months upfront, you will spend only 20 dollars per month, but if you decide to pay for a whole year, you will spend only 12.50 dollars each month,
There is also an option of purchasing a lifetime membership that will cost you 250 dollars, but it will definitely pay off if you plan on using this platform in the next few years.
Unfortunately, this dating site does not offer any type of trial period so you will get to explore the paid features only if you really pay for a membership.
Even though the SDC membership is a bit more expensive than on regular dating sites, that is completely normal for a niche dating website.
SDC also has a so-called bracelet program that is available for all premium members of the platform.
Once you get the bracelet, it will be easier for you to get recognized by other SDC members in the public or at parties and engage in real-life conversations and relationships with them.
The SDC platform also has a partnership with several hotels and restaurants, and by getting this bracelet, you will get the opportunity to sue their discounts there.
It is very easy to apply for one because all you have to do is go to your account, click on the "SDC promo" button and choose the "Apply for a bracelet" option.
By getting a bracelet, SDC meetups will definitely become a lot more interesting for you and you will have more success when approaching other swing members.
Swingers Date Club is one of the rare swing dating communities on the internet nowadays and it really gathers a significant number of users.
Even though its design may look a bit outdated and overall the platform is not as attractive as most dating apps and websites are, this is definitely the best option for anyone who is looking for a swing hookup.
Creating an account on this platform is quite pricey, but since this is probably the only swinger community on the internet, it is 100% worth it.
However, if you are not living in the USA, it may be a waste of money, so please read our SDC review thoroughly before you decide to invest that much money in a membership.
In our opinion, this dating app deserves a 3 out of 5 because it is really expensive and overall it has some problems that can be easily solved by the Helpdesk, but it still remains the best swing date community on the web.
We sincerely hope that you enjoyed our SDC.com review and managed to find the information you were seeking in it.
In case you were satisfied and received enough valuable information, we hope you will create your swing date profile right now and start the search for your potential swing soulmate.