While you can use regular dating sites like Match.Com, eHarmony, EliteSingles, OkCupid, Tinder, and Match.com to find love as an older dater, there are niche sites tailor-made to help you too.
One of these sites is Saga, which is aimed at those over 50 who are looking for friendship and perhaps love. This isn't a hookup site (like BeNaughty or Ashley Madison).
And in today's review, we are going to evaluate Saga as an age group dating service to see what it offers.
In assessing the site, we clarify the following:
OFL Top Recommendations based on 100,000+ Survey

"Serious Relationships"
"Discreet Hookups"
"Best Course for Men"
"Quick Flings"
"Normal Hookups"
"Our Quiz"
So if you've been looking for a dating site for over 50s, this Saga dating review is a must-read.
Perhaps it confirms Saga as just the site for you.
Is your dating app giving you the best chance for success?
Make sure to take our online dating site/app quiz to find out.
It's a fact that people who follow our dating site suggestions have on average 2 extra dates per month.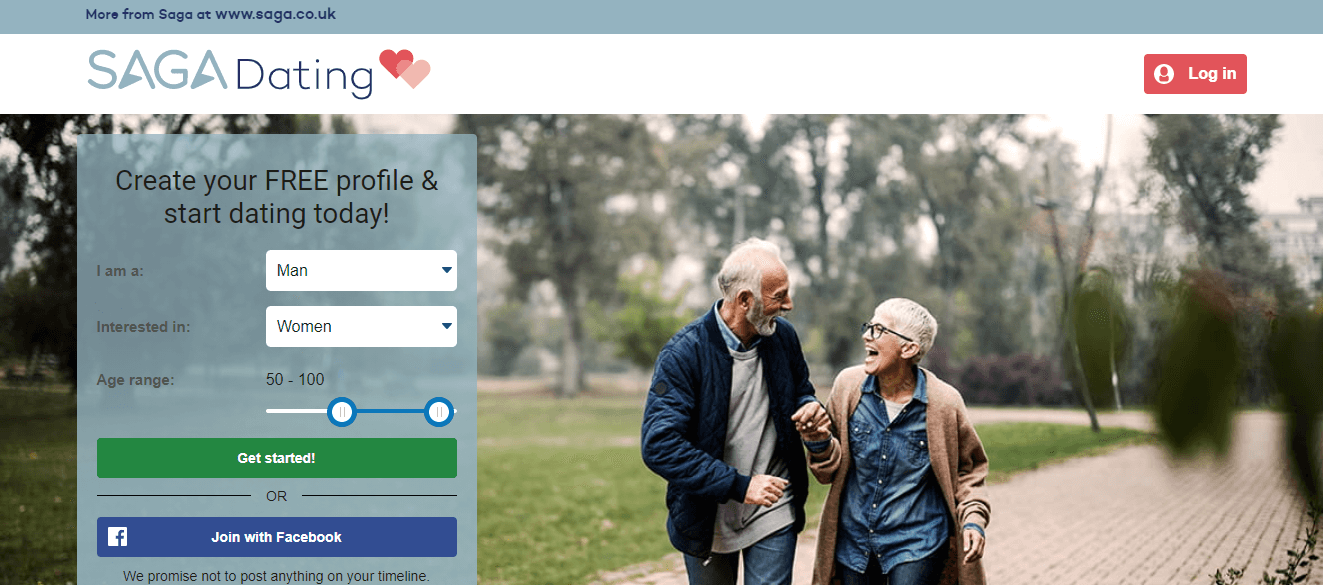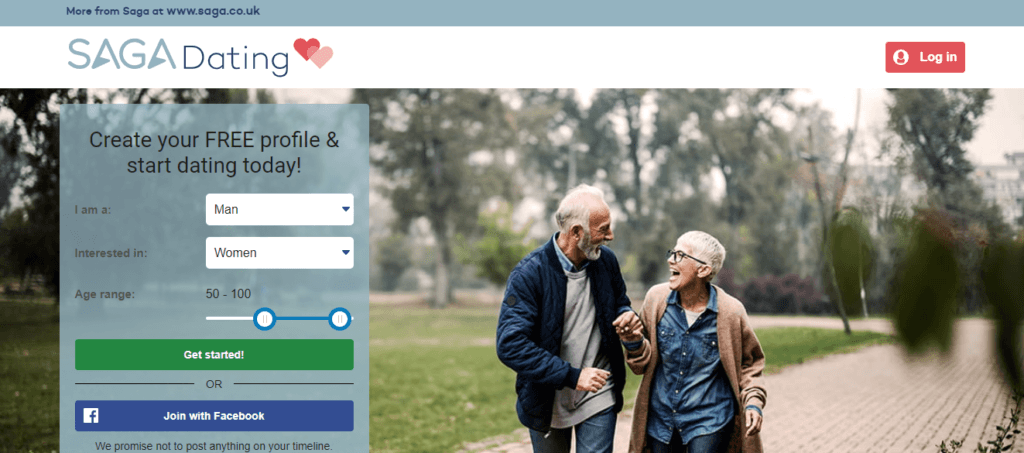 Ease of Use 4/5
Effectiveness – 3/5
Key Features – 3/5
Pricing – 3/5
Offers a superb matchup tool
Profiles are comprehensive
An extremely small user base


Who Is It For/Demographics?
This is a dating website that's aimed at people over 50 but if you are younger and prefer to date people older than yourself, you won't be stopped from joining up.
Saga allows users from all over the world, but if there aren't enough users in the country you live in, you will be taken to another local dating site instead.
Most of the people on site are from the United Kingdom and in total, Saga has around 100000 users.
So when it comes to compatibility and finding someone near your location in terms of matchmaking, it might be a little bit hit and miss.
Here are some more facts and figures I found out about this online dating site:
OFL Top Recommendations based on 100,000+ Survey

"Serious Relationships"
"Discreet Hookups"
"Best Course for Men"
"Quick Flings"
"Normal Hookups"
"Our Quiz"
Around 13000 users are active on the site each week
That's 2000 a day and over 50000 each month
Most users are looking for serious relationships in real life, not online
The gender ratio is roughly 50/50
Over half the users on the site are 55 and older
While there are bigger dating sites for people over 50 out there, it's always good to see what's on offer, even on a smaller site like this.
It might just turn out to be the best dating site for your needs and you will never know if you don't register a profile to try it out.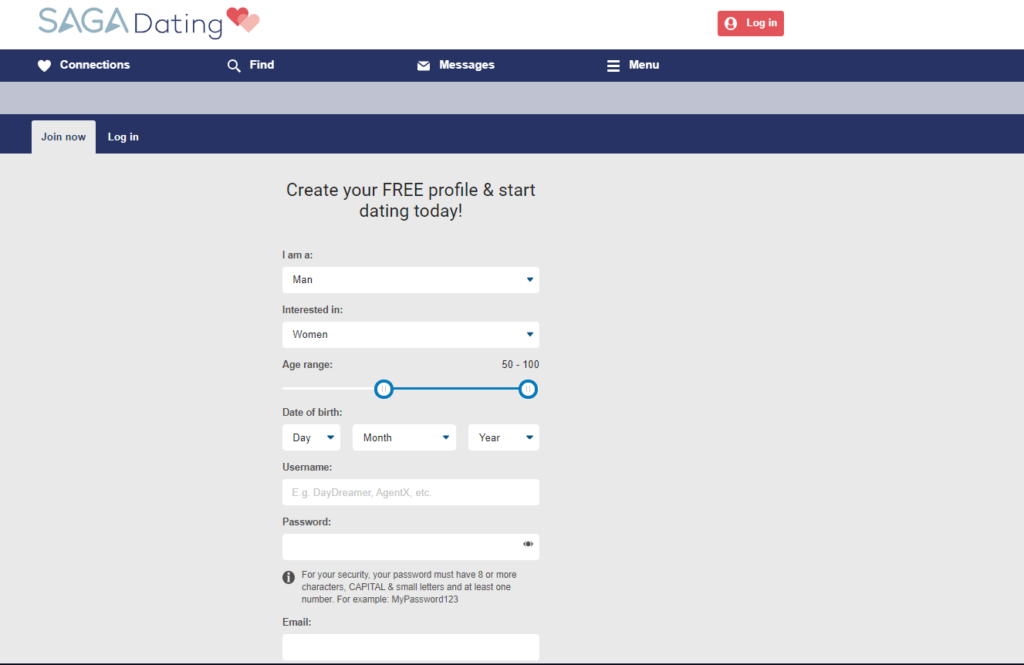 To sign up for Saga Dating, you will need to go to the website.
Before you do sign up, however, you are free to take a look at all the success stories of people who have found love using the site.
Once you ready to register, you will notice that there isn't an app option for Saga.
But you can register with your Facebook account if you'd like.
If you go the regular route, this is the information you will need to provide:
Your gender and that which you'd like to search for (with LGBT options)
Your preferred age range that matchup returns should be
Your birthday
The country you live in
Your username
A secure password
A valid email address
Part of the registration process includes filling in the personal details that form part of your profile as well.
And this is a very comprehensive profile that includes tons of information over and above what you would normally find.
For example, there are various personality traits you can fill in and each user will have their profile photo verified.
The great news, however, is that by filling in your profile properly, you help to ensure that the unique two-way matchup feature on the site is far more accurate.
This helps to indicate how much of a matchup you are with another user and it's one of the overall strengths of Saga Dating.
Once you've registered for the site and validated your email address, it's time to take a look around.
Overall, the site design is the same as another British dating site, Telegraph Dating.
And what I really like about it is that there are only four menus that you need to navigate.
Often one critique I have of dating sites is that their designs are too cluttered and that makes them a pain to use.
Here, everything is spaced out beautifully, which is probably better for us oldies with worsening eyesight, right?
Let me quickly demonstrate the menus you will use to find your way around and what they do:
Connections: When you analyze this menu, you will find it's packed with information. While you can see who has viewed or favorited your profile, the most important feature here is the matchups the site suggests for you.
Find: Although you are assigned matchups, you would want to search for your own, right? Do that using this menu
Messages: Messages both sent and received are gathered here for you to look through.
Menu: This provides a link to your profile as well as site settings.
Yes, that's all you need to use the site.
Test it and you will see that just those four menus are enough.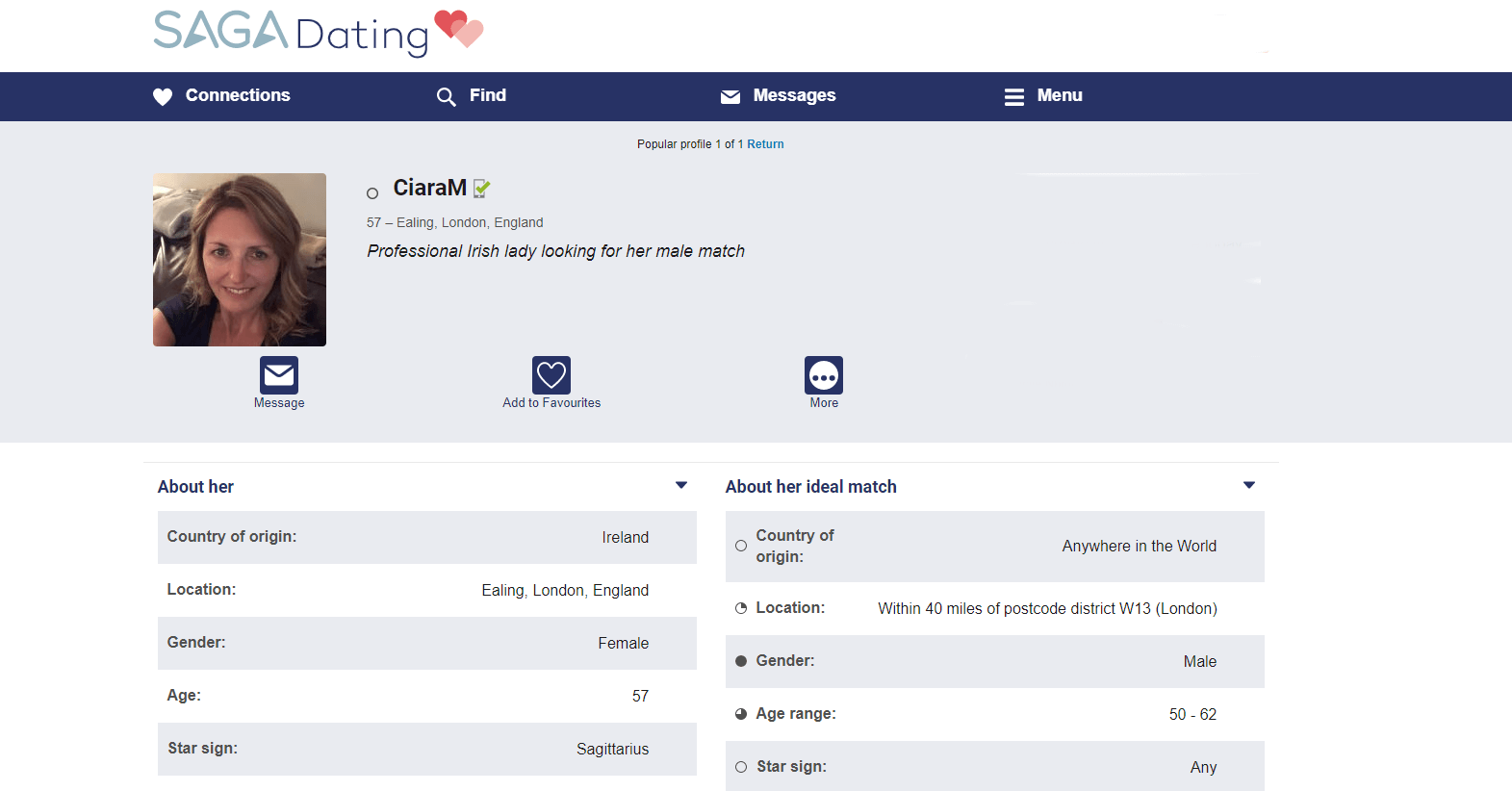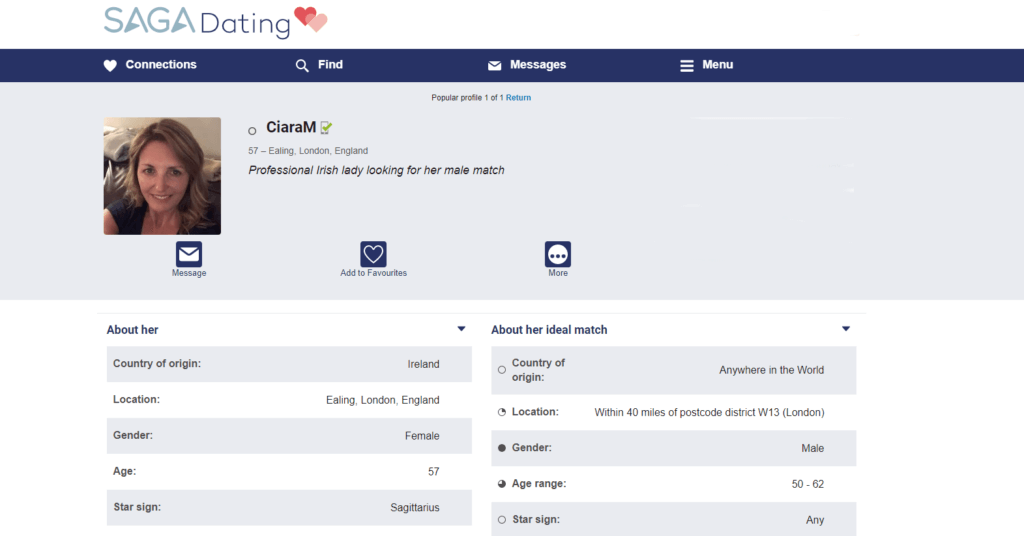 I want to talk a little about user profiles on Saga.
They really exceeded my expectation overall.
During my research into the site, I had read that they were packed with information but I was still incredibly impressed when I got to see them for myself.
Let's quickly analyze the information you will find here:
There are four main sections, each of them brimming with information.
Compared with most other sites, Saga Profiles have more information than 99% of them.
About: Here you will find appearance and lifestyle sections, their relationship status, the kind of potential matches they are looking for, income, occupation and more. This is standard dating site fare.
What they expect from a match: Here you can find out just how much of a potential match you are for each user. You will also find a two-way matchup percentage to see just how much a pair of you really are.
Own words: This is your typical About Me section where people explain what they are like.
More about: Just when you think you were done with all the information, along comes this section where you can evaluate even more details about a person. This includes humor, their personality, the things they like and dislike and so much more.
I still can't quite believe how packed with information each profile.
Better yet, it seems that everybody takes their seriously as well because, during my time on the site, most were filled in properly.
Although there isn't a dating app for Saga, it is optimized to be viewed via a mobile phone.
I guess the reason why there is no app is that the target audience here is people 50 and older.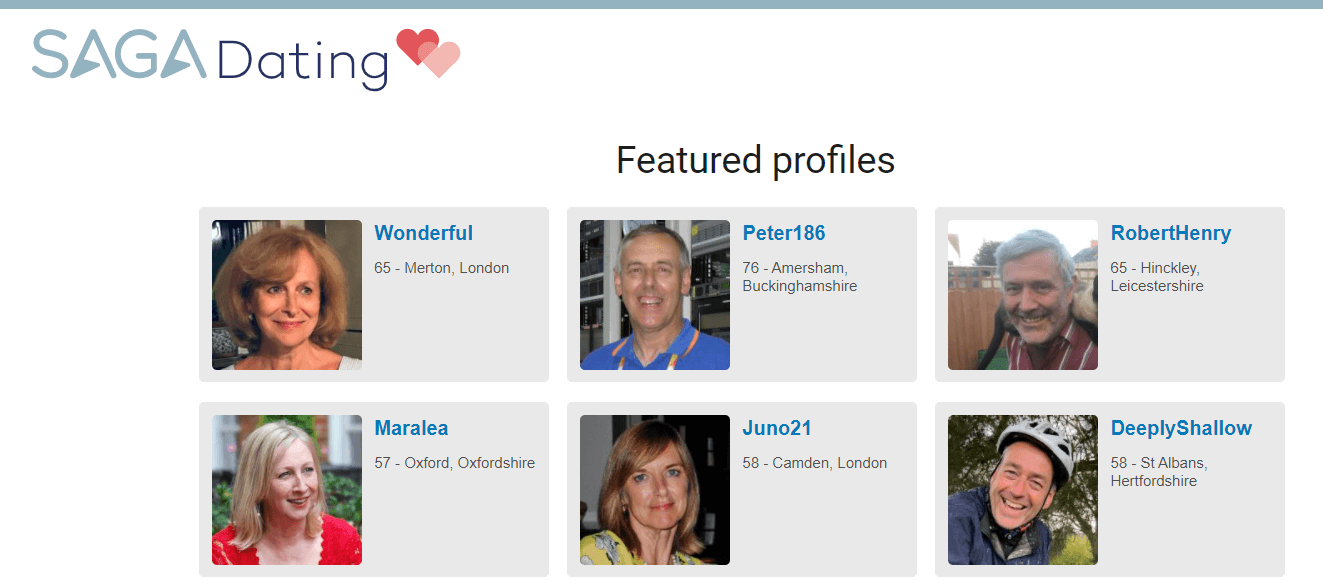 So thanks to the fact that the registration process also includes filling in large parts of your profile, Saga Dating can provide you with matchups right from the beginning.
Each profile includes a compatibility score between the pair of you, so you can quickly see just how much of a potential match they are.
Those that are too low in your estimation you can move on from but the ones that catch your eye are worth exploration, that's for sure.
I loved my time on the site as I studied profiles.
There really is so much you can learn about someone by doing this, that's for sure.
Searching for your own matchups
What would a dating site be if you couldn't search for your own matchups, right?
Well, Saga gives you all the tools you need to do so.
And there are quite a few of them.
Click on the Search menu and you will find the following options:
View members that are online
See member galleries (this shows members who have uploaded a photo recently)
You can search by username
You can view the profiles of new members
You can view the profiles of members that are considered to be the most popular on-site
You can view those users who have made changes to their profiles
You can launch a keyword search
Or you search on your own using the search engine
When you launch your own search, as a regular user, you are somewhat limited.
There are only three parameters that you can adjust: the gender you want to search for, their age range as well as location.
There is an advanced search engine that makes use of extra profile parameters but this is only available to paying members of the site.
It's useful but with around 100000 users only, I would keep my searches far more general than narrowing them down.
But if you do take out membership, test and see how it works out when you conduct parameter-specific searches.
Saga has no bells and whistles when it messaging other users.
Only members send messages and it's done from someone's profile.
Click on the message button to send them a message.
You won't find video or audio messages here and there aren't any chat rooms.
At the end of the day, do you really need those?
There is some good news for regular users regarding messaging.
Although you cannot send your own, if you receive a message from a Premium member, you can reply to it.
So there are some ways to communicate but if you want to reach out to others, membership is best.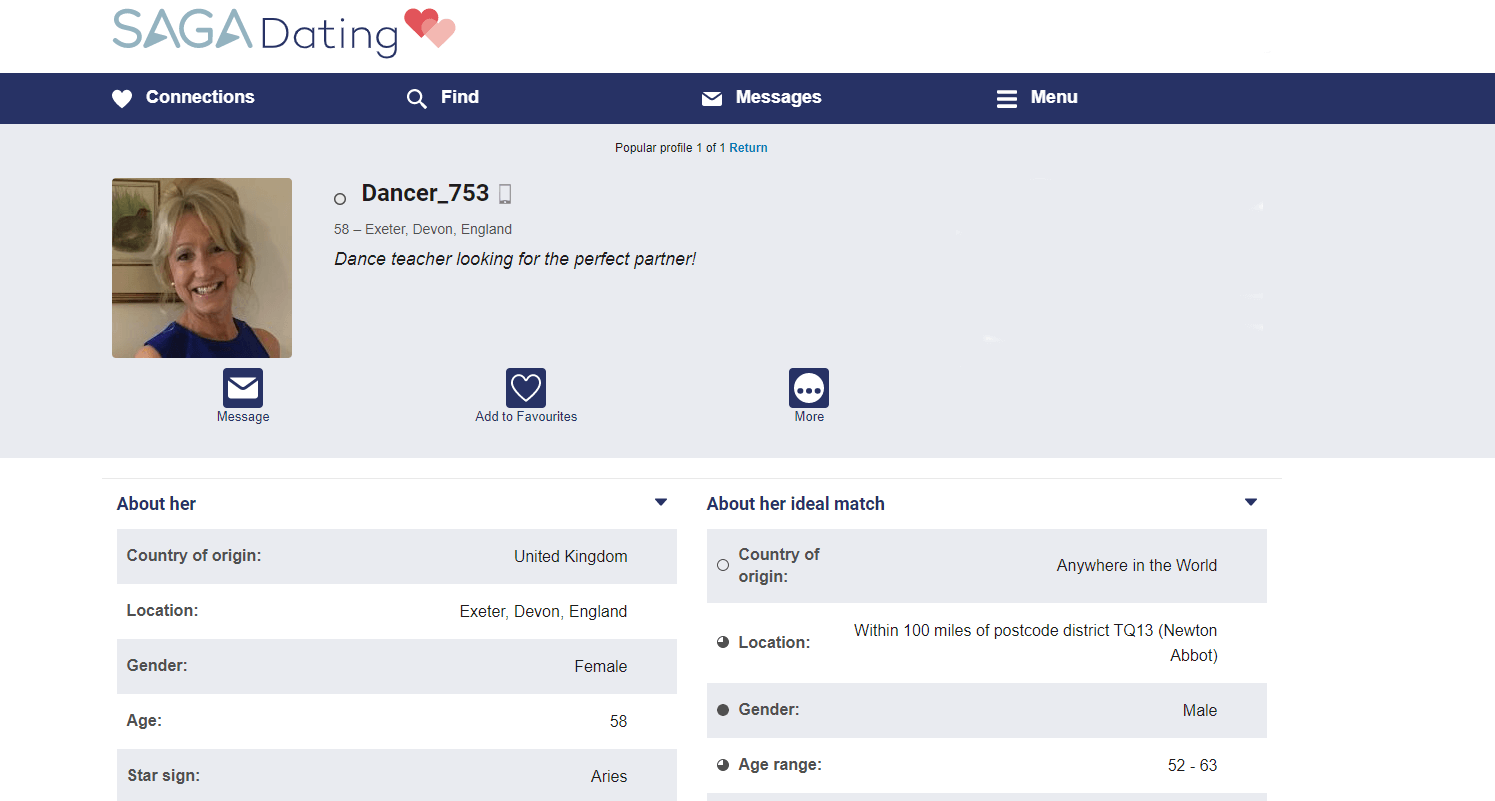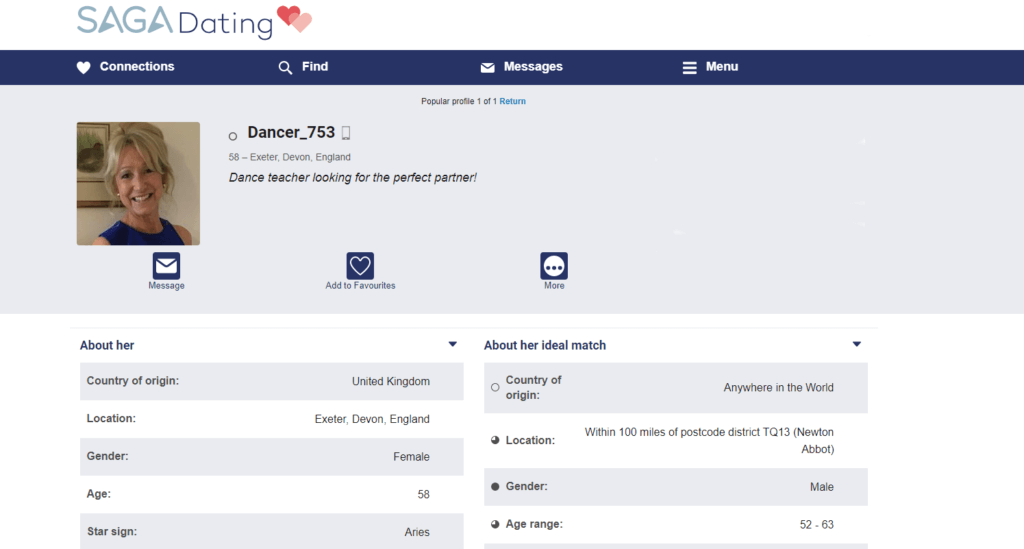 As a regular user on the site, you can do the following:
Read messages and reply to those received from a Premium member
See the full profiles of all users
Add someone to your favorite list
Like someone's profile
Membership, however, provides the following key features.
The most critical key feature for sure, as a member you have the ability to send as many messages as you like to any users.
Remember, someone who isn't a user can reply to messages that they receive from Premium members so you can message anyone effectively.
For regular users, there is a cut-off point as to how many matches they can see.
In fact, even if there are more matches for you, the site will only provide a certain amount.
As a member, however, you don't have that problem.
You will receive more matches than that of a regular user.
3. Upload private photos and give access to others
If you'd like to, you can not only upload photos and mark them as private but also give other users access to those photos.
4. See who favorited, liked and viewed your profile
Just about every dating site has this as a key feature for members.
And you can use it to your advantage.
If someone has liked your profile but not reached out to you yet, strike while the iron is hot, I say!
5. Keyword message searches
The ability to search for keywords in messages can come in handy at some point, I am sure.
It's just not that much of a key feature for me.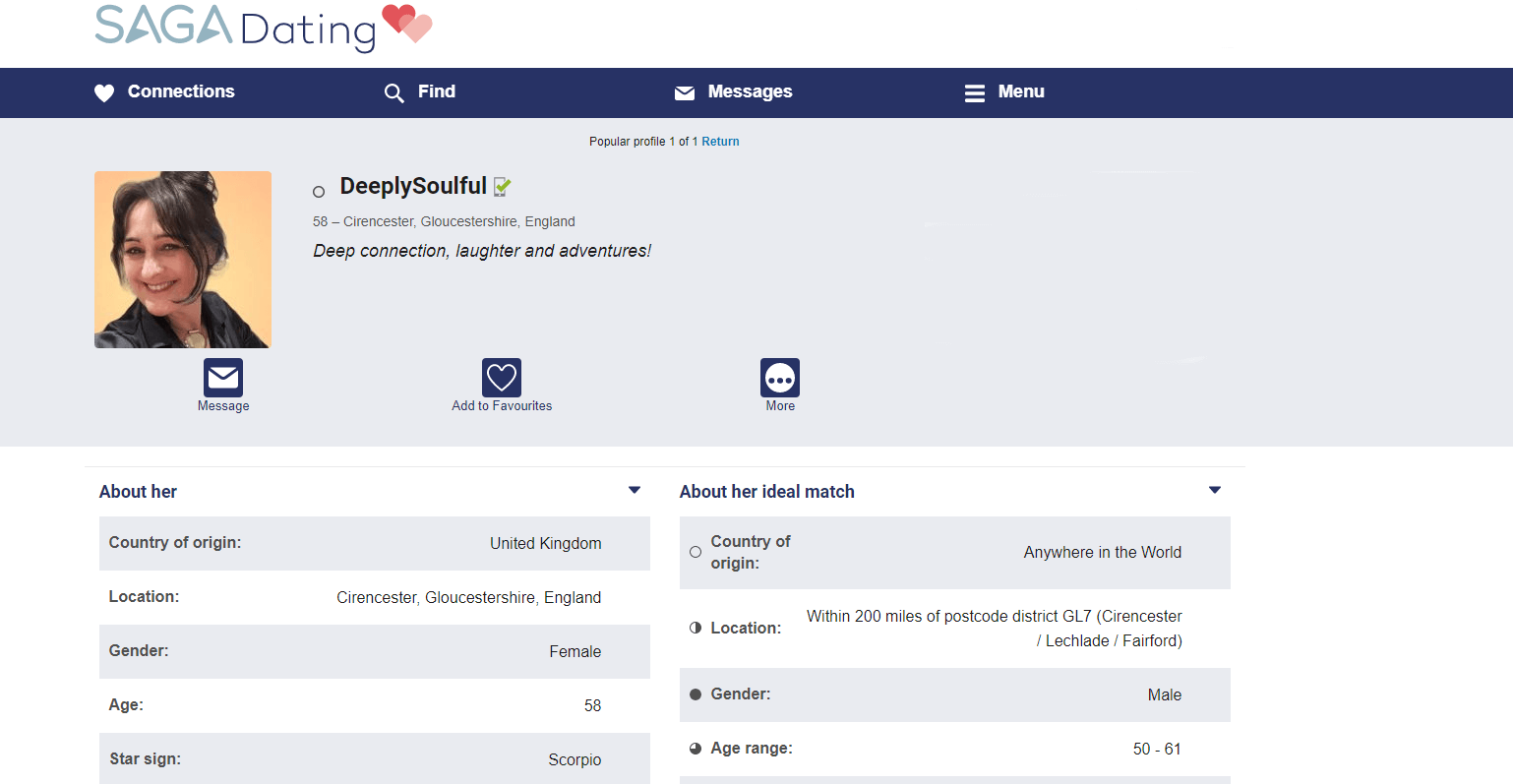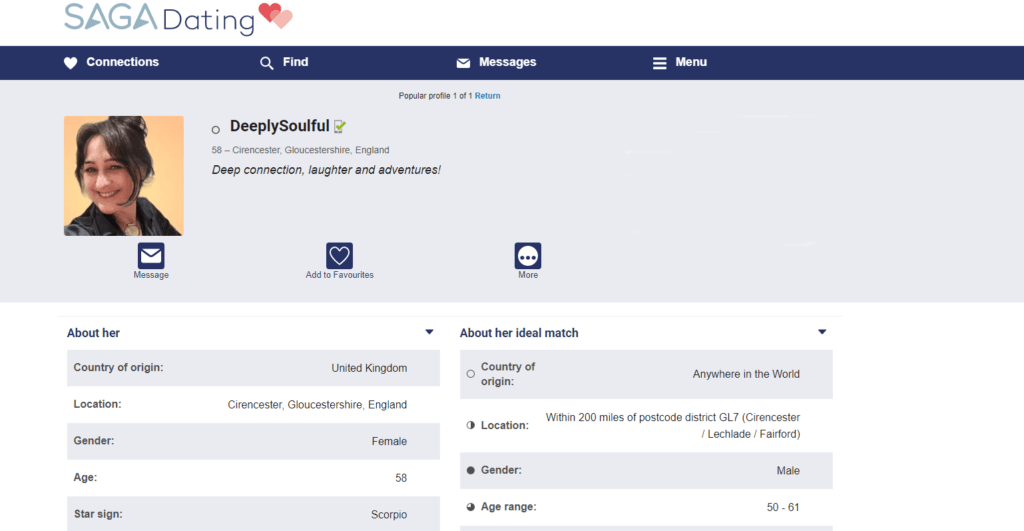 Let's talk about membership pricing.
There are two different packages: Premium and Regular.
The difference is that Premium charges extra to allow any user you have messaged (including those who are regular users) to reply.
There are four monthly membership options for Premium Membership.
1-month: £44.95
3-month: £73
6-month: £100
12-month: £142
You can save £10 on each of these packages if you don't opt for the premium option.
But remember, regular users can't return your messages then.
While membership is pricey, I think with a smaller user base of just 100000 you want to go for the Premium option so everyone can reply to your messages.
But yes, pricing could be lower especially as the key features aren't overly impressive in my book.
You can pay for membership by credit card.


Conclusion and Overall Rating
That's it for our review of Saga Dating.
To summarize, this site has so much going for it but there are problems too.
I love the fact that the profiles are packed with information.
You can really learn so much about a potential matchup before your reach out to them.
Unfortunately, the site is always going to be hamstrung until the user base grows because, at 100000 users, it's not that big at all.
If you are in the United Kingdom, I think you could certainly find joy on this site but elsewhere around the world, you might not find matchups.
Luckily, if the site doesn't have enough users in the country you live in, it will tell you early in the registration process.
Saga Dating gets a score of 3.25 out of 5.
Our Onlineforlove experts studied Saga Dating over an extended period to produce this comprehensive review.
During this process, we identified these criteria to provide an overall score for the site which is used by senior daters.
These criteria include user registration, how easy the site is to use, the quality of profiles and the overall effectiveness of the search tools provided.
The evaluation also focused on the pricing of membership packages, matchup success rate, user base size and key features for members.