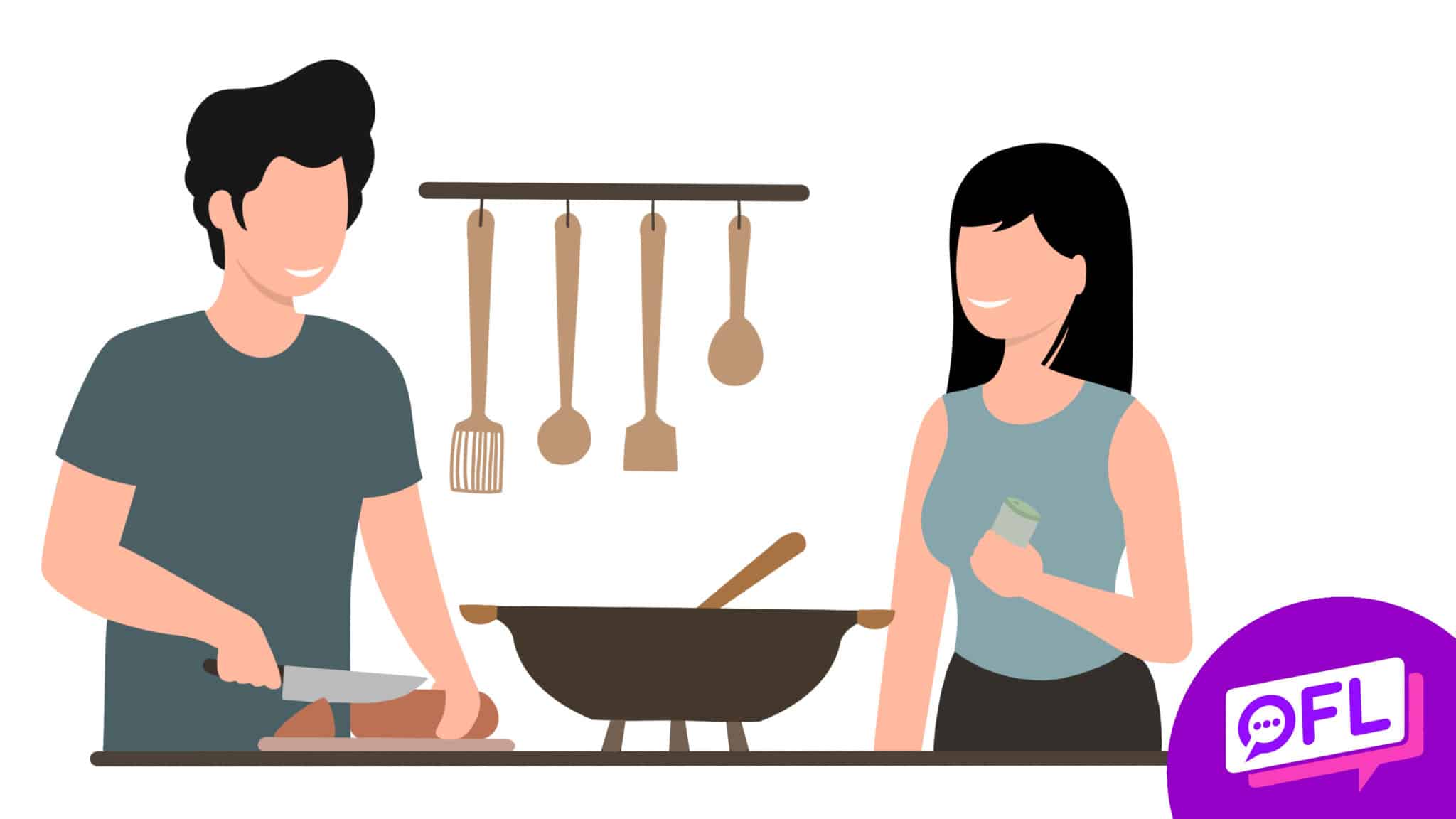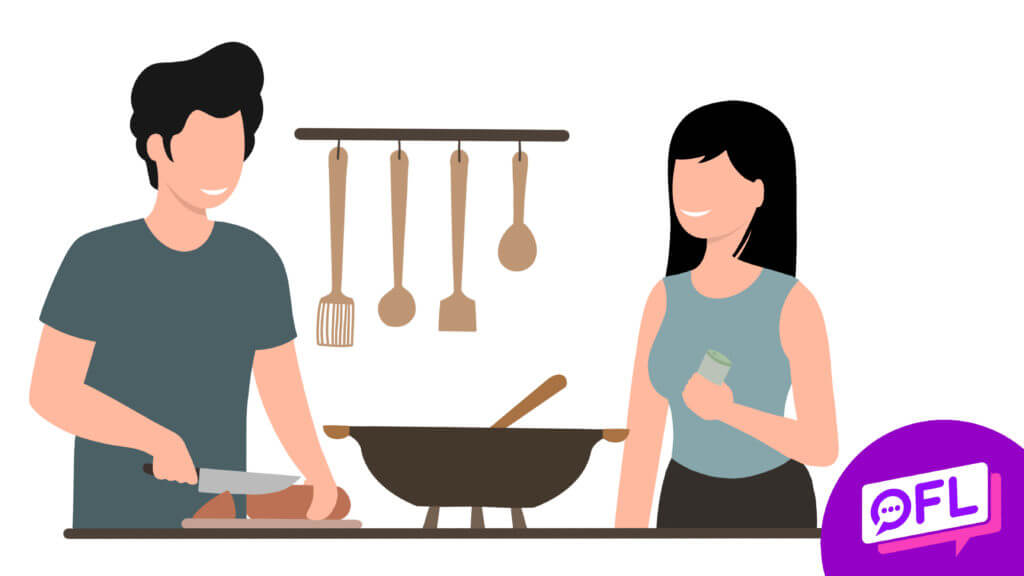 Niche dating sites based around a love of food and cooking?
Yes, they exist!
And while you get niche dating sites that cover a range of different subjects, this isn't one I was expecting.
But if you love preparing food just as much as you love fine dining or a casual meal at home and you'd like to find a similar type of partner, we've got all the right places for you to look lined up in this best cooking dating sites article.
OFL Top Recommendations based on 100,000+ Survey

"Serious Relationships"
"Discreet Hookups"
"Best Course for Men"
"Quick Flings"
"Normal Hookups"
"Our Quiz"
We are going to judge these niche datings sites based on cooking and the love of food on a few parameters:
And then, you can decide whether you'd like to search for love (and good food) using one of them, or perhaps all of them.
Bon appetite!
Is your dating app giving you the best chance for success?
Make sure to take our online dating site/app quiz to find out.
It's a fact that people who follow our dating site suggestions have on average 2 extra dates per month.
4 Best Cooking Dating Sites in Video Form
Audio (podcast) form for those of you on the go
Best Cooking Dating Sites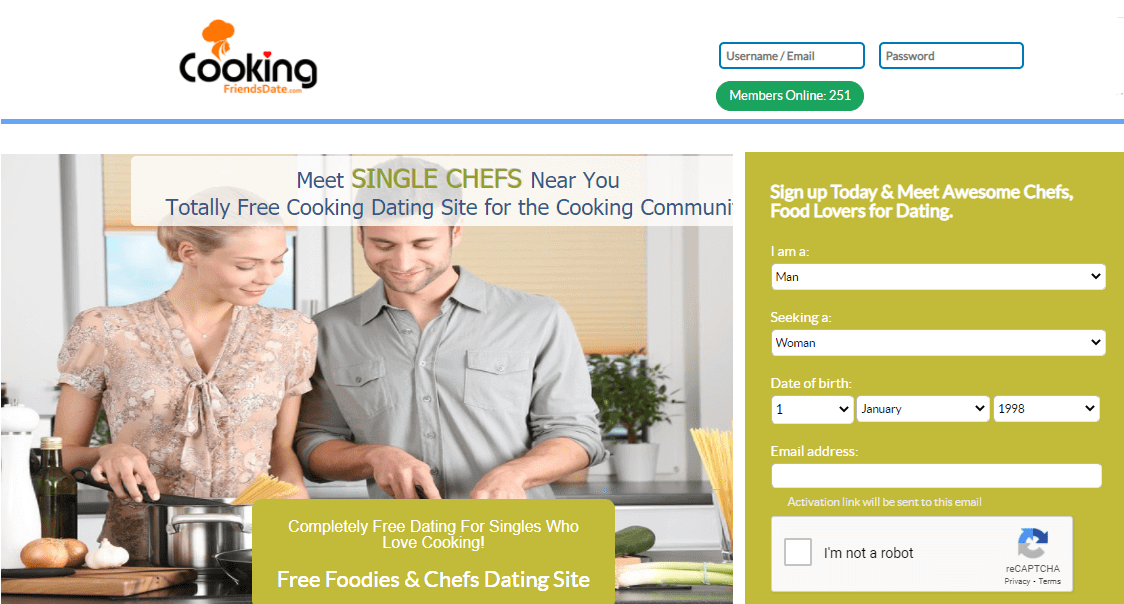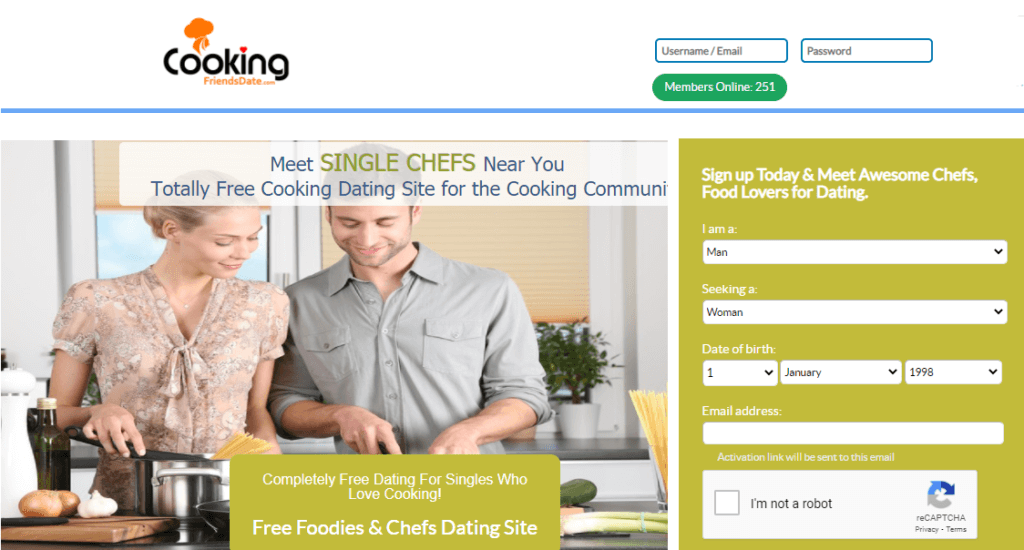 Signing Up – 3/5
Making Contact – 4/5
Profile Quality – 3/5
Overall Quality – 3/5
OFL Top Recommendations based on 100,000+ Survey

"Serious Relationships"
"Discreet Hookups"
"Best Course for Men"
"Quick Flings"
"Normal Hookups"
"Our Quiz"
It's totally free
Quick registration process
Fun to use website
You might not find people located near you due to the small user base
Cooking Friends Dates leads our list of cooking and food-related dating site because it's totally free.
Here is a site that will allow you to find people that love food preparation just as much as you do.
In fact, on the Cooking Friends Dating registration page, those behind the site aren't afraid to call it "the No 1 free chef dating site for cooking lovers".
Advertising bluster or not, Cooking Friends Date's user numbers, while not anything near a commercial dating site, do seem promising.
They also proudly note just how many people are online through a user number counter displayed on the screen, even on their landing page.
But as you would expect with a specialist niche site like this, finding those overall user numbers simply isn't possible.
The same can be said for a gender ratio breakdown although if I had to make a guess after using the site for a couple of days, I would say that more women than men have profiles here.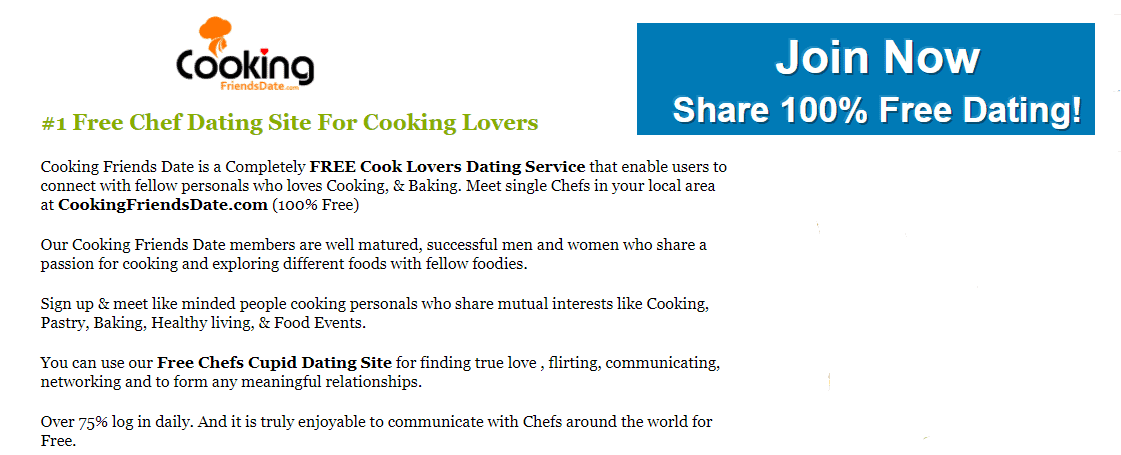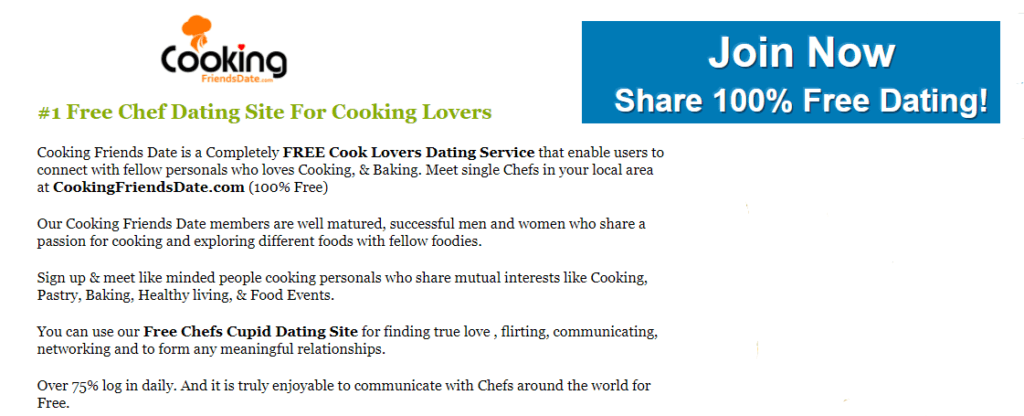 Ease of Use "mobile and desktop version"
A niche dating site like this is never going to have an app, but I am sure that you could have guessed that.
If you'd still prefer to find your perfect food-loving partner while using your smartphone, the site does have a mobile version.
I prefer, however, to register through my laptop and that takes a matter of minutes.
I'm not going to mention the step-by-step process because it's so simple, even for someone who may have never used a dating site before.
Note that if you are gay or lesbian, you are welcome to start a profile on the site.
Also, the registration will include some aspects of your profile such as:
Uploading a profile picture
An "about me" section
What you are looking for in a possible matchup
Access to the site is immediate and you will notice straight away that profiles of users that are near to you are readily available to browse through.
The site itself, while nothing spectacular design-wise, is more than functional and you will navigate using a two-level menu system.
The first menus are those that you will probably use the most.
Here you can access your inbox, edit your profile, launch your own searches and even join food-related groups.
The second level of menus includes a match-up tool, your matches provided by the site, notifications, people you have favorited, a history of profiles you have viewed, liked or blocked and the settings menu.
It's important to know that Cooking Friends Date is part of a network of niche dating sites.
So if you go to the settings, you can check tick boxes of other sites to add even more people to search through.
Just note, your matchup returns won't all then be from Cooking Friends Date but it's a useful thing to do, especially if you are not getting many users in your search returns.
Plus, you can win them over with your cooking, right?
And who doesn't love good food?
Once you've found someone that you'd like to meet and cook for, you can easily send them messages for free using the quick message system at the bottom of their profile.
You could even click the "meet me" button as a way to test the waters and see if they find you as attractive as you find them.
Or add them as a favorite and carry on looking so you can come back later to message them.
Profiles don't hold that much information, but there's enough here to give you an idea about their appearance, education, occupation and more.
Also, you can see when last they logged in.
Cooking Friends Date Cost
Nothing!
Cooking Friends Date allows you to register your profile, search for potential matchups and send them messages for free.
1. Where can I find people that I match with on Cooking Friends Date?
It's so easy.
Simply click on the "Match Me" menu tab to see a selection of people near to you that the site has matched you with.
2. What are groups on Cooking Friends Date?
You can join groups that have already been started on the site that are related to cooking.
It's a great way to meet people with similar cooking interests.
3. Can I upload multiple photos to the site?
Yes, you can.
In fact, it's something that Cooking Friends Date encourages.
You can upload your profile picture and six more of your best photos.
While Cooking Friends Date isn't the biggest cooking dating site in terms of users, it's worth trying out for the fact that it's totally free.
It's also a fun site to play around on and couldn't be easier to use, even for someone who is new to online dating.
For a rating, Cooking Friends Date gets an overall rating of 3.25 out of 5.


Signing Up – 4/5
Making Contact – 3/5
Profile Quality – 4/5
Overall Quality – 4/5
LBGT friendly
One of the oldest vegetarian dating sites on the web
No app
You have to wait up to 36 hours for your profile to be approved
There's no doubt that more and more people are turning to vegetarianism, not only as a way to ensure they keep themselves healthy but also to help save the planet.
And naturally, if they are single, they want to meet people just like them when it comes to dating and long-term relationships.
So that's where a dating site like Veggie Date is a useful tool in finding someone who feels just the same way you do about vegetarianism and is a practicing veggie as well.
Veggie Date isn't new either and it's seen as one of the world's top dating sites for a wide range of exponents of vegetarianism.
This includes vegan, lacto and ovo vegetarians, pescatarians and more.
While it might be the biggest veggie dating site on the net, finding total user numbers wasn't possible.
But that's not too much of a problem because you know that anybody you meet shares your vegetarian beliefs as well.
The site claims that over 400 people per month are joining up, so that is 48 000 new members a year which is promising for a niche site like this.
Considering it's been going over a decade, you would think the membership is well into the hundreds of thousands.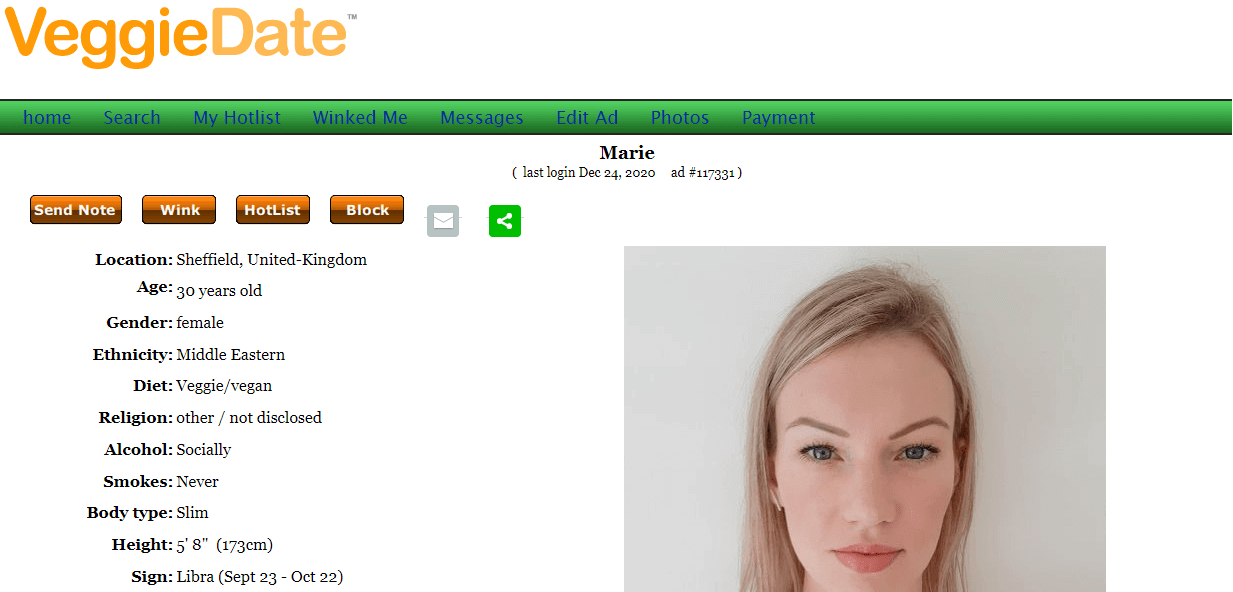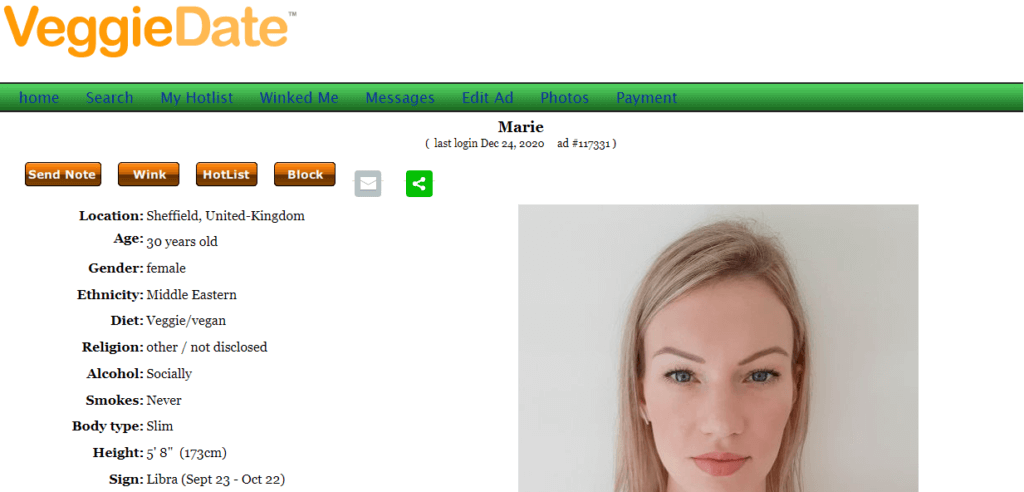 Ease of Use "mobile and desktop version"
So let's talk about Veggie Date and going about getting your own profile on the site.
There's no app at all so you can initiate the registration process on the Veggie Date landing page.
Getting your profile up and running is super simple and you shouldn't have any trouble.
And yes, Veggie Date caters to those from the gay and lesbian community as well as bisexuals.
The registration process for the site does take a little bit of time.
You've got to fill in your profile or personal ad as the site likes to call it.
So what kind of information is needed?
Well, all the dating site basics really, but of course, there are certain questions with regards to your vegetarianism, for example, what type of vegetarian are you?
Here you can choose from few answers for example, vegetarian at home, almost vegetarian, vegetarian, vegan, raw/living food eater or macrobiotic.
You can also select the type of relationship you are looking for which will be displayed on your profile.
I like that, not enough dating sites do this I feel.
Once you've filled in everything – you can't skip a category – you will have to wait for your profile to be approved.
This can take anything up to 36 hours!
For me, that's just too long.
I don't mind dating sites taking time to verify new users as a way to stop fake profiles but 36 hours isn't helping anyone.
Especially when other dating sites can have you online and up and running in a matter of a few minutes.
Once you've gained access to the site, you might be pleasantly surprised as to how effective it all is.
The thing with niche sites is that they often aren't that modern when it comes to design.
And Veggie Dating certainly isn't an up-to-date but it is effective and very functional.
All you need to navigate the site is found in the menus at the top of the screen.
I'm not going to talk too much about these because they are easy to understand.
Searching for potential matchups is going to be your preferred way to find love.
You've got a simple search engine as well as an advanced one that can turn up very specific matchups based on just what you are looking for – if they are out there, of course.
And you can search further afield than your immediate location if that's something that you'd like to do.
Profiles are packed with information thanks to the fact that they were completed during registration.
Find someone you like to chat to and either wink at them or add them to your hotlist to return to later.
You could send them a note as well, which is Veggie Date's term for messages.
I also love the fact that the site takes profile pictures seriously and they take up a large part of a person's profile.
After all, we are generally always attracted to how someone looks first and foremost.
A niche dating site is going to always use membership to help keep it afloat.
So what does Veggie Date charge for membership?
Well, there are four payment options: one month, three months, six months and a one-year membership.
I feel the pricing is excellent too.
Here's a breakdown:
1-month membership: $19.99
3-month membership: $35.95
6-month membership: $45.95
12-month membership: $59.95
Members can message all other users and even non-members can then respond to them.
They can also upload extra photos to their profiles and have access to extra privacy options.
1. What is an ad on Veggie Date?
When Veggie Date refers to an ad, they are essentially talking about your profile.
They aren't the first dating site to do this, although it is pretty rare.
2. Can I upload more than one photo?
Yes, you can upload a profile picture and then two more photos.
However, you have to be a member of the site to do so.
3. I've made a change to my ad/profile but it's not reflecting. Why?
Just like it takes up to 36 hours to approve your profile on registration, any changes can take that long to reflect.
That's because the team behind Veggie Date check every new profile change.
If you are a vegetarian looking for friendship, love or perhaps a long-term relationship with someone that shares your view, then I recommend you start a profile on Veggie Date.
It's got everything that you need, that's for sure and you will find potential matchups if you live in a major metropolitan area.
For me, waiting 36 hours for your profile to be approved or for any change you make to reflect can be improved upon.
As for an overall rating, Veggie Date gets 3.75 out of 5.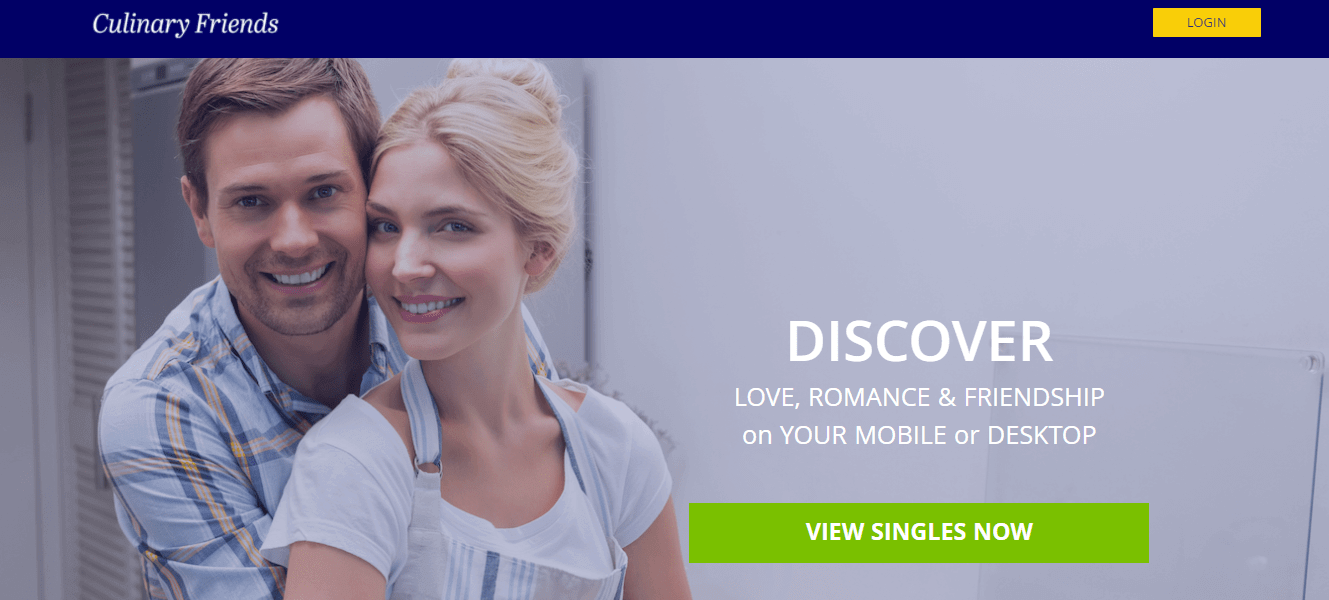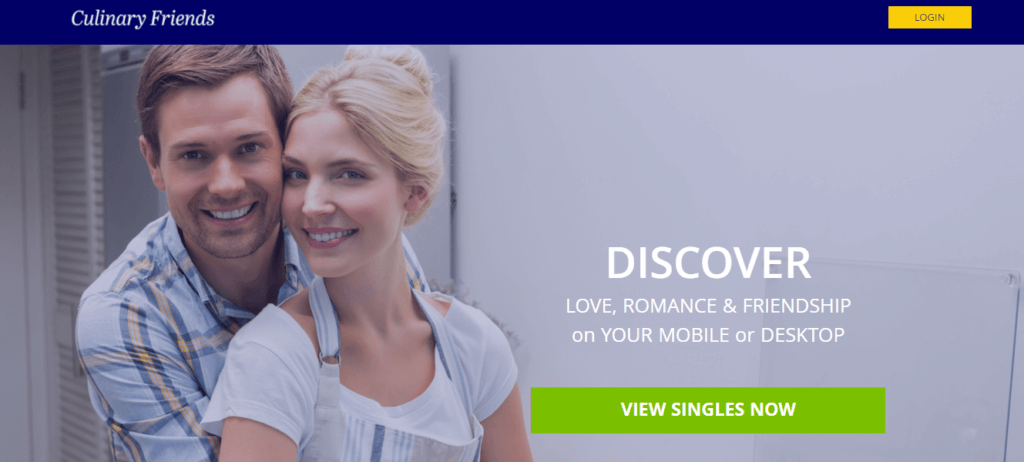 Signing Up – 4.5/5
Making Contact – 3/5
Profile Quality – 4.5/5
Overall Quality – 4/5
Mobile friendly
Part of the Premier Dating Network
Thoroughly modern website
Excellent security features
Lots of extra features for members of the site
Regular users cannot message others
If you love everything to do with the culinary world, from preparing and cooking food yourself to eating out in posh restaurants, then Culinary Friends might just be the dating site you've been looking for.
And it's certainly no flash in the pan niche dating site this.
It's part of the Premier Dating Network who runs dozens of different niche sites.
As for users, well the site's landing page says that you can connect with millions of others that love the culinary arts.
I don't see it to be honest and if you think about it, it just doesn't make sense.
This is a niche dating site based around food.
It's never going to have millions of users.
But it certainly has a fair amount if my research is anything to go by and the site claims that 1 200 people are joining each day.
Whether that's this site or the Premier Dating Network in general, well that's up for debate.
It wasn't possible to get information as to whether there are more female users on the site than males.
But just thinking about this niche, you would think that would be the case.


Ease of Use "mobile and desktop version"
If you'd like to sign up for Culinary Friends using an app, your luck is out.
Thanks to a mobile-friendly design, however, you can still use your smartphone if you'd like.
I chose the website route and the registration process required the following information:
Your gender and what you were looking for (includes LBGT selections)
Your chosen username
Your password
Your location (including country, state and city)
Age
While that gets you access to the site, you will still need to finish up your profile before you can start searching for your perfect culinary matchup.
That means providing a profile headline, details about your appearance, your ethnicity and marital status.
That's just the basics though and although you can use the site now, I strongly suggest you complete it fully.
Simply click on your profile picture on the left-hand side of the screen and fill in all the details that fall under four distinct sections: my introduction, about me, I am seeking and my photos.
I love the profiles on this site.
They are packed with information, just how they should be.
You want to learn as much as you can about a potential matchup before you contact them and the profiles on Culinary Friends allow this.
But what about the site design?
Well, it's amazing actually.
You can immediately see online members of the site on the home page or launch quick searches of your own.
On the left-hand side of the page are all the menus you will use as you navigate.
I love how everything is presented so well and in an uncluttered manner.
Plus there is no in-your-face advertising at all.
You will also find some menus repeated across the top of the screen.
But the menus found here also include links to the search engine and your messages.
Regular users can make advanced searches as well which include extra parameters to help you fine-tune the matchups that come back to you.
While you can add matchups to your favorites or like them, only members can send messages.
You can send a "Let's Meet" request to gauge just how interested they might be in chatting with you.
For membership to Culinary Friends you can consider the following packages:
1-month membership: $24.95
3-months membership: $53.84 ($17.95 per month)
6-months membership: $83.70 ($13.95 per month)
That's not a bad price, I feel, especially when you consider all the extras a member gets.
For example:
Unlimited messaging
Instant messenger
See which users have viewed your profile
Extra search parameters
Highlighting your profile for others
Like photos of other users
Specific match searches
1. As a regular user, can I see who has viewed my profile?
No, you can't.
This is a member-only feature?
2. How can I block someone on Culinary Friends?
You can block them from their profile.
Look for the block button, click on it and follow the instructions that follow.
3. I am always wary to use my credit card online. What security does Culinary Friends feature that can help put me at ease?
Well, other than the fact that they are part of Premier Dating Network, a massive network of dating sites, your payment is encrypted by 2048-bit SSL encryption.
So that should keep all your details safe.
With the backing of a massive dating network behind it, you can see Culinary Friends is the real-deal.
This is a slick dating site with many users and for sure, you can find someone here that loves cooking and food just as much as you do.
Membership is effectively priced as well, although a nice trial membership wouldn't hurt, so perhaps that's something they could consider in the future.
Culinary Friends scores a well-deserved 4 out of 5.
Singles With Food Allergies
Signing Up – 4/5
Making Contact – 4/5
Profile Quality – 4/5
Overall Quality – 4/5
Free three-day trial
Well designed website and so easy to use
Extensive profiles with a lot of information about each user
Very small user based because it's such a specific niche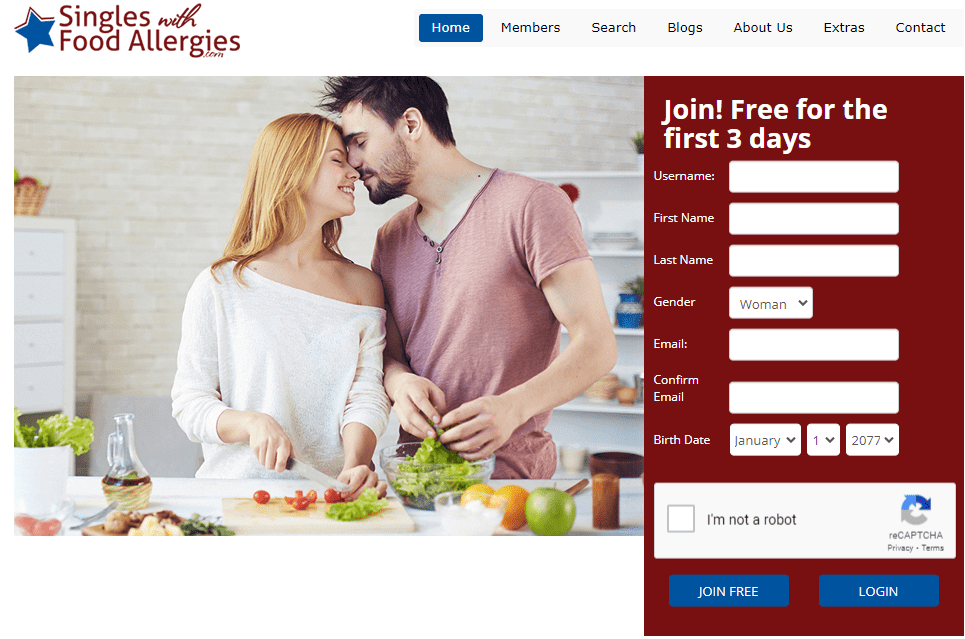 If you want a niche dating site within a niche dating genre, then look no further than Singles With Food Allergies.
Let's not beat around the bush here, food allergies are something that affects many of us.
And it can be a real downer when you are on the perfect date with someone but cannot eat many of the items on a menu because of your food allergies.
So what's the best way to beat that?
Well, date someone with a food allergy too.
And clearly, there's a need for something like this in the online dating world, otherwise a website like this wouldn't exist, right?
It's a site that brings all kinds of people with food allergies together.
And not only for dating.
Perhaps you just looking to hang out with people that suffer from food allergies as you do, or maybe you looking for a long-term partner to share your life with.
It doesn't matter just what you are looking for, Single People with Food Allergies can help you find your ideal match.
As this is such a niche dating site, user numbers are small.
If you not in a large city in a country like the United States, finding a match might be difficult.
But with a three-day free trial and a simple way to delete your account if you don't find someone, why not try and see anyway.

Ease of Use "mobile and desktop version"
Singles with Food Allergies' registration process isn't like most other dating sites.
Sure, it starts off with you providing all the regular bits of information like a username, full name and email address but then you will receive your login details for the site in your email inbox.
Once you received that, you can log into the site and complete your profile.
That won't take too much of your time either, although it's got plenty of information that you will need to fill in.
Around 10 minutes should do the trick.
And of course, part of that is listing just what food allergies you have.
The site is beautifully designed and so functional.
Everything you need is on the screen in front of you including links to a search engine with both regular search and advanced search options.
You can even search according to what kind of relationships people are looking for.
And there are 10 different options here, certainly the most I have ever seen on a dating site.
You can add users as friends, like their profile, send them virtual gifts and message them.
In fact, your first three days on the site are totally free.
Once that period is over, to continue messaging other users, you need to sign up for membership.
Singles With Food Allergies Cost
The amazing thing about Singles With Food Allergies is the pricing of its membership.
There is only one package available but it's only $14.95 per month.
There aren't that many extras other than messaging but you don't really need them, especially at that cheap price.
1. I see there is a blog section on the site. Can I start my own?
Yes, you can if you'd like.
You can also read the blogs that other users have written.
2. Can regular users make use of the advanced search filters?
All users can use both the advanced search filters.
It's perfect for helping you track down the best possible match.
3. How can I contact the admin team at Singles With Food Allergies?
You can easily email them.
Simply send your query to [email protected].
While this is a very niche dating site related to food and cooking, it's a super-effective one.
If you do have a food allergy and you'd like a dating site that caters to you, well, look no further.
And you get to try out the site for three days for free, what more could you ask for?
Singles with Food Allergies gets an excellent overall rating of 4 out of 5.