For many, vanilla sex or serious relationships isn't something that turns them on (like eHarmony or Tinder).
Instead, these kinky individuals are looking for something a little different when it's time to get intimate.
Perhaps they have a foot fetish or are into BDSM and spanking.
Many men want to meet a dominatrix that's into femdom while others want to hookup with like-minded people for roleplay, threesomes or perhaps with those who love sex toys (like BeNaughty or Ashley Madison).
OFL Top Recommendations based on 100,000+ Survey

"Serious Relationships"
"Discreet Hookups"
"Best Course for Men"
"Quick Flings"
"Normal Hookups"
"Our Quiz"
No matter what kink you can think of, these a real-life dating app for it.
These are some of the best fetish dating sites you can find online.
We are going to analyze and assess them to help you find which are going to be best for your particular preference.
Each site will be studied in-depth and evaluated according to:
So if you are looking for the best BDSM dating sites or those that are perfect for fetishists, this is a must-read article.
Is your dating app giving you the best chance for success?
Make sure to take our online dating site/app quiz to find out.
It's a fact that people who follow our dating site suggestions have on average 2 extra dates per month.
Best Fetish Dating Sites in Video Form
Audio (podcast) form for those of you on the go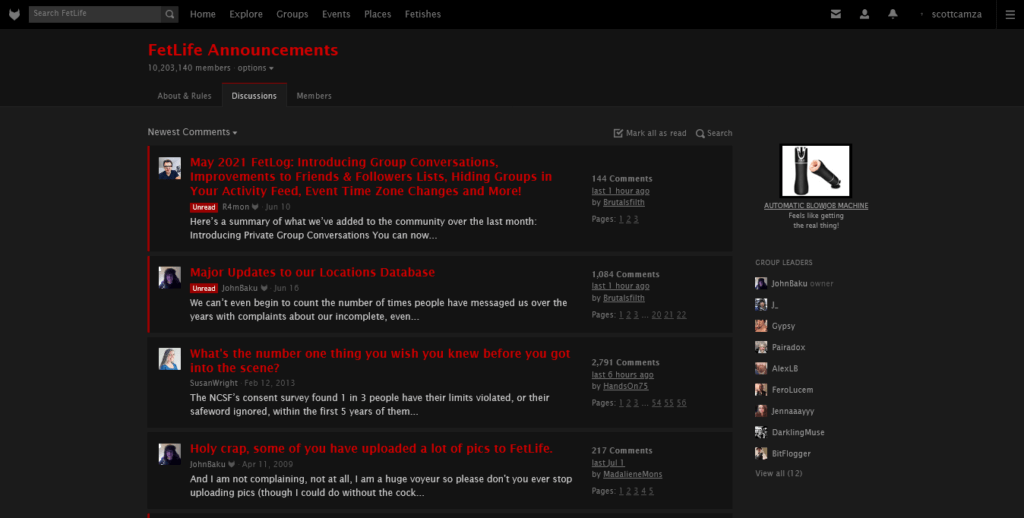 Signing up – 4/5
Making contact – 55
Profile quality – 3/5
Overall quality – 4/5
Covers every fetish you can think of including cuckolds, pegging, foot fetish dating, BDSM fetishes and more
Over 10 million users of which 5 million are from the United States
Messaging is free
The website is a little difficult to use until you understand how it works
No app
FetLife.com is at the top of our list for kinky dating sites because it covers every kink you can think of.
This isn't just a BDSM community but a Fetish porn site too.
Members here aren't scared to post-hardcore pictures and videos of their preferred fetishes and I am not just talking about women in high heels.
But that's something I will get into a little later in the review.
OFL Top Recommendations based on 100,000+ Survey

"Serious Relationships"
"Discreet Hookups"
"Best Course for Men"
"Quick Flings"
"Normal Hookups"
"Our Quiz"
Let's look at some numbers behind the site, another reason as to why it should be near the top of your list as one of the best BDSM websites.
Over the years 10 million kinksters have signed up for FetLife of which 5 million come from the United States.
Around 75% of users are male and 25% female but you will find a small percentage of transgenders and other LGBTQ users too.
Close to a third of users are between the ages of 25 to 34.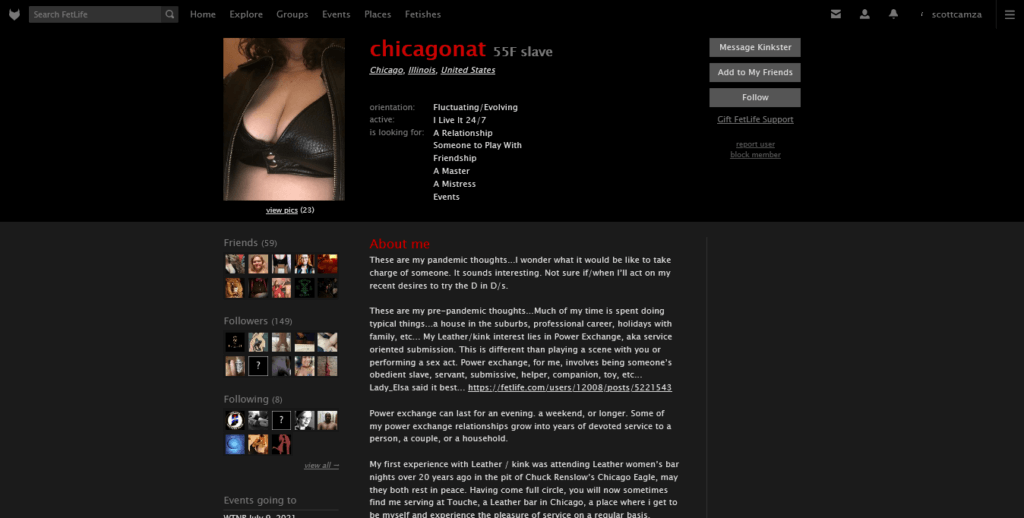 Ease of Use "mobile and desktop version"
While Fetlife doesn't have an option to register using a social media account like Tinder, for example, it does have an Android app.
This isn't found on the Google Play store but you can find the link on the site itself to download the APK for Android handsets.
But to register, you are going to have to do so through the Fetlife website.
I am not going to talk you through that process because it's simple enough.
I want to focus on FetLife itself because it certainly is very different from other BDSM sites you might have used before.
That starts with the fact that FetLife won't present you with matchups at all.
That's probably because it covers so many different kinds of fetishes from sado masochism to paraphilic infantilism and everything in between.
So to use this site, which has social network aspects to it as well, you will need to do a little digging so to speak.
The most powerful tool on the site is groups.
From the moment you join up, you will be asked to join groups that are in line with your interests.
This can be a little daunting at first because there are just so many of them.
Of course, you are free to skip this step first up to check around the site as it is easy enough to come back to those groups and join up later.
To navigate around FetLife, you are going to use the following menus:
Home: This returns you to the homepage where you will see the updates in groups you have joined or other users (or kinksters as FetLife calls them) that you have followed.
Explore: People you have followed and the posts they make will appear under this menu. You can also see videos and pics here as well, although you have to be a member to view them.
Groups: To search through groups to join, click here. You can also see which groups you have joined and easily access them from this menu
Events: Get details for various FetLife events held all over the globe.
Places: Click here to find the city where you live and those FetLife users near you.
Fetishes: FetLife has so many different groups for a wide range of fetishes. You can view them all here.
Messages: All messages you receive can be accessed here.
Friend request: Should you receive friend requests, you will find them here
Notifications: Important notifications that FetLife wants to bring to your attention can be found here.
Besides finding your kink partner using groups, you can also use the search bar you find at the top of the screen.
Say you are looking for groups or people in a certain location, enter the city name in this search bar.
FetLife will show you all kinksters in that area and the groups that are run from that city.
This is certainly the easiest way to find groups to join as well as people to befriend.
And the best news is that when you have found someone, you can reach out for free.
Yes, messaging is totally free on FetLife.
While you don't have to pay a membership fee to use FetLife effectively, it is worth doing so.
That's because you can now access all private user pics as well as videos posted by other members.
And there are millions of them, so if that's your kind of thing, I am sure you are going to want to sign up.
It's not a membership fee either, really, it's more of a contribution to help keep FetLife up and running.
And it's only $5 per month which is nothing really.
Without a doubt, if it's a fetish site that you are after, FetLife is one that you should try out
It's a no-brainer, really.
The site, however, isn't perfect and it might take some time to get used to finding out where everything is.
But that's not a major concern, to be honest.
FetLife really has it all when it comes to fetishes and that's one of the main reasons you should try it out.
It scores 4 out of 5.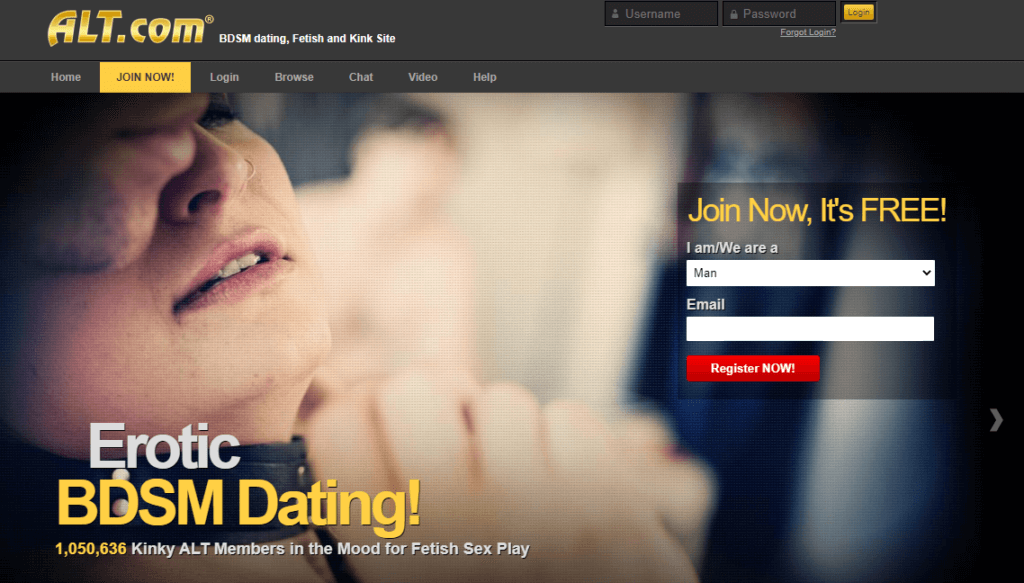 Signing up – 4/5
Making contact – 2/5
Profile quality – 5/5
Overall quality – 4/5
Profiles are packed with information about each user
Excellent search features
Only members can view full profiles
Alt.com is another popular BDSM, kink and fetish site and when looking for sites like FetLife, it ranks right up there in terms of what it provides.
While not as big in terms of user numbers as FetLife, it has well over a million users all over the globe.
Around half a million of these users are American.
One extreme positive about Alt.com is just how busy those users are.
Over 300000 are online at some point over a 30 day period.
That's 10000 per day.
One negative I found, however, is that the gender ratio is even more in favor of men than FetLife.
Here 80% of all users are male with females and members of the LGBTQ community making up the other 20%.
In terms of age range, unsurprisingly 25-34-year-olds provide the most users on Alt.com (around 26%).
But the next biggest group is the 55 and older age range and that's certainly something I wasn't expecting.
But don't worry, age ranges are fairly evenly split, so whatever your preference is, you should easily find potential matchups.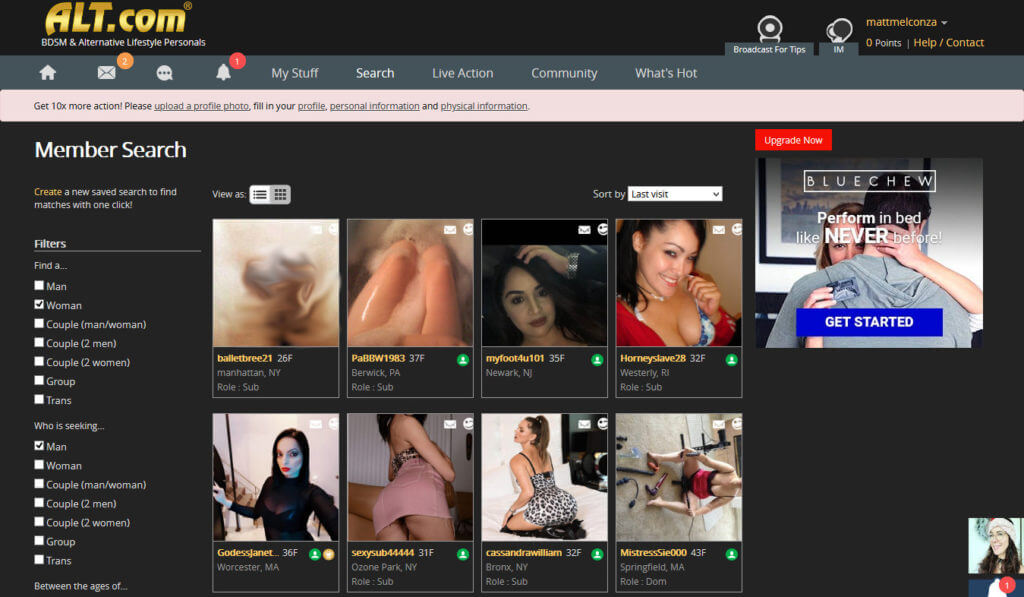 Ease of Use "mobile and desktop version"
To start an Alt.com profile, you will need to do so through the website as there are no apps at all for this BDSM community.
The registration process won't take too much effort and part of it includes completing your profile.
That means providing the following information:
Your sexual orientation
Your body type
Your ethnicity
Your marital status
Your preferred role (for example dominant, submissive, switch)
An introduction title for your profile
An "About Me" section
All-in-all you'll need around 10 minutes before you are up and running on the site.
Don't sign up for membership straight away, although that's the first thing the site will as you to do.
Just click on the Alt.com logo on the main page to close the membership window.
Because your profile is not complete, I suggest that's where you start.
Profiles on Alt.com are packed with information but as a non-member, you can only view some sections of it.
Yes, access to full profiles is for paying members only.
Often, these sites have fake profiles and those running scams.
Alt.com allows users to verify their profiles, showing they are the real deal.
But how would you find users that might be a potential matchup to follow up on?
Well, at Alt.com you are both presented with matchups and you can search for your own.
The matchups will be there on the homepage from the moment you start using the site.
This is based on your gender preference and the age range you indicated when registering.
For me, searching for my own matchups is always more effective, especially with a decent search engine, which Alt.com has.
For a fetish site, however, you probably going to want to be able to search by kink and the site allows that.
There are 100s of different fetishes that feature here and I guarantee that, no matter what you are looking for, you will find it here.
Remember, if you want to see someone's full profile, you will need to become a member of the site.
That counts for messaging too as only they can send any messages to other users.
Along with messaging and viewing full profiles, Alt.com membership brings a few other extras.
These include:
Profile boosting
See user videos
Access to pay-per-view porn videos
So what's that going to cost?
Silver membership
1-month : $19.95
3-months : $35.97
6-months: $99.97
Gold membership
1-month : $29.95
3-months : $59.97
6-months: $149.97
Silver membership is your cheapest option and you can send messages and view full profiles with it, so I would use that starting out.
It's not as cheap as FetLife but it's not badly priced at all.
Today, we are giving Alt.com a rating of 3.75 out of 5.
Without a doubt, it's got plenty going for it and those who are looking for a fetish website would do well to at least give it a try.
While messaging is not free, that's often a member-only privilege on dating sites.
I don't like the fact that users can only see the full profiles of others if they become a member.
I am not sure why it's important to hide profiles away from other users.
If you let them see full profiles, they might find a reason to actually sign up to message someone.
That's one area I feel the site could improve.

Signing up – 4.5/5
Making contact – 2/5
Profile quality – 4/5
Overall quality – 4/5
An all-inclusive website where anyone can sign up for a profile
Covers every kink you could think of
Allows for couples signup if you looking for a kinky threesome
Full profiles can only be viewed by paying members
With three million users around the globe, BDSM.com is one of the biggest BDSM communities online today.
The site has around 340 different kink groups for users to join.
Before we get into how it operates let's look at a few more demographics behind it.
Around half-a-million users are American
A quarter-of-a-million users are active on the site each month
The gender ratio is 60% male and 40% female
25% of users are between the ages of 25 and 34 years old
When you compare BDSM.com to FetLife and Alt.com, it has a better user ratio in terms of male and female numbers being closer together.
And that might be a reason why people try it out.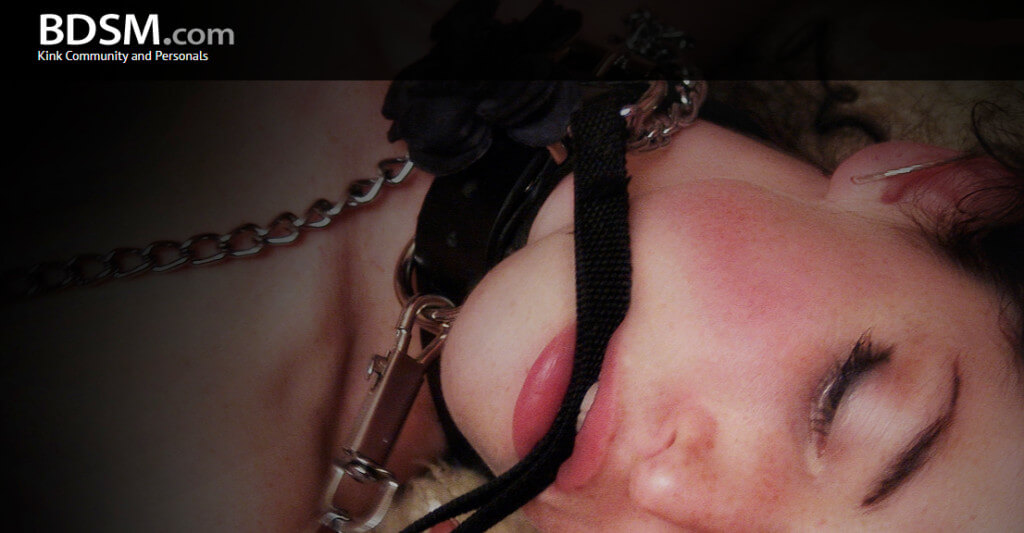 Ease of Use "mobile and desktop version"
BDSM.com is literally for everyone.
It covers all of the LGBTQ gender options and even couples can sign up for a profile on the site.
The registration process is pretty simple and includes parts of your profile.
Don't forget to do the rest at some point.
Overall, you won't have too much trouble finding your way around the site.
In fact, there is no need for me to explain anything about it from that point of view.
To find matchups, look through those the site provides for you based on your registration information.
You can search for your own as well but non-paying members have a search engine with limited parameters.
You'll also immediately notice that just like Alt.com, you can only view partial profiles.
While there are chat rooms for non-paying users to frequent, if you want to contact someone, you are going to need to message them and that's for paying members only.
Regular users can broadcast through their webcams which certainly adds a voyeuristic appeal to the site.
If you'd like to access a more advanced search engine where you can search specifically for a certain kink you must buy into a membership option.
That also allows you to watch other users' web shows, send friend requests to other users and more.
No doubt, most people are going to want to be able to message other users or at least see their full profiles.
But how much will membership cost you?
There are a few packages at your disposal on BDSM.com.
The top tier of these is Gold membership and which allows you access to all membership features.
It's on par with the prime membership option offered by Alt.com.
Here's what it will cost:
1-month – $29.95
3-months – $59.97 ($19.99 per month)
6-months – $149.97 ($12.50 per month)
Silver membership is cheaper.
1-month membership – $19.95
3-month membership – $35.97 ($11.99 per month)
6-month membership – $99.97 ($8.33 per month)
Again, that's the month-to-month option is the same price as Alt.com.
But I can clarify that it's not as cheap as FetLife.com
Just like Alt.com, it annoys me that regular users can't see profiles.
It's really something the powers that be behind the site should change.
Other than that gripe, this is an excellent dating site if you want to find a BDSM community or others that are into the same kind of kinks that you are.
From a pricing point of view, as a niche site – which often means pricey membership – BDSM.com offers a month-to-month membership option for under $20.
That's well worth it in anybody's book, right?
So let's get to a rating then.
Today, BDSM.com scores 3.6 out of 5.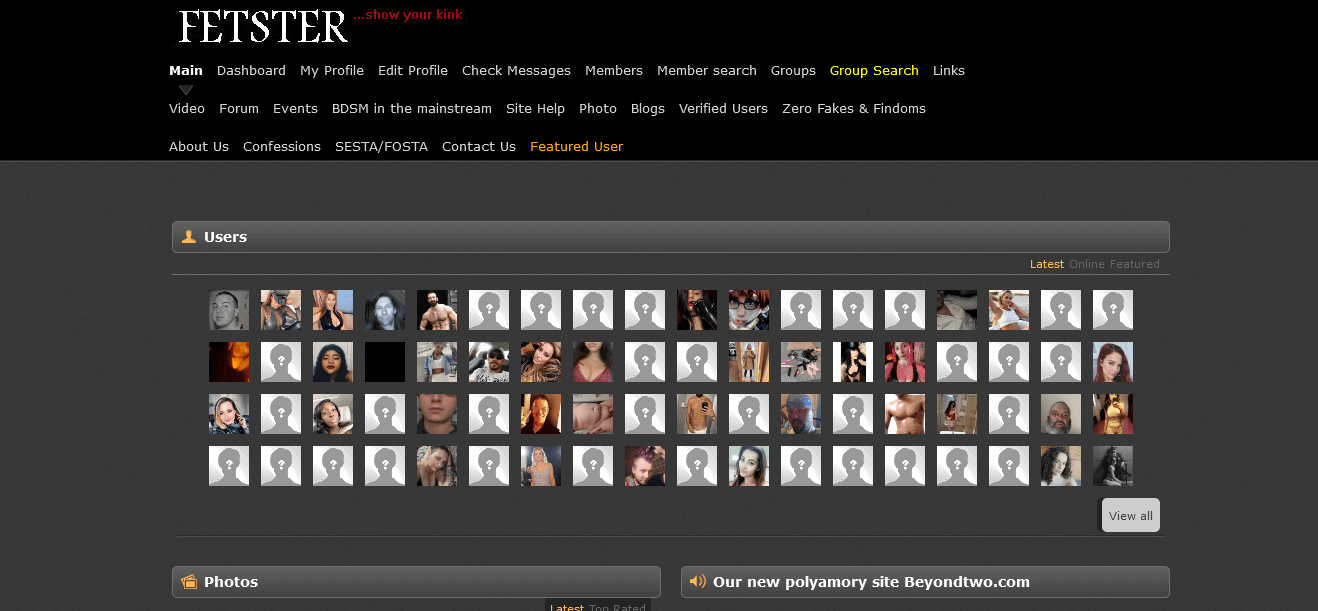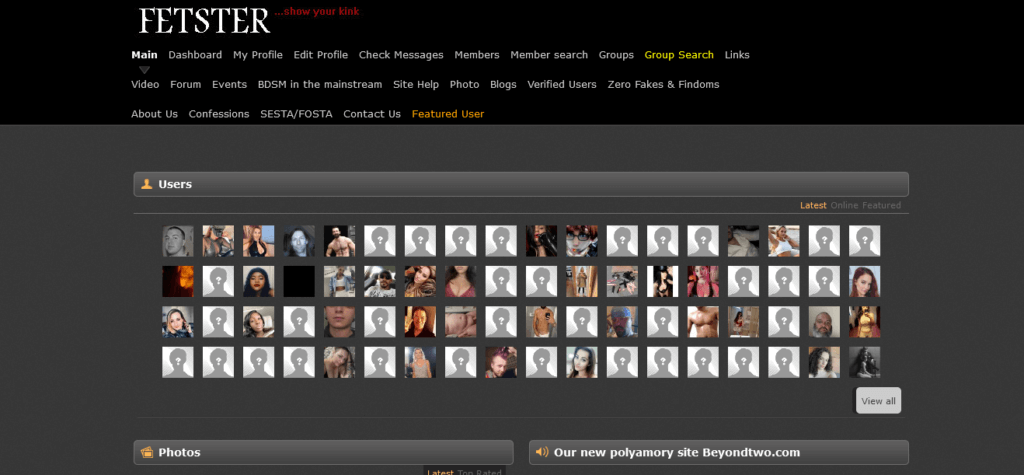 Signing up – 3/5
Making contact – 5/5
Profile quality – 4/5
Overall quality – 4/5
It's free to use
Profiles are packed with information
The advanced search engine can help find very specific matchup types
Some fake profiles can be found here
FetSter is a little different from the other BDSM dating sites we've covered because it's free.
In terms of demographics, well they make no mention of just how many people have signed up for the site.
After extensive research, I couldn't find a number either but I would guess the site is extremely busy from what I found while using it.
It is free, of course, and that's going to attract people, no matter what.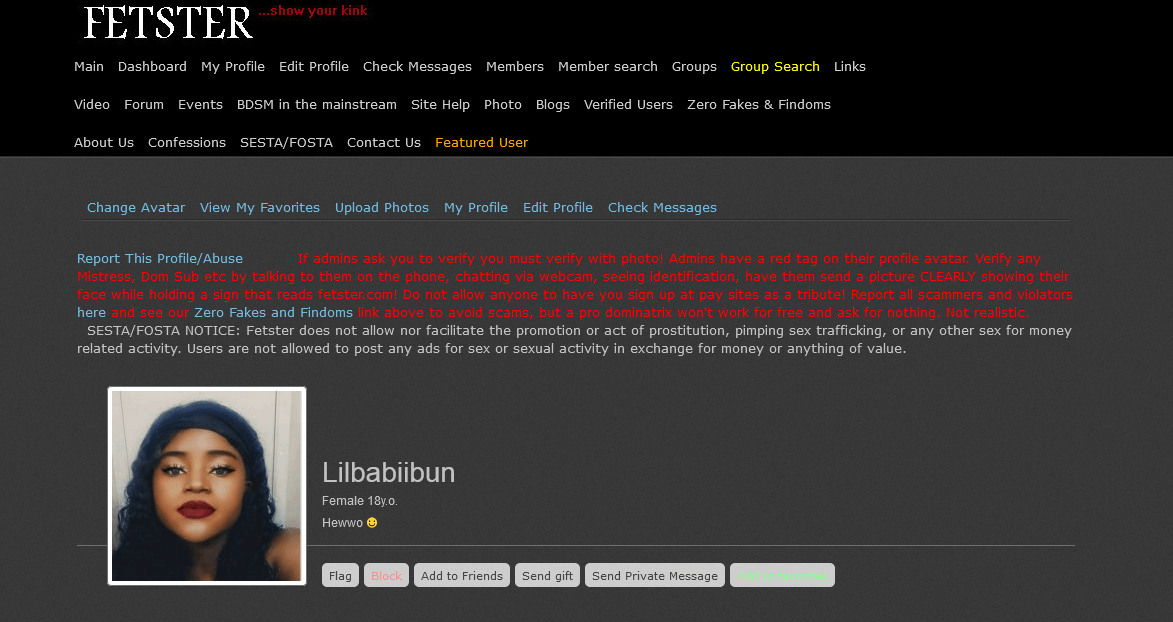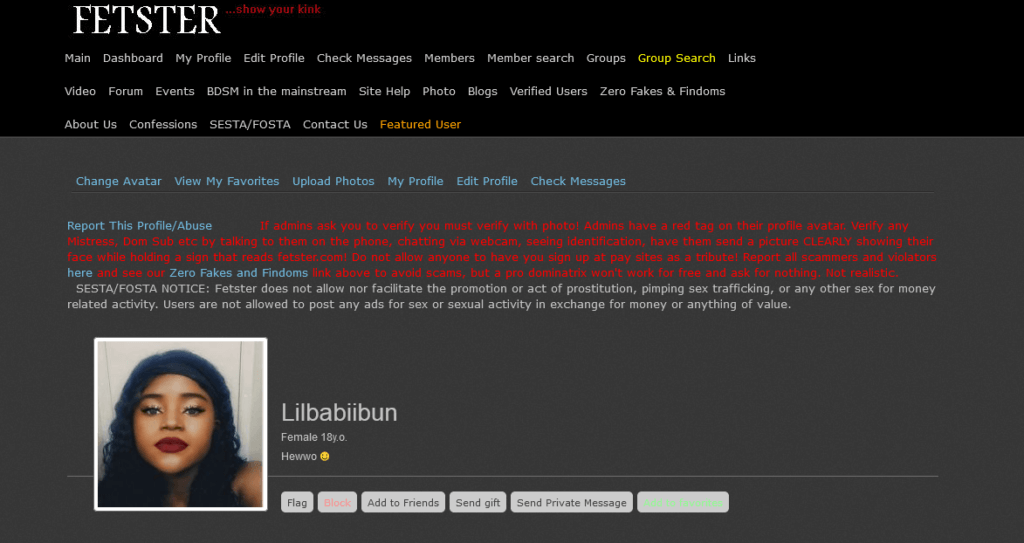 Ease of Use "mobile and desktop version"
FetSter has an extensive sign-up process and truly is a site for anyone.
After providing the necessary admin details like email address and user name, FetSter wants as much information about you as possible.
This includes:
Gender (12 options to choose from)
Sexual orientation (7 options to choose from)
What you identify as (16 options to choose from including dominant, submissive, switch, slave, etc.)
What kind of relationship do you want and what you are seeking
Following that, you must complete your full profile as well before accessing the site.
It's extremely in-depth and you will need to set aside around 15 to 20 minutes.
Despite that it takes pretty long to complete, I was most impressed by the depth it went to, especially as this is a free site.
FetSter gives you profiles to look through on the homepage and these will be close to your location if there are users near you.
Of course, it provides a platform for you to search for your own and that's where the site shines because you are allowed to use all those specific profile parameters if you'd like to.
Once you've found someone that you'd like to reach out to, you can simply send them a message from their profile.
And it's totally free to do so.
You can even send some virtual gifts for free if you'd like to.
Lastly, FetSter has groups too, just like FetLife and Alt.com
There are hundreds of them, covering all kinds of kinks and you are welcome to join up to chat with like-minded people or create your own even.
There is no cost involved when it comes to using FetSter.
You won't have to pay sent to register, search, view profiles or send messages or gifts.
It's free, so if money for membership was a problem on the other sites I've mentioned, FetSter would be the first site I would try out.
While the site itself is a little dated when it comes to design, it really isn't difficult to use
Profiles are comprehensive and by looking through them, you can easily tell what it is a person is looking for as a kink or in a relationship.
Backed up by an excellent search engine and free messaging, I do not doubt that FetSter can help you find what you are looking for.
But do be careful of scams and fake profiles.
With the site being free, it's more likely to attract them, although FetSter admin does a great job in trying to keep them out.
FetSter gets a rating of 4 out of 5.
The review team of Onlineforlove evaluated four fetish sites to see what they offer users.
They were vigorously tested over a long period of time.
This process was based on numerous critical factors to help score each site and then provide an overall rating.
The rating for each site was based on
Ease of use
Search options
Messaging
Pricing
Key features
And more