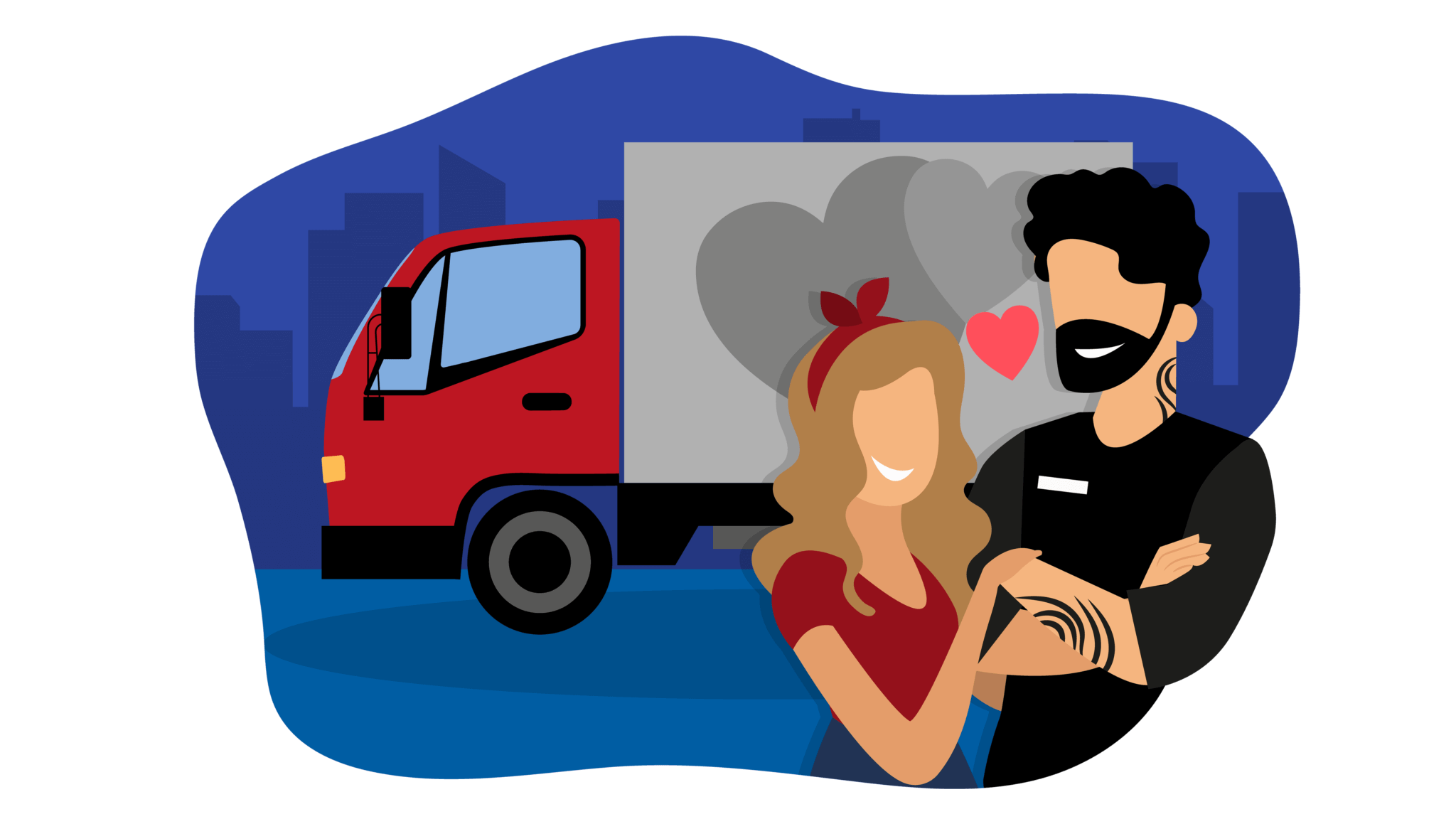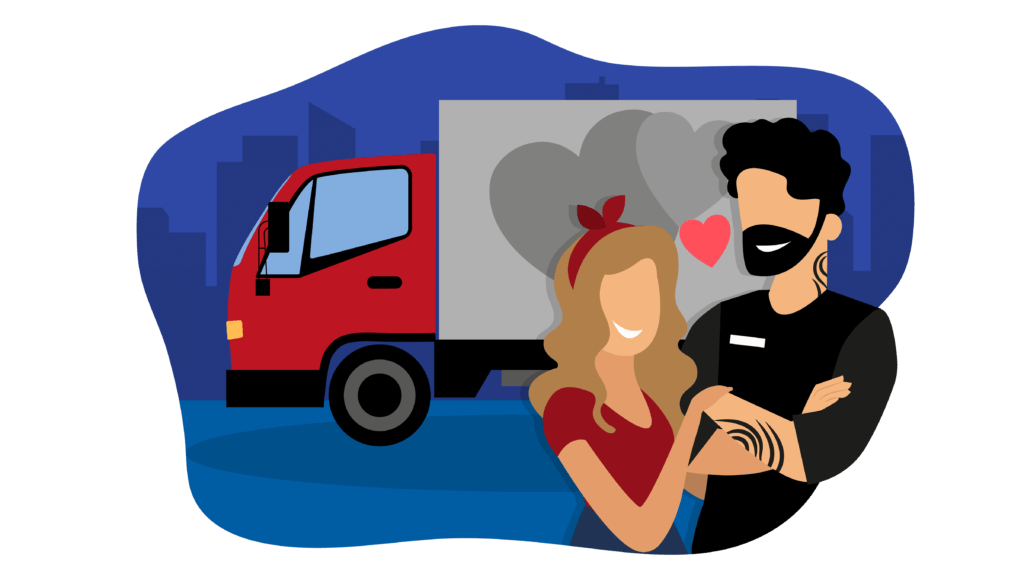 Ten-four, good buddy!
Yes, even truckers need love and thanks to the internet, there's plenty of niche dating sites and even apps to help them find it.
And that's what today's article is all about.
We are going to put the four best trucker dating sites or apps through their paces and judge them according to the four main points.
OFL exclusive offers - Check all of them

"Serious Relationships"
"Discreet Hookups"
"Best Course"
"Quick Flings"
"Normal Hookups"
"Our Quiz"
You'll learn so much more about each site that will help you make an informed decision as to which is best considering that they are not your regular hookup sites (like BeNaughty or Ashley Madison) but tilt towards regular dating sites for a serious relationship (like Tinder).
So what are you waiting for?
Let's get the big rig rolling!
OFL exclusive offers - Check all of them

"Serious Relationships"
"Discreet Hookups"
"Best Course"
"Quick Flings"
"Normal Hookups"
"Our Quiz"
Best Trucker Dating Sites
Is your dating app giving you the best chance for success?
Make sure to take our online dating site/app quiz to find out.
It's a fact that people who follow our dating site suggestions have on average 2 extra dates per month.
Best Trucker Dating Sites in Video Form
Audio (podcast) form for those of you on the go

Trucker Dating: Meet Truckers App
Signing up – 3/5
Making contact – 3/5
Profile quality – 3/5
Overall quality – 3/5
Dedicated to truckers and those who might like to date them
You can be online in 2 minutes of having downloaded the app
Simple to use
Not the biggest user base
First up in our list of potential trucker sites is an app.
This is available on the Google Play Store but not yet for Apple devices.
Of course, with this niche group, the user base is always going to be pretty small but you probably could have guessed that right?
I mean, it's only really for truckers or people that want to date truckers.
But here's a few ideas of just how many users we are dealing with.
If we look at the stats for the app on the Google Play store, it has been downloaded around 50 000 times.
While that's not a lot, you are safe in the knowledge that it's not going to be an app that a regular Joe is going to download and forget about.
I am pretty positive that those 50 000 downloads are by people who are interested in trucker dating and while it might be a low number, it's something to work with.
Also, as truckers are constantly on the move, the problem of low user numbers isn't going to be of the same magnitude as someone using a dating site who stays in the same place.
In other words, you can look for potential matchups in the destinations you often travel to.
And that's a massive advantage.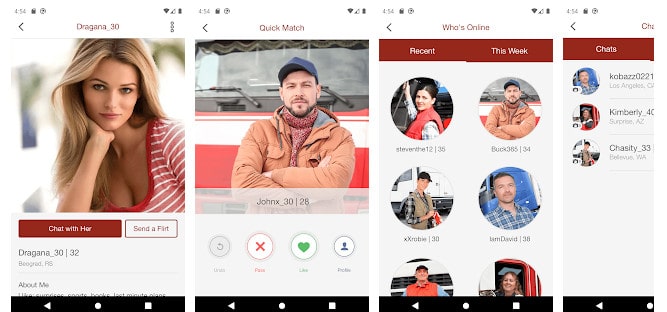 Ease of Use "mobile and desktop version"
Once you've downloaded the app off the Google Play Store there are two ways that you can register.
First, you can choose to use your Facebook account.
Secondly, you can opt to signup using a valid email address.
That means you have to provide the following bits of information:
Your gender
The gender you are seeking (and yes, gay and lesbian truckers are more than welcome)
Your location
Your age
A username
Email address
Password
And that's it.
Once you log into the app for the first time, you are immediately provided with matchups that are based on your age as well as your location at that point in time.
If you like someone that you see, simply like their profile.
A like back from them means the pair of you are a mutual match and that allows you to send messages to each other.
If you'd like to message other users, however, you'd need to sign up as a member.
But what about if you move to another location?
Well, simply click on the "Who's online" button to bring up other users that might be near you.
It really is that simple to use.
Trucker Dating: Meet Truckers Cost
While it is possible to use the app without paying, provide you are able to secure mutual matches, you might want to consider membership at some stage.
Other than the ability to message anyone at any time, membership also brings other useful features.
These include:
More flirts
See who viewed your profile
Undo miss-swipes
Private mode
But what's the cost of this membership?
1 week trial – $6.99
1 month – $29.99
3 months – $39.99
The best place to start if you'd like to give membership a try is through the week trial.
That's ample time to see if this app will be worthwhile for you.
1. Is Trucker Dating: Meet Truckers available for Apple devices?
No, it's not.
If you'd like to find your trucker mate on Trucker Dating, you will need to download the app from the Google Play Store.
2. Does Trucker Dating: Meet Truckers allow me to sign in using my social media account?
Yes, it does.
You can sign in using your Facebook account to get on the app even faster.
As a trucker, you might prefer a handy app over having to deal with a website in your search for love.
And that's what Trucker Dating: Meet Truckers brings to the party.
It's simple to download and register a profile on and also so easy to use.
Move to another town during your journey and use the "Who's online" feature to find other users near you.
It gets an overall rating of 3 out of 5.


Signing up – 4/5
Making contact – 5/5
Profile quality – 3/5
Overall quality – 3.5/5
It's free
You can search by matchups by location
Includes a free matchup game
Some inactive profiles
Small user base
Trucker Friends Date is a dating website that's also aimed specifically at truckers.
Like most niche dating sites, it claims to be the biggest trucker dating site on the net.
Well that may be the case, they don't announce any kind of user numbers for their site anywhere, so I guess we are just going to have to believe them.
Those behind the site say it's not only about helping male and female truckers find a potential partner or perhaps a casual hook up, they also bring truckers together who share similar interests.
So that's the site in a nutshell.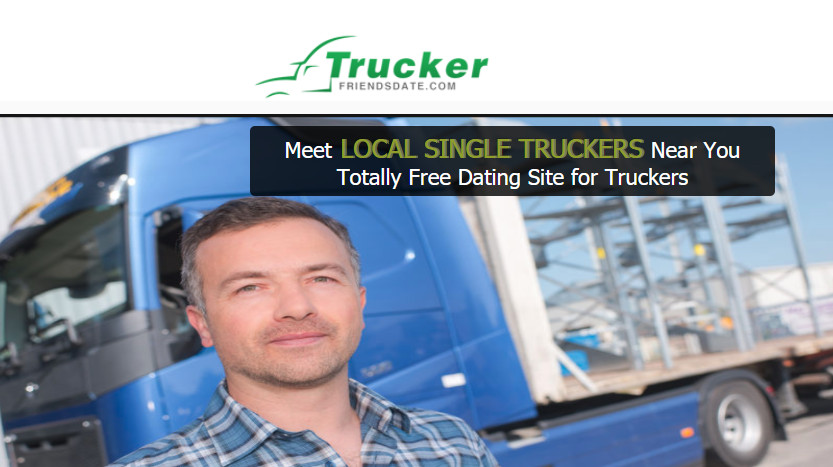 Ease of Use "mobile and desktop version"
While Trucker Friends Date doesn't have an app, it is configured to be mobile-friendly.
And that's a real advantage for truckers, that's for sure.
If you have the time however, perhaps while having a nice cup of Joe at your local diner, you can haul out your old laptop to start the registration process.
And you don't need much time either.
Within a few minutes, you have will a fresh profile on the site as you start to look for potential matchups.
But before we get to that, let me talk you through the registration process.
It's no different from other dating sites to start with.
So you are going to have to provide your gender, the gender you'd like to match up with (the site is gay and lesbian-friendly), your date of birth, and your email address.
Then you need to set aside some time as you fill in parts of your profile as well as other critical information like:
A username
Password
Location
Age range you'd like to date
Profile picture
A bio (it must be 10 words or more)
What you are looking for in a match up (also 10 words or more)
Your appearance parameters
Background and values
Lifestyle questions
You won't need to verify your email to access the site but you must have a profile picture.
Trucker Friends Date is well designed with a predominantly white and blue color scheme.
You will immediately be presented with matches in your area but before we get onto that, I want to talk about finding your way around the site.
One of the things you will notice is the two rows of menus across the top of the screen.
The first row includes:
Inbox: Here you will find your messages
Home: This is the main page of the site with matches in your current area
Edit profile: You can edit your profile here
Search: Launch searches for new matchups here
Reviews: Read reviews of the site
Cams: If you like some live cam action, you can find it here
Countries: You can search for members by specific countries
The second row of menus includes:
Match me: A roulette-style match up game
Members online now: See who is online currently
Notifications: All your notifications are found here
History: Here you can see a list of the profiles you have viewed, liked and blocked
Favorites: Profiles you have favorited can be found here
Settings: Change settings here
Logout
That's quite a menu system but although there are many of them, each has a distinct function that I am sure you will use from time to time.
Of the menus, I want to talk specifically about the Search option.
This provides a number of parameters for you to adjust for each search.
You can search by gender, age-range but most importantly, location.
Why?
Well, say you have a big trip coming up with lots of different towns as stops.
This allows you to search ahead to see if there are potential matchups that you can meet along the way, right?
But what about contacting someone you come across?
Well, you can send them messages through their profiles.
It's a little clunky, to be honest, but most importantly, it's free!
Trucker Friends Date Cost
There are no added membership extras on Trucker Friends Date.
At this point in time, you can use the site for free.
That includes launching unlimited searches, playing the match-up game and also messaging other users.
It's all free.
1. I've found my trucker matchup. How do we now delete our profiles off the site?
It's easy.
Click on the "Edit Profile" menu and you will immediately notice the "Delete My Profile" button.
Click on that to remove your profile for good
"Match Me" is a roulette-style matchup game where you either pass on a fellow user or like them depending on their profile picture.
If they like you back, then you are a mutual matching pair.
Today, Trucker Friends Date scores 3.8 out of 5.
While it doesn't have the biggest user base, it allows for free messaging and the ability to look for potential matchups in different locations.
That's invaluable for a trucker.
On the whole, the site not only looks good but it's super simple to use.
What more could you want?


Signing up – 4/5
Making contact – 3/5
Profile quality – 3.5/5
Overall quality – 3.5/5
Trucker chat rooms
Access to live cams
One of the bigger trucker dating sites in the United States
A small but growing user base
Messaging is not free
As of 2018, Trucker Chat City has around 12 000 members.
Where that stands now, almost three years later is anybody's guess but at the time, it was one of the biggest trucker dating sites in the United States and I am sure it still is.
Getting current user numbers, a gender breakdown of users as well as the most popular age ranges simply wasn't possible, despite some digging on my part.
All you do need to know there are many truckers who use the site as well as people who want to date them.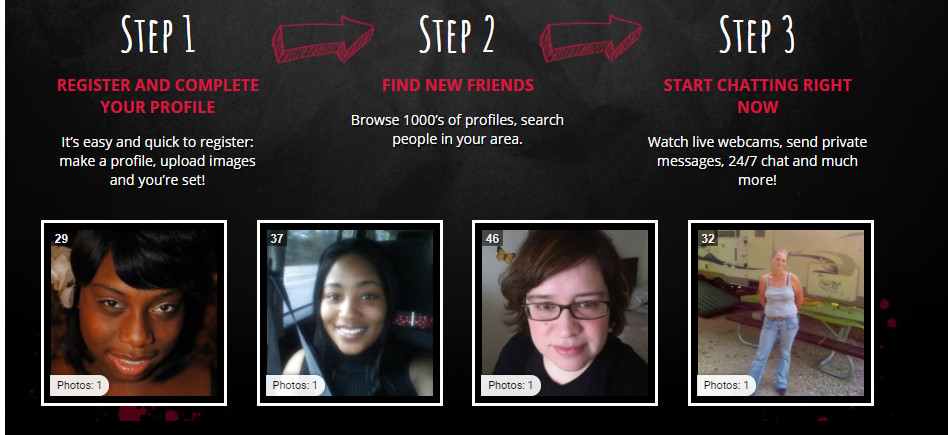 Ease of Use "mobile and desktop version"
Trucker Chat City is certainly a little different, that's for sure.
Before we get into how it operates, let's take you through site registration first.
The steps you will follow are similar to the sites we have already covered.
So you are going to have to give your gender as well as the gender you want to meet.
Next up is your age, your location and your chat handle (username).
Finally, it's your email address and a password.
You can also check a box that will allow you to search profiles on an affiliate site (Truckers Near Me) and puts your profile there too.
Some people may not like to do this but I feel it opens a bigger scope of matchups.
And then you are going to have to wait for your application to be approved which can take up to 24 hours.
Once you are on the site, however, it's so simple to use.
First, I want to talk about the neat design.
The site is predominantly black and red and you will immediately notice the menus at the top of the screen.
The most important is the search menu as that's going to help you find the matchups you are looking for.
If you want to chat with them, however, membership of the site will be needed.
Because you will need a membership for effective ways to communicate with others, let's take about just how much that's going to cost you.
Please note, Trucker Chat City these prices are converted into dollars from another currency used in my country so they might be slightly different.
5-day trial – $7
1-month – $44.99
3-months – $69.99
12-months – $144.99
Obviously, you should start with the trial as within those five days, you will be 99% sure if this is the site for you.
And make sure you use it thoroughly during the trial period so you can make an informed decision.
The one-month membership is expensive but then the three-month option is a little over $23 dollars a month, a massive saving indeed.
Ultimately the decision on the type of membership option is best lies with each individual.
Only you will truly know what you can or can't afford.
1. Does Trucker Chat City only have messaging or are there other ways to talk to other truckers?
No, it's not just individual messages that form the basis of communication at Trucker Chat City.
There are chat rooms as well and there are pretty active.
You are free to register for a profile and search for potential matchups.
To message them, however, you will need to become a member of Trucker Chat City
Today, Trucker Chat City gets a solid 3.5 out of 5.
It's an established trucker dating site that's got a smallish but active and growing user base.
There are lots to like about the site including the design and just how simple it is to use
But you are going to have to consider membership to message anyone effectively.
Luckily, you can make use of the 7-day trial period to really give the site a thorough check before you have to jump into that decision.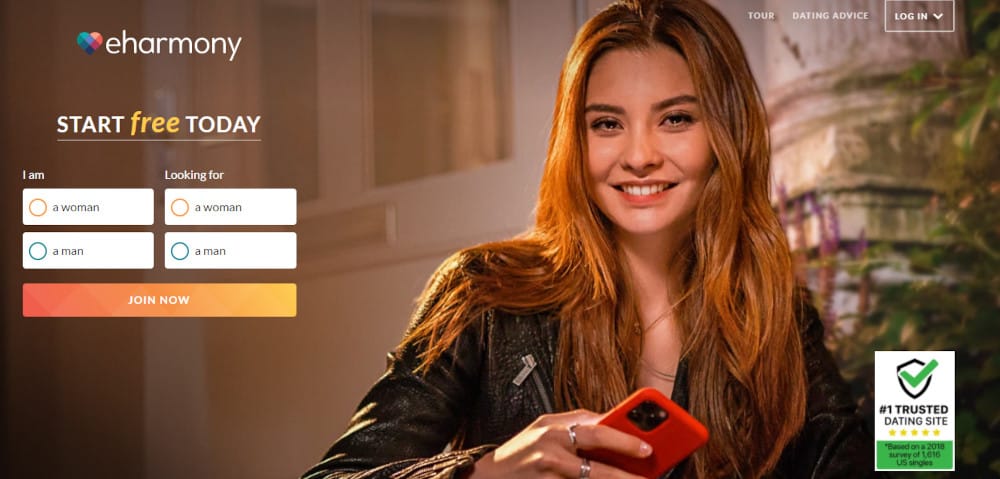 Signing up – 4/5
Making contact – 3/5
Profile quality – 4/5
Overall quality – 3.7/5
This is the perfect site for truckers because you can search for matchups by location
It has an excellent matching algorithm
Registration takes plenty of time
Profile parameters cannot be used as a way to search for matchups
eHarmony is one of the biggest dating sites in the world.
But why would we suggest it for truckers?
Well, there are a few reasons that I will get into later one.
For now, let's look at some of the unbelievable figures behind this dating site.
There are around 10 million users
Over 2 million people have found their significant other using the site
Over 2 million messages are exchanged each week
51% of the users on eHarmony are male while 49% are females which is an excellent male to female ration
A third of the users on the site are 25-34 years of age
30% of users are from 35 to 44 years old.
Certainly just in terms of the number of users, eHarmony adds so much more than the dedicated trucking dating sites and apps we have already covered.
Of course, the downside is not all the users are truckers or are looking to date them but it's easy to look beyond that thanks to the sheer numbers the site offers as well as how well it operates.

Ease of Use "mobile and desktop version"
Ok, so I am not going to lie.
Signing registering for a profile here can take some time, so make sure you not in a hurry when you do.
It's a thorough process you see, one in which following the registration process, you will have to complete your full profile.
That's a two-edged sword because, as a trucker, you might not have the time, but it's also nice to get it out the way.
Plus a completed profile gets so much more action than one that's not complete, so it's important for that to happen in my book.
But there is another reason why a completed profile is critical and that's the fact that it helps eHarmony's very impressive matching algorithm.
You have to rely on it as you cannot search for your own.
You can, however, change various parameters of the returned matches, including location.
And that's why I suggest eHarmony as a dating site that truckers can try out.
You can search for potential matchups in different cities according to the routes you travel.
Makes sense, right?
Of course, with a large dating site like eHarmony, you are going to need to pay for the chance to message others.
Just one more thing before we look at how much membership costs, another advantage for truckers is the fact that eHarmony has both an app for Android phones and Apple handsets.
That makes using it on the road so much easier, doesn't it?
eHarmony isn't cheap.
In fact, out of all the dating sites we've covered in this article, it is the most expensive.
But then, it has so much to offer.
Other than the messaging, as a member, you can view photos of other users, see who has favorited your profile, see who viewed your profile, browse the site anonymously and receive matches out of your preferences.
All of these features can be put to good use, that's for sure even by us truckers.
Here's a breakdown of eHarmony's Premium subscriber offering:
1-month – $59.99
3-months – $35.90 per month
6-months. – $25.90 per month
1. How do I report someone on eHarmony?
Click on the profile of the person you'd like to report.
You will find a report button.
Click on it and they will be reported.
You will just need to follow the instructions given to you.
2. Does eHarmony have an app?
Yes.
It does have for both Apple and Android phones and other devices.
Using the app is the perfect way for a trucker to make us of the site.
I am sure you can see that, although eHarmony is a commercial dating site, it is something that a trucker can make use of.
The two major advantages are that it has a massive user base and you can adjust the settings to ensure matches are for a particular location.
The only real disadvantage of the site is the fact that it is very pricey when it comes to membership.
Today, eHarmony gets a rating of 3.7 out of 5.