Bumble is an online dating app that is considered to belong to the most popular bunch together with Tinder and Hinge. It has some features that are similar to other popular dating apps, while some of them are exciting new features.
In this text, I will present to you all the things that will be accessible to you if you direct your virtual dating experience to this service. This is especially useful in today's post-pandemic world where real-life social contacts still haven't gotten back to normal.
Before I dive into explaining the precious Bumble features, I would like to tell you a short story of how this service came to life:
Once upon a time, a young lady named Whitney Wolfe was working with Tinder. One day, she filed a sexual harassment lawsuit against the company she was working in and its parent corporation IAC. She won in court and decided to found her own company that improves the wrongs that are done to women in the virtual dating world. And so, Bumble was born. It has grown and become as big as their greatest rival.
In this article, we will explain:
Is your dating app giving you the best chance for success?
Make sure to take our online dating site/app quiz to find out.
It's a fact that people who follow our dating site suggestions have on average 2 extra dates per month.
What Are Date, BFF, and Bizz Modes?
There are three modes of Bumble that you can use. You are not obligated to use all three, and if you do decide to use more than one, you will access them separately.
The Date Mode is the basic one. When you sign up for Bumble, you will be shown this mode. That is because the primary purpose of this service is to help singles find their love matches (like eHarmony or Tinder) or hookups (like BeNaughty or Ashley Madison).
With the BFF Mode, you will meet friends in an informal and casual environment. You can create a community of people you feel comfortable with and enjoy virtual, and later real-life, hangouts.
The Bizz Mode is created to help professionals from various fields get in touch and maintain important connections. Their aim is to make business networking easy and pleasant. This is a great addition for you if you are looking to widen your professional network.
These modes, though they belong to the same account, are separated from each other. When you use one of them, you cannot see the chats and notifications from the other modes. But you can see one joint match queue in any mode (the matches from BFF and Bizz are labeled).
To switch between these modes, go to Settings, then tap the Choose Mode button.
It is possible to delete the Date Mode, but not the other two. Deleting or deactivating it is a permanent action and you will not be able to retrieve conversations and matches afterward. So if you choose to do this, you should take screenshots of chats or users you don't want to forget.
If you want to chat with someone, both you and the other person need to swipe right on each other. The option of messaging will not be available otherwise.
What you can do and how depends on the mode you are using, so let's take a look at all three.
The first message can be sent by the person who has the First Move privileges.
OFL Top Recommendations based on 100,000+ Survey

"Serious Relationships"
"Discreet Hookups"
"Best Course for Men"
"Quick Flings"
"Normal Hookups"
"Our Quiz"
If you have it, remember that you have only 24 hours to send the first message. In case you are feeling nervous and don't know what to type, there is help – the Question Game – that will fly to your help!
If you aren't a user of the First Move, you need to wait for the other person to write to you. However, you have the possibility of a Daily Extend feature to prolong the time for their First Move.
Once you send a message each, your connection is locked in and you are definitely connected on Bumble.
Taking into account that in the Bumble BFF Mode, people with the same gender specification are connected, both parties have the possibility of the First Move. So, either person can start the chat.
However, the time limit of 24 hours is still valid, so you should pay attention not to miss it.
The Bumble Bizz Mode requires more time to do the networking, so the time limit here is prolonged. It is seven times as long.
So, the person who is to make the First Move has seven days to do it, and the other person also has seven days to respond.
What Features on Bumble Are Free?
Bumble is free to use. Of course, the features you get with the free version are scarce compared to those that come with one of the two subscription modes.
First, let me explain what you can do if you opted for the free version.
Match preference asks for the age and location of the people you want to meet. Also, there are 11 advanced filters that you can apply to your potential matches. The free version of Bumble allows you to choose two at most.
Next, Bumble doesn't state anywhere how many right swipes they allow at most per day before your swipes are locked for 24 hours. Some informal estimates mention 25 swipes, but I cannot say this for sure. In any case, they are limited to one day. After that time has passed from your last swipe, you will be able to continue.
The person who has the First Move privilege (explained below) has 24 hours from the match formation to start a chat. The other person has the option to extend the waiting time, one free extension per day.
Also, the other person has 24 hours to respond to get the conversation to begin officially. If one of the two is late, the match is lost and the free version doesn't allow it to be restored.
Also, if you swipe left on someone by accident, you have no way of seeing that person again. So I recommend you to be extra careful while swiping.
First Move is the feature that Bumble added in order to fight the traditional hetero stereotype that men have to start conversations.
In a mixed-gender conversation, it is always the woman who has this privilege. That means that the woman always starts a conversation with a man and it is never the other way round.
What men can do, in return, is utilize the feature for prolonging this period to another 24 hours. They can do this once a day.
In the other modes and same-gender chats, any of the two parties are able to make the first move.
An expired match is one with whom the chat hasn't started in time. This can happen because one person didn't make the First Move or because the other person didn't respond. In each case, the person whose time has expired will have the chance for a Rematch – the Bumble algorithm will make their match will appear again (sooner or later) in their Match queue, shown in a silver circle.
How Does the Question Game Work?
The Question Game is the help provided to those users who are to make the first move but don't know what to write.
If you choose to use this option, you will see a list of conversation starters. You can select one of them or type your own question.
The question needs two answers – from both of you. When you and your match have answered it, the answers will appear in the chat and you can start the fun conversation.
What Is Bumble Premium and How Does It Work?
Bumble Premium is a subscription model that gives you a number of extra features. Your experience with Bumble dating will thus be more exciting and enjoyable.
Here is a list of the perks of having a premium subscription. Some of them will be explained in more detail below.
A wide choice of Advanced Filters.
Unlimited swipes.
Backtrack your accidental left swipes.
Incognito Mode.
Possibility of extending the time for your match to make the First Move.
Ability to rematch with the expired matches. This is valid for those users who have the First Move privilege.
Travel Mode where you can change your location when you go to a different place.
Possibility to see your Beeline and apply filters to this list of your Admirers.
One Spotlight every week.
Five SuperSwipes every week.
What Does Bumble Boost Do?
Bumble Boost is another variant of Bumble subscription. It is similar to the premium subscription but gives fewer benefits.
The list of the Boost benefits follows.
Unlimited number of swipes.
Backtrack of left swipes.
Time extending ability for potential matches.
One Spotlight every week.
Five SuperSwipes every week.
Premium and Boost Features Explained
Here are the detailed explanations of the abovementioned features. If you are thinking of paying for a subscription, understanding what you will get can help you with the decision.
The basic free filters include who you are interested in, age, and distance (in certain locations). Premium users have many more options, and they can choose any number of them.
One thing that you may want to know is that you can choose your preference of those same categories you have stated for yourself. So, for instance, if you haven't written whether you are a smoker on your profile, you cannot choose a smoker or non-smoker for your potential match.
The number of swipes is limited for free Bumble users. The pause is 24 hours from the time the limit is reached. On the other hand, Bumble premium users are given an unlimited number of swipes.
The backtrack option allows you to undo an accidental left swipe. So, if you are subscribed and have made the mistake of declining a good match, the arrow in the upper left side of the window will help you undo the mistake.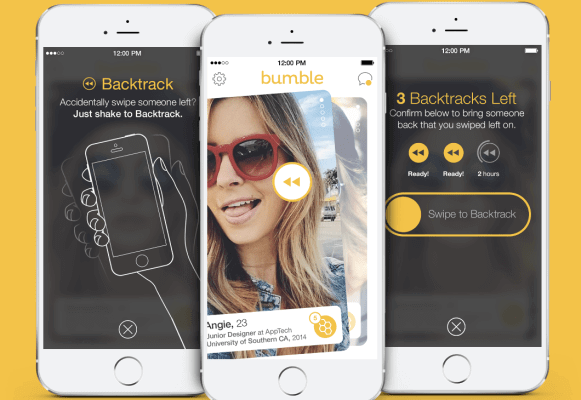 This mode allows you to swipe through your match queue without being seen. Only when someone swipes right on you will you appear on their profile. Unfortunately, at the moment, this feature isn't available on Bumble.
This is very useful if you are going away from your hometown for a short time and wish to meet people at the new location.
This mode functions for seven days. You choose the city you are in and your location will be shown in the city center. Your matches will be able to see that you are using this mode.
I am sure you will be super happy with this premium feature! You don't have to browse the match queue and wait for your right swipes to swipe right on you. The Beeline shows you all the people who have already liked you. Come here to create instant matches and shorten the time till the first words are typed.
Spotlight makes your feature stand forward so that more people can see you for a limited period. If you use one Spotlight, your profile will be prominent for 30 minutes, and if you use two, for 150 minutes.
With Bumble premium, you get one Spotlight every week. If it is not used, it will expire after seven days. But you don't have to wait, you can also buy them.
SuperSwipes are presented as coins in your profile. You get 5 every week, and you can buy as many as 20 at one time.
This feature lets a person know that you are super interested in them and that you really want to get to know them. It is sort of a super like on someone's profile.
To activate a SuperSwipe, you need to tap the heart on that special person's profile.
Night In is a great new addition to Bumble. It is a video date spiced up with a trivia quiz. The purpose is to help you and your match get closer by joining forces to answer a set of trivia questions.
This feature is available for Android and iOS devices, but not on the Bumble website. There is a Night In icon in every individual chat. When you are in a video call with someone, you both should click the icon and let the fun begin.
You can schedule a Night In date with your match or start it spontaneously. It is not a problem if you are in different time zones.
You can send invites to your Bumble matches by tapping the icon in chats with them, even if you are not in a video call at the moment. When you do this and the other person accepts, you will be notified so you can go on and schedule it. You will get a notification if they refuse your invitation as well.
When an invitation is accepted, you can schedule the meeting that day or the next one, between 6 pm and 12 am.
At the moment, the quiz is provided only in English, but the staff will hopefully expand to other languages as well. Also, the locations where it is available are limited. For now, people from the USA, Canada, Australia, New Zealand, and India can play.
When we talk about the quiz itself, there are 3 rounds and each one has 5 questions. You can take as much time as you need to agree on the answer. The answer is accepted when both of you click it. I hope I don't have to emphasize that you are supposed to click the same one.
You cannot play against other people. The reason is that this quiz aims at increasing the bond between you two. It isn't about competition or winning points.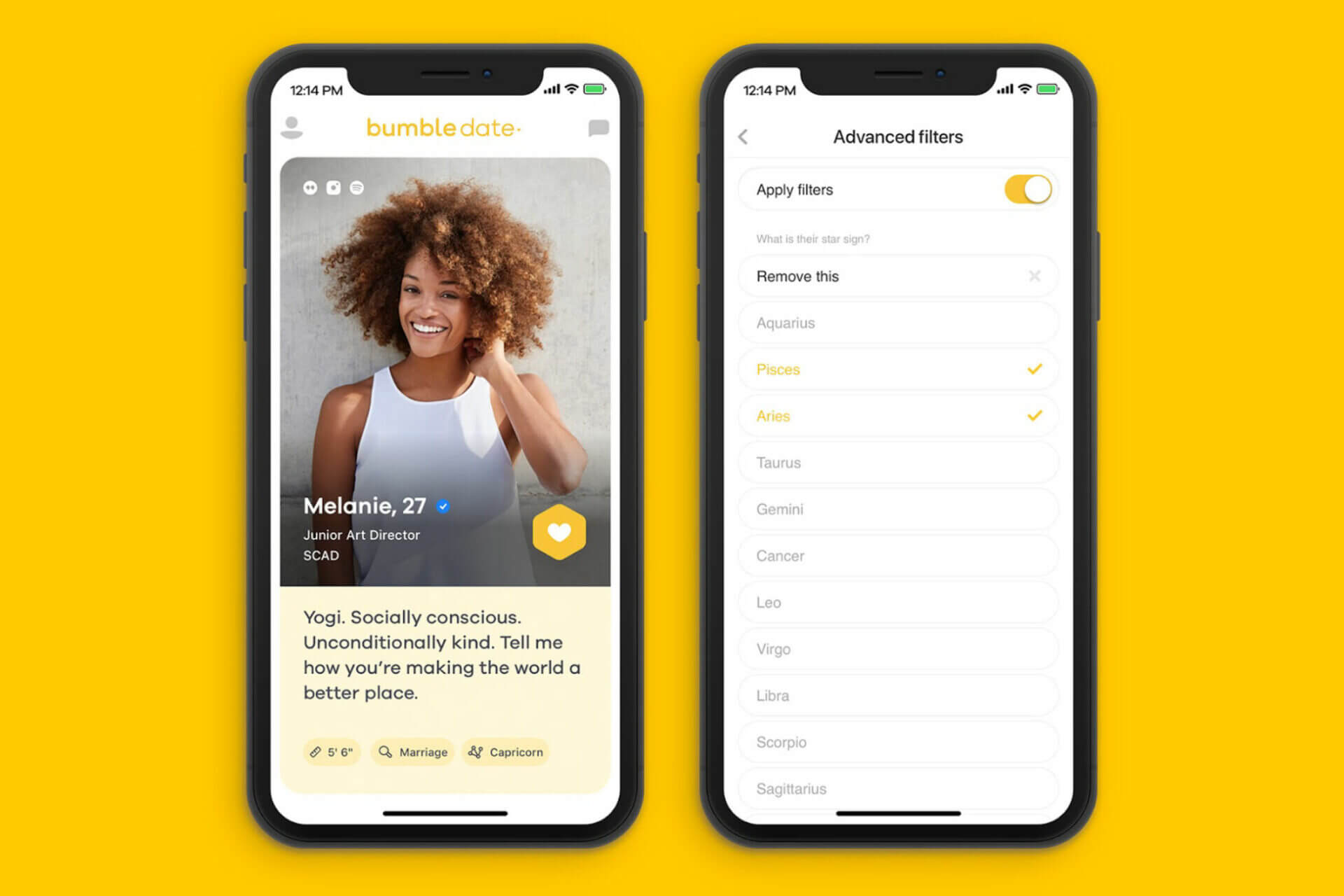 When the game finishes, you are free to continue with your video chat for as long as you want. You can also repeat the quiz as many times as you both like. If you run out of questions, wait for some time and then try again because questions are added regularly.
Special View on Bumble Features
Now that you have read about all the awesome features Bumble offers its users, I would like to present to you some additional explanations in the form of answers to some questions many users wonder about.
Bumble Web is the desktop website where you can access the Bumble app. Originally, this service was created as a mobile application, for both Android devices and Apple iPhone models.
Not all features from the mobile app are available on Bumble Web. Here is a list of what you can do from your computer or laptop browser:
Create and edit your Bumble profile
Profile verification
Message
Backtrack
Access your Beeline
SuperSwipes
Subscribe to Bumble Premium or Bumble Boost
Activate Spotlight
Video Chat
What Features Do Women on Bumble Get That Men Don't?
There is something unique about Bumble. The company is set on fighting for the rights of women and against the stereotypical approach to matchmaking.
In this case, it means that, in an opposite-sex match, the woman is the one who starts the conversation. This is designed so that they don't have to read through many uncomfortable conversation starters.
They can chat with someone or decide not to. It is up to the women.
How Does Bumble Work for a Man?
Generally, the functionality of Bumble is the same for all users regardless of their gender.
However, one thing that men cannot do is start a conversation with a woman. In a match where the genders are different, it is always the woman who is given the privilege of the First Move.
If you are a man, you only need a little bit of patience. If she decides to message you, you can continue chatting without worries because you can be certain that she is interested in maintaining contact with you.