Before joining an online dating platform or app, every dater wants to find out how the dating profiles on it look like and how does the algorithm work.
However, one very important thing most people tend to forget about is the chat feature which is definitely one of the most important parts of every single app.
Opening lines and icebreakers can be something you will struggle with for a long time, and this problem will become even bigger if the chat function is not working right.
For that reason, we will tell you all about:
OFL Top Recommendations based on 100,000+ Survey

"Serious Relationships"
"Discreet Hookups"
"Best Course for Men"
"Quick Flings"
"Normal Hookups"
"Our Quiz"
Is your dating app giving you the best chance for success?
Make sure to take our online dating site/app quiz to find out.
It's a fact that people who follow our dating site suggestions have on average 2 extra dates per month.
Chatting on Bumble doesn't differ from chatting on any other dating apps, and in general, this platform is pretty similar to Tinder, Hinge, and all other dating apps you will find these days.
Once you swipe right on someone and they swipe you back, you will be able to start the conversation and get to know your potential match.
However, you should be aware that women are the only ones who are allowed to send the first message, and if you are seeking a heterosexual relationship, you will have to wait for your lady to make the first move.
The Bumble dating app really isn't way too different from Tinder or Hinge, and all the rules are usually used when online dating should be used here too.
You need to respect the rules of the platform; otherwise, you may get banned for good which is certainly something you don't want to experience.
If you are using an online dating platform for the first time, then you should know that you don't really need to wait too much before you ask someone out on a first date.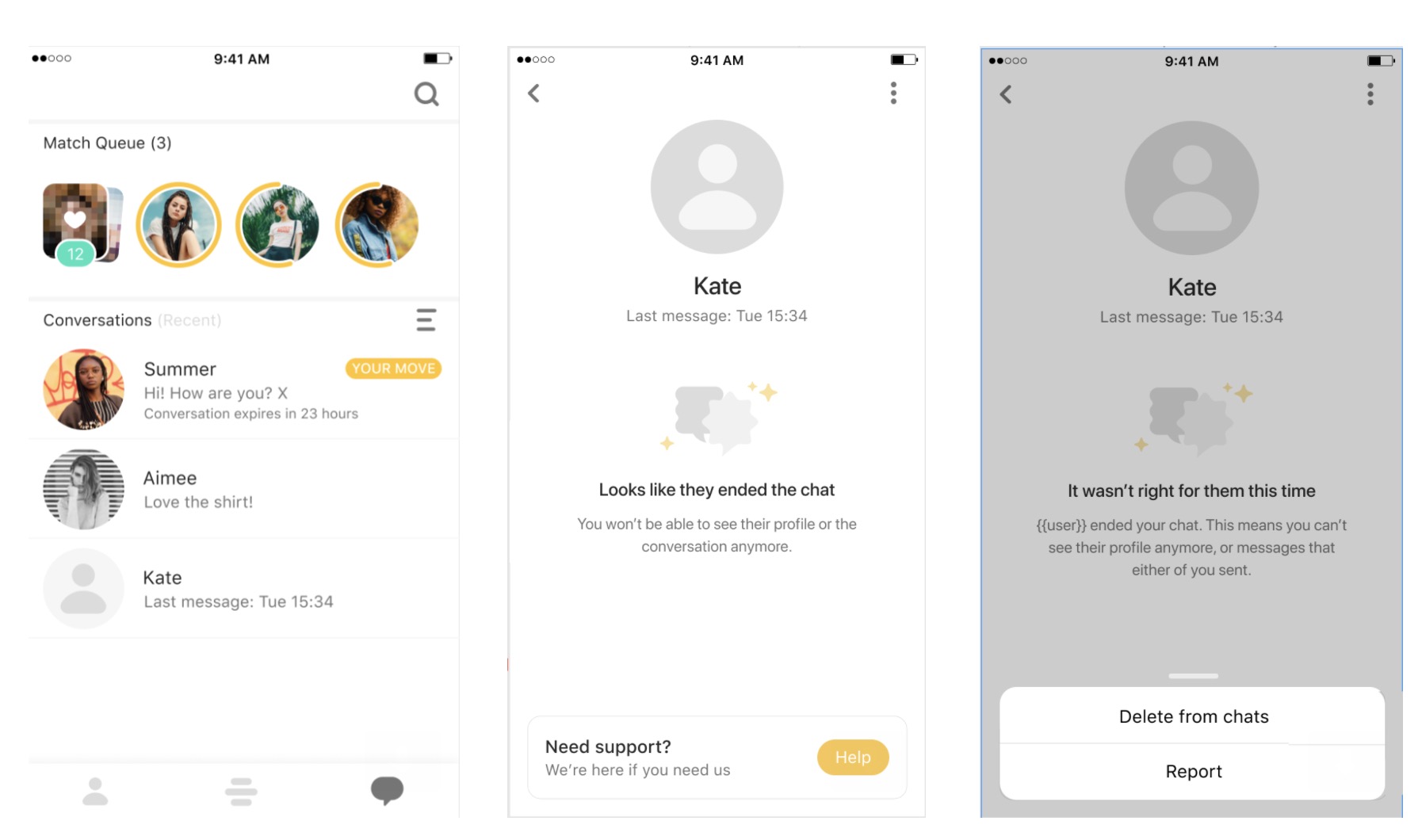 You can talk about things like your hobbies, jobs, education, and everything you have in common, and in case you believe something may develop between the two of you, you should always propose the date.
In case you are not using the dating part of the Bumble but rather Bumble Bizz or Bumble Bff, your questions will also be a bit different, and you should ask things that interest you.
There are also no rules on who makes the first move when you are using these parts of Bumble, so you can approach whoever you want without any obstacles.
People are a lot more chill when using the Bizz or Bff niche, and if you have trouble starting conversations with people you don't know, I think you can always try yourself on this part of the app and then start reaching out to potential love interests.
Even if you have super swipes or someone has used this feature on you, you will still have to wait for the female side to make the first move, so be patient.
Can You Chat On Bumble Without Spending Money?
Yes, you don't need to have a Bumble Premium membership in order to be able to start a conversation with someone.
This is a basic feature you will find on all dating apps, and you will be able to start dozens of convos no matter what kind of membership you may have.
OFL Top Recommendations based on 100,000+ Survey

"Serious Relationships"
"Discreet Hookups"
"Best Course for Men"
"Quick Flings"
"Normal Hookups"
"Our Quiz"
Since this is a very popular dating app, all users will also be able to exchange photos, gifs, and links with their Bumble matches, so the chat feature is really very well executed and will definitely provide you with amazing results in a short time.
Also, both Android and iOs users will be able to use the chat feature flawlessly, and they will receive a notification whenever they get a new message, so it can be a great place for chatting, and you don't ever have to give someone your phone number but rather keep on talking through this app.
All the notifications about new messages will be sent straight to your home screen, and I believe that you should keep chatting through the app until you make the decision that things between you can get a bit more serious and they can grow into a serious relationship (like eHarmony or Tinder) or a casual hookup (like BeNaughty or Ashley Madison).
What Are Good Conversation Starters On Bumble?
Just like on all dating apps, if you don't want people to swipe left on your profile and completely ignore you, you will need to have a catchy profile pic and a good communication strategy.
For that reason, we have decided to provide you with some of the best Bumble opening lines that will bring plenty of users to your beeline and make the matchmaker process a lot faster.
I'm a huge comedy fan. My favorite album is Maria Bamford's 'Ask Me About My New God. How about u?
I feel like I've seen everything on Netflix. Have you watched anything cool lately?
Here's my best opening line: _______
What's the place from your profile pic?
Have you been able to make friends in this crazy pandemic?
Would you swipe me right even if I wasn't this hot?
I'm super hungry rn and need inspiration. What are you making for dinner?
What's the best (or worst) opening line you've received on here?
I'm taking a poll. Do you prefer X or Y?
Hey! It's nice to meet you.
If I saw you in a bar, I'd definitely say hi 🙂
Please answer the following pre-screening questions:
Hey! I'm glad we matched! What are you up to this weekend?
Your dog is so cute! And you aren't bad either 😛
As you can see, these are some of the most frequent conversation openers, that even though they may seem to be way too simple, will definitely have an impact on your potential match.
You will be able to start a nice conversation and then process things and topics you have in common, so I believe it is always a good idea to use some of the things from this list.