Just like all dating apps, Bumble also has plenty of special features that are made to ease your life and dating experience and help you meet people without any obstacles.
However, Bumble is not just a regular dating app; it is an online dating platform that has decided to upgrade its game and help people find not only potential partners in times of pandemic but also potential friends.
As you have probably heard by now, Bumble has launched the Bumble Bff feature, which allows you to meet new friends and connect with like-minded people in order to create new friendships.
Read through this article if you want to find out:
Is your dating app giving you the best chance for success?
Make sure to take our online dating site/app quiz to find out.
It's a fact that people who follow our dating site suggestions have on average 2 extra dates per month.
Bumble Bff is a special part of this amazing dating app, and it was created some time ago in order to help people meet not only potential partners but also potential friends through this app.
Since the pandemic started, people were not really able to meet new friends in real life, so the creators of Bumble have come up with a completely new feature that will allow everyone to scroll their way to their new besties.
They have also launched the Bumble Bizz feature, which can help you find new business partners or colleagues, which is also an amazing addition, especially now when many people have been left without jobs.
We understand that you can't really meet up with just any stranger you meet on the internet, so Bumble has come up with a completely safe way you can start meeting like-minded people and scheduling a friend date without any obstacles.
Even though people think everyone is seeking a romantic Bumble date and they don't really care too much about this part of the app, the truth is that there are more and more friend groups that were created on Bumble and became real-life friendships that have lasted for quite a long time.
I would definitely say you are missing out on a lot of things if you are not utilizing this part of the Bumble dating app because when you meet friends and new acquaintances through it, you will also definitely be able to meet a potential soulmate.
Like attracts like, and I am sure you know that pretty damn well!
How Can I Get Bumble Bff?
You don't need to do anything in order to get a Bumble Bff account because all Bumble users will be able to switch to this part of the platform the moment they join the app.
In the upper right corner, you will see three options, and you will be able to choose whether you want to open the dating, bizz, or bff part of the app.
You can also easily switch between these 3 parts of the app with just one swipe, so everything is very practical, and you can be chatting with your potential partner and Bff at the same time without any obstacles.
Also, you don't need to pay any extra money, so you can access this part of the app the moment you create an account and come up with separate bios and about me sections for each of these sides.
OFL Top Recommendations based on 100,000+ Survey

"Serious Relationships"
"Discreet Hookups"
"Best Course for Men"
"Quick Flings"
"Normal Hookups"
"Our Quiz"
The way you will use the Bumble Bff part of the app is basically the same thing as the regular dating app.
Once you switch to the Bumble Bff mode, you will see a homepage full of recommendations of people who could become your new best friend.
Just like with other dating apps and Tinder, you will see a full list of people who seem to have a lot in common with you, and you will be able to swipe left or right on their profiles and make the decision whether you want to get in touch with them or not.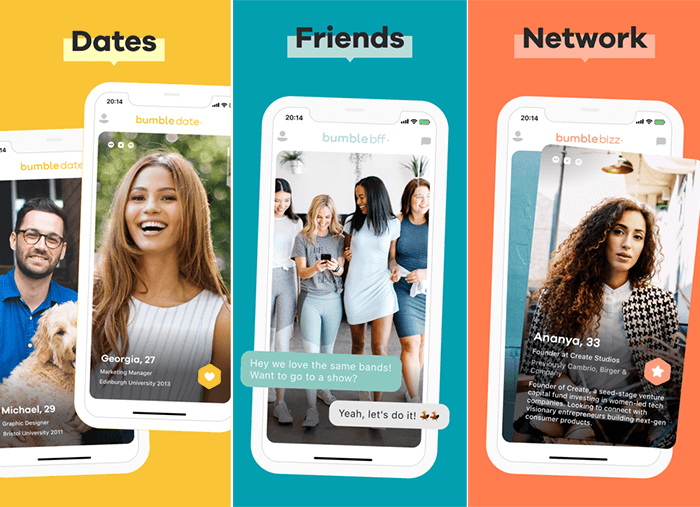 Of course, the most important parameter for connecting you with someone is your location, so if you are living in New York or Los Angeles, you will only keep on getting recommendations for people who are living nearby.
It is a lot easier to find a new friend and make the first move on Bumble Bff than it is on regular Bumble, and I believe this is one of the best ways to meet new people, especially if you are living in a new city and you don't really have any reliable friends or people you can go out with.
When choosing the people, you will swipe right on, make sure it is always someone you would get along well with IRL, because people on here are really looking for meaningful friendships and don't want to waste time hanging out with someone who is the complete opposite form them.
Also, you don't need to wait for anyone to make the first move because you can easily send the first message without any obstacles.
Everyone will be able to send messages to anyone who seems to be interesting enough, so you can start small talk with whoever seems to be interesting at first glance.
Unlike the Bumble made for romantic relationships (like eHarmony or Tinder) or hookups (like BeNaughty or Ashley Madison), you don't need to wait for your potential female friend to send the first message, which is definitely a great advantage and will save you plenty of time.
This is probably one of the best friend-finding platforms at the moment, and there is no way you will make a mistake if you dedicate your time to this part of the app.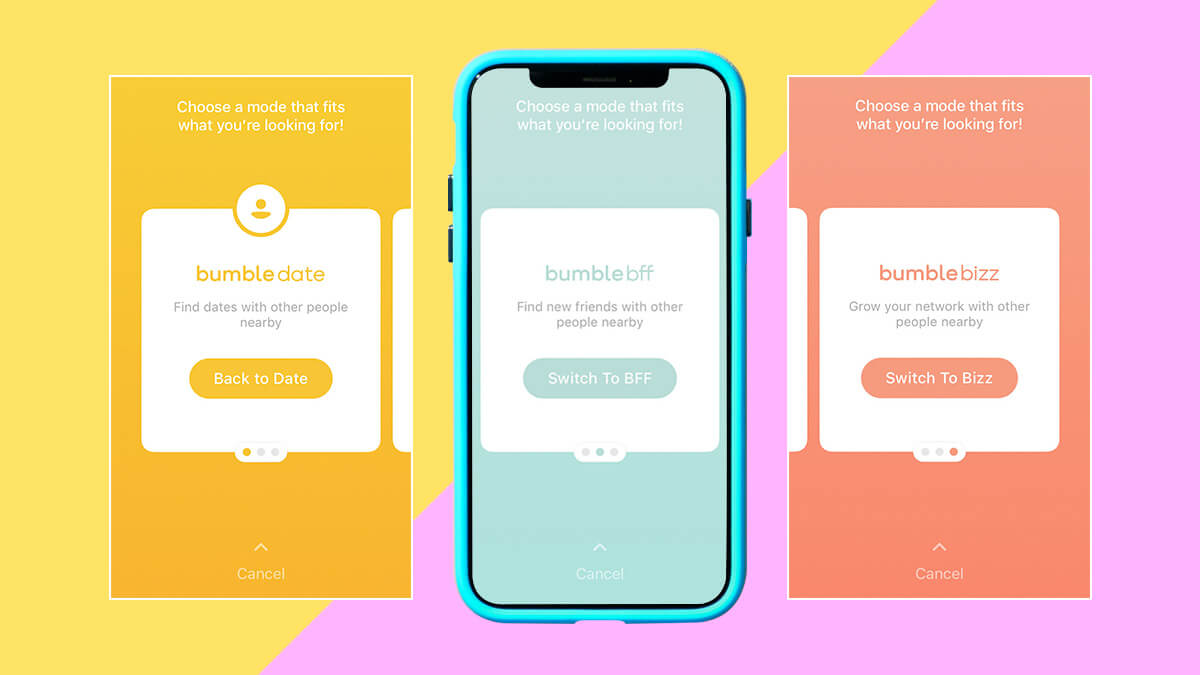 Getting a Bumble Bff account won't cost you a single dime because both Bumble Bff and Bumble Bizz are available to free users too.
The rules are the same as on the regular dating site of the Bumble app, and you will have a limited number of likes per day, and you will need to pay additional for a superswipe and other extra features.
You will also need to create a separate bio for this part of the platform, so be prepared for it because you don't want to waste any time.
In general, in order to find new friends and people you share vibes with, you don't really need to ever invest in some premium features because the regular ones will work just fine for most people.
This feature has been free from the start, and it will definitely stay that way in the future, too, so you really have nothing to lose, and you should give it a try as soon as you can!
It seems like more and more people are opting for this part of the Bumble app, and in general, it turns out to be very successful.
Since the pandemic started, there were really no other ways you could meet new friends, and Bumble helped ts users solve this problem.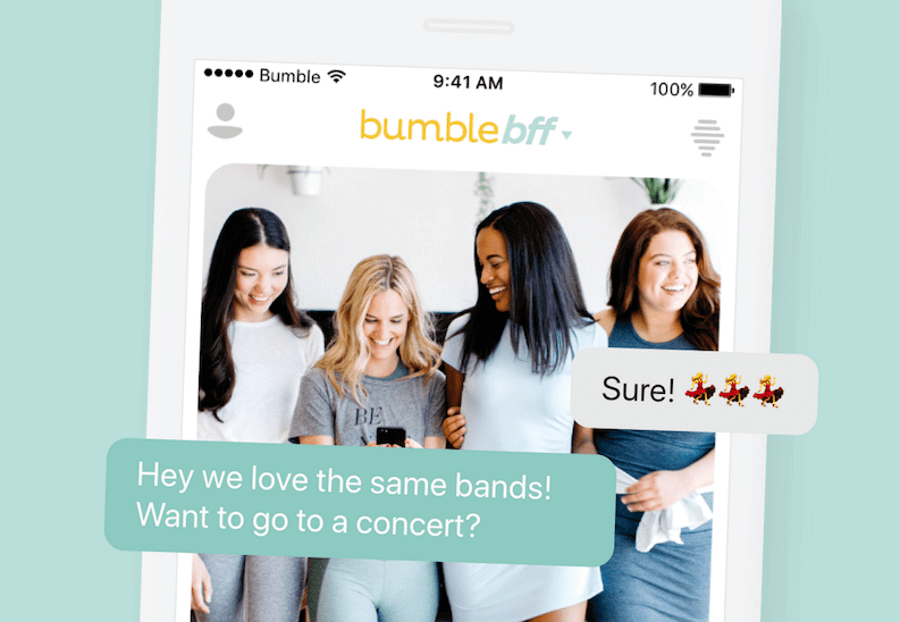 You may not become best friends with everyone you meet this way, but in general, you will be able to schedule a lot of friend dates and meet plenty of people you have a lot in common with.
Frequently Asked Questions