Once again, our dear readers, we have gathered here to help you realize how the Bumble dating app works and what is the easiest way you can start a conversation with someone.
In this article, we will help you to find the best opening lines for yourself that you will use to impress plenty of women across the app.
We will be covering things like:
Is your dating app giving you the best chance for success?
Make sure to take our online dating site/app quiz to find out.
It's a fact that people who follow our dating site suggestions have on average 2 extra dates per month.
Best Bumble Openers in Video Form:
Audio (podcast) form for those of you on the go
What Are Good Bumble Openers?
What are good Bumble openers and pickup lines is something that basically completely depends upon you and your dating style.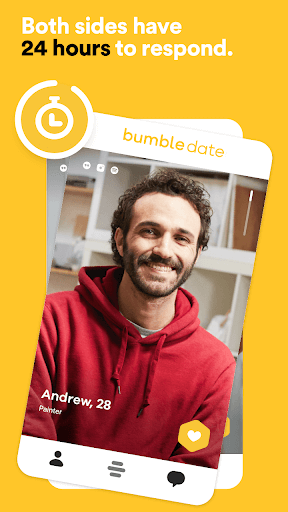 When approaching dating apps like Bumble and Tinder, people tend to feel really odd, and frequently they have no idea what is the right way to start a conversation and impress a woman they like.
Coming up with icebreakers and finding the right way to make the first move can be really a really long and exhausting process for all people who are engaging in online dating.
What are good conversation starters or Bumble and Tinder openers may not be the right option IRL, and not everyone will feel comfortable using those Bumble pick-up lines, especially on people they really like and want to leave a great first impression on.
The best opening lines on Bumble are usually those that are the most simple and most realistic, and your Bumble first message shouldn't be too much out of character for you.
These are some of the trending and best Bumble lines, and you should choose what to say on Bumble by picking the opening lines that fit your personality and your dating approach the best.
Is your name Summer? Because you are soooo hot.
I can make you one less lonely girl.
Filming a movie about my life, don't you want to be the lead female character I fall madly in love with
I would like to sit ruminating about life with you over dinner
What kind of lettuce is your favorite?
I wish it was still 1998 because you should have a HotFemales account
Do you like raisins and going out on a date with me?
Sorry, I couldn't find an opening lime
Did Ross and Rachel ever really break up?
Love your taste in music; maybe we could go to Arctic Monkey together?
Your pet is so cute; maybe they can make an appearance on our first date?
Not gonna lie; you are definitely my type!
Which do you think is more important: time or money?
Kiss, marry, kill Salsa, queso, guacamole.
Hey! How's your Tuesday going?
Hey, Sarah! What are you up to this weekend?
These are some of the very good opening lines for Bumble that you can easily use to make your potential match open up and start the conversation with you.
Whether you are using Bumble, Tinder, or Hinge, these Bumble opening lines will definitely help you have a great start with a person, whether you are looking for a casual hookup (like BeNaughty or Ashley Madison) or a long-term relationship (like eHarmony or Tinder).
As you can see, Bumble starters can be very simple, and you don't need to spend a lifetime coming up with amazing Bumble jokes that will sweep them off their feet, sometimes even the most simple things can have a large impact.
If you wanna see how they work, I would recommend you to immediately start using your Bumble profile and bump into your preferred girls DMs with simple questions like what is the best concert you have ever gone to – trust me, it will provide you with much more success than those fancy lines you see dating coaches recommending all the time.
How To Respond To Bumble Openers?
Even though most guys struggle with finding clever Bumble openers, there are also plenty of them who don't know how to respond when they receive some of these conversation starters for Bumble.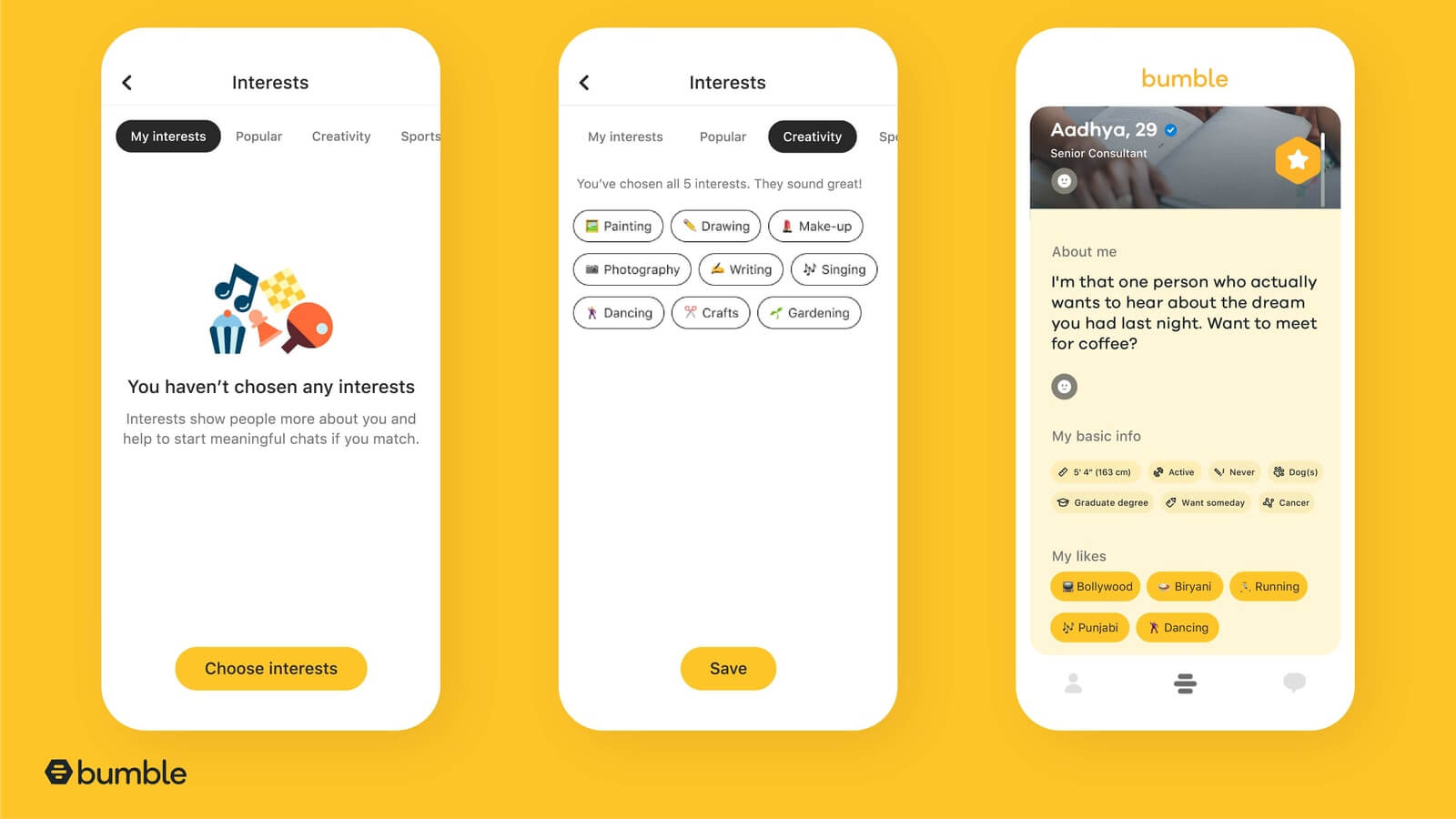 If you have gotten a cute first message on Bumble, then you should make sure you respond the right way, not by using those cheesy lines and sentences you can find on the internet.
OFL Top Recommendations based on 100,000+ Survey

"Serious Relationships"
"Discreet Hookups"
"Best Course for Men"
"Quick Flings"
"Normal Hookups"
"Our Quiz"
In case your dating profile is really showcasing your personality, you can always respond in a fun way or stay true to the things you would respond to in real life too.
You can use a funny emoji, gif, or even a reaction pic or meme, and all of these can be an amazing reaction to the first message.
They will also look like a lot more natural reaction, especially if the woman has approached you with a funny pickup line.
What most women know is that the best Bumble openers to use on guys are those that are a bit provocative and can spark their imagination, so they usually use this technique when sending first messages.
Ever since the pandemic started, women have also started to become way more simple, so they are avoiding complicated pick up lines and sticking with regular questions that don't require a thorough answer.
Everyone is looking for some fun, and they don't want to make things any harder, so they will just send a regular message to an interesting person that appears while they are scrolling through their homepage.
Why Are Women So Bad At Bumble Openers?
Women really tend to have some problems with conversation starters on Bumble, especially if they think that this specific person is the one and that they need to send them a message as fast as they can because they don't want them to gain interest in any other girl.
For that reason, they can really struggle with coming up with funny Bumble openers and, in general, good openers for Bumble.
They usually come up with a conversation starter within a second, and they send it to the specific person before they even think twice about it.
There is also plenty of idea for online dating openers that can be used and adjusted according to your personality, interest, and approach you want to take, and most women choose this.
Especially since the lockdown started, it seems like all of them have turned to these dating sites and dating coaches that offer hundreds of ideas and funny opening lines for Bumble, and they usually just copy-paste them or just modify them a little bit.
There are also plenty of podcasts and Instagram profiles that cover online dating and things like this, so they tend to find ideas on these accounts too.
In general, they tend to struggle with finding the right opening line just because they don't feel confident enough or have no idea what are the things that will spark the man's attention and make them gain interest in them.
For that reason, if you think your potential girl is not very creative with Bumble openers, I think you shouldn't blame her because it can be very hard to come up with something that has never been heard before, especially in the digital age.