Since we live in modern times, in terms of technology, people have realized that by using apps and the Internet they can do almost whatever they want without leaving their homes.
One of the fields in which applications have become very popular in the field of dating.
Nowadays, many people use online dating apps and one of the most used dating apps is Bumble.
A common thing to all dating apps is that they have free and premium subscription options, such as Tinder Plus and Tinder Gold on Tinder, and in this text, we are going to focus on Bumble Premium and give you all the necessary information about it.
Here you will discover:
Is your dating app giving you the best chance for success?
Make sure to take our online dating site/app quiz to find out.
It's a fact that people who follow our dating site suggestions have on average 2 extra dates per month.
First, we need to mention that Bumble has two separate sections that have nothing to do with dating: Bumble Bizz for making professional connections and Bumble BFF for making friends.
Now we are going to make a shortlist of all things that you get with Bumble Premium and briefly explain them all.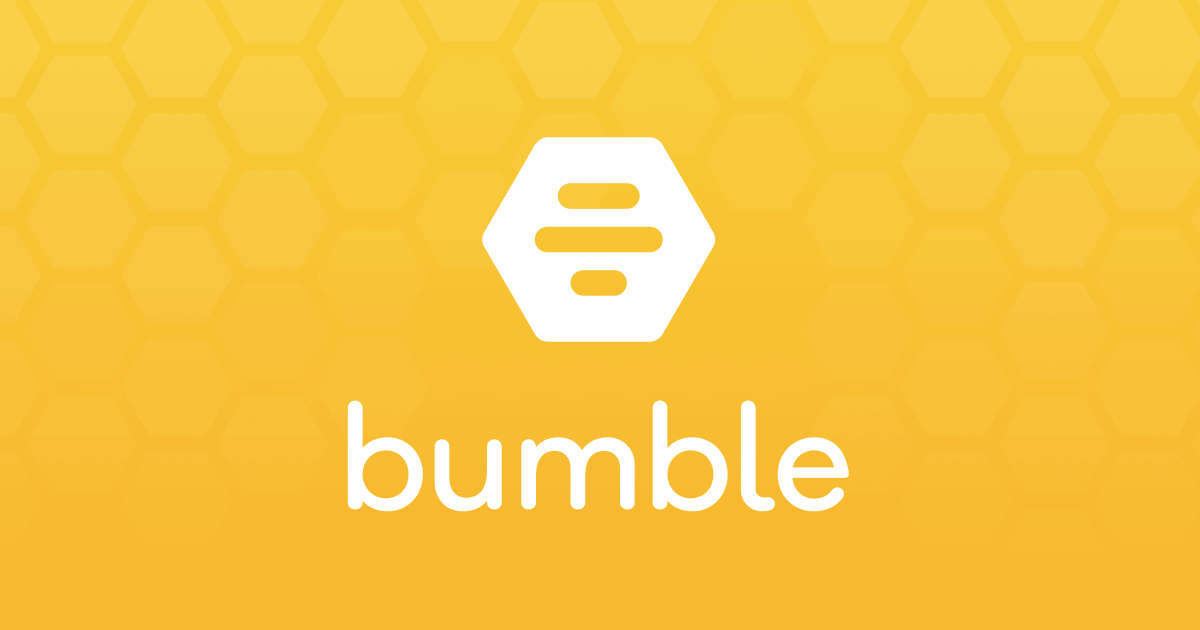 So, since 2020 Bumble has had two tiers when it comes to premium subscriptions.
One of them is Bumble Boost and the other one, also the more expensive one, is called Bumble Premium.
Apart from getting all the benefits that come with Bumble Boost, users get some additional services if they opt for Bumble Premium.
There are 4 of them:
Bumble Advanced Filters
Bumble Incognito
Bumble Travel
Bumble Beeline
1. Bumble Advanced Filters
As you can probably assume, this feature allows you to filter your matches more thoroughly and, therefore, to find a possible partner much easier than when using Bumble free version.
Advanced Filters option enables you to check the criteria such as height, political views, education, etc.
So, advanced filters provide you with almost unlimited filters and you can even check some more personal stuff like what kind of date a potential match wants.
Thus, we can say that this feature is very useful since it helps people create a much clearer picture about a potential match and, therefore, it helps them find the right type of person for themselves.
The Incognito mode allows you to hide your profile from all the people you don't like and don't want to make contact with.
OFL Top Recommendations based on 100,000+ Survey

"Serious Relationships"
"Discreet Hookups"
"Best Course for Men"
"Quick Flings"
"Normal Hookups"
"Our Quiz"
Namely, only people that you like on Bumble and, thus, only people you are interested in will be able to see your profile.
This option can be particularly useful if you are looking for a serious type of relationship (like eHarmony or Tinder) and don't want to have any contact with people that you didn't like in the first place or are only interested in casual hookups (like BeNaughty or Ashley Madison).
So, people that are not your cup of tea won't even be able to check out your profile and, thus, they won't bother you and distract you while you're looking for the perfect match.
From our perspective, Travel mode is perhaps the most useful feature offered by Bumble Premium.
Namely, this option allows you to change your location and match with potential partners from some other cities apart from the one where you live.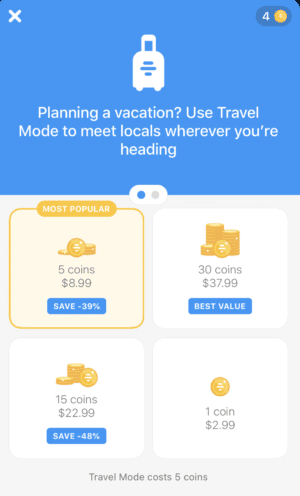 So, if you are planning to take a trip somewhere, you can also use that trip for meeting single people. Additionally, perhaps you are interested in meeting singles from a particular city, so you'll be able to find matches from that city by changing your location.
This changed location lasts for a week and resets after that, but a good thing is that there are no limitations in terms of how many times you can change the location, so you can change it as many times as you wish.
For all people who didn't know what this is and how to use Bumble Beeline, this feature allows you to see the match queue of all Bumble users who have previously liked your profile.
That means that you'll be able to check out people who have already given you a sign of interest.
And you'll agree that it is much easier, less stressful, and less frustrating to start a conversation and meet with someone if you already know that he or she likes you.
Otherwise, you'll like some profiles and then spend much time wondering whether they'll like you back and that can be so overwhelming and put a lot of pressure on you.
As we said, apart from getting these four features that we have analyzed, with Bumble Premium you also get the Bumble Boost benefits.
Now we'll as well mention those benefits and briefly analyze them as we did with Bumble Premium features.
So, when it comes to benefits provided for Bumble Boost users, there are 6 of them:
Bumble Spotlight
Bumble Rematch
Bumble Unlimited Right Swipes
Bumble Extend
Bumble SuperSwipes
Bumble Backtrack
The Bumble Spotlight option puts your profile at the top of the list of profiles in your area when activated.
That means that your profile will be much more visible and a a much greater number of potential partners will see it.
So, practically, when you activate the Spotlight feature when a person from your area looks for potential matches, your profile will be the first one he or she will see.
This boost lasts for half an hour and all the Bumble Boost subscribers get one Bumble Spotlight per week.
This feature can also be activated by using Bumble coins that can be purchased in amounts of 2, 5, 15, or 30.
Bumble Rematch allows you to rematch with some profile in case your previous match expired.
For instance, you got a message and forgot to respond to it, or someone matched and didn't send the first message, and after some time the match expired.
Using this boost, you can rematch expired connections with that person instantly.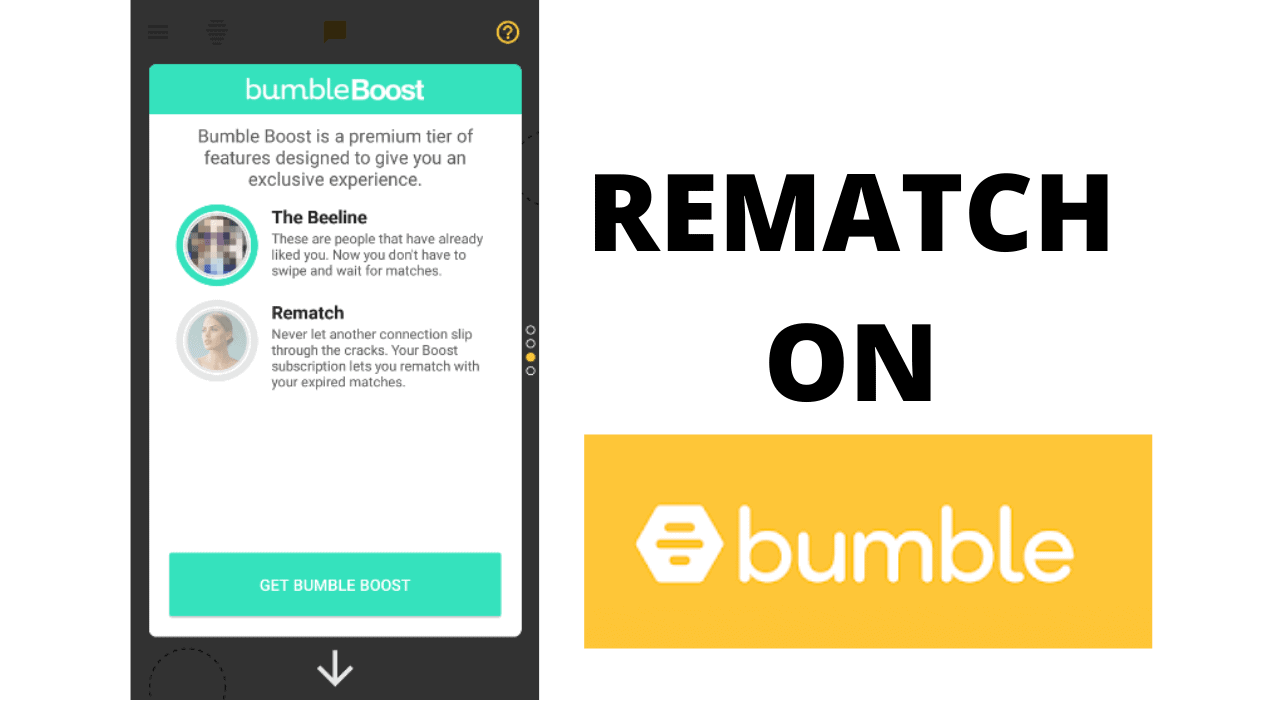 Nevertheless, in our opinion, this boost is not as important as some others given that at some point after the match expires, that same user's profile will appear on your feed again.
But, who can wait when it comes to love, right?
3. Bumble Unlimited Right Swipes
As with most online dating apps, the number of likes that you can give, or in this case, the number of right swipes that you can use is limited.
Of course, it's limited only to free users.
However, if you are a premium subscriber, the Unlimited Right Swipes boost allows you, as you can assume, to like as many profiles as you want without any limitations.
By getting unlimited swipes, you'll have a higher chance of finding a perfect match, and, most importantly, this boost will save you some precious time.
This feature can be very useful in a specific situation when you, for example, send a message but there's still no answer and the match's expiration time is approaching.
Using Bumble Extend you get the chance to extend the expiration time for 24 hours and, thus, postpone the expiration.
If you are a free Bumble user, you get one Bumble Extend boost per day, but if you are a premium subscriber, the number of Bumble Extends that you can per day is unlimited.
Apart from being the boost with the coolest name in our opinion and from being similar to Tinder's Super Like, this feature can show your potential matches that you are extremely and genuinely interested in them.
So, SuperSwipe practically means that, apart from the regular right swipe, you send another right swipe, so-called SuperSwipe, as a sign of your great and sincere interest.
Bumble SuperSwipe can be super helpful especially when you have to make a good first impression and a decent first move because your match will see, not only that you really like him or her, but also that you are seriously interested in making a contact.
Free Bumble users get 5 weekly SuperSwipes and for Boost subscribers the number of SuperSwipes is unlimited.
Just like with Bumble Spotlight, users can spend Bumble coins to get more SuperSwipes.
This feature fixes the most common type of mistake that can happen and probably has happened at least once, to every online dating app user.
You can probably imagine the situation in which you are looking at all those recommended profiles and you accidentally used left swipe instead of right and your chance of meeting the person you liked is gone forever.
Well, Bumble Backtrack erases and eliminates this mistake and allows you to get back to the profile you liked and swipe right as you wanted to do in the first place.
How to Get Bumble Premium and How Much Does Bumble Premium Cost?
After introducing all the Bumble paid features that you can get if you decide to become a Bumble Premium subscriber, we'll explain to you how to get a Bumble Premium trial and become a Bumble Premium subscriber as well tell you how much is Bumble Premium.
Within this section, we'll also explain to you how to delete Bumble Premium.
So, when it comes to activating the Bumble Premium function after you open the Bumble app, you just need to tap the grey silhouette in the top left corner of your screen.
Then the page where you get to choose the tier you want and select the duration of the subscription will open.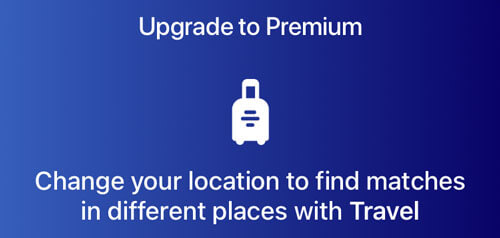 As for the price of Bumble Premium, there are 4 different durations of the subscription and, therefore, 4 different prices.
One-week subscription is not the most popular choice and people mostly pick this option if they use the app for the first time and want to see whether it meets their standards and expectations or not.
One-week subscription costs $17.99.
This is actually the most popular choice among Bumble Premium users.
One-month subscriptions cost $32.99 and, according to Bumble, you can save 57% of money compared to the 1-week option.
Another popular option is a three-month subscription where users can save 71% of money compared to the 1 monthly subscription.
This subscription costs $66.99 and it is mostly used by serious Bumble users who are determined to find a perfect match with the help of this application.
Finally, there is a 4th option for the most serious and the most determined users.
For $199.99 you can become a lifetime Bumble Premium user.
Nevertheless, every Bumble user will eventually either find a match, give up, or perhaps find a partner without the help of the app.
So, because we are sure that no one will need this app forever, we don't think that a lifetime Bumble subscription is necessary.
And you can certainly find a better way to spend $200.
Finally, if we compare Bumble prices of two above-mentioned tiers, Bumble Premium and Bumble Boost, the results are as follows:
1 week subscription:

Bumble Premium: $17.99
Bumble Boost: $7.99

1 month subscription:

Bumble Premium: $32.99
Bumble Boost: $14.99

3 month subscription:

Bumble Premium: $66.99
Bumble Boost: $29.99
So, in conclusion, we can only say that we have shown you all the perks that you can get with both, Bumble Premium and Bumble Boost as well as the Bumble pricing comparison.
Now it's up to you to draw conclusions and see which option works better for you when you take all the provided information into consideration.
How to cancel Bumble Premium?
The process of Bumble Premium cancelation is slightly different depending on whether you use iPhone (iOS) or Android mobile phone.
Open the Settings on your phone
Select your Apple ID and then click the "Subscriptions" button.
Find Bumble on the list and select it.
Click "Cancel Subscription".
Open Settings.
Find Bumble Premium subscription and select it.
Tap the "Cancel" button.
Note that you should cancel the subscription before the billing cycle ends because the subscription auto-renews after the expiration.
Therefore, if you wait too long after your Bumble membership expires, it will auto-renew and you'll spend money on that unnecessarily.
Finally, keep also in mind that Bumble doesn't offer any refunds.
Is Bumble Premium worth it?
Bumble Premium offers some quite interesting and useful features and if you are willing to look for matches in other cities, or perhaps move there if you find a match, it's definitely worth it.
It's also worth it if there are a lot of Bumble users in your area and, thus, your chances of finding someone are high.
Features like Incognito, Advanced Filters, and Beeline can save you some time and help you find a match easier and quicker.
However, the most important thing that will tell you whether Bumble Premium is worth it or not, is whether you are serious about finding a match and using the app or not.
If you are genuinely and seriously looking for a partner, then spending money on Bumble Premium is definitely worth it since it will be of great help.
On the other hand, if you want to use Bumble for fun or hookups, then we think that you shouldn't throw money down the drain since there are much smarter ways to spend money.
We did our best to present you with a Bumble Premium review and Bumble Premium features in the best possible way in this text.
We've covered all the important things related to Bumble Premium and told stuff like how to delete a Premium Bumble subscription or what do you get with Bumble Premium.
In conclusion, we would just like to recommend this text to all those who want to find out more about the Bumble Premium feature and especially to those who have "Bumble plans" and are planning to start using this app in the near future.