Being a successful dater in the world of online dating can be quite hard.
Among the millions of users, your dating profile has to be quite a catch in order to attract your potential matches to swipe right when your profile pops up.
Dating apps can seem quite daunting when you're not sure how to present yourself and how to fill the About Me section in the best way possible.
Because, let's be real, if you don't put in some effort to make your Bumble Bio attractive, it's not very likely that you'll get a lot of matches.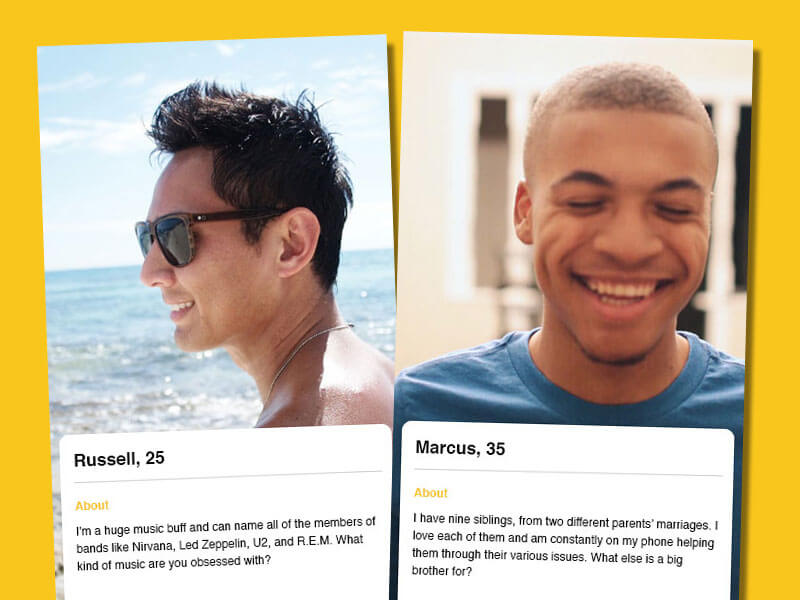 In this article, we will tell you about:
Is your dating app giving you the best chance for success?
Make sure to take our online dating site/app quiz to find out.
It's a fact that people who follow our dating site suggestions have on average 2 extra dates per month.
How to Make a Good Bumble Profile in Video Form
Audio (Podcast) form for those of you on the go
How to Make a Good Bumble Profile
There are many useful tips and tricks for making your dating app profiles get a lot of right swipes, and they tend to be similar no matter which app you are using, whether it's Bumble, Tinder, Hinge, or some less popular app.
When it comes to Bumble though, dating experts usually vary their profile tips and apply them to Bumble's core value – and that's making meaningful relationships (like eHarmony or Tinder).
Even though it's not uncommon for people to find a hookup date (like BeNaughty or Ashley Madison), it's not the main reason why people make a Bumble profile.
This is some general knowledge that you should have in mind before starting to work on your profile, as the intention is what's the most important factor here.
Without further ado, let's dive into some specific tips that will make your dating experience on Bumble as great as it can possibly be.
1. Your Photos Tell a Story, So Make Them Good
The main way people get attracted to other people on dating apps is through the pics they put on their Bumble profiles.
When it comes to profile photos, the main rule that you should always follow and try your best not to break is no selfies are allowed.
Having selfies as the third or fourth pic of the bunch isn't that bad, at the end of the day we all take selfies and have a bunch of good ones stored in our phone's memory, however, you should avoid a selfie being your first photo at all costs.
The main photo you put up to present yourself should be somewhat of a close-up photo, even headshot style.
Having a full-body picture that someone else took could also do the trick, but the more close-up ones should be the main focus.
OFL Top Recommendations based on 100,000+ Survey

"Serious Relationships"
"Discreet Hookups"
"Best Course for Men"
"Quick Flings"
"Normal Hookups"
"Our Quiz"
Depending on what vibe you wish to show off, the facial expression you have on the photo should vary.
The rule of thumb is that the best photos are the ones where you're smiling, specifically smiling with your teeth, but if that's not your favorite thing that's mostly okay.
After all, if you like to have a mysterious, moody look about yourself, there are probably people who like to see that. Maybe not many people, but there certainly are some.
Another big thing that you should try to avoid is filters. You are here to make a meaningful connection that will hopefully end up on a first date, right?
But besides the face-altering filters, you should try avoiding Snapchat-style filters that are cartoonish and childish. Those had their moment, and we'd all like to keep that moment in the past, where it belongs.
When it comes to other pictures that you put up, it's always good to put a picture with a pet if you have one, as well as something that's showing you having fun, or doing some kind of a hobby. Try giving yourself some depth and variety.
Basically, you should show yourself accurately, with a bit of an added fun twist.
2. Write a Bio That Will Make Them Stay
Your profile photos are what draws people in, but what you have to say is what makes them stay, or decide to swipe left.
How to write a Bumble bio that will stand out? Let's see!
To avoid people swiping left when they bump into your Bumble account, you should first avoid having clichés in it.
Just forget about the cheesy Latin sayings you learned in high school, and don't even think about things like "Real Eyes Realize Real Lies" and "Work Hard, Play Hard".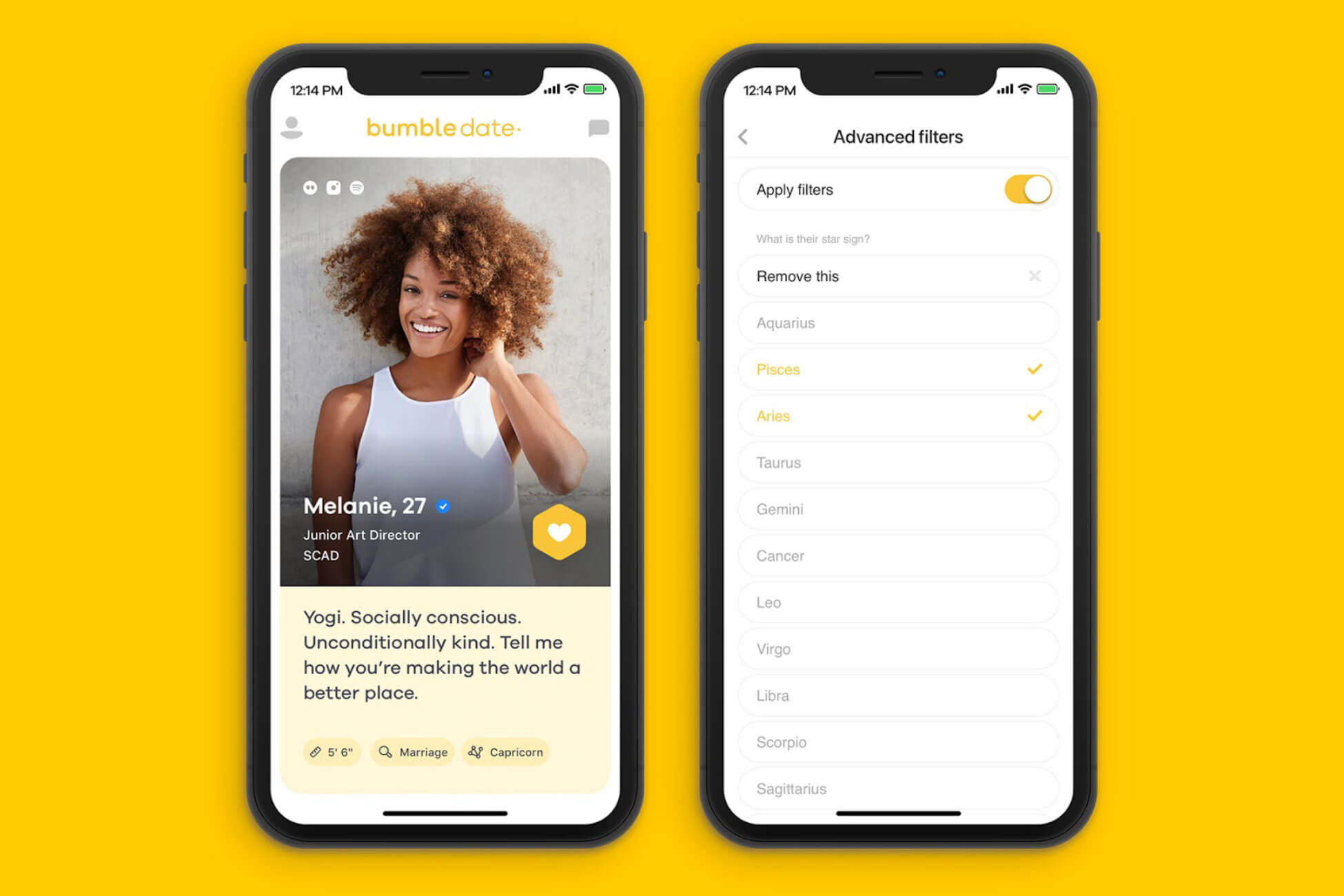 What these are saying about you is that you don't have much to offer and that you definitely don't have to offer anything that's different from a million other profiles.
Yes, the eyes, they never lie. Chico knows it, we all know it, move on.
What best Bumble bios usually include is some interesting things specific to that exact person.
Best Bumble profiles are the ones that show what is the special thing about them.
So say something that's related to your hobbies, your values, your random thoughts, maybe even your profession, and so on.
You could definitely have a sense of humor and make a bio that's witty and meme-worthy, as these usually prompt some chill and casual conversations.
That's another thing – use your Bio as a conversation prompt.
Ask some kind of a fun question, and not only will that make people swipe right, but it will also make them send the first message.
This is especially important if you are a guy that's looking for girls, as you can't send the first message yourself.
That's an important side note if you weren't aware, a female Bumble profile is different from male Bumble profiles.
So, what does Bumble look like for guys? Basically, the main difference is that when a guy and a girl match, the guy can't be the one who sends the first message, it has to be the girl.
Good Bumble bios for guys are even more important than the ones for girls, as Bumble bio for guys needs to be one of the main conversation starters.
Best Bumble bios for males specifically are the ones that aren't douchy.
What this means is that you shouldn't use your bio to insult someone or be passive-aggressive.
Don't make your bio a rand about "fake" modern girls, because no girl will like to see that, whether she matches that description or is the complete opposite of it.
These are mostly considered immediate deal-breakers to millions of people.
Having an emoji here or there can be cute as well, just don't get too carried away. Make them be the ornaments for your statement, not the things that are telling the story.
Bumble bios for men can be hard to create, but as long as you follow these tips, you're guaranteed to have success.
3. Verify Your Bumble Profile
In order to make Bumble a safer space for everyone, and lessen the occurrence of fake and catfish accounts, Bumble has a feature for verifying your profile.
On Tinder, you just send them some selfies and then the Tinder team provides you with a blue checkmark.
On Bumble, the person that you're talking to can ask for verification from you.
Once you do it, the process is quite similar to the one on Tinder.
They send you some poses and you take a selfie mimicking what you've been sent. A few minutes later, you will have your verification.
4. Make The Most Out Of Prompts
A great feature that Bumble has is the profile prompt questions.
These are some specific questions that Bumble asks you, and according to the way you answer them, the algorithm will filter who to show you, as well as who to show you to.
When answering these, try your best not to be vague, and sprinkle some humor.
If your Bumble match finds these funny, they are way more likely to make the first move and start a conversation around some of your answers.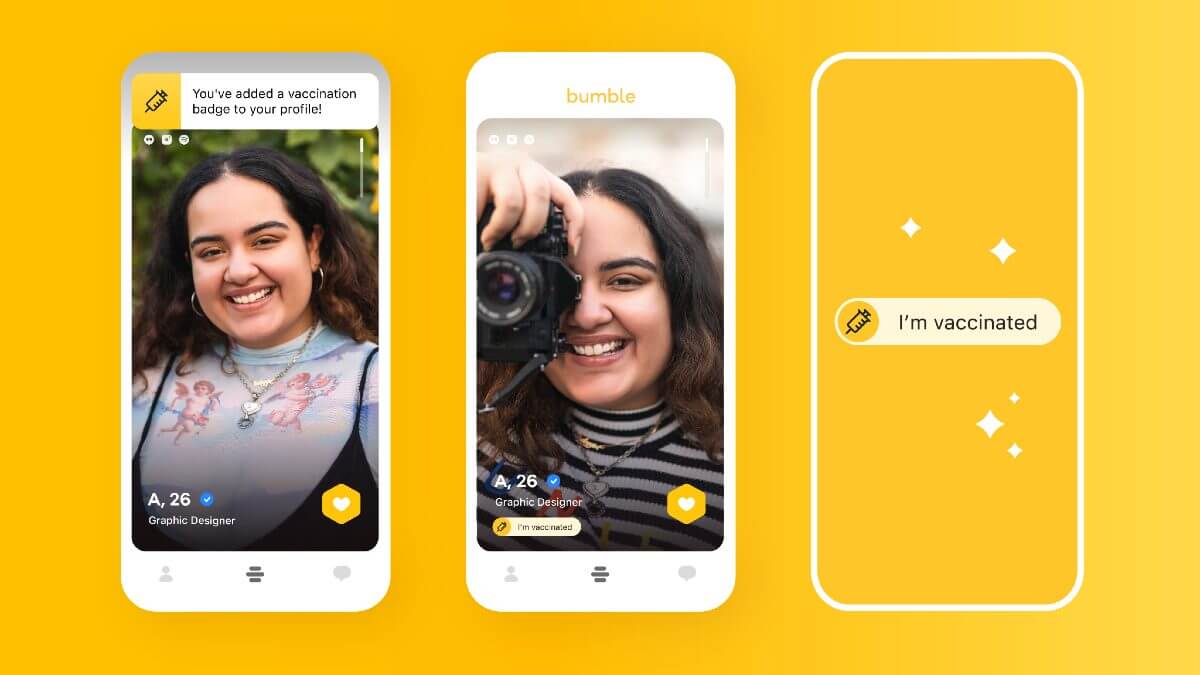 This is why it's important to go a bit deeper than just taking a great profile picture.
These just make your Bumble About Me section a lot more interesting, and as we've said, Bumble About Me for guys is quite an important segment.
5. Don't Shy Away From Bumble Badges
Besides the Bumble profile questions a.k.a. Prompts, one of the main Bumble profile tips is to use the Badges.
When you want to update your bio, but you run out of good Bumble bio ideas, you should definitely look up the Badges.
You should use the badges to your advantage mainly to curate your potential matches pool to your preferences, making sure that once you do get matches, the people you meet end up being likable to you.
By using badges, you will be filtering your match feed.
You can state what is your star sign, what are your star sign preferences, whether you like cats or dogs, and small details like that.
You can also state what your political and religious beliefs are, which can be quite useful for avoiding unpleasant conversations.
Another big filter that you can put with badges is regarding smoking and drinking – do you do it, do you mind it, or is it a deal-breaker?
Adding badges to your profile has been found to increase the chances of getting a match by 55%, so there's really no reason for skipping them.
6. Link Your Social Media Profiles
As you might know, on most dating apps you will have the option to link any other social media profiles of yours that you might want.
The main ones that you should think about linking are Instagram and Spotify.
If you're the type of person who keeps their Instagram profile public, make the most of it and use it to make a good About Me for Bumble.
People like to look at other people's Instagram profiles, especially if they are thinking of dating them. It makes them feel more familiar with the person, and it can also serve as a conversation starter.
Another one of the good Bumble profile ideas, and possibly the catchiest one, is to link your Spotify profile.
Let's be real, we all love seeing people's Spotify Wrapped at the end of the year, whether we look at it out of curiosity, or out of the need to judge them and feel superior.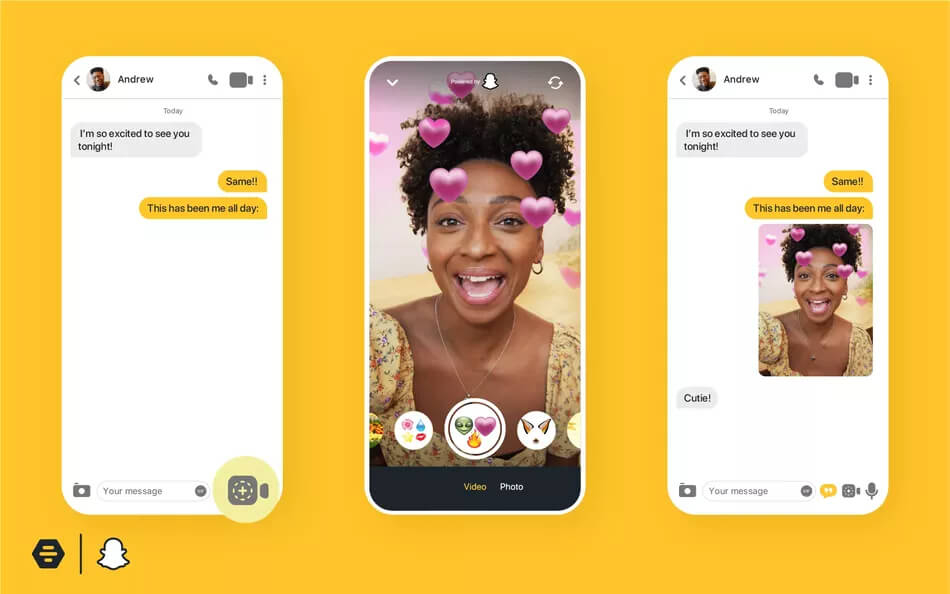 Having your Spotify connected to your Bumble app will give people a chance to know you a bit better before they strike a conversation with you.
And who knows, you might even find people that are also into that very underground alternative indie rock band that you like. Going to a gig as a first date is always an amazing choice, and this would give you the excuse to do it.