Ever since people realized that the Internet is not just a joke, and that safety is something that we should worry about while we're on it, a lot of people see each new app as a potential threat.
When it comes to online dating and dating apps, there are a few things that might be worrying to people.
Firstly, you obviously want to avoid talking to fake profiles and scammers, as well as catfishing.
This problem might also cause some unpleasant, or even dangerous, situations once the time for meeting IRL comes.
Another type of safety that you might be worrying about is privacy while you're using the app and what happens with your private data as a Bumble user, especially if you're a premium user and you're leaving some of your payment information in the app.
So, let's see:
Is your dating app giving you the best chance for success?
Make sure to take our online dating site/app quiz to find out.
It's a fact that people who follow our dating site suggestions have on average 2 extra dates per month.
Bumble is a dating app that's known for creating meaningful connections between people (like eHarmony or Tinder), rather than encouraging hookups and hookup culture (like BeNaughty or Ashley Madison).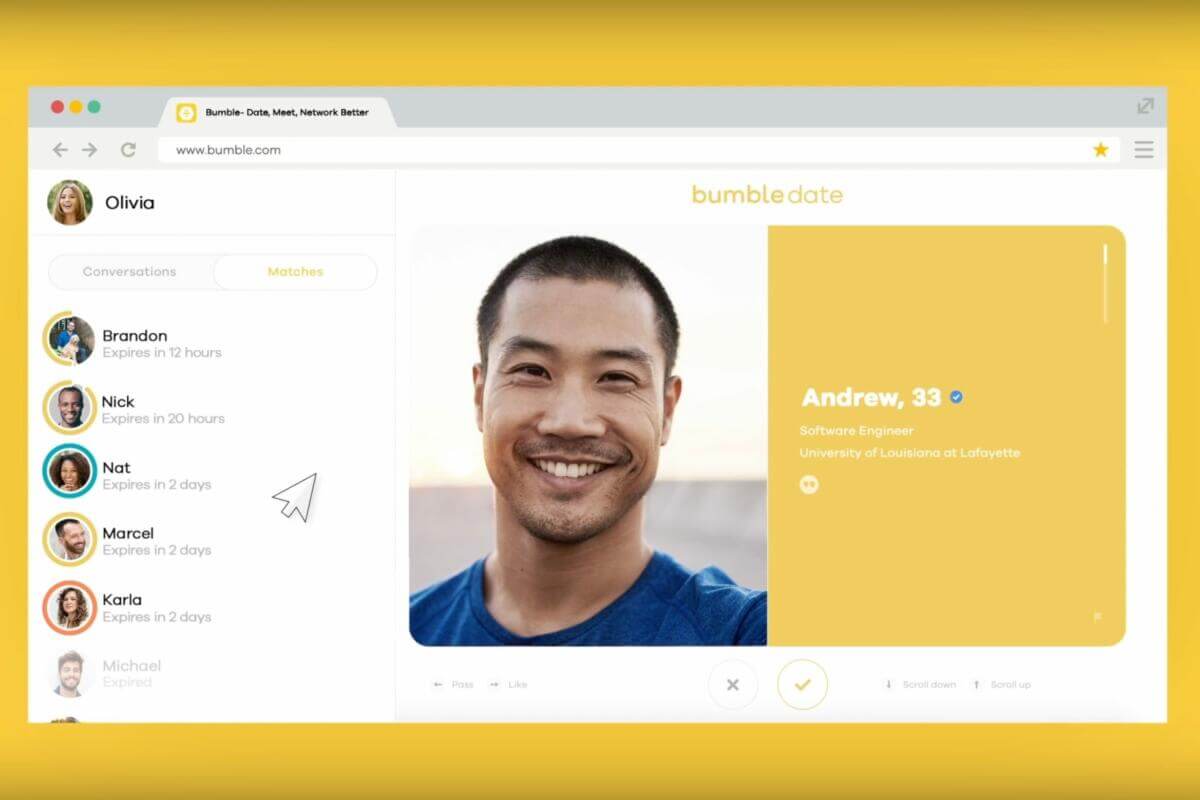 If you would go by that, you would probably think that Bumble must be a safe app to use, as this is not something that would be appealing to scammers.
And you would be right to think so!
As far as dating apps go, Bumble is one of the safest of them.
They are actively updating their features in order to keep it that way, too.
One of the best-known features on Bumble that makes it stand out from other popular dating apps, is that men can't make the first move and be the ones who initiate communication when they match with a woman.
The reason why this feature was put in place is primarily because of safety.
As you might already know, women tend to be targeted a lot more on dating apps and can be in danger of many different criminal situations.
And even if the situation doesn't develop as far as being physically assaulted, it's not rare that women get harassed on all forms of social media, including dating apps.
For, example, some matches can feel free enough to just randomly send unsolicited nudes, which can be highly disturbing.
OFL Top Recommendations based on 100,000+ Survey

"Serious Relationships"
"Discreet Hookups"
"Best Course for Men"
"Quick Flings"
"Normal Hookups"
"Our Quiz"
However, like any other online dating app, Bumble is not always 100% safe, in the sense that you couldn't just forget about any precautions and meet up with anyone.
There are always going to be some weird people appearing from time to time on your feed, it's just in the nature of dating apps.
But overall, Bumble safety measures have the least red flags in the realm of dating apps.
Now, let's see what are Privacy Terms at Bumble and is Bumble an online dating site that will keep your payment information safe if you decide to go the premium route.
Is Bumble Safe in Terms of Privacy?
Terms of Privacy – the list of things that we never truly read, but we all check the box at the bottom of it.
It is Bumble Privacy terms that you need to be looking at if you're severely concerned about your privacy while you're swiping through your potential matches.
But, if you're still too lazy to read through the whole thing, here is a short version of everything you need to know regarding Bumble's Privacy Policy.
There are quite a few things that are good about Bumble's Privacy policy.
To start with, it's extremely easy to delete your data if you ever wish to make a pause, or end using Bumble indefinitely.
Your profile won't show up to other people once you do these things.
Also, they've changed the way you sign up to the app.
Before, you could only sign up using your Facebook account, and that's not the case anymore. Now, you can also choose to use your phone number for signing up.
You're maybe up-to-date and know why Facebook doesn't have a positive reputation when it comes to things like these, but just in case you're not, let's explain that shortly.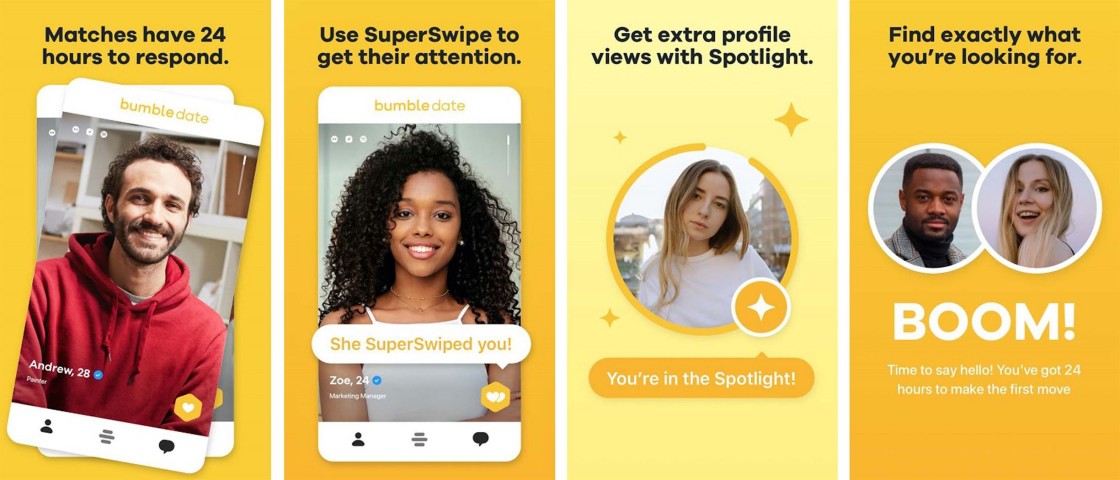 While you use the app, your Bumble info is public, and that also means that your Facebook profile could be easily tracked through Bumble.
The best-case scenario here would be that your Bumble date discovers your profile and finds some unflattering profile pictures, but on the other end of things, this could also be used by hackers who are on the hunt for data to sell.
Some things that have been banned from Bumble in order to make it a safer space include guns and other weapons in profile pictures and hate speech.
A very good feature that Bumble has is a video chat and voice calls within the app. This way, you can set up a first date without even sharing your number and email address before you meet the person.
Also, the photo verification feature is something that people say improved their Bumble experience greatly.
And finally, there is a feature called Private Detector that's used to automatically blur any type of lewd images. So, if you receive a nude image, you can decide whether you want to see it or keep it blurry for eternity.
Even though Bumble really is mostly safe, there is a big stain in their history that we have to mention.
In November of 2020, there was a huge problem with the app, a security bug to be precise, and this ended up in all of the members' private information being exposed.
This wasn't exposed to literally everyone on the Internet, but anyone who has just a bit of knowledge could've easily accessed that data and done with it whatever they pleased.
Besides this one incident, there weren't any similar situations at Bumble, and this goes for all of its modes: Bumble Date, Bumble BFF, and Bumble Bizz.
So, if this kind of a thing was a concern of yours and you've been wondering whether you should download Bumble, Hinge, Tinder, OkCupid, or something else, it's good to know that Bumble checks most of the boxes.
Now, if you are a person who is willing to pay for dating services and you wish to use some premium features that Bumble offers, you're also probably wondering whether if it's safe for you to leave information regarding payments.
Let's look into that as well!
There are two ways in which you can pay for Bumble's premium features. You can either pay directly with your card or via PayPal.
And while Bumble reassures that any information you leave while paying will be kept securely, and won't be used, it's always safer to opt for paying with PayPal when purchasing services like these.
Another thing to note when it comes to Bumble and your personal finances is to avoid sending anyone your credit card information or anything like that, as you never know where it can end up.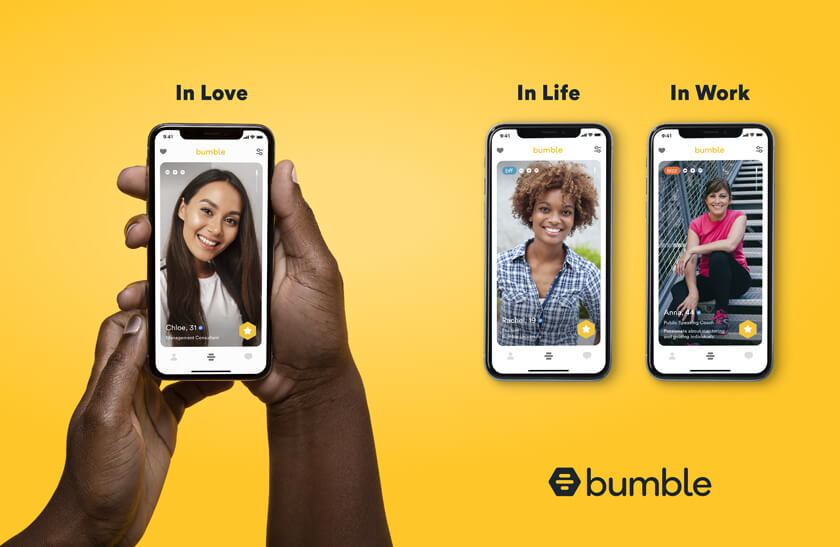 And also, someone asking for that information is a huge red flag and you probably don't need that kind of a person in your life.
How Do You Stay Safe on Bumble?
Of course, there is always something that you can do in order to stay safe while online dating.
Here are some of the most important safety tips to always have in mind.
1. Ask For Photo Verification
Even if you've been talking with your match for quite a while and you feel like they are someone who could be trusted, don't meet up for a date before asking for photo verification.
Simply ask them to use the Photo Verification on Bumble, and offer to do it yourself.
If the person is persistent in rejecting to do so, well, you probably don't even need them in your life.
Why would they hesitate if they have nothing to hide, right?
Once you're ready to take everything to the next step, don't let yourself get too lost in the moment. Always insist on meeting in a public place that has a lot of people!
Set the date in a coffee shop, or on a busy Town Square, or a Park.
Again, if the person doesn't have some suspicious intentions, they will happily agree to this.
3. Keep Your Friends Up-to-Date
Now, you don't have to make your friends go in camouflage and follow you and your date all of the time.
While it s+is fun and useful, it's a practice that's for movies.
What you should do, is keep at least one close friend informed about what's your date's name, where you plan on going, and when.
If you are anxious, you can always share your location via Google maps with your friend, so they can stay notified in case something strange happens.
And most importantly, inform your friend when you come home safely.
4. Keep Your Private Information to Yourself
Besides your name, you really don't have to share any personal info right away.
You should especially hide your home and office addresses while you're still not official with someone you've met online.
5. Be Cautious When Editing Your Profile
When you're working on your account, you want to show the real you, but there are still some things that you should keep to yourself.
While you can state what is your job title, or what you're studying, you don't have to disclose where.
When choosing what photos to put up, make sure that you can't really see where you live from them: for example, don't show a distinct view of your window, and make sure that your house number isn't somewhere in the background.
6. Make The Most Out of Block and Report
Finally, if a specific match is making you uncomfortable, you can always block and report them.
All reports are anonymous and besides helping yourself, by reporting people you will keep the rest of the community safe as well, so don't hesitate.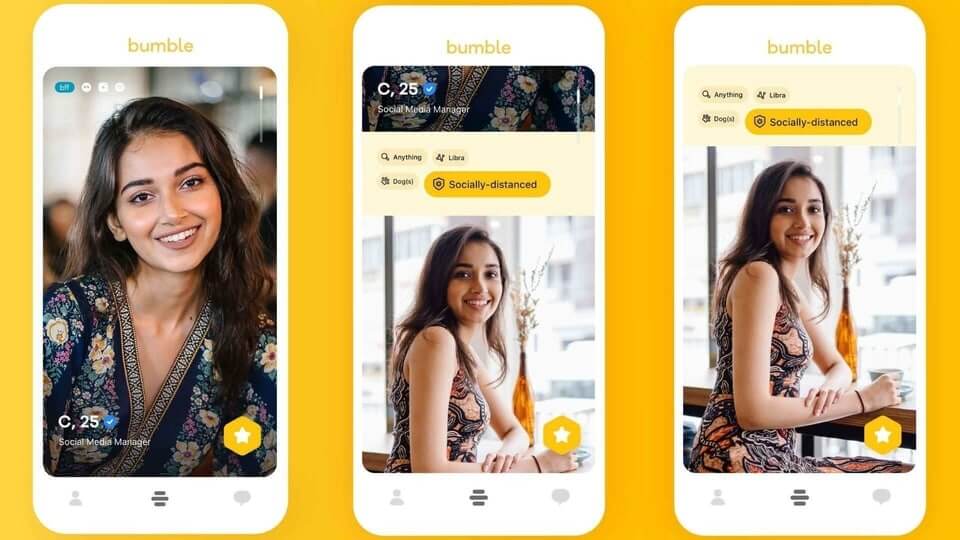 The Bumble Team will handle that!