When you hear the word Bumble, your thoughts probably instantly go to the Bumble app in terms of it being a dating app.
Bumble is mostly well known for the online dating aspect of it, but a few years ago that actually changed.
In 2016, Bumble users showed an increasing interest in using the app for making new friends, and that's how the Bumble BFF option was added.
Soon after, people at Bumble have realized the potential of expansions like Bumble BFF, and decided to add another mode for the Bumble app – Bumble Bizz.
In this review of Bumble Bizz, you will find out:
Is your dating app giving you the best chance for success?
Make sure to take our online dating site/app quiz to find out.
It's a fact that people who follow our dating site suggestions have on average 2 extra dates per month.
When you open your Bumble app, you will be asked to choose whether you want to use your Bumble dating profile, the Bumble BFF mode, or the Bumble Bizz mode.
For each of these, you have a different version of your profile, because you probably wouldn't want the same photos to be shown when you're searching for a hookup (like BeNaughty or Ashley Madison) or relationship (like eHarmony or Tinder), and when you're searching for professional connections, right?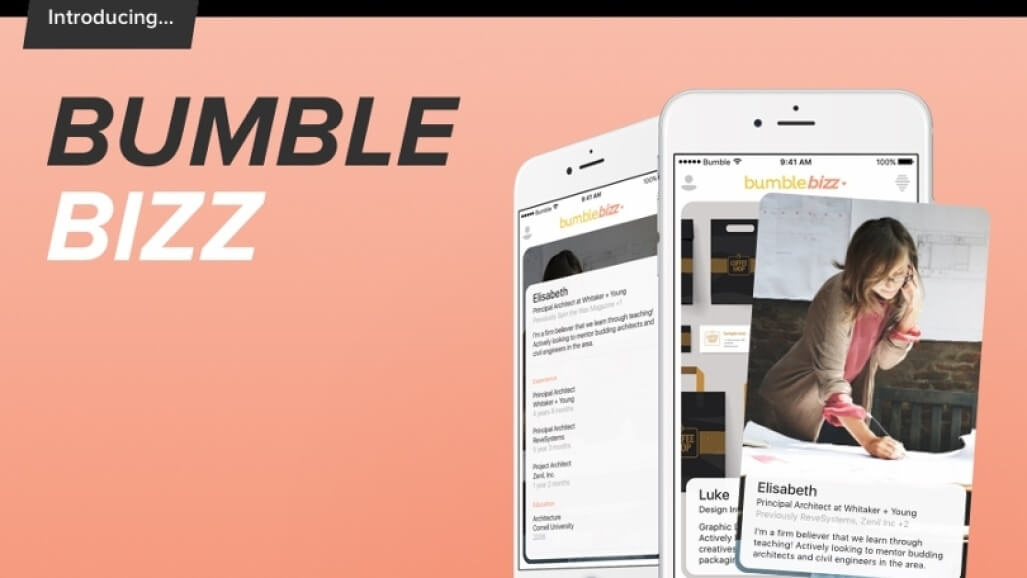 So, Bumble Bizz is a mode in Bumble that's designed to be used for professional networking.
The Bumble Bizz profile kind of resembles the profile you have on Linkedin, it has information about your professional experience, your education, as well as your professional goals.
The same way you would swipe left and right through the sea of potential partners in the dating app mode, you swipe through people who are either professional in your field, recruiters, or employers.
Having a profile in this mode of the app could be highly beneficial for you, so if it seems interesting to you, just keep reading to find out how to set up your Bumble business profile and make the first move in the business world.
What is Bumble Bizz used for?
Bumble Bizz is used for making connections with people from your professional field, like mentors, potential employers, or potential employees if you are a recruiter, or are in any way in need of new talent.
It is similar to Linkedin, but you connect with people like you do on dating apps, by swiping and matching.
What is the difference between Bumble Bizz and Bumble friends?
Bumble Bizz mode is used for professional purposes, like networking and looking for jobs or employees, so the way this mode and your Bizz profile are designed caters to that need.
On the other hand, Bumble BFF is made for meeting new people in a non-romantic casual way, so the way the profiles are designed is completely different as they are used for two completely different purposes.

Do you have to pay for Bumble Bizz?
Bumble is a free app, and Bumble Bizz is a completely free mode of the app.
OFL Top Recommendations based on 100,000+ Survey

"Serious Relationships"
"Discreet Hookups"
"Best Course for Men"
"Quick Flings"
"Normal Hookups"
"Our Quiz"
In the Bizz mode, you don't even get many benefits from purchasing the premium features, so this whole mode can be completely free to use without any difficulties.
How many people are on Bumble Bizz?
In 2020, the overall number of Bumble users was 42 million, however, there is no specific number about how many people are using the Bizz mode.
How Does Bumble Bizz Work?
The main thing to have in mind here is that your Bizz profile is completely separate from the Dating and BFF profiles, so if you already have these – do not worry, they won't have anything to do with your Bumble for business profile.
If you don't already use other Bumble modes, it's completely possible to have the Bizz Bumble only.
So, to start, you will have to download the Bumble app to your Android or iOS device if you don't already have it.
Once that's sorted out, here's how you set up your profile:
Open the app, and go to your profile by tapping the profile icon that's in the bottom left corner.
Now, you should go to the Settings menu, and to do that you have to tap on the gear icon in the upper right corner of your profile page.
The first thing on the list after you've entered the Settings menu is the Choose mode option. Tap on it.
You will be shown the three Bumble modes, and you should tap on the Bizz button.
Now just tap on the Continue with Bizz button.
After that, tap the Complete my profile button, and now you will have to fill in and complete your profile for the Bizz mode.
Now, you'll see a long page that has a lot of slots meant for you to enter all the information you need for the networking app.
Of course, the first thing to do is put up a few of your photos – make sure that they show some of the things that you can do. Don't shy away from getting a few more slots for photos and putting up a few certificates, that can be a good move, too.
You will need to add a Bumble Bizz headline, and this is used to show people who you are, what you do, and what you're searching for. As with most things with social media and resumes, this headline should be short and punchy, so a good Bumble Bizz headline example would be "An artist in need of a web designer to help with building my business website.", or something along the lines.
After that, you will need to fill in some other relevant information about yourself, like experience and education.
Another interesting and useful section of the Bumble Bizz mode profile is the Profile prompts section, which is used for helping with conversation-starting.
In the About Me section, you can add any information about yourself that you feel would be relevant, but hasn't been already stated through previous options.
Once all of that is done, just tap on the Done button, and that will return you to the home screen so you can go on swiping right as much as you wish!
Now, how does the networking part work?
Similar to Tinder or the Dating mode in Bumble, you will be presented with a lot of people that you'll need to swipe through.
And just like with any other popular dating app, once you swipe right on someone, you will be notified that you've made a match if that person has also swiped you right.
Bumble dating app will let you have the match only for 24 hours before you initiate contact, but since getting a new job is a bit more serious process, the matches you make with business owners and recruiters in the Bizz mode last up to 7 days until you start messaging each other. In case no one sends a message during the 7 day period, the match will disappear.
An important thing to have in mind about matches is that if the match is between a man and a woman, it's on the woman to start the initial conversation and send the first message.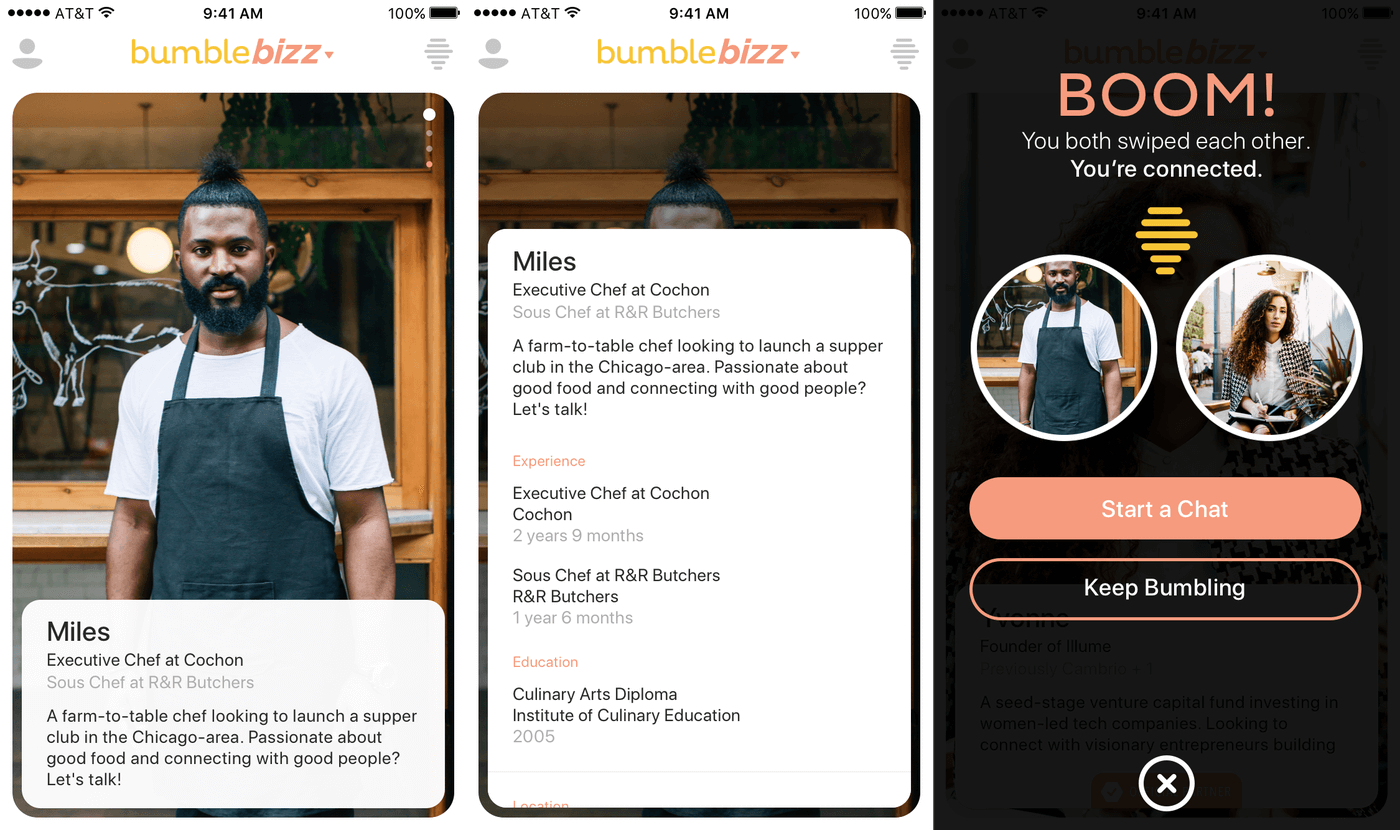 As you might already know, this practice is the same in other Bumble modes, and it's been put in place mostly to avoid sexual harassment in the app.
The Bumble app is free to download, so using Bumble Bizz is free as well.
Like most apps, Bumble also has premium features like Bumble coins and Bumble Boost, and when you use the app for dating, they really do help a lot and improve the experience significantly with finding fun people to date and pushing your profile more.
However, with Bumble Bizz, these options don't really make a crucial change.
If you use Bumble for other things too and not just to improve your career so there's frequent mode switching going on, then having premium features can help.
If you use Bumble solely for the Bizz feature, then there's no need to bother with that.
That's basically everything that you need to know about how to navigate using the Bizz mode on Bumble.
It does sound useful and very usable, too, but if you want to know even more details on does it really work as well as it sounds, then just keep on reading as we will dive into what are the benefits of using Bumble Bizz.
So, Bumble Bizz absolutely does sound like a great idea and it seems like a lot of people could benefit from it.
Especially in the period of the pandemic, a lot of the networking opportunities have been terminated, as networking events have been brought down to a minimum, so leaning on the online side of things seems like a reasonable option.
Also, the concept of a dating app and the way swiping works is a part of a lot of young people's day-to-day life, so an app that workers similarly would be pretty intuitive to use.
This practice could also have advantages for recruiters that are looking for new talent, as well as for small businesses that are either in need of new people or need to get the word out there.
The process that you go through in Bumble Bizz is easy and it doesn't take up too much time or mental energy, and you can do it whenever you yourself feel to, from wherever you find yourself being.
You could find entrepreneurs and mentors with a few swipes while you're drinking your morning coffee or commuting on public transport.
But, has Bumble Bizz really shown to be as useful as it sounds, or do other networking sites still hold the throne when it comes to modern-day career building?
Here's what we found out.
Most people who are using Bumble Bizz seriously have mostly gained some significant connections.
Also, if you live in a big city, you're very likely to find a čot of options for yourself.
Most of the users do tend to be freelancers and those looking for freelancers, or small businesses, but that is to be expected having in mind the way the app works.
However, there is also a good amount of recruiters looking for employees.
The benefits of this Bumble mode have been used even more during the pandemic, which is also another thing to be expected.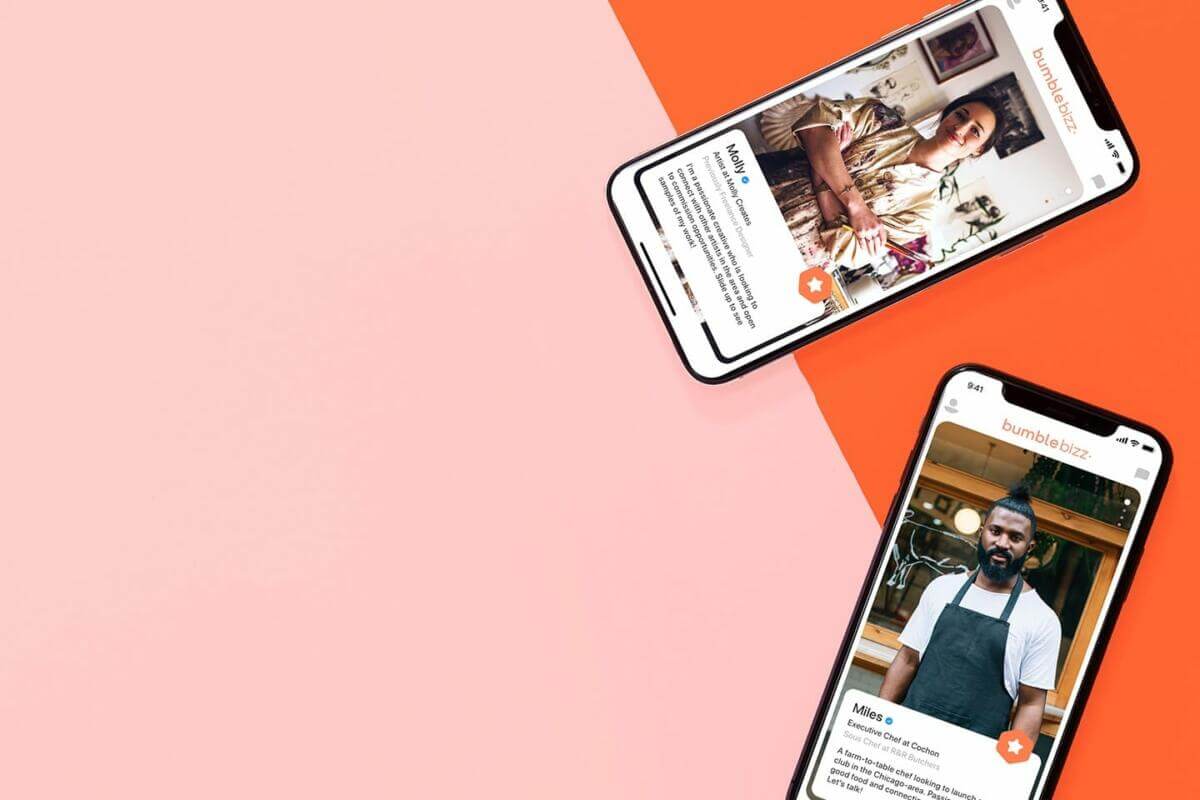 You could find a lot of people that are local to your area, but you also have the chance to connect with professionals from your field around your country, which is great if you are working remotely, or wish to do so.
However, one big drawback with using Bumble Bizz is that if you don't live in a particularly big and developed area, you might not find the variety that you potentially could otherwise.
Bumble is most widely known for being a dating app, so it didn't gain as much popularity with the Bizz mode as it did with the other modes.
Having this in mind, when you're on the hunt to find a job or improve your career in any way, you have nothing to lose if you do try to go with Bumble Bizz.
Our advice would be to have the app as an addition to what you're already doing because you never know when, or where, will you stumble upon just the right connection.