Most people who are looking for the right online dating platform for themselves have heard about Bumble, but it seems like plenty of them are still not very sure what this app can actually provide them with and what its main goal is.
Even though this is one of the dating apps with the largest number of daters users, it seems like there are still quite a lot of misunderstandings regarding it, and the Bumble dating experience may come off as something way too complicated for most people.
For that reason, we have decided to clear things up a bit and help you realize how this popular dating app works and who is it aimed for.
Here you will learn all about:
I hope you will find all the information you need and that you will swipe your way up to your soulmate!
Is your dating app giving you the best chance for success?
Make sure to take our online dating site/app quiz to find out.
It's a fact that people who follow our dating site suggestions have on average 2 extra dates per month.
Is Bumble a Hookup App in Video form
Audio (podcast) form for those of you on the go
What Kind Of App Is Bumble?
Bumble is a very popular dating app that is pretty much similar to Tinder and Hinge, and their user base tends to be almost the same.
It is one of the trending dating platforms aimed at the younger audience, and with its new filters and features appearing every month, it is created in order to help every single one of its users find their true love (like eHarmony or Tinder), or maybe a hookup (like BeNaughty or Ashley Madison).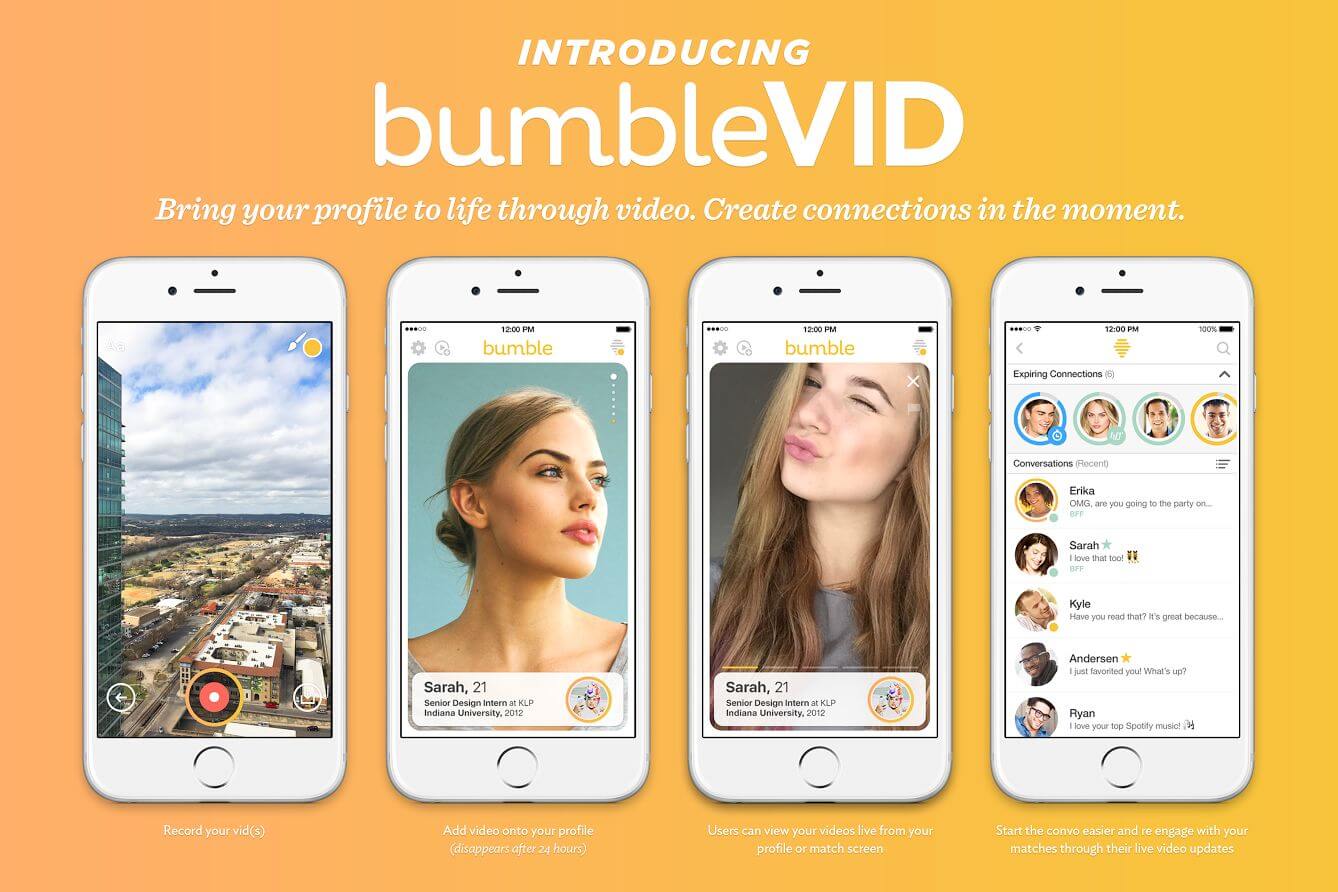 Even though Bumble doesn't claim that it is focused solely on hookups or serious relationships, I would say that people using this app don't even know what they are really looking for until they go on a first date.
Just like Tinder, its algorithm works on the swipe right and swipe left options, and each time you send someone a signal that you like them, they will receive a notification, and you will appear in their potential matches list.
Since the app allows you to upload a lot of information to your Bumble profile and you can basically describe your perfect partner and start the search for that person through the platform.
Most Bumble users start using the app with the idea of finding the right one, but in the meantime, they are open to getting into casual dating and meeting as many people as they can, even if it is just for casual hookups.
For that reason, we can't really classify this app as a platform made solely for long-term relationships or hookups because you can really find all types of arrangements.
However, since it has plenty of amazing features and it really allows all of Bumble users to basically create their desired partner and then start looking for those who resemble them the best way, I really believe it may even be the best dating app on the market at the moment.
Also, it makes sure the one who makes the first move is always the female user, which really shows that they value safety over the success of any fling or hookup.
In case you are really eager to get the most out of this app, you can even get a Bumble Bff or Bumble Bizz membership which is really one of a kind, making Bumble the first app that allows you to meet your new best friend, business partner, and soulmate in the same place.
When it comes to functionality, it is really one of the best apps, and it will allow you to meet a lot of people from the comfort of your home.
OFL Top Recommendations based on 100,000+ Survey

"Serious Relationships"
"Discreet Hookups"
"Best Course for Men"
"Quick Flings"
"Normal Hookups"
"Our Quiz"
For that reason, you can also use it for plenty of different things that are not regular Bumble hookups, and you can even change your mind throughout time.
You can edit your profile whenever you want and get rid of the Bumble hookup site and turn it into a serious platform where you will be looking for your long-term partner and someone you will share your life with.
I believe this has also helped you get a brief idea of what is dating site Bumble is because it seems like most people are not aware of all the things it offers and everything you can make happen through a simple app like this.
Can Bumble Be Used For Hookups?
We can consider this a Bumble hookup app after all because if you are focused on hookups and this is the only type of arrangement you want to be engaging in, then you will definitely only be coming across people who are looking for a hookup too.
The algorithm always makes the recommendations based on your preference, and it will help you meet people who have not only the same likes and interests in life but are also interested in the same type of relationship and would love to hang out with you in real life too.
Those who decide to use it as an app just for hookups should definitely upload as many selfies as they can and even invest in a premium membership or super like an option because that is the easiest way to gain success in a very short period of time.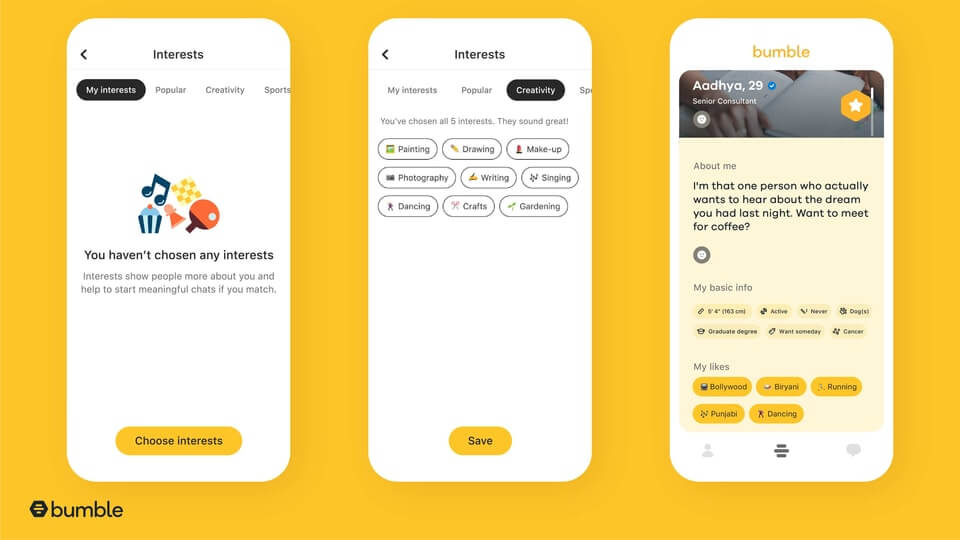 Your recommendations may not always be 100% right, and sometimes you may come across the perfect person, but who wants to engage in serious dating, and that is fine because things like this happen all the time, even IRL, let alone on dating apps.
Even if you are sure that the people that keep getting recommended to you are looking for the exact same thing, you should still pay some extra attention to it and make sure you don't waste your superswipes on someone who is the complete opposite from you.
Bumble is basically what you make from it, so if you decide to focus on casual dating and hookups only, then these are definitely the things you will be coming across all the time.
Is Bumble Just A Dating App?
As we have already mentioned, this is not a regular dating site, and except for meeting your potential soulmate or dater, you can also find a new friend or a business partner.
Bumble offers Bumble Bizz and Bumble Bff features that are available to everyone with an account, which makes Bumble one of the rare apps where you will be able to meet all the people you need at once.
Since it is extremely safe and everyone needs to have a profile verified by a phone number, you can be sure that you will not become a victim of a scammer or catfishing, and you will for sure be able to meet a large number of different people without any problems.
If you have decided to hook up on Bumble, but you are interested in meeting some new friends too, then you can always use all of these features simultaneously and try to get the best of both worlds.
Most people have no idea about these features, especially if they are using Bumble for the first time, but I believe it is really a great asset to the platform and something that will completely transform your whole experience.
Frequently Asked Questions