It can be really hard to choose one online dating app among the vast pool that includes Tinder, Bumble, match.com, OkCupid, eHarmony, Plenty of Fish, and Zoosk.
In today's text, we will compare Bumble and eHarmony in an attempt to show you the good and bad sides for both and help you choose the one that suits you best.
In this Bumble VS eHarmony article, you will learn:
Bonus tip: we have found that you can save a lot on eHarmony by signing up on the website (not the app) using this special link.
Also, make sure to check out our full eHarmony review here and check out the individual Bumble review.
Is your dating app giving you the best chance for success?
Make sure to take our online dating site/app quiz to find out.
It's a fact that people who follow our dating site suggestions have on average 2 extra dates per month.
History of Bumble and eHarmony
The two services vary in terms of age – one is almost 15 years younger than the other. Their respective origin stories had much to do with the basic ideas that are driving the work of Bumble and eHarmony. Read their stories and you will understand it all.
Bumble was founded in 2014 by Whitney Wolfe. She had been an employee in Tinder, but left her job post earlier that year because of alleged sexual harassment issues.
After these events, she was approached by the founder of Badoo who wanted to finance a new dating app, and he asked her to be the founder. They recruited two more former Tinder employees and Bumble was founded.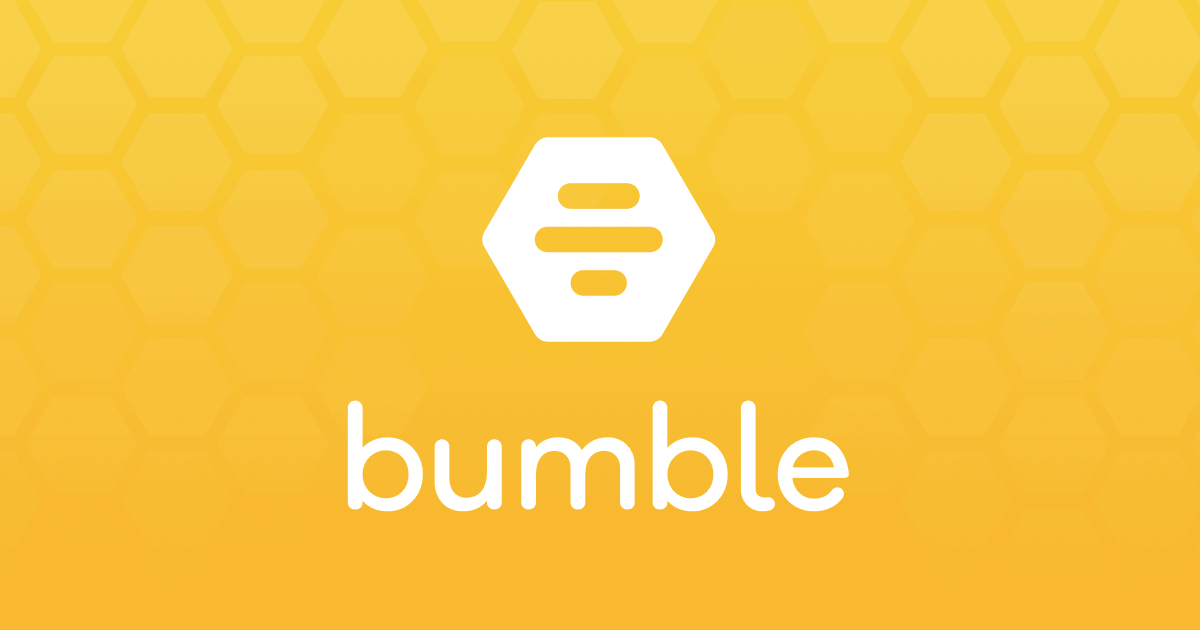 Wolfe calls this service a "feminist dating app", by which she means that women are in charge. What reins they are given, will be discussed in one of the sections below.
Bumble is primarily a mobile app. There is Bumble Web as well, though not all the features are available here.
This dating website was founded by Neil Clark Warren, who is a clinical psychologist, and his son-in-law in 1995. Initially, it was a seminar company, but five years later it became an online dating site and got the name by which we know it today.
It was the first site of its kind that has algorithms driving the matchmaking process. Unlike Bumble, eHarmony has all the features available in both web and mobile versions of the app.
The sign up processes are somewhat different for the two applications. We will explain each one.
To register for Bumble, you can use your Apple ID, phone number, or Facebook account. The last option was obligatory until several months ago.
If you choose the phone number, you will get a code in a text message that you will be asked to enter during registration.
OFL Top Recommendations based on 100,000+ Survey

"Serious Relationships"
"Discreet Hookups"
"Best Course for Men"
"Quick Flings"
"Normal Hookups"
"Our Quiz"
In the web version, the software will lead you to fill in the following information: password, name, birthday, gender, and then you will add some photos.
In the application, there are more things to do. First, you enter your name and add your first photo. You will be able to add 5 more after the first one. You can upload them from your gallery, Facebook, or Instagram.
Then, you will provide your birthday (make sure to do this right as this date will be unchangeable from now on), gender, the mode of usage (Date, BFF, or Bizz), the gender of the people you want to meet, and your email address. Finally, you will upload your profile picture.
To complete your profile, there are several more things.
A 300-word description of yourself.
3 My Move Makers – prompts that will tell more about you.
You can connect your Bumble and Instagram accounts. If you do it, 24 photos from Instagram will be shown on your profile – you will not be able to choose which ones.
Add up to 2 filters for the matchmaking algorithm, if you are a free user. Subscribers can use all the available filters.
To sign up for eHarmony, you will need some time. Here is why.
After entering your name (or nickname), email, password, and credit card info (if you want to become a subscriber right away), you will be given a personality test. Remember when we told you that eHarmony was created by a psychologist?
It takes time to complete their Compatibility Quiz – a questionnaire about your personality, but it has good use. We strongly advise you not to take this lightly as that will be the basis for the software's algorithm to match you with the compatible users.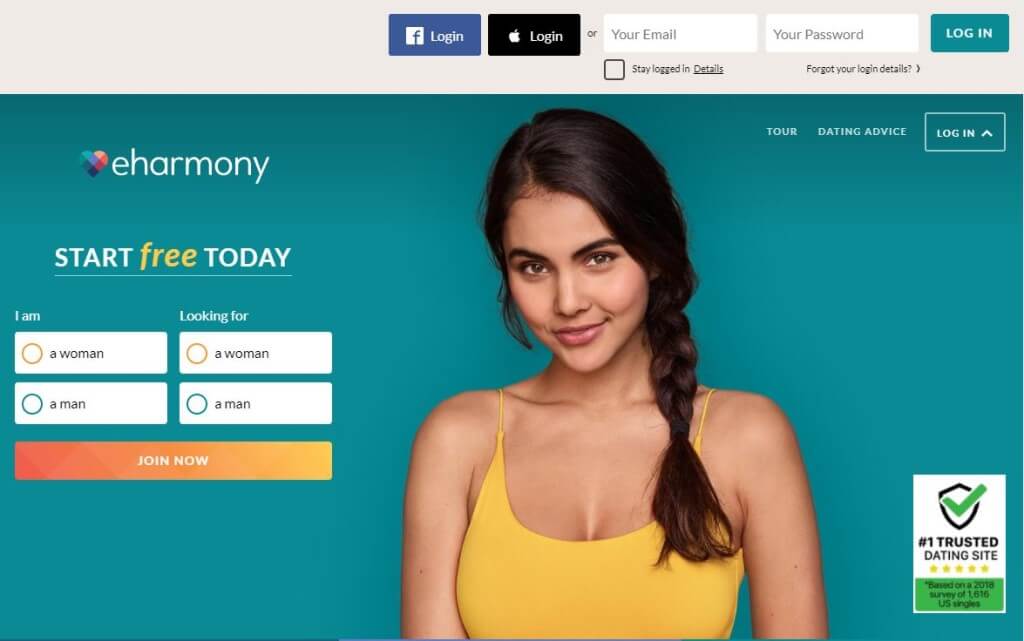 Next come adding some photos and finishing your profile. Upload the photos of your choice and fill in the necessary information:
Fill in the short introduction bio.
State your age, location, and preferences.
answer two open-ended questions about yourself.
You can also use the Facebook account and skip some of the steps.
Bumble has three modes: Date, BFF, and Bizz. They are aimed at matchmaking, making (same-sex) friends, and creating business networks respectively. Though they function separately, you can use all three with only one profile.
Browsing Bumble is similar to Tinder: you scroll through a list of potential daily matches and swipe right if you like the person or left if you don't like them. When two people swipe right on each other, a match is made and they can start chatting.
If the conversation doesn't start within 24 hours, the match expires. This will be explained in more detail later.
On eHarmony, you cannot search through all the people on the site; you are actually sent several daily matches that are compatible with your personality. The algorithm does everything for you. After all, the extensive questionnaire is there for a reason, is it not?
What you can do is connect with those suggestions. One disadvantage of eHarmony is that the ways to connect with someone are limited if you are not a premium member. People with a standard account can only send winks, add people to a list of favorites, and send them site-generated questions, and only five of them.
The compared features that are available in these online dating services are explained in the subsections below.
On Bumble, you browse through a number of potential daters that come one by one. You can swipe left or right if you dislike or like the person you see.
Once two people swipe right on each other, a match is made and the two can start messaging each other.
Before a match is established, you can send a Reaction (an emoji) to a photo, bio, or a prompt on someone's profile page. The reactions are seen after a match is established.
The matching process on eHarmony is done by the software. After you have filled in the extensive questionnaire, the system finds possible matches that are compatible with your results. You don't need to go through many profiles to find whom you may possibly like. Actually, you have no way of seeing any profiles other than the ones suggested to you.
Instead, you get several matches every day, if you are in a place with a big population, like New York or Los Angeles. In areas with a smaller population, there may be a day without a match.
If you subscribe to eHarmony, you will be able to narrow the search to a certain age range and location. When you get your matches, you are free to contact them.
Messaging is available on Bumble after a match is established. However, there is a special condition that needs to be fulfilled before you two can continue communicating freely.
Within 24 hours of a match being made, the person with the First Move privilege needs to send the first message. Similarly, the other person has 24 hours to answer. Once both people have written one message each, the conversation is considered valid and the two people can continue having a nice chat.
Now a bit about this First Move. This is where the women are empowered. Because of the stigma that men need to make the first move, start a conversation, or send the first message in a romantic relationship, the founder wanted to give women more freedom. So, in an opposite-sex match, it is always the woman who has the privilege of sending the first message. In same-sex matches, anyone can begin chatting, though the 24-hour time limit still stands.
The Extend feature can be used to prolong the response time for someone. Free members get one every day, while paying members get more.
There is the Question Game, a set of icebreakers that the person can use as their First Move. They choose one question and the conversation starts when both people have answered it.
Messaging on eHarmony is a privilege limited to the subscribed members. Standard members can only send winks, add people to a favorites list, or send them some site-generated questions. You can't even see the message someone else sends you. If you try, you will see only the beginning – the rest will remain blurred until you move to the Premium membership.
3. More Interesting Features
There are more features that Bumble and eHarmony offer to their users. Here are the most interesting things that two of the best dating apps give to their users.
Bumble
SuperSwipe: this is used to show the other person that you like them more than other people you have seen in the list of your potential matches. If you are a subscriber, you will get 5 Superswipes every week. They can also be bought.
Reactions: you can use an emoji to show your reaction to something from a person's profile. These are shown to the other person when you match.
Spotlight: if you want to have more people see your profile for 30 minutes, you can use this feature. Boost and Premium members get one Spotlight per week. They can also be bought.
Travel Mode: when you activate this, you can change your location for a week.
Beeline: this feature shows the part of the dating pool that made a right swipe on your profile. For many people, this kind of feature is why they actually choose to pay for a subscription.
Night In: in a call, you can start a Night In feature, which is a trivia game. There are 3 rounds, each consisting of 5 general knowledge questions. The task for you two is to agree on an answer and both click the same one.
eHarmony
Send Questions: there are some automated questions that you can send to your matches, though a standard member cannot reply to any message.
Send a Smile: like poke was on Facebook, so is a Smile on eHarmony. It is a cute way to show someone that they have caught your eyes.
Add to Favorites: clicking on the star to save the profile of a person you like and not forget about them during the other activities that you do and people that you meet.
Video Date: this video feature lets daters meet without exchanging phone numbers. Such a great way to protect the users!
What If: this curious feature gives users a chance to see people that don't belong to the list of their possible matches.
eHarmony VS Bumble Statistics
The Statistics for eHarmony show that it is used in almost all of the countries throughout the world. It has 51 million users and 4.9 million visits every day.
The male-female distribution is fairly equal: 51% of men and 49% of women. When it comes to the age distribution, here is a list:
18 – 24 years of age: 7%
25 – 34 years of age: 37%
35 – 44 years of age: 32%
45 – 54 years of age: 18%
over 55 years of age: 6%
On average, four dates are found every hour on eHarmony. This site is reported to be the matchmaker for over 500 weddings across the globe every day.
It is the fourth most popular app in the USA, behind Tinder, Bumble, and Match.com.
eHarmony is surely a place for anyone to find potential partners, as the service is experiencing growth in people of various religions, ethnicities, political beliefs, and the LGBTQ community.
This service may seem to have smaller numbers than others, but that is solely because it is constructed for creating long-term relationships (like eHarmony or Tinder), not for hookups and casual dating (like BeNaughty or Ashley Madison). The high subscription fees (that have been lowered recently) make people reluctant to create fake profiles and catfish.
Bumble statistics show that the service hosts over 100 million users, in 150 countries and 19 languages.
There are 42 million active users every month. From that number, the paying members are not numerous: only 2.5 million. nevertheless, this fact shows us that Bumble's free version proves to be successful enough to make people satisfied with using it.
A subscriber spends around $27 in one quarter of a year.
As for the number of downloads of the Bumble app: there were 11 million downloads in 2018, about 15 million in 2019, and over 18 million in 2020. More than half of each of these numbers belong to people from North and South Americas.
Most users come from the USA (5.5 million daily active users, which is 12.7% of the overall user count but they provide the company with as much as 76% of its revenue). In the USA, Bumble is the second most popular app, with only Tinder being more popular.
The gender ratio on Bumble is 2:1 in favor of men, despite it being seen as the 'feminist app'. It seems that this concept of being women-led works for men, too.
There hasn't been an official statement from Bumble regarding the users' age statistics, but there was another research in 2016 that gave the figure of over 63% of the users younger than 30.
More than 90% of Bumble users who are older than 22 have at least a bachelor's degree. A well-educated userbase may lead to more serious relationship goals and with that to a higher success rate.
A study from 2017 gave us some more figures: an average time a person spends on Bumble is about an hour and a half. Until the year 2017, 5000 marriages were organized by couples who had met on Bumble.
The fraud rate is estimated to be less than 1%, making Bumble stand out as one of the best dating sites.
Disclaimer: prices are susceptible to change at any time. The specific amounts that are mentioned in this text may change.
Bumble gives its users many benefits with the free version. The subscriptions are there to widen the opportunities for potential dates.
There are several things that can be bought on Bumble:
Superswipes: $3.50 for 2 and $45.99 for 30
Spotlight: $6.99 for one and $54.99 for 30.
Bumble Boost: $8.99 for one week, $16.99 for one month, $33.99 for 3 months, or $54.99 for 6 months.
Bumble Premium: $19.99 for one week, $39.99 for one month, $76.99 for 3 months, or $229.99 for a lifetime subscription.
We can freely say that eHarmony belongs to the group of the most expensive dating websites. With this in mind, we can see that it is not a place for people who are there to just fool around. The price, together with the fact that you cannot do much if you are not a paying member, may put people off from using it. So, with this, daters who aren't looking for a serious relationship are weeded out.
Without a subscription, you can see your suggestions, send them winks, add them to a favorites list, but reading messages and answering them are disabled options.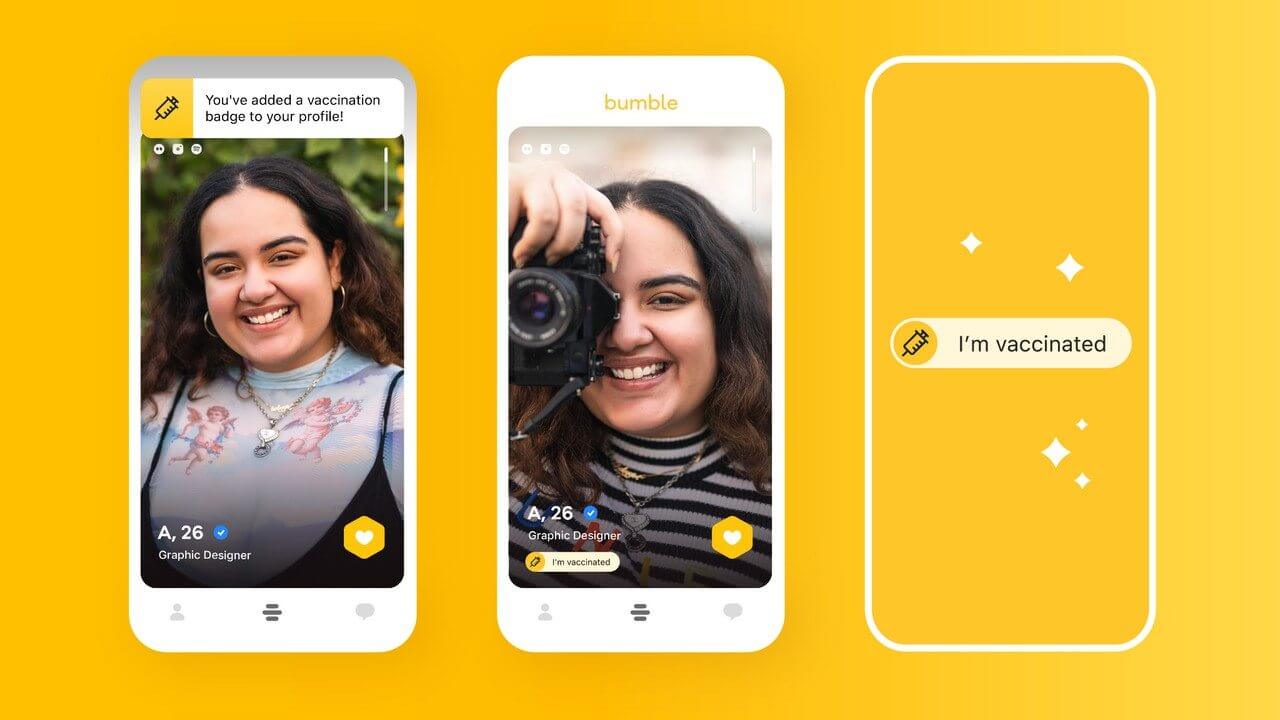 For subscribers, there is much more to do. You can message others as much as you want and you can see their photos, for example.
There are three versions of the Premium membership plans: for 6, 12, and 24 months' duration (they are called Light, Plus, and Extra respectively). The perks are all the same, but the longer the period you chose, the less you will pay for each individual month.
In December 2021, eHarmony lowered its prices. There is a special deal that gives you a discount of 50% for the first month in a row, and this is applied only if you subscribe within 41 hours of registering.
Premium Light (6 months): $19.90 per month
Premium Plus (12 months): $13.90 per month
Premium Extra (24 months): $8.90 per month
Having read this text, you could have seen how different Bumble and eHarmony are despite being in the group of dating apps.
Bumble is a laid-back app that is designed to empower women and be pleasant for use. There isn't pressure on users to pay for it, though a subscription has some great perks.
eHarmony was created by a clinical psychologist. His knowledge was applied to the matchmaking process. The users need to fill in what is asked of them and then sit back and relax until the service does the heavy lifting and finds the best matches.
The bottom line is that you should think about what you want in real life and choose a dating app accordingly.