As it is well-known, Bumble is a worldwide popular dating app.
It has around 40 million active users, and it is just behind Tinder and Badoo when it comes to popularity.
But, Bumble is different from other dating apps because it is women-orientated, namely, only women can start a conversation.
Bearing that fact in mind, a lot of people wonder what the basic rules are when it comes to Bumble Bff.
Therefore, we have decided to explain:
Is your dating app giving you the best chance for success?
Make sure to take our online dating site/app quiz to find out.
It's a fact that people who follow our dating site suggestions have on average 2 extra dates per month.
What Is Bumble BFF Used For?
The majority of Bumble date mode app users know that there are Bizz mode and Bff mode, as well.
Bumble Bizz mode is for people who are using the app in order to meet new business partners or to find a job.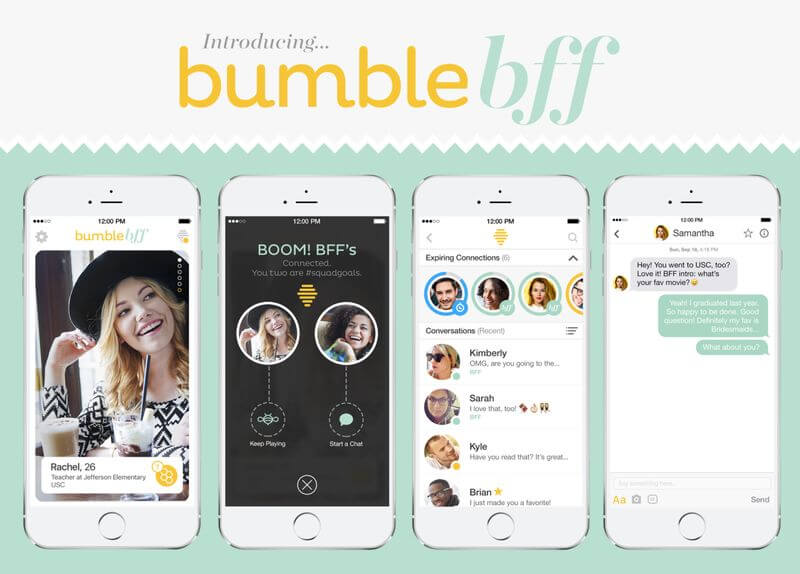 A Bff app is, on the other hand, for users who are looking for new friendships.
Thanks to the Bumble Bff app you can find a friend or a partner for training, exercising, chatting, volunteering and even your new best friend.
However, the creators of Bumble Bff mode have decided that it can be used only for making friendships and meeting new people.
So, they have created a system that will disenable people to misuse the Bumble Bff profile.
In order to filter out Bumble Bff of people who are looking for new friends with benefits or those who will spam, only people who are the same gender can match.
It means that you cannot match with females if you are male or vice versa.
How to Install Bumble BFF?
If you have been using the Bumble app for online dating or Bumble Bizz, and you want to change it to Bumble Bff to meet friends, follow these steps:
Open the app
Open the screen for swiping other profiles or the so-called "swiping deck"
At the top of the screen, you will see a Bumble logo. Tap on it.
Click "Switch to Bff"
In the upper left corner you will find a grey shadow. Tap on it.
You will see a grey pencil next to your profile photo. Tap on the pencil.
Create and edit your profile.
Start using Bumble Bff
On the flip side, if you are going to use Bumble for the first time, follow these steps:
OFL Top Recommendations based on 100,000+ Survey

"Serious Relationships"
"Discreet Hookups"
"Best Course for Men"
"Quick Flings"
"Normal Hookups"
"Our Quiz"
Download the Bumble app from the Playstore or App store by Apple.
Android users can download the app from the Playstore (IRL here).
The iOS users can download it via the App store.
Create a new profile
After you create your profile you will be asked whom do you want to search for first.
There, select "New friends".
What Does Bumble BFF Look Like and How Does It Work?
The app is well-designed, and it is easy to find potential friends.
When it comes to its appearance, it is just the same as the original Bumble app for dating.
Even the process of creating a profile on this social media is the same.
Namely, first, you choose a few pictures of yourself and add them, then connect your profile to other social networks like Instagram, Facebook or Spotify and finally, add some additional information about yourself.
Even the swiping rules are the same as on the Bumble date app.
If you want to possibly match with someone, and later meet up swipe right.
On the other hand, swipe left if you do not like a person.
Once you have matched with someone, you can start chatting and creating a new Bumble friendship.
What Is the Difference Between Bumble and Bumble BFF?
We would say:
No romantic relationships
No misuse of the Bff aspect
Different badges
If you have read our previous paragraph you might have asked yourself if there are any huge differences between the aforementioned Bumble modes.
As we said, the main difference is that you cannot misuse the Bumble Bizz profile and chat with someone in order to "pull a cracker" later.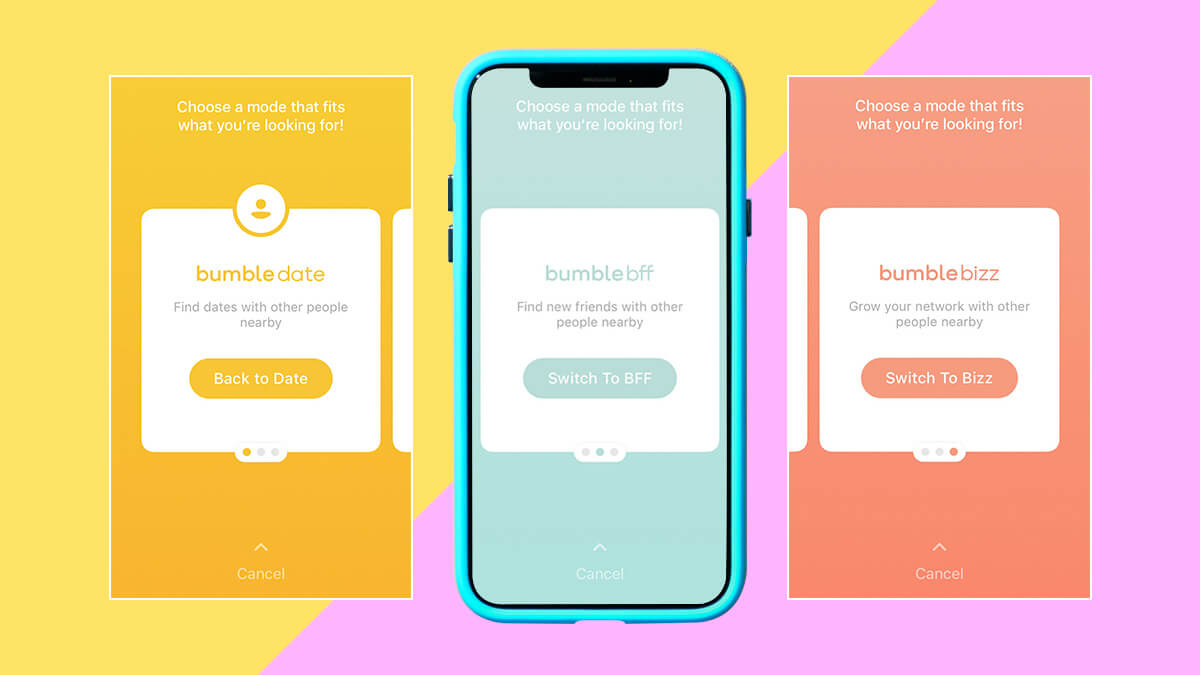 This mode of Bumble for friends also does not allow you to get in touch with the opposite sex, so it minimizes the chances of misapplication.
Another difference is that Bumble Bff has its own unique badges.
Before we say what badges are available to the users of Bff, the term badges need to be explained briefly to the users who might have not heard of that before.
Namely, Bumble has introduced badges to help people describe themselves.
One can use 5 basic badges in their bio.
So you can use the following badges:
Relationship status badge
Looking for badge- it gives other users an idea of what you are looking for (roommate, a friend for training, co-volunteer…)
If you have or you are looking for people with kids use the so-called "Kids badge"
Pets badge- use it if you have pets or you are looking for people with pets
New to area badge
The "new to area" badge will appear for around 15 days since the creation of your account.
It serves to tell other people that you have just installed the app or started using it.
There are interest badges, as well, that serve to give other users more detailed information about a user.
You can use as many interest badges as you want.
Can You Apply Bumble Premium or Bumble Boost to Bumble BFF Mode?
Yes, you can apply all the features of Bumble Premium or Boost package to Bumble Bff.
However, it is doubtful whether it is worthy because we are talking about meaningful friendships and friend dates here, and not about potential hookups, one-night-stands (like BeNaughty or Ashley Madison), or relationships (like eHarmony or Tinder).
Namely, if you are looking for a long term friend you will not need all those additional features because the people will not be so reserved when it comes to matching, as long as you have similar interests.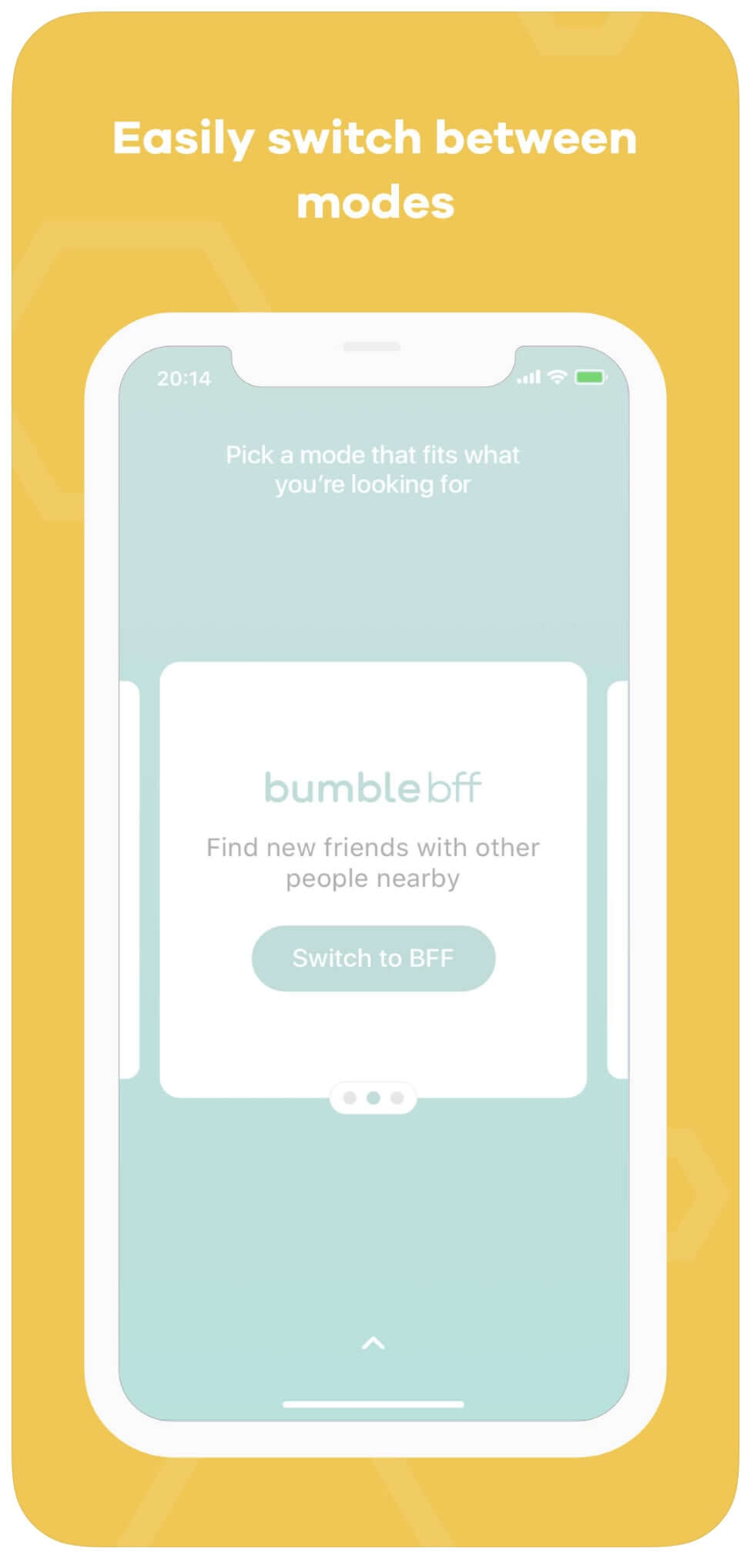 Moreover, you can meet people of your own gender only, so it kinda guarantees that people will be outgoing to some degree.
All in all, we recommend Bumble Premium and Bumble Boost only to those who use Bumble date mode.
Is Bumble BFF for Dating?
Like we said above, Bumble creators have created Bff mode only for making new friendships.
Moreover, people using Bumble Bff cannot approach the opposite sex.
However, in theory, you could make the first move if you are homosexual, but most people who use Bumble Bff do not look for a relationship, but for a friendship.
In addition, you might get reported because some people might find your approach offensive.
Therefore, if you are looking for hookups, install Bumble Date or some of the other dating apps.
Is Bumble BFF Safe During Pandemics?
Imagine yourself moving to a new city just at the beginning of the pandemics.
Alone, without any friends, let alone besties.
What would you do?
Well, we would recommend you use social media like Bumble Bff.
You might ask us whether it is safe to use the app and eventually meet new friends during the coronavirus.
We would say yes, it really is because Bumble developers have put a lot of effort into making the app socially responsible during these hard times.
Namely, thanks to Bumble creators, there are specific badges that denote your vaccination status.
So, if you meet someone, and after some time you want to get out and have a brunch with him/her, but at the same time you are worried about whether he/she is vaccinated or not, you can check that immediately.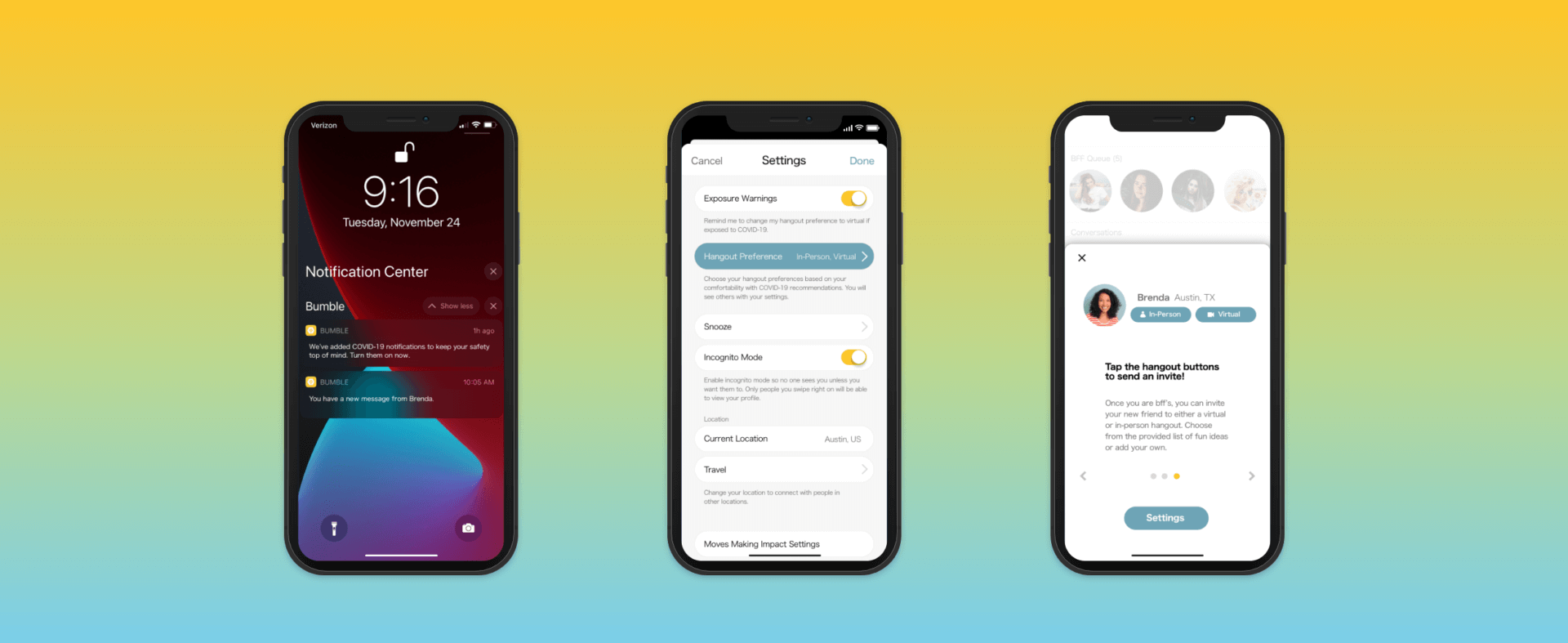 Moreover, all Bumble apps (Date, Bizz, Bff) have enabled their users to pinpoint their date comfort levels during the pandemics.
Therefore, you can denote if you want an online meeting, meeting with a social distance and meeting with a social distance while wearing masks.
Overall, we believe that Bumble Bff is a great place for creating and making new friend groups.
However, we would recommend Bumble developers to enable gender mixing within the Bumble Bff mode, but we know that it would be hard to control because many would try to misuse it.
All in all, if you like to keep yourself to yourself in real life or you have just moved to another town this is a perfect app for improving your social life.