Hi there! Welcome to another deep dive into the world of Bumble online dating.
After reading this article, you will be informed about everything you need to know about Bumble rules and regulations.
Once you know all of that, you can swipe through the dating app without any worry about doing something wrong.
Here's what we'll go through here:
So, without any further ado, let's jump right into the rules of Bumble.
Is your dating app giving you the best chance for success?
Make sure to take our online dating site/app quiz to find out.
It's a fact that people who follow our dating site suggestions have on average 2 extra dates per month.
Bumble Rules in Video Form:
Audio (podcast) form for those of you on the go
General Bumble Guidelines
As you might know, Bumble is not only used for dating.
Besides Bumble Dating, there are two other modes on this app, called Bumble Bizz and Bumble BFF.
Bumble Bizz is used for networking and creating good professional connections, and Bumble BFF is the mode that you should opt for when you want to meet new people in your area to simply hang out with.
Even though these have very different purposes, there is a basic Bumble etiquette that applies to all of the modes.
So, let's see what are some overall rules to go by while using Bumble.
This rule could also be called simply being a decent human being, but there's no harm in being reminded about what this means.
As on any dating app, whether it's Bumble, Tinder, or something else, you will run into a wide variety of people.
They could be of all sorts of beliefs and life values, and a lot of them probably won't match up to your own.
It's important not to cause a conflict over something like this, but rather simply end a conversation if you find out that someone doesn't believe something you do.
Another thing to have in mind is other people's boundaries, especially when it comes to relationships (like eHarmony or Tinder) and hookups (like BeNaughty or Ashley Madison).
If the person you're talking to directly says that they are not comfortable with the direction in which the conversation is heading, don't push them.
OFL Top Recommendations based on 100,000+ Survey

"Serious Relationships"
"Discreet Hookups"
"Best Course for Men"
"Quick Flings"
"Normal Hookups"
"Our Quiz"
This mostly relates to sexual consent, and not only is this just a generally bad thing to do but you could also get reported if you do something that has a sexual connotation and the person didn't give explicit consent for it in Bumble messages.
And lastly, don't be offensive.
There is a no tolerance on Bumble whatsoever when it comes to racism, hate speech or bullying of any kind, really.
If you show this kind of behavior at any point during your Bumble usage, you will be blocked from Bumble immediately.
2. Don't Copy And Paste The Same Opening Line Over Again
If you have a lot of matches, and you don't really know how to send the first message to them, you might think that re-using the same pick-up line over again might be practical.
Well, this is actually not allowed on Bumble.
Copying and pasting the same message over and over again is against Bumble guidelines, as it's considered spam.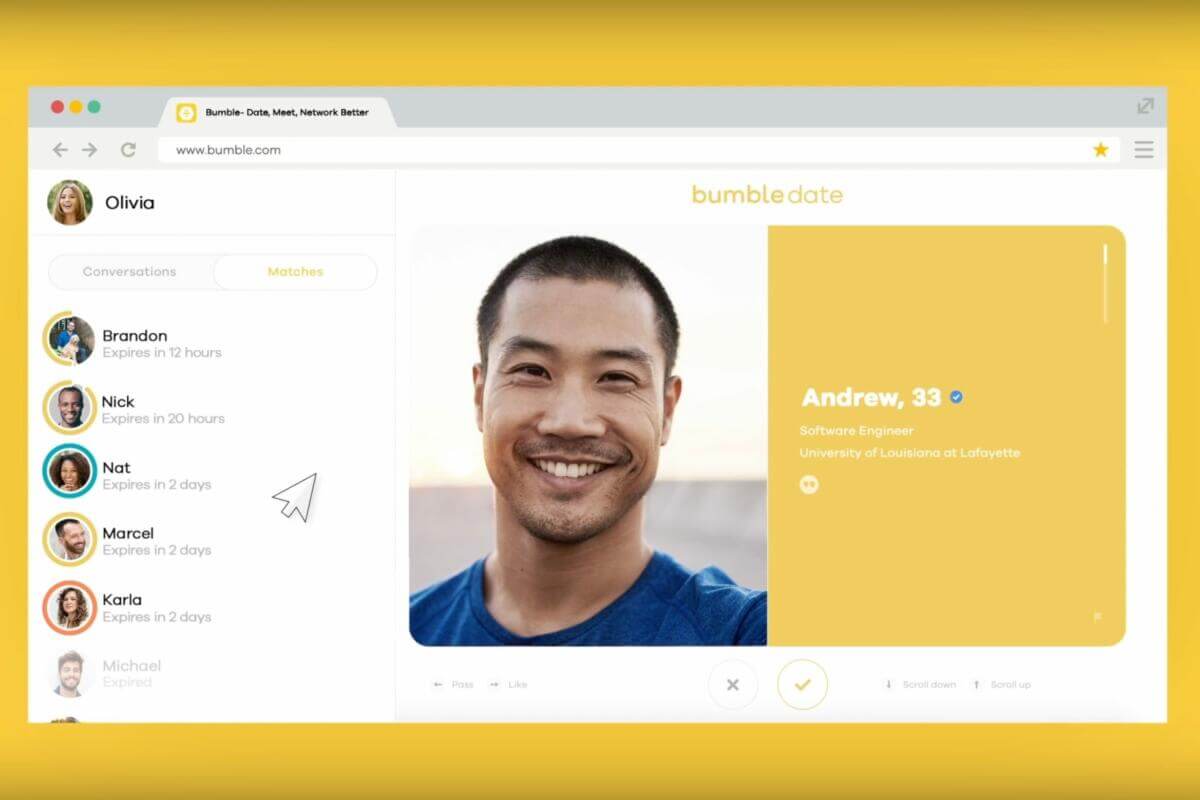 So, before you swipe right on your potential matches, be sure that you have some idea about what you would like to say to them.
Yes, there's always a possibility that they'll end up being expired matches if you don't make the first move fast enough, but doing this is definitely not the way to go.
3. Bumble Isn't a Social Media Promotion App
This might not occur to you, but ever since being a content creator became the it job, a lot of people came to the idea to use dating apps as a way to gain followers on their platforms.
While it is great to link your Instagram and Spotify profiles in order to better connect with other people, don't use this for self-promo.
And definitely don't spam people with messages asking them to follow you.
Not only is this a cringe move in general, but as we already said, spamming people could get you blocked from the app.
Or, your matches might report you themselves, because let's be honest, no one likes being chased down to follow something they probably don't have much interest in.
And speaking in terms of social media management, the following that you might gain this way will probably not be a long-term following, so it will overall do you more harm than good.
This seems like an obvious one, but here's a reminder – don't use Bumble or any other popular dating app for that matter, for something illegal.
Selling, buying, and even promoting substances that are illegal is a direct violation of Bumble guidelines.
We won't get into your business and what you do with your spare time out of Bumble but using Bumble matches as customers for this really wouldn't be a smart idea on your part.
5. Transactions Are Not Welcome on Bumble
Even if you're selling things or offering services that are completely legal, Bumble shouldn't be your choice if you're looking for a marketplace.
Of course, if you meet someone through your Bumble profile and then transition the conversation somewhere else, then there you can do whatever you want, but transactions, while you're still on Bumble, are not a thing that you could do.
To be precise, here's a list of things that you should avoid:
Links for money transfer services like Venmo, PayPal, CashApp, or anything of the sort.
Invitations for joining any kind of MLM or network marketing groups.
Links for your platforms that require transactions, like OnlyFans, Patreon, ManyVids, and so on.
Basically any kind of solicitation of products or services.
6. Make Sure Your Photos Follow The Guidelines
There is a specific set of guidelines that regard the pics you put up on the Beeline.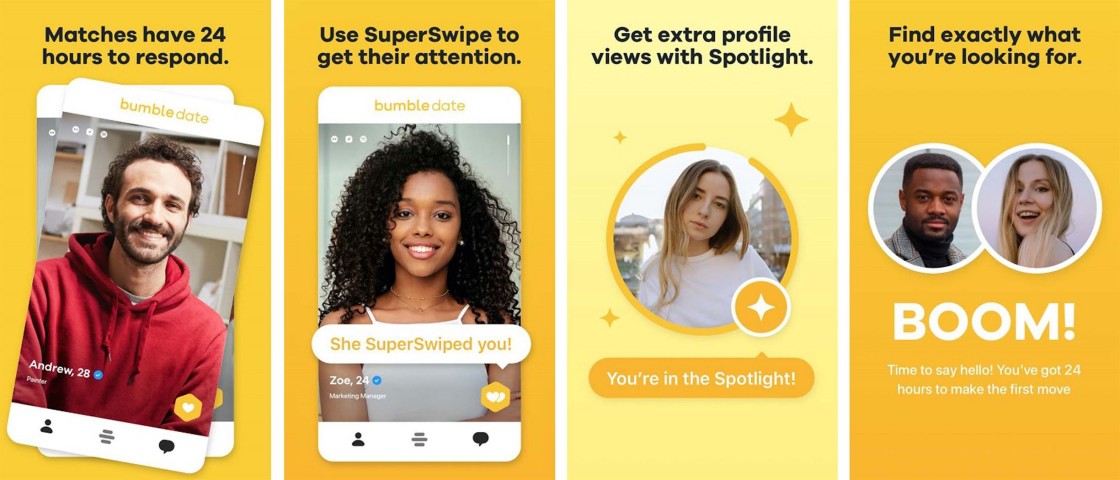 So, make sure that you check for all of these things before putting some more photos up on your Bumble dating profile.
There can't be any kids on their own in the photos, they must be with other people in the photo in order to be suitable for Bumble.
Pictures in bikinis and swimwear indoors are not allowed.
There can be no pictures in underwear.
Mirror selfies that have a shirtless person on them are not allowed, as well as underwear mirror selfies.
Your face must be fully visible in each photo you put up.
Your photos can't have any watermarks or text overload on them.
Pornographic material is not allowed.
You can't have any graphic photos of hunting up on your Bumble profile.
There can't be any guns or other weapons in your Bumble pictures.
If you try to have a photo including anything from the list, the algorithm works to catch that, so they will be removed before you even have time to save the changes.
If you succeed to get away with any of these, you should keep in mind that there's always a chance that someone will report you, so it's simply best not to put up anything like this at all.
When it comes to the Dating mode of the Bumble app, the main specific rule is in connection with how to message someone on Bumble.
If you're looking for a partner that's the opposite gender to you, then you should know that Bumble works differently for you.
In order to have a first date, you need to initiate a conversation with your match first, but if you are a guy you can't be the one to do that.
On Bumble, only women can make the first move.
Bumble messaging can seem impossible now that you know this.
Our tip for you, if you're a guy, is to make sure that your bio and your profile prompts are polished to perfection, so the girls will be inspired to hit you up as soon as possible.
If you're a girl, we suggested that you try not to overthink things too much, and just send the message right away.
As you know, matches on Bumble can expire within 24 hours, so if someone does look like a person that you could have fun with, just send that message!
If you're not into the Dating side of Bumble, and you wish to make new friends using the Bumble BFF mode, here's what you need to have in mind.
When it comes to photos, you should follow the guidelines that are in place for the app overall, it's no different.
But, besides following the general guidelines, you should always keep in mind that you're in friend mode here.
Bumble BFF is a friendship-only mode, so trying to spice things up and flirting with someone probably won't go well.
Of course, we as people are not always predictable and romantic feelings can happen between online friends, just like in real life. If this happens to you, and it's mutual, it's probably going to be best to move the conversation to another app, like Instagram.
Bumble Bizz is a mode on Bumble used for online networking and creating meaningful professional connections.
In this kind of setting, making sure that everything is done by the rules is extremely important.
What you need to do is follow the basic guidelines that work for all Bumble modes, and you'll mostly be okay.
Obviously, this is the professional mode, so stay away from trying to mix romance into the conversation, and try not to be too casual.
Just because it's done through an app, the networking you do won't be any less official, and you'll have to act like it.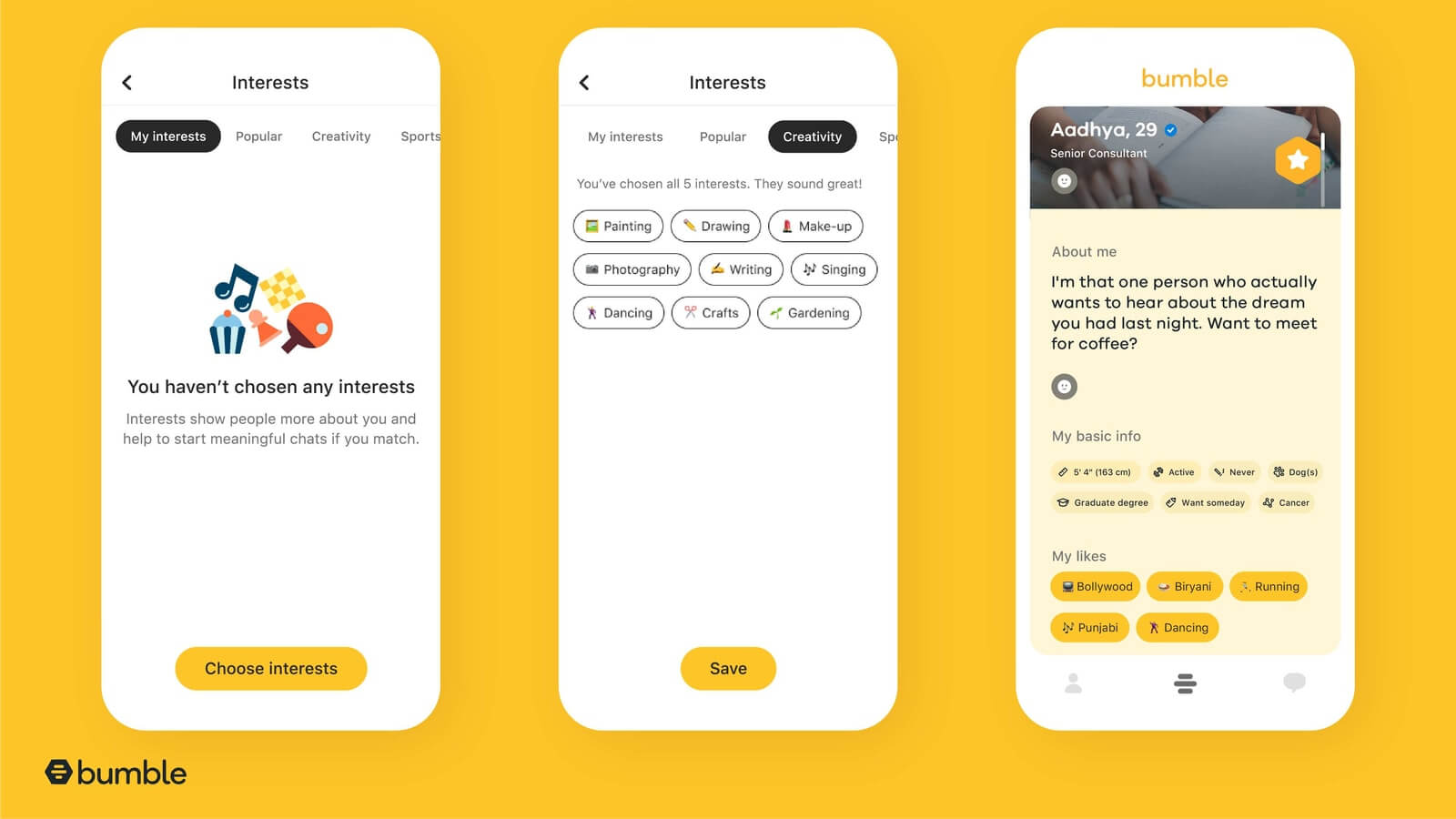 One more important thing for Bumble Bizz is that having pictures that have personal contact information is not allowed. You also can't put that kind of info in your bio.
Remember, this mode should be used for networking, not for the direct promotion of your skills. As with any other kind of networking, benefits will come in time.