When it comes to Bumble dating app, there are several dating modes, namely Bumble Bizz, Bumble Date and Bumble BFF mode. Of course, you can use more than one mode and have separate profiles for each mode. But are you wondering which dating mode to use?
In this Bumble Date vs Bumble BFF article, we are going to:
But first, let's find out about the three Bumble modes.
Is your dating app giving you the best chance for success?
Make sure to take our online dating site/app quiz to find out.
It's a fact that people who follow our dating site suggestions have on average 2 extra dates per month.
There are three Bumble modes you can choose from. These are Bumble Bizz, Bumble Date and Bumble BFF.
Regardless of the mode you wish to use, you first need to download the app from the Google Play Store or the Apple App Store and create an account by filling in all the necessary information about yourself.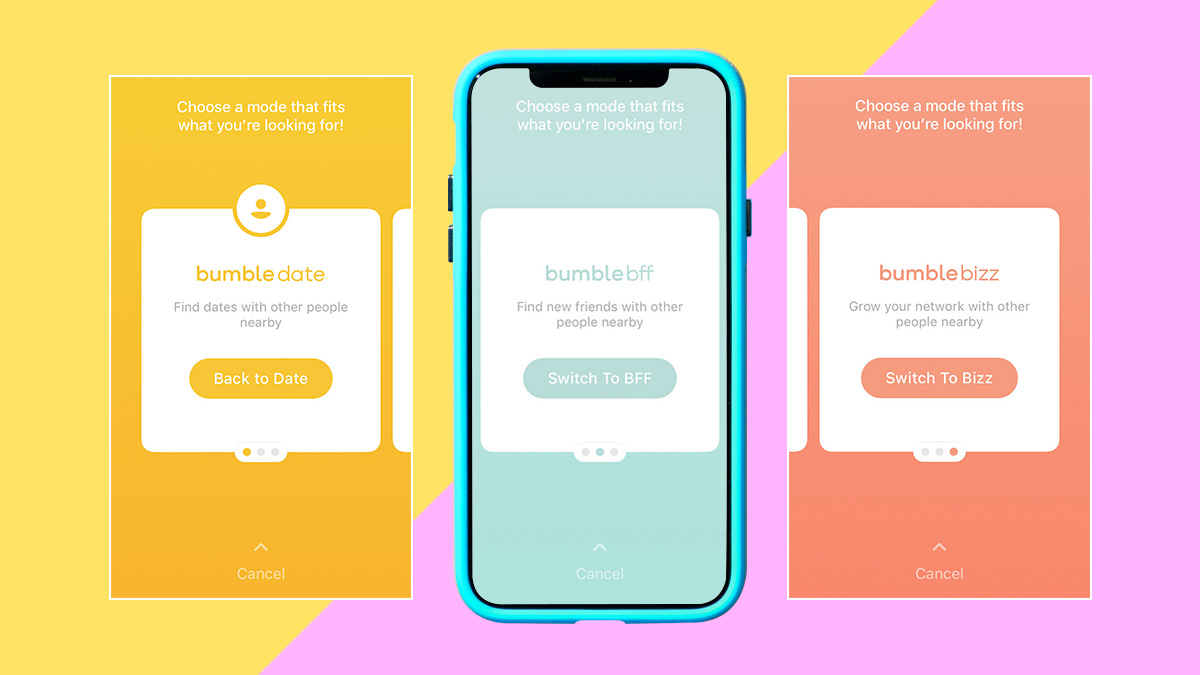 Then, it is time to choose your preferred mode. This brief description of each mode will help you do that.
Let's say you want to expand your professional network and increase your prospects of landing a new job.
Or, you want to connect with people specializing in your area of expertise and share experiences and ideas with them.
Bumble Bizz is the right choice for you in that case.
Showcase your experience by selecting adequate photos that tell your professional story.
Complete your bio by including relevant education and work experience and any relevant achievements.
Now you are ready to start swiping and networking.
Bumble Date is perfect for those who want to embark on the journey of online dating, connect with others, meet people and potential dates, hang out, start a relationship (like eHarmony or Tinder), or a quick fling (like BeNaughty or Ashley Madison). Is this your intention?
Select six photos, making sure they are appropriate and of good quality. Ideally, you shouldn't use group photos to avoid potential confusion and misunderstandings.
Now you are ready to swipe right and left and meet your special someone.
The third Bumble mode is Bumble BFF. In case you are wondering, it stands for Bumble Best Friends Forever.
This Bumble app is designed for users who want to find new friends and expand their circle and, who knows, maybe even best friends.
Maybe you have just arrived in a new city and you need someone to show you around.
Or maybe you need a workout buddy to help you sustain your motivation.
Maybe even a travel buddy to share travel costs with and get to know each other.
If you have found yourself in any of those situations, this Bumble mode is perfect for you.
No matter which Bumble dating mode you are using, women are required to make the first move and strike a conversation unless in the case of same-sex relationships.
Now that we have seen the purpose of each of these modes, let's compare them in detail. We are going to focus on the similarities and differences between Bumble Date and Bumble BFF.
Both are female-focused, free and widely popular dating apps across the globe. They are available both on Android and iOS and you can download them in your Google Play Store or Apple App Store.
What's more, the users are mostly aged between 23 and 38 regardless of the mode they are using.
The app also promotes diversity and inclusion, so same-sex dating is possible no matter if you are using Bumble Date or Bumble BFF.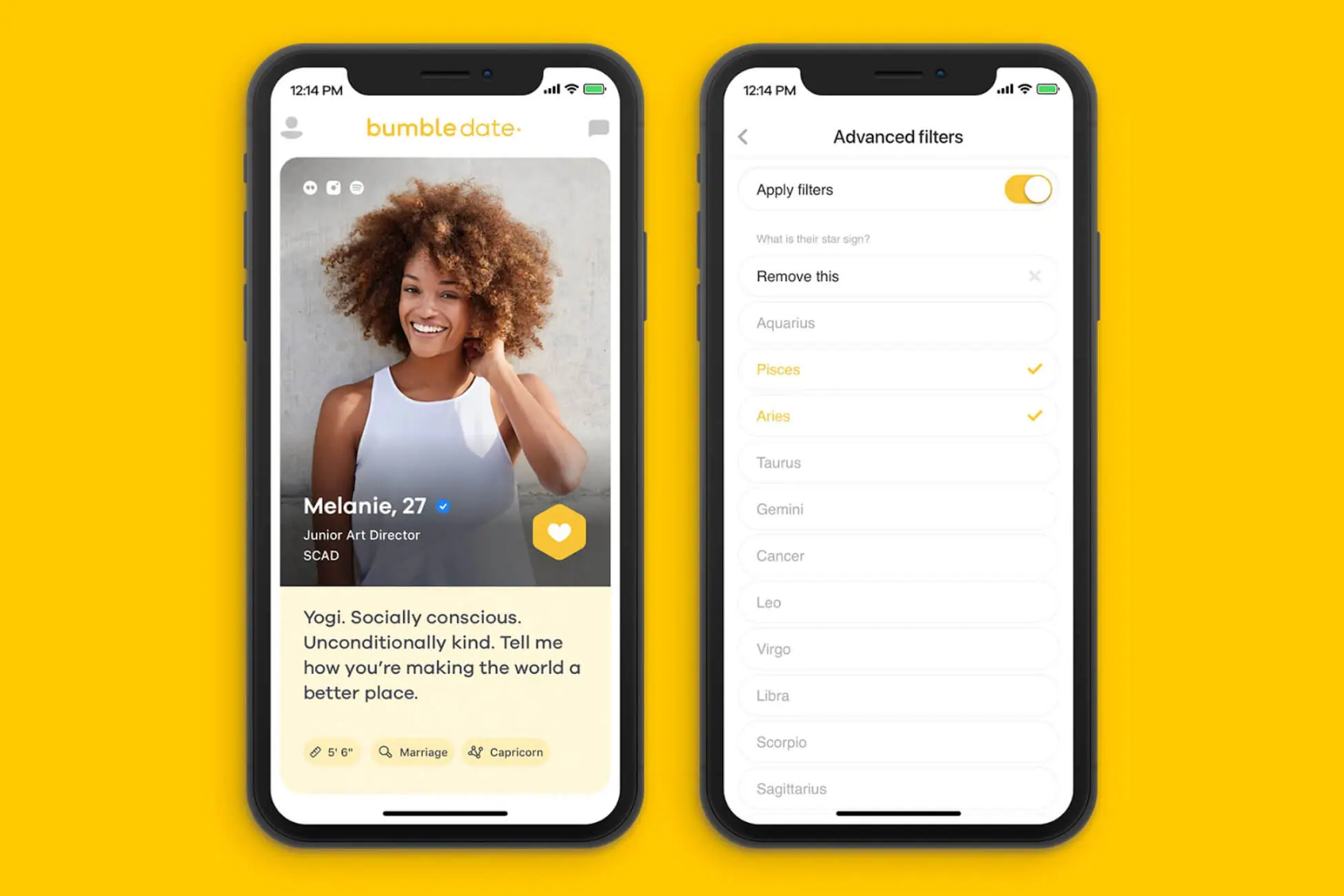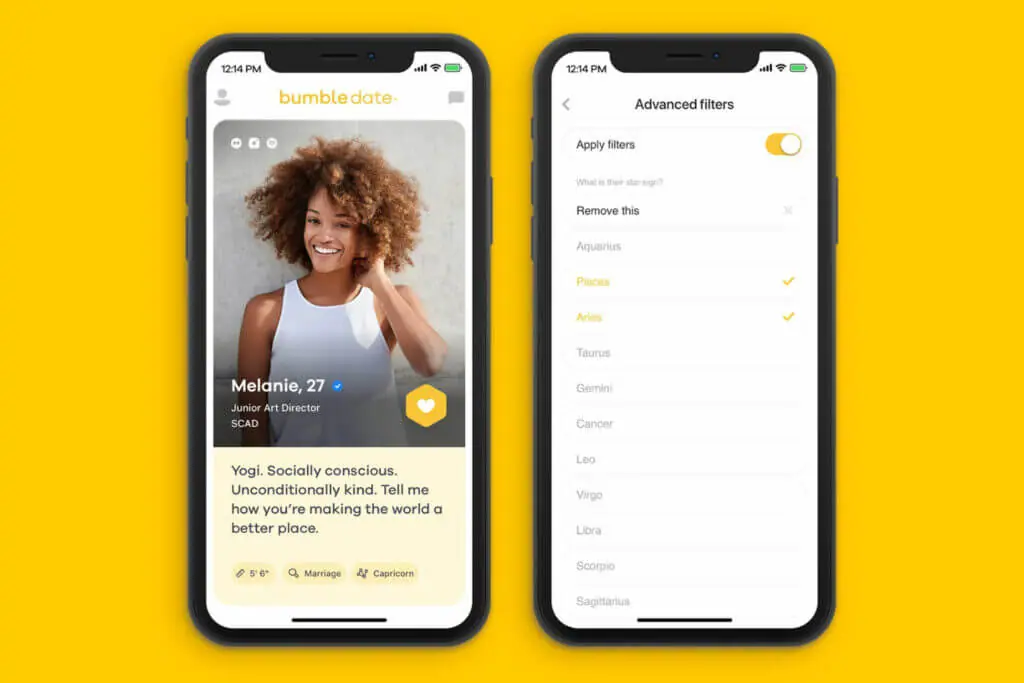 In addition, women are required to send a message first unless we are talking about the same-sex relationships.
Two people who are a potential match have 24 hours to strike a conversation, except in the case of same-sex matches.
Another striking feature in both dating modes is the photo verification tool which ensures that the person who is using the app is the same person in the profile picture.
In this way, the risk of encountering fake profiles is minimized.
What's more, the sign-up process in both cases is fairly easy and quick. All you need to do is select six of your favorite, appropriate, good quality pictures and fill in your bio.
OFL exclusive offers - Check all of them

"Serious Relationships"
"Discreet Hookups"
"Best Course"
"Quick Flings"
"Normal Hookups"
"Our Quiz"
You don't have to be connected to your Facebook profile, so you can simply use your phone number.
Finally, Bumble guarantees safety and protects your privacy no matter which mode you are using. It deters any form of violence and harassment.
The main difference between the two dating modes lies in the purpose with which you are using them.
Bumble Date is used for starting a romantic relationship, while Bumble BFF is used to find new friends, either real or platonic friends, and meet up.
2. Potentially Different Algorithms
Secondly, Bumble has refused to disclose the differences in the swiping and meeting algorithms between Bumble Date and Bumble BFF, which suggests that they might differ in some aspects.
In any case, Bumble is known to collect information from your Facebook profile and use that information to suggest potential matches.
While both dating apps have visually appealing design, it changes once you switch from Bumble Date to Bumble BFF mode.
When you do, the conversations you have with your friends will be green, while the conversations with your hot dates will be yellow.
Switching Between Bumble Date and Bumble BFF
In order to choose any mode, you need to download the Bumble app first from your Google Play Store or Apple App Store and create an account.
Having inserted all the necessary information such as your name, bio, gender, age and similar, you will be asked to choose your preferred mode (Bumble Bizz, Bumble Date or Bumble BFF) and then you can start exploring the new world you've become part of.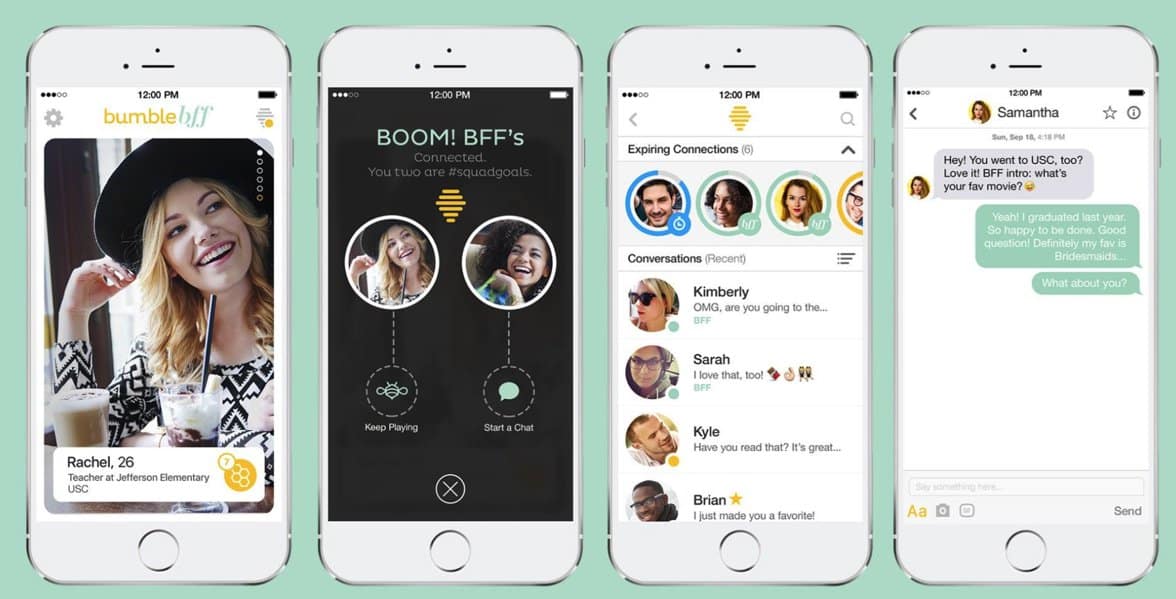 Let's say you already have an account and you want to switch to Bumble BFF. How exactly can you do that?
The process is very easy and quick. To switch between the two modes, simply follow these steps:
Open your Bumble app.
Click the profile icon in the low left corner.
Open the Settings icon in the top left corner.
Click "Choose mode".
Select your preferred mode among the three.
Confirm the pop-up windows.
Browse new connections.
Bear in mind that when you switch from Bumble Date to Bumble BFF mode, all your conversations will be irreversibly deleted, which means that you cannot restore them.
However, you can open a new account, make a fresh start and explore new connections.
In times of pandemic, many people resort to using social media and dating apps such as Bumble to meet new people. They use Bumble Date to look for potential partners or Bumble BFF to meet new friends.
Which one is right for you? Well, it depends on your intentions. If you have just moved into a new town or you need someone to motivate you by working out with you, go for Bumble BFF. If you are ready to open your heart to new romantic experiences, go for Bumble BFF mode.
No matter which one you are using, always stay true to yourself, be polite and respect others. Be clear about your intentions and take what you learn about the other person with a pinch of salt. Online dates are in essence blind dates, so hold your horses and wait until you meet them in person.
Frequently Asked Questions