Bumble is a well-known dating app, with around 40 million users searching for casual hookups (like BeNaughty or Ashley Madison), long-term relationships (like eHarmony or Tinder), friendships, or business partners.
It offers three different options: Bumble Date, Bumble Bff, and Bumble Bizz. 
In order to make full use of these modes, there are two subscription packages- Bumble Boost and Bumble Premium.
In this review, we will describe and explain:
Is your dating app giving you the best chance for success?
Make sure to take our online dating site/app quiz to find out.
It's a fact that people who follow our dating site suggestions have on average 2 extra dates per month.
What Is Bumble Boost App?
Like we said in the opening paragraph there are two types of premium monthly subscriptions- Bumble Premium and Bumble Boost.
Bumble Boost is a cheaper mode of Bumble's premium subscription.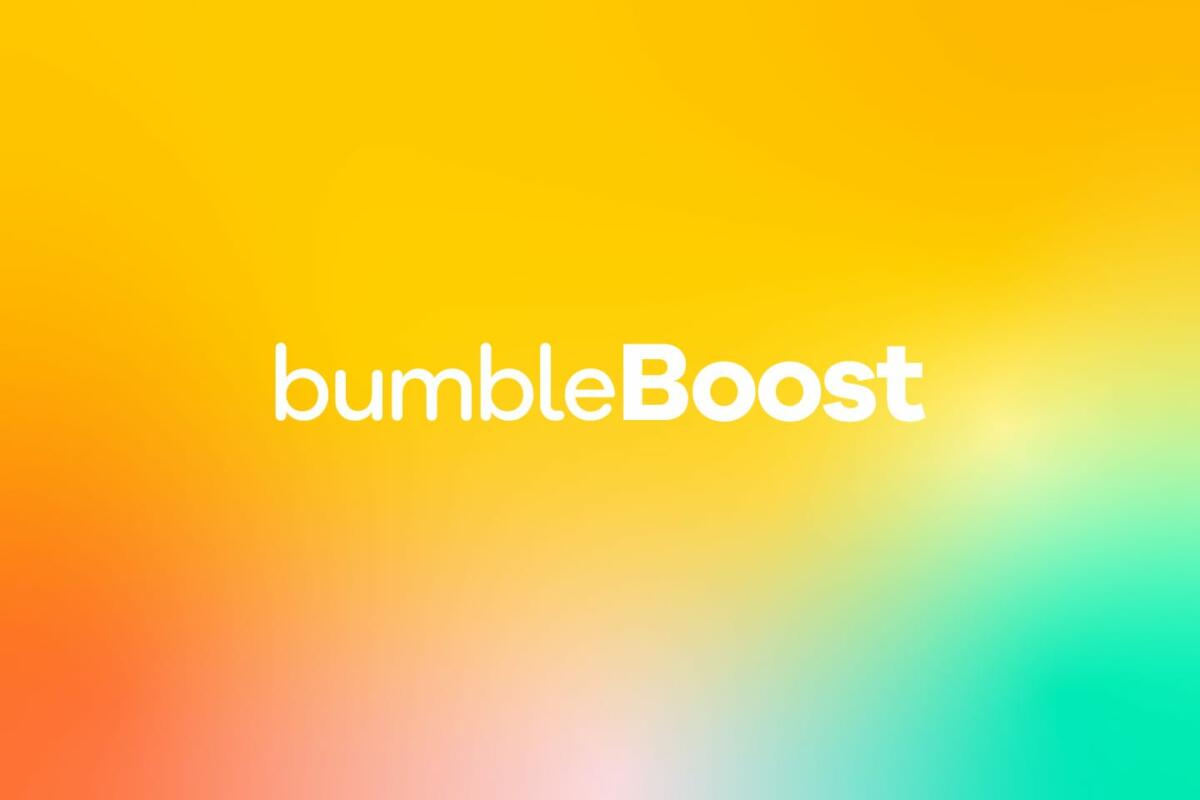 Thanks to the Bumble Boost subscription and Boost features you will get some innovations that are not available to the users of the free version.
On the other hand, there are still some features that are available to Premium users only, but we will analyze the differences between the two types of subscriptions later.
What Does Bumble Boost Get You?
The most important features of Bumble Boost are:
Bumble Extend
Bumble Backtrack
Unlimited Swiping
Bumble Spotlight
Bumble SuperSwipes
One of the most important premium features is Bumble Extend.
Thanks to this feature, you have a chance to avoid a situation where your favorite matches will become a part of expired matches.
So, as you know Bumble is a woman-orientated app that allows only women to send the first message or "make the first move".
Females have 24 hours to send the first message, and males have another 24 hours to respond.
Unfortunately, sometimes females do not manage to send a message in time nor do males receive the wanted message because the time has expired.
Therefore, Bumble creators have invented Bumble Extend that will give you another 24 hours to make the first move or to respond to the message.
OFL Top Recommendations based on 100,000+ Survey

"Serious Relationships"
"Discreet Hookups"
"Best Course for Men"
"Quick Flings"
"Normal Hookups"
"Our Quiz"
It seems that they know that women sometimes need additional time to think up a good ice-breaker and that men need it to devise a good answer.
Finally, using this feature will imply that you really like the potential matches.
If you have swiped someone's left by mistake, instead of right, Bumble gives you an opportunity to correct that mistake.
Namely, you can cancel your last swiping.
The only thing you have to do after you realize that you have swiped left a beautiful lady or a handsome man is to shake your phone.
When your action is registered by the Bumble app, it will ask you if you want to return to the previous potential match and cancel your choice.
Just confirm it, and there you go.
However, you cannot take back your right swipes or SuperSwipes.
Therefore, be patient and careful when you use your swipes.
After some time you will long for a greater number of swipes if you are an avid user of the Bumble Date free version.
Namely, when you use the free version you have from 100 to 200 swipes per 24 hours.
So, when you get a little bit too frenzy you might have no swipes left.
Therefore, we recommend you use one of the additional Bumble options that make the lives of many Bumble users easier, and it is called Unlimited Swiping.
If you pay Bumble subscription, you can get this feature and enjoy an unlimited number of swipes.
In order to foster online dating, Bumble developers have designed Bumble Spotlight.
Thanks to Spotlight your profile can become one of the most popular in your neighborhood.
That is to say, when you enable Spotlight it launches your profile to every single swiping desk in your area for 30 minutes.
Therefore, active paid or free users can see your profile and decide if they want to swipe it right or left.
We recommend you activate Bumble Spotlight from 8 p.m. to 10 p.m. because that is the time when most users are active and online.
Moreover, according to Bumble algorithm data, most people visit the app on Sundays.
So, it would be good to enable Spotlight on Sundays from 8 p.m. to 10 p.m.
Bumble Spotlight is an integral part of Bumble Boost and Bumble Premium, but you can purchase it as a user of the free version as well.
However, bear in mind that as a subscriber, you can use this feature only once per week.
But, you can buy it in the same way as the users of the free version are able.
Its price is two Bumble coins, or around $4.
Thanks to the SuperSwipes you can tell someone that you really like him/her, without waiting for him/her to swipe you right.
In order to use this feature you only need to tap on the white heart in the yellow background.
The so-called yellow heart is located on the bottom right side of the account/profile you like.
It is almost the same as Tinder's super likes.
The person you have "superswiped" will see that you have done it, thanks to the Bumble notifications.
If you are a Bumble Boost or Premium user you get five SuperSwipes per week.
Free users and paid users who want to have more SuperSwipes can purchase it by using Bumble coins.
One SuperSwipe is worth one Bumble coin which is priced at $1.99.
What Is the Difference Between Bumble Boost and Premium?
There are a few major differences between Boost and Premium.
Bumble Premium has all the Bumble Boost features and a variety of features that Boost does not have.
On the other hand, Bumble Boost's huge advantage is that it does not cost an arm and a leg.
But, let us start with the Premium advantages first.
There are features like Beeline, Bumble Rematch, Unlimited Advanced Filters, and Travel Mode.
Thanks to this feature you can see who has swiped you right.
So, it saves a lot of time, and it increases the chances to find your match.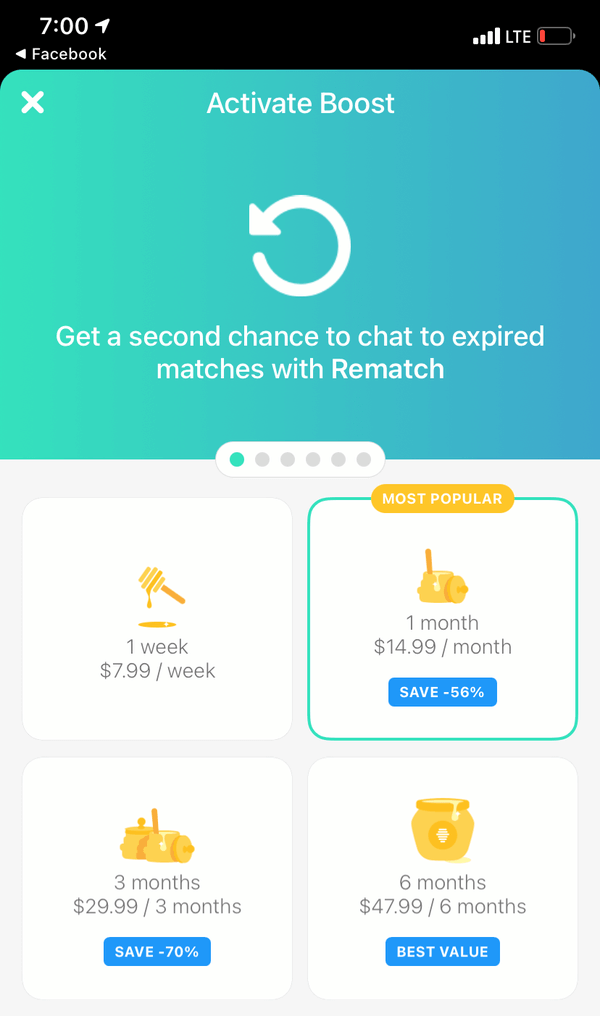 If you purchase the Premium package, you will find Bumble Beeline on the left from the Match Queue.
Beeline is denoted by the Green Circle.
Thanks to the Rematch option you can get and reactivate all those expired connections where the opposite sex has made the first right swipe.
The users of the free and the Boost version can use only two filters.
On the other hand, those who subscribe to the Premium mode have unlimited filters.
So, the unlimited number of filters will be of much help to all those busy bees who do not have enough time to spend on Bumble.
Unlike Tinder, Tinder Plus, and Tinder Gold that have had the Travel Mode feature for some time now, Bumble has only recently implemented this feature.
Now, thanks to the Travel Mode, you can change the location on your Bumble, and find various people from other towns.
This is a perfect addition to those who travel a lot.
Unfortunately, just like the aforementioned Premium advantages, it can be used only if you are a Premium subscriber.
Anyhow, Boost has a huge advantage when it comes to its price.
Bumble Boost subscriptions on the monthly level are worth almost two times less than Bumble Premium.
Do You Need Boost on Bumble?
If we need to choose between Bumble Boost or Premium, we would opt for the Bumble Premium lifetime package.
However, we recommend you begin with Bumble Boost in order to take a look at how it is to use one of the premium-level packages.
If you like it, use it for some time, and then further upgrade your app to the Premium package, due to its increased functionality.
To conclude, if you want to get a more detailed app, try using Bumble Boost.
Bumble Boost price is moderate, and for that price, you will get a few great features like Bumble Extend, Backtrack, or an Unlimited number of swipes.
Only later, if you have serious Bumble plans, choose Bumble upgrade and get the Premium version.