Even if you have already been using Bumble Spotlight for some time now, I believe there are still some features you know nothing about, and that will come as a surprise to you.
Bumble Spotlight is one of the newest features on this online dating apps, and although people don't think it can impact their performance too much, it can actually become a complete gamechanger.
If you just swipe right, you don't have a guarantee that someone will swipe you right back, but if you choose to upgrade yourself and get Bumble Spotlight, you may get dozens of matches.
Here are some of the things we will discuss further along:
Is your dating app giving you the best chance for success?
Make sure to take our online dating site/app quiz to find out.
It's a fact that people who follow our dating site suggestions have on average 2 extra dates per month.
What Is Bumble Spotlight?
Bumble Spotlight is one of the newest Bumble features that maybe still didn't manage to become very popular but will definitely become very useful for all of its users in the future.
This is also a premium feature, which means it is available only to Bumble users who have a premium membership or have a Bumble Boost account.
However, you don't even have any of these memberships; it is enough for you to have some Bumble coins on the account and use them to activate this feature.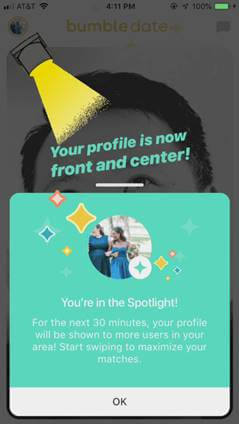 Since Bumble has been getting a lot of subscribers during the last few months, they have decided to come up with something that will allow specific users to stand out and become way more visible on the platform.
If you want to stand out and appear on homepages of a lot more Bumble profiles, you will need to invest some money into it, which is completely logical, and most dating apps operate on this principle.
When you activate the Bumble Spotlight feature, your profile will be boosted for half an hour, and during those 30 minutes, you will appear on homepages of people who may not even be that good match for you.
However, it will make your profile exposed to a lot more people, and the Bumble algorithm will keep you on top of everyone's recommendations during those 30 minutes.
How Bumble works, in general, is by following the algorithm and the way your profile performs on it, so if you get boosted like this, you will become an absolute favorite of the algorithm, at least for this short period of time.
Its algorithm is very similar to that of Hinge and Tinder, so once you purchase this feature, you will be able to overcome its obstacles and gain plenty of matches that will help you get boosted on the platform in the future too.
If all of your matches are organic, you will be able to appear on the top of everyone's homepages, so this can have a good impact on your future matching process too.
How Should You Use Bumble Spotlight?
I would suggest you carefully choose the times when you will be using Bumble Spotlight because if you pay to get your profile boosted for a short period of time, and you waste that money on time for the day when no one is active, you definitely won't have any success.
OFL Top Recommendations based on 100,000+ Survey

"Serious Relationships"
"Discreet Hookups"
"Best Course for Men"
"Quick Flings"
"Normal Hookups"
"Our Quiz"
When choosing to increase your visibility, you will have to make sure you do it when there is a large number of people being active on the Bumble app.
Many people don't know that people rarely use dating apps early in the morning or in the afternoon on weekdays, and when they boost their profiles but get no matches, they find themselves surprised and blame the platform for their failure.
However, you should be aware of the times and days when your potential matches are active and choose to boost your profile according to that information.
The best time to get your profile boosted and choose the Bumble Spotlight feature is usually on Saturdays and Sundays or Friday nights.
People are always scrolling through dating apps on weekends, and if you are looking for an immediate date or hookup (like BeNaughty or Ashley Madison), you should definitely boost your profile on Friday afternoons.
In case someone is bored and wants to hang out in the evening, they will definitely check out their homepage and try to find a like-minded person who is looking for the same thing.
If you are a person who is looking for something much more serious and some type of long-term relationship (like eHarmony or Tinder), then you should choose Sunday as your day to get Bumble Spotlightm because most lonely and unloved people are active on this day.
Sunday afternoons are definitely the best choice, and I believe you will get many people on your Beeline after this.
Just one Spotlight can completely change your life, so make sure you invest smartly and choose the best time of the day and week to perform this action.
How Can You Activate Bumble Spotlight?
Activating Bumble Spotlight is quite easy, and you will see this option on your homepage all the time, right next to the Bumble Bff and Bumble Bizz signs.
In order to activate this new feature, you will have to have enough Bumble coins on your profile, which is the app currency you will pay in for all sorts of memberships and boosts.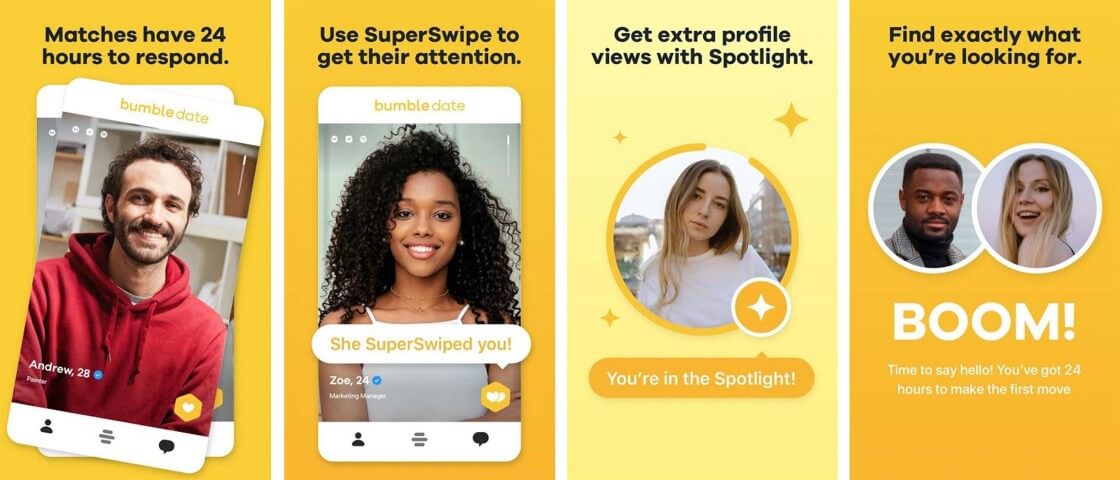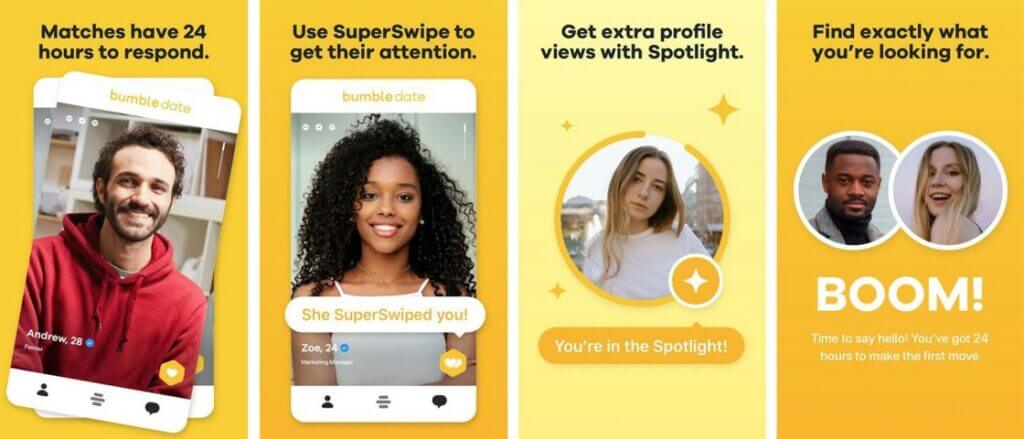 If you don't have them at the moment, you can always easily transfer a small amount of money straight from your credit card or PayPal account.
The money should appear on Bumble in minutes, and then you will be able to buy the coins for yourself.
In order to purchase Bumble spotlight, you will have to buy two Bumble coins, which can cost you anywhere from 1.25 USD to 2 USD, depending on the number of coins you choose to buy at once.
If you are buying more than 10 coins at the same time, you will pay 1.5 dollars per each, and in case you are buying more than 50 coins, you will pay only 1.25 dollars per one.
These options are definitely more affordable, and I would suggest them to people who are not looking for something serious but rather casual hookups and dates.
Does Bumble Spotlight Work?
In terms of functionality and success, this is probably one of the best features that will help you find your Bumble match in an instant.
If you activate it at the right moment, you will be able to get more than 20 matches in those 30 minutes, and most people have a lot of success with it.
Since it is quite similar to Tinder, people tend to respond very well to boosted profiles, and just one Bumble Spotlight can take you a long way.
However, if you activate the feature when basically no one is active on the app or social media, then there is no way this will work for you.
The profile can't reach other users if it is boosted when they are not active, so make sure you make the smart decision and inspect the time when your target audience is more active.
Is Bumble Spotlight Worth It?
I would definitely say it is worth it because the Bumble spotlight cost is pretty small, and it can help you get several matches in a pretty short period of time.
However, if you are someone who has registered on the platform with a mission to find their one true love and doesn't care about dozens of matches or unlimited swipes, then you may get a lot of matches that are not really suitable for you.
My honest recommendation is to try it out at least once because you definitely lose too much if you invest those two bucks into a membership.
Frequently Asked Questions