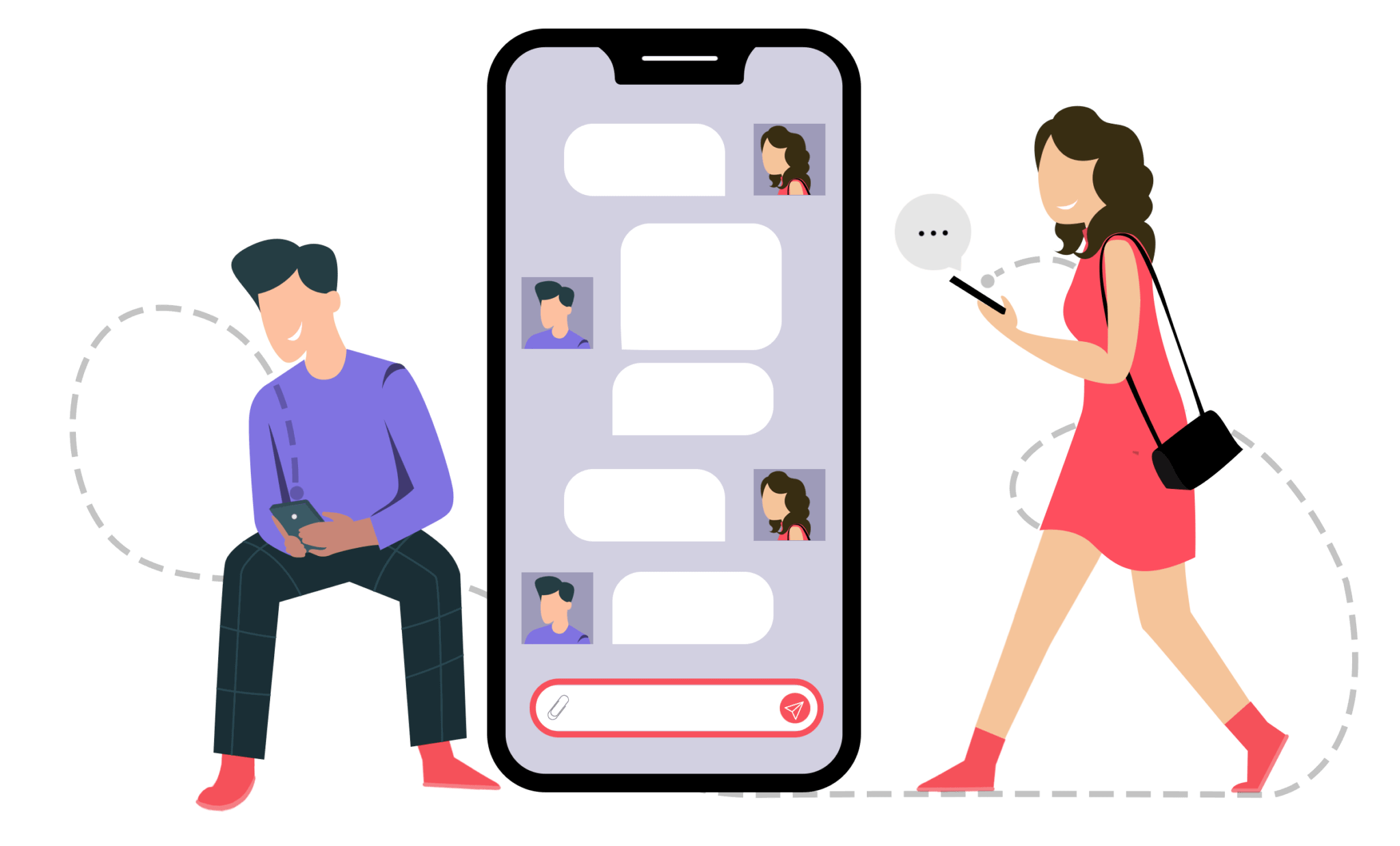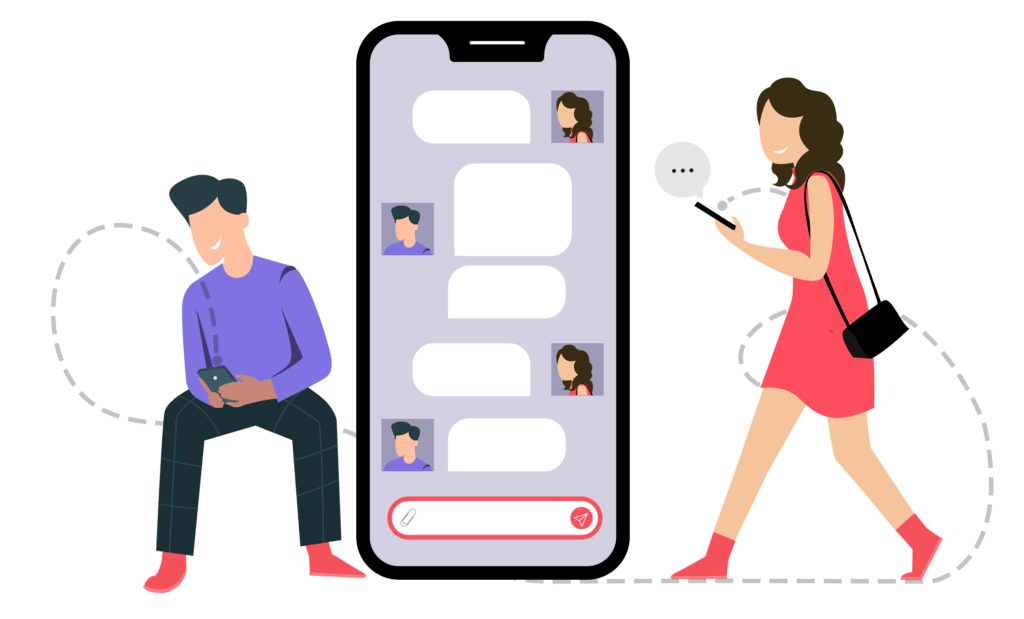 Communication 101
Okay girls, before you actually say anything, it's important to know there are certain rules regarding communication online. It's not something determined by law or whatsoever, but let's call it a code of conduct.
Having a proper understanding of the Basics of communication will smoothen the love journey for you.
There are some differences between trying to start a conversation with a man (or anyone) online or offline. You can already guess that online gives you a bit more freedom. But, not the one to be abused, of course.
The biggest advantage of this form of dating is that it gives women the opportunity to take the initiative and make the first move.
Though the statistics are very favorable towards women, meaning ladies more often get a response when starting a conversation on dating site, it certainly doesn't mean you shouldn't put any effort.
Quite the opposite,
And the best way to make that happen is to follow the mentioned code of conduct, and above all- maintain the balance.
So, if you plan to leave a good impression on the other side (and we are more than positive that you want that), the first thing to do is finding a trustworthy platform (an app or website), as you don't want to waste the energy on some scams that will cause you troubles.
Is your dating app giving you the best chance for success?
Make sure to take our online dating site/app quiz to find out.
People who follow our dating site suggestions have on average 2 more dates per month.
Here are some quick tips on how to make the conversation pleasant:
1. Be interesting and authentic
It's an excellent opportunity to be who you are or precisely-to express who you are. There are millions of details that make you-you.
Of course, don't get it as an inspiration to write the entire life story from the moment you were born, but share some highlights. Choose something that will intrigue the other side and leave space for communication to continue.
2. Keep it light and upbeat
Even if your main goal with online dating is the mission to find your lifetime partner, don't mention this immediately. You risk scaring the guy away, and you don't want that, do you?
Instead, stick to some less committing topics until you find out more about the other side. Some of the suggestions are journeys, movies, books and similar.
3. Keep the engaging tone
No, no, we certainly don't mean bringing the engagement topic yet! Jokes aside, the idea is to ask questions that will keep the conversation open.
Look at the profile of that man, if you can catch something specific and talk about it, then use it. Try to end sessions with questions.
4. Be positive
Okay, ladies, we definitely don't mean flooding the chatbox with sweet and sugary words but avoiding the gloominess. So, leave all cynism, frustrations, anger aside and show your better side.
We all have such days, but you certainly don't want the other side to get the impression that it's who you are.
Conversations Dos and Don'ts
The more you are into the matter, the more you realize how, in general, are so bad in communication. There are some common mistakes repeating over and over again.
Even when a person is an interesting one, there are some obstacles that make it hard for her to communicate things the right way.
Sometimes it can be shyness or being introvert or something similar.
That's where online dating breaks the ice and helps you overcome those obstacles.
When it comes to men, they are mostly described as either horrible or not interested enough to hold a conversation. So, it up to you, dear ladies to fix that.
Here are some useful tips:
Don't use overly familiar pet names (honey, babe and similar),
But do address the guy by his real name.
Don't mention intimacy the first thing (even if you are looking for that only).
Do treat the other side with respect.
Don't be unrealistic with expectations, particularly if you are not providing enough info about yourself.
Do try to give enough material so that the conversation can flow.
Don't use come cliche openers, do opt for some original and memorable approach, if possible.
Don't use inappropriate or rude jokes,
Do opt for some light and acceptable humour.
Don't judge the man by the photo exclusively and lead the conversation about his look.
Do try to find something from his profile to ask about.
Don't ask yes/no questions, but
Douse the descriptive ones.
Don't give up after a first obstacle,
Do opt for "what about you?", if you feel like the man is worth conversating with.
Don't be afraid to change the subject,
Do look for some interesting topic to continue chatting.
We hope we didn't freak you out with all these don'ts and dos and millions of rules. But as you can see, the whole point is very simple.
To some women (and men), these facts are more than obvious, but someone simply cannot see past their nose, and they miss the opportunity.
Simple and effective openers
People love some instant formulas on "how to" do something, and starting a convo with a man is no exception to this at all.
Until now, you have probably realized what the green lights are and what are some no-nos for chatting, but you still want more.
And we shall give you that, dear girls!
Here are some suggestions on how to initiate the conversation with a guy.
1. Traditional opener
If you really don't feel like experimenting immediately, then opt for something ordinary, like Hey or Hello.
But try upgrading it a bit with something equally safe and common, with some open-ended question so that the conversation can actually start happening.
For example:
Hey, you seem like a cool guy. What do you do for fun?
2. Profile openers
You have probably done that, but just to make it clear- taking time to check guy's profile (not only pics but bio as well) will give you quite a solid base for opening a convo.
It can be his status, perhaps something related to his job or interested, something that caught your attention and gives room for discussion.
For example, if he mentioned he likes cats, you can try with something like:
Hey, I see you love cats, have you got one?
Such an approach shows that you are familiar with his profile and that you show interest to engage a conversation.
3. GIF opener
It's more than obvious that there are GIFs for each and every situation, so, chances are there are plenty of them that can be suitable as a convo opener.
There are cool funny, cartoony, there are kiss GIFs as well, so the choice is entirely up to you.
4. Direct opener
This is usually reserved for man, but who says girls don't do that?
Of course, this one belongs to the riskier options, but still, it doesn't mean you shouldn't try it.
So, you can complement his look in some interesting way, ask him for his number, or something like that.
In addition to this, you can always combine the openers or opt for something absolutely unique. When it comes to online dating, you cannot be sure until you try.
The power of emojis
These tiny colorful digital creatures can either be your best friends or worst enemies! Let's say-frenemies!
Jokes aside, but if you use them right, they can be of great help and spice the things up just the right. On the other hand, if you don't use them right, or you use them too much, chances are you will ruin the whole thing.
That's why you need to be balanced.
These symbols have the power to express your feelings and emotions much better than words sometimes.
If you are using a bit specific kind of humor, or you want to make sure that the other side will get it right-end your sentence with an emoji.
But, don't go overly crazy with hearts, flowers, smileys and so on. You don't want the conversation to resemble some girlish diary.
You wouldn't like those to lose its value and meaning. Indeed, the same like with spices- if you put too much of those, the dish loses its good taste.
Video call as an option
Some of you, ladies, are certainly into a higher level of challenge, and really want to communicate outside the box.
No, we don't mean sending pigeons with letters attached to their legs, but using video call to get in touch with the other side.
Perhaps this sounds too brave to be used the first thing when meeting someone, but it certainly is a completely new perspective compared to the conversation.
If you opt for this, make sure you look polite and presentable and try to sound relaxed.
Avoid laughing or gesticulating too much, it may give the impression that you are feeling uncomfortable.
Act normally and naturally. Imagine that you are talking with him in person.
Of course, if this form of communication is not your style, don't feel obliged to use it. We only listed it as an option.
Moving on or moving to the next step?
Sometimes, it takes just two sentences to be clear whether the guy is worth it. Sometimes even a single word, GIF, emoji is more than enough to form an opinion.
Of course, do it politely and tell that you are no longer interested. Avoid being rude, simply tell that you feel the conversation is not leading anywhere.
Don't forget to end such thought with something like –Thank you, I wish you all the luck with future dates.
Even if you two will not continue communication, still, it's nice knowing that you left an impression of a polite lady.
If you keep on asking questions, but the other side seems to be ending all the answers without asking you anything, it's more than obvious that he is not interested.
On the other hand, if you feel that he is really interested in getting to know you better, then you can be sure that it's going somewhere good.
This is a signal that the conversation is advancing to the next step. Flirting? Are you asking him out for a coffee?
Well, it's up to you to decide, ladies. The best way to decide is to follow the communication closely and look for the signals.
Women, in general, are much better in tracking those tiny details and reading between the lines. Call it supervision or whatsoever, but it does help a lot.