In terms of niche dating sites, Christian Dating for Free is right up there when it comes to aiming itself at one group and one group only.
And that's Christians.
In this comprehensive review of the site, we are going to see just what Christian Dating for Free has to offer by asking (and answering) these questions.
OFL Top Recommendations based on 100,000+ Survey

"Serious Relationships"
"Discreet Hookups"
"Best Course for Men"
"Quick Flings"
"Normal Hookups"
"Our Quiz"
So if you've been looking for a Christian dating site that will connect with other Christians, this in-depth review will tell you if Christian Dating for Free is that site you've always wanted.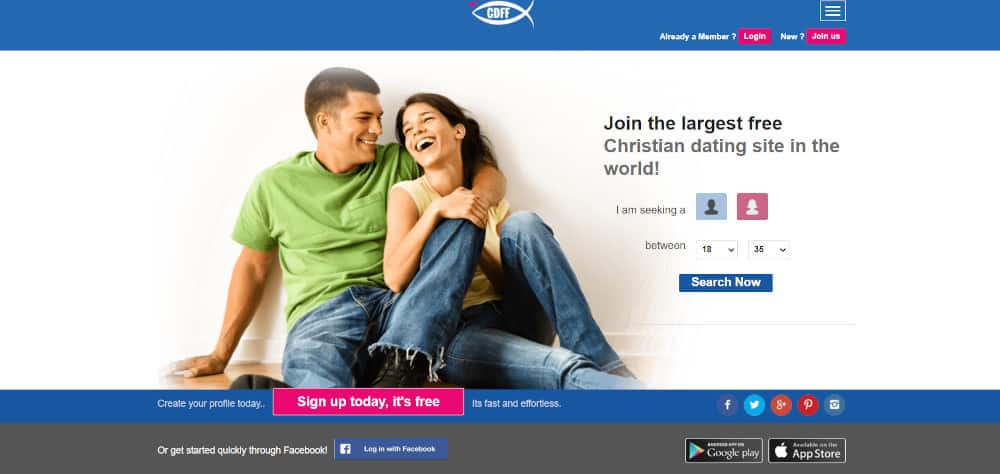 Is your dating app giving you the best chance for success?
Make sure to take our online dating site/app quiz to find out.
People who follow our dating site suggestions have on average 2 more dates per month.
Christian Dating For Free in Video Form
Audio (podcast) form for those of you on the go
Ease of use – 5/5
Effectiveness – 4/5
Key Features – 3/5
Pricing – 4/5
The site is free to use although membership is available and brings certain perks
A decent user base is present on the site
It includes a forum and chat area
The site features advertising but that can be removed by buying a membership
Not that many features on offer
The one-month membership is too expensive for what's offered (if you want to go that route)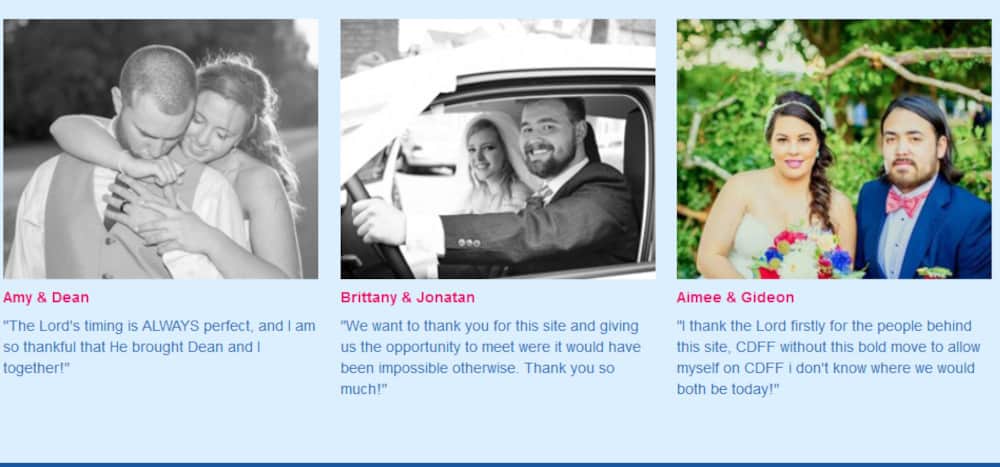 Who Is It For/Demographics?
Yes, it's not so difficult to work out who Christian Dating for Free is aimed at, that's for sure.
But it is certainly not for hookups (like BeNaughty or Ashley Madison) rather it is more focused on serious relationships (like eHarmony).
This is a dating site for Christians across the globe although, for the most part, many of the members come from the United States.
As much as this is a dating site, it's also an online community with forums and chat rooms.
Now you've probably seen how those can descend into a free-for-all on other dating sites that offer these types of features but on Christian Dating for Free, you can rest assured that you will be treated with respect.
And it really shouldn't be any other way considering who the site is aimed at, right?
So now that we are a little bit more clued up about the site, it's time to get into the numbers behind it.
According to figures on Google, around a third of the world's population, around 2.3 billion people are Christians.
But you won't find them all here, of course!
This is a very niche site and the number of users isn't anything like other dating sites or bigger niche sites that cater to a particular ethnicity, for example.
None-the-less, you will find plenty of people using this site.
But if you are a Christian looking for love in a smaller country, outside of the United States, whether you can find matches remains to be seen.
If you are living in America, however, you are in luck as most of the users are based there.
While I wasn't able to find the overall number of users, there were a few interesting things numbers-wise that I was able to come across.
Around 50 000 users are active on the site each week
That's around 7 000 users that are active each day
300 000 users are from the United States
So yes, those numbers are very promising indeed.
In fact, they are better than many other intensely focused niche sites out there today.
Gender ratio and age breakdown
Now let's get onto something that's just as important as the number of users a site.
And that's a breakdown of not only the gender ratio between male and female but also the ages of users that frequent the site.
When it comes to gender ratios, it's the fairer sex that leads, but only just.
In fact, around 55% of the users on the site are female while 45% are male.
By far the most active age range on site is 25-34 years old.
Here's a full breakdown.
25 to 34 years old
35 to 44 years old
18-24 years old
45-54 years old
55 +
So it's the age groups from 25 to 44 that are the most popular on-site and they make up over half of the user base.
That said, all the age groups are very well represented.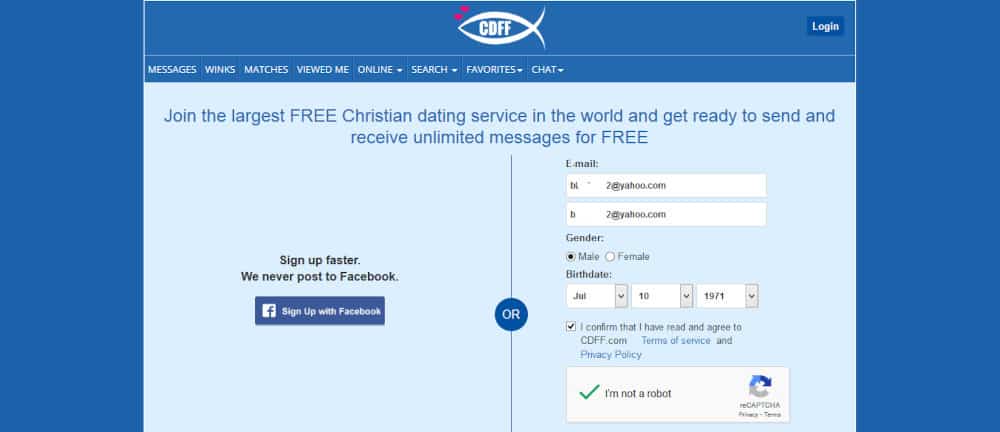 So just how simple is it to find the kind of matchups that might lead to friendship, dating or perhaps even love on Christian Dating for Free?
The first thing I noticed when I pointed my browser at the website was that you could see potential matches without even signing up for an account.
Of course, you have no profile, so you cannot connect with them, but it's a great idea to check out the site as well as profiles of others before you commit to signing on.
That's if you want to of course.
Creating an account sees you having to provide an email address, your gender and your birthdate initially, although you can sign in using your Facebook account if you'd like to.
But that's just the start of a fairly long process.
Christian Dating for Free then wants some more information from you including:
A username
A password
Your ethnicity
The country, state and city you live in
And if you think it ends there, you'd be wrong.
Next up, you need to provide a range of answers to questions that will help fill our your profile.
This includes things like:
Height, body type, hair color, eye color
Languages
Martial status
Education
Religion
Church name
Church attendance
Church raised in
Have children?
Want children?
Smoke?
Drink?
What type of relationship you are looking for
If you are willing to relocate
You will also need to provide a profile description and describe what you would do for a first date with someone.
And you cannot skip this to come back to it later like on so many other dating sites.
You simply have to fill it in to complete your profile.
At least you know that when you have done so there is nothing left to do other than upload a profile picture.
Once you receive your verification email, you are free to use the site.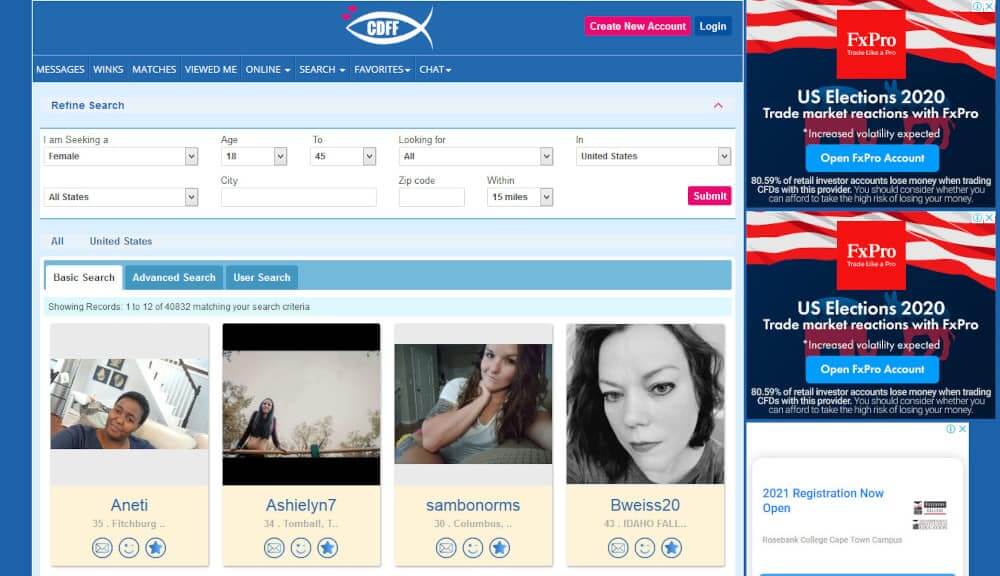 So let's talk a little about the site in general.
While it's not the most up-to-date site in terms of design, I think the world that you would use to describe Christian Dating for Free is functional.
You will immediately notice a string of menu options across the top of the page.
It's these that you will use to find your way around and they include:
Messages: Here you find any messages you have been sent
Winks: Here you can see who has sent you a wink but more on that later
Matches: Here you find people that match your original requirements when setting up your profile
Viewed me: Here you can see who viewed your profile
Online: This is split into three sub-menus – online now, online today and new users
Search: This is split into three sub-menus – basic search, advanced search and user search
Favorites: Here you find people you have favorited, people who have favorited you and mutual favorites
Chat: This takes you to the live chat rooms as well as the forums
As you can see, these menus are comprehensive but they are pretty self-explanatory and will get you around the site with ease.
If you are one of those people that would prefer to set up your account and profile and search for matchups on your phone, you can do so.
That's because Christian Dating for Free has both an app for Android as well as Apple handsets.
Everything you can find while navigating the website is transferred to the app, so it's very easy to set up searches and then browse the profiles that are returned.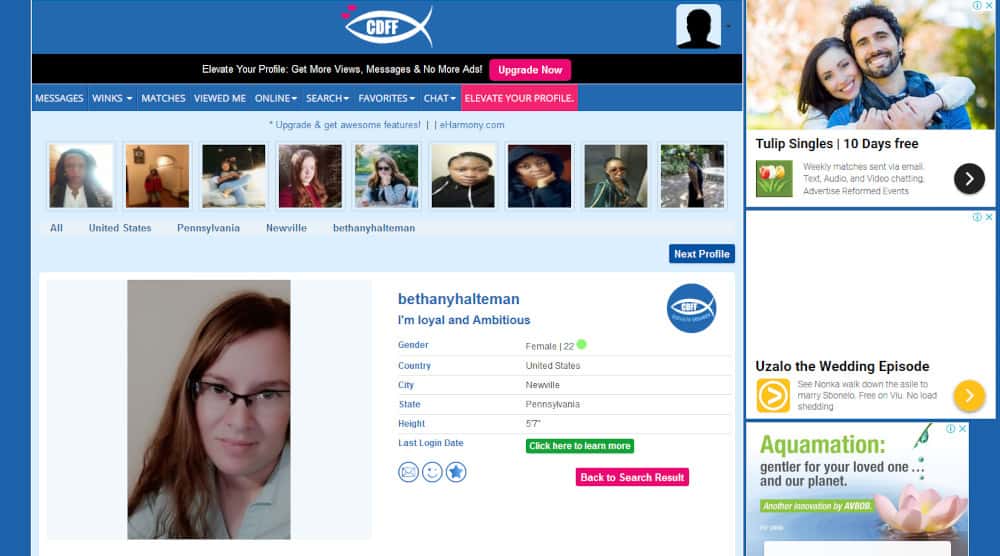 So without a doubt, Christian Dating for Free provides you with all the necessary tools you need when it comes to finding Christian matchups.
But just how easy is it to find decent matchups that are worth following up and then getting to know them better?
Well, before you can chat with someone, you've got to find them first.
And here, the search options that the site provides are extremely impressive.
Searching for that perfect match
Earlier, I mentioned that when it comes to searching through the users on Christian Dating for Free, the site provides not only one search engine option but three.
That's right, you have a basic search, an advanced search and a user search.
The basic search is just that.
It provides you with the regular search parameters you'd expect including:
The gender you are seeking
Their age range
What type of relationship you want
Where they must be located (including how far they must be from you)
That's standard and it's a great way from finding users that are close to you, for example, a 15-mile radius or even less.
It's the advance search, however, that really impresses.
That's because there are just so many parameters you can change here.
These are all based on the profile questions that you would have filled in when registering for this site and include:
Their height, body type, hair color, eye color
What languages
Their Martial status
Their Education
Do they have children?
Do they want children?
Do they smoke?
Do they drink?
What type of relationship are they looking for
Are they willing to relocate
Only show people with photos
Only show people where you fit in with their requirements
Of course, you would have the basic search requirements added to this as well.
While adding lots of parameters can narrow your search, having the option for them allows you to search with some non-negotiables from your side.
For example, you may not want to meet anyone that is a smoker.
But it's the opportunity to show only profiles that fit your their parameters that I think is a brilliant added extra.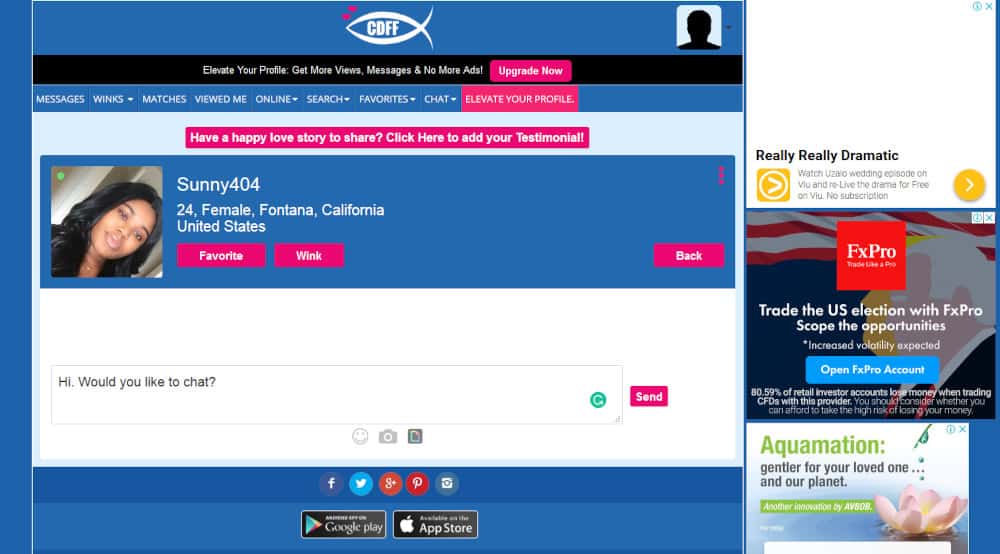 Getting into contact with a potential match
Now onto the age-old question when it comes to dating sites.
Once you've found that amazing match, how easy is it to get into contact with them.
Well, this dating site kind of gives the game away in its name.
That's because all messaging at all times is FREE!
How incredible is that?
Find someone you think you could hit it off with, click on their profile, find the message button and fire away.
Note, however, you CANNOT send a message to someone if you do not meet their requirements as a potential matchup.
This is an excellent idea and something other dating sites could consider.
Other than free messaging, what other key features does the site offer?
While Christian Dating for Free doesn't need any form of membership for you to successfully find a potential matchup and communicate with them, it does have a membership option that brings certain perks.
It's these perks, along with some other key features that remain free to use, that we are going to look into now.
Not many dating sites still use chat rooms but this is something that Christian Dating for Free offers to all users.
And there are seven of them to choose from.
General Christian chat
Christians in their 20s
Christians in their 30s
Young adults
Bible study room
CDFF Prayer room
Over 40s Christians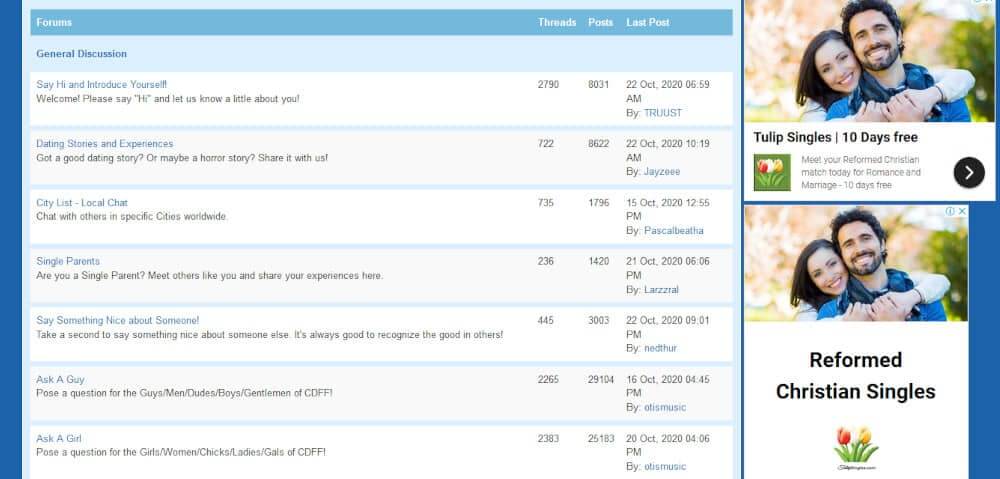 If you don't feel like chatting live with someone, you can browse one of the 28 forums on offer.
They cover a range of subjects from advice on love and dating to a young adult forum and Bible questions.
The first of the member's features on the site, Elevate puts your profile at the forefront of other user searches if you match their criteria.
In other words, it's a profile boost.
But that's not the only thing it does.
If you buy into a membership option all ads will be removed.
Signing up for a membership on Christian Dating for Free provides a number of other small perks.
These include:
Seeing when someone last logged in
You can store all messages (if not, they disappear after 90 days)
You can see if your messages were deleted by the person you sent them to
You can upload up to 16 images to your profile
In terms of features, there's not much to write home about but then again, Christian Dating for Free isn't your traditional dating site.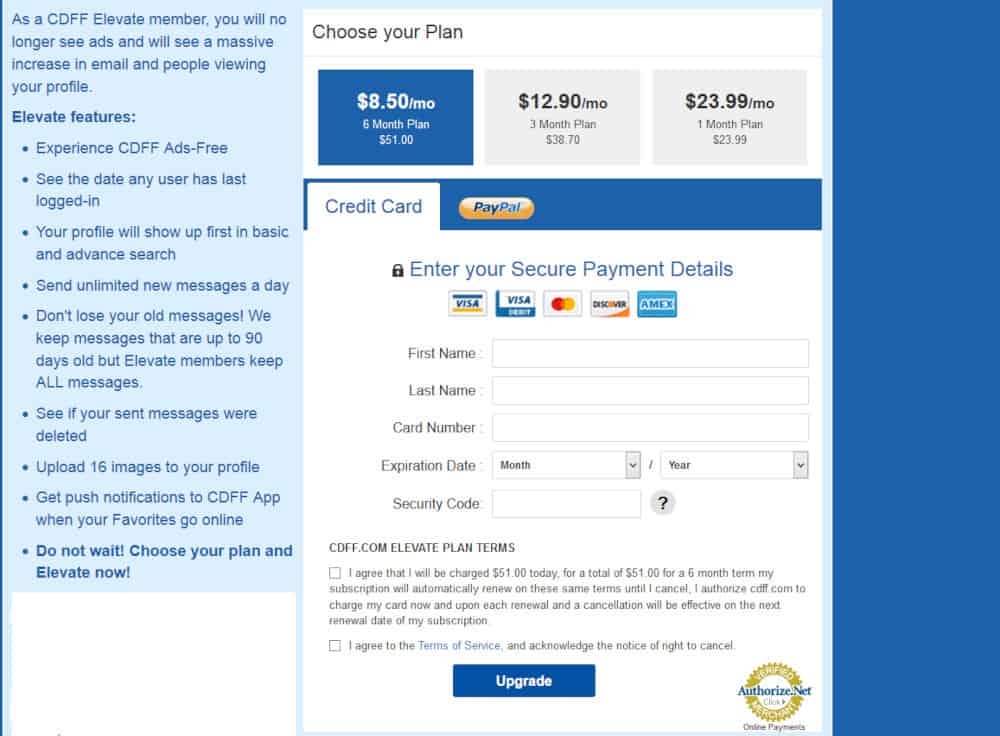 Christian Dating for Free Pricing
You'd think that a dating website that allows users to message each other's for free would have a cheap membership option, right?
And while Christian Dating for Free is cheaper than most sites, I would have thought that their month-to-month membership option could be a lot cheaper.
I mean, it's not like the extra features you get as a paying member on the site aren't really that impressive, although I would agree that some are pretty useful.
So let's breakdown the pricing options when it comes to membership.
1-month membership – $23.99
3-month membership – $38.70 ($12.90 per month)
6-month membership – $51.00 ($8.50 per month)
While the three-month and six-month memberships are extremely cheap and much more in the ballpark in terms of what's on offer, that one-month membership is too expensive for what's on offer here.
But as I said, the three-month membership is almost half the price when looking at it on a month-to-month basis and the six-month membership brings even more value.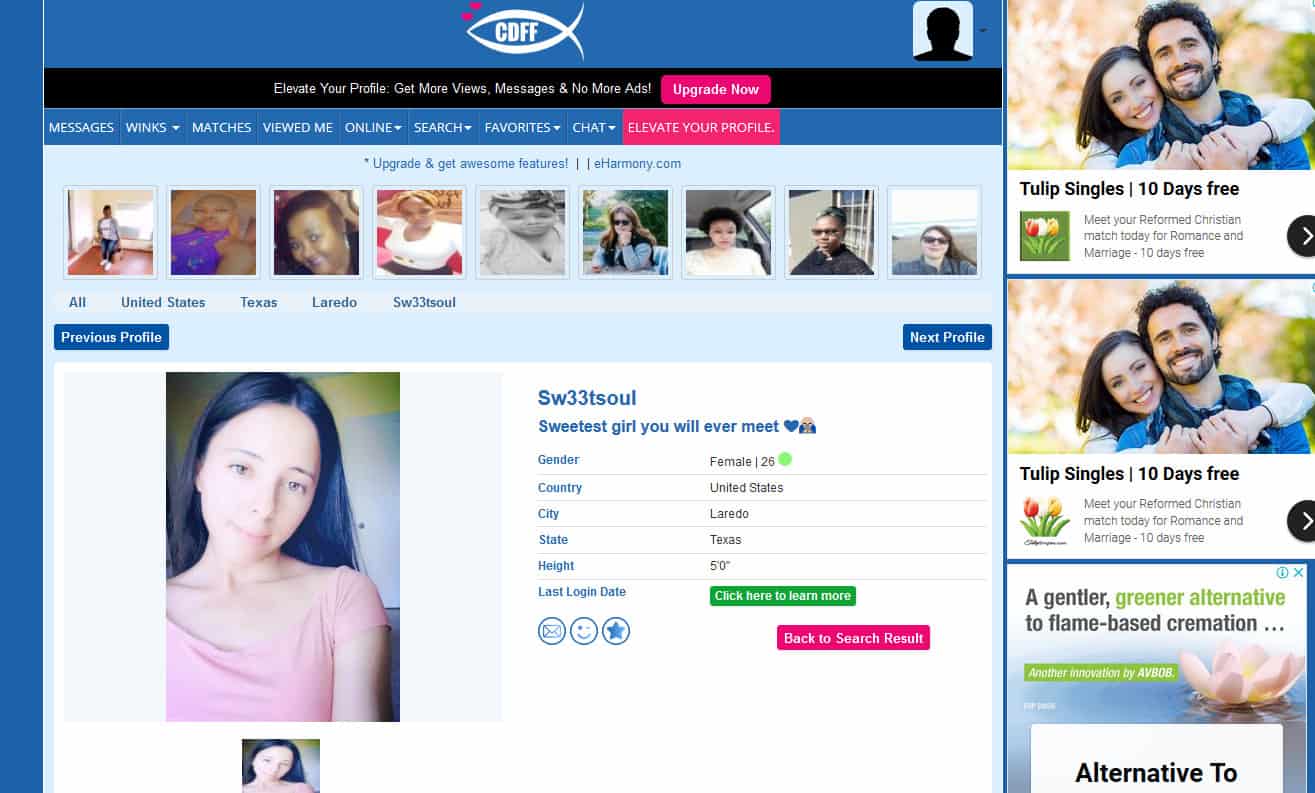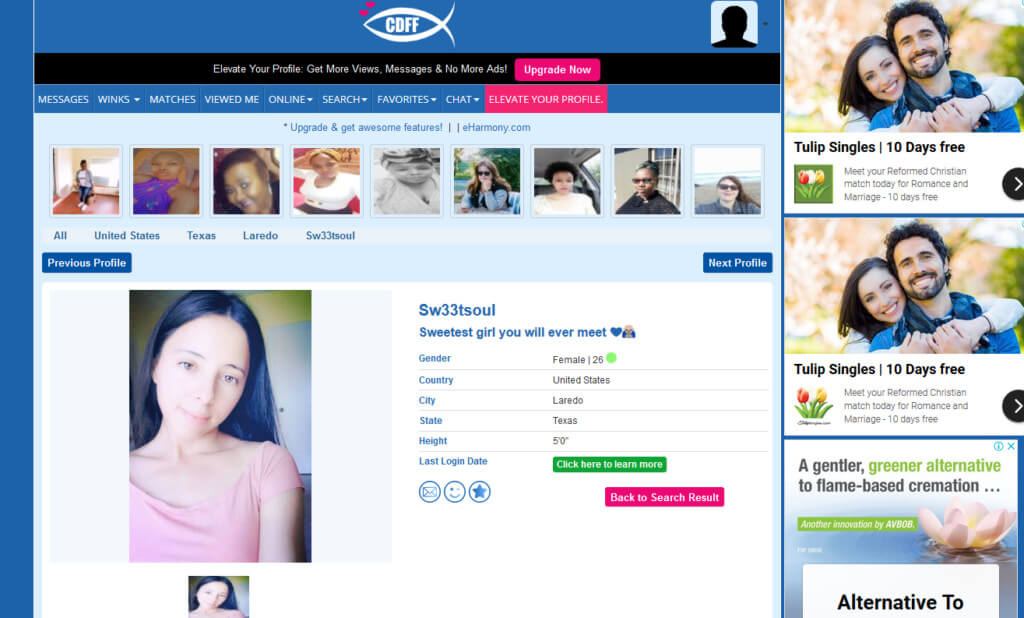 Conclusion and Overall Rating
Christian Dating for Free isn't the only dating site for Christians on the web.
But it certainly is one of the best.
It's really impressed me in a number of ways but mostly in the fact that it allows for communication between and a potential matchup without having to pay for the privilege.
And it's a model that clearly works.
So in concluding this review, let's jump straight in and with an overall score for the site.
I am giving it 4 out of 5 overall.
And it could have been higher.
The site is just let down two areas.
The features aren't that impressive and the pricing on the one-month membership option is a little high in my book.
Now, you probably could argue that with the fact that the site offers free ways to get into contact with a potential matchup, the other features don't really matter at the end of the day.
That's a good point but each site needs to be evaluated on its merits and while Christian Dating for Free offers a number of unique features, like a forum, I marked it down because there could be more.
As for the pricing, again, you could argue that you don't even need to buy a membership.
Again, that's true but if you wanted to, it's almost like you are being forced to go for a longer membership option because of the great saving on them.
And when you just want to try out the site, you are rather going to opt for a month at a time, right?
$23.99 is too much.
They could have dropped it to $19.99 and it would have been a far better pricing point.
But enough about that, Christian Dating for Free is an incredible site for Christians looking to get involved in the dating scene.
It has everything you need, a strong user base, it's relatively easy to set up a profile (you just need a little patience) and you can contact anyone for free.
I highly recommend it.
Have you used the site?
What do you think about it?
Leave a comment below and let us know.
Frequently Asked Questions