If you're a gamer looking for the online dating service dedicated to lonely gamers, then you are in the right place.
In this article, I am going to cover a Gamer Dating review, where you will find out what is Gamer Dating and is Gamer Dating good, or is it just a scam site.
Is your dating app giving you the best chance for success?
Make sure to take our online dating site/app quiz to find out.
People who follow our dating site suggestions have on average 2 more dates per month.
Gamer Dating Review in Video Form
Audio (podcast) form for those of you on the go
Ratings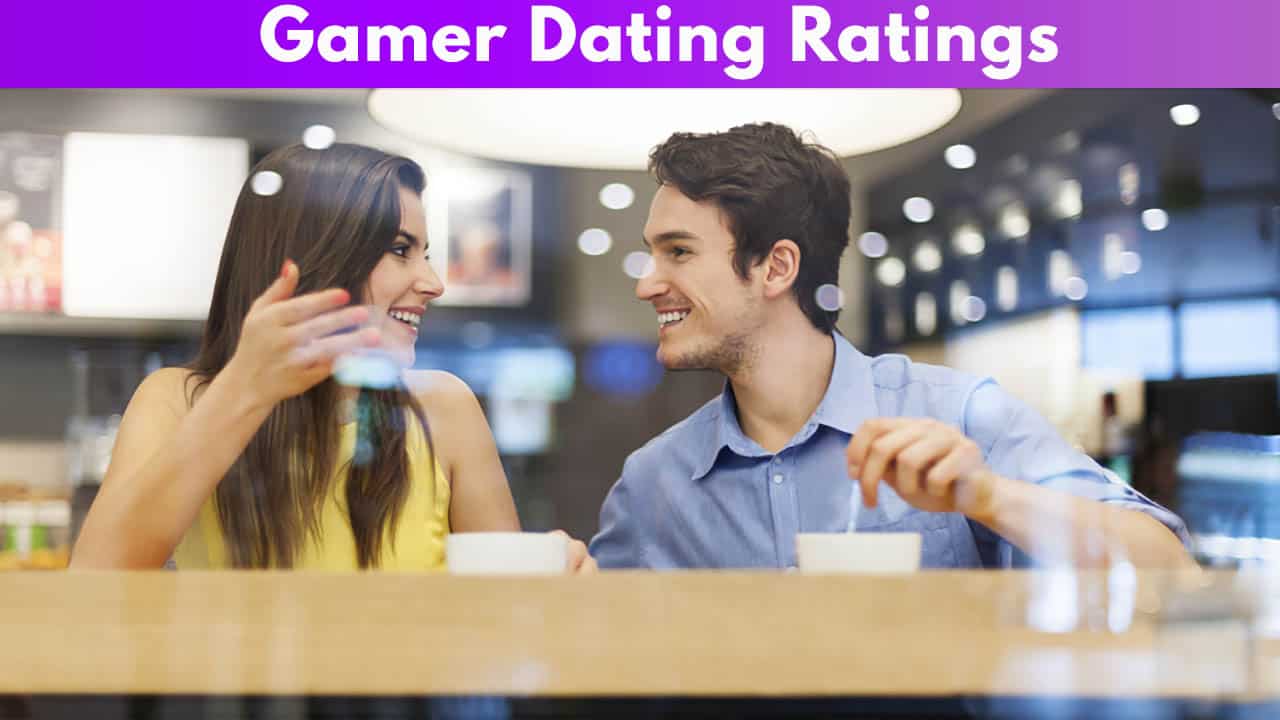 Effectiveness: 2.0/5
OFL Top Recommendations based on 100,000+ Survey

"Serious Relationships"
"Discreet Hookups"
"Best Course for Men"
"Quick Flings"
"Normal Hookups"
"Our Quiz"
Features: 4.0/5
Ease of Use: 4.0/5
Price: 3.0/5
Pros:
A niche website with a large number of real members
Easy registration
Also works as a gaming community
Rich profiles
Relatively equal gender distribution
Cons:
Only about 5,000 users from around the world
Contacting other members is quite restricted for free members
Only 6 matches per day
No mobile app
Members are not too active
Who is it for/Demographic Makeup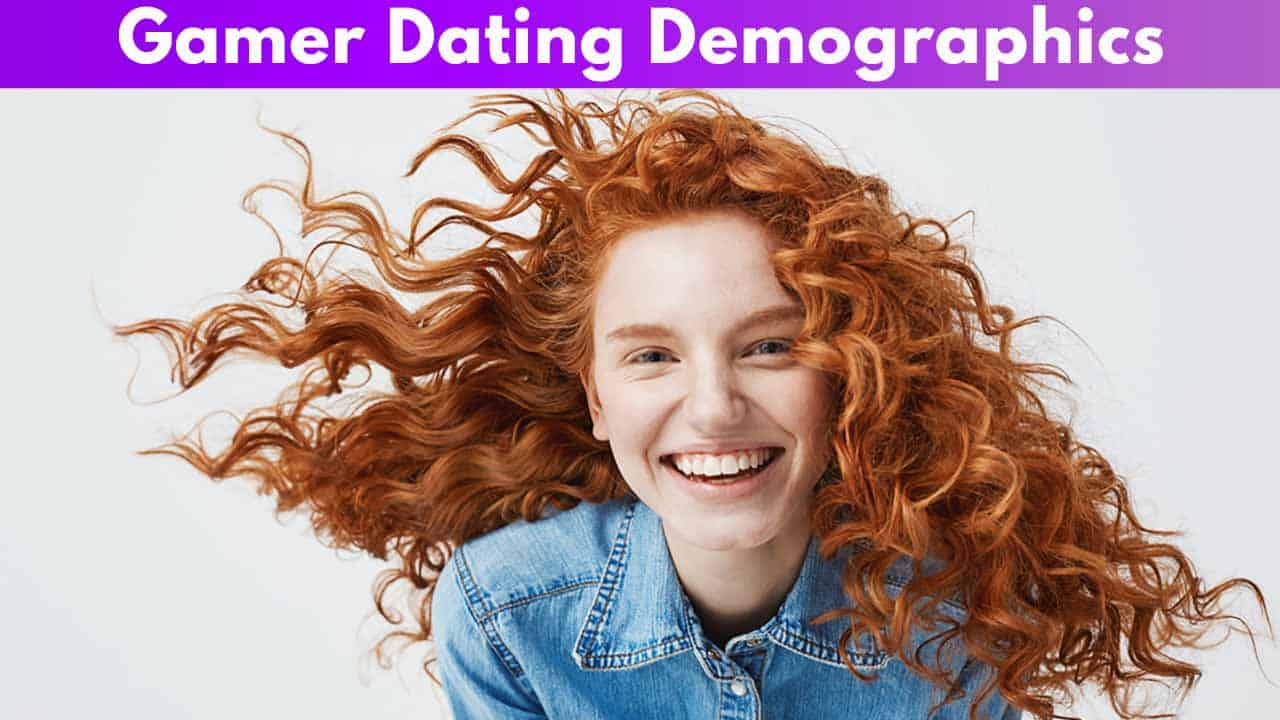 Gamer Dating is a relatively small online dating website, with about 5.000 active members from all around the world, out of which 3,500 are from the United States. Along with that, there are a total of 1,800 active website users every day.
Apart from the USA, most members come from countries such as Brazil, UK, Canda, and the Netherlands.
When it comes to gender distribution, the numbers are relatively equal, with 55% of all members being females, which is probably a surprise to most of you. Who would say that there are so many gamer girls out there, huh?
Most members are in the age range of 18-34, with just a tiny percentage of both males and females being older than 35, and with no members who are older than 55.
Effectiveness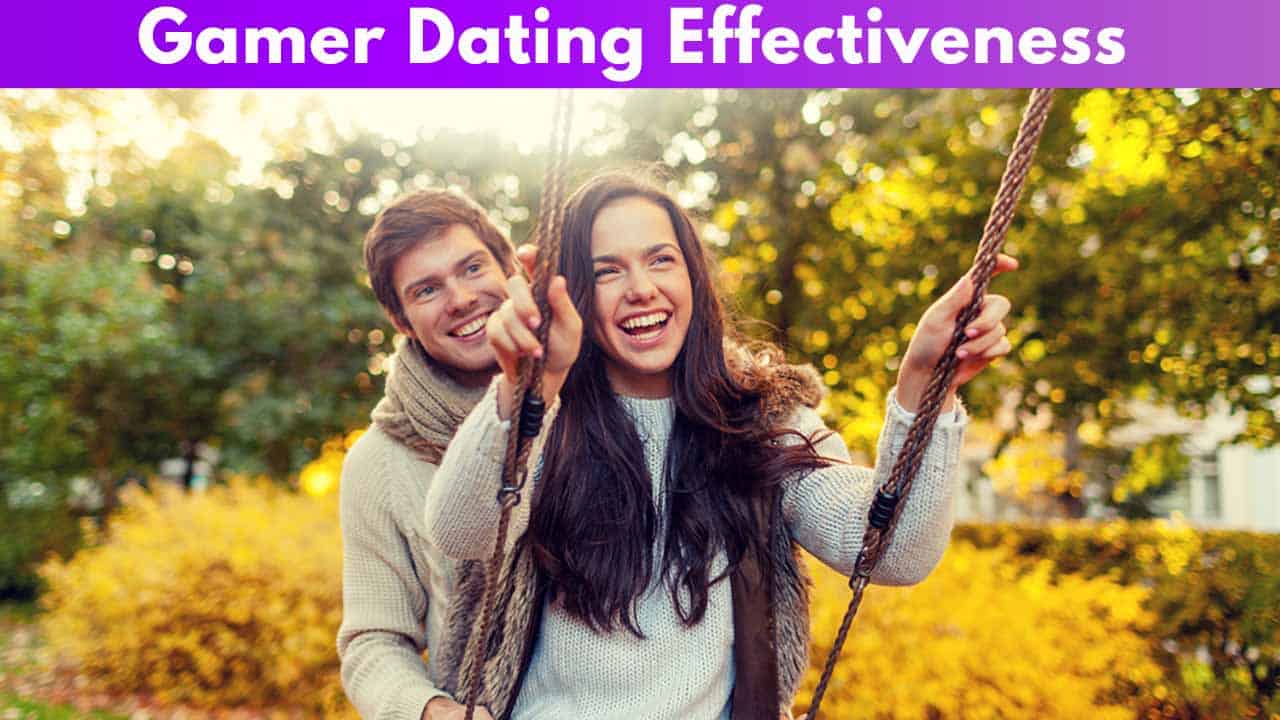 What probably interests most the readers is whether the website is effective as the Gamer Dating reviews say.
Frankly, it really depends on what you're expecting from the service. If you are simply looking for some casual fun, you might not find someone so easily.
First, and foremost, Gamer Dating is a gamer community, so people don't just come there to hook up, or even date. Some of them also simply want to find someone to play games with.
Another thing to consider is that there aren't many members on the platform, and more than half of them are not even active every day.
Therefore, you shouldn't expect to meet dozens of people, and hook up with every single one of them. If that is your ultimate goal, you should probably go to some other online dating website.
Furthermore, if you live outside the United States, you might have trouble finding people from your area, since about 70% of all members are from the USA.
Key Features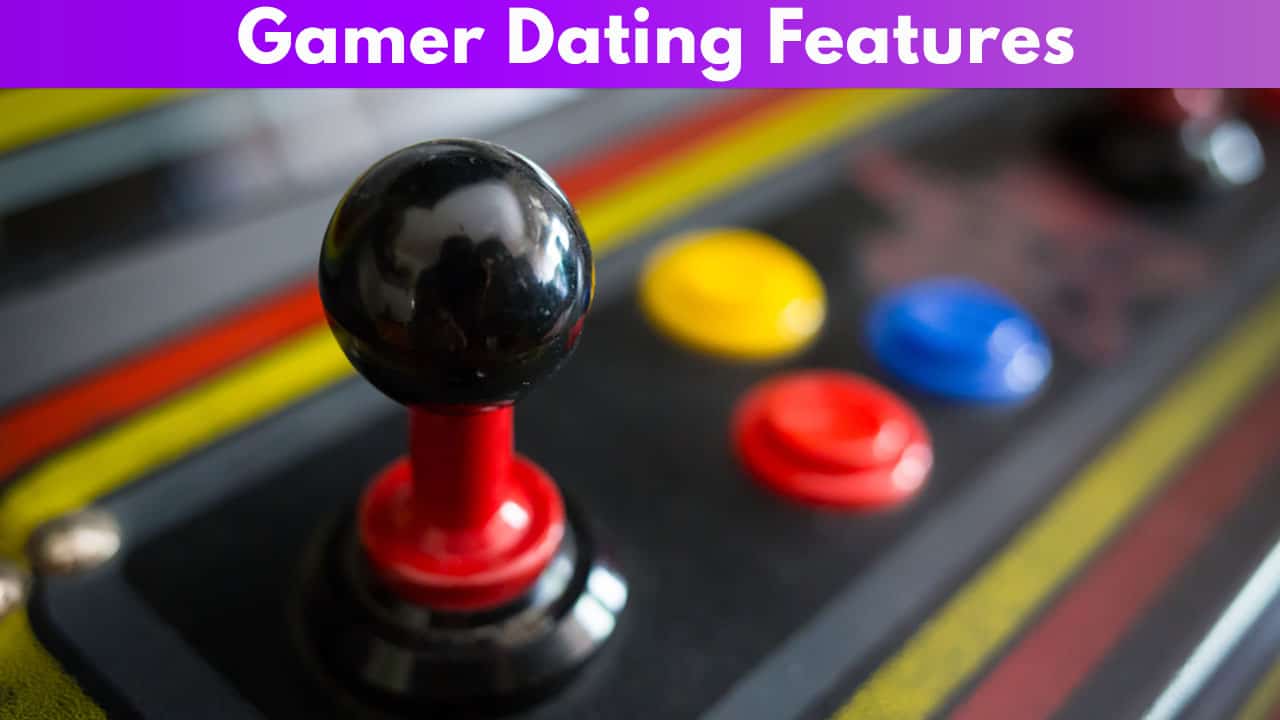 Let's talk about how does Gamer Dating work, and see what are the most important Gamer Dating features.
OFL Top Recommendations based on 100,000+ Survey

"Serious Relationships"
"Discreet Hookups"
"Best Course for Men"
"Quick Flings"
"Normal Hookups"
"Our Quiz"
Some of them are easily found on other online dating services, but there are some unique features that you can use to meet your fellow gamer partners.
As for the standard members, who don't pay for the premium packages, features, and means of contacting other members are very restricted.
You can only receive six matches on a daily basis, and you can send them like or dislike, by using gaming icons.
Messaging is reserved only for premium members though, so if you really want to engage in some real conversations, you will have to pay for one of the premium packages.
1. 1UP and Move On
These two options are basically equivalent to 'Like' and 'Dislike' options on other dating websites. If you like someone, you press the mushroom icon to 1UP them or click on the bomb icon to move on, if you don't find them interesting enough for you.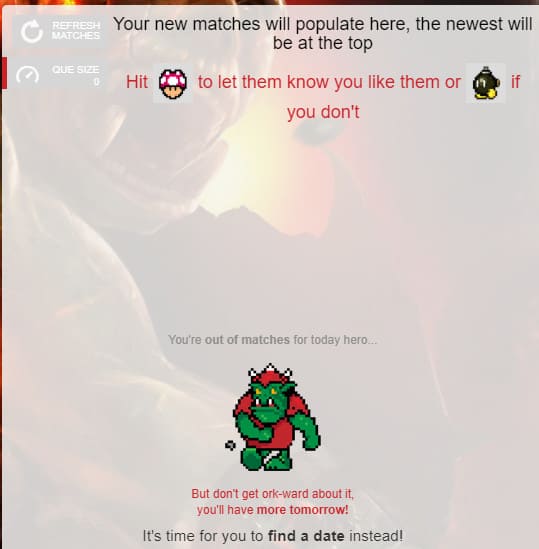 2. Find a Date
Apart from the six matches, you will get every day, you can also search profiles according to your personal preferences, by using the find a Date' feature.
You can do it by clicking on the 'Find a Date' button in the top middle of the screen in the main dashboard section of the website.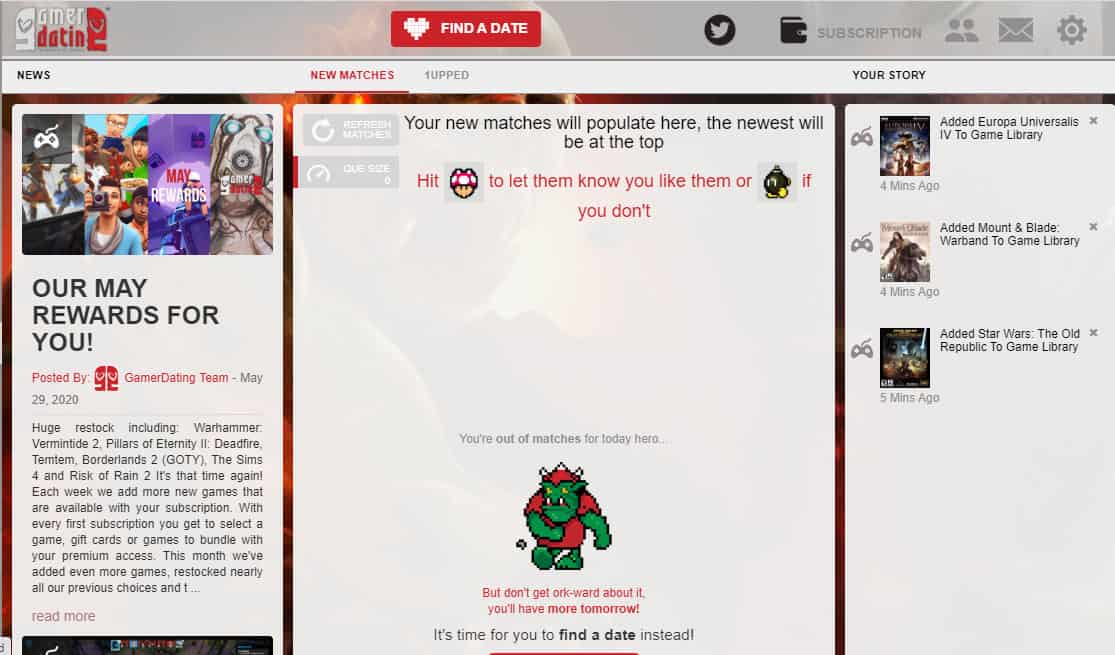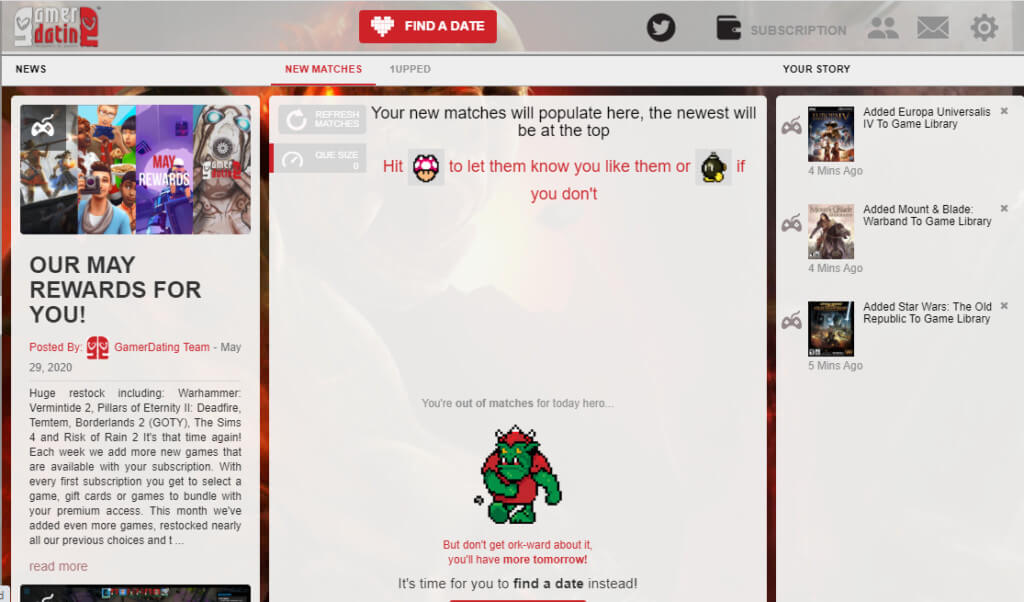 After that, you will see a new option that will appear on the left side, where you can edit the search preferences, and when you click on the 'Search' button, you will see the results in the middle.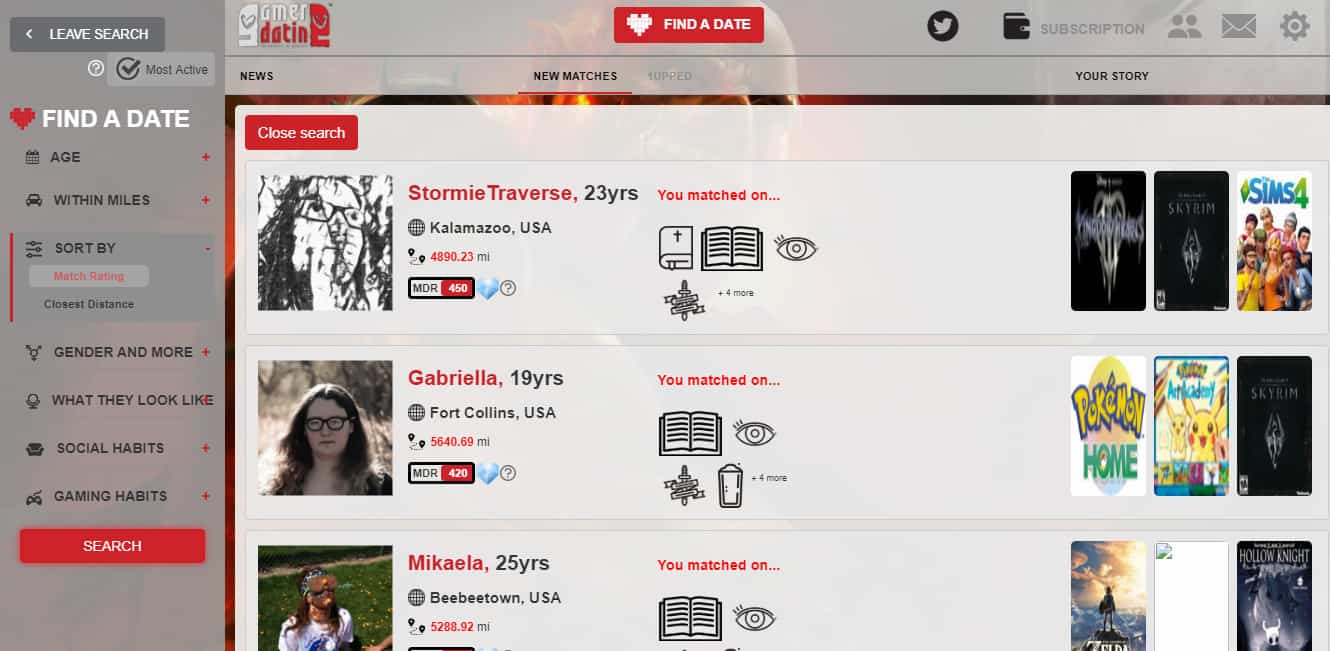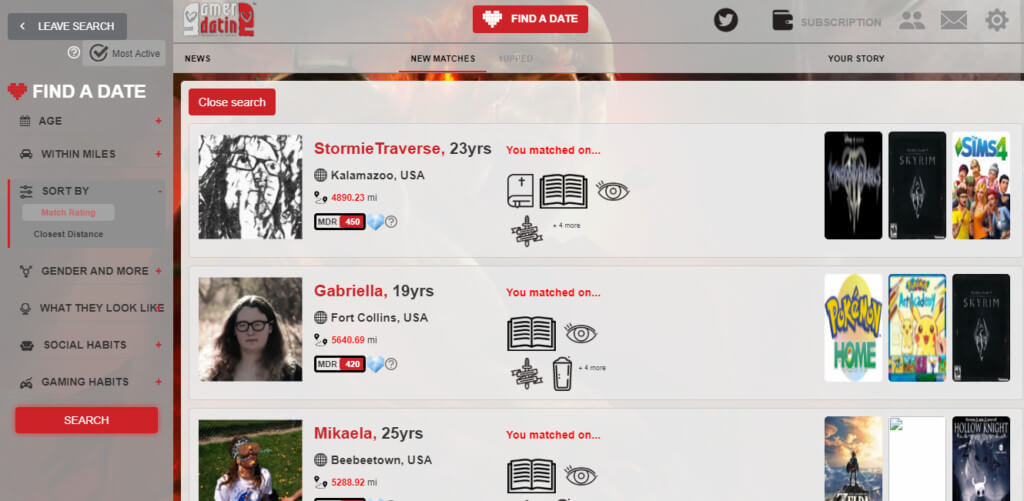 The search criteria can be quite detailed, since there are several different categories, such as age, location, gender, personal interests, social and gaming habits.
Also, next to every member's profile, you can see what are their three favorite games, which can also help you to make a decision whether you like them or not.
3. Advice
If you want to get some general advice about dating, or gaming, you can access the 'Advice' section of the website, where you can see a lot of blogs and articles written by contributors, who help Gamer Dating expand and become better.
You can find it in the main menu on the left, under your profile picture, and after you click it, the articles will show in the middle.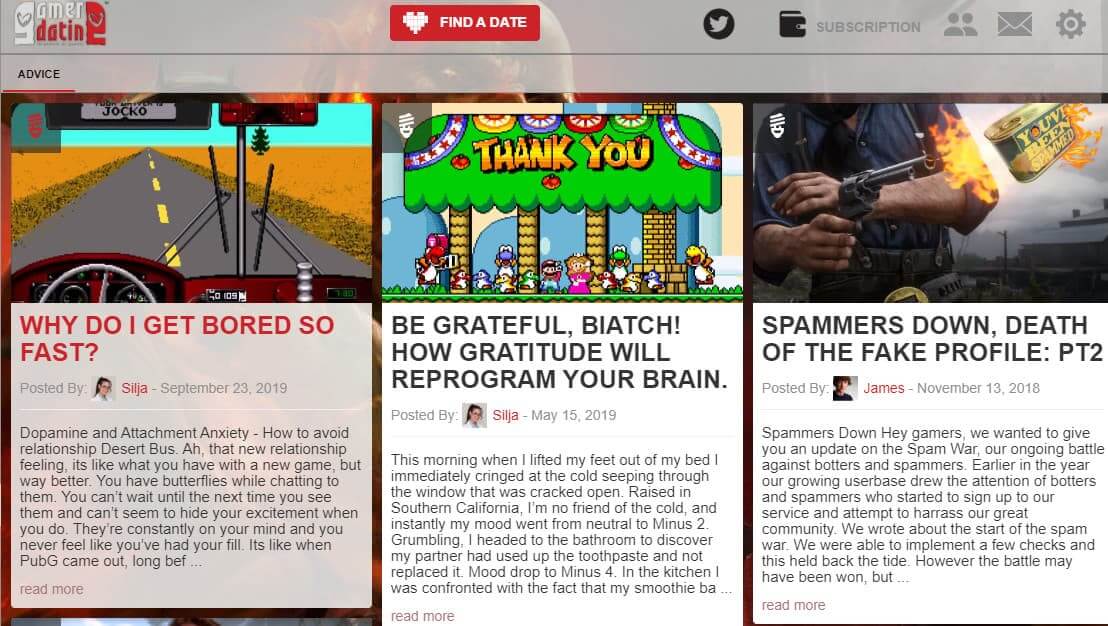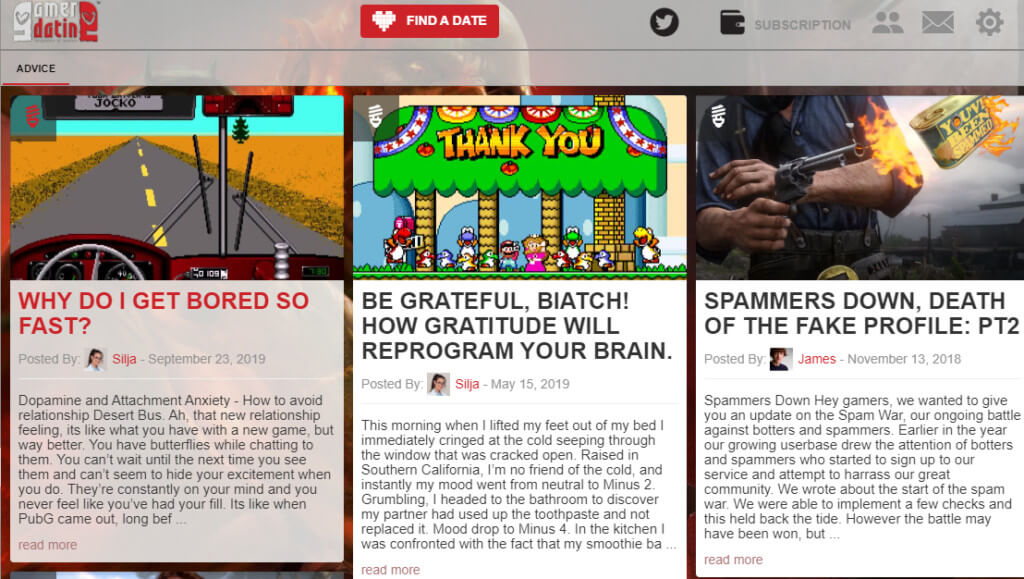 4. Games Center
From the moment you explore Gamer Dating, you will understand why it is not just a dating website, but an online community for gamers.
In the Games Center, you can access your own game library, where you can add or remove games you play.
Apart from that, you will also be able to see various news from the gaming world, such as new updates, releases, and more.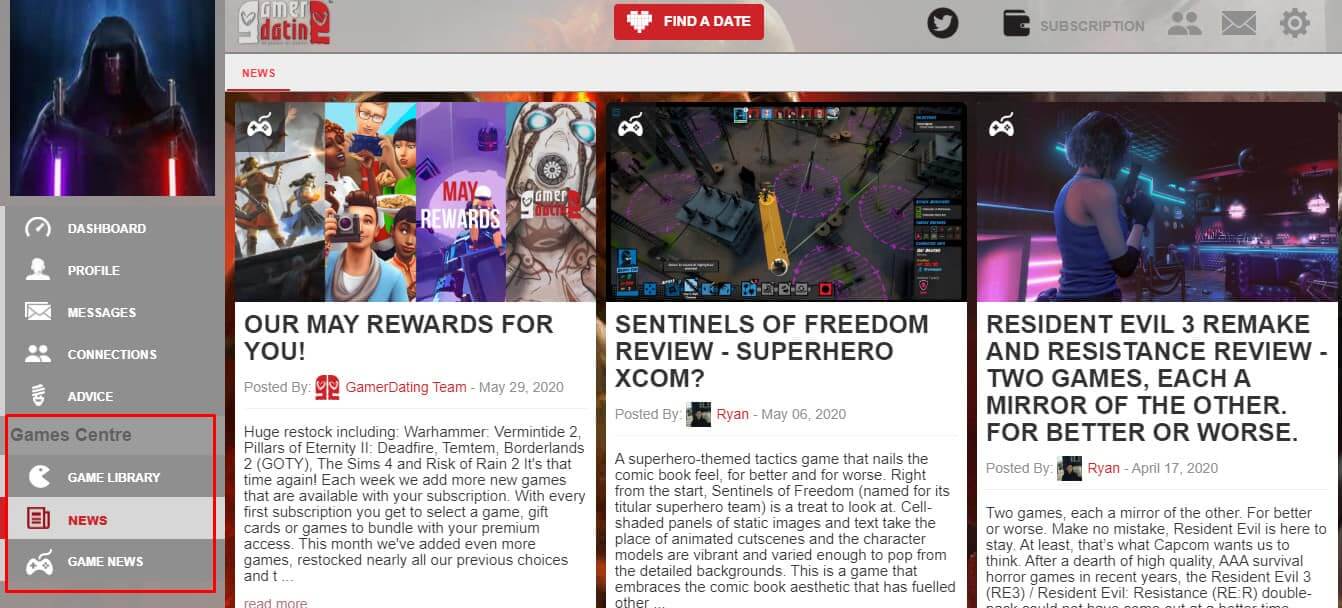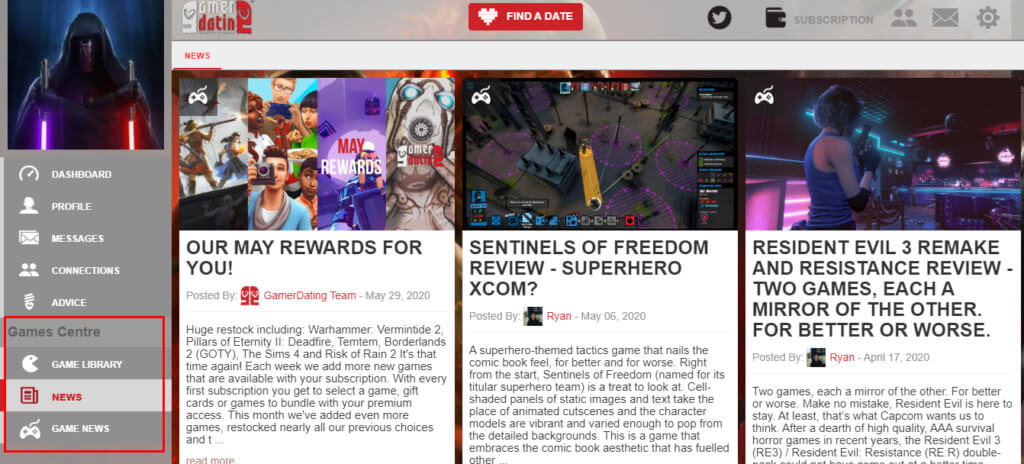 5. Flag
Sometimes, you might find some content or someone's behavior inappropriate, whether it is a photo or something that someone said to you.
In that case, you can flag that user, by pressing the red flag button in the top right corner of their profile page.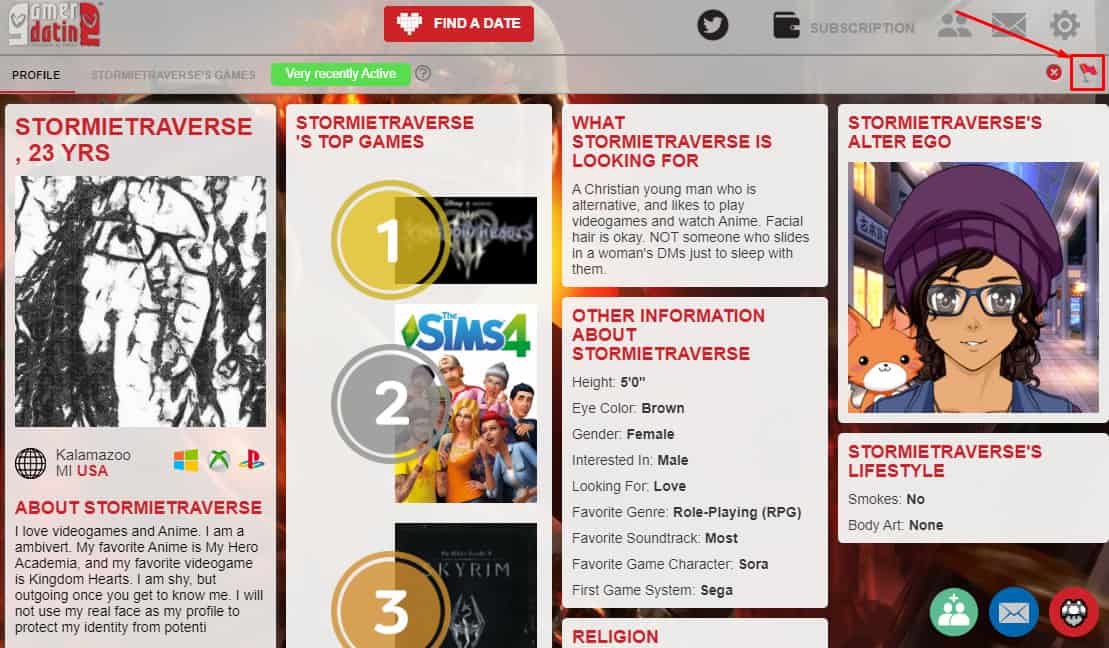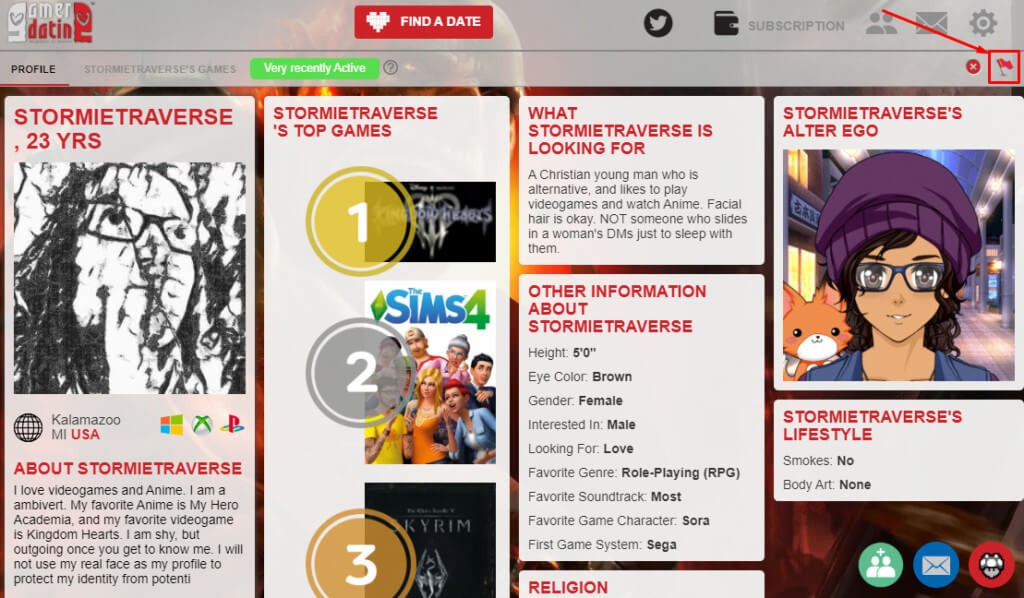 After that, simply select the reason for which you want to report a person, by opening the drop-down menu and choosing one of the available options.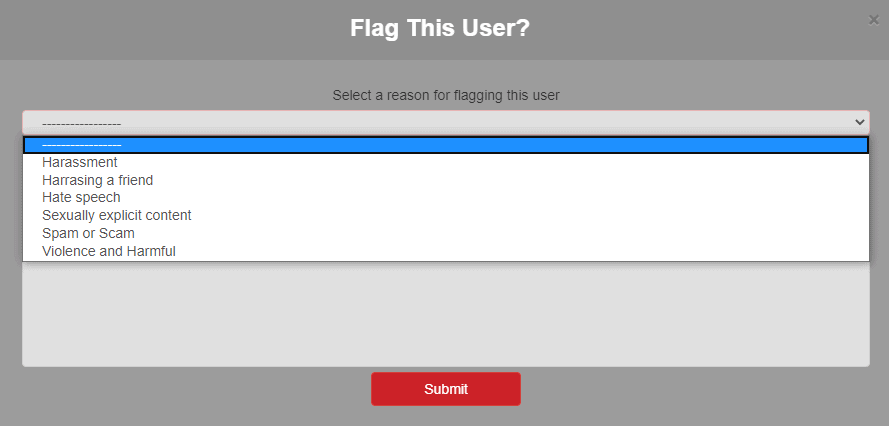 6. Block
Apart from reporting other members, you can also block them if they harras you, or if you feel discomfort towards them for any reason.
It can be done by clicking on the red 'X' icon that is located in the top right corner, right next to the red flag.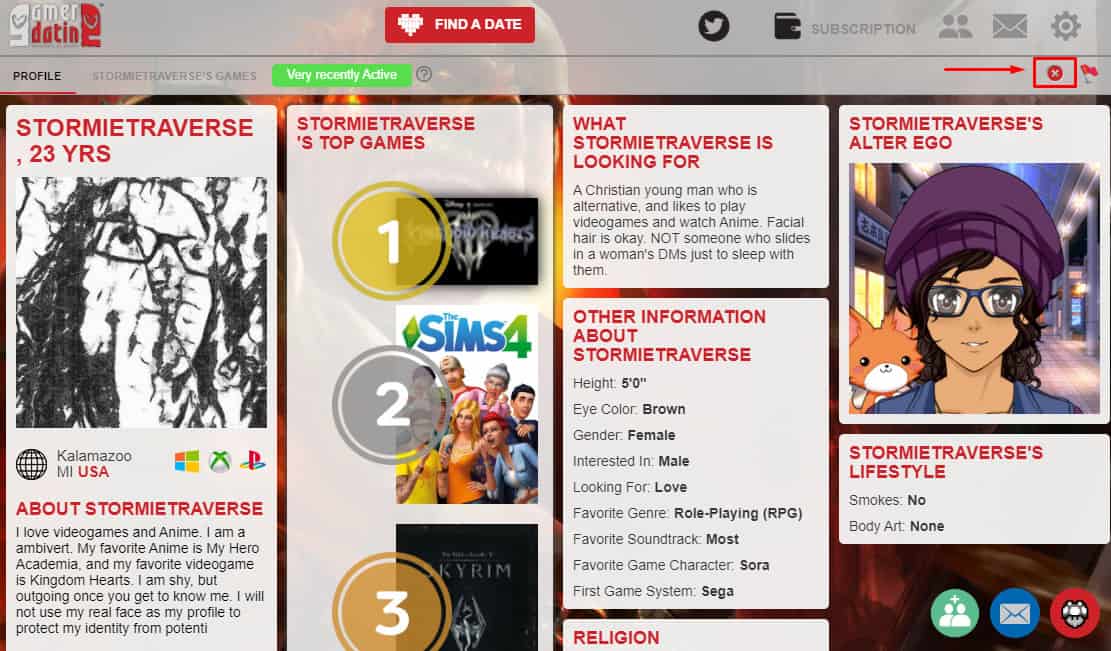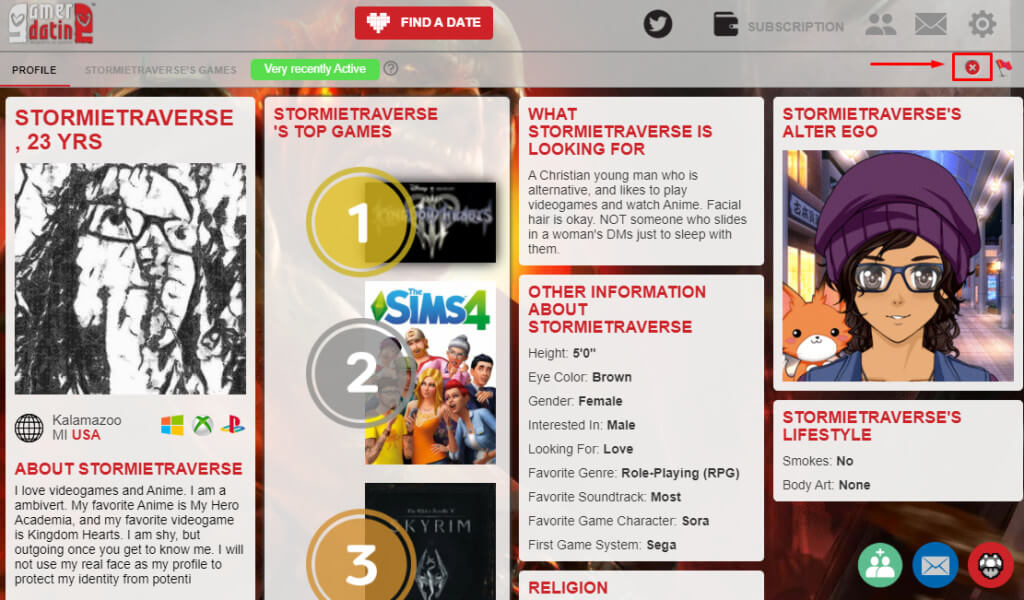 This way, members won't be able to see your profile and contact you, unless you unblock them at some point.
Ease of Use/Tutorial
Now, as for how to access Gamer Dating, it is quite simple. All you need to do is go to the website's front page and fill in the registration form provided there.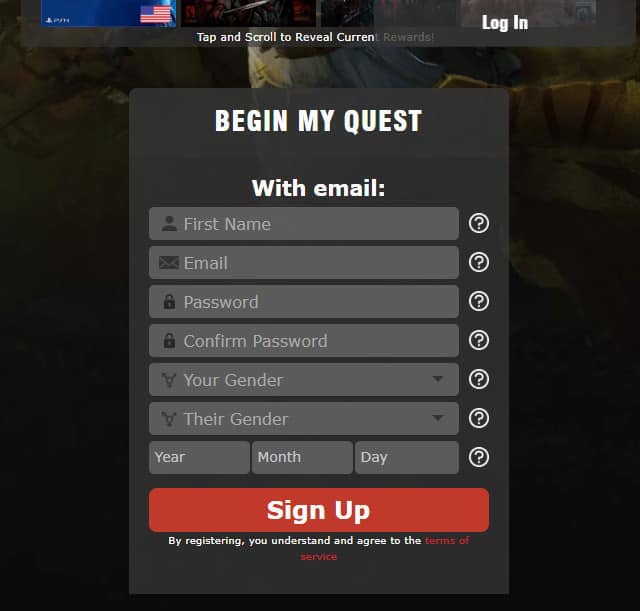 It requires you to write your first name, email, date of birth, to select a password and add your gender, and the gender of people you want to meet.
There are a lot of available options in the gender field, which is an improvement, compared to some other similar websites.
Apart from that, you can also sign-up via your Facebook account, by clicking on the 'Login' and selecting Facebook as the option.
Registration takes about 5 to 10 minutes at most because the profile creation is mandatory. Apart from the initial registration form, you will have to add a profile picture and to select at least three of your favorite games.
Apart from that, you have the option to set your height, as well as to add other personal information, such as whether you are a smoker, whether you drink or socialize with people, etc.
All of that helps the matching algorithm to find and send you matches every day, so it's recommended that you don't skip the steps that can be skipped.
One sad thing about Gamer Dating ist that there is no mobile app for it. You can still access the website from the phone's browser, but some parts are really not so responsive, and it can take a while for them to load.
Pricing
Sign up, searching for members, getting matches, and liking/disliking them on Gamer Dating is completely free.
However, if you want to get more serious, and find people to play games and date with, you will need to be able to message them.
Sadly, messaging is restricted to standard members, so you will have to pay for the premium membership if you want to be able to message other users.
There are two premium packages on Gamer Dating:
Silver Quest – $35 for 2 months
Gold Quest – $70 for 4 months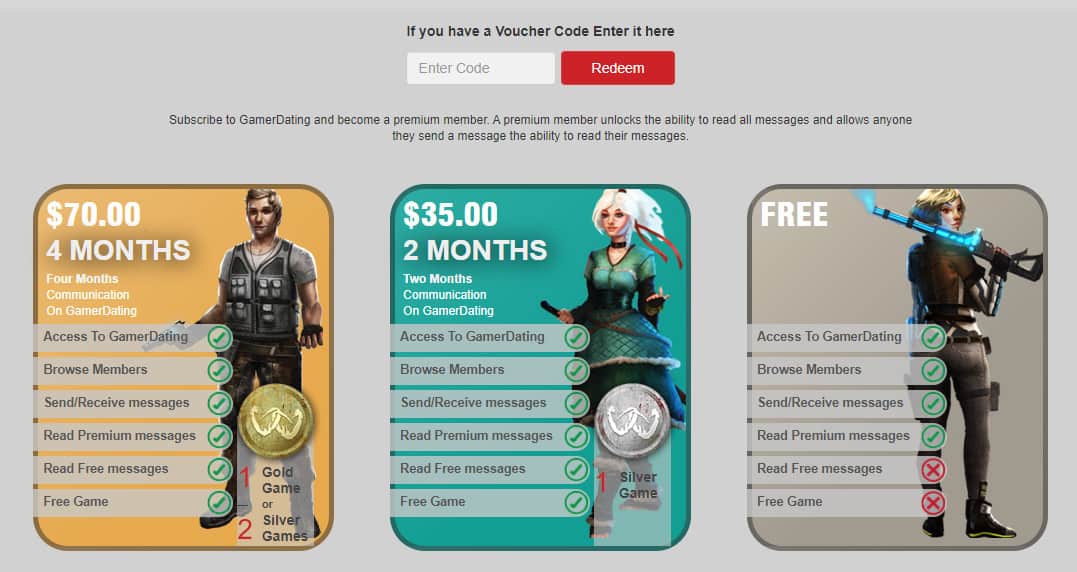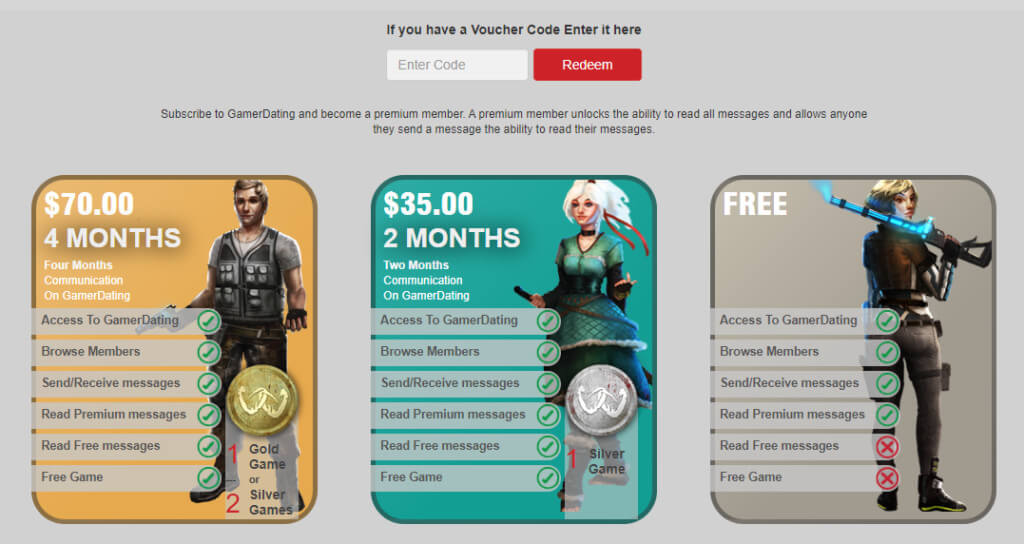 When it comes to the basic features, both paid plans offer mostly the same things, such as the option to read Free messages and get a free game(s), depending on the package you chose.
The only difference is that with the Silver Quest, you can choose to take one free game from the silver tier.
On the other hand, if you pay for the Gold Quest package, you will be able to choose either one game from the gold tier, of two games from the silver tier.
Conclusion and Overall Rating based on Gamer Dating Review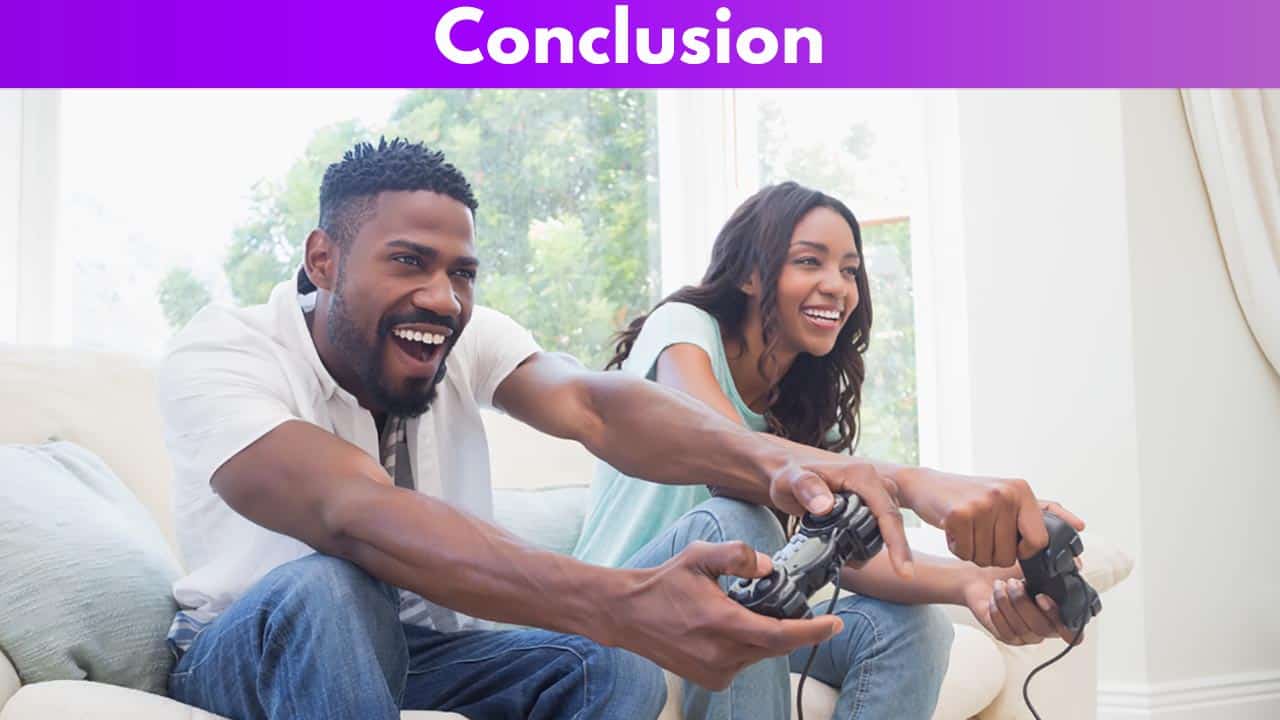 That was all about the Gamer Dating I've installed for you today. Now that you know all there is to know about it, let's give it the final grade.
Overall Rating – 3.25/5
I really hope this guide managed to answer all of your questions and doubts you might have had about Gamer Dating.
If not, however, check out the FAQ below, and if you still have more questions after that, don't hesitate to contact me in the comment section.
Frequently Asked Questions