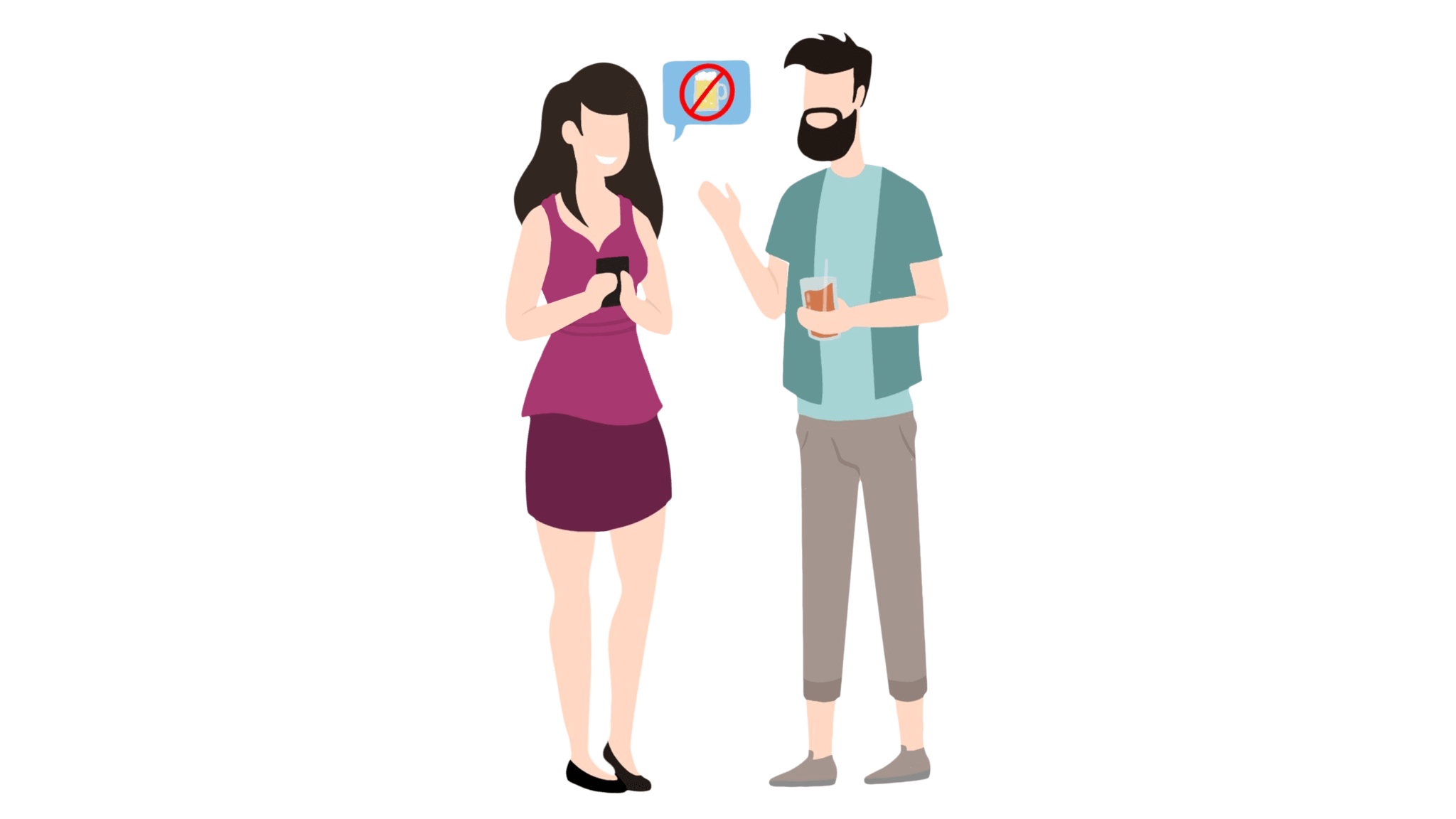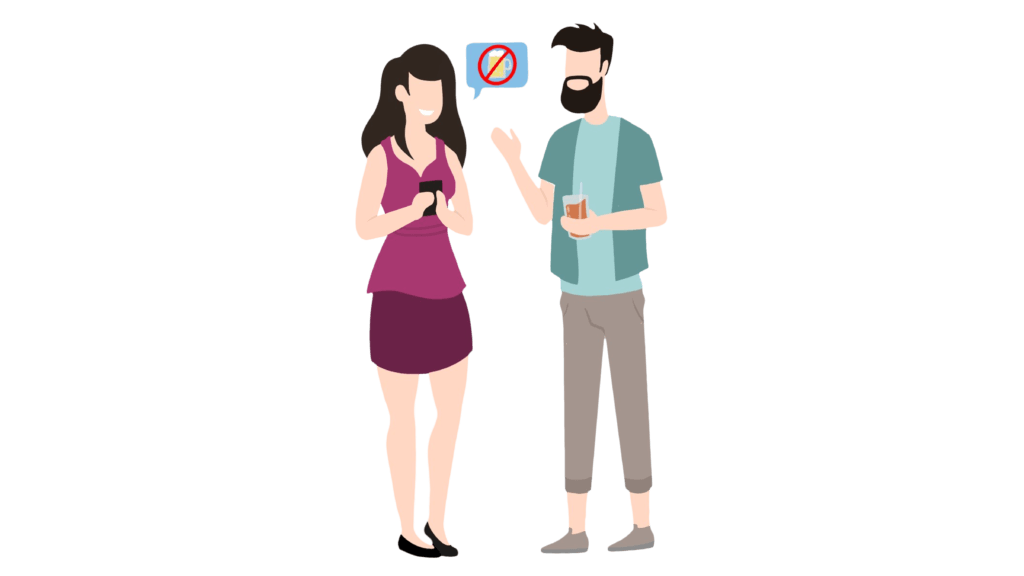 For some of us who are looking for online love, looking for a partner that doesn't drink alcohol is non-negotiable, and such can be really challenging to find on regular dating sites like eHarmony or Match.com.
Nor will you find a sober partner on sites like BeNaughty or Ashley Madison (well-known for one-night-stands) – most likely not the case.
Perhaps you are a teetotaler who has never drank alcohol and would prefer a partner that shares the same view.
Or perhaps you are in recovery and the last thing you need in a partner is someone who loves the odd tipple.
OFL Top Recommendations based on 100,000+ Survey

"Serious Relationships"
"Discreet Hookups"
"Best Course for Men"
"Quick Flings"
"Normal Hookups"
"Our Quiz"
Whatever the reason is, you will be happy to know that there a loads of dating sites on the internet that cater to your wishes.
Yes, that's dating sites where people who don't drink can sign up to look for similar minded partners.
And in today's article, we're going to review each of these sites based on:
So let's start then shall we.
Is your dating app giving you the best chance for success?
Make sure to take our online dating site/app quiz to find out.
People who follow our dating site suggestions have on average 2 more dates per month.
Best Sober Dating Sites in Video Form
Audio (podcast) form for those of you on the go
Best Dating Sites for Non-Drinkers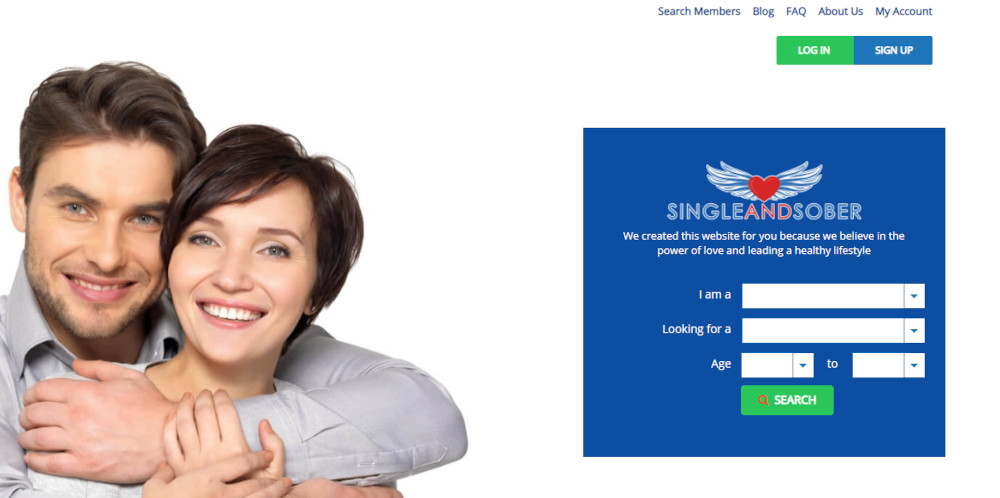 Signing up – 4/5
Making contact – 3/5
Profile quality – 3/5
Overall quality – 4/5
Starting a profile on Single and Sober is free
1000s of like-minded users who are in recovery
Very cheap membership options
Only available in four countries
Profiles are not very in-depth
Single and Sober is an online dating site that's aimed specifically at people who are in recovery.
For some, finding love can help them during that period.
OFL Top Recommendations based on 100,000+ Survey

"Serious Relationships"
"Discreet Hookups"
"Best Course for Men"
"Quick Flings"
"Normal Hookups"
"Our Quiz"
Of course, however, it's crucial to find people like themselves or others who don't drink to help them in their journey.
That's why signing up at a niche dating site like Single and Sober or others like it, is crucial.
Listen, as a niche site, you can't expect massive user numbers here.
What you can bank on, is the fact that every user you come across is at some point in their sobriety journey just like you are.
Most of those members are from the United States but there are others from Canada, England and Australia and at this point, those are the only countries you can sign up in.
No doubt, if you are in recovery and serious about sobriety, it just makes total sense to use a website like this.
It's important to note that Single and Sober caters to the gay and lesbian community as well.
Ease of Use "mobile and desktop version"
Before we look into how to start your profile on the site, it's worth noting that at this point, Single and Sober doesn't have an app available on any platform.
That doesn't mean that you cannot use your phone to register or use the site once you've done so as it is fully compatible if you'd prefer that.
Before we get into how the site works, let me talk you through the registration process.
It's a two-step process where you have to provide account details (username, password, email address) and fill in a large part of your profile.
It won't take long, roughly five to ten minutes.
Now let's talk a little about the site itself.
Once you've validated your email, you are free to log in for the first time.
I found Single and Sober to be a little different from regular dating sites and you might too if you've used those before.
It has a simple design where blue is the prominent color and opens on your profile where you can upload a photo of yourself but basically, your profile is finished after that.
On the top right-hand side of the screen are the main menus for the site.
They include:
Search: Here you can search for other users
Blog: This links to many useful blogs about online dating, sobriety and more
FAQ: If you have a question, you will probably find the answer in the FAQ section
About us: Find out more about the site here
My Account: Change various account settings here
You will also notice a smaller menu system below your profile.
This includes notifications, messages, upload photos and settings.
The one that you are going to be most interested in is the search menu, right?
Single and Sober only has a very basic search engine where you can adjust the following:
That's it.
There are no advanced searches.
For me, the most important thing here is location as you want to find people near you.
Because there are no extra parameters, that means that you will take longer to find the perfect matchup.
Messaging, however, is built behind a paywall.
There is no other way of showing other users your interest.
Look, there is no doubt that Single and Sober facilitates contact between people who are on the road to sobriety or who are living in sobriety.
It's a simple site and the membership prices reflect that.
Here's what it will cost you to become a member:
Bronze membership – 1-month: $9.99
Silver membership – 3-months: $19.99
Gold membership – 6-months: $29.99
Platinum membership – Lifetime -$49.99
You can see from these prices that this clearly isn't a dating site out to rake in millions of dollars.
It's all about providing a platform where people who want to be sober can meet a new partner, maybe even for life.
1. Do I need a valid email address to sign up for Single and Sober?
Yes, you do.
You will get a registration email from Single and Sober and you can only verify your profile if you click on the link in that.
2. If I'd like to cancel my membership of Single and Sober, how do I go about it?
All you need to do is click on the "My Account" tab.
From there, you can click on cancel membership.
You are also given the option to remove your profile from the site if you'd like to.
While it's pretty basic in the way it operates, Single and Sober is the perfect platform for those on the road to sobriety who want to meet others just like them.
It really isn't the most sophisticated dating site in the world but it doesn't need to be.
Everything you need is here to get your profile up and running as well as to find matchups.
And while you will need a membership to contact a potential matchup, membership pricing is extremely cheap.
Today, Single and Sober gets 3.5 out of 5 as a rating.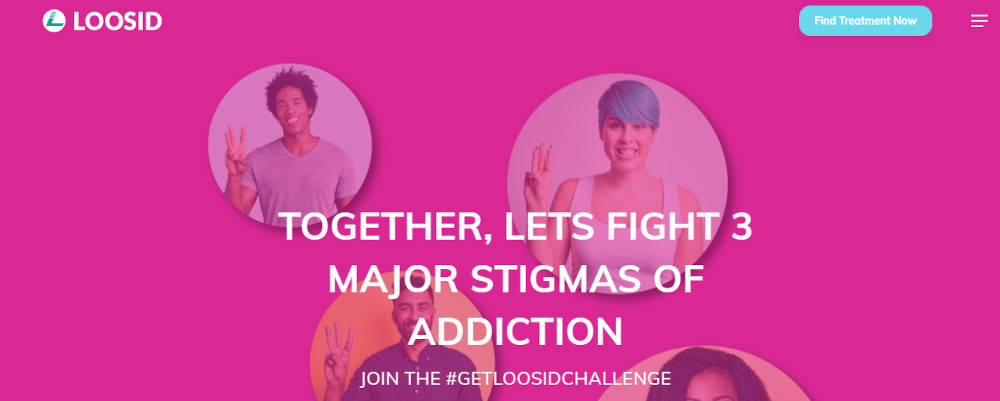 Signing up – 4/5
Making contact – 4/5
Profile quality – 4/5
Overall quality – 4/5
App available for Google and Apple devices
Tinder-style matchups
Lots of added features besides dating
Loosid is new on the online dating scene.
And because of that, it keeps a modern approach in the way it presents itself.
Yes, Loosid is only available in app form for both Apple and Google devices.
Loosid is all about helping people to meet others, to have fun or perhaps to have serious long-term relations.
All of this is done without the presence of alcohol.
But it goes a little deeper than that as well.
Because Loosid is also a community where people get together to have fun without the need for alcohol or other substances.
But there's still more.
For example, Loosid helps users with their sobriety as well as provides guides to having fun in and around major cities without the need for alcohol.
While the community and user base are still growing, if you are on the road to sobriety and looking to meet like-minded individuals, possibly even for love, then Loosid should be something to check out.
To date, Lucid has had over 50 000 downloads from Google Play alone.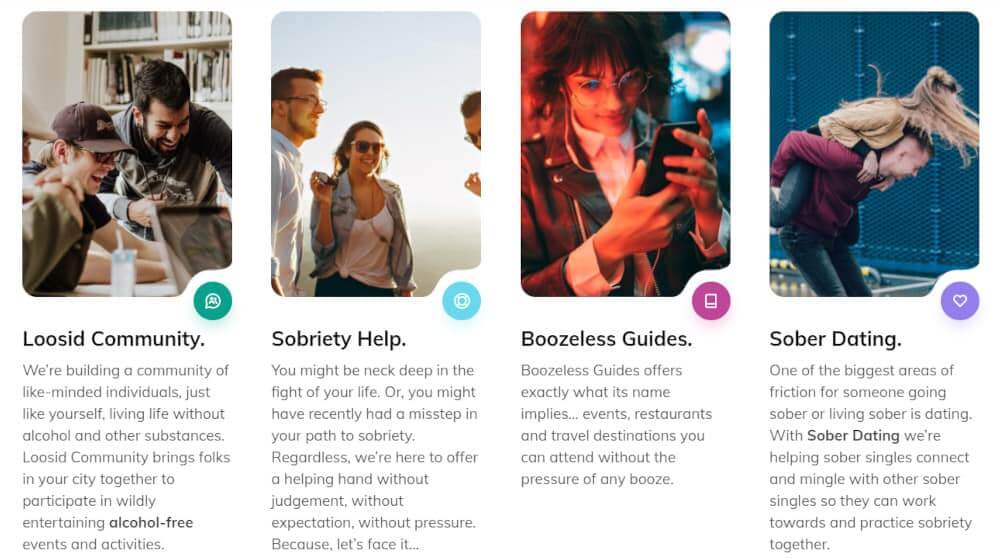 Ease of Use "mobile and desktop version"
Singing up for Loosid's "digital sober community" starts with downloading the app.
Once you've done that you need to register a profile on Loosid.
This is easily done by providing all the required information needed to set up your profile.
That's going to include a username, email address and password.
Once you've done that you can start using the app.
The thing to remember this isn't just a dating app, it's a community of people who embrace sobriety.
That means there is so much going on here over and above the dating side of things. In fact, you'd like to you can disable that functionality of the app.
For the dating side of things, Loosid works much like any modern app.
That means lots of swiping through profiles and deciding on those that you like.
If they like you back, then you have a match.
And if that happens, you are able to chat with each other.
The Loosid app is a free download from the Google Play Store and the Apple Store.
At the moment, there are no membership costs that presented themselves to me when using the app.
Of course, with this style of dating algorithm, you cannot simply message anyone you want to.
But you need to like their profile and they like your profile for a match to occur.
Once that happens, you can message for free.
1. Is Loosid only a dating app?
While the dating side of things is a big reason why people sign up for Loosid, there's so much more to find on this app.
Essentially, Loosid is a community of sober individuals who are looking to help others as well.
There are even suggestions of places to visit (for example restaurants) where you can avoid alcohol altogether.
2. Can I access Loosid from my laptop?
No, you can't.
Loosid is an app-only dating site and you can download it from the Google Play or Apple Store.
Although it has a website that explains how it works, you cannot register a profile unless you do it through the app.
It's important to remember that Loosid is a growing community.
This app hasn't been around for a long time.
And while it takes a bit of getting used to, especially if you haven't really used dating apps before, within a few hours, you will know where everything is.
Again, this is not only a dating site, but a community of like-minded individuals who are all out to help each other.
For our rating, today Loosid gets 4 out of 5.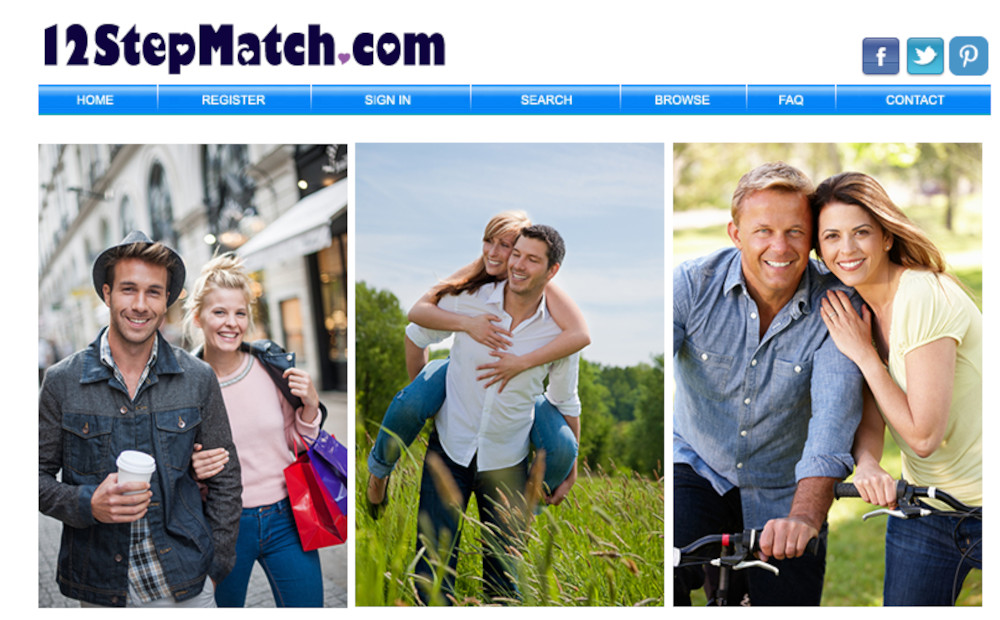 Signing up – 4/5
Making contact – 3/5
Profile quality – 3.5/5
Overall quality – 3.5/5
Includes "Match Finder" which mails you when people who meet your preference join the site
Find all the information on who has contacted you and who you have contacted under "Hot List"
Extensive profile
Monthly membership is a little pricey
The site looks a little dated
12-Step Match is one of the oldest dating sites on the internet for people who are recovering towards sobriety or any other kind of addiction as well as those who have already reached their goal.
But it serves another purpose in the fact that it's also for people who'd like to date others that they know are non-drinkers.
It's one of the oldest dating sites on the internet in this regard.
Getting user numbers for the site proved impossible, despite lots of research.
The same was true of a gender ratio breakdown of users as well as the age ranges of users.
As niche dating sites go, especially one that focuses on sobriety, it's fairly active, however.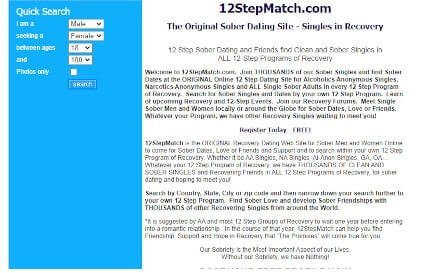 Ease of Use "mobile and desktop version"
If you'd like to make use of 12 Step Match you are going to have to register through the website because, at this point in time, there is no app at all.
The registration process for 12 Step Match starts a little differently than most and you are going to need a valid email address to begin.
Because the first step is giving your email address and waiting on mail from the site.
It's a bit of a strange start but at least it means that email addresses for all users are verified and that generally means fewer fake profiles.
Once you receive that email, you are taken back to the website where you provide:
A username
Password
Your name
Gender
Age
Country
What you are looking for (12 Step Match is gay and lesbian-friendly)
That takes you to a very extensive profile.
I am not going to go through everything you need to fill in here but there's plenty of information that's required.
All-in-all you are going to have to set aside about 10 minutes to complete it all.
Once you've done that, you get to see 12 Step Match for the first time.
I won't lie, it really is a little dated.
A redesign will go a long way in improving the site.
But ultimately it's not about how the site looks but more about how it works, right?
There's a range of menus for you to look through, including the search menu.
Speaking of searches, you can launch a quick search from the left-hand side of the screen but it's the advanced search that's really impressive.
Here you can adjust so many different parameters, all based on the extensive profile each member has to fill in.
That really can help you to search for the perfect matchup based just on what you are looking for.
But too many parameters can also be a bad thing, so if you are getting poor search returns, start cutting down on the parameters to get more matchups.
12 Step Match also has what they call Match Finder.
It looks like a search engine but it works a little differently.
What you do here is mark off your preferences and then you receive and email from the site when people who match those preference sign up.
It's a novel idea and well worth using to your advantage
Once you've found someone that you'd like to contact, the only option you have as a free user is to send them a virtual kiss.
If you'd like to message them, then you need to consider a paying membership.
12 Step Match doesn't offer any other features as part of membership over and above the ability to message other users and read any messages that you receive in your inbox.
And for that reason, membership is priced accordingly.
1-month membership – $19.95
3-months membership – $24.95
6- months membership – $34.95
12-months membership -$44.95
If you see yourself using the site for a period, I would suggest the 3-month option as I feel the 1-month membership is a little pricey for messaging alone.
But of course, that's your decision to make.
Match Finder is a brilliant little tool offered by 12 Step Match.
Mark your preferences in what you are looking for in a matchup and as soon as someone that matches that joins the site, you will receive an email informing you.
2. Is there a way I can keep track of everyone I've messaged, sent a kiss to, or favorited?
Yes, there is.
All this information can be found under the "Hot List" menu.
It also will show members that have done the same to you.
Look, this isn't the most modern dating site you will ever see but it's worth checking out if you are looking for people in recovery or that are celebrating sobriety.
Strangely, the only real feature you get for your membership fees is the ability to message.
Other features like Match Finder and Hot List are free but could easily be considered as member features.
All I am saying that the old phrase, "Don't judge a book by its cover" really does apply to 12 Step Match.
As for a rating, it gets 3.25 out of 5.


Signing up – 4/5
Making contact – 5/5
Profile quality – 4/5
Overall quality – 4/5
It's free
Uses GPS to locate other users near you
A great community full of support
You can chat with anyone
It's not strictly dating focussed
I've added Sober Grid to this article because, although it's not strictly a dating site and more of a community focussed on sobriety, it's something that you might want to think about joining.
Sober Grid connects people who are on the road to sobriety in a large community.
These are all people in similar situations and there is no reason as to why you cannot find friends here.
The best part of it is that if you are recovering or have just made the decision to steer clear of alcohol, the societal pressure of only having fun when you drink is around is totally removed in a community like this.
Not only that but if you are recovering, many of the people who use Sober Grid have been in the same situation as you and can help.
So yes, this is more of a social network than a dating app but it connects you with others and who knows what can come from that, right?
The community at Sober Grid is growing by the day.
For example, it's been downloaded over 100 000 times on Google Play alone and I would guess that the number for Apple devices is similar.
Just one more thing.
This is an app for people in recovery and not so much for people who are straight-edge and just choose not to drink.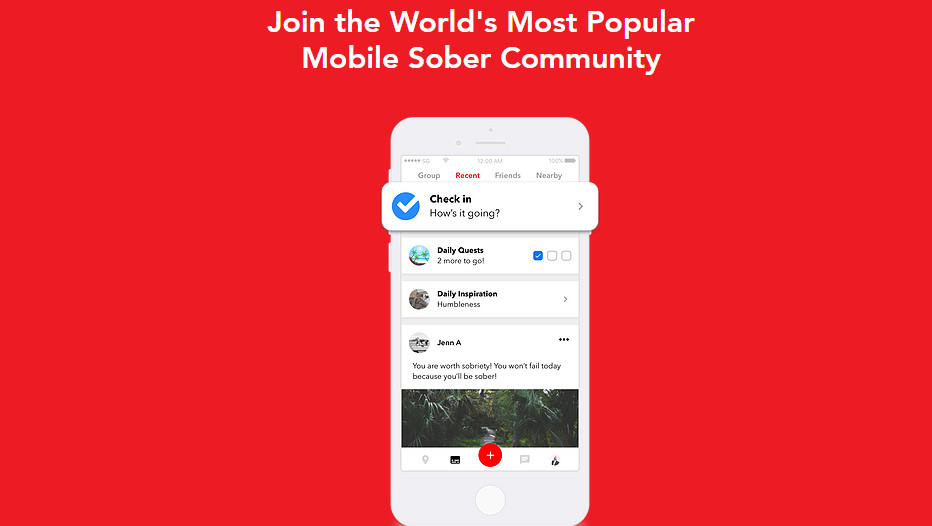 Ease of Use "mobile and desktop version"
Sober Grid is an app.
Although there is a website, it's for information only and you cannot register there.
Once you've downloaded the app for either your Android or Apple handset, registering for Sober Grid is a breeze.
If you'd prefer, you can sign up using Facebook or if you don't have a Facebook account, you will have to register through the app.
To do that, you need to provide the following information:
Your sobriety date
A profile name
A profile pic
Email address
A password
And that's all the information needed.
Once that's done, you can access the app.
It's simplistic in its design and you will immediately notice four menus at the top of the screen.
Groups: Here you will find a bunch of groups that you can join up with
Recent: Here you can see recent posts by other users of Sober Grid. This acts as a social network feed and you can interact with the posts.
Friends: Anyone you've added as a friend will appear here
Nearby: Click here to find other Sober Grid users near your location
There are some menus at the bottom of the screen as well.
Home screen
Search: Find other users that are close to your location (but not nearby)
Your progress: See your progress and view sobriety badges you've unlocked
Chat: Here you can chat with other Sober Grid users by sending messages
Profile: Here you can access your profile
And that's it.
It really is a very simple app to use and yes, you can meet lots of new people in the same boat as you and chat with them.
Sober Grid is free.
If you'd like to message other users, however, you will need to have your phone number validated by the app.
But that's all.
There is no payment here at all.
Yes, it is.
There are no costs involved with this app at all.
2. Can I message anyone on Sober Grid?
Yes, you can.
Simply go to their profile and click on the envelope icon to send someone a message.
You will have to validate your phone number first before you are allowed to send messages.
For people on the road to sobriety who want to meet others just like them downloading and using Sober Grid makes absolute sense.
It's not only a way to meet others who can hold you accountable but you can also make new friends.
Best of all, this social networking app – because that's essentially what Sober Grid is – is free.
It gets a well-deserved 4.25 out of 5.