If you have decided to dive deep into the world of online dating sites, then you have definitely found it quite complicated to come up with perfect questions you should ask potential partners.
Messaging someone for the first time online can even be more complicated than a real-life first date, but we've got you covered.
In this article, we will discuss things like:
Bonus tip: we have found that you can save a lot on eHarmony by signing up on the website (not the app) using this special link.
Also, make sure to check out our full eHarmony review here.
Is your dating app giving you the best chance for success?
Make sure to take our online dating site/app quiz to find out.
It's a fact that people who follow our dating site suggestions have on average 2 extra dates per month.
What Are The Things You Should Ask While Dating On EHarmony?
If you have joined EHarmony with a mission to find a long-term relationship and meet compatible matches, then you have realized that you will need to figure out the most important questions to ask them.
The matchmaking process is quite fast, and sometimes EHarmony algorithm will connect you with perfect people before you have even figured out the best questions you need to ask.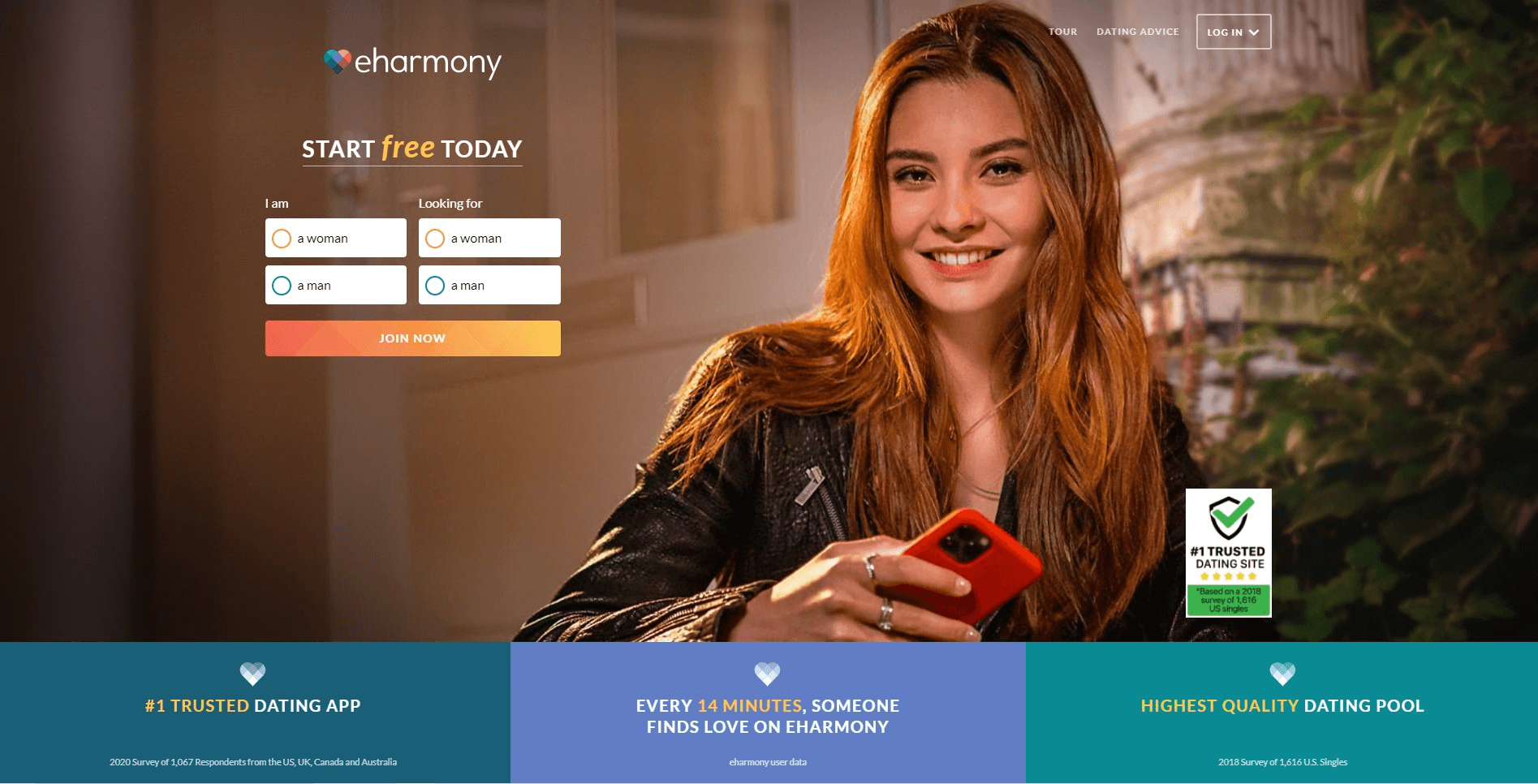 For that reason, we have decided to help you out and tell you what the questions you always need to ask that will help you realize whether the compatibility is there or not are.
1. What are their passions in life?
These are the questions that you will hear on job interviews but also on first dates because they can help you figure out what kind of person these people are.
Even though they will share plenty of things about themselves on a dating profile, they are not necessarily true all the time, so the best dating advice you may hear is that you need to ask them this question to see whether those personality traits they have listed are true in real life.
If you are Christian and this is important to you, you should always make it one of the first questions because they can often be a real deal-breaker.
A lot of people forget to answer this question in the questionnaire, and even if you are not that into Christian dating or you are not religious at all, the other person may be, and it can be essential to them, so you should always check it out twice.
3. How they spend their weekends
Your potential matches should be people you would enjoy spending time in real life with, especially if you are looking for a serious relationship and not a hookup (like BeNaughty or Ashley Madison), so this is one of the best dating questions you can ask at the beginning of your messaging.
Even though this is a question that will appear among EHarmony questions in their dating questionnaire, the actual answers will never be shown to you, and this is definitely some of the questions to ask on a dating app because it can tell you a lot about the person before you have even met them.
Dating profile questions and their whole About me page will show you what they do for a living. Still, sometimes the title they have left on their profile may not describe the job well, so you should ask them about their profession and let them explain what they do, how they feel about their job, and whether they are passionate about it or not.
6. Do they prefer going out or staying in
If you are a person who prefers to stay at home rather than go out, then you will probably want your partner to have the same lifestyle as you.
OFL Top Recommendations based on 100,000+ Survey

"Serious Relationships"
"Discreet Hookups"
"Best Course for Men"
"Quick Flings"
"Normal Hookups"
"Our Quiz"
Since this is something you won't be able to see on their dating profile, it should be one of the first questions in your conversation because if you are polar opposites, then there are not too many chances for a successful relationship.
What Are Good Online Icebreaker Questions?
Finding good opening questions for online dating can be pretty hard, especially if you are on a dating platform like EHarmony, aimed at people looking for serious relationships.
However, that doesn't have to mean that you should avoid fun online dating questions and icebreakers because they can be the key to someone's heart.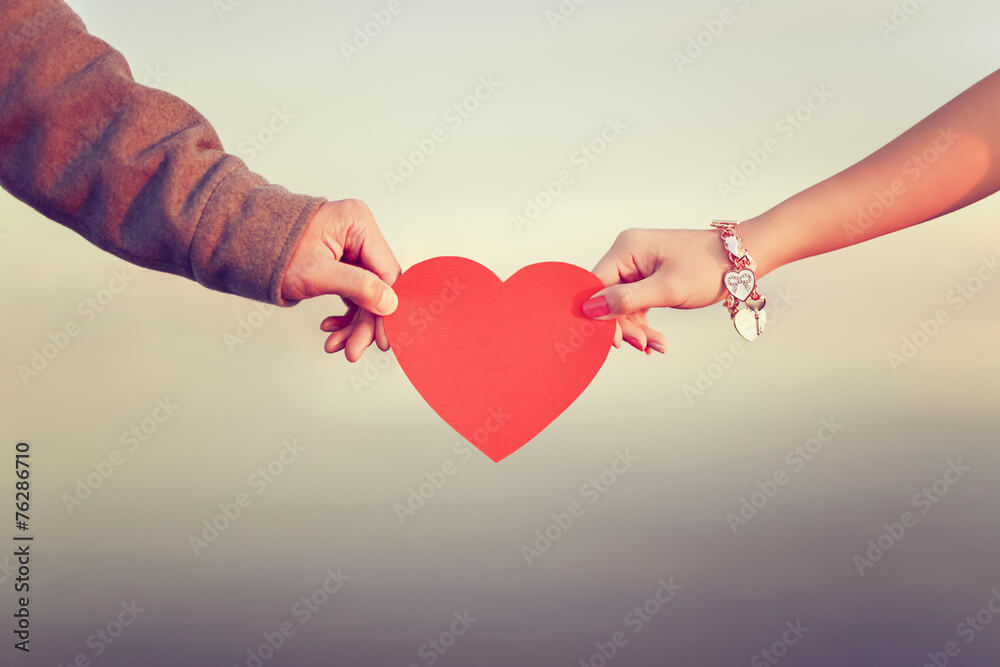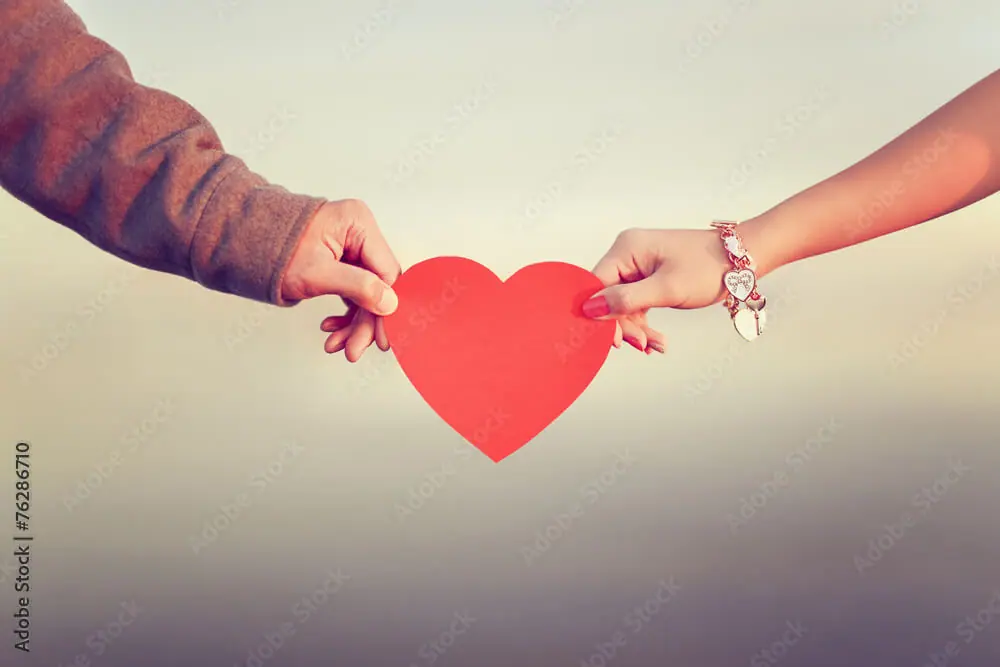 These are some of the best icebreaker questions you can use on any online dating platform, not just EHarmony, and you will have a lot of success:
Would you share your favorite meal with me?
Do I look like soulmate potential to you?
Could I pass your compatibility quiz?
Should I give you my phone number, or will you take another look at my profile?
Do I need to show you many red flags immediately, or do you want to wait a little bit?
I hope you have a good sense of humor because I do not
This compatibility matching system finds us to be great partners, do you want to try it out in RL too?
How much time do I need to wait for you to ask on a first date?
Do you have an editorial team behind your dating profile, or do you naturally attract people like that?
I hope you will agree on a second date with me because the first one is already scheduled
The thing that was missing in my last relationship was definitely you
Could you fit me into your schedule, like, right now?
I don't know what are good questions to ask on a first date online, so would you like to go out with me?
If you have no idea what questions to ask online dating, then you should definitely give a try to some of our recommendations because they have shown to be quite successful in most cases.
What are you passionate about EHarmony answers tend to be quite basic, but these are the questions that will actually help you realize what the things this person is looking for and whether the two of you would be a good match or not are.
You can also try out some would you rather questions that tend to be popular on dating apps like Tinder or Bumble.
Just because someone is looking for a serious partner doesn't mean that they don't want to have any fun, and these questions can really help you stand out among hundreds of other people on this dating service.
You can always use some of the questions you have come up with yourself to showcase your personality and sincere interest in a person, so don't feel the pressure to follow up on these questions and pieces of advice because you probably have something a lot more original and interesting on your mind.
What Are Good First Date Questions?
What are good first online dating questions can be as hard as coming up with a good icebreaker, but I am sure all of you already have questions to ask someone you just met online.
You shouldn't follow some strict dating advice but rather listen to your intuition and heart and actually ask the person the things you want to know about them.
The most important things you need to ask a person are already in your mind, and they will never be revealed during the sign-up process, so I would advise you to follow your intuition and ask them things you find to be important in a potential partner.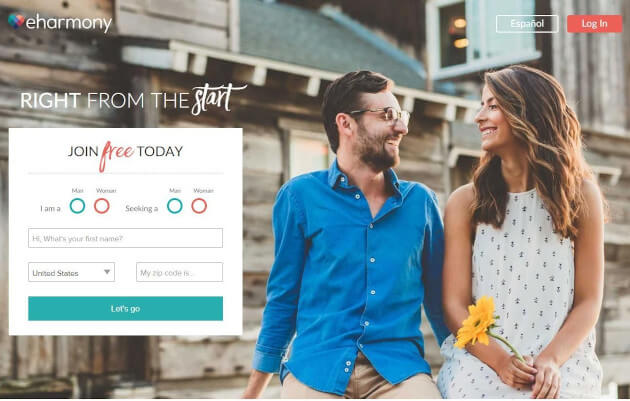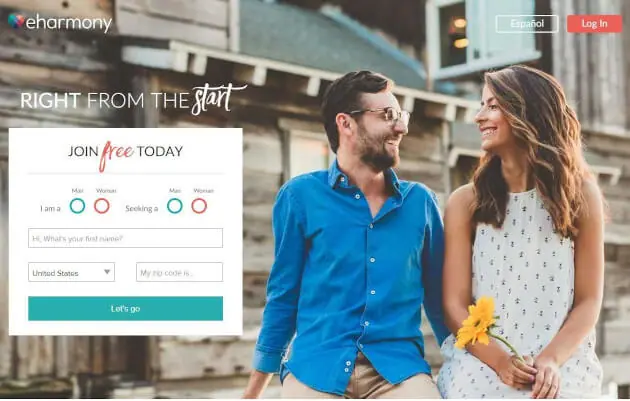 Long-term relationships usually end because people didn't ask the right questions in the beginning, so make sure you have found out all about someone's personality, likes, and interests before you even agree on a second date.
The EHarmony algorithm is there only to help you out on your way to finding your potential soulmate, but your approach and your questions are what determine the rest of your relationship.