If you have been thinking of joining online dating sites like EHarmony, you want to know how successful they are at compatibility matching.
EHarmony is one of the most popular matchmaking platforms for everyone looking for a serious relationship, and its success rates are something everyone is interested in.
For that reason, in this article, we will provide you with information like:
Bonus tip: we have found that you can save a lot on eHarmony by signing up on the website (not the app) using this special link.
Also, make sure to check out our full eHarmony review here.
Is your dating app giving you the best chance for success?
Make sure to take our online dating site/app quiz to find out.
It's a fact that people who follow our dating site suggestions have on average 2 extra dates per month.
How High Is EHarmony Success Rate?
EHarmony is a dating app that has been around for more than a decade, and it is one of the most popular options among people who want to find love and form a serious relationship.
It is also known as the dating website with the highest success rate, and the reason for it is probably the fact that it is created by a Clinical Psychologist who has come up with a unique compatibility quiz and algorithm that will enhance your performance on the platform.
Since it is not made for people looking for a hookup (like BeNaughty or Ashley Madison), it is pretty serious, and it makes sure all the potential matches on the platform have a lot of things in common with you and would be compatible with you in real life.
The compatibility matching system is one of a kind, and EHarmony.com is known for exploring different dimensions of compatibility before recommending a specific person.
If you have read an EHarmony review or two, you have realized that your EHarmony profile will be filled out with hundreds of valuable information that will help the algorithm find you compatible partners in all areas of life.
Its matching algorithm is created by Neil Clark Warren, and it is not one of the popular dating sites that recommend you daters randomly but rather profoundly explore all of your likes, traits, and interests before it even starts doing compatibility tests with other people.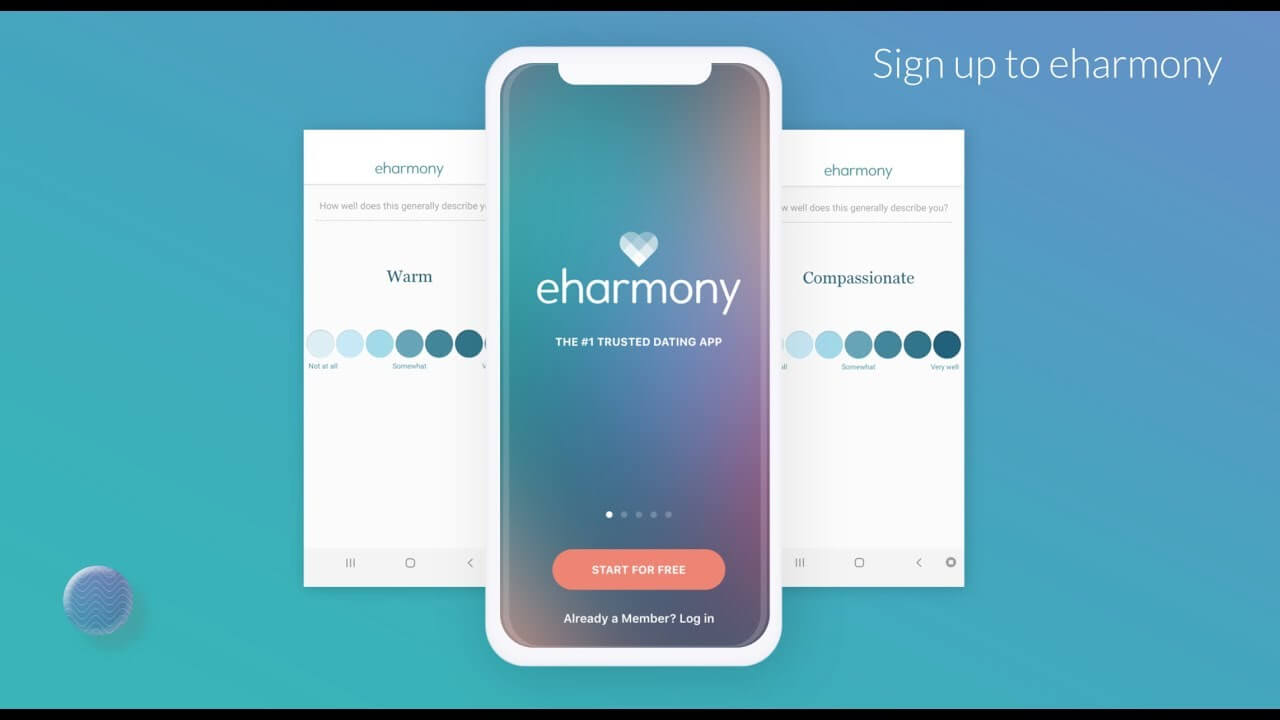 In case you don't want to waste too much time and you want to find your perfect match immediately, then EHarmony ratings are something that will attract you to this platform and help you join it without thinking twice.
This unique algorithm and hundreds of features and filters, questionnaires, and personality tests are why people have so much success with it and why its user base seems to be even bigger and more prominent throughout the years.
It has a few million active users, and its results position it as the number one dating platform for serious dating, making it even more efficient than popular apps like Tinder, Bumble, or Zoosk.
Over 70% of daters on EHarmony end up in some sort of relationship, which provides it with a much better rate than all those casual dating sites have.
Even though it has an extensive questionnaire and personality tests that will take you up a lot of time, they are why so many people are experiencing extreme success and meeting their perfect matches through it quickly.
OFL Top Recommendations based on 100,000+ Survey

"Serious Relationships"
"Discreet Hookups"
"Best Course for Men"
"Quick Flings"
"Normal Hookups"
"Our Quiz"
Women have a bit more luck since the success rate for them tends to be around 71%, while men usually have success in 69% of cases.
Fifteen million matches are created on this dating platform every day, so make sure you fill out the sign-up process to the most delicate details and create a personality profile that will perform well on the algorithm and help you get your own EHarmony success story.
Since they are doing the whole matchmaking process for you, all it takes is that you have enough time to create a unique dating profile and explore the dating pool until you find the most compatible match for yourself.
Is EHarmony The Best Option For Serious Daters?
EHarmony's success rate speaks for itself, and if you are one of the people who are looking for a serious relationship and you don't want to waste any more time connecting with people you have nothing in common with, this is the right dating site for you.
First, I would recommend you join EHarmony with a free membership, see what it has to offer, and explore all the features like video date, messaging features, and all possible filters.
In case you have some particular preferences, for example, you want to get into Christian dating or ethnicity is very important to you, you should try out their filters because they will allow you to create your perfect partner and then start looking for them among other EHarmony subscribers.
The advantage of EHarmony is also the fact that people using it are all very serious and don't want to waste any time on casual hookups, so when you see people on your homepage or in rankings, you can be sure that they too are here to find their soulmate.
Some of them even have years of experience, while others have maybe even lost their belief in love.
Since EHarmony's cost is relatively high, only those who are eager to become one of the EHarmony couples are joining it, and there are no fake profiles, so you should take all EHarmony offers into consideration.
I would recommend it to everyone who is sick of platforms like Tinder and Bumble and want to make a change in their dating lives, no matter how hard it may look at the moment.
This platform has plenty of amazing success stories, and there are a lot of EHarmony marriage stats, so maybe you will become one of those married couples who met on the internet.
Do EHarmony Marriages Happen?
Even though most people believe online dating marriages are just a myth, they happen a lot more often than you could think of, and EHarmony or Match.com have a lot of successful marriage stories.
EHarmony results show that many people not only have an amazing dating experience on the platform but also manage to meet their future spouses on this website.
Statistics claim that EHarmony is responsible for 4% of marriages in the USA, which is a significant number, mainly because not too many people are opting for marriage these days.
In number, the statistics say that 542 people marry every day because they have met through EHarmony.
If you have been using the platform for a while or you know people who have been active on it, then you have probably heard a success story of someone who has met their husband or wife through this platform.
EHarmony claims that over 600 000 people who have met through one of the best dating sites out there have married each other and that there have been little to no EHarmony complaints about the matches they have made while using the website.
Members exchange more than 2 million messages every single week, which is a significant number that most platforms like OkCupid or Elite Singles could not reach.
Also, the EHarmony divorce rates are much lower than national divorce rates in the USA, so if you want to have a long-lasting relationship or marriage, then these EHarmony statistics should encourage you to join the platform.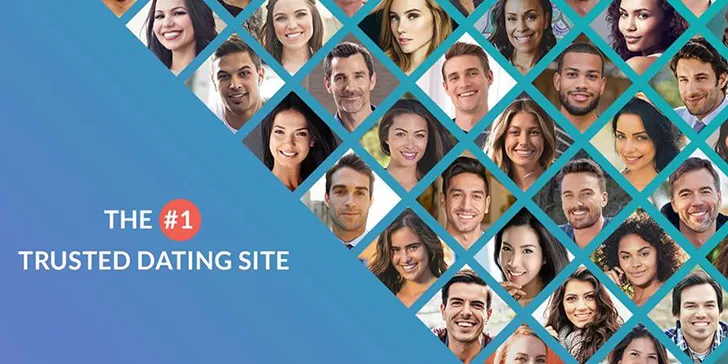 The divorce rate of couples who have met each other through EHarmony is 3.68%, while the average USA divorce rate is 50%, depending on the state.
Since it is based on compatibility tests and personality tests, it is an amazing option for everyone who wants to have a beautiful wedding and future with a person that suits them well.
"Is EHarmony worth it?" – This is definitely a question that you have received a clear answer to, and people from all demographics, sexual orientations, and religions will be able to find their person while using EHarmony and have their dream wedding.
What Are Success Stories On EHarmony?
There are plenty of success stories on EHarmony, and there are also plenty of EHarmony wedding stories.
Here are some of the best EHarmony story examples, and I believe you will definitely consider joining the platform when you see how unique this whole experience was for so many people across the world.
Kylie and Carl were amazed by eharmony's in-depth match preferences because it made it easy for them to meet people they had a large number of things in common.
Carl seemed to be one of the people with the highest compatibility scores for Kylie, and she decided to start communication with him and see where the thins would go.
Right from the start, she knew he was one of the best guys she had ever come across, and she decided to give him a chance to meet her IRL.
It was love at first sight, and once they went on the first date, they were sure this relationship would continue and that they would make something big out of it.
Fast forward to this year, Kylie and Carl are happily married, and they would encourage all people who are looking for a safe and prosperous place for dating.
Britney and Will met through EHarmony three years ago, and they were one of their first matches online.
Since Will didn't have too many women in his inbox, he decided to go out with Britney, but he ended up being swept from his knees by her, and he fell in love at first sight.
They realize they are the best šartners for each other shortly, and they have decided to make a massive wedding for both of their families.
Successfully, they have survived Covid together, and in 2021 they welcomed their first son called Chris.
They believe EHarmony has made their lives so much better because if it wasn't for it, they would never meet each other and built a beautiful family.
Marky & Amy met on EHarmony during the Covid pandemic and they were waiting for Covid to slow down before they could meet each other in the closest country.
They were each other's partners for chatting and exchanging daily thoughts throughout the whole pandemic, and once they have gone on the first date, they knew it was the right thing.
Even though they spent a bit more time discussing what will be the best city to live in, they have married by the end of 2021 and became one of the most successful EHarmony marriages.
As you can see, several people have met their significant other through EHarmony, and it is really an example that dating sites can be very successful and helpful if you know to handle them the right way.
You don't need to worry about EHarmony demographics, location, or filters because if you know what you are looking for, you will be able to find them through it.
How Effective Is EHarmony?
EHarmony is a dating site with the highest success rate that has reported a large number of marriages and serious relationships among its users.
It is designed by the best clinical psychologists and has one of the most successful matchmaking algorithms on the internet.
This platform will provide you with hundreds of feature filters, questionnaires, and personality tests that will help you find the right partner for yourself and connect only to those who have the same ideas of a relationship as you.
While not everyone will have the best experience with EHarmony, over 90% of its users will be amazed by the matches they receive and by the relationships they form through it.
I would say it is the best online dating platform at the moment for everyone who is looking for a serious relationship or even marriage because it provides you with a deep dive into a person's personality and traits and then helps you meet only those who would work well with you in real life too.
Millions of people across the world are surprised by the quality of their EHarmony matches, and if you create your EHarmony dating profile today, you can become one of them too.