The reason why online dating is so in right now is because it's supposed to be easier and less time-consuming to meet new people using apps and websites, than it is to meet them in real life.
Usually, people, these days work a lot and are always in the rush-they don't have time to go around bars and clubs or other places and blindly look for love or fun.
However, just because it's meant to be easier doesn't mean that it's all that easy.
Especially because of that above-mentioned rush.
People don't have the time or will to read through paragraphs of text.
It's the reason why shorter dating profiles are used more on dating apps and websites.
But, there's a big problem with that method.
How do you manage to portray yourself in the best possible light in such a short style?
These Short Dating Profile Examples are meant to help streamline your profile to get the perfect match.
You have to mention your best qualities, catch the attention of the reader, tell them about what you're looking for, and make them want to reply to you – all that in a limited amount of space.
Thankfully, we are here to help you with that!
We made some Short Dating Profile Examples based on what people are usually looking for on dating websites.
Here we have examples for both men and women who are searching for a long-term relationship, just a fling, not so serious relationship or even for those who don't know what they want!
But before we get into that, we should all look at some basic tips and tricks that everyone should follow if they want their short dating profile to be more successful!
Is your dating app giving you the best chance for success?
Make sure to take our online dating site/app quiz to find out.
People who follow our dating site suggestions have on average 2 more dates per month.
Tips & Tricks
These are some tips that you should follow regardless of whether you are a man or a woman, or what it is that you're looking for.
Attract attention
Firstly, you want to attract the attention of the reader at the beginning of your short dating profile so that they want to keep reading.
This way you get more chances at getting an actual reply.
You should start your dating profile with something funny, fascinating or thought-provoking, anything that you think will make people think that you're interesting.
It's often hard to think of something interesting about ourselves of the top of our head, but there's always something.
You got a hobby that not a lot of people do? Write it down.
A fun fact that you think no one has heard of? Just go with it.
A short anecdote from your life? People will find it charming.
Show, don't tell
The fact is that the shorter your dating profile is the more impact the words have.
So choose them wisely.
You don't have to write about how you're physically active, you can just write "runner".
Same thing goes for financial stability. Just write your job title.
Pick a few most important and most captivating facts about yourself and just write them down.
It's also important to make this list as short as possible. Your three best qualities would be ideal for a short dating profile like this.
So make a selection and refrain from making a boring list.
Also, don't brag about yourself.
This way you'll seem more straight-forward but mysterious at the same time.
Keep it funny
This is a must if you want to get more replies.
Majority of people in this world would say that a sense of humor is the most attractive trait that anybody can have.
Humans love people who can make them laugh and be happy.
So make sure not to write a dating profile that's too serious – you'll get less replies that way.
If you put in at least one fun thing you'll more likely get a message from somebody who matches your sense of humor.
Be honest, but not too honest
First and foremost, it's important to be honest with yourself.
Determine what you want and then aim with that goal in mind.
Are you sure that you want a serious relationship or are you more of a just a fling type? Do you know what you want? Sort that out first.
Secondly, just be honest in your dating profile.
Studies have shown that 53% people lie on their online dating profile. Don't be that person.
It might help you get a message or two but you'll have more success, especially if you're looking for something more serious, if you're just honest.
However, don't be too honest. Some things like emotional baggage, your hatred for your job or your life shouldn't be something that you just casually mention in your profile.
It's better to keep all those things for private conversations, as you have more chances of getting a reply if you don't seem like a negative person.
So just be positive!
Call to action
If you finish your dating profile with a question or a call to action you're just more likely to get a reply.
It's easy to do and it gives people a reason to message you and start a conversation!
Don't forget to spell check!
Last but not least, and probably the most important action on this list, is to always check your grammar before posting your profile!
Make sure that you're using all the right capital letters and punctuation, and that your spelling is correct.
People find that one of the worst qualities that someone could have is bad grammar!
Now that we're through all the most important tips and tricks that you should use if you want your online dating experience to be successful, let's look at the different examples for man and woman based on what you're looking for in a relationship!
Are you looking for a long-term relationship?
If you're looking for something more serious and aren't interested in one night stands, you should honestly portray that you're that type of person.
You shouldn't be afraid to tell what you want because that way you're more likely to find somebody who is on the same page as you.
This is why people think that this kind of a dating profile is going to be too serious, but there are always ways to spice things up!
Remember, as we mentioned before, you don't have to specifically tell everything you want, you can just show it.
When it comes to people who are looking for something more serious you should definitely refrain from making your whole dating profile into just a joke.
Share some facts about yourself and say something funny at the same time.
It would probably be the best if you shared your job title if you're looking for a more genuine connection, as your future partner is going to want to know what it is that you do for a living.
Sounds a bit hard, but don't worry! Look at these examples to see how easy it really is.
Short dating profile examples for men looking for a long-term relationship
Adventurous. Travel blogger. Dog person. Looking for someone to travel with me for an indefinite time period. Where do you want to go?
Professional chef by day, movie buff by night. And don't worry, I take my work home! What do you want to eat?
Engineer. Avid runner. Comic book lover. Looking for someone to go to concerts with. So, Marvel or DC?
Short dating profile examples for women looking for a long-term relationship
Secretary. Loves to incorrectly quote popular songs. I'm here for a good time and a long time, care to chat?
Pharmacist. Yoga fan. Book lover. What's your favorite book? Message me if you want to join a two-person book club!
Accountant by day, poet when I feel like it. Don't worry, I'll take care of our taxes and write a poem about you while I'm at it.
Is the only thing that you're looking for on dating websites just a fling?
Hey, there's no shame in not wanting to have anything serious right now, so don't be afraid to tell it!
Or, as we stated before, don't be afraid to show it!
Also connected to above-mentioned tips, don't be too honest. One of the most important things to do is not to give off "I'll date anyone" vibe.
That will definitely turn most people off. Just because people aren't looking for anything serious doesn't mean that they don't want to feel special.
But how do we portray that we don't want anything serious without explicitly saying that that's exactly what we want? Good question!
Most importantly, make sure that you set the fun vibe. Everyone likes a good sense of humor.
Unlike the people who are looking for a long-term relationship, you don't really have to give off anything about yourself in your dating profile.
It's enough to share something funny enough to get people to reply to you. Or just be flirty!
A funny fact about yourself? A poem? An obscure pop culture reference? Just go for it!
The tone that you set is going to portray what you want.
Here are some examples that will illustrate this concept to you better!
Short dating profile examples for males who aren't looking for anything serious
Decent painter. I'm not Leonardo di Caprio, but I can paint you like one of the French girls.
Roses are red, bananas are yellow, wanna go out with a nice little fellow?
I'm actually a 17th Century swordsmen. We should meet up so that I can tell you more about that.
Short dating profile examples for females who aren't looking for anything serious
The man of my dreams is Shrek. Hit me up if you think you can keep up.
Graphic designer. Dancer. Let's have a good time J
Baseball lover. Food blogger. How about order in tonight?
Don't know what you want? How about this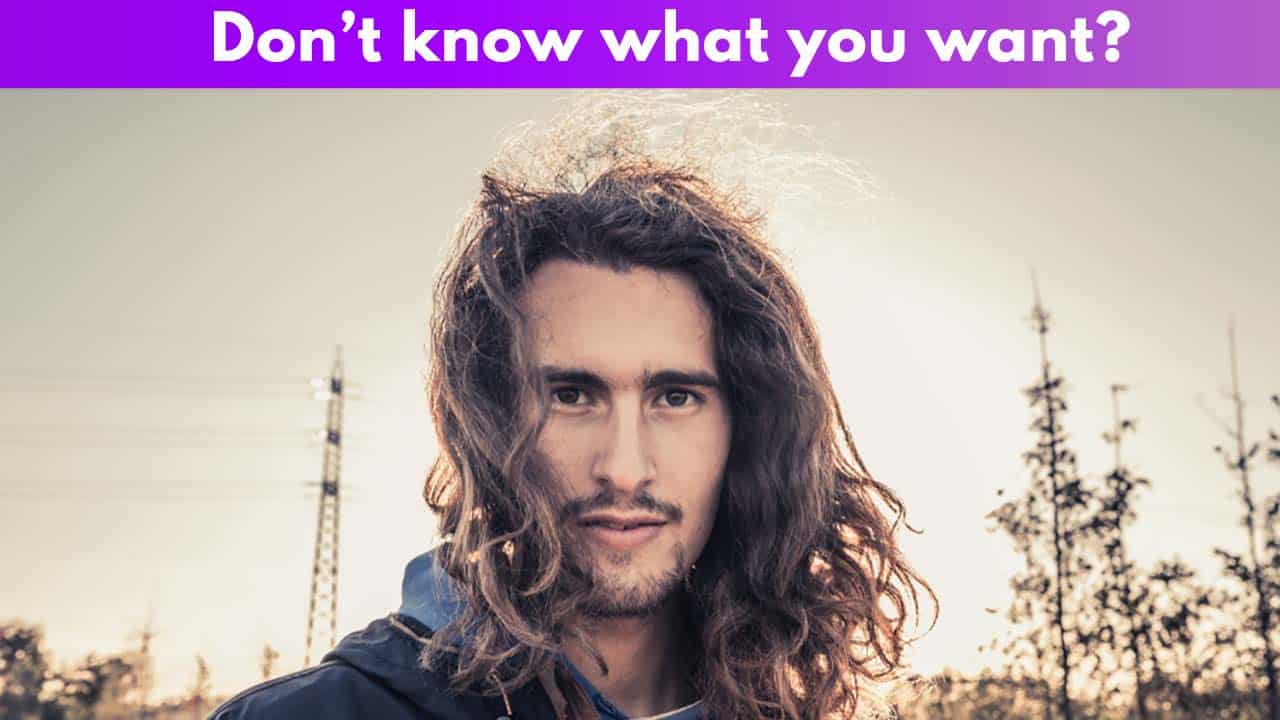 Not everyone knows what they're looking for, and that can be something that consistently changes as the days go by.
Maybe today you're looking for just some fun, but tomorrow you might want something more solid, and that's completely fine.
You don't know what exactly it is that you want? How about both?
But what do you do in that case?
We suggest that the best thing that you could do is to keep it simple.
Leave your profile neutral, without any guess as to what you're looking for or change it up based on your feelings! The sky is the limit!
Here are some more examples of short dating profile examples that will hopefully inspire you!
Short dating profile example for men who don't know what they want
"A truly amazing guy" – New York Times "Not an idiot sandwich!" – Gordon Ramsey "We wish that we had an award for "funny and great"!" – Nobel prize committee "I love him!" – my dog
Software engineer by day, amateur mixologist by night. How about I fix you a drink and we see where it goes from there?
I love rollercoasters, chocolate-covered fried chicken, and board games. What about you?
Short dating profile example for women who don't know what they want
Flowers < chocolate Netflix > cinema Autumn > any other season ever Coffee < tea What about you?
My favorite TV shows are Breaking Bad, House MD and Fargo, but I'm looking for some new ones. Do you have any recommendations?
These are some of the best short dating profile examples that you can be inspired by or use based on what you want from a relationship!
Follow all the tips and tricks for maximum success, and don't forget to stay positive.
Good luck!