While people use dating websites for many reasons without a doubt one of the most popular kinds are those that help them find a partner for an extramarital affair.
Sites like Ashley Madison, Adultfriendfinder, Be Naughty, Gleeden and Victoria Milan are what we commonly call affair datings sites.
And while you could find other online dating sites like Tinder, Zoosk or Match.com that could help you find married women or singles for a discreet affair, it's just far easier to use dating services geared towards casual hookups and more. 
So in today's article, we are going to take a look at the sites that many consider being the best cheating websites you can find.
OFL Top Recommendations based on 100,000+ Survey

"Serious Relationships"
"Discreet Hookups"
"Best Course for Men"
"Quick Flings"
"Normal Hookups"
"Our Quiz"
We are going to look at several critical factors including:
So if it's affairs with married people that you are looking for then these are the best cheating sites that you can consider.
Is your dating app giving you the best chance for success?
Make sure to take our online dating site/app quiz to find out.
It's a fact that people who follow our dating site suggestions have on average 2 extra dates per month.


Signing Up – 4/5
Making Contact – 3.5/5
Profile Quality – 3.5/5
Overall Quality – 4/5
One of the best-known affair sites on the internet
Around 60 million users from around the world
Females can message for free
App available
Buying credits is not cheap
The stigma attached to the site following a data breach in 2015
Ashley Madison always ranks in articles about the best affair sites on the internet.
It is used by millions of people all over the world, those who want to have a secret affair.
And no doubt about it, if you are a married man or woman that's looking to hookup for a discreet extramarital affair, then Ashley Madison is a good place to start.
That said, you might just be a little worried.
After all the site was hacked back in 2015 and lots of user information was stolen.
Since then, however, security has been tightened up significantly.
So what's Ashley Madison all about?
Well, it's marketed as a site where you can have affairs with married men and women or if you are single, where you can meet them.
This isn't about serious relationships at all (like eHarmony), it's casual dating with the emphasis on the physical side of things.
Hookups in other words.
Sure, relationships may become far more serious later on, but that's not the point of the site at all.
OFL Top Recommendations based on 100,000+ Survey

"Serious Relationships"
"Discreet Hookups"
"Best Course for Men"
"Quick Flings"
"Normal Hookups"
"Our Quiz"
But enough about all that, let's get into some numbers behind the site.
Ashey Madison has over 60 million members
Close to 20 million users are from the United States
Around 16 000 people join the site each day
Around 70% of users are male and the remaining 30% female
The most active group of users are aged between 25 and 34.
Ease of Use "mobile and desktop version"
Because it's such a popular dating website for those looking to have affairs, you'd be right in assuming that Ashley Madison has a dating app option.
It's available for both IOS and Android handsets but of course, if you'd prefer, you can easily register a profile through their website.
Signing up is not difficult at all and I am not going to go into it in too much detail.
I do just want to mention your profile picture because you can blur it out or add a mask if you'd like to try to keep your identity away from others, which I find interesting.
But what I want to really discover is how you would go about finding those casual hookups with married men and women.
Well, Ashley Madison places several tools at your disposal to help you find those extramarital affairs.
The most important of these will be the search engine through which you find your matchups.
Luckily, as a regular user, the advanced search engine is available for you to use.
So yes, you can search for matchups using all the various bits of information you see in user profiles including appearance, ethnicity and what they are into sexually, of course.
You can send winks to others as well, like their profiles or add them to your favorites.
If you are a female user, you can even send messages for free.
But if you are a male, messaging is going to cost you.
The cost of communication on Ashley Madison
Will let's start with the fact that it isn't cheap.
If you want to send a message, that's going to cost five credits.
You probably think that's reasonable.
But should someone send you a message, you cannot just read it.
Nope, you are going to have to fork over another five credits to read it.
What about a live chat with someone else?
Well, first up, you need to make sure your account has a balance of 30 credits or more before you can even start.
Chatting is broken up into hour blocks and they cost 50 credits.
So even if you only speak for five minutes, that's 50 credits off your balance.
And virtual gifts?
Well, I guess they are a form of communication, right?
They can be anything from 20 to 50 credits.
So yes, credits are necessary and you are going to use them at a pretty quick rate.
So let's just see how much they are going to cost you.
As I have already mentioned, if you are a female, then you can use the site or the app for free.
Males, however, have to pay.
So what's the cost then?
Well, the site doesn't have a membership plan.
As we've seen it operates on credits and you will need to purchase these credits to effectively use Ashley Madison, that's for sure.
If you aren't prepared to buy credits, you may as well look elsewhere for another cheating site.
So how much do these credits cost then?
100 credits -$59 ($0.59 per credit)
500 credits – $169 ($0.34 per credit)
1000 credits – $289 ($0.29 per credit)
As we've mentioned, credits are needed for messaging and sending gifts but you can also use them to boost your profile and more.
Credits can be paid for with a credit card or PayPal if you prefer.
1. What is the difference between an affair dating site and a hookup site?
By definition, an affair site is where people want to meet others that they can have a more long-term illicit relationship with.
A hookup site is more casual, for example, it could be a once-off meetup where it's a case of no-strings-attached sex and you never see that person again.
2. How do I find an affair online?
By using a site like Ashleigh Madison.
It's filled with millions of users that are looking to have an affair.
Many other sites operate in the same way.
3. What is Ashleigh Madison's Travel Man?
It's a feature where if you are traveling, you can send messages to 30 other Ashley Madison users in the area you are traveling to.
From that, you can arrange meetups with them.
While Ashleigh Madison has had security problems in the past, It's certainly not a scam site.
The sheer number of users on the site makes it a no-brainer if you are looking to have an extramarital affair.
And while it has some worthwhile features, using the site is not cheap, unless you are a female of course.
But that can be overlooked considering you can find over 60 million other people wanting to have affairs too.
Today, Ashleigh Madison gets a rating of 4 out of 5.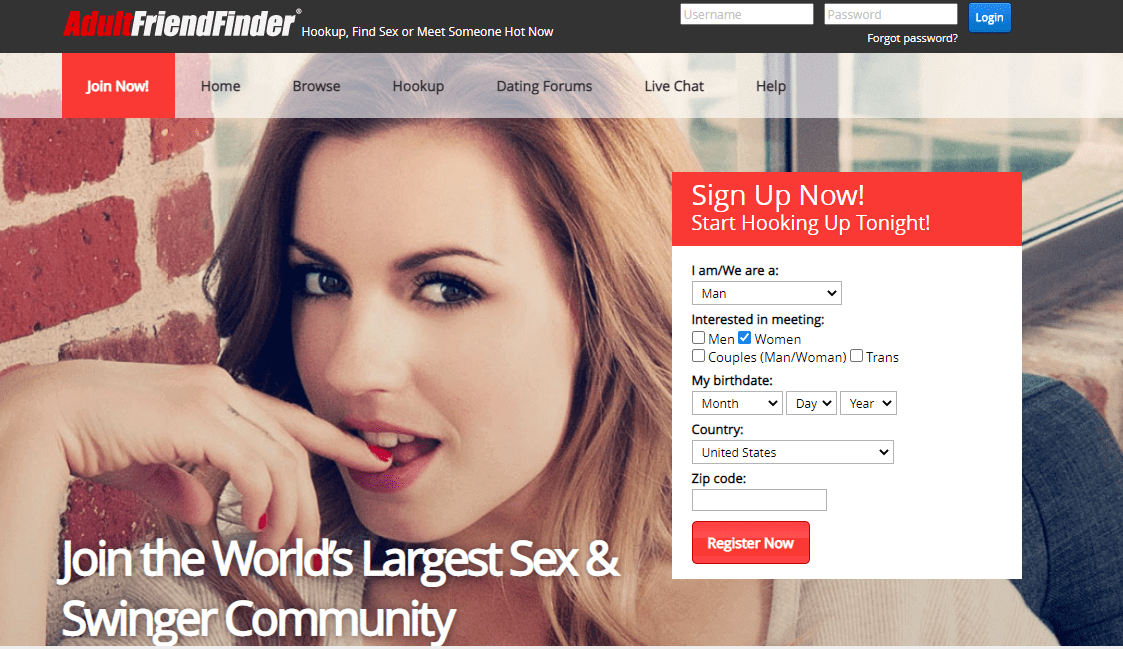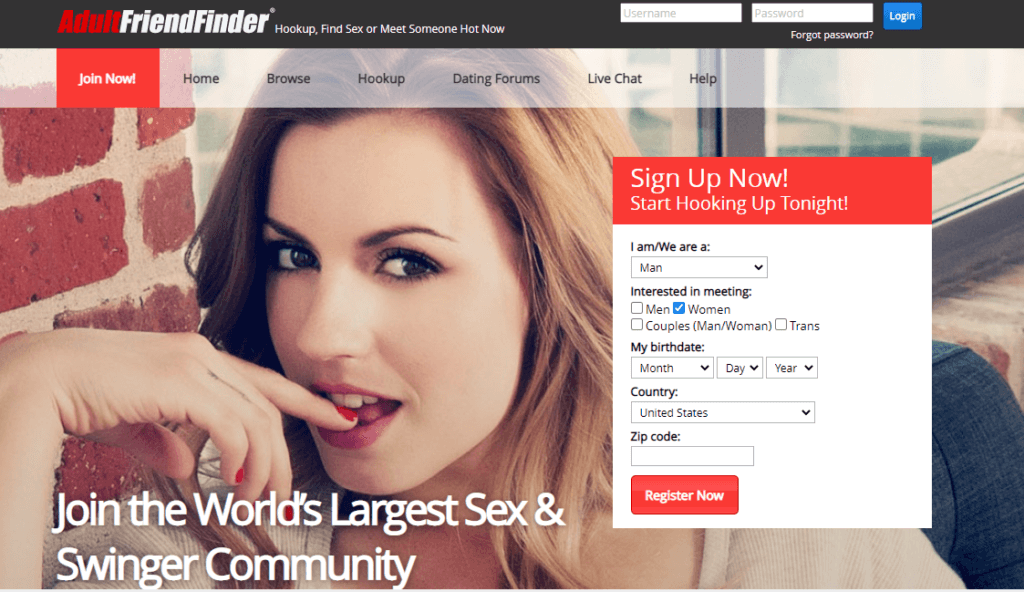 Signing Up – 3.5/5
Making Contact – 3/5
Profile Quality – 4/5
Overall Quality – 3.5/5
A user base of over 80 million
Get online in a matter of minutes
App available for both IOS and Android handsets
Males dominate the site at a ratio of 4:1
The site is pretty explicit
You've probably heard of Adult Friend Finder before.
It's a pretty well-known online dating site that people use for all kinds of reasons.
For some, it's to meet people for casual dating, a simple once-off hookup, or a once-off no-strings-attached physical encounter.
But other married men and women also use Adult Friend Finder as a place to find others to have extramarital affairs with, that's for sure.
It's easy to understand why.
This is a very busy website filled with tons of users.
But it also doesn't always have the best reputation with many reviews saying it's filled with scammers and fake profiles.
That's something we will look into but first, let's get an idea of some numbers behind Adult Frind Finder.
Here's a quick breakdown:
The site reportedly has 80 million users
Well over 50 million of those users are based in America
Around 2 million users are active each month
The gender ratio sees 80% males on-site compared to 20% females
25-34-year-olds make up over a third of all users on the site
Can you see why we've suggested this site?
80 million users mean that even if you live in a more remote area, you are likely to find some other Adult Friend Finder users near your location.
Ease of Use "mobile and desktop version"
Before we get into how the site operates, it's important to know that user profile pictures and advertising on the site can be pretty explicit at times.
Signing up for a profile is very easy to do and it won't take a lot of your time to get your profile online.
The site allows singles and couples to sign-up and is open to LGBT users as well.
Parts of your profile are also completed during the registration process but it's not finished when you gain access to the site for the first time.
Make sure you take a few minutes to do so.
There are just too many uncompleted profiles on the site and I am sure like me, you would find that annoying.
While you are going to be attracted to someone for their looks on a site like this, finding out a little bit more about them make be the reason why you do contact them or move onto someone else.
Let's talk a little about finding a potential married man or woman to have an affair with.
There are many ways you can do this.
Of course, the site will provide you with potential matchups that are near your location and you can find these on the homepage.
But you will want to search for your own as well.
You can do this by clicking the search tab where you will find advance search options, viewing who is online now, seeing new members near you, viewing matches the site provides and more.
Listen, without a doubt, there are fake profiles and scammers on this site.
So keep your wits about you when dealing with other users.
It really isn't any different from most other dating sites.
Unless there are added layers of security, you will find fake profiles on almost all dating sites.
Now let's take about the special features that Adult Friend Finder has.
These include:
Member webcams
Chatrooms
Blogs
A sex academy
Live streaming models
As for sending messages, well, when you've found someone to contact, you are going to want to message them.
That will mean taking out an Adult Friend Finder membership.
This allows you to add users as friends, send and read messages as well as use the various chat rooms.
So success in finding someone for a discreet affair on this site depends on messaging.
And messaging means membership.
But what options are available to you for membership and more importantly, what do they cost.
Well, here are your options:
1-month membership: $39.99
3-month membership: $80.85 ($26.95 per month)
12-month membership: $239.40 ($19.95 per month)
While there are lots of added extras for members, the one-month cost is a little too expensive for me.
There is a significant saving (around $13 per month) if you opt for the three-month membership, however.
1. Is Adult Friend Finder safe?
As I mentioned, you will find fake profiles here.
Your safety is totally up to you.
If you are new to dating, read some dating safety tips.
Always let someone know where you are going if you are meeting a person for a date.
And always meet them in a public place.
Ideally, you should have had a video chat with them beforehand too to suss them out.
2. Where can I meet cheaters?
Well, you would find them on a site like Adult Friend Finder, that's for sure.
Many users are looking for casual hookups but others are also wanting to have affairs.
Adult Friend Finder gets 3.5 out of 5.
If you don't mind seeing explicit profile pictures and advertising with porn, well then trying out the site is worth your while.
Not everyone here is wanting to have an affair.
Some people are more in a "wham, bam, thank-you" frame of mind.
But you can certainly meet others who do want to start an affair and keep it going.
Adult Friend Finder has a massive user base and lots of extra features.
For me, however, it could be priced a little better.


Signing Up – 3.5/5
Making Contact – 3/5
Profile Quality –4/5
Overall Quality – 4/5
Extra safety features
Impressive user base
More females on-site than males
No IOS app
Limited communication for males without messaging
Another dating site where hookups are the main theme, BeNaughty can also be a perfect place to find someone to have an affair with.
Before we get into how it all works, let's first check the numbers behind the site.
It's certainly not as busy as Ashley Madison or Adult Friend Finder but it's an active online dating site, that's for sure.
While active numbers weren't available, it's well into the millions as these additional figures will indicate:
Around 500 000 users on the site are American
120 000 users are active each week
That's close to 17 000 per day and 480 000 a month
Around 40 000 users join up each month
More female users (60%) are on the site than male users (40%)
The most active age group is 25-34 and they make up 35% of all users
Yes, it's busy, that's for sure.
Ease of Use "mobile and desktop version"
Registration for BeNaughty is just like any other dating site.
Android users are welcome to download the BeNaughty app to sign-up as well if they'd prefer.
Your profile is not close to complete once you have registered and many users simply leave it like that.
Don't be like them!
It really won't take much time to complete either, roughly 10 minutes maximum.
BeNaughty provides you with matchups as soon as you log into the site for the first time.
These are based on your location and age ranges you indicated during registration.
I often start looking through these profiles before I launch searches of my own.
But of course, searching for potential matchups is the best way to use any dating site, even one you are looking to have an affair hookup on.
One of the real advantages of BeNaughty's search engine is that you have all the filters based on profile entries at your disposal.
That means you can make pretty in-depth searches for the exact kind of matchup that you would want to reach out to.
Often, a feature as powerful as this is built behind a paywall but not on this site
Note, however, you are going to find plenty of fake profiles here.
That's just the nature of online dating I guess.
But BeNaughty is fighting back.
And they are doing so by including profile verification.
So if you only deal with people who are verified, then you can miss the scammers completely.
What about reaching out to others?
Well, for female users, messaging is free but males will have to pay.
Here's a cost breakdown for BeNaughty membership.
1-week: $5.99
1-month: $28.80
3-months: $48.60
One of the primary reasons why we've included BeNaughty in this review is because it offers a one-week membership.
This is the best way to try-before-you-buy so to speak.
But on the whole, this site is extremely well priced.
1. What is Safe Mode on BeNaughty?
Should you opt for BeNaughty's safe mode, only verified users can send messages to you.
This is the perfect way to stop scammers.
2. Why can't I see a full-sized version of someone's profile picture?
Because you haven't signed up for membership yet.
Full-sized pictures are a member-only feature.
With its verified profiles and safe mode, BeNaughty actively goes out of its way to stop fake profiles.
And if you want to have a discreet affair, this might be the kind of security feature you are looking for in a site.
BeNaughty has a lot going for it and scores a 3.3 out of 5.


Signing Up – 4/5
Making Contact – 3.5/5
Profile Quality – 4/5
Overall Quality – 4/5
This is a site aimed at facilitating affairs
It has over 4 million users
A dating site made by women and free for women
The US user base is small (but growing)
Gleeden is an online site that helps to facilitate affairs.
It's a little different than most because the site was the brainchild of and is completely run by an all-female team.
It's a truly international site that's popular in Europe, particularly France.
That said, it's growing all the time in the United States.
Here are some facts and figures behind Gleeden:
It has over 4 million users
100 000 users are from the United States
Around 25 000 users are active each week
That's around 3 500 per day and 100 000 per month
The gender ratio on site is 60% men and 40% women
The most active age group on site are between 25 and 34 and they make up 32% of all users
Ease of Use "mobile and desktop version"
Gleeden is one slick operation, that's for sure.
It's not aimed at the average person either.
Many of those who have signed up for the site have some form of extra studies behind their name and a large percentage even hold degrees.
Gleeden has appeared on CNN and featured in Cosmopolitan, Elle, The New York Times and other publications.
But what's it like to use?
Well, for the most part, users are married and looking to have an affair but of course, there are singles here who want to meet married people as well.
Registering your profile on Gleeden is a super simple process that doesn't take more than a few minutes.
You will notice that you don't have to upload a profile picture if you don't want because Gleeden is all about being discreet.
Keeping your identity anonymous is a critical part of what the site offers.
Once you've received your activation email, you are free to log into the site for the first time.
And if you wondering how the site works or if it is any different from the other sites we've already looked out for, well no, it isn't.
On Gleeden, you are free to make advanced searches for potential matchups.
Once you've found someone you'd like to get to know a little better, as a female, sending messages is free.
For males, however, you will need to purchase credits to spend on messaging.
You can, however, send them a virtual gift for free to show your interest.
To send a message costs 5 credits and to open one you have received costs 3 credits.
As I mentioned, credits are needed on this site to be able to send messages.
Just like Ashley Madison, there are no monthly membership options.
So how much do credits cost?
Well, here's a breakdown:
25 credits – $14.99 ($0.60 per credit)
100 credits – $39.99 ($0.40 per credit)
400 credits – $99.99 ($0.20 per credit)
When you compare the 100 credit offering from Gleeden with that of Ashley Madison then the former is less expensive.
1. What is a Crush Alert?
It's a way for you to show someone on Gleeden that you'd like to get to know them better.
It's free for all users to send.
2. Is Gleeden legit?
Yes, it is.
Gleeden was launched back in 2009.
3. Can females use Gleeden for free?
Yes, they can.
Male users have to pay, however.
If you want anonymity while searching for an affair, then Gleeden is a site to consider.
it's just that it is still growing in the United States but it is worth trying out I feel.
Gleeden is a very sophisticated site in terms of design and operation and the users are much the same way.
It gets a 3.8 out of 5 for an overall rating.