The Match group launched its online dating site more than 20 years ago, and it is still going strong.
This matchmaking platform has millions of users worldwide, and it is one of the best options for all of you looking for a serious relationship.
Here we have gathered some of the most important things you need to know about Match before you start using it:
Is your dating app giving you the best chance for success?
Make sure to take our online dating site/app quiz to find out.
It's a fact that people who follow our dating site suggestions have on average 2 extra dates per month.
They Connect You With Like-Minded Daters
If you have read some Match.com reviews, you have probably seen it as one of a kind platform and one of the first platforms ever to introduce matchmaking of like-minded individuals.
More than 20 years ago, this was a unique experience and something not every dating platform could offer, and even though plenty of dating apps have introduced this sort of matching process, Match.com is still going quite strong.
When joining the platform, you will need to answer several questions that will help the platform match you with the people who fit your idea of a perfect partner.
You will be able to choose your preferred ethnicity, age range, body type, religion, and many other things that will lead to you meeting people on the platform who have the same interests.

The Match dating site may not have the fastest algorithm, but it does give results, and if you handle your account settings the right way, you will be able to find plenty of great individuals easily.
However, make sure you tick off the right boxes because if you make a few wrong steps, you will start getting recommended people you would never match with in real life.
The Sign-up Process Is Fast
Unlike most other online dating platforms, the Match.com full site registration will take you just a few minutes, and then you will be able to explore all potential matches on the Match com website.
If you have had experience with other dating apps, you have probably seen that they require a lengthy sign-up process where you will need to answer hundreds of questions that will then be used by the algorithm in the matchmaking process.
Even though that sorts of questionnaires and personality tests can help you get results and matches faster and provide you with the most compatible partners, they also require a lot of your time and energy, and in case you are not looking for a long-term relationship at the moment, you should definitely enjoy your time on Match.com too.
The Match.com search options are really great, and even if you didn't answer all of the questions perfectly, you would be able to look for those people you want to match with.
Overall, the Match sign-up process is relatively easy, and even if you have never used a dating app before, you will be able to create a dating profile within minutes.
It is straightforward, and you can start using your dating profile immediately, so you can basically get into the dating pool at the same moment.
You will also need to choose the type of membership you want to purchase when joining the platform, and although you will be able to get a free one, you should be aware that it is not much you can do with it.
One of the things that determine the whole dating experience on a particular platform is their messaging feature, so if you were looking for a website that has a good one, then Match.com is the right choice.
Their messaging feature is quite good, and it will allow you to connect with all of your matches easily, and you don't have to fear losing interaction with someone.
Just like most other dating apps, they are also offering fantastic icebreakers like smiles, winks, and pokes that will help you kickstart the conversation with someone without too much effort.
These are great options for all of those who are not good at interaction but don't want to lose chances with their matches.
If you are struggling to contact someone, this can be an excellent replacement for a common icebreaker, and you can even stick out among all of those random people messaging them.
Their messaging feature works excellent both on the Match.com website and the mobile app, so you can be sure you will be able to contact all of your matches quickly, whether you are using it on a computer or your mobile phone.
You will be able to exchange messages, images, videos, gifs, stickers, and whatever you can think of, so it is really a fantastic way of communication that will help you meet your potential match and discuss a lot of stuff with them.
They Have An Affordable Subscription
The reason why millions of people are joining Match to this day is definitely the fact that their Match.com membership is still quite affordable and can get you a lot of things at a low price.
These days most dating platforms are offering different types of monthly subscriptions that are extremely expensive, even if you get those discounts for 3-month or 6-month memberships.
How Match.com work is that you will be able to contact other users only with a premium subscription, so until you purchase their subscription, you will not be able to do anything that could lead you to a potential match.
Match prices are pretty low, and if you want to get a premium 6-month membership, you will need to pay only 22 dollars per month which is quite affordable, especially in comparison to Zoosk, EHarmony, Hinge, OkCupid, and similar platforms that are more popular.
However, if you decide to purchase a premium plan for a whole year, you will be able to get it for 18 dollars per month, which is still quite affordable.
This month's subscription tends to be the most affordable one for people who are looking for serious relationships, and Match has millions of users across the world, so there is no way you will not come across anyone, at least someone for a hookup (like BeNaughty or Ashley Madison) or a date (like eHarmony or Tinder).
How much does Match.com vary from one year to another – the prices may change through time, especially if they are adding new features or new platforms are coming to the internet.
All in all, they are still one of the cheapest dating platforms out there, and if you have no idea what to use to pave your way to your soulmate, I would recommend you to check out Match because it is one of the most incredible dating options out there.
Is Match.com billed monthly?- this is something that depends on you, so you can choose the payment option that works the best for you and your needs.
Unless you purchase a membership, you will not be able to do too much, and there is no way you will be able to contact other users, so a membership is a must if you want to find actual matches on the platform.
Even though most dating platforms nowadays also have an Android and iOS app, Match has added theirs just recently, and it seems to be working well.
One of the reasons why most people are looking for dating platforms that also have a mobile app is the fact that they have their mobile phone at hand frequently, and they are able to contact people with ease through this one.
For that reason, new daters try to avoid those platforms based on browsers and instead focus on dating apps that perform well and work fast.
The Match.com app may not be the app with the most excellent features and options, but it is efficient, and it allows you to match with people easily so it will be a valuable asset in your dating experience.
The overall look of the platform is much better if you open it through the browser, but you will be able to handle the dating process well through the app.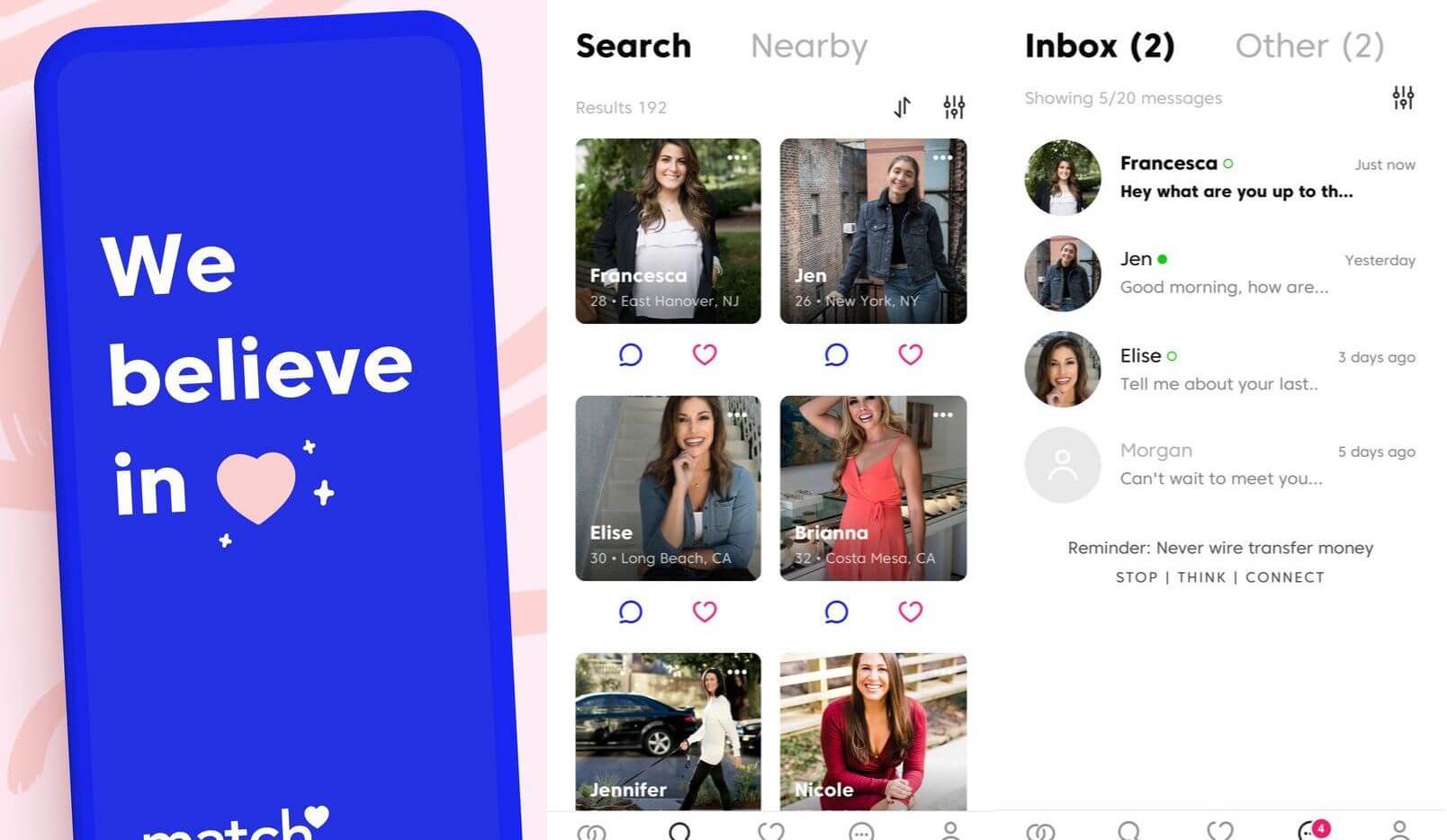 Their app will be available both to Android and iOS users, but the iOS version is a bit better and tends to have a lot fewer bugs.
Sometimes the messaging feature on Android devices can bug a little bit, and it does delete messages from time to time, but in general, it is pretty good and allows you to connect with people easily.
They Organize Match Events
The Match is known for a unique type of event it organizes for all of its users across the USA.
Match Events are events organized directly by the Match group which are aimed at helping people connect with other users in real life and establish new connections with people they maybe wouldn't ever come across on the dating service.
This is an excellent option for all people struggling to find potential matches or who don't feel quite good when online dating and would prefer accurate life contact before they decide to match with someone.
Since there is plenty of fish on this online dating app, plenty of most don't get enough suitable daily matches, or they simply don't want to spend that much time on the platform and prefer eye-to-eye contact, the platform has decided to organize events from time to time where you will be able to meet up with like-minded singles from your surroundings.
If you find it too hard to schedule the first date through a platform like this, or you simply don't know the right way to interact with Match users, then these events will be the perfect option for you.
Sometimes they even offer speed dating, which allows you to meet as many people as you can in just a few minutes and then decide which one you will go out on an actual date with.
This is also a great deal for those of you who are using a dating app for the first time and don't have the skills that online dating requires.
Overall, it seems like people are able to gather even more matches at these events than on the dating website itself, and even loyal Match.com users always visit them, hoping they will come across someone new.
However, you should keep in mind that you will be allowed to join the event only if you have a Match paid subscription because this is the only way they can control the people who are getting into the event.
If you already have it and you want to get a bit different dating experience, I would highly recommend it.
The events are usually organized in big cities across the USA like New York, Miami, or Los Angeles, so if you are living in them or somewhere close, you should try out these events and see who you can meet.
They are also entirely free, so if you are a Match premium member, you should try them out.
They Have A Lot Of Success Stories
Match.com is known for connecting people looking for long-term relationships, and in case you too are one of them, then it will be the perfect place to come across like-minded individuals you can schedule a date with.
Even though it isn't that popular or widely known, it still has a lot of remarkable success stories, and it seems like thousands of people were able to meet their soulmates through Match.com.
You may not be sure about how Match works, but if you google it a little bit, you will see that people were able to get a lot of success while using it, and you should definitely give it a try, no matter what you may think about it.
The platform has a bit more users across the USA than it does in the rest of the world, but I am sure that you will be able to find someone no matter your location and other obstacles you believe can interfere with your experience.
How successful is Match com really shows you the success rate, which is around 75% which is excellent and much higher than the success rate of Tinder and Bumble, even though they are way more popular and have much more active users.
As you can see, if you are looking for a serious partner and you don't want to waste your time on irrelevant people, Match.com will serve you amazingly.
You can also browse for some success stories on Google, and you will see that there is a vast number of those who have found the love of their life on this dating website.
It Does Have Fake Profiles
Unfortunately, one of the things you need to keep an eye out for is fake profiles and scammers because Match doesn't have a thorough sign-up process, and basically, anyone can join the platform as long as they fill out the basic questionnaires and tasks.
However, this also leads to plenty of scammers joining the platform because they find it much easier to get accepted on Match.com than it would take them on platforms like EHarmony or OkCupid.
Even though there were not many cases of scams on Match.com, it is always best to watch and find out all the possible contact information before you set up a date with someone and decide to meet them offline.
Whichever dating platform you may be using, you need to stay safe, and on Match.com, you certainly need to put in a lot of effort to protect yourself because you never know who you may be dealing with.
In general, it is as safe as Tinder and Bumble, but it is definitely a lot better to stay cautious and make sure to think twice before you actually agree on a date with someone.
They have customer support that is pretty active, so even if uncomfortable situations like this happen, you should be able to contact them and try to solve the problem as fast as possible.
Is Match com a safe dating site in the end mostly depends on you, so you should make sure you use it carefully and that you navigate it with a lot of attention if you want to spare yourself potential trouble.
It Is Worth Paying For It
Even though its basic algorithm may be a dealbreaker for some people, it is definitely worth the money because so many people have actual success with it.
Some tend to avoid it because they believe Tinder, Bumble, Hinge, or similar apps can provide them with much better performance, but the truth is that if you push hard enough, Match.com will also give excellent results.
Is Match com worth it is something that can depend from one individual to another, but since it is available everywhere and has millions of active users, it is undoubtedly a platform that can help you meet plenty of amazing people, and even if you dont come across the love of your life, you would meet someone worth spending time with.
Is Match good for dating or not always depends on a user, and let me remind you that some people didn't manage to find matches even on EHarmony, so how good of an experience your time on Match will be is something that depends on your will and performance.
The match is here to offer you amazing options, and access to millions of people worldwide, and how well you will be able to perform is entirely up to you, so take your time on the website worthwhile and create an amusing dating profile.
It Is Owned By Match Group
If you weren't sure whether Match.com would be a good option for you, I would remind you that it is a dating platform owned by the Match group that is also the owner of Tinder, OkCupid, and basically any more extensive dating website on the internet.
Match.com was their first dating website, and as you can see, they were able to create plenty of more successful dating platforms that are the most popular options these days.
Even though Match.com may not be what you were looking for exactly, it is still a fantastic website with a high success rate, and it gets updated frequently, which leads to new filters and features being added to the platform all the time.
It may not be the most popular option out there, but Match.com prices and success rates are certainly something that attracts plenty of people and makes them loyal users of this website, no matter the occasion and the type of relationship they are looking for.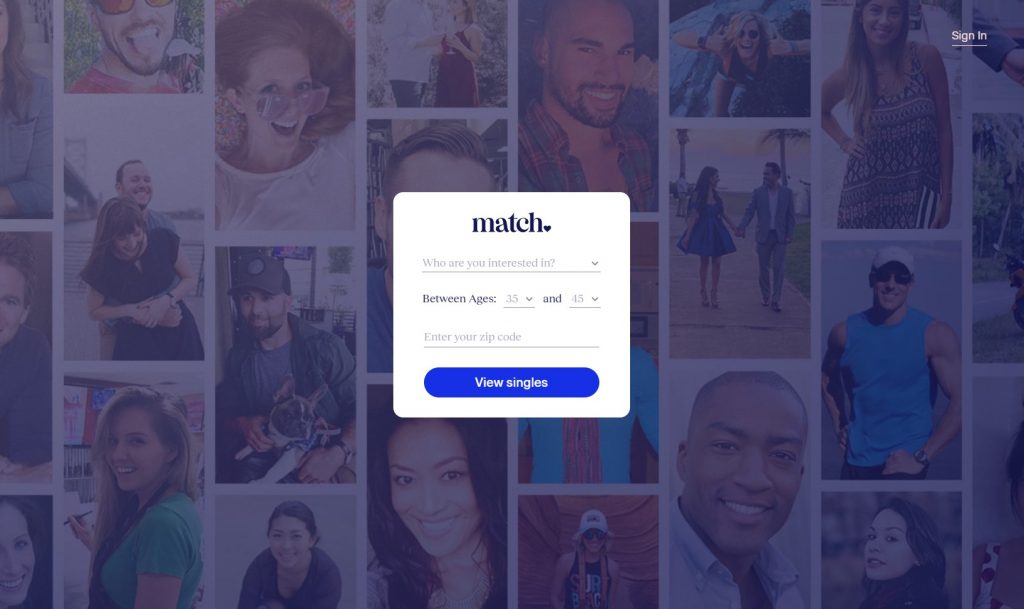 This also guarantees a responsible approach to dating, so you will always know that you can solve every problem quickly if you contact their customer support.