As an artist, do you sometimes use online dating sites in your quest for that someone special?
Do you just signup on sites like Tinder and eHarmony in the quest to find love or do you prefer casual hookup sites like BeNaughty and Ashley Madison where you can meet people with no-strings-attached?
Well, in today's article, we are going to look at a range of dating sites that you can consider using, ones that cater to artists just like you.
We will gauge each of them according to:
OFL Top Recommendations based on 100,000+ Survey

"Serious Relationships"
"Discreet Hookups"
"Best Course for Men"
"Quick Flings"
"Normal Hookups"
"Our Quiz"
So if you are an artist that's looking to get a little romantic online, this is the article you need to read.
Best Dating Sites for Artists in Video Form
Audio (podcast) form for those of you on the go
Best Dating Sites for Artists
Signing up – 4/5
Making contact – 3/5
Profile quality – 3/5
Overall quality – 3.5/5
A niche dating site for artists
Easy signup procedure
Artist Dating is a site that's dedicated to those who pour their heart and soul into their art, day in and out.
That means they often have little time for anything else, even love as the life of an artist can be a tough one, that's for sure.
But Artist Dating tries to help artists find love by providing a dating platform that's easy to use.
The great thing about this site is that even though it's very niche in who it serves, it's been around since 2001.
OFL Top Recommendations based on 100,000+ Survey

"Serious Relationships"
"Discreet Hookups"
"Best Course for Men"
"Quick Flings"
"Normal Hookups"
"Our Quiz"
While user numbers, age breakdowns and gender ratio splits were impossible to find for the site, it's pretty active in larger cities in the United States.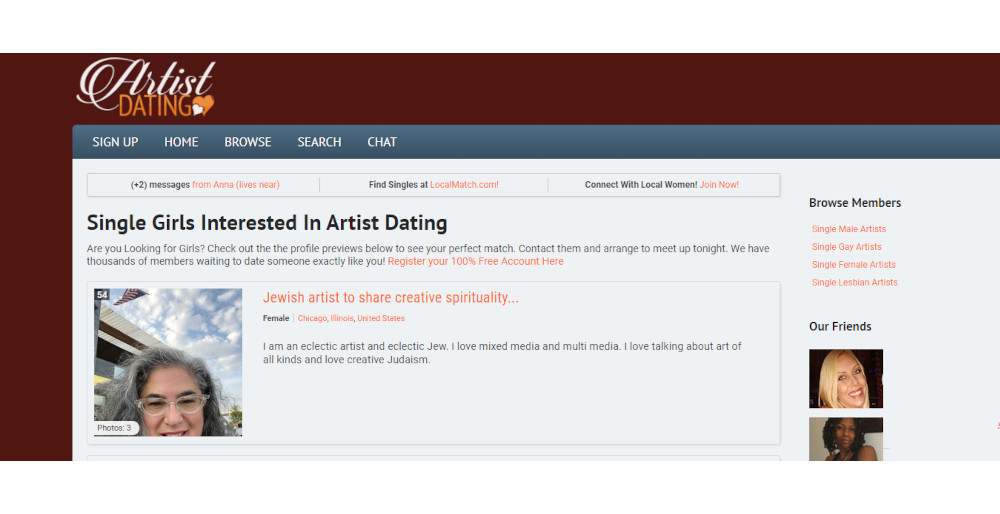 Ease of Use "mobile and desktop version"
Right from the start, it's important to know that there is no app for this dating website at all.
On signing up for a profile on Artist Dating, you are also given the chance to create one on LocalMatch.com if you'd like.
While the registration process is simple enough, you aren't immediately given access to the website like other dating sites.
Each application is reviewed to ensure that you are who you say you are, so it's a bit of a waiting game.
And depending on where you are in the world, that waiting game might take a little bit of time until the review is complete.
Once you have access to the site, it works in much the same way as any other dating site you would have used before.
The basic search includes parameters such as gender, age, if you only want returns with photos or if they should be online at that moment.
There are added search parameters as well which are based on user profile information.
If you want to chat with users on the site, you can make use of the live chat feature
Here's a breakdown of the cost of the membership options on Artist Dating.
5-day trial membership – $7.50
1-month membership – $45.00
3-month membership – $69.00 ($23 per month)
12-month membership – $146 ($12 per month)
Please note, these prices were changed into US dollars from another currency that the website displayed when I used it in my country, so they might differ slightly if see the payment options in dollars.
1. I am struggling to complete the registration form, what could be the problem?
The most obvious reason is your cookie settings.
Make sure they are not set higher than medium-high says the Artist Dating website.
Also, they suggest that you don't use anything other than regular letters and standard punctuation marks in your username, for example.
Try the above, it should fix the problem.
A flirt is a way to let another user know that you are interested in them.
To send a flirt, simply click on the profile of the user.
Now below their profile picture, you will see the "flirt" button.
Click on that and they will receive a notification that you have flirted with them.
As a free user, you can send 10 free flirts on Artist Dating.
Thanks to its longevity, it's clear that Artist Dating has something going for it.
For me, it's worth checking out but it was frustrating waiting to have my profile reviewed which meant I could not try out the site from the start.
I guess that is for security reasons and to stop fake profiles so a little patience is key.
On the whole, as an artist, you can find people similar to yourself on this niche dating site.
As to a rating, I give it a solid 3.3 out of 5.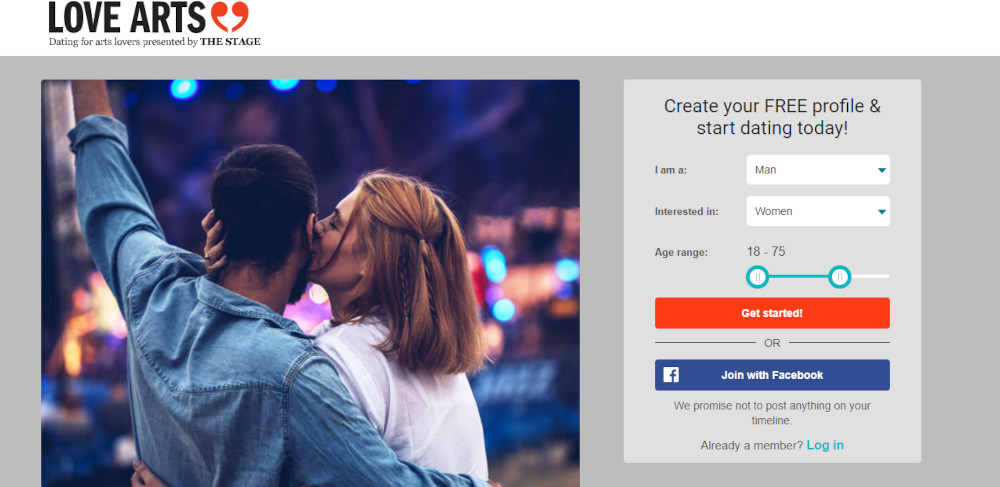 Signing up – 4/5
Making contact – 2/5
Profile quality – 4/5
Overall quality – 3/5
A well-designed website
Simple sign up process
Detailed profile
A very niche site with a small user base
No app but viewable on your mobile phone
Messaging is for members only
You can only communicate with someone if you match
A cultured dating site for art lovers and therefore, artists, LoveArts is a dating site that part of the Dating Lab stable.
But as this is such a niche target market that LoveArts serves, the user base isn't very big.
And while I wasn't able to establish just how many users the site has, I conducted a number of searches in smaller towns around the United States that only turned up a few results, while at times there were none.
Even if you search with as few parameters as possible, this might still not help your search returns unless you live in a huge city.

Ease of Use "mobile and desktop version"
LoveArts certainly presents itself in an attractive manner.
From the moment you see the registration landing page, you certainly will be impressed by the overall design of LoveArts.
And rightly so, this is a dating site for art lovers, right?
There's nothing different, however, about the registration process as a user on the site.
Here you have to provide all the regular information like your gender, the gender you are interested in, the age range returns should be, your location, a user name and password.
After that, it's all about your profile.
By being honest and filling in as much as you can, you give LoveArts a far better chance of finding you the type of matchups you want.
There are also questions about your ideal match that help fine-tune the process even more.
And yes, while this might take 10 minutes of your time, it's worth it at the end of the day, especially if you are serious about using the website.
Also, LoveArts gives you the opportunity of uploading 10 photos.
Use them.
Dating sites are visual mediums, especially when trying to find a matchup.
With the best photos, you can have potential matchups come to you.
The site is simple to use and to navigate your way around.
Once you've found matchups however, you won't be able to communicate with them effectively without becoming a member and then only if you match with them.
Also, LoveArts doesn't have an app although the website is set up for mobile browsing, so it is possible to access it from your smartphone.
If you want to use LoveArts to connect with like-minded people, you will need to be able to message them.
And you can only do that if you take out membership on the site.
But what other membership options are there for LoveArts?
Well, there are a few.
LoveArts have a one-month, three-month, six-month and 12-month option.
Here's a breakdown of the costs (please note, these are converted from British pounds and subject to change):
1-month membership – $37.00
3-month membership – $72.00 ($24.00 per month)
6-month membership – $107 ($17.80 per month)
12-month membership – $168 ($14.00 per month)
Unfortunately, there is no trial membership.
That would have been the perfect way to try the site out and see if there are other users near your location.
Instead, although it's not cheap, I would opt for the one-month membership to test the waters so to speak.
And from there you can make a decision if you'd like to take out a longer membership which works out cheaper in the long run when compared to the month-to-month option.
Membership features include unlimited messages, the option to see other users' private photos, searching messages by keyword, the ability to sort search results, and more.
1. Does LoveArts have an app for Android or Apple handsets?
No, LoveArts doesn't have an app for either Android or Apple handsets as yet.
The website does allow mobile viewing so if you prefer to use your smartphone, it is possible.
2. Is it true you need to match with someone before you can communicate with them?
Yes, even as a member, you need to be able to match with someone before you can communicate with them.
That's why making sure your profile is completed fully is so important.
Yes, this certainly is a site for artists and lovers of art.
But it is a little restrictive.
Firstly, there is not a massive user base that's for sure and if you live in a smaller city or town, you might not find any other users near you.
And if you do find someone, you need to be a member of LoveArts before you can chat with them.
Even then, you cannot just talk to anyone, only those that you match up with.
But it's certainly a site worth trying out and its pricing, while a little steep, is not very different from other niche dating sites.
If you live in a massive city, you probably stand more success in finding other LoveArts users.
Overall, I am going to give it a rating of 3.3 out of 5.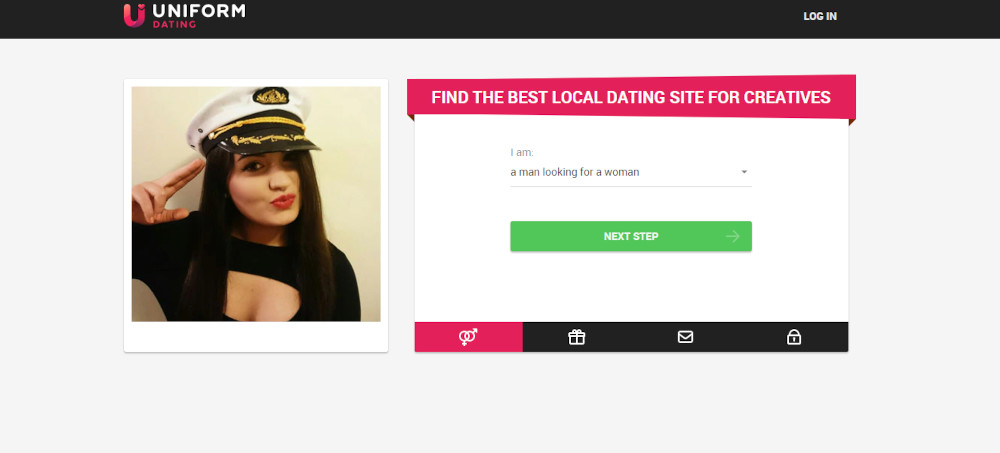 Signing up – 4/5
Making contact – 3/5
Profile quality – 3/5
Overall quality – 3.4/5
Easy registration and a simple, well-designed site
Built on the back of a strong site
Regular users can send a flirtcast (broadcast message)
You cannot contact other users unless you take out membership
It's not cheap
Is there really a niche site for artists or are you seeing Uniform Dating (the main site)?
While Uniform Dating is a website on its own, it includes a number of sub-sections for various niche communities.
One of these is specifically for artists.
While user numbers aren't forthcoming and nowhere to be found on the internet.
Here are the numbers for the main Uniform Dating site just as reference:
2 million users
400 000 users from the United States
100 000 members active each week
55% male users, 45% female users
35% of members come from the 35-44-year-old user group
While that doesn't help with specific numbers for Uniform Dates artist niche dating, it gives an idea that the overall site is pretty busy.
And that's a good start.
But I will talk more about this in my conclusion.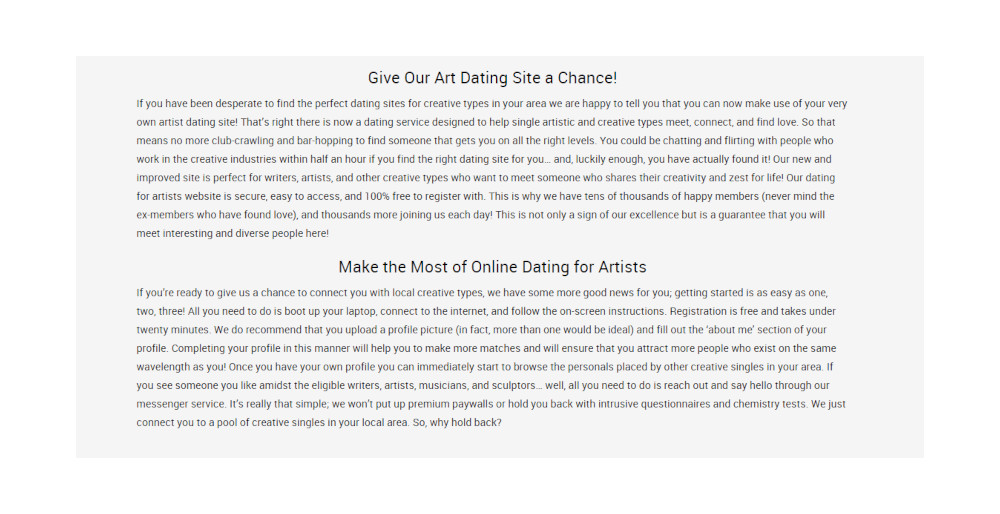 Ease of Use "mobile and desktop version"
Signing up for a profile on Uniform Dating for Artists starts from this registration page.
It's a pretty standard registration too, with you having to select your gender, the gender you are looking for, provide your age, valid email address and password.
Following that, you can complete your profile or skip it till later.
The site itself is super easy to use and presents a number of matchups based on your initial information immediately.
These aren't super accurate, however, and mostly presented to you based on the fact that they are near your location.
You will notice that Uniform Dating has very few menus to navigate.
Having said that, everything you need can be found with a few simple clicks and searches can be launched from a search bar that you will near the top of every page.
Searches don't have many filters but there is enough here to provide a matchup worth following up.
Messaging them, however, provides a problem.
You only get five free messages before you would have to consider membership.
That provides unlimited messaging.
All users can send flirtcasts, a form of broadcast message that gets sent to all potential matchups.
If you prefer to use the app, it's free and available for both Android and Apple handsets.
Note, however, this is the general app for the main Uniform Dating site although it's worth checking out, especially if you prefer to browse dating sites from your phone as opposed to your laptop.
The cost of this niche part of Uniform Date is the same as the regular dating site.
And it's not that cheap if I am honest.
Here's a breakdown:
1-month membership – $34.99
3-months membership – $59.97 ($19.99 per month)
6-months membership – $95.94 ($15.99 per month)
Of course, if you take out membership, there are a few perks that you can expect.
For example, you can send all the messages you like.
There's also a chatroom you can join to get to know other users or you could have your profile highlighted so that it appears at the top of search returns.
These are useful, but you have to weigh up if they are $34.99 per month useful and only you truly know that.
1. Is this site free or not?
Uniform dating isn't free.
If you'd like to reach out to someone, you have to message them.
Although you get five free messages on signing up, once that's done, you cannot contact anyone unless you sign up to become a member of the site.
2. How many users does Uniform Dating have?
Uniform Dating has over 2 million users the world over.
Around 400 000 come from the United States and over 100 000 in total are active each week.
This is a decent dating site, of that there is no doubt.
Whether they have a niche site specifically for artists, however, I am not so sure.
In fact, I doubt it.
Uniform dating says they have many different niche sites but I think all of them take their search returns from all the users who have ever signed up for the site in general.
Is that a bad thing?
Well, I don't think so.
If you are looking specifically for an artistic person to date, you might have to dig a little harder but if that's no real concern, there is massive potential in this site to help you find what you are looking for in your love life.
As for an overall rating, I am giving uniform dating a score of 3.4 out of 5.

Signing up – 5/5
Making contact – 3/5
Profile quality – 5/5
Overall quality – 4/5
50 million users
Lots of excellent features
Extensive matching algorithm
Free messaging but user have to "like" you before they receive your message
While it's all good and well trying to find a niche dating website that targets artists, sometimes, you've just got to jump into the deep end of the online dating pool.
And by that, I mean using a mainstream website to find lots of potential matchups and then go through them with a fine-tooth comb to find those that suit you and have that arty background you are looking for.
And OkCupid is such a site.
Launched in 2004, OkCupid has around 50 million users all over the world with around 10 million of them in the United States alone.
Better still, around 1 million users log in each day.
Do you see why it's worth it including a mainstream dating website in those that you use to search for potential artistic matchups?
The gender split on OkCupid is weighted in favor of male users.
65% of the profiles on the site are male users
35% of the profile on the site are female users
What about the age ranges?
Well, around 40% of all users on site are found in the 25-34-year-old group.
That's a split of 25% male and 15% female.
The next biggest age group makes up 25% of all users and that's the 35-44-year-olds (with a 15% male and 10% female split).

Ease of Use "mobile and desktop version"
Registering for an account on OkCupid is a little different from other dating sites.
While the start of the registration process to become a user on the site sees nothing surprising, you will have to fill in a very comprehensive questionnaire that will help to complete your profile.
This needs to be completed as best as you possibly can because, at the end of the day, it helps the OkCupid matching algorithm find the right kind of matchups for you.
There's quite a bit of information that you need to provide, from your likes to your dislikes, questions about lifestyle, religious habits, hobbies and sexual orientation.
There are over 4 500 questions in total and you can continue to answer them as you use the site to further improve the matches you receive.
Speaking of sexual orientation, OkCupid includes a range of orientations as well as gender identifications which I find commendable.
Other dating sites could certainly learn from them in that regard.
Once you've registered for the site, you will be presented with matchups from the start but of course, you can look for your own too.
The great thing about OkCupid is in reaching out to others.
Messaging used to be totally free and while it still is, the mechanics have changed slightly.
You can still send messages to any user you like, but they will only receive that message in their inbox if they have liked your profile.
So it's probably a good idea to like them first before firing off any messages.
Should you prefer it, you can use the OkCupid app which can be downloaded from the Google Play store (for Android handsets) or on the Apple Store (for iPhones and other Apple devices).
If you choose membership, you have many key features available to you.
For example, you will receive read receipts for messages, see who likes your profile, get access to advanced search filters and more.
Lastly, check out "Double Take" the official matching feature on OkCupid.
It's a typical roulette-style matchup feature but a good way of finding potential matchups.
While it's possible to use OkCupid without paying for a membership, it's just far easier if you do become a member.
Obviously, that's going to cost you a membership fee, depending on the package you opt for.
And there's quite a selection.
For example, a basic and a premium membership option.
Here's a breakdown of what they will cost.
A-list basic subscription
1-month – $7.95
3-month – $19.05 ($6.35 per month)
6-month – $23.70 ($3.95 per month)
A-list premium subscription
1-month – $24.90
3-month – $68.70 ($22.90 per month)
6-month – $119.40 ($19.90 per month)
Of course, the A-list premium subscription gives you access to all key features on the site and it's very well priced.
1. What is a "boost" on OkCupid?
Want to get your profile out there on OkCupid?
Then a "boost" is what you will need.
This puts your profile at the forefront of other user searches, as long as you match their requirements, of course.
"Boosts" need to be purchased, for example, you can buy 10 @ $1.69 each.
2. Is it easy to cancel my OkCupid membership?
It's simple enough, yes.
You just need to go to your "settings" menu and cancel it there.
You will still be allowed to use the features till the final day of membership.
There is nothing wrong with trying out a big commercial dating site.
They really do have their perks, mostly in terms of sheer user numbers.
OkCupid is a site that not only provides a strong user base but it's got some cool features that help you find that perfect potential matchup.
It really is a site worth considering and I give it a rating of 4.1 out of 5 overall.