Welcome!
If you are looking for an article, to sum up, the best Lesbian dating sites on the internet, well then you have hit the jackpot.
Over the years, Lesbian-only sites have made their way into online dating, presenting users with a defined target audience.
After being a member of these Lesbian dating sites for a while, we can share with you some of our experiences on them.
And we are going to look at some of these, rating them based on:
Make sure to take our online dating site/app quiz to find out.
People who follow our dating site suggestions have on average 2 more dates per month.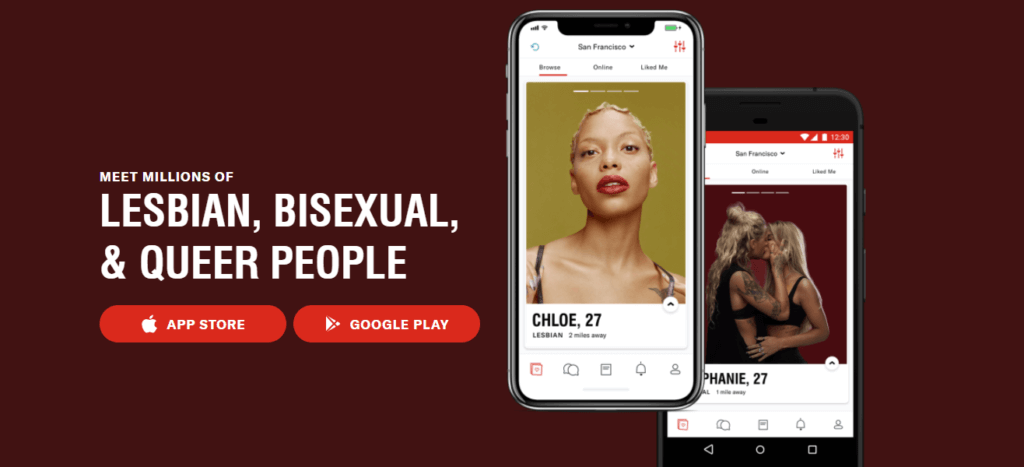 Signing up – 4/5
Making contact – 3.5/5
Profile quality – 3/5
Overall quality – 4/5
Sign up using your social media accounts
Verified profiles
Free messaging
No search option
Matches are location-based
Her is one of the top Lesbian dating apps available online today.
That's thanks to the fact that profiles on the site are verified, you can rest assured that the people you meet on Her are legit.
But just how many users does this Lesbian hookup dating site have?
Well, at present, the research we did confirms that Her has over 4 million users.
Impressive, right?
Interestingly, Her was first released in 2013 but under the name Dattch.
The name changed to Her in 2015.
Let's dig into the facts and figures we uncover on this Lesbian dating app a little more:
Of Her's four million users, around one million of them come from the United States
Around 350 000 people are active on the site each week
That's over 50 000 per day
The biggest group of users on the site are between 25-34 (32% of all users)
That's followed by 18-24-year-olds (25% of all users)
The third biggest group of users on the site are the 35-44-year-olds (21% of all users)
From reviews done so far, we discovered that those using the Her app are looking for a range of different things.
This includes friendship to dating, hook ups (like BeNaughty or Ashley Madison) and long-term relationships too (like Tinder or eHarmony).
While interacting with users, we noticed that while most people on the site are Lesbians, Her also has its fair share of bisexual users as well as straight women who want to explore their sexuality.

Ease of Use "mobile and desktop version"
To start off using Her you are first going to need to download the app.
And it's available for Android as well as Apple devices.
Because Her takes security pretty seriously, you need to sign up using a social media account and in this case, it's either Instagram or Facebook.
Her makes sure that all users are who they say they are and they verify accounts by checking out the photos you've posted to make the connection.
And because you have signed up using a social media account, the app pulls a lot of info from that, which means the registration process is super quick.
But you've got to write a short bio for your profile as well as add your sexual orientation.
That's it really, now you can start using the app.
Like most dating apps, Her uses a swiping system to help you find potential matchups.
Simply swipe left on those you don't like or right on those that you do.
Should they then swipe right on your profile, a matchup is made and that allows communication between the two parties.
To find these profiles to swipe through, simply click on the "Meet" menu button.
All messages you receive you will find under the "Chat" menu.
If you'd like, you can send other users friend requests too, which gives Her a social networking feel.
Should someone accept your friend request, you are able to communicate with them as well.
The social networking feel is even more apparent when you click the "Feeds" menu.
This lets you see not only updates from the makers of the app, but also from those you have matched with as well as your friends.
And yes, even you can make status updates here.
While Her is free to use, We found out on the website that they also offer two subscription plans.
And there are certainly advantages to taking out membership on this Lesbian meeting app.
For example, members have:
Unlimited swipes
They can see if another user is currently online
They can see if someone has liked their profile
They can change their location
They can see if someone read their message
They can rewind a swipe made in error
Profile boosting
All of these can be pretty useful in your quest to find the right kind of matchup.
Here's a breakdown of the membership costs.
Gold subscription:
1-month – $9.99
6-months – $44.99
12-months- $59.99
Platinum subscription:
1-month – $14.99
6-months – $59.99
12 months – $89.99
Obviously, Platinum membership includes all of the extra features while Gold doesn't.
But let's be honest, this pricing is super cheap when you compare it with other Lesbian dating websites.
We can categorically state that the month-to-month membership is probably 50% less than other online dating offerings.
Her is one of the best dating apps available for the Lesbian community.
In our quest to get a perfect match, we found out that Her is blessed with a massive user base that will certainly help you to find the right kind of matchups, to explore further.
And users on Her are looking for a range of different relationships, so no matter what your needs are, you are sure to find someone.
So onto the rating then.
Her deserves a more than solid 3.6 out of 5.
It's well worth checking out.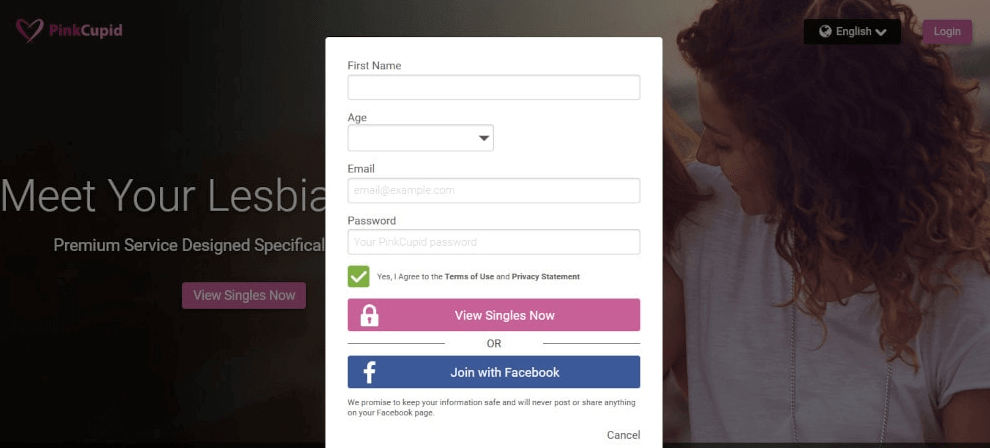 Signing up – 4.5/5
Making contact – 3/5
Profile quality – 4.5/5
Overall quality – 4/5
Many different search options
Strong user base
Key features galore for members
The Pink Cupid app only available for Android phones
Pink Cupid is a lesbian dating site that's run by Cupid Media.
It's aimed at Lesbians, Bisexuals, and Bicurious women from around the globe.
Cupid Media sites are known for not only being easy to use but effective in helping people find the type of matchups they are looking for.
That's thanks to the tools the site provides as well as the excellent user base their sites offer.
Our findings revealed that on Pink Cupid alone, you will find over 1 million users with:
Around 315 000 from the United States
350 000 visiting the site each month. That's around 10 000 per day
28 000 new users signing up for Pink Cupid each month
In terms of the age ranges of users, Pink Cupid is much like Her in the fact that users are from younger age groups.
In fact, most of the users on this site are between 18 to 34 years old.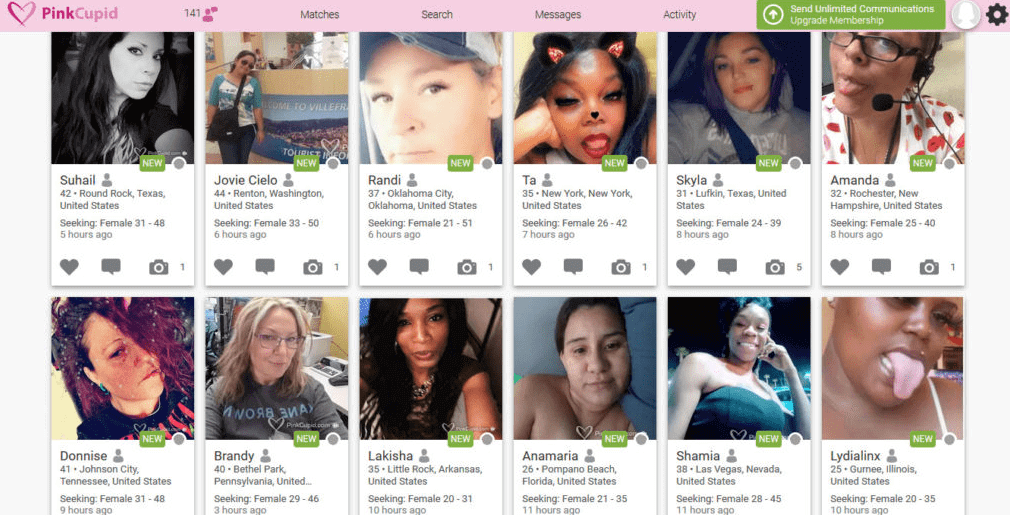 Ease of Use "mobile and desktop version"
While Pink Cupid has an app, it's only available for Android phones at this point.
While you can use that to sign up for the site, it's just so much easier to first do so on the website and then log in on the app with your credentials afterwards.
Also, should you wish to, you can use your Facebook account to sign in that much quicker.
If you don't, Pink Cupid will need the following information:
Name
Email address
Password
Age ranges of returned matchups
Upload your profile picture, flesh out your profile a little more and that's it, you can now access the site.
Cupid Media sites are known for just how easy they are to use and Pink Cupid is no different.
From the first time you are online, Pink Cupid presents you with a range of matchups based on the age range you specified as well as related to information that you've filled in on your profile.
That's a good place to start browsing as the majority of these should be near your location, provided there are Pink Cupid users close to you.
Of course, like any good dating site, Pink Cupid allows you to search as well.
And this is where one of its major strengths lie, earning it a thumps up among the best dating sites for Lesbians.
In fact, there are six ways that you can conduct searches on the site.
These are:
Popular searches: See what searches other users are using
Keyword searches: Search via specific keywords
Cupid Tag searches: Search usings Cupid Tags
First name searches: Search by user first names
Member number searches: Search by user membership numbers
Regular and advanced parameter searches
For the most part, you will probably make use of regular and advanced searches.
You will notice a search bar at the top of the screen.
You can launch regular searches here at any time with a few parameters.
If you'd like more, however, you can use the advance parameter search.
This includes tons of extra details that you can add to your search, mostly taken from user profiles.
For example, these are some of the advanced parameters available to you:
When the user was last online
If they have a profile pic or not
Location
Appearance parameters (hair and eye color, height, body type and more)
Lifestyle parameters (Do they smoke or drink, will they relocate if need be, marital status and if they have children)
Cultural values
This really can help you refine your search and bring the exact type of matchup you are looking for.
Of course, it could also limit matchups because if you add too many parameters, you are narrowing down the field.
Cupid Tags are another fun way to search for users.
You can assign these tags to your profile as well, for example, humorous, caring, fun-loving, etc.
The search tools you need are there, that's for sure.
But how does communication on the site work?
Well, it's limited.
If a member messages you, you are able to reply.
But that's the extent of it.
Sure you can wait for others to message you but that's not proactive.
Members, however, can send as many messages as they like.
We discovered that when you find the right matchup, membership is a must to be able to get into contact with them, unlike other Lesbian dating apps.
Before we look into the cost of membership as outlined on the website, let's highlight the other features that members can expect:
Unlimited messaging
Extra privacy options
VIP profiles (which rank at the top of other user searches)
Even more matchup tools (like reverse and mutual matches)
Pink Cupid has two membership options, Gold and Silver.
Both of these offer one, three and six-month options.
Gold membership payment options are:
1-month membership – $24.99
3-month membership – $49.99 ($16.66 per month)
12-month membership – $99.99 ($8.33 per month)
Platinum membership payment options are:
1-month membership – $29.98
3-month membership – $59.99 ($20.00 per month)
12-month membership – $119.99 ($10.00 per month)
Obviously, Platinum membership brings you all the key features, while Gold cuts out a few of them.
And at just $5 per month, if you are going to take out membership on the site, Platinum membership definitely makes the most sense.
1. Is it possible to verify my Pink Cupid account?
If you'd like to verify your Pink Cupid account, you can do so.
Simply send a valid identity document to the site and your account will be verified.
2. What's a "reverse match"?
A reverse match is someone that's looking for someone just like you.
It's a matchup that's available to members of Pink Cupid.
They might not, however, match exactly what you are looking for in a match-up.
Slick and more than capable of helping you find love, Pink Cupid is an online dating portal and app that Lesbians and the bi-curious should be looking into, that's for sure.
While you will need a membership to use it effectively, not only is it well priced but it also packed with extra features that can make the difference when looking for the perfect partner, no matter if it's just for dating, a hook up or long-term love.
For an overall rating among best Lesbian dating apps, Pink Cupid gets a more than deserved 4 out of 5.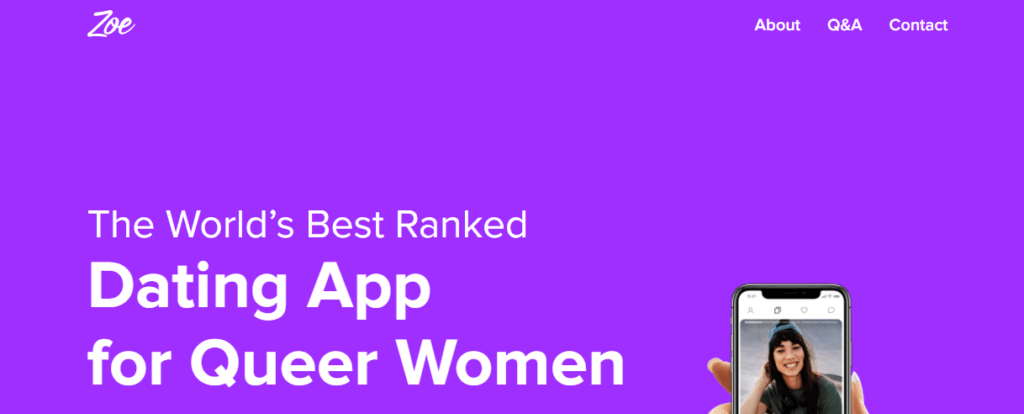 Signing up – 4/5
Making contact – 3.5/5
Profile quality – 4.5/5
Overall quality – 4/5
Uses a personality test to help match you with others
A quick registration process
Free to use but membership affords added extras
Large user base
Crashes from time to time
Swipe and chat for free, that's what Zoe, a dating app for Lesbians promises on their website.
And that's something that's been taken to heart by many who have since joined the dating community at Zoe.
In fact, there are around 3.9 million users who have signed up for the app.
In terms of a user base, that puts Zoe on par with Her and far ahead of Pink Cupid.
And with so many users, you can bet the site is active 24/7, so much so that over 16 million messages are sent out using the app each month.
Without a doubt, if we are judging it on the user base alone, then trying our Zoe really is a no-brainer.
But of course, there's much more to a dating app than user numbers, so let's delve a little further, shall we?

Ease of Use "mobile and desktop version"
If you want to make use of Zoe, you have to download the app.
There is no website for this online dating community.
Of course, as it is app-only, Zoe is available on the Apple Store as well as the Google Play Store.
Once you've downloaded it you can start your profile by signing in with Facebook, Instagram or via email.
You will need to upload a profile picture as well.
And that's it.
If you've used a dating app before, you will easily understand how Zoe works.
From the start, when presented with matches, you swipe left if you are not interested and right if you are.
If that person swipes right on your profile after you have done so on their's, that's a match and now you can communicate with each other.
If you'd like to know a little more about someone, simply click on the (i) at the bottom right of their profile picture.
As for menus and navigating the app, well there are a few at the top of the screen
Human icon: This is your profile and you need to complete it before you start your quest for love
Heart: This shows people who have liked your profile
Two rectangles: This takes you to your matchups
Bell: This is your notifications
Speech bubble: Any message you receive can be found here
While on the matchup screen, we saw some menus at the bottom of the page that makes it easy to navigate the site.
One of them – on the far right – allows you to filter your matchup settings, for example, how far away the app can search for potential matchups.
And that's Zoe in a nutshell.
Yes, you can use the site without having to become a member but should you want added extras, then that's something you can consider.
This is a major attraction for users who are interested in free Lesbian apps.
If you'd like to take out membership on Zoe, you are going to be able to do the following:
Rewind swipes
See who likes you
Change your browse history
Send 5 messages a day without the need to match first
Make your profile private
Use chat stickers
Create photo albums
While Zoe doesn't offer any form of trial membership, there are one-month, three-month, and one-year options available on its website.
The prices are as follows:
1-month: $15.99
3-month: $38.99
1-year membership: $119.99
1. Is Zoe a dating app that's good for someone looking for a serious relationship?
There are all kinds of users on Zoe.
Some are looking for friendship and yes, many others are looking for a serious relationship.
Users also indicate in their profiles the type of relationship they want which helps you find the right kind of matchup quickly.
Yes, you can use Zoe effectively enough without having to pay a cent.
Communicating with others can only take place if you like their profile and they like you back in return.
If you pay for a membership, you can send five messages a day to any user.
3. What age groups are most represented on Zoe?
While Zoe has users across the age ranges, without a doubt most users are aged between 18 and 34 years old.
Another great option for Lesbians or bi-curious women looking for friendship, dating or long-term love, Zoe has made a massive impression during the short time it's been around.
While using the site, we discovered it has a massive user base, and no matter where you live (within reason, of course) you should have no difficulty in finding users near you.
We know you can use Zoe for free, but no doubt, becoming a paid member will help you get better results in your online search.
And it's so well priced as well that it's certainly worth considering.
in today's review of the best Lesbian dating sites, Zoe gets 4 out of 5.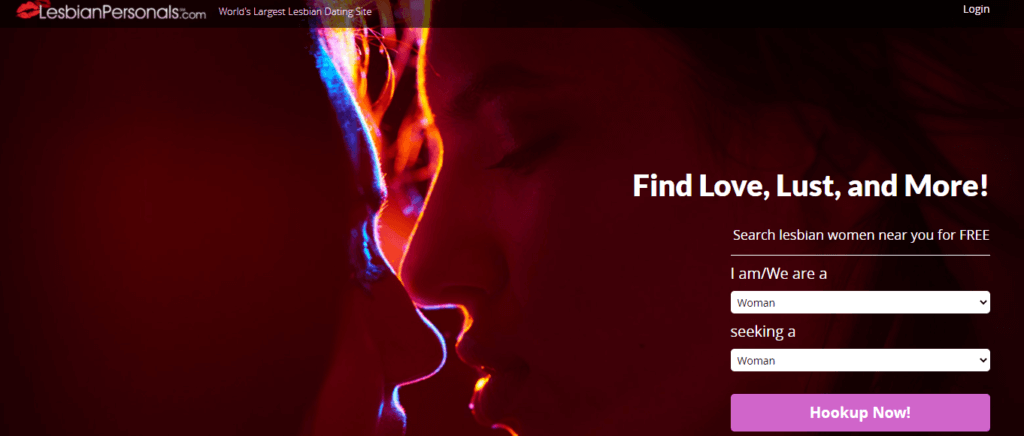 Signing up – 4/5
Making contact – 3/5
Profile quality – 3/5
Overall quality – 3.5/5
Singles, couples, and groups can sign up
Over a million users
All kinds of relationships available
No mobile app
Pretty explicit if you are not into those things
Lesbian Personals claims to be the world's biggest Lesbian dating site.
While we couldn't verify the user's number, those behind the site claim that it has "millions" of users.
And yes, the user base is large, that's for sure and spread across the globe.
Here are some facts and figures behind the site:
Around 300 000 members are from the United States
Each month around 5 000 new users sign up for the site
Around 10 000 users are active on the site each week
That's over 40 000 each week
The biggest group of users on the site are from 25-34 years old
They are followed by 18-24-year-olds and then 35-44-year-olds
While it's difficult to compare it to dating apps for Lesbians like Zoe or Her, Lesbian Personals seems to be similar to Pink Cupid, both in terms of the user base and overall activity.
Ease of Use "mobile and desktop version"
To sign up for a user account on Lesbian Personals, you will need to head on to their registration page.
If you'd prefer to do this on your mobile phone, you can because the site is mobile friendly but as of yet, does not have an app to download.
Also, Lesbian Personals is different from all the other top Lesbian dating sites and apps we've included in this article.
And that's in the fact that it allows both couples and groups to register for a profile over and above individuals.
That certainly adds an extra dynamic.
What it does tell us is that Lesbian Personals rates hook up encounters rather highly but that doesn't mean you cannot find friendship, someone to date, or even long-term love here.
The registration is a five-step process where you will provide all the general information that you would expect.
There are also some aspects of your eventual profile that will be completed here as well, including details of your physical appearance and lifestyle questions.
You can also provide a profile headline and a brief description of yourself.
Once you've completed that, and it takes only about five minutes, it's straight to the site you go.
First things first, complete your profile.
That's a must.
It's very detailed and does the speaking for you when you can't.
Sure it's your profile picture that people will see first, but you can rest assured, someone who might see you as a potential matchup will be reading your profile.
And yes, you can verify it too.
This is an added feature instituted by Lesbian Personals to help users cut out fake profiles.
Lesbian Personals works just like any other dating site but there are lots of extras here.
Unfortunately, things can get a bit raunchy, particularly when it comes to webcams.
Yes, users can broadcast via webcams and it's one of the reasons why the site is so popular.
There are also blogs to read, groups to join and chat rooms to frequent.
While regular users can use the instant messenger service, members of the site have full access to all the messaging types, including direct messaging to other users which is the best way to contact them.
Membership of Lesbian Personals as stated clearly on the website is as follows:
1-month membership: $27.95
3-month membership: $58.95
12-month membership: $179.40
As a member, there are tons of extras for you to make use of.
For example:
You can use all the types of communication found on site
Watch unlimited webcams of other users
View full profiles
View all photos and videos from other users
Make advanced searches
Send friend requests
Take part in site contests
And much more
1. Does Lesbian Personals include verified profiles?
Yes, it does.
Sites like this where hookups are common often have fake profiles.
That's where verified profiles come in.
If you are worried about fake profiles, only deal with people who are verified.
This is based on having a first-hand experience using the site.
2. If I want to message someone on Lesbian personals, can I do that?
Yes, you can.
But you have to be a member of the site to do so.
3. Will my membership auto-renew?
Yes, it will.
If you cancel your account, you will have to remember to cancel the billing separately.
Lesbian Personals is different from all the other best Lesbian hookup apps and sites we've looked at in this article.
Here you can find lots of people, couples and groups that want to get together for no-strings-attached fun.
The site is capable of helping your find those kinds of hookups but also people who want to date, or simply be friends with you.
Some even want to find a long-term partner.
And a rating?
Well, Lesbian Personals gets 3.4 out of 5 from Lesbians dating online.
Pros and Cons of the Best Lesbian Dating Sites
Pros
No dealings with men and their issues
Large user base with similar sexual orientations
No time-wasting since you are matching with users that understands your sexual orientation
Verification in place to protect users
Cons
Some have only a website
Being scared of making the first move
Lack of proper verification process in some, thus exposing users to scammers or fake profiles.
We were able to analyze the Best Lesbian Dating Sites using the following criteria which were tested and validated by our registering on and using the sites over a period of time:
Ratings
Pros and Cons
Demographics
Ease of Use – mobile and desktop version
Pricing
Overall rating
Conclusion on the Best Lesbian Dating Sites
We hope you have gotten value from our article on the best Lesbian dating sites!
From our detailed analysis of each best Lesbian dating sites, you will definitely meet that special one, whether for companionship, hookups, or serious relationships.
You should be intentional and creative with setting up your profile, spelling out your purpose, and you will be amazed at how easy it is to find other Lesbians on these websites.