Hello everyone, we are here yet again with an amazing article related to the Bumble dating app.
This thorough article will give you access to all the tips and trick you will need to know when using this online dating platform and the ways you will be able to get more potential matches.
We are sure that you will be able to use your profile without any obstacles and significantly improve your performance with these tips.
In this article, we will be talking about:
Is your dating app giving you the best chance for success?
Make sure to take our online dating site/app quiz to find out.
It's a fact that people who follow our dating site suggestions have on average 2 extra dates per month.
What Should You Add To Your Bumble Dating Profile?
Even though most people struggle to find different types of pieces of advice, tips, and tricks that can help them enhance their performance on the platform, they don't really realize that the key is in their Bumble dating profile.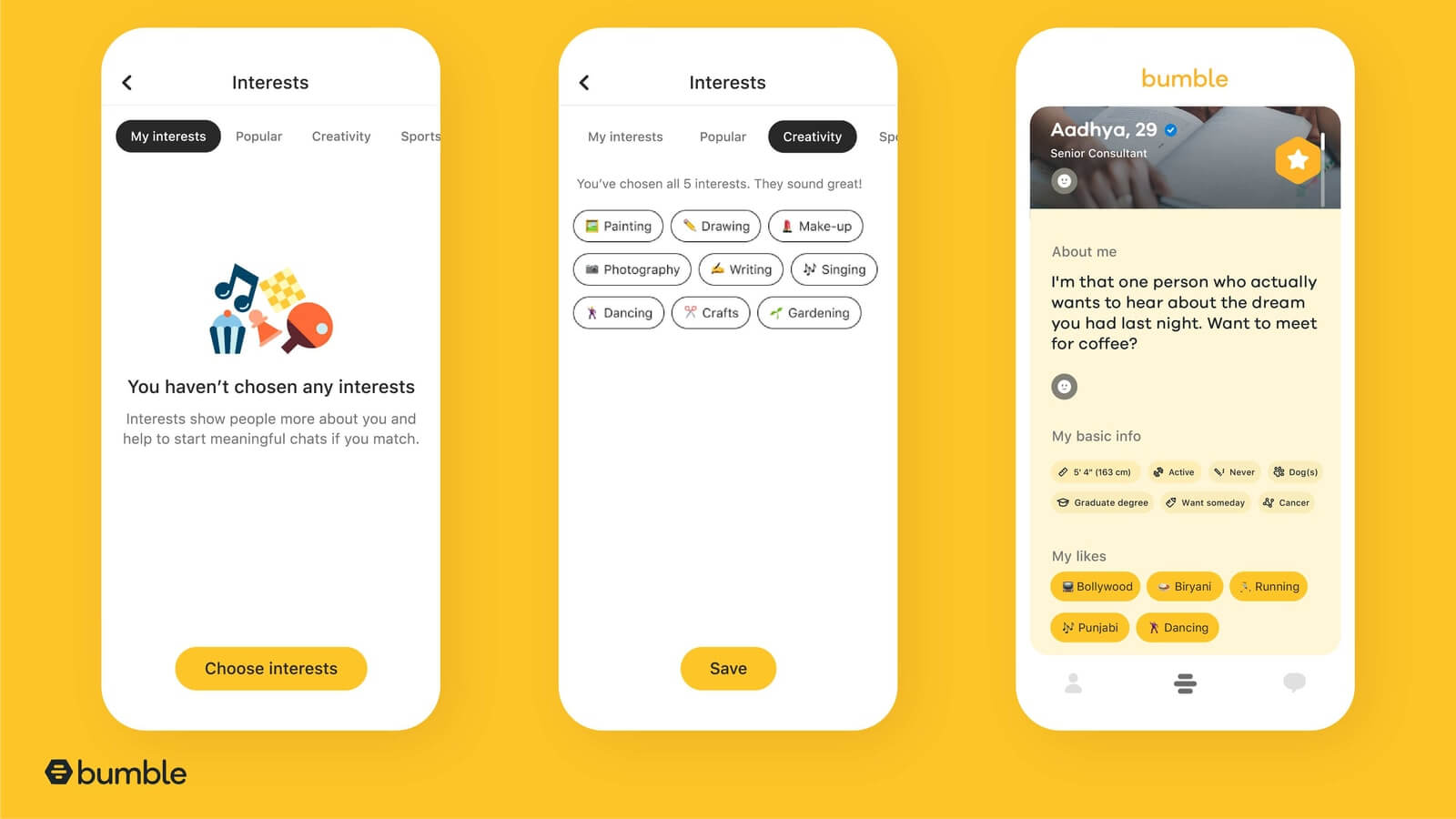 If you want to find people for a first date, you will need to make yourself look attractive, interesting, and the type of person that everyone wants.
Many men on this app believe that women don't want to make the first move to them, but they are not aware of the fact that their profile offers 0 information to others.
Not even your opening line is this important, so pay extra attention while creating your profile.
If you are using a dating app like this for the first time, then some of these pieces of advice will definitely be very useful for you.
The dating world can be pretty tough, so you need to make sure you don't lie too much on the app and make sure your Bumble Bio is realistic and actually represents who you are in real life.
Men tend to lie a lot in order to be able to gather more hookups and women, but this can get them into many problems when they meet IRL.
I would suggest you not to lie but rather put your effort and create a good profile where you will showcase all of your good sides, traits, and ambitions.
The dating advice you will hear a lot is to make sure you look like the best version of yourself, but I would also suggest you talk about a few of your flaws because it will make you look more human, and women really value that.
These are also the things you will never come across on apps like Tinder, so if you are looking for a sincere connection or a partner, this is the right place where you can be vulnerable.
In terms of dating, Bumble is more like a serious dating site (like eHarmony), and not a hookup-oriented (like BeNaughty or Ashley Madison), so you should act accordingly.
I know you are not looking for a pen pal, but you should still try to create a calm and sweet aura that will make other users feel attracted to you.
OFL Top Recommendations based on 100,000+ Survey

"Serious Relationships"
"Discreet Hookups"
"Best Course for Men"
"Quick Flings"
"Normal Hookups"
"Our Quiz"
Pay Attention To Your Profile Photos
The first thing you potential partners will see is your profile pics, and it is very important to present yourself in the best way possible.
Some of the most important profile tips are connected with profile photos you need to upload, so make sure you follow these pieces of advice.
The first photo on your dating profile should always be a selfie, and it is recommended to upload a photo that was shot in a bright and nice place.
Selfies show people that a real person is behind the account, and it enhances your chances of getting a swipe right by a random person on the internet.
However, since you can upload up to 10 photos to your dating profile, I would really suggest all of them be selfies.
The first two photos should be selfies, while others can be taken by your friends or family, and I would recommend all of them to be shot in different scenery.
Also, make sure not every photo is a headshot because it can look suspicious, and profiles that usually only have these sorts of pics tend to be fake or those who want to hide something.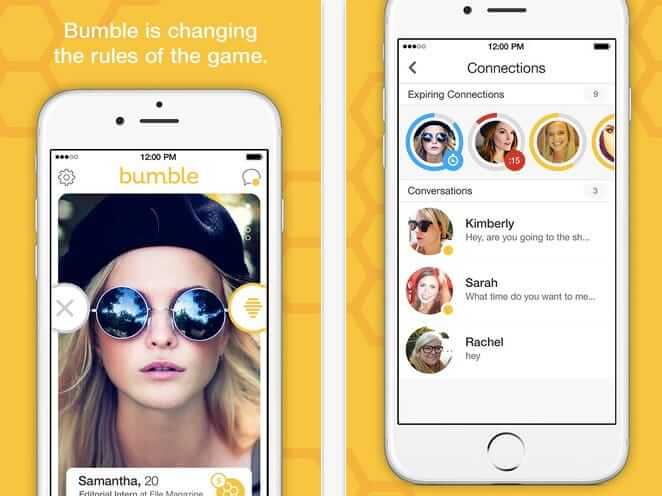 If you want to get the best of Bumble, you really need to make sure you are uploading only your best photos because it will heighten your chances of receiving the right swipe, and you will definitely be able to choose among plenty of different users.
Changing your profile photo frequently is also a good sign, both to the algorithm and to users, because it gives the signal that a real person is behind the profile and that they are active on this app all the time.
The algorithm always boosts accounts that are very active, so make sure you do this too.
Even though you will need to go through some sort of verification process when joiningBumblee, the Bumble co-founder came up with another feature that will help you show you are a real person and attract more people to your account.
This is a completely free feature, and all you will need to do is upload some of the photos and information Bumble requires from you.
Once you upload them and the customer support makes sure you are the person behind the account, you will receive a blue checkmark that all people on Bumble will be able to see.
This will be a sign that your profile is completely safe and that you are a real person, which can both boost you on the platform and make plenty of people interested in you.
It is a great way to gather more matches and definitely one of the best Bumble tricks when it comes to becoming more successful and receiving more Bumble matches.
What Is The Best Time To Spotlight On Bumble?
How Bumble works is that you will also be able to invest in a spotlight, and this is also one of the Bumble tips you should reconsider.
This is definitely one of the most important Bumble tips for females and Bumble tips for guys that can bring you a lot of Bumble Success.
Once you use the Bumble Spotlight feature, you will be popping up on everyone's homepage, and you will receive a lot of matches.
However, you need to know when it is the best time to Spotlight on Bumble; otherwise, you may not really have a success story with this feature.
The best time to use Bumble Spotlight is on Sunday afternoon, and if you know how to use Bumble dating app, then you will definitely be able to easily skim through your matches and choose the right one for yourself.
Learn How To Swipe On Bumble
This may sound like a silly tip because everyone knows how to set upBumblee and how to swipe left or right, but actually, you need to know how to handle this feature if you don't want to get shadow banned by the algorithm.
One of the tips forBumblee you need to know is that it is basically forbidden to swipe right on everyone – if you keep on using Bumble this way, you won't really be boosted by the algorithm, and your activity can even be considered spam or fake.
You can swipe right if Bumble match really seems like someone you would hang out with in real life or could be a good romantic partner for you.
However, if they don't fit these criteria, make sure you swipe left; otherwise, you will keep on getting people like this recommended to you.
You already know which way to swipe onBumblee, so make sure your activity is well thought-out and you are not losing your time on someone just because you have no other interesting people to chat with.
Swiping left on everyone can also get you in problems, so make sure you don't overdo it in any of these actions.
You need to find a good balance and make sure you don't really reach your swipe limit every single day because it can make you look like a bot, or you may even get banned from the platform.
There is not really the best time to swipe on Bumble, so you can use this feature whenever you want to, and you will see equal success.
Don't Stress About Conversation Starters
Most men and women spend hours trying to find or come up with the right conversation starter before they send a message to someone, which can really be quite exhausting, and even undermine your overall performance on the platform.
What makes a relationship great Bumble users are still trying to find out, so this is really a way you can mess up that and get yourself in a lot of trouble, even with the person who seemed to be the right match for you.
You shouldn't try too hard to showcase your sense of humor or to impress the person – if you have matched and kept popping out on each other's homepages, you definitely have a lot of things in common, and even though you don't need to start sharing your life stories immediately, you can engage in a spontaneous conversation.
The opening line you use on one match may not work on another, and people are really different, so you don't need to spend hours coming up with the way you will reach out to them.
Just like in real life, how to Bumble start a conversation can be quite easy – just pop up in their DM with a simple Hi or Hello, and trust me, no one will think that you didn't put in enough effort or that you didn't try hard enough to impress them.
You can discuss your favorite quality in a person Bumble users really tend to like this topic, or you can talk about how do you useBumblee and what was the reason you joined in the first place.
There are many simple and regular things you can discuss with your potential partner, and I would really encourage you to engage in this sort of easygoing conversation instead of trying to talk about things neither of the two of you understands or can grasp.
Being a simple and open person is really the biggest quality you can have, and you don't even need to use an emoji or a gif to express your feelings because if you are open, you will know how to communicate with a person without any problems.
Also, when the two of you go on a first date in real life is something that depends on both of you, and there is really no perfect first date Bumble answers.
If you feel like the conversation is flowing and you feel comfortable talking with this person. Then you should recommend them the first date, and wait for their reaction.
However, make sure you don't do it too early if you don't want to come across as some sort of freak.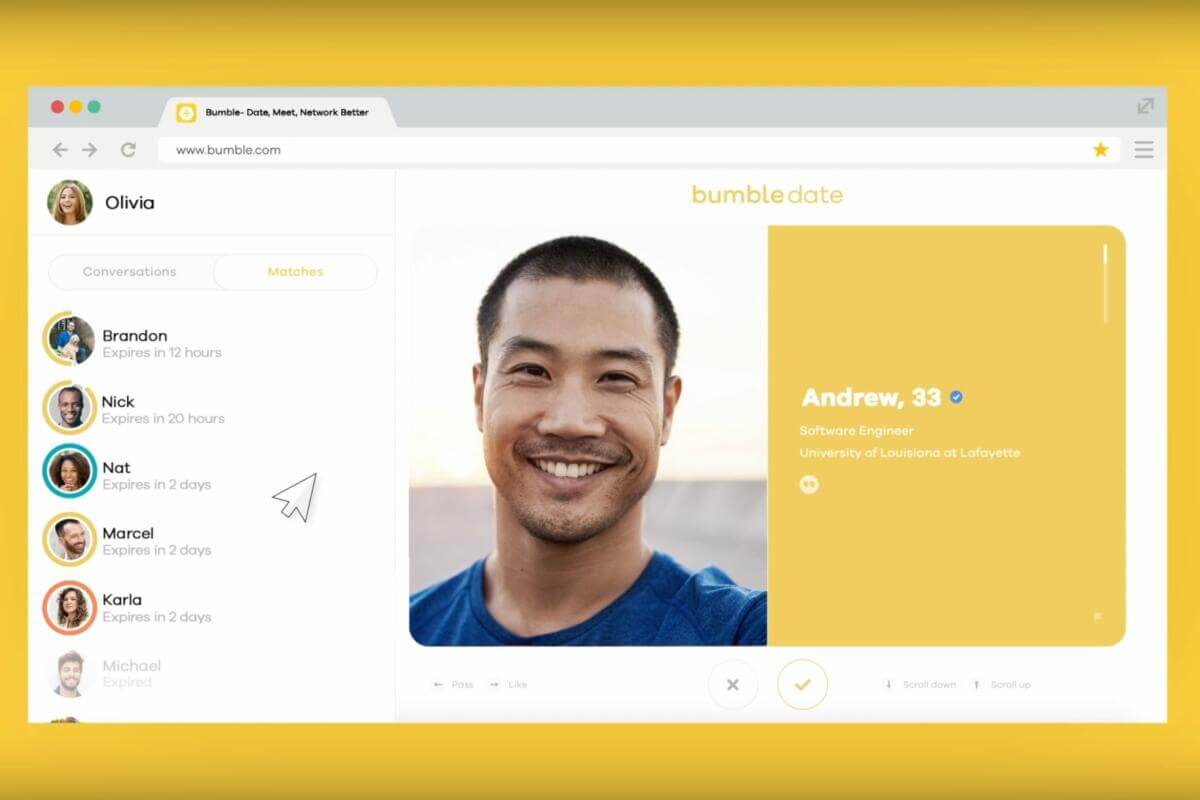 This is the key to finding your true love and partner through Bumble and make sure you understand how does Bumble app work and what is way you can reach out to someone before you actually get into its dating pool.