With new dating apps appearing on the market every single day, it can be quite hard to remember all of the names and features they offer.
However, Bumble is also one of the online dating platforms that have managed to gather a big audience in a really short period of time and become as popular as Tinder or Hinge.
On the other hand, it seems like most people are still not sure about how Bumble works and what is the way to find your potential matches on this platform.
You are in the right place if you are curious to find out:
OFL exclusive offers - Check all of them

"Serious Relationships"
"Discreet Hookups"
"Best Course"
"Quick Flings"
"Normal Hookups"
"Our Quiz"
Is your dating app giving you the best chance for success?
Make sure to take our online dating site/app quiz to find out.
It's a fact that people who follow our dating site suggestions have on average 2 extra dates per month.
What Is Bumble Dating App?
Bumble is a dating app that was launched in 2014 with a mission to become a breath of fresh air on the dating market and offer fellow daters something a bit more different than usual.
A funny fact about the Bumble app is that it was launched by a former Tinder executive whose goal was to create a popular dating app that will surpass Tinder in everything.
OFL exclusive offers - Check all of them

"Serious Relationships"
"Discreet Hookups"
"Best Course"
"Quick Flings"
"Normal Hookups"
"Our Quiz"
Even though Bumble became quite popular and plenty of people have decided to create their own dating profile on here, it didn't manage to become that successful.
Just like Badoo, Tinder, and Hinge, it is also based on swiping left and right in order to match with people, but it has a lot of amazing features you will not come across on any other dating app.
They are all about gender equality, but they tend to encourage women to make the first step, so if both she and a man swipe right on each other, Bumble will insist on the female user to be the one who sends the first message.
It also has a Bumble Bff and Bumble Bizz feature that is a favorite of loyal users, and you can even get a Bumble boost which will heighten your chances for finding a potential partner on this platform.
People on this platform don't need to be looking for a significant other; they can even start the search for their new best friend or business partner, which makes Bumble the first app of this kind.
This app even allows you to rematch with people you have lost contact with or accidentally swiped left, which can be a valuable addition for all of you who don't pay too much attention to the people they are swiping.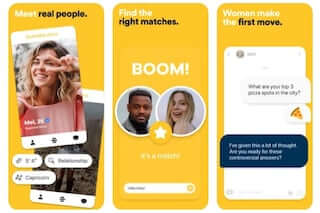 Bumble users, in general, are quite satisfied, and the studies have shown that they rarely move to another dating platform or delete their accounts.
This is definitely one of the great virtual dating apps that will provide you with plenty of potential dates in your surroundings, even with people you have never thought of.
It is also one of the rare dating apps that supports all sorts of relationships and welcomes the LGBT community without any obstacles, so if you are a part of this group, you will definitely enjoy dating on Bumble.
How Does Bumble Matchmaking Work?
In order to create a dating profile on Bumble, you will have to go through a registration process that is quite similar to that on all other dating apps and platforms.
You need to be over 18 years old and be able to prove it; otherwise, you will not be allowed to join the platform.
In order to make sure everyone who is joining the platform is a real person and not a scammer or a bot, Bumble requires you to register through your Apple account or Facebook account in order to prove your identity.
Once you confirm your identity, your first move will be uploading profile pictures and filling out the profile with some information about yourself.
You should share your age, location, education, likes, interests, and over all the things you believe are the most important to people who are looking for a partner.
After you have uploaded some of the information, you will be allowed to start using the platform and swiping left and right on everyone who shows up on your homepage.
However, every time the woman is the first one to swipe right, and that person likes her back; she will be the one who needs to send the first message and initiate the conversation.
Bumble stimulates women to become the ones who make the first step which I believe is a great thing because girls usually sit around and wait for guys to reach out to them.
The app will show you people living the closest to you first, and if you are living in a big city like New York or Los Angeles, you will definitely have to spend a lot of time before you come to the end of the list.
However, those living in smaller cities and countries tend to go through potential matches quite fast because the Bumble audience is not that numerous in smaller places.
Don't let that demotivate you because even if there are just ten people from your city on this app, there may be the person you will consider your soulmate in a short period of time.
If you want to become able to search for people based on their age, ethnicity, interests, and something else, you will have to invest in the Bumble premium membership.
Free users don't really have control over the people who come up on their homepage, and they will see users closest to them first, without any specific preferences or filters.
When it comes to this, the functionality is quite bad, especially if we compare it to Hinge, which allows you to look for people based on anything and everything.
Also, everyone you don't reach out to within the first 24 hours of matching will be considered expired matches, and you will be able to find them again only if you start scrolling and swiping through your homepage again.
This is something I am not really a big fan of, but also, it doesn't really affect your dating experience that much, especially if you are a 20-year-old who doesn't have something better to do.
Bumble is not strictly a hookup app (like BeNaughty or Ashley Madison), but it is also not a platform made for serious dating (like eHarmony or Tinder), so whatever kind of relationship you may be looking for, I believe you will be able to find it on here.
Even though most people join Bumble so they can find a casual hookup or sex match, there are also plenty of users who are interested in serious dating and are looking for a real significant other.
Since the app doesn't really provide you with too many filters and the only thing it allows you to choose is your sexual orientation, it can be tricky to find your soulmate, but if you dedicate enough time to it, you will definitely have success.
I would recommend it to everyone who is interested in trying something new because this dating app really has a completely different concept and it will be a whole new experience for you.
Bumble may not be as successful as Hinge, but 25% of its users were able to schedule the first date shortly after joining the platform, and almost 15% of them got into some kind of dating with that person.
Since Bumble is a bit more open and it connects people who are looking for different types of relationships, we can't really claim that you will find your husband on here, but you will definitely come across someone who is looking for the same arrangement as you.
In general, Bumble can also help you with finding great friends and meeting interesting people who are living in your surroundings, so I would also recommend you to explore the Bumble Bff feature too, because who knows, maybe that will be the way you find your partner.
Frequently Asked Questions