If you have joined the Bumble dating app, then you probably know they have dozen new features coming up every single month, and all of them have different benefits for users.
This is an online dating platform that works on improving itself all the time, and if they continue updating this fast, they will definitely become a lot better option than Tinder or Badoo.
Bumble Extend Match is one of the latest features that has been added to the app, and it will help you extend the length of your match with some other Bumble profile.
Read the rest of the article if you are interested to find out:
Is your dating app giving you the best chance for success?
Make sure to take our online dating site/app quiz to find out.
It's a fact that people who follow our dating site suggestions have on average 2 extra dates per month.
What Is Bumble Extend Match Feature?
Most Bumble users don't really spend the whole day on this dating app looking for new matches, and oftentimes, they tend to open the app just once a day.
Since they are not hooked to their Bumble profiles, it may happen that they don't respond to someone they have found to be interesting or forget to swipe right on their profiles.
Things like this happen pretty often on most dating sites, but since Bumble makes all of your matches expire after 24 hours in case you didn't swipe them back or send them a message, this can really make your experience a lot worse.
For that reason, Bumble has decided to come up with the Extend feature you will be able to use on all of your matches!
If you want to give someone more time to send you the first message, or you simply don't have the time to get in touch with them today, but you don't want to lose them, then this is the right option for you.
Bumble Extend Match allows you to choose a specific person and extend the countdown timer for additional 24 hours so that both of you have more time to make the first mobe.
This, of course, works only on people who are your potential matches or are already in the beeline, and you can't use it on people who have clicked the "swipe left" option on your account.
Since women are the ones who need to send the first message on Bumble, if they don't reach out to you even within those additional 24 hours, then you really shouldn't be pushing them too much, and you will not be able to extend the match for additional 24 hours.
Both men and women will be able to use this feature, but it is usually more important for men because they are the ones waiting for these girls to make the first move and they want to know whether they are interested in dating (like eHarmony or Tinder) or a hookup (like BeNaughty or Ashley Madison).
How Can You Extend A Match On Bumble?
Extending your match on the app is very easy, and the whole process won't take you more than 30 seconds.
All you have to do is go to the dating profile of your preferred match, tap on it and look for the "Extend" option.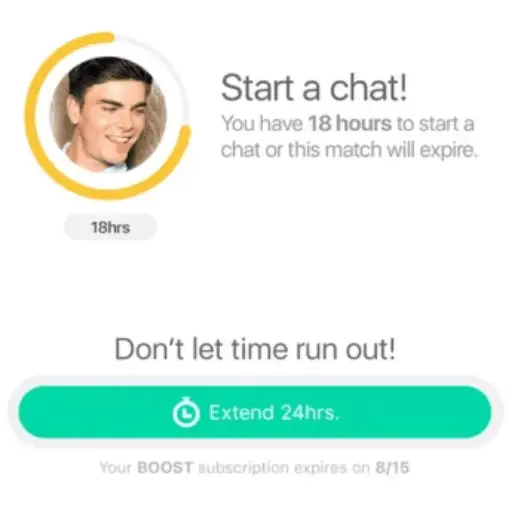 Choose Daily Extend and set the timer for a 24 hour period- after this, your match should be extended for one more day.
How Bumble works is that it starts counting 24 hours right from that click, and the moment this time expires, you will no longer be able to connect with this person at all.
However, when you choose this, the person you performed the action on will get the notification that you have extended the match, which is great and can stimulate them to reply faster.
As you can see, the whole process is very simple, just like all other features on Bumble.
Can I Extend A Bumble Match For Free?
If you want to extend expired matches, and every user has access to one Bumble Extend Match per day.
However, if you want to get more extended and reach out to several expired connections, you will need to either have a Bumble Boost or Bumble Premium account or invest money in some extra Bumble coins.
I believe it is a great thing that everyone on the app can get one free Extend match, and I would always advise you to stay careful and think twice before you decide who the person you will use it on is.
If you have a Bumble Boost or Bumble Premium account, you will have unlimited extends, and you won't have to pay any additional money for it.
However, if you are a free user, you will need to pay for every Extend separately, which is usually 2 dollars per Extend.
OFL exclusive offers - Check all of them

"Serious Relationships"
"Discreet Hookups"
"Best Course"
"Quick Flings"
"Normal Hookups"
"Our Quiz"
In general, a Bumble Boost subscription is a lot cheaper, and it will definitely have a better impact on your overall performance, so if you are deliberating between these two, I would always go for the Bumble Boost option.
It has a lot more perks, and you will get as many extends and likes as you want, so you won't have to worry about anything.
Can You Only Extend A Match On Bumble Once?
You can use the Extend option only once on a specific person, so if someone still isn't responding to you after 24 hours, you will not be able to use the Extend match option on them anymore.
However, if you have a premium membership, or you have paid for additional boosts and extends, you will be able to use as many extensions as you wish per day, and Bumble will not be able to limit you.
You can use the Extend option only once on every person in your match queue, and that is a strict rule on Bumble, and you won't ever have the option to use it twice.
This same feature can also be used on the other part of the Bumble app, and those are Bumble Bizz and Bumble Bff, and the same rules work for those users too.
Is Bumble Extend Match Worth It?
Whether this feature is worth it or not is something that mostly depends on the way you communicate and treat people, so I believe the results are different for everyone.
If someone was busy and just forgot to send you the message or like you, they will do that the moment they receive the notification you have extended the match.
However, if they are just not that into you, no feature will be able to help you, and there is no Bumble mode that can solve it.
For that reason, don't waste your money and Extend on people who really give off that uninterested vibe and focus on the best for yourself.