As we all know, Bumble is a female-orientated dating app.
Namely, you cannot approach and message a woman unless she has liked you.
The app is getting more and more popular among both genders, especially during times of pandemics.
For now, it has around 40 million users of which 34.5% are females, while 65.5 are males.
Therefore, due to its increased popularity, we want to explain:
Is your dating app giving you the best chance for success?
Make sure to take our online dating site/app quiz to find out.
It's a fact that people who follow our dating site suggestions have on average 2 extra dates per month.
Does Bumble Work for Men in Video Form
Audio (podcast) form for those of you on the go
How to Use Bumble as a Man?
We will begin by explaining to you how to create and improve your Bumble profile.
The better your profile looks the more chances you have for online dating or a real-life hookup.
Think of your profile as your appearance in public.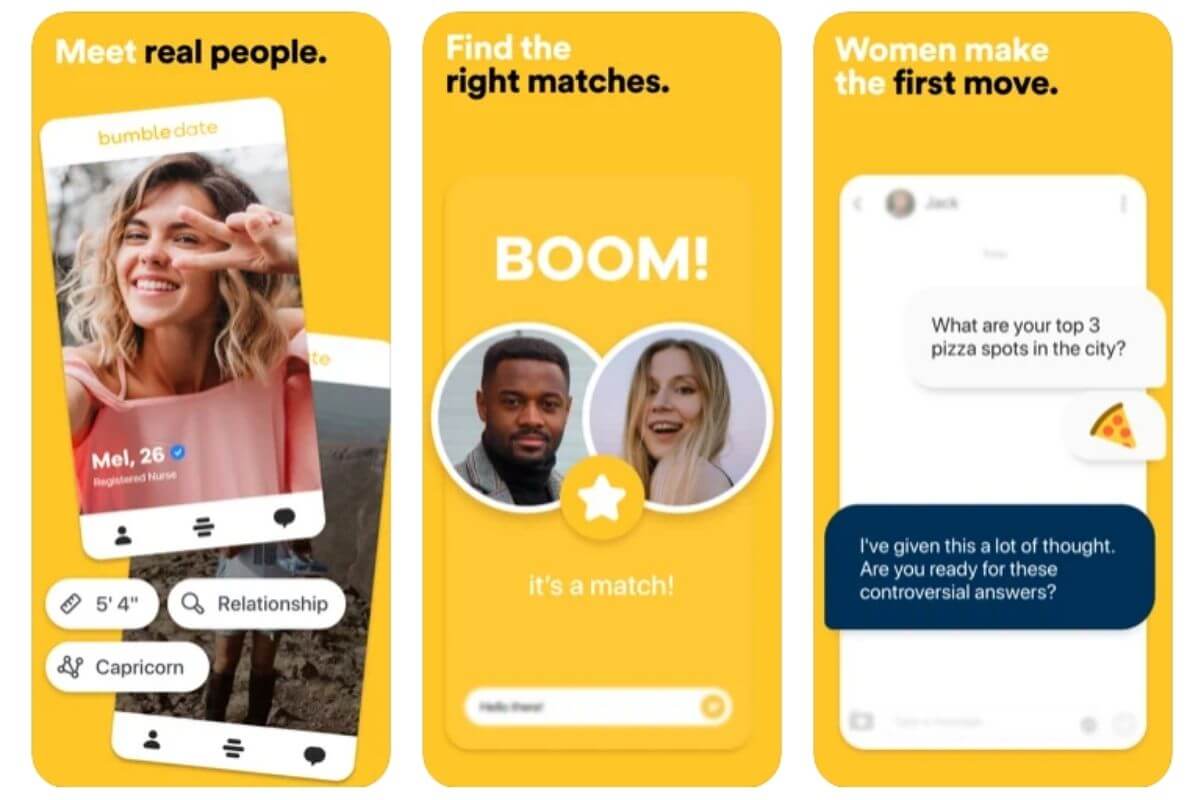 When you add basic information that you need to add in order to create a Bumble account, devote some time to adding additional information and pictures.
First of all, add detailed information about your education and job.
This is extremely important because many women tend to filter users according to the level of their education.
Then, pick a move maker.
The move maker is a Bumble feature that provides more information about a user.
So, for example, you can choose your favorite celebrity dinner guest or choose between a night out or Netflix and chill.
When you have added profile photos to your Bumble dating profile, you can connect it to your Instagram account, where one can see more pictures of you.
Moreover, it is good to connect your Bumble account to various other networks because other users will know that your profile is not fake.
OFL Top Recommendations based on 100,000+ Survey

"Serious Relationships"
"Discreet Hookups"
"Best Course for Men"
"Quick Flings"
"Normal Hookups"
"Our Quiz"
Therefore, feel free to connect it to Instagram, and other networks like Spotify or Facebook.
We also recommend you use Bumble badges.
The Bumble badges are unique features of this app.
By using them, you save space in your bio and avoid using all those obsolete information and cringe quotes.
If you are looking for a date, you can use 5 different basic info badges.
They denote various things, from your star sign to your personal preferences about drinking, smoking, or even politics.
So, you can add whatever you consider the most important for you.
When you add main badges, you can broaden the spectrum of information about you by adding the so-called interest badges.
Interest badges represent all those detailed information about you.
For example, they tell others what your favorite drink, animal, or sport is.
Of course, there is various other information that you can share by using interest badges.
By using all these badges, females can see what you are like and if they see things eye to eye with you.
Moreover, the Bumble algorithm works by taking similar badges into the account.
Therefore, it can show you more people with shared interests.
The badges are also available if you use Bumble Bff or Bumble Bizz.
If you have never heard of them, they are accounts for finding friends or business opportunities.
How Does Bumble Work for Guys?
Let us get straight to the point.
Bumble works for both genders.
However, it might seem strange at first for guys who are used to apps like Tinder or other dating sites because only females can send the first message.
Namely, it gives female Bumble users more sense of security and power to decide whom they want to meet.
Moreover, it will save women from those cringe-opening lines.
A woman who is interested in a man will first swipe right his profile on the sweeping deck, only then can she message him and start a conversation.
On the other hand, guys have to be patient, but eventually, it seems that they have a lot less work to do.
Like we said above, unlike on Tinder, guys need to wait for women to start a conversation.
When they start, guys have 24 hours to respond. If they do not respond they will lose potential matches.
Once the conversation has started, it works as usual.
Therefore, those males who do not want to take an initiative and prefer to wait for women to message them will be more than satisfied.
At the same time, women who love to be the ones who make the first moves will enjoy this app.
What Happens When a Guy Swipes Right on Bumble?
As you have already known, Bumble works in the same way as Tinder when it comes to the famous "swipes".
Namely, if you swipe left, it means that you are not interested in someone, on the other hand, right swipes denote that you would like to engage in some sort of relationship with this person, emotional (like eHarmony or Tinder) or physical (like BeNaughty or Ashley Madison).
So, if you would like to go on a date with someone choose the right swipe.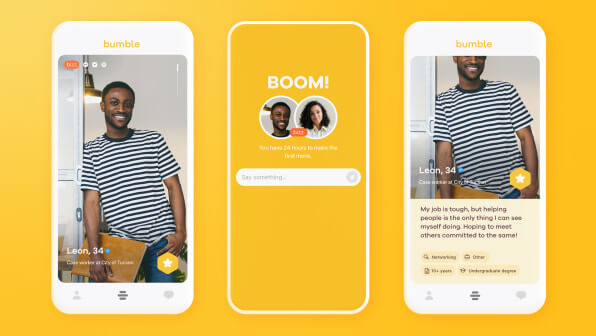 Now, let us get back to the situation when a guy swipes right on Bumble.
If you have been already "swiped-right" by a female you like, congratulations, you two get an instant Bumble match, and you can see each other's complete profile again.
On the condition that you want to see her profile again, you should go to the Bumble match queue.
As we have already said, Bumble is a female-orientated app that gives power to women's hands.
Therefore, guys on Bumble will have to wait for girls to make the first step.
Women have 24 hours to send the first message.
If they do not do that, your match becomes one of the expired matches.
Bear in mind that there are Bumble Boost and Bumble Premium features that enable you to see who has swiped your profile right.
But we will talk about them later.
How Does Bumble Chatting Work for Guys?
Once a female has approached you, the Bumble dating app chatting works like any other dating site chat.
Namely, you can send messages, but also pics, links or videos.
In addition, you can call her or start a video chat.
On the one hand, it is good that you can send pictures because you can ask your match to send a few pictures of her in order to confirm that her profile is not fake.
Moreover, it saves you from being catfished.
On the other hand, other popular dating apps do not have these additions in their chat for a reason.
In other words, these options can seriously endanger your privacy on Bumble.
For example, you might see unwanted photos or receive calls after a few messages which might be too quick for many users.
How Does Bumble Work for Gay Men?
Many members of the LGBT community were worried because they did not know how communication works for gays on Bumble.
However, thanks to Bumble founders and co-founders, Bumble is a place where all sexual preferences are welcome!
But let us explain how it works.
The rule where a woman has to start a conversation with a man obviously does not apply here.
So, if you add information that you prefer your own gender, you will be matched with people with the same sexual orientation, other gays.
When you swipe him right, and he swipes you right, you will be matched.
It means that there are two men who need to start a conversation, and thanks to the cleverly designed app, it does not matter who will send the first message.
Both users can start it, just like on any other network.
However, we do not think that there are too many gays on Bumble currently.
You will probably have better chances of meeting someone on OkCupid, Grindr, or Scruff.
Is It Worth Upgrading to Bumble Boost?
Plenty of men decide to purchase Bumble Boost or Bumble Premium in order to increase their chances of matching.
First of all, we would like to explain that Bumble Boost is a cheaper version of the two packages.
It has its advantages, and therefore it can be very helpful.
When it comes to advantages, those are Backtrack, Bumble Extend, Unlimited Swiping, and of course, its cost.
When you use left swipe for a particular person, and you make a mistake, there is a way to correct that mistake.
Namely, thanks to the Backtrack feature you can undo the last swiping to the left, and swipe right the person you like.
In order to activate Backtrack, you need to shake your phone a little bit.
Then, the notification asking you if you want to return to the previous user will appear.
Thanks to this feature, a lot of men can correct themselves and "send a signal" that they like a particular girl.
One of the most important features of the Bumble Boost is Bumble Extend.
Thanks to this, you can prolong the famous Bumble countdown.
Namely, as we said above, a girl has 24 hours to send you a message or make the first impression.
In case she does not do that, you will be deleted from her Match Queue.
So, in order to overcome the time limit, Bumble founders have invented an original feature, Bumble Extend, that extends that time for another 24 hours.
Women on Bumble and Bumble men often use it.
Females mostly want to devise a perfect opener, while males use it to indicate that they really like particular girls although they have not yet messaged them.
It could be said, that this feature provides the only way for men to take initiative because as we know males cannot start a conversation.
However, by using this feature in the case of particular girls, the girls will understand that you are more than interested in them.
Bear in mind that the free version does not come with this feature.
This feature works well for males in larger cities.
Due to the increased number of users in urban areas, the chances that you will swipe right someone who has already swiped you right, are average if not small.
Therefore, thanks to this feature you do not have a limit on swipes per day.
It basically means, the more you swipe the bigger are the chances to match with someone.
Is It Worth Upgrading to Bumble Premium?
Bumble Premium is a more advanced, paid version of Bumble.
When you use Bumble Premium, the sky is the limit.
You get access to an unlimited number of filters, one Spotlight, five super swipes, BeeLine, Travel Mode, rematch feature, and many others…
We would like to start by reviewing the most important feature, Beeline.
BeeLine personifies every men's online dating app's dream.
Thanks to BeeLine you can see who swiped you right.
Therefore, when you see a green circle next to your Match Queue, tap on it and see who are the people that like you.
BeeLine makes the lives of men on this dating app easier because they have higher chances of matching with someone.
We recommend males use Spotlight from time to time to increase popularity in their areas.
Namely, for the price of around $4 or within the Bumble Premium subscription, you get one Spotlight.
By enabling Spotlight, your profile starts to show more often on Bumble swiping decks in the neighborhood.
Bumble guys can gain a lot by enabling this feature from time to time.
We advise you use this feature from 8 p.m. to 10 p.m. because there are more active users then.
For males who do not want to lose their time, there are super swipes.
If you want to get things done and take her phone number, use the super swipe option.
When you use the super swipe, a girl gets a notification that you have super swiped her, and she can send a message to you, of course, if she likes you.
This option saves a lot of time and makes an app more direct.
Thanks to Bumble Premium you can rematch with the girl that has not started a conversation with you, although you have been matched once.
The only condition is that you have been swiped right by her first.
Bumble is definitely a great app, available for both Apple and Android users.
However, sometimes it can make some of its male users nervous because they have to wait for females to start a conversation.
On the other hand, it is perfect for those who are willing to wait for their matches to reply and for women who like to have power in their own hands.
To conclude, it works well as long as you chat and meet someone via Bumble.