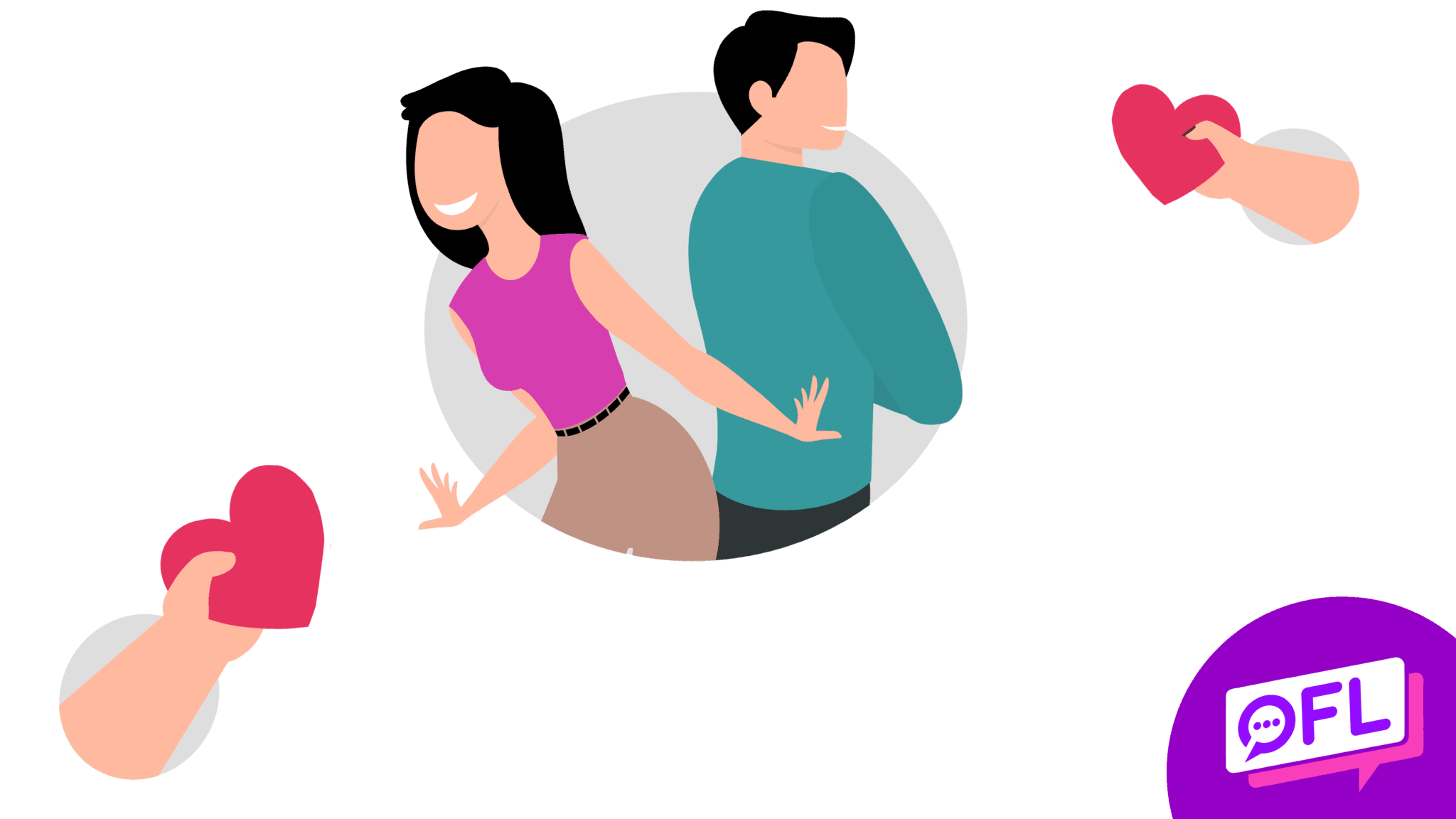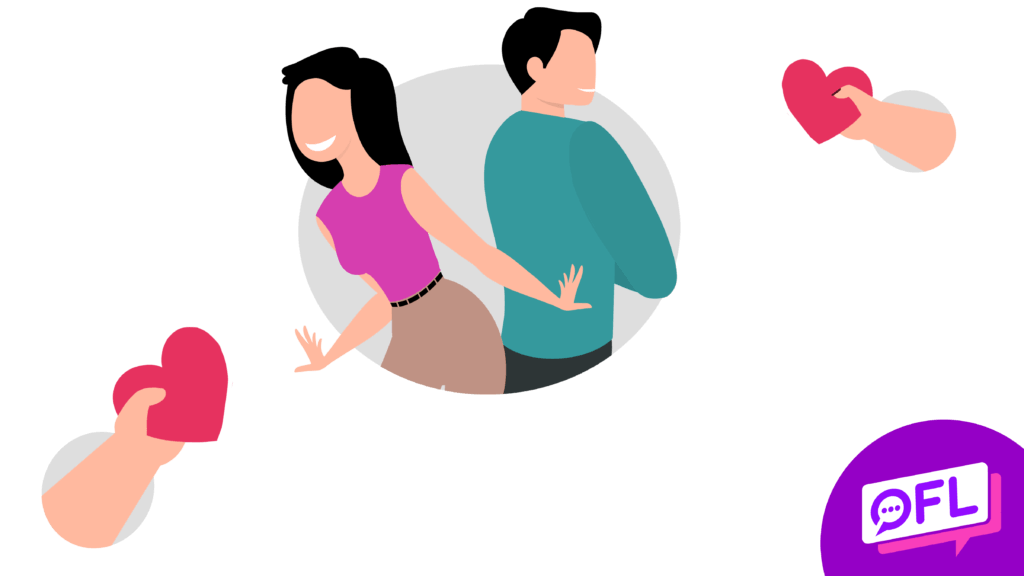 Dating has never been quite an easy process – there are always so many factors that affect its success and whether the person is going to be the right one.
However, there are many dating websites where divorced individuals with or without children can enjoy great chances of meeting a companion suitable for them (and their child(ren).
Is your dating app giving you the best chance for success?
Make sure to take our online dating site/app quiz to find out.
People who follow our dating site suggestions have on average 2 more dates per month.
Best Dating Apps for Divorcees in Video Form
Audio (podcast) form for those of you on the go
Here is the list of 5 best dating Apps for Divorcees who are looking forward to a new, happy beginning.
OFL Top Recommendations based on 100,000+ Survey

"Serious Relationships"
"Discreet Hookups"
"Best Course for Men"
"Quick Flings"
"Normal Hookups"
"Our Quiz"
1. SingleParentMeet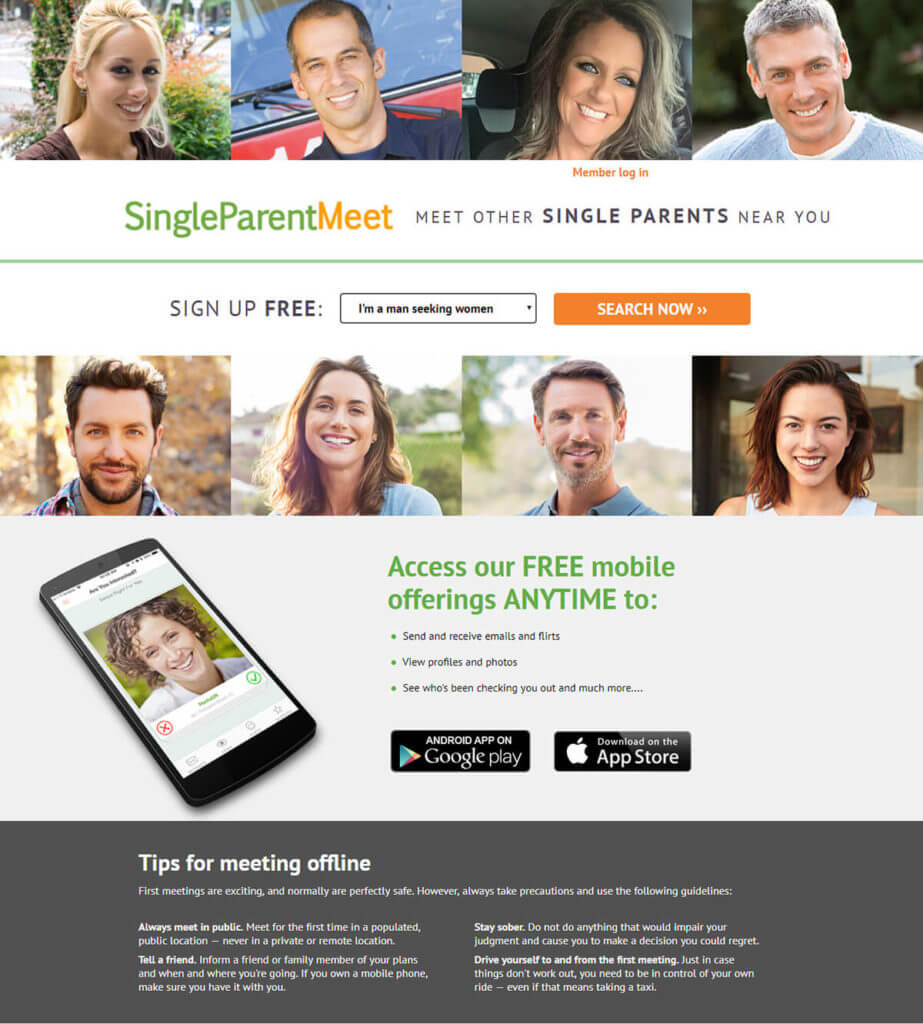 Ratings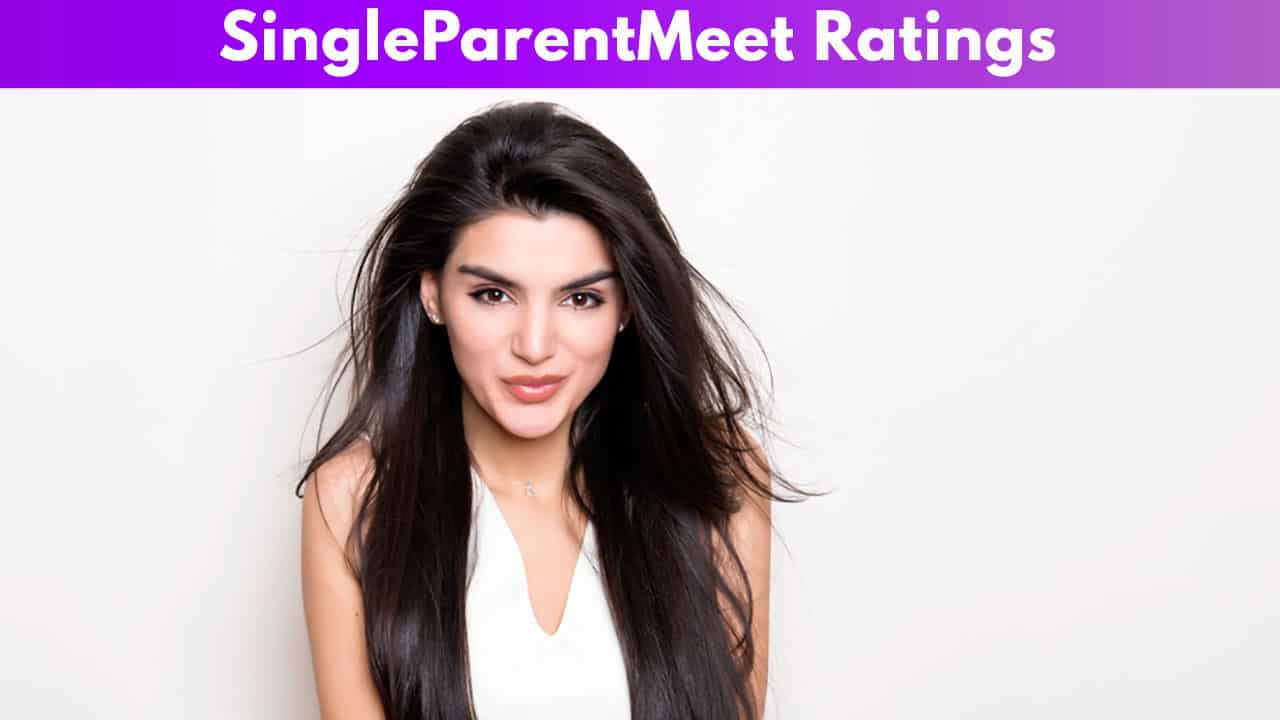 Signing up – 4.5/5
Making Contact – 4.5/5
Profile Quality – 4.5/5
Affiliate Program – 2.5/5
Overall Quality – 4.3/5
Pros
Niche dating service for single parents only
Free app and communication on-the-go
Cons
Premium version is needed for communication
Exists in the US and Canada only
Demographic Makeup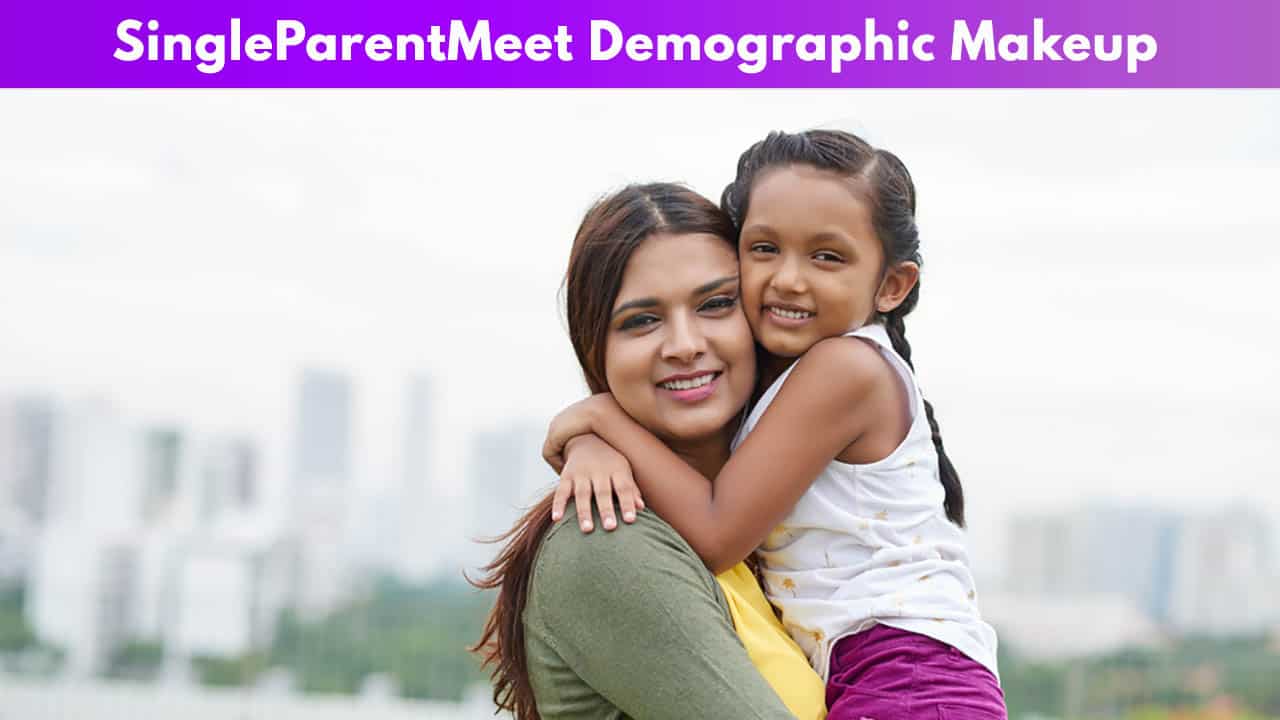 Single Parent Meet is a niche dating website made for all divorced people and single moms and dads who have hopes for meeting another soul mate and don't dislike the fact that the other person also has children.
They hope to get accepted without any prejudice and would like to meet someone with whom they can enjoy their time, have their kids meet, share advice, and eventually love.
It brings more than 80k people from the US only together, which is 93% of the whole user base and has around 50k active members weekly.
The statistics show that the majority of users fall into the 35-44 age group while there is a pretty even, but smaller distribution between different ages – 18-24, 25-34, and 45-54. Luckily, there is almost an even number of male and female users with a 45-55 ratio.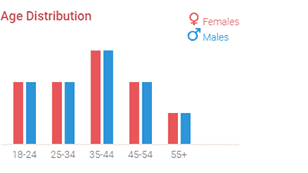 Ease of Use "mobile and desktop version"
If you decide to join this network the signup process is quite easy and requires your e-mail address, username, and password only. After you create a profile you are asked to write a bit about your story, which can be quite helpful when stumbling upon someone's profile.
There are also Personal Questions section which gives even more insight into who you are. These sections aren't mandatory but can be quite helpful!
Signing up is free, however, if you decide to message someone you will have to upgrade to the premium plan since communication is limited to sending Flirts and just matching.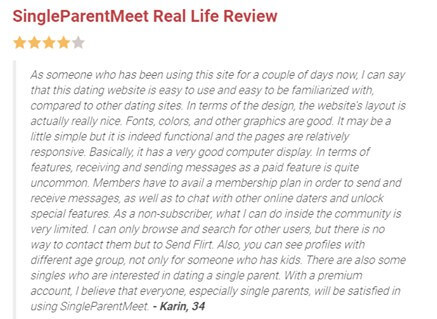 The free version also lets you search for people, upload photos, like photos and view matches, but that is all. Anything like sending messages, flirting, tokens, and features like NotifyMe, PromoteMe, virtual gifts, etc., are part of the premium plan.
Features:
PromoteMe – If you use tokens for this feature you profile will be boosted and much more visible
NotifyMe – Whenever you enter the app you will be notified when your match(es) login
OFL Top Recommendations based on 100,000+ Survey

"Serious Relationships"
"Discreet Hookups"
"Best Course for Men"
"Quick Flings"
"Normal Hookups"
"Our Quiz"
The good news is that Singleparentmeet offers a quite handy mobile app that will make the experience convenient and allow on-the-go communication compared to the desktop version.
Design is more straightforward and it is much better organized. If you wish to download it, you will find it both on Google Play and the App Store for free.
FAQ
Why am I always being signed out?
After 15 minutes of inactivity, the website or the app will sign you out automatically for safety reasons.
Can I hide my profile without deleting it?
The answer is yes – you should click on "settings", then click "My Account", then go to "view account settings" and then click on "more account status changes" when you will see the "hide my profile" option.
Overall Rating
This dating service gets an overall grade of 4.3/5 thanks to its very good features and functionality.
2. Our Time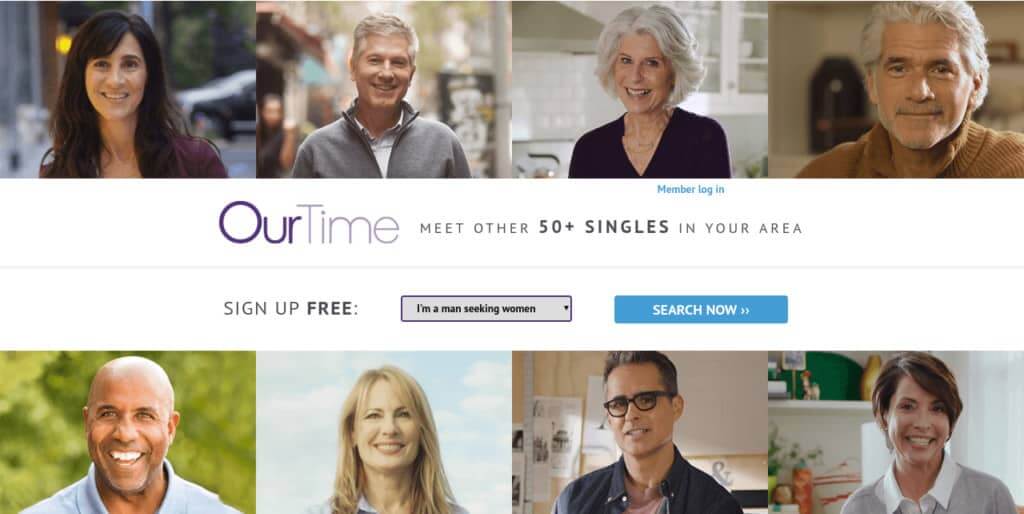 Ratings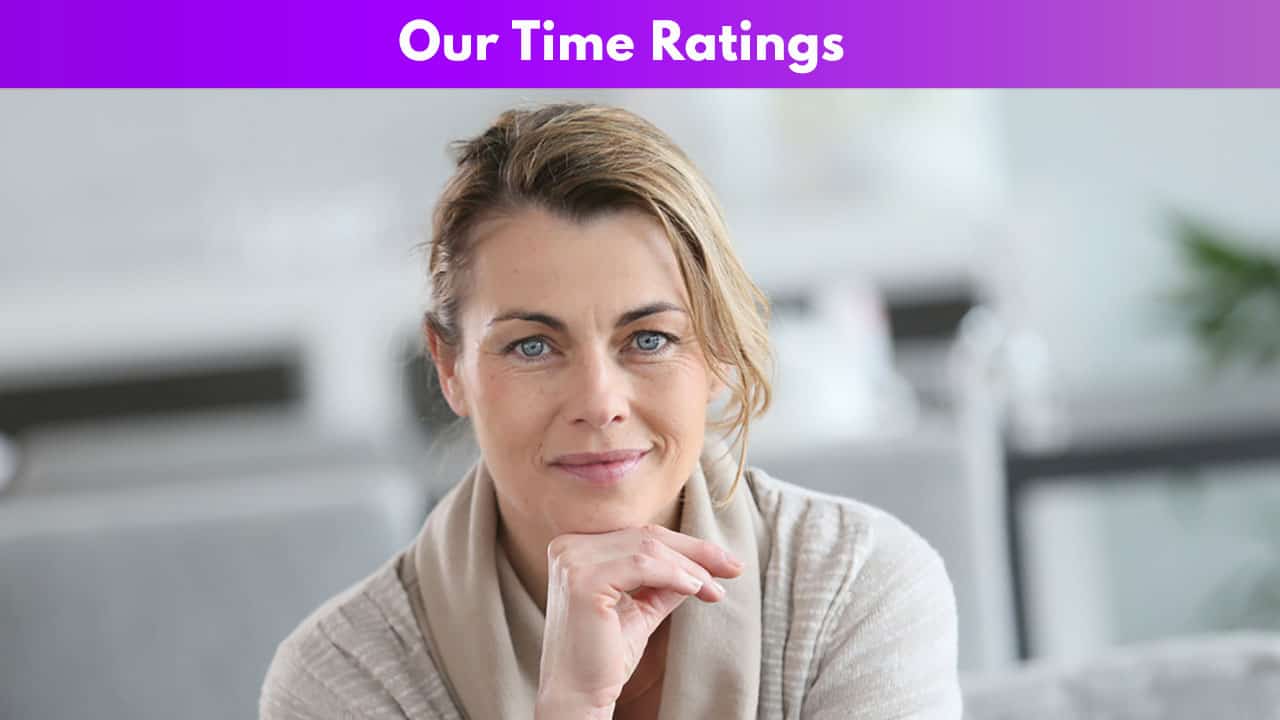 Signing up – 5/5
Making Contact – 3.5/5
Profile Quality – 4.5/5
Affiliate Program – 3/5
Overall Quality – 4/5
Pros
Very helpful features such as ConnectMe and ProfilePr
Ability to see whole profiles and photos for free
Cons
No identity verification system
There are many fake profiles
Demographic Makeup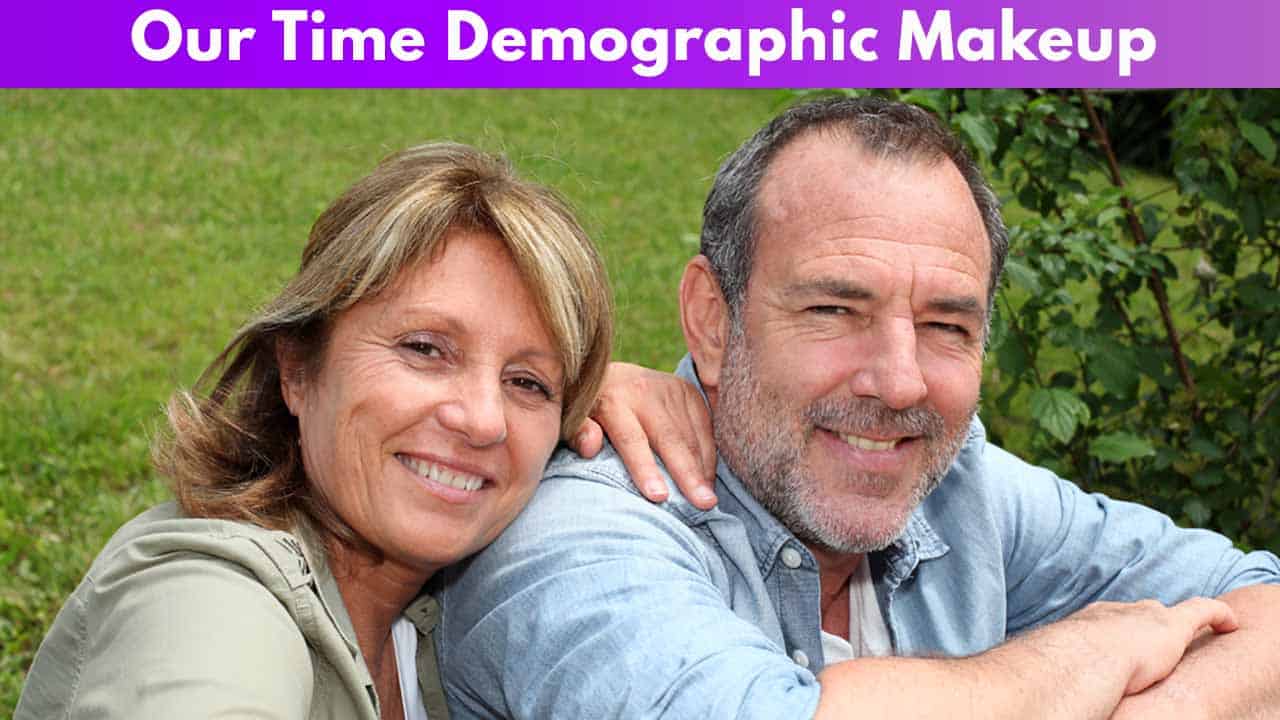 In today's world, there are so many dating websites that target different niches, and the group of divorcees and singles who are 50+ is one of them.
OurTime is made for the above-mentioned individuals who have reached the age of 50 and are interested in creating various kinds of connections – pen-pals, romances, friendships, marriages, etc. Everything is offered here and it is just a matter of finding it.
Believe it or not, there are more than 1.5 million users in the US, and around 200k active users weekly!
The second-largest user group is from Canada and the third one from the UK. Besides these three countries, there are many other nationalities.
Thus, if you give this app a chance, plus live in a more populated area, it is almost certain you will find someone special.
The youngest users of this website are in their late 40s and statistics show that the average is 56, which means than older members are present as well.
Women to men ratio are pretty even at 55-45 which means both groups are actively seeking potential partners. There are around 8 million site visits each month, with 7.5 million being from the US alone.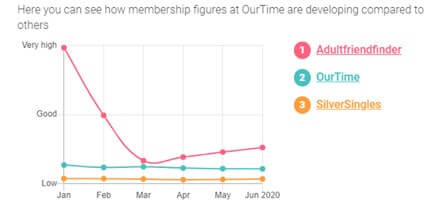 Ease of Use "mobile and desktop version"
This app was made to connect men and women of this age and help them create friendships, start dating, enter relationships, or even marriages.
The signup process is quite simple and fast (2-3minutes) and suitable for people with almost no computer literacy. It requires quite basic information and lets you upload up to 30 photos.
When searching for other members you can use different criteria, such as body type, status, children, location, religion, ethnicity, zodiac sign, and several other ones.
However, if you find someone even though you can see the whole profile you won't be able to send a message unless you purchase the premium version. You can only show your interest by sending Flirts.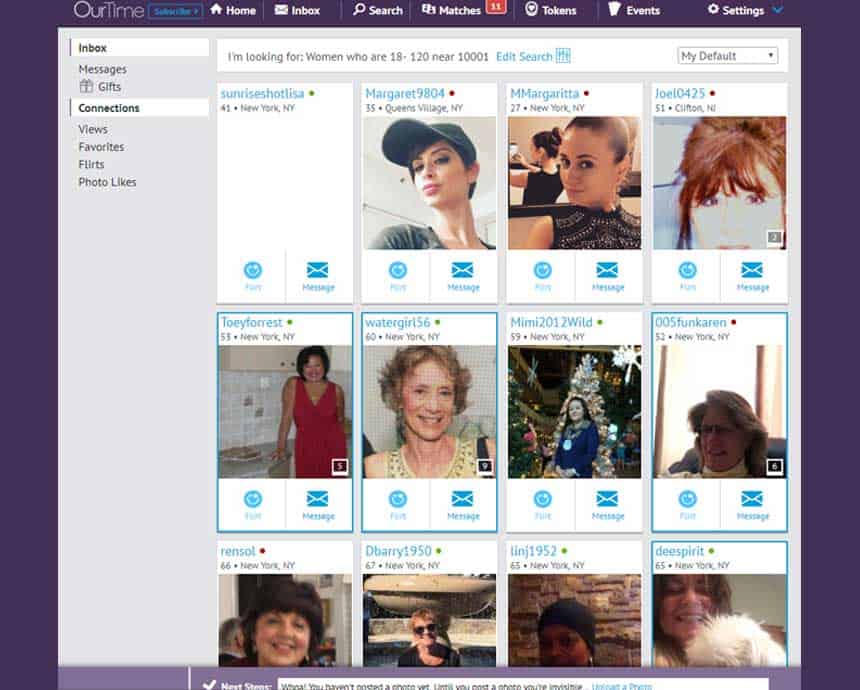 In case you opt for the premium version you will be able to see when someone has read your message, send virtual gifts, boost your profile's visibility, and use several more features.
Some of them are:
ConnectMe – if you would like to talk to someone and hear their voice, but are still hesitant about giving your number, with this feature you will get a virtual one and enjoy talking to people without sharing that personal information.
ProfilePro – In case you aren't versed in completing your profile and don't know what you are supposed to write in your bio, for example, there is a team of professionals who will complete it for you and make it look fantastic.
OurTime also offers a free app that has been downloaded thousands of times so you can enjoy your communication even when away from home.
OurTime has created a mobile version of the desktop website which makes the whole online dating experience even better.
It is specially adjusted for its target group with large and clear font and quite an accessible menu. It's a bit surprising that it has been downloaded thousands of times and has been quite popular among users.
It doesn't offer any new features but is used for more regular and easier communication. It can be downloaded on Google Play and the App Store for free.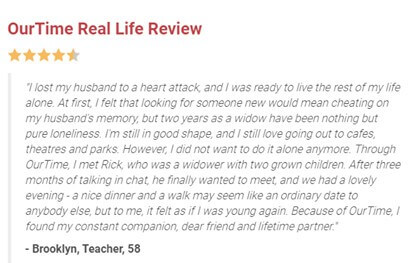 FAQ
Is OurTime free?
There is a free version, however with limited activity. For example, until you purchase a premium plan you aren't able to message anyone.
Are SeniorPeopleMeet and OurTime the same thing?
They used to be two separate sites owned by People Media, however, they were brought together since they both catered to the needs of single people over 50.
Overall Rating
With the overall rating of 4/5 and features made precisely for the target group, we find this app to be an amazing choice for all divorcees aged 50+.
2. Elite Singles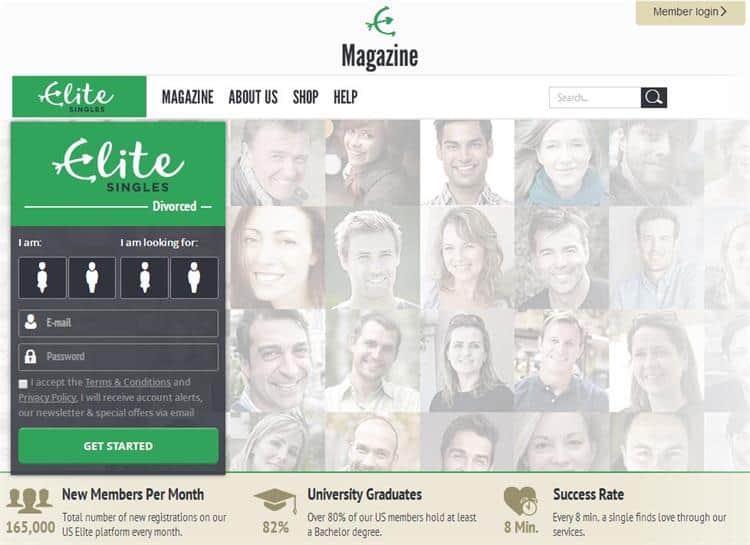 Ratings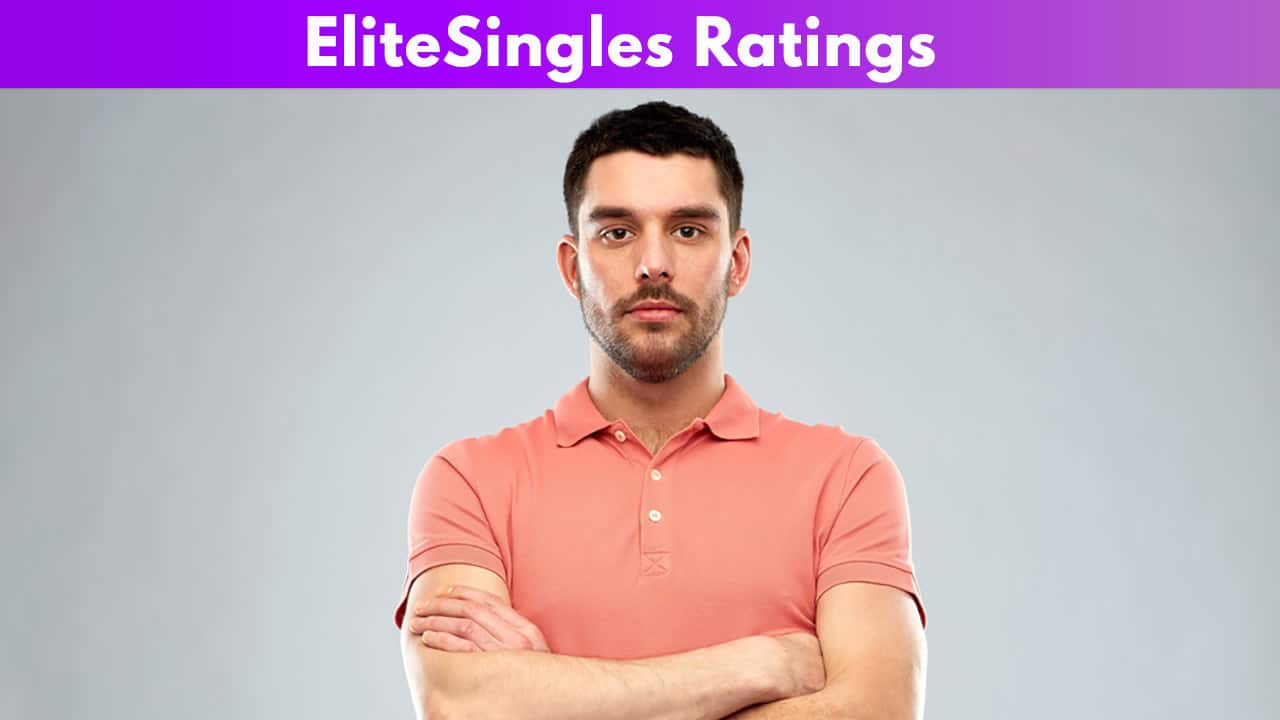 Signing up – 5/5
Making Contact – 4.5/5
Profile Quality – 4.5/5
Affiliate Program – 4.5/5
Overall Quality – 4.7/5
Pros
Highly advanced personality test and a matching algorithm
Quite a large user base
Cons
Inability to see photos and send messages for free
No search options
Demographic Makeup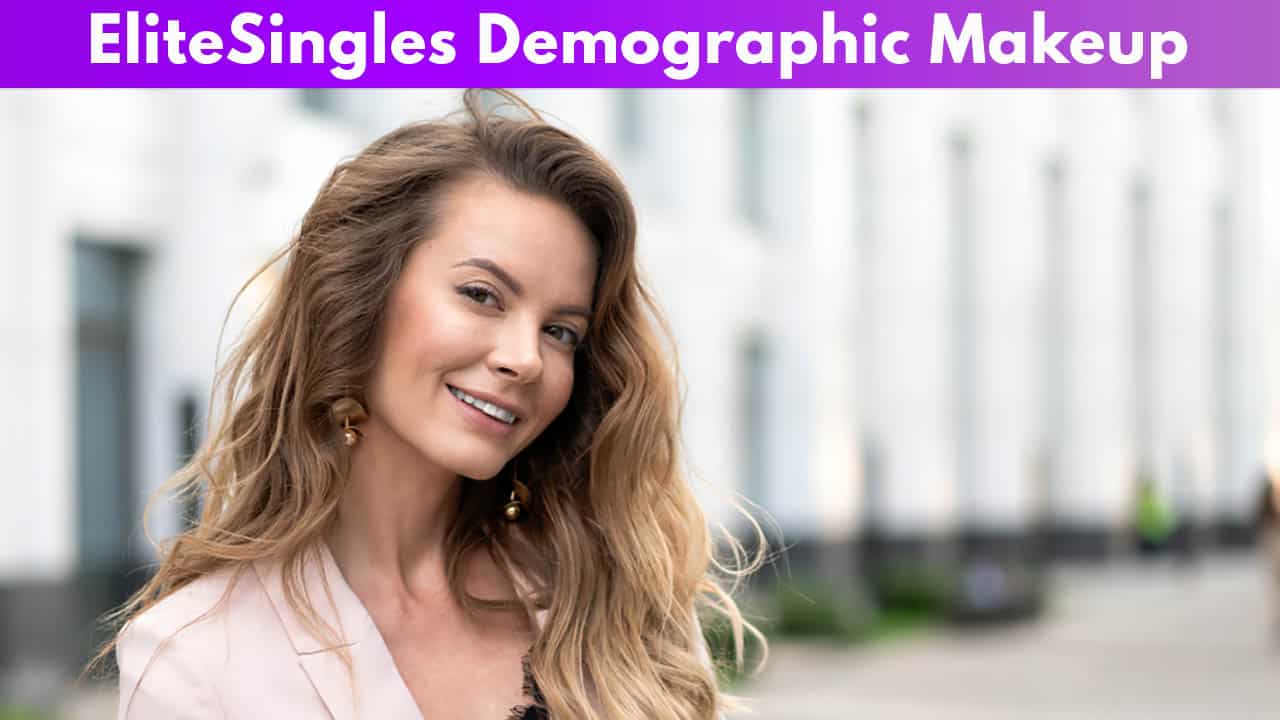 Elite Singles is created for the niche that consists of mature working professionals who are focused on their careers and are highly educated.
These are the people who deeply care for their work and need a partner who will be understanding of their 9-5 (and longer) job. More than 85% of users have higher education and care that their partner has one too.
The target group finds it crucial to be with another intellectual like themselves since that matter presents a very important point in their lives.
Even though many people say things like status, earnings and career aren't as important, these people understand that they can make or break any relationship, especially if there are great differences in them.
Elite Singles has around 5M members in the US and around 1M active years weekly. This means you have a high chance of finding an intellectual to your liking. Even though 93% of users come from the US, there are more than 200 nationalities present.
When it comes to age groups, the most present one for men is one of 25-34 years and 35-44 years for women. Their ratio is the same, 50:50. 30% of the network is 30+ years old.
Elite Singles is rather successful since it connects around 4000 people each month in more than 20 countries.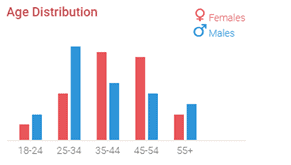 Ease of Use "mobile and desktop version"
Elite Singles has a special, separate section for divorced people only, and it is a combination of the professionals who are also divorced and are looking for a romantic relationship.
If you decide to enter this new world you will go through a bit lengthier and no so ordinary sign up process, because you will have to fill out a personality test besides adding your basic information. This test was developed by psychologists and serves to analyze 29 personality traits!
This test takes around 20 minutes and requires that you rate yourself with statements: completely applicable, slightly applicable or doesn't apply at all and questions are about your characteristics, habits, the way you see yourself, etc.
After completing the test, the algorithm uses your answers and finds the best potential matches for you, so you get 5-7 recommendations every day and you aren't able to search for people yourself.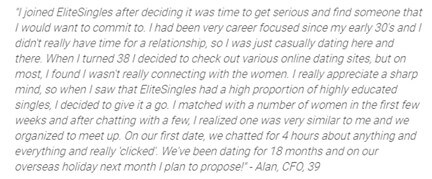 However, if you like a potential match you will need to get the premium version to message them, or get satisfied with simply sending a wink as a sign.
The premium version pays off only because the free one doesn't offer much, not even seeing profile photos of other people.
If you do opt for the paid membership you will get an explanation of your personality test, get matched to premium members, see who entered your profile, send and get messages, look at others' photos.
Some of the features are:
Have we met – the section where profiles who weren't matched to you because of 1 or several unfitting traits are stored
Wildcard matches – premium members can get 20 extra candidates daily.
EliteSingles can also be used via their mobile app which can be downloaded for free from both Google Play and App Store.
It offers the same modern and sleek design as the desktop version along with the same features. If you wish to sign up by using it, the good news is that you can take the personality test there as well.
It is well organized and doesn't have big drop-down menus which tend to create a lot of confusion.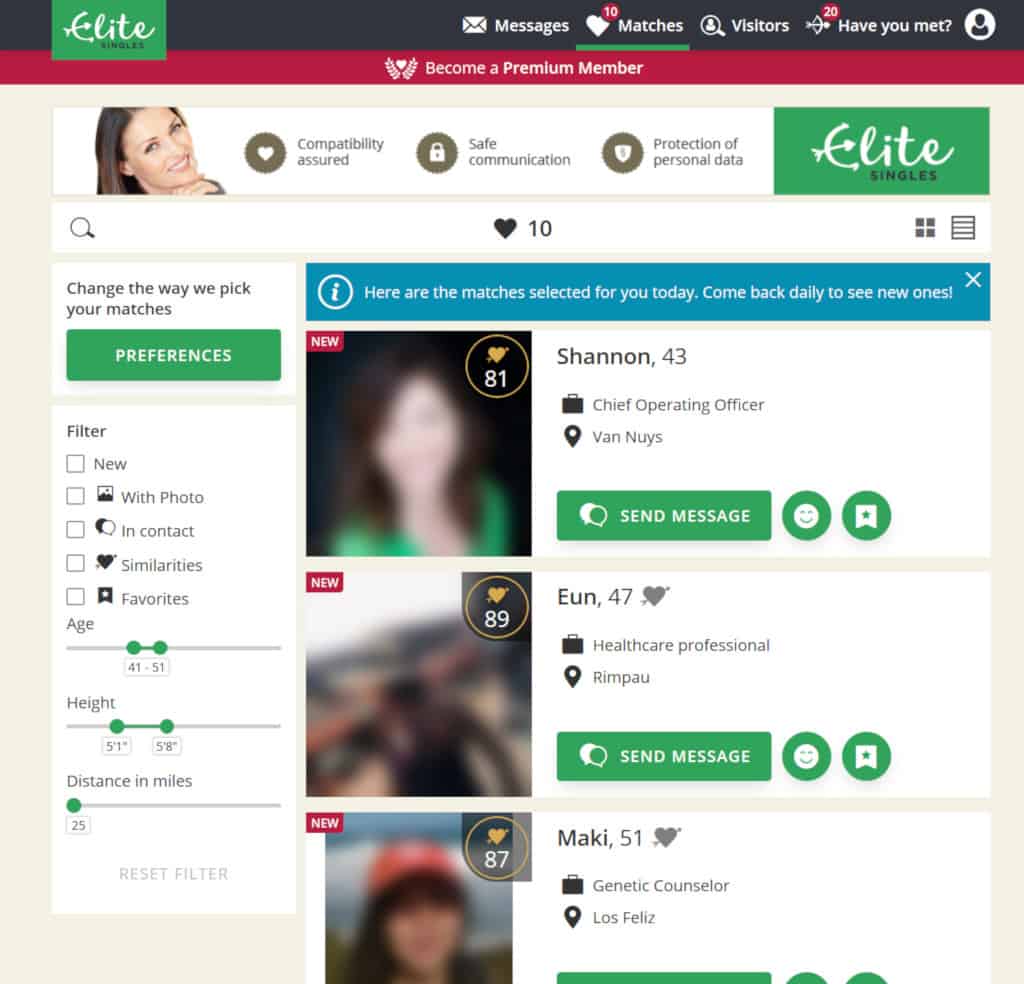 FAQ
What is the personality test used for?
This test is used for matching the most similar individuals based on their mutual interests, habits, traits, and other factors. It is crucial for the success of this network since users aren't able to search for members.
I can't see my profile photo, why is that?
If you cannot view your photo, that means you probably haven't met community guidelines or your photo is still being reviewed.
Overall Rating
This modern, attractive, and sophisticated dating service has received a high grade of 4.7/5 and is recommended for anyone who finds themselves in the target group.
4. eHarmony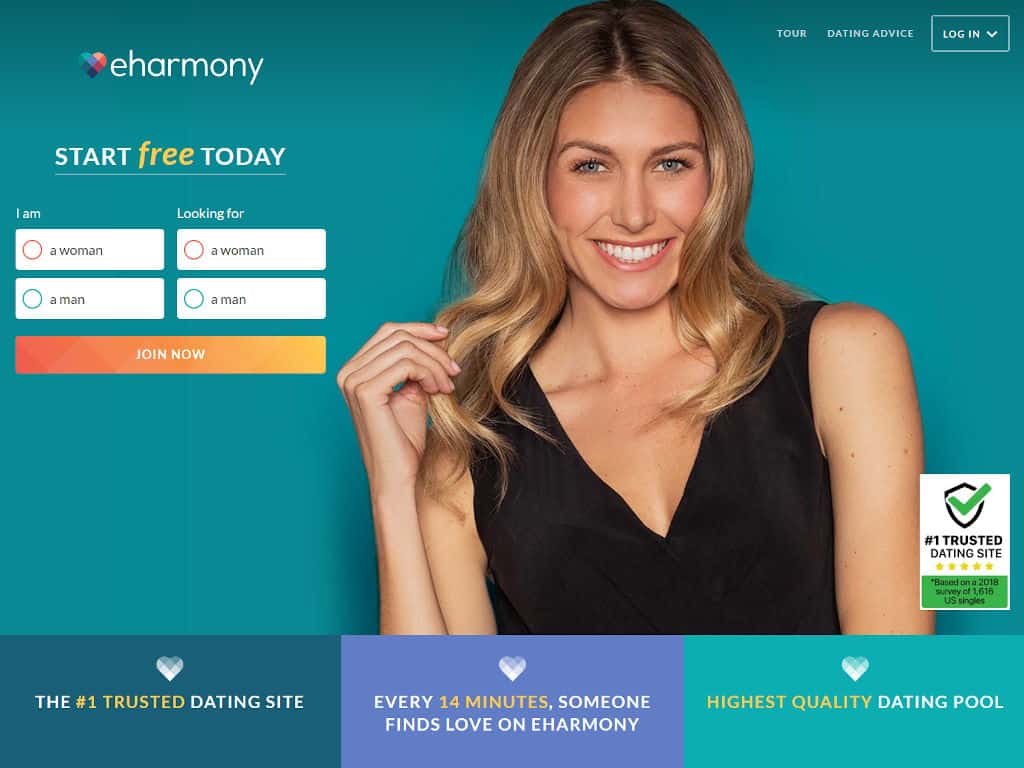 Ratings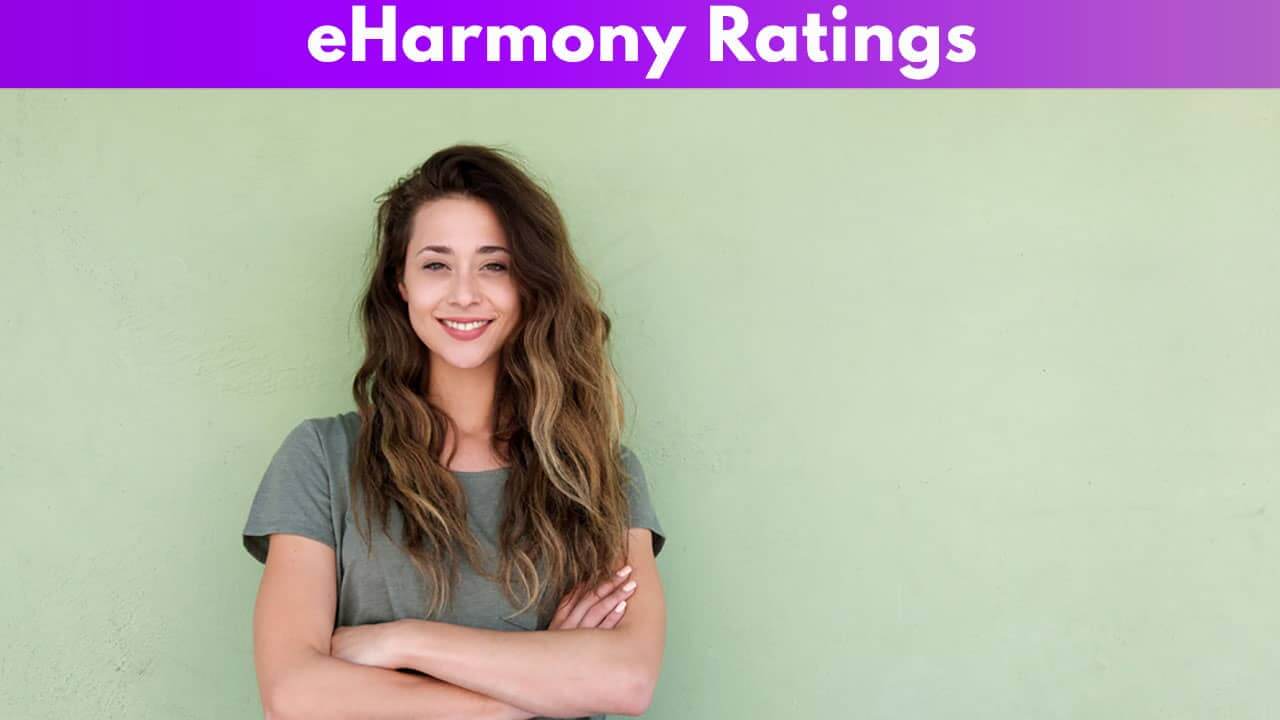 Signing up – 5/5
Making Contact – 4/5
Profile Quality – 4.5/5
Affiliate Program – 4/5
Overall Quality – 4/5
Pros
The incredible matching system based on various questionnaires
66 million users worldwide
Cons
Inability to access profiles who aren't matched to you
Doesn't offer various communication methods
Demographic Makeup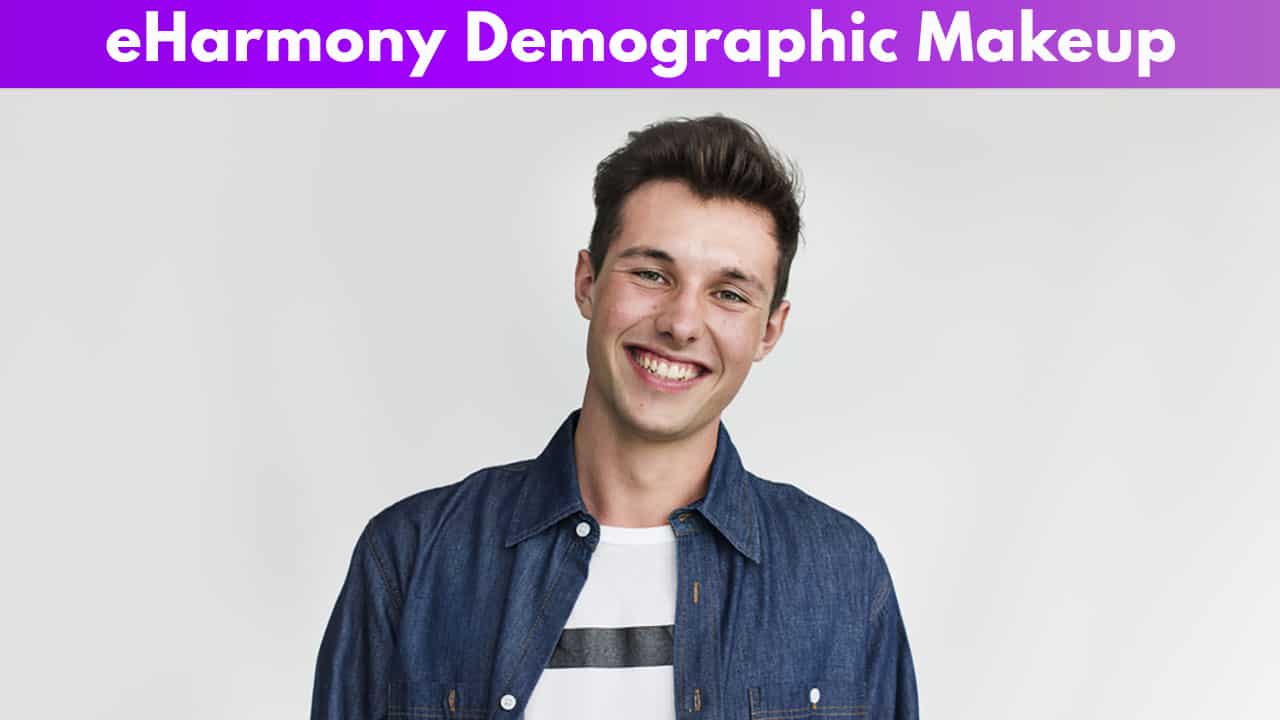 A lot of users on eHarmony are divorced and are looking for a second chance in love and life. Thus, even though this website isn't designated for divorced people only, it is a very good spot for them.
eHarmony has been present since 2000 and has had 66 million users worldwide. More than 600k of them have got married thanks to it, which is quite an incredible number.
Another great fact is the one that 15 million matches are happening every single day! This means that someone fit for you is 100% out there on eHarmony.
When it comes to the most present age groups, the first place goes to men and women who are between 25 and 34 and the second to those between 35 and 44 years old. However, because of these websites' popularity, you will find almost any age on there.
The largest user group comes from the US, while Canada falls in second place. There are also 247 more countries present.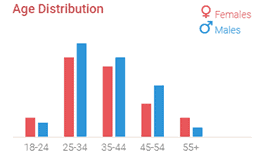 Ease of Use "mobile and desktop version"
There almost isn't a person who hasn't heard of the eHarmony dating service that is quite popular among people looking for a serious commitment and marriage.
If you decide to sign up for eHarmony you will first be asked about your basic information and then to answer quizzes and questionnaires which take around 15 minutes.
It asks a lot of questions in a form or: "what would you do if…" and tries to understand your personality as best as possible.
It is crucial to add as much and as correct information as possible for the algorithm to function properly.
This because eHarmony takes their role in matching people quite seriously and isn't for those who are looking for hookups and light chats.
Whenever you find someone who you like you can't unfortunately message them if you aren't a premium user, but there is a catch.
The site offers a pre-generated question and you can choose 1 from 5 of them and send it to the person, or you can opt for the good old wink.
Every day you get several possible matches made my eHarmony, but if you don't like them you will have to wait for the next day unless you are a premium user, who can see people outside of the compatibility zone.
Some of the features that premium membership offers are:
What if – 30 extra matches that aren't part of your preference list
Video Date – lets you see users via a video call
Send questions – these are pre-generated questions that make the conversation easier
If you always on the go and wish to communicate with your matches often during the day the best choice of you is the free mobile app. It is an exact copy of the desktop version so you don't have to be afraid of potentially missing out on any feature.

FAQ
Is eHarmony for serious relationships only?
Yes, it is. It was designed to help people find a stable and long-term relationship. Thus, if you are looking for casual dating, sexual encounters, and light chats, eHarmony isn't the best choice for it.
Can I see more members other than those recommended to me?
You can only if you are a premium user. If you wish to check them out you should click on the "what if?" feature and see up to 30 people who don't match your preferences.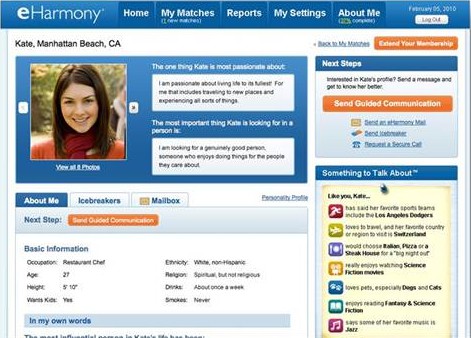 Overall Rating
With its quite interesting questionnaires, a large user base, the goal to help people find someone for a serious commitment, and helpful features eHarmony gets an overall grade 4/5.
5. Match.com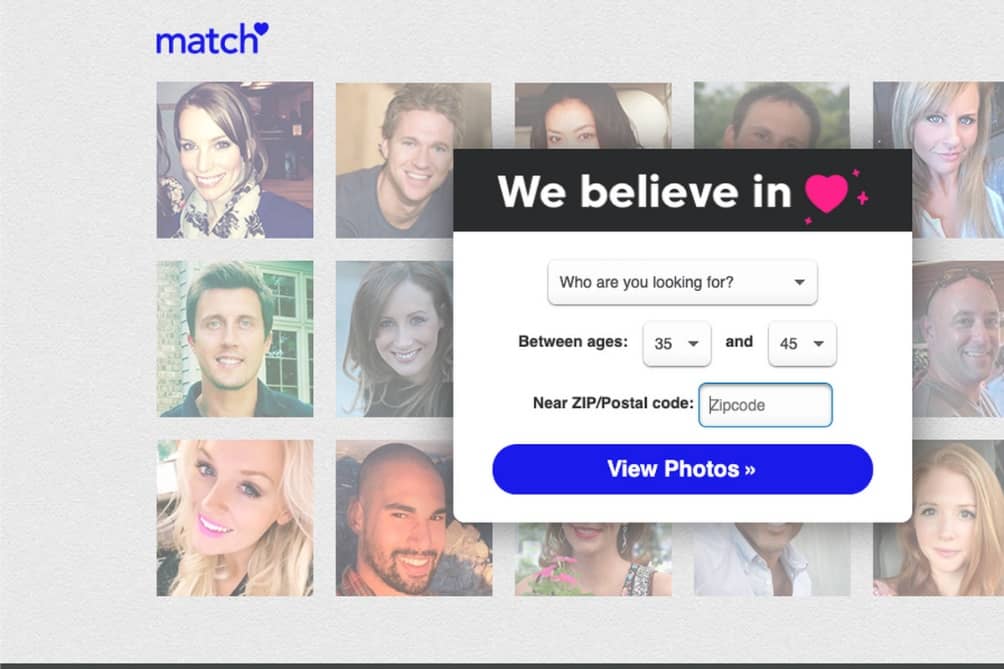 Ratings
Signing up – 5/5
Making Contact – 4/5
Profile Quality – 4.5/5
Affiliate Program – 5/5
Overall Quality – 4.5/5
Pros
One of the oldest dating apps with 21 million users
Easy signup process and app navigation
Cons
No profile verification
Inability to send messages without premium membership
Demographic Makeup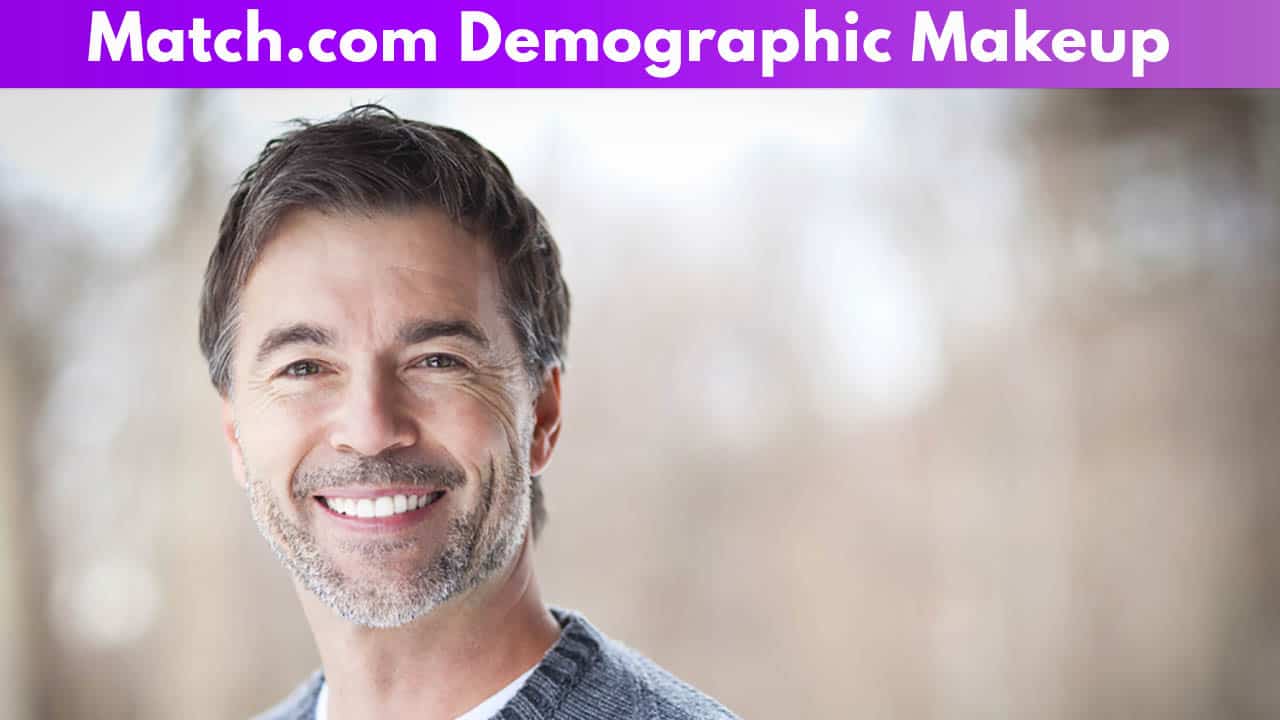 There are 21 million users who come from various backgrounds from all over the world. 76% of users are from the US,8% are from the UK and many are also from Canada, Japan, and Sweden.
The majority of male users are between 25 and 34 and 45 and 54 years old. When it comes to women, the biggest group is between 35 and 44 and then 45 and 54 years old.
This proves that many individuals who are in their 40s and 50s are (again) looking for love.
There are more than 3M logins every day, showing that Match.com does combine popularity and long tradition quite well.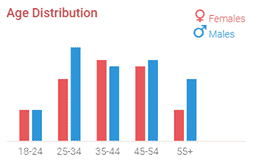 Ease of Use "mobile and desktop version"
Match.com was created way back in 1995 and is one of the oldest online dating services that take credits for thousands of relationships and marriages that happened thanks to it.
It was made to help all single people meet someone special and are thus more than suitable for divorcees as well, who are coming back to the dating world.
IF you decide to give this service a shot you will see how easy the first step – signing up is. You will first have to add basic personal information – your name, e-mail address, password, location and then you will be transferred to the profile-builder.
That is a step-by-step process that takes you through the registration. It will ask you do add more info such as your height, weight, preferences, and other information. There is also a short "about me" section that fits 100 characters.
After you add your photo which doesn't need to be verified, nor does the e-mail address, you will be able to begin "the journey".
You will see the "matches" tab where you will have to decide whether you "like someone" which will lead to them being notified if you click the "like" button, or if you wish to ignore them.
You will keep getting new potential matches in this section.
There is also a "discover" section where you can search for members based on various criteria such as gender, age, location, lifestyle, etc.
Unfortunately, only premium members can message their matches and enjoy two more interesting features:
MatchPhone – If you would like to talk to someone without giving out your number you will get a virtual number by Match.com
MatchMe – you can appear as the number one profile on the "Matches" section of another member if you also meet certain criteria besides being a premium member.
There is also a mobile app that can be downloaded for free from Google Play and App Store. It offers a completely same experience and features as the desktop version and has quite a modern design.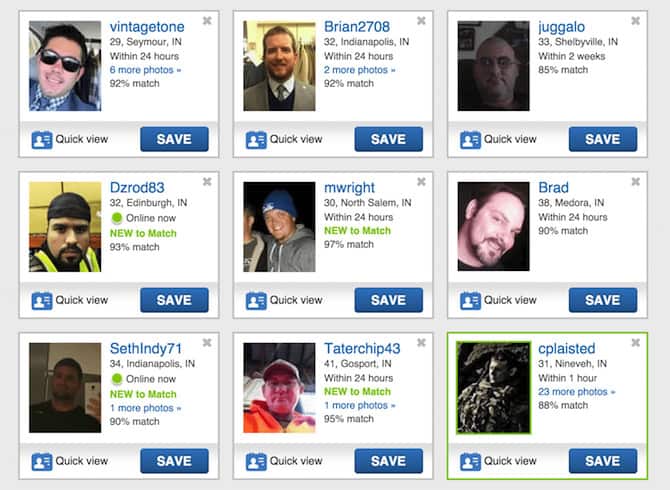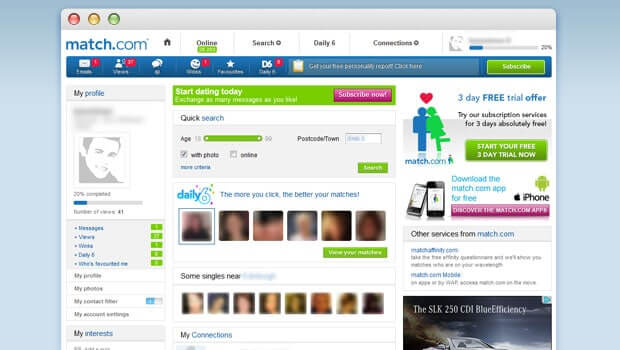 FAQ
Does Match.com give a refund for any used time?
Unfortunately, it does not offer this option.
What is Match Guarantee?
This is a special feature that shows how confident Match.com is in its services. If you fail to have a successful match during your membership duration, you will get a 6-month membership for free.
Overall Rating
Thanks to its long tradition, large user base, great design and interesting features Match.com gets an overall grade of 4.5
Final Word on 5 Best Dating Apps for Divorcees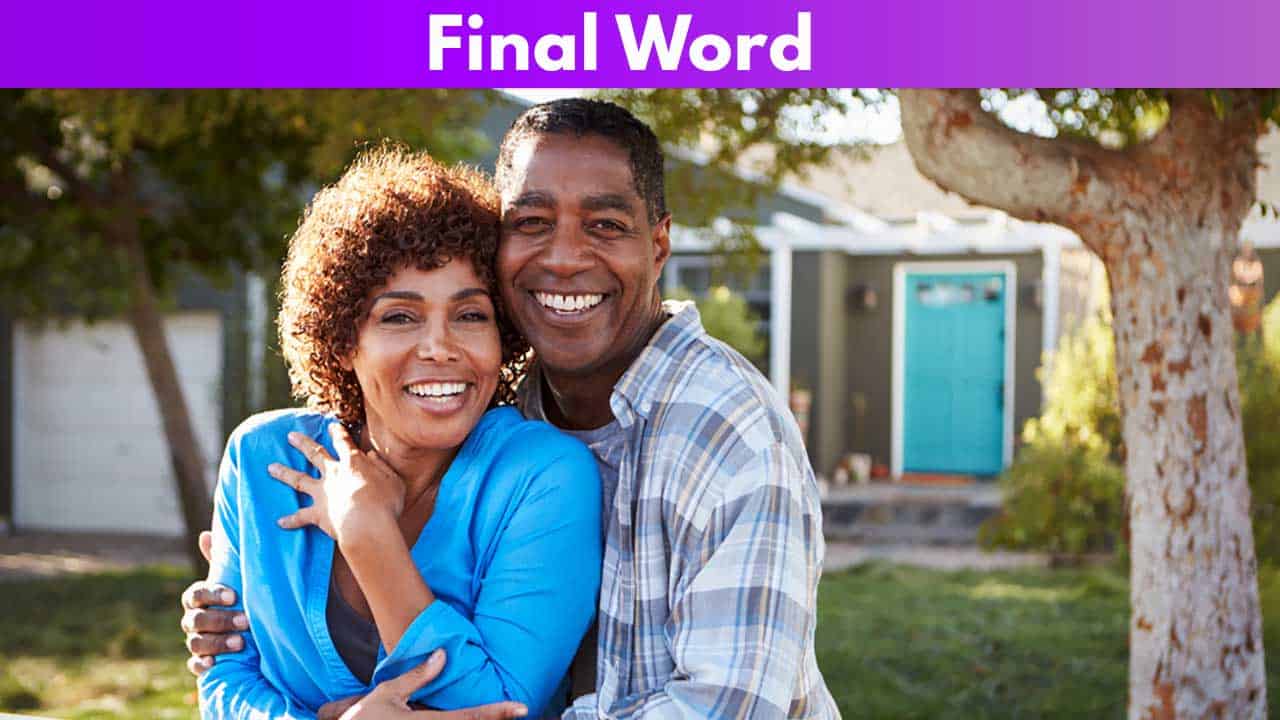 We hope, that after having read this article you feel more comfortable about jumping back into the world of online dating with this 5 best Dating Apps for divorcees, especially knowing that there are thousands of people who are just like you.
NO matter how old you are, how long it has been from your divorce, or if you have kids there are always great chances of meeting someone new who will make you believe and fall in love again.
We are sure this will happen soon and that your new beginning is waiting just around the corner! 😊